Each year in December my tradition is to reflect on the past year and plan for the next (see my Annual Review process). As part of this process, I review my progress and plans for everything in my business and personal life. In the article and podcast episode that follow, you'll get the highlights from the 2020 version of my annual review for real estate investing, personal finance, and the Coach Carson business.
If you want to go way back, you can also check out the annual review posts from years past: 2019, 2018, 2017, 2016, and 2015.
This 2020 edition will include:
Let's start with my 2020 highlights and stats from my real estate investing, personal finance, and Coach Carson business.
Highlights and Stats from 2020
These are mainly for me to measure and review my own progress. But I thought some of you might also be interested. As you can see,  it's been a full year even during Covid-19!
Real Estate Investing Business
For those who don't know much about me, a business partner and I have a portfolio of rentals in and around Clemson, SC. We've invested together for almost 20 years. We are much less active than we used to be when we flipped houses and bought a lot of units, but as you can see below there is always something to work on!
Survived Covid-19:

Back in March of 2020, I was nervous about what negative impact Covid-19 would have on my rental properties. We honestly dodged a big bullet, because Clemson University still held classes (mostly virtual). We still lost some income from non-payment by some tenants, but it could have been a lot worse. I was afraid students would just do virtual school from home, but it turns out many decided to still leave their parent's home and stay in apartments of their own.
I've always known theoretically about the risk of too much investment exposure to one geographic location, but this near-miss taught me the reality of it. We are accelerating our plans to diversify into other markets and/or asset classes.

Sold 2 properties:

Property #1 was a run down, older house that we bought for $2,000 in 2018 through redemption after a tax lien auction.  The house was practically falling apart, so rather than do the remodel ourselves we sold it on owner financing to another new investor who was willing to put in the labor to fix it up. We included the cost of materials in the price we sold it for, so the price was ultimately over $33,000. We were happy to get rid of the property and now receive monthly interest income while the investor got a $700-$800/mo rental.
Property #2 was a lot and mobile home in an older textile mill neighborhood. We bought the property in 2007, and it no longer fit into our plans. The title to the mobile home also had some title issues, so we sold it for a very low price of $12,500 to find someone willing to deal with the old mobile home and title issues.
Why sell? These two sales follow a plan we've been implementing for almost 10 years now to sell off some of our less optimal rentals in order to free up our time, capital, and attention for better deals (and other things that matter!)

Rental Property Fire

In August of 2020, we had a kitchen fire in an apartment of a 4-plex building we own. Fortunately, no one was hurt. But it was not a pleasant experience getting the call and seeing the damaged property. The estimate to restore everything is over $70,000!
We did have insurance, and as of this writing, we're nearing the end of the remodeling process. Our property management company also has a general contracting division, and they have handled the restoration very well so far. I'm hoping we'll be finished early in 2021 and get our final claim check (minus our $2,500 deductible).
Of course, I'll have a podcast in 2021 to share some lessons!

Bought 1 New Rental:

This was a light acquisition year for us (deliberately after buying a lot of units the last few years). But we did buy one single-family house on 2.7 acres in a good, strategic location for $125,000. We spent $25,000+ repairing rotted floor supports, treating for termites, replacing the roof, adding a new heat/air conditioner, and more. The house is now rented for $1,000/month. To make the numbers work, we have a contract to sell part of the land to a neighbor for $40,000.
This is also a strategic property for some of my non-profit efforts to build a pedestrian/bicycle network around my hometown. If everything comes together as I hope, we'll give the city an easement to build a trail on this property, and this will become a missing link to connect two big parks and residential areas in the city.

TriPlex Remodel Stalled:

If any of you followed my YouTube channel earlier in the year, you saw that we began remodeling a 100-year old triplex that needed a LOT of work. It started ok, but the project derailed mid-year as we had some problems with contractors (bad work on the foundation that had to be fixed and SLOW work from other contractors).
Long story short, we switched to a great contractor midfall and the project is back on track and should be finished early in 2021 (but WAY over budget). I ran out of time to make good videos, but I'll do at least a recap one to tell the story when it's done.

Hired a New 3rd Property Manager:

Most of our rental properties are in a relatively small radius of several miles around Clemson, SC, and we have two property managers that help us to manage those units. But we do have a few properties in nearby towns like Easley, SC – which is about 15 miles away. So, we hired a new property manager to manage one of those that we plan to keep long-term. Other than a couple of hiccups with some record-keeping, it has been a good transition.

Shut-Down our In-House Management Company (S-Corporation):

Since we began renting houses in 2004, we've always managed at least some of our own properties using an S-Corporation. This year, however, we decided to shut this company down in order to simplify our operations and bookkeeping. We only have a handful of properties that we manage ourselves (mainly financed instead of rentals), so it made less sense to run an entire company just to manage those.
This is the first time I've ever shut down a company! Both the bookkeeping and the paperwork have required some effort, but it's been nice to have a trusted CPA on my team who we could ask for guidance.

Continued Cash Management & Debt Pay Off:

We still have a primary long-term goal of larger profit distributions (i.e. dividends) to my business partner and me from our real estate business. In the past, we have retained a lot of profits to reinvest in new properties and debt pay off. We still plan to follow that profit retention plan, but we'll steadily increase the distributions as the excess cash flow warrants and as opportunities for reinvestment become less desirable.

Strong Focus on Better Systems and Tracking:

Our bookkeeper of many years retired early in 2020, so that left me and my business partner to fill the void of the day-to-day bookkeeping functions. To be truthful, I got behind! But we got in a groove by later in 2020, and we're actually more on top of our bookkeeping than we've ever been.
I've also focused a lot on spreadsheets that will help us be better asset managers. In other words, I want to better track the details of our overall cash flow and our property-by-property performance. This will allow us to make better strategic decisions (like refinancing, selling, buying more, etc).

Increased Private Loan Investments: 

In 2019 we dabbled with a couple of private loans to other investors. We did a few more deals in 2020, and I think this could be a good fit for us in the future. It produces good returns more passively, and it allows us to contribute value to our borrower with our knowledge and expertise.
I'm always a student and need to learn more, so I participated in a Hard Money Lending class with one of my mentors, Dyches Boddiford.
Personal Finance & Investing
Paid Off Our Home!

This was probably the highlight of my year in the finance arena. My wife had wanted to do this for a couple of years, and I finally came around. The 3% loan we paid off was my hang-up. But the peace of mind, financial resiliency, and low cost of living we now experience have been WELL worth the trade-off of growth.

Stock Diversification:

As you can imagine, my asset allocation is heavy in real estate. I'm ok with that, but over the long run, I'd like to diversify into other asset classes.  In particular, I want broad exposure to the US and international stock markets.
So to continue that trend, my wife and I allocated a big chunk of our retirement accounts from real-estate-focused assets to broad, low-cost index funds. The timing was lucky because we did a lot of that reallocation in March as the market tanked.

HSA and IRA Contributions:

Like years past, my wife and I contributed the max to an HSA (Health Savings Account) and to our respective Traditional IRAs. We also have Roth IRAs, but as our tax rates have increased over the years we've chosen to get the current deduction by contributing to a Traditional IRA.

Continued Health Insurance on Public Exchanges:

We get our health insurance through the ACA (aka Obamacare) exchanges. We only have one company (Blue Cross Blue Shield) available in our state, and in 2020 we paid $1,209/month for a high-deductible policy ($6,750/individual, $11,500/family). The 2021 rate will drop slightly to $1,185/mo. Our premium is unsubsidized since we make more than the income threshold for subsidies.
We've explored other options like non-compliant, short-term plans or health sharing ministry plans, but neither of those options made us 100% comfortable.  We can afford it, so we're going with a more expensive but certain option.
Coach Carson Business
But more importantly than all of these stats, I hope at least some of my efforts this year have helped you in some way. Because that's why I do this!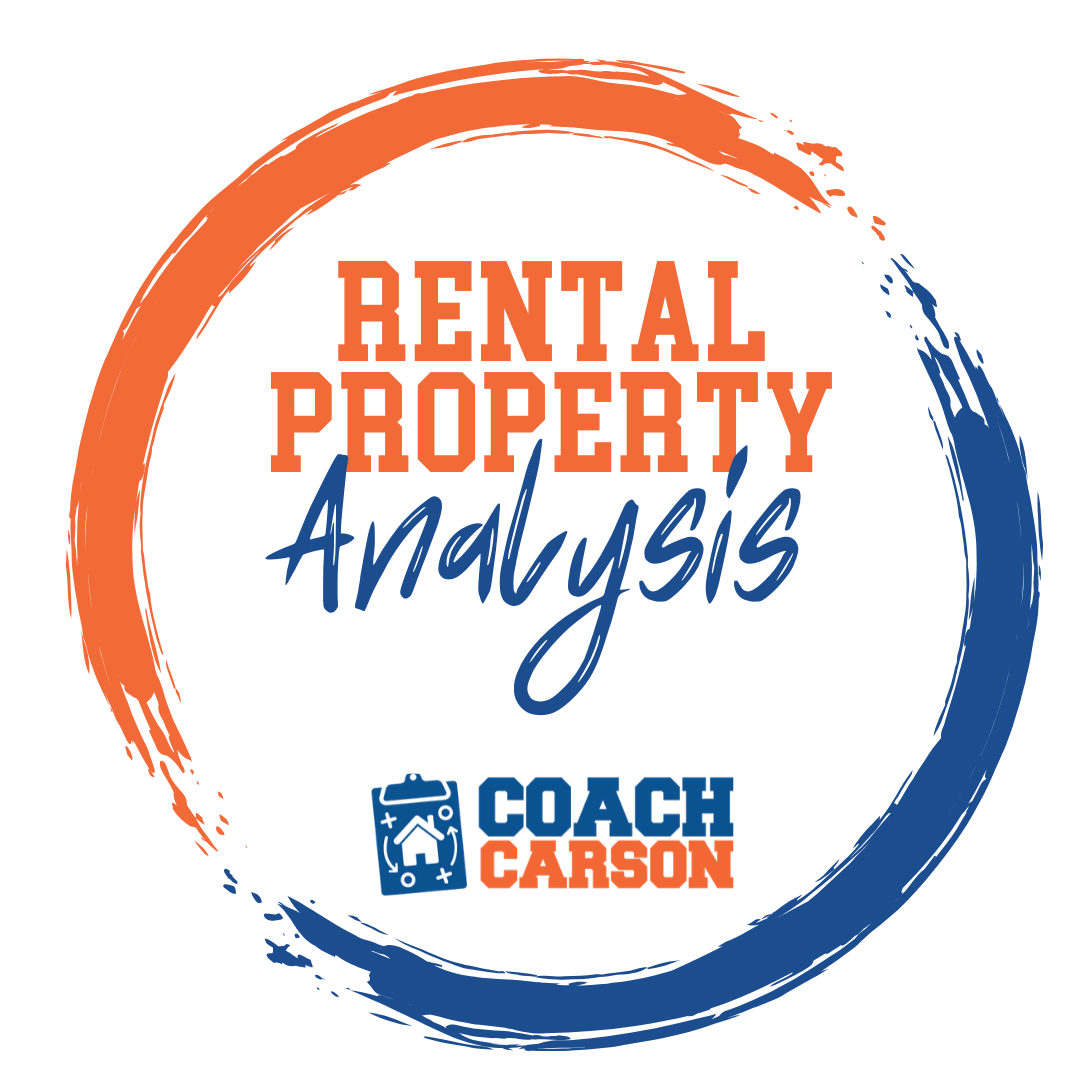 A course by Coach Carson that teaches you how to run the numbers so that you can confidently analyze and buy profitable rental properties. It also includes Coach's rental analysis spreadsheet.
Get the Course
Now I'd like to share a little of what you can expect with me in 2021.
What to Expect in 2021
Real Estate Investing:
On the investing front, I plan to keep things relatively boring. As my mentor John Schaub says, boring investments are good! Get your excitement in some other area of your life.
We're going to continue selling off a few properties as we've done in years past, and we may replace a couple of those with new construction rentals (via a 1031 tax-free exchange). I'll let you know in future articles/podcasts how that goes!
I will be interested to see the after-affects of the Covid-19 pandemic and whether we'll see any lasting economic effects. There has certainly been a lot of government stimulus with trillions of dollars spent. I'm not a good predictor, but it's not a bad idea to hedge for inflation by fixing long-term mortgages and owning quality rental properties (a core strategy I follow and teach anyway!).
Coach Carson:
I plan to continue offering all my free content with a new podcast and blog post each Monday and a new YouTube video each Friday. I also share unique content, snippets, and behind the scenes pictures and stories on my social channels on Instagram, Facebook, Twitter, and LinkedIn.
I also will continue offering my premier course and community, Real Estate Start School, twice per year (March and September). In addition to my current course offerings, I hope to release a few new courses, including:
Contract-to-Closing (the full version in 2021; the beta version was released in December 2020)
Creative Financing For Real Estate Investors (in partnership with Dyches Boddiford)
Rental Property Mastery to share my systems, processes, and best practices as a rental property owner.
I'm also excited to have a new blog & podcast sponsor partnership in 2021 with American IRA, LLC.  I've been very reluctant to allow advertising on my site until I know and believe in the product. American IRA is a perfect fit as I've personally used their self-directed retirement account service for many years, and I know and believe in the people who own and run the company. I highly recommend them if you want to open a self-directed IRA or 401k to invest in real estate or other alternative assets.
Behind the scenes over the last year, I've recruited an awesome support team of an operations expert, virtual assistant, podcast & video editors, & my wife (bookkeeping). With their help, you can expect even more (and I hope better!) content in 2020. So, thank you to those team members – Lori Mercer, Megan Thompson, Michael Nguyen, Mason Synder, & Kari Carson.
Now let's move on to my top podcast episodes and videos from 2020.
The Top 10 Podcast Episodes of 2020
I published a total of 51 new podcast episodes in 2020, which was my second year of the Real Estate & Financial Independence Podcast. The episodes below were the 10 most popular new episodes based on the total number of downloads.
Did you have a personal favorite?
You can find all of these episodes at coachcarson.com/podcast or just search for "Real Estate & Financial Independence" on your favorite podcast player.
Now let's take a look at the top 10 most popular new videos on my channel from 2020.
The Top 10 New YouTube Videos of 2020
**I based the video ranking on total views in 2020 (i.e. the number of times someone opened the video). This means the videos from earlier in the year have an advantage with more time to accumulate views. And I did not include any older videos, which actually get a lot more views than these.
To be notified of my latest YouTube video each Friday morning, subscribe HERE. 
Until 2021!
Thank you for being a part of coachcarson.com in 2020! It's a privilege to be able to share with you. I hope you'll stick around for more in 2021!
Did you have a favorite article, podcast, or video from 2020? What would you like to see more (or less of) next year?
Get My Free Real Estate Investing Toolkit!
Enter your email address and click "Get Toolkit"