Each year late in December, I take time to reflect on the past year (see my Annual Review). As part of that process, I review and summarize my writing and other creative activities around here at Coach Carson. Then I share the best (most popular) content of the year with you – including articles, podcast episodes, and videos.
If you want to go way back, you can also check out the "best of" posts from the last four years:  2018, 2017, 2016, and 2015.
This 2019 edition will include:
Let's start with a few 2019 highlights and stats.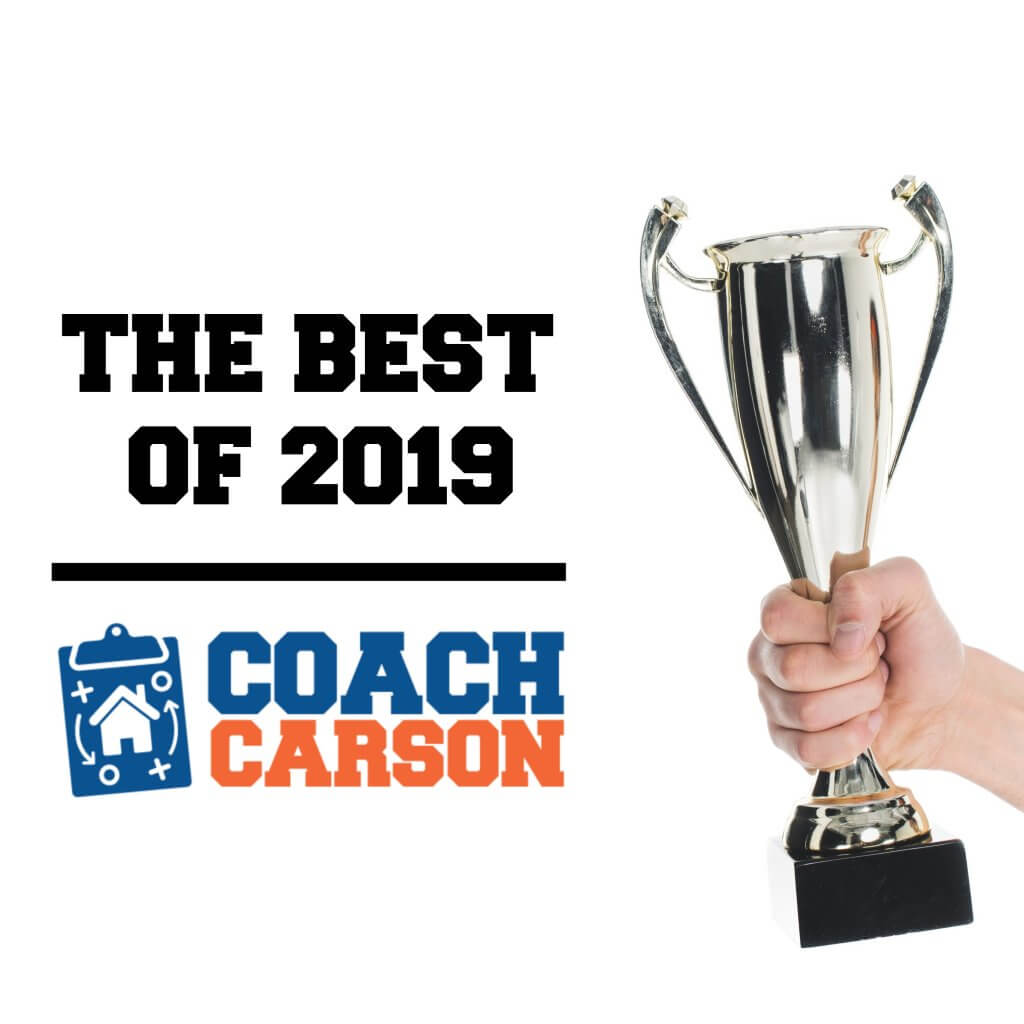 Highlights and Stats from 2019
These are mainly for me to measure my own progress. But I thought some of you might also be interested. As you can see,  it's been a full year!
I committed to giving away 50% of current and future profits from Coach Carson, LLC (my highlight of the year!)
I was awarded the "Best Real Estate Blog" by my online media colleagues at the 2019 Plutus Awards!
Email list subscribers grew from around 10,700 to over 14,500 (thank you!!!)
Started the Real Estate & Financial Independence Podcast. To my surprise, it's consistently been in the top 100 investing podcasts and has received over 261,000 downloads to-date (thank you, again!!)
130+ wonderful new students enrolled in Real Estate Start School, my premier online course and private community.  It will be open for enrollment again in March 2020.
To date, my book Retire Early With Real Estate has sold over 17,000 copies in print, Kindle, and audiobook formats (*blows my mind!).
Hundreds of students enrolled in my other courses, like Recession Proof Real Estate, Real Estate Deal Finder, & How to Fix & Flip Properties For Cash
Published 27 new articles here at coachcarson.com/blog
Published 94 new podcast episodes on the Real Estate & Financial Independence Podcast
Published 27 new YouTube videos (even more to come in 2020!)
2 guest posts on other sites (ESI Money and BusinessInsider)
I was interviewed as a guest on several other podcasts
But even more than those stats, I hope at least some of my efforts this year have helped you in some way. Because that's why I do this!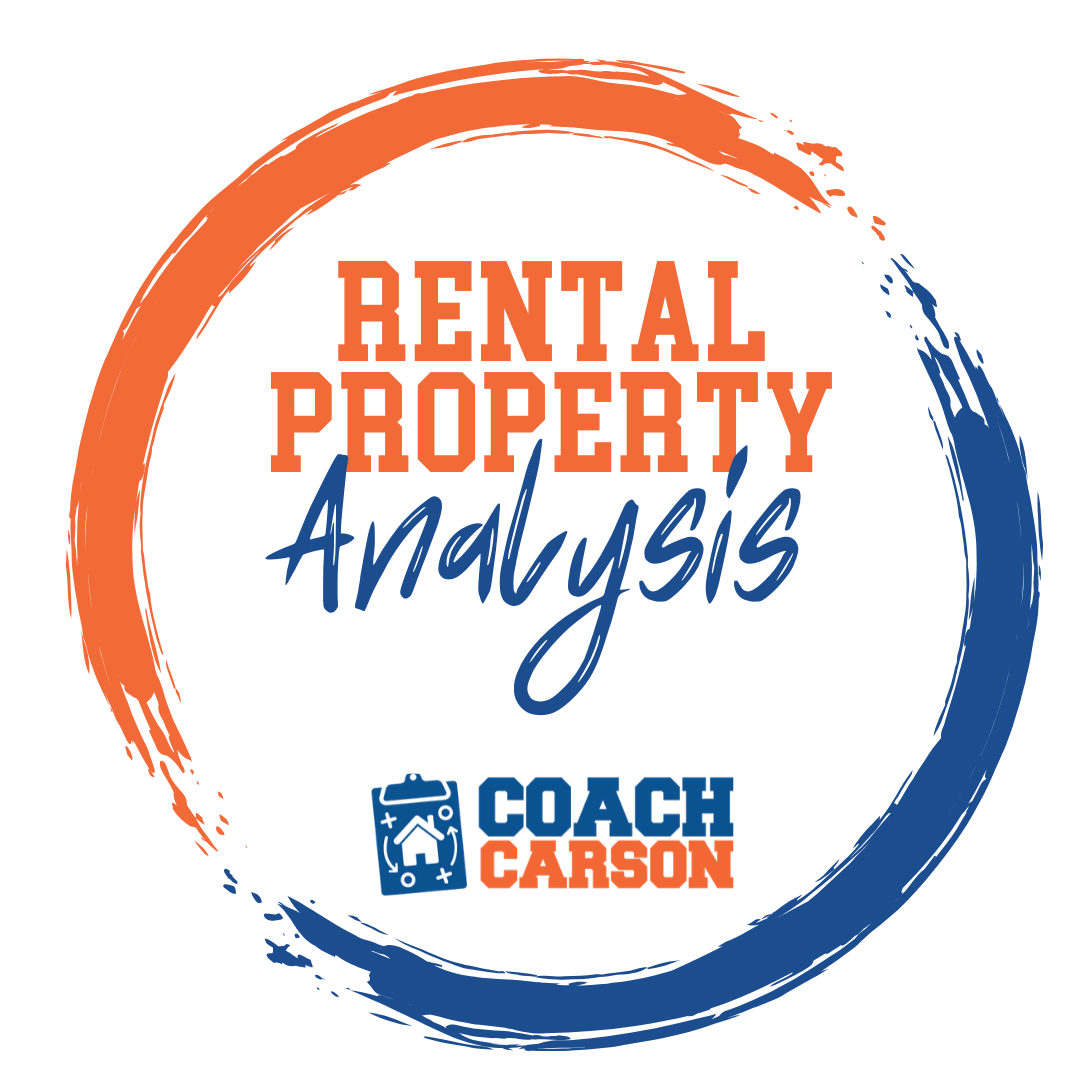 A course by Coach Carson that teaches you how to run the numbers so that you can confidently analyze and buy profitable rental properties. It also includes Coach's rental analysis spreadsheet.
Get the Course
Now I'd like to share a little of what you can expect around here at CoachCarson.com in 2020.
What to Expect in 2020
I'm more excited about 2020 than I've ever been around here at CoachCarson.com!
I always love teaching and creating new content for you. But sort of to my surprise, my commitment to give away half of Coach Carson, LLC profits has given me a renewed sense of motivation as an education entrepreneur. I want to make this a successful business because people and charities are now counting on it!
So, what's my core business strategy? I teach and coach.
Most of my teaching is free. You can check out my blog, podcast, video, Instagram, Facebook, Twitter, and LinkedIn content anytime for free. And delivering and improving on these in 2020 will continue to be a top priority.
But some of what I do comes in the form of premium products that help to pay the bills (and charities!).
I'll continue to bring you my premier course and community, Real Estate Start School, twice per year (March and September).
And I'm also beginning a 6-month coaching and mastermind program in January 2020. I'll work closely with up to 10 investors to help them take their real estate investing business to the next level.
I also earn some revenue from a few affiliate partners who I like and trust. Check out my favorite tools and resources, and when you use them, in some cases I earn an affiliate commission (at no extra cost to you).
Behind the scenes over the last year, I've recruited an awesome support team of an operations expert, virtual assistant, podcast & video editors, & my wife (bookkeeping). With their help, you can expect even more (and I hope better!) content in 2020. So, thank you to those team members – Lori Mercer, Megan Thompson, Michael Nguyen, Mason Synder, & Kari Carson.
Now let's move on to my top articles, podcast episodes, and videos from 2019.
The Top 10 New Articles of 2019
**I based the article ranking on page views (i.e. the number of times someone opened the article in their browser). This means the articles from earlier in the year have an advantage with more time to accumulate views. But it's the most objective statistic I could easily find.
[22,696 page views]
(I hoped this post would take off in 2019. But it quickly became one of the top searched posts on the site!)
These are my opinion of the 15 best real estate investing strategies. You can use these to figure out the best strategy for your own real estate investing journey.
[5,689 page views]
For real estate investing beginners, analysis paralysis is the enemy of your success. This article helps you get focused & moving forward confidently.
[5,181 page views]
Have you ever wondered why most financial advisors don't recommend real estate investing? An advisor who also invests in real estate spills the beans.
[3,834 page views]
Do you want to learn how to start investing in real estate with little or no money? In this article, I will show you 15 different ways to get started!
[3,401 page views]
Learn how a 26-year-old guy named Craig Curelop used house hacking + aggressive frugality to QUICKLY reach financial independence in less than 3 years.
[3,042 page views]
Learn the principles that allowed a 41-year-old to retire early from a career in physical therapy so that he could spend more time outdoors with his family.
[4,983 page views]
30-year-old Sarah Brandenberger and her husband paid off all their personal debt, flipped houses, and now own 3 rentals (and counting)!
[2,001 page views]
This 30-something used house hacking to start his journey to financial independence. Since then he also paid off $100k in debt & started his dream job.
[1,951 page views]
As a new real estate investor, you face many challenges. This article shares 5 of the most common obstacles that derail investors before they get started.
[1,746 page views]
This is the story of a 26-year old who built his net worth to over $200,000 through savings, house hacking, and side-hustle businesses.
If you'd like a full list of all my articles in 2019 and before, you can visit the archive page.
The Top 10 Podcast Episodes of 2019
As I shared earlier, I published over 90 podcast episodes in the first year of 2019! But these 10 were the most popular based on total number of downloads.
Did you have a personal favorite?
You can find all of these episodes at coachcarson.com/podcast or just search for "Real Estate & Financial Independence" on your favorite podcast player.
How to Buy an Investment Property – From Contract to Closing (4,144 downloads)
Go Small or Go Home – Why You Don't Need a Big Real Estate Empire to Live the Life of Your Dreams (4,126 downloads)
How Many Rental Properties Do You Need to Retire (3,960 downloads)
Real Estate Investing 101 – 9 Steps to Get Started (3,900 downloads)
The One Percent Rule – Quick Math For Positive Cash Flow Rental Properties (3,850 downloads)
My Rental Retirement Strategy (or How to Not Run Out of Money) (3,796 downloads)
How to Choose the Ideal Location For Investment Properties (3,785 downloads)
10 Lethal Mistakes to Avoid On Your First Real Estate Investment (3,712 downloads)
The House Hacking Guide – How to "Hack" Your Housing, Live For Free, & Start Investing in Real Estate (3,630 downloads)
The Rental Debt Snowball Plan – How to Get Free and Clear Rental Properties (3,617 downloads)
Now let's take a look at the top 10 most popular new videos on my channel from 2019.
The 10 New YouTube Videos of 2019
**I based the video ranking on total views in 2019 (i.e. the number of times someone opened the video). This means the videos from earlier in the year have an advantage with more time to accumulate views. And I did not include any older videos, which actually get a lot more views than these.
(technically published in at the end of December 2018, but I included it 2019 since it was close)
If you'd like to see all of my video library, you can visit my channel page.
Until 2020!
Thank you for being a part of coachcarson.com in 2019! It's a privilege to be able to share with you. I hope you'll stick around for more in 2020!
Did you have a favorite article, podcast, or video from 2019? What would you like to see more (or less of) next year?
Get My Free Real Estate Investing Toolkit!
Enter your email address and click "Get Toolkit"