In my Investor Profile Series, I use a question & answer format to share the stories of actual real estate investors at different stages of their investing careers.
Today's investor profile is about Steven Donovan (aka "Even Steven" at his blog evenstevenmoney.com).  Steven and his wife got started in real estate by house hacking a duplex in Chicago. Since that first deal, they paid off $100,000 in personal debt and moved across the country to Miami to be closer to family. 
Plus, Steven left his job and struck out into the world of entrepreneurship! Steven's now following his passion by coaching others with their money (and I think by my name you know I appreciate a good coach when I see one!). 
Steven and I have become friends over the last few years through our blogging network. I think you'll enjoy getting to know him as much as I have.
Now I'll turn it over to Steven … 
Personal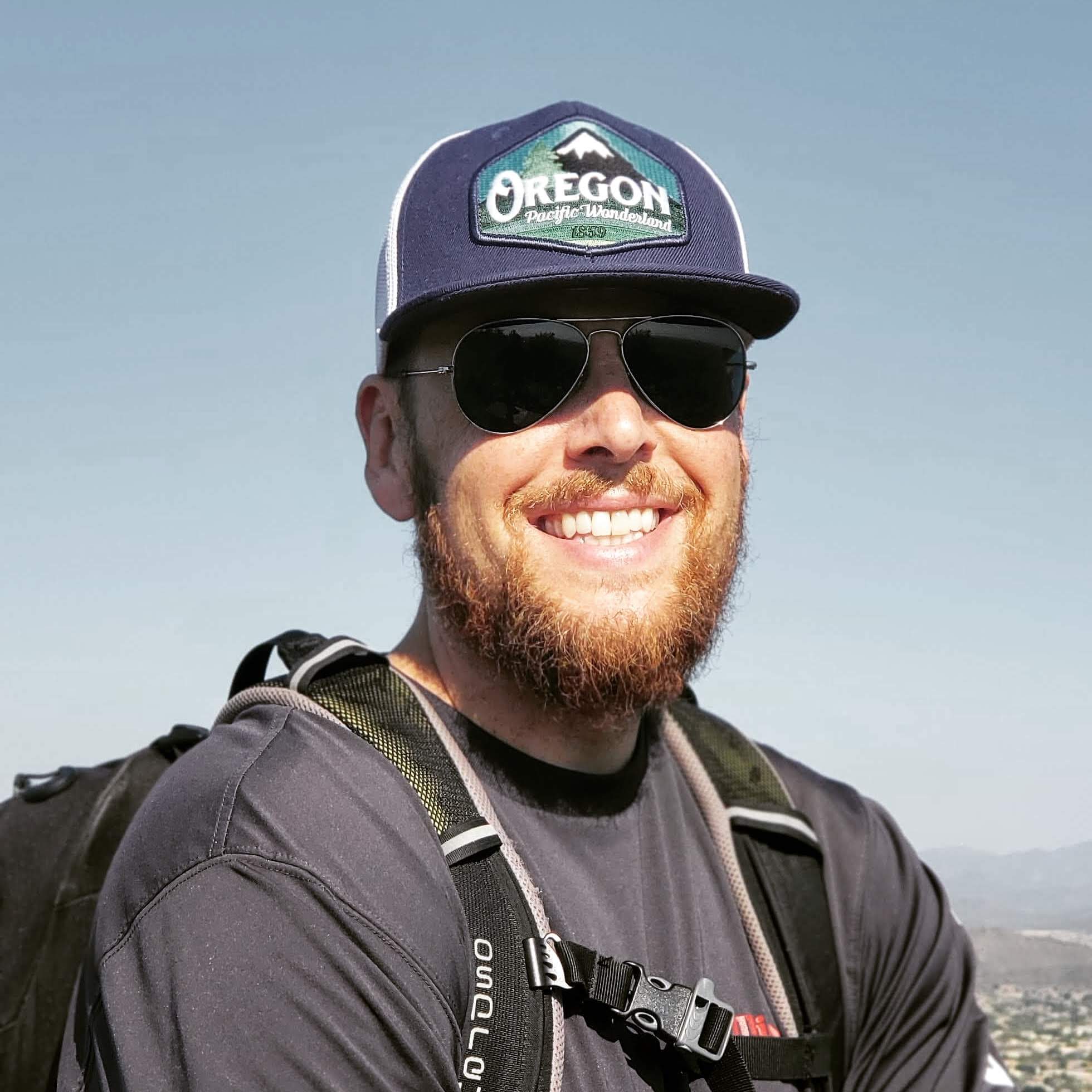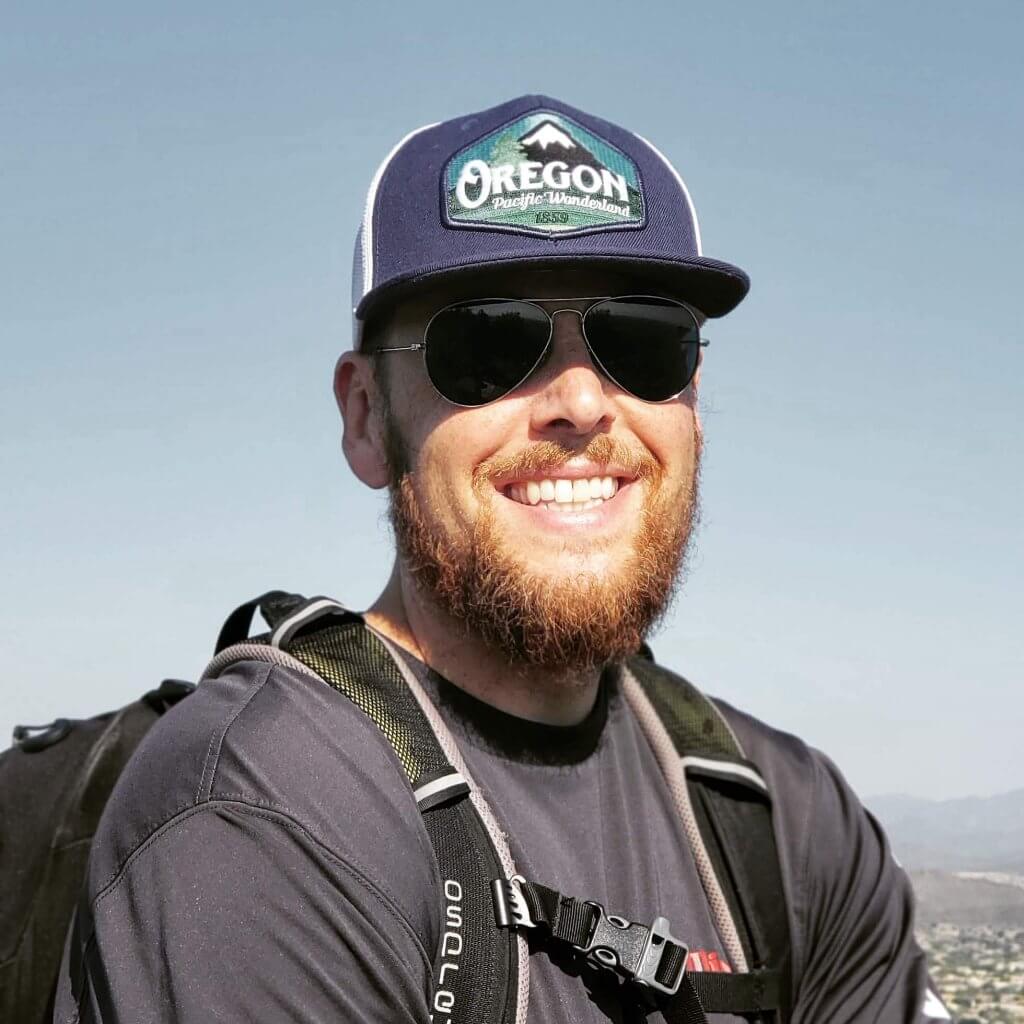 Name
Steven Donovan
Age
36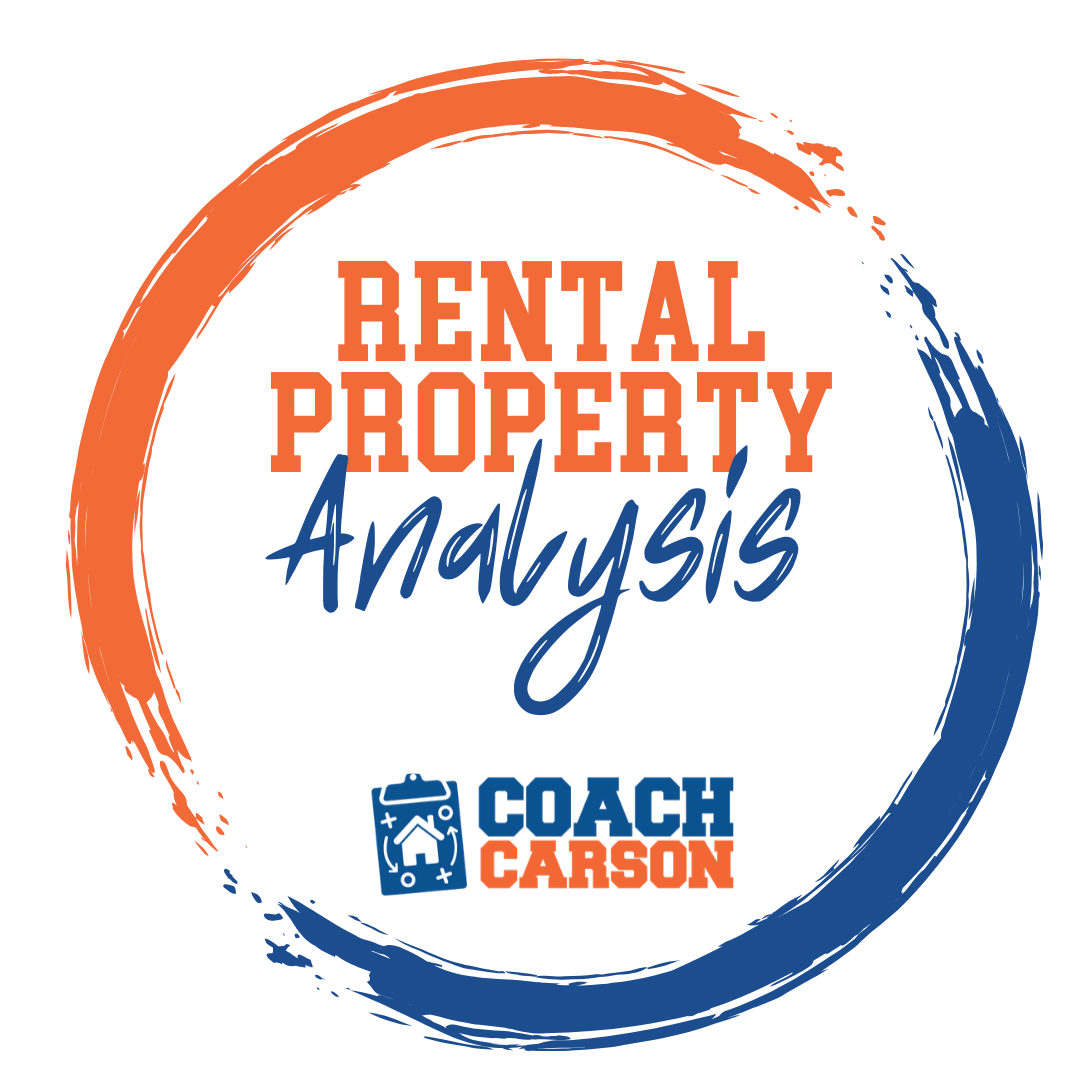 A course by Coach Carson that teaches you how to run the numbers so that you can confidently analyze and buy profitable rental properties. It also includes Coach's rental analysis spreadsheet.
Get the Course
Your home location
Miami, Florida
Career/Source of regular income
Previously worked at US Bank for the past 10 years and owned investment real estate. Today I am a full-time Money Coach at Even Steven Money
What hobbies do you enjoy? What do you do for fun?
Travel with my wife. Walk my Siberian Husky named Angel. Try new restaurants but also cook new recipes at home. Getting outside to hike, bike, and be active. Watching my favorite sports teams. Improving my health and fitness at my local Crossfit gym.
A fun/interesting/little-known fact about you?
I met and once worked for Michael Jordan. My summer job in college was as a caddie at a private golf course in the Chicago area where it all took place.
[Chad: Now, that is cool! As someone who loves playing basketball and who grew up cheering (I'll admit it) against the Bulls, that's a heck of a story. But I can't deny what an incredible player he was (the best ever, in my opinion).] 
Financial Independence/Retirement Plans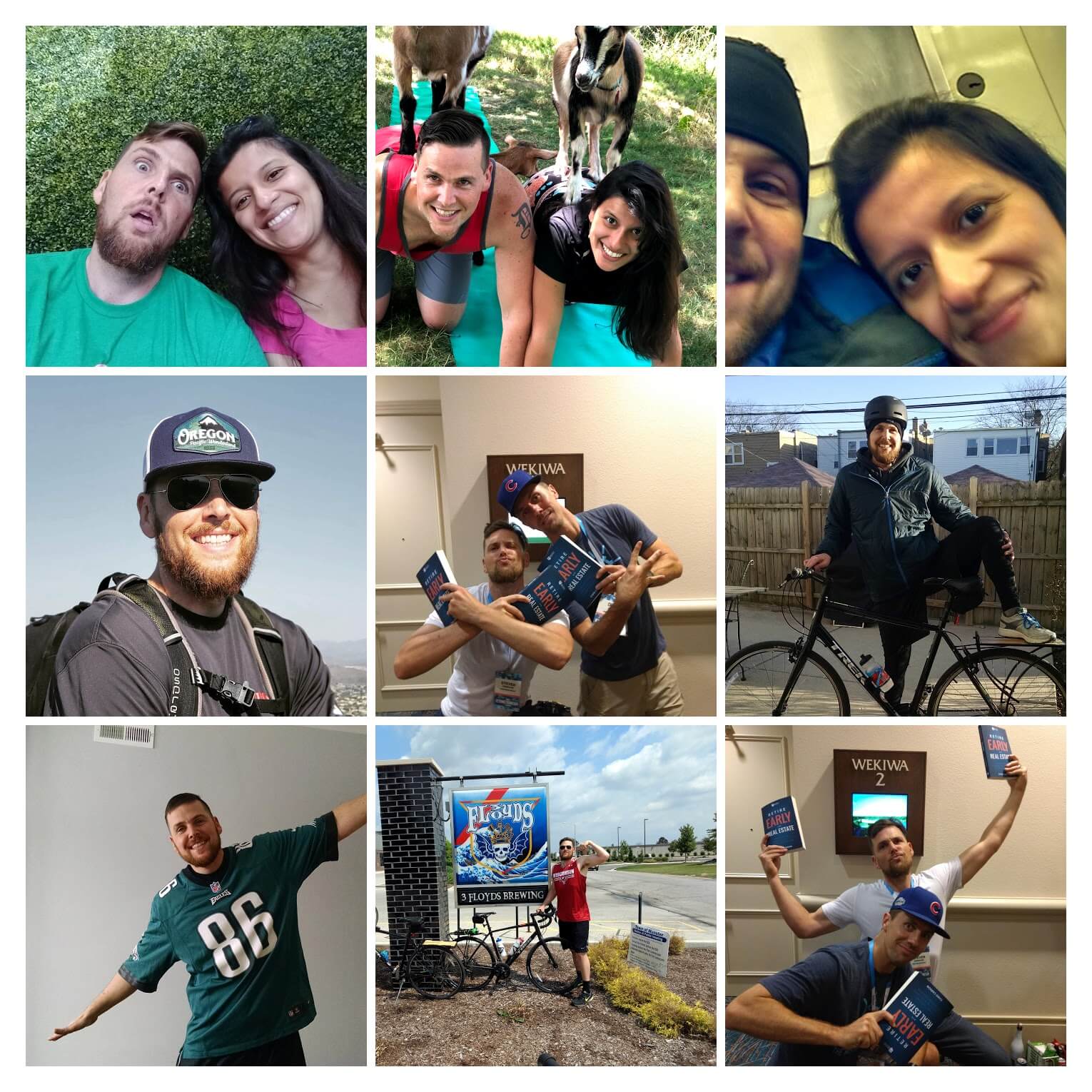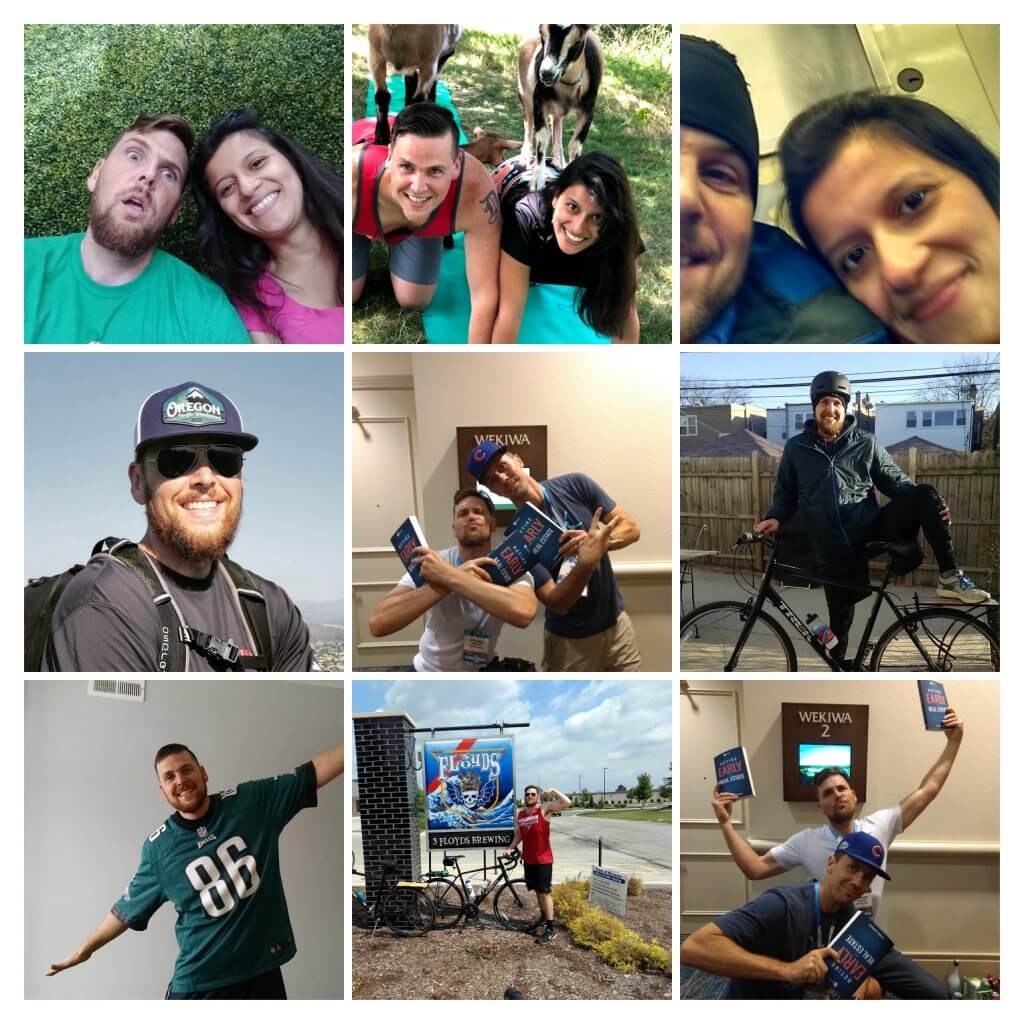 Do you have plans for financial independence/retirement? Or have you already reached financial independence?
Yes, I have plans for financial independence. Part of our recent move to Miami, Florida was because of our pursuit of financial independence. My wife and I are currently assessing our financial situation as our initial plans to retire early have changed. Let me share what our plans used to look like.
Our initial plans:
Pay off our Florida rental home
Pay off our owner-occupied Chicago home
Use rental income to cover our expenses and allow us to use Chicago as our "base camp"
Leave our jobs, travel more, visit family more often in Florida and Arizona and stay longer
What actually happened:
Sold our Chicago home, for a profit
Paid off our Florida home and moved in 19 months later
Currently, have $0 in rental income but also $0 in debt and assessing our new lowered expenses as we plan to use Florida as our "base camp"
Left my job and started my own business. I am a money coach where I help others create their roadmap to financial freedom.
[Chad: What really impresses me about Steven's story is his flexibility. He and his wife made a major pivot – changing locations and changing career. For me, the path to financial independence is all about being able to make decisions based on passion and what matters. Ironically, Steven's progress financially allowed him to make decisions not related to money!]
What does financial independence mean to you? Why do you want to achieve retirement/financial independence? What kind of activities and projects will you spend more time on?
Financial independence means our passive income covers our daily expenses and allows us to make choices that are less about money and more about what matters most to us.
[Chad: Just like I said! We're on the same page.]
I want to achieve financial independence to create more freedom in our lives to not only do the things that matter most to us, but also to help others do the same. I'm personally passionate about helping others with their personal finances and today I have the opportunity to start my own business to help do just that.
My wife is still working at a job that is high stress and requires long hours. I want my wife to transition to something she wakes up in the morning with a smile on her face. I could see her being a teacher as she's such a nice and helping person, but whatever it is I want her to be happy.
[Chad: Well said! I think we all have selfish (it's not a bad word!) and altruistic motivation. It's cool to see Steven finding his inspiration for financial independence in both.]
If you had to start over and wanted to become financially independent, what's the most important thing you would focus on?
Savings Rate. Creating a larger gap between my income and my expenses.
On the income side of things, I would have invested more time and money into one side business rather than spreading myself out over multiple side hustles.
Real Estate Investing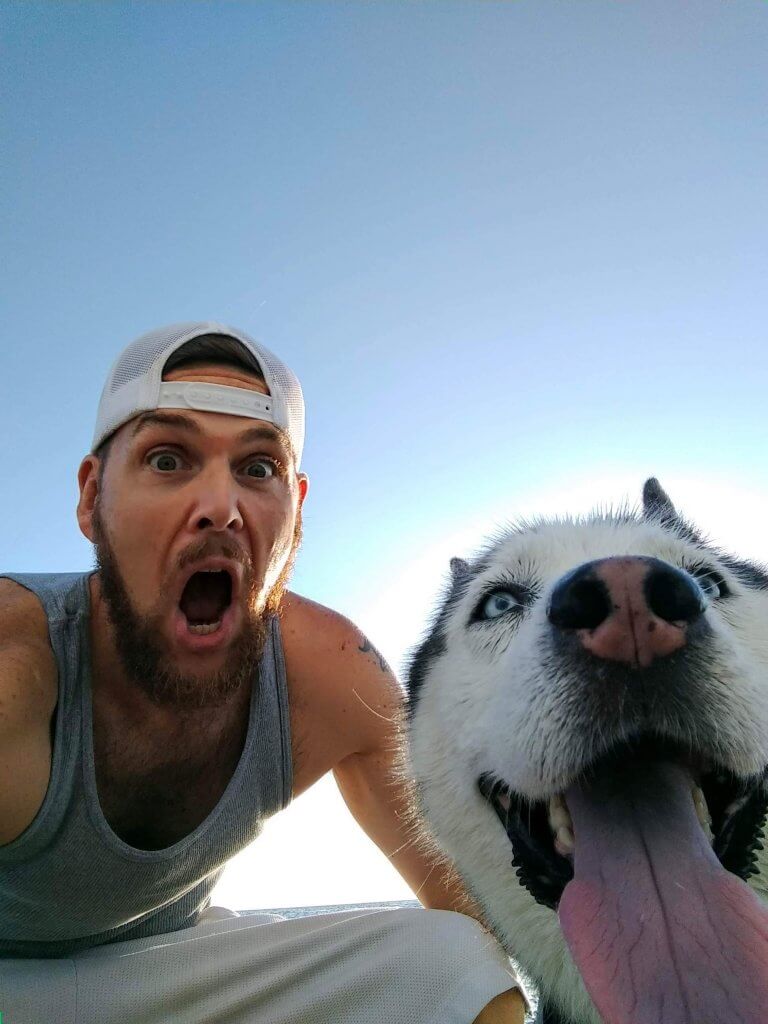 Why do you like real estate investing? What makes it most beneficial?
I remember reading an article when I first was getting started. It gave a crazy statistic like 80% of all billionaires were because of real estate investing. That was my initial bait on the hook to lure me into real estate.
Real estate gives the average Steven the opportunity to put a small amount of money down and start to build a business. It can be as hands-on as you want it to be.
I like to think of each property as owning your own business. This gave us the opportunity to craft our own principles into every part of the investment.
In Chicago, we chose to put very little money down and take out a 203K rehab loan because we wanted the rehab done right away. The rehab was great for us because we had plans to live in one of the units. It gave us the opportunity to bring in higher cash flow from the upgraded features that would attract a potential renter.
The most beneficial part of real estate for me is the built-in savings and cash flow. We treated our owner-occupied real estate investment as our home. And we made regular payments from our W-2 income just as your suburban neighbor does. The big difference was the rent we received from our property was used to directly pay down our Florida rental property.
[Chad: Steven got into real estate with the strategy of house hacking. He and his wife lived in one unit and rented the other out. And in their case, they used the rent from the extra unit to pay down the debt on their Florida rental property. Because they could afford the entire mortgage payment, they were just fine. They also used an interesting loan product – the FHA 203k rehab loan – which allows you to borrow more than your purchase price and use those funds for remodeling.] 
Can you describe your approach to real estate investing? For example, do you do flips, rentals, house hacks, wholesaling, notes, or more than one? And what niche(s) and type of properties do you buy?
I would describe us as accidental landlords and house hackers. Before my wife and I were married, she purchased a home in 2009 as an investment in Miami Florida. Little did she know less than 2 years later we would be married and living in Chicago. The house then became a rental for the last 7 years or what one could call accidental landlords and long distance at that.
We lived in a SMALL apartment in Chicago and knew almost immediately we wanted to purchase a home. Through hundreds of home visits and tons of research, we realized that a house hack was the right move for us.
We bought a multi-unit foreclosure in 2012. We lived on the top floor and rented out the 1st floor, shortly after we fixed up the basement or garden apartment unit and rented this unit out as well.
Through a recent turn of mostly planned events, we sold our Chicago home and moved into our Florida rental home. Currently, we are sitting on the profits from our Chicago home and deciding what our next move is in 2019.
We are looking to buy a rental investment property, most likely 2 units or more. But there has been some internal discussion as to how we should approach this.
For example, should we buy a home free and clear with our profits? Or should we take those profits and buy as much investment property as we can fit into our investment budget?
It's something that we will look into more and more in 2019. But for right now we are getting settled in our home and community.
[Chad: One of the things I love about real estate investing is that it's tangible. You can move into and out of your investments, just like they did. My wife and I have done the same thing. Not only does real estate make you money with income and appreciation, but it also provides a roof over your head when needed!] 
How did you get started? How did you get the money? Did you have any help?
My wife, the smart and beautiful one in the household, got the fire started. I like to think it was me who added gasoline along the way.
The Florida home was purchased with an FHA loan using her W-2 paycheck. And the Chicago home was the same, except for the loan was structured as an FHA 203K loan.
For those unfamiliar with the 203K loan, I would describe it as a regular FHA loan with an additional rehab loan built in.  They're packaged together as one mortgage loan and one payment over the long-run.
At the time of the Chicago property purchase, I was deeply in debt but making big strides paying off my extensive list of credit cards, student loans, and a personal loan to my parents.
Instead of me coming up with the down payment, I focused on hustling up the money for the appliances for the 3 units. I'm very proud of the fact that I bought and sold enough on eBay to accomplish this. I probably should have asked them for all the appliances back in the sale for sentimental reasons! Nevermind that I think taking the cash was even better.
We didn't receive any monetary help as neither one of our parents or family members gave us money for either property. We certainly received help from my wife's family with the long distance landlord and property management of the Florida property. They helped with anything from rental showings and keeping the lawn mowed to the high standards of the HOA. In most cases, money was still exchanged for their help, but just as often it was not.
What were the biggest obstacles you faced when starting? How did you overcome them?
Not having experience. Everything was new to us. It started with making decisions and researching those decisions. But ultimately it came down to trusting others and yourself that it will all work.
Here are just a few things that come to mind with our Chicago property.
Hiring a contractor to do $50,000 worth of repairs and restoration
Making a $50,000 budget on what was the biggest priority for the investment property, not necessarily our personal residence
DIY property management (listing and showing the property, vetting the potential renters, contracts, maintenance, etc.)
Learning to fix things and when to hire someone
I would like to say in real estate there is this manual that you just turn to page 379 and it answers every question and has every answer. But like many things in life, it's a lot of figuring it out with trial and error.
We definitely used Bigger Pockets, Google/YouTube, and real estate related blogs on topics that fit our current situation. In the end though, we overcame things by just getting in there and learning to figure them out.
I like to think of real estate like a push-up. You can read a book on how to do a push-up, but eventually, you have to physically do a push-up. Get on the floor and push yourself off the ground.
Once you are on the floor trying to push yourself off the ground, the information you read becomes more helpful.
[Chad: I appreciate you sharing the balance between research/learning and just doing it. My premier course – Real Estate Start School – is very much about that balance. I try to help people move forward and avoid analysis paralysis. And at the same time, I try to help them avoid the biggest mistakes that new investors face.]
What % of your net worth (roughly) is in real estate?
Hold on, let me log into my Personal Capital account!
Right now it's roughly 30% of our overall net worth, which is only our primary residence. If memory serves me correctly I believe it was as high as 60% at one point, very rough estimates though.
What other types of assets do you invest in? Why? How do they fit with/complement real estate investments?
Our portfolio is in stocks, bonds, and money market savings. This is divided between our tax-deferred vehicles and our non-tax deferred vehicles.
Our retirement account portfolio is in both a 401K and a Roth IRA. The assets are primarily invested in broadly based index funds made up of both stocks and bonds in the 90/10 ratio.
Our non-tax deferred or brokerage account is in individual stocks, broadly based index funds, and a heavy dose of money market savings as we decide on our next real estate investment and/or investment in general. This is only a snapshot in time. So, adding ratios of individual stocks vs index funds vs money market savings is of very little value today.
I will say as I develop my personal stock investment philosophy over time, these pieces of criteria have made their way in:
Individual stocks should make up 10% or less of my overall net worth
Buy long-term. Purchase with the idea that I will not sell for 10 years or longer
Buy companies that are best in class or have a distinct advantage
In the words of Warren Buffett when others are fearful it is best to be greedy
I would say I'm currently looking to balance our portfolio with real estate and stocks. I personally don't look at the overall portfolio break down as much as the timeline, the goal, and what phase we are in of our lives. For example, our portfolio will look vastly different at 40 years of age compared to 80.
[
Chad: I'm in a similar long-term setup as Steven. I'm obviously very heavy in real estate assets and I also hold cash in varying amounts. But over time, I'd like a bigger portion of my portfolio to also be in non-real estate assets like stock index funds to provide more diversification.] 
Real Estate Deal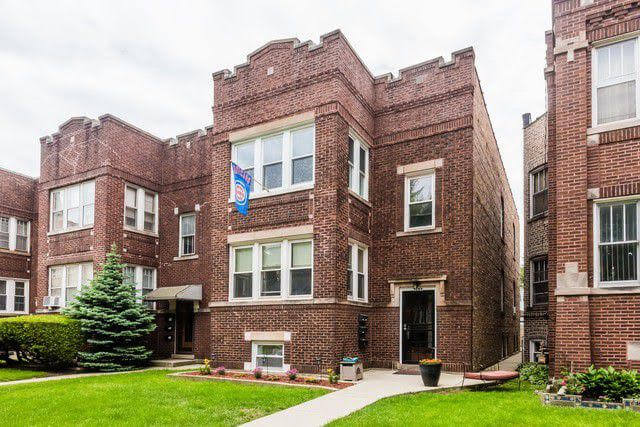 What's the best or most memorable real estate deal you've made? Why?
Since one could argue Chicago is my only real estate deal, I choose Chicago!
This was my first purchase, first sale, first rehab, first house hack, first everything! I learned literally everything from this real estate deal.
I learned how to screen tenants, fix a washer from a YouTube video, kick out a tenant, climb on top of a building to inspect my roof, collect rent payments, hire a contractor and negotiate a price on a rehab, and sell a property for a profit. The amount of experience and stories that came from 5 years of ownership is immeasurable.
How did you find the deal? Why did the owner sell?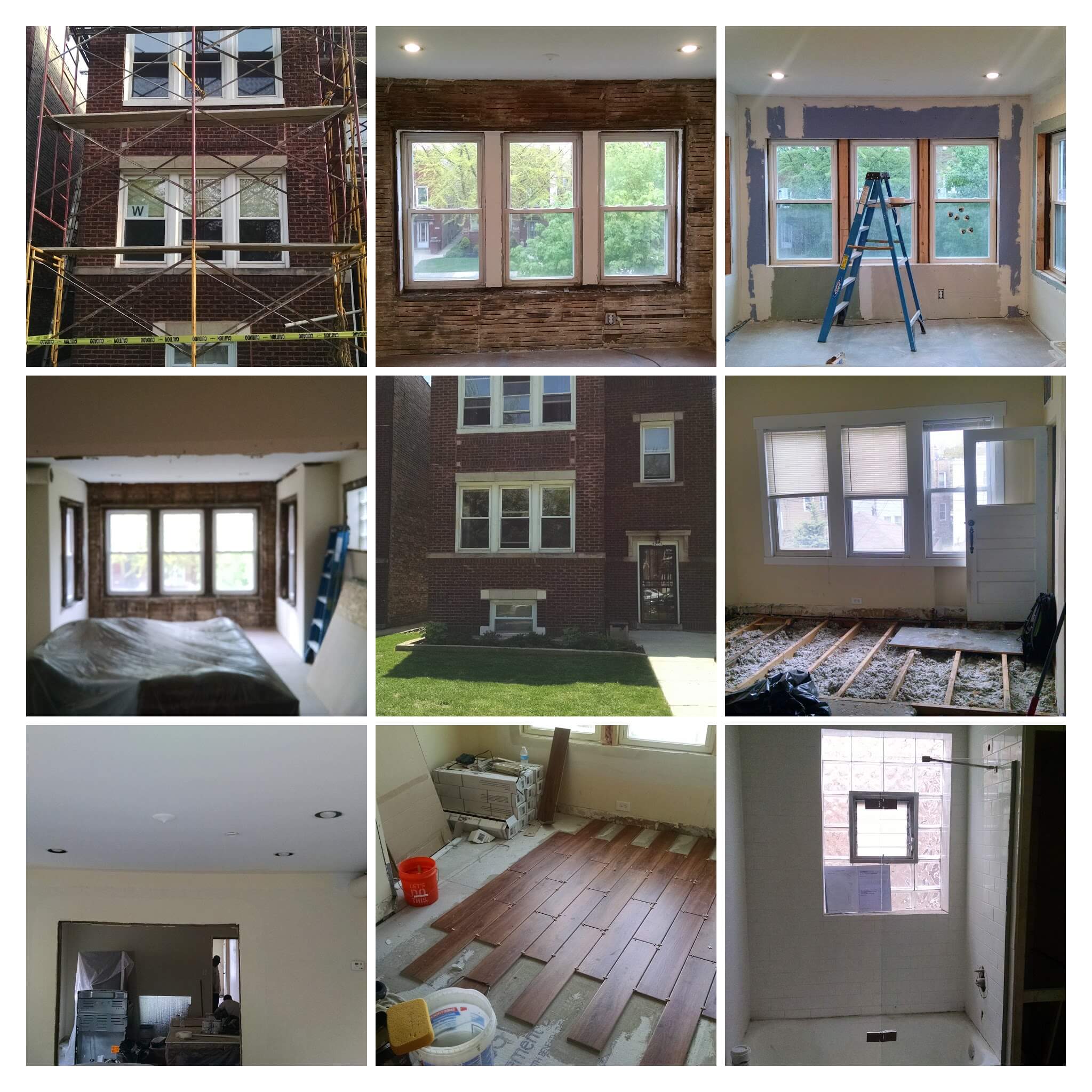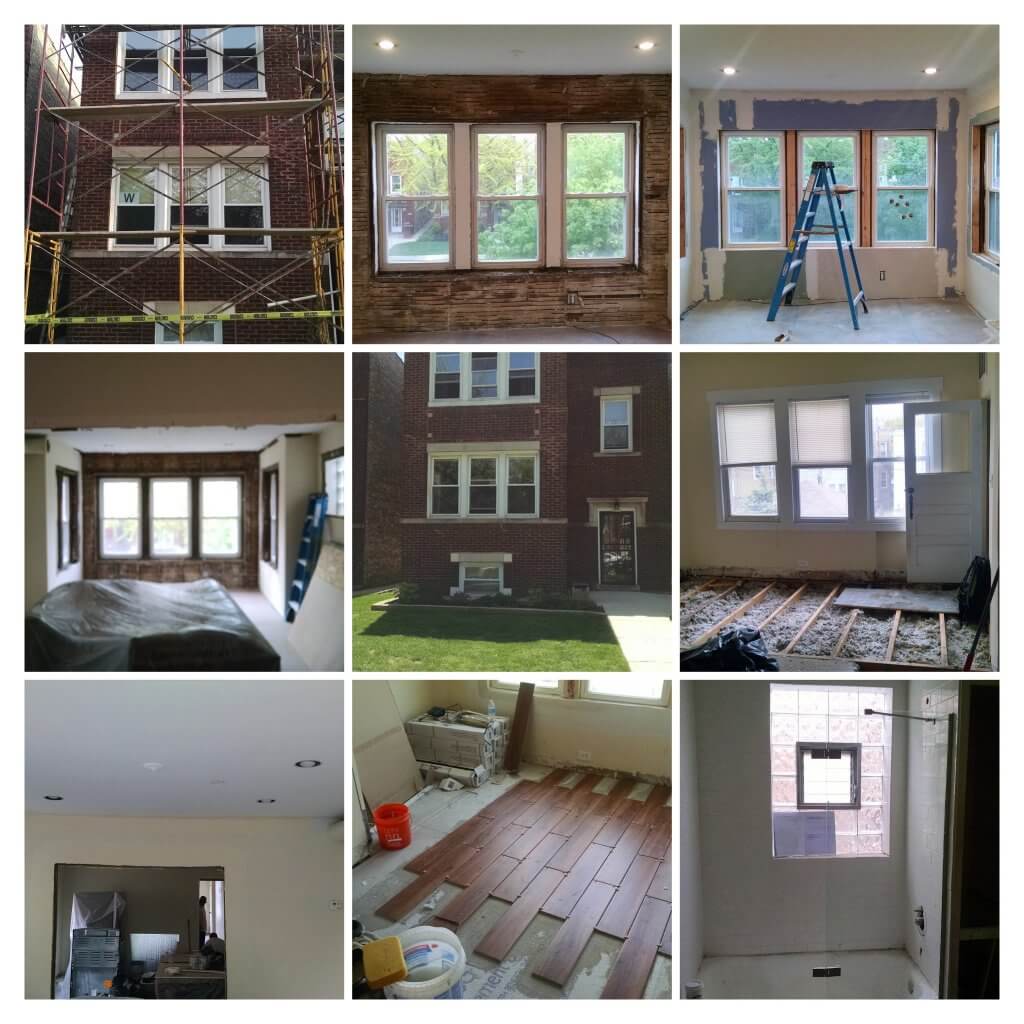 The short answer is to visit every neighborhood and multi-unit in Chicago until you find just the right one. We took every opportunity to visit properties with our realtor, Mike Kelly of Dreamtown in Chicago. In 2012 homes were just starting to heat up and have competition with multiple bidders and offers over the asking price. So this was not the first property we bid on by any means.
This home happened to be a Wells Fargo foreclosure which gave us more of an opportunity to buy as individuals. The listing allowed us to have a small window to make an offer before real estate investors could bid.
We really liked the neighborhood and home when we first went to visit. And quite frankly we were sick of losing! When we made the initial bid we made sure to ask ourselves what amount of money would win the bid and not have us second guess ourselves if we lost the home.
I believe the asking price was $189,900 and we bid a crazy amount like $221,000, which is approximately 15% over asking price. Seriously we were sick of losing!
We found out we were the winning bidders by almost $20,000. So we may have overbid, haha.
What's even crazier than our overbid was that I went to check the property again later in the process and take a few pictures. It just happened to rain the night before, which lead me to find water leaking from the roof into the 2nd floor.
Even though it was a foreclosure and sold as-is, we received a quote to fix everything and reduced the purchase price by $20,000 (the approximate cost to replace the roof). Sometimes it's amazing how things work out.
[Chad: It's tough making offers on that first purchase. Even though you overbid, it sounds like you knew what you could afford. And you also knew your plan – a house hack – so you were able to work it back from that end goal and decide if it made sense at that price.]
What were the basic numbers like purchase price, remodeling costs, rent, resale price (if applicable)
Purchase price: $202,000
203K Rehab: $50,000
Down Payment: $9,000
Rent 1st floor: $1550 including Utilities
Rent Garden Apt: $950 including Utilities
Resale Price: $485,000
These numbers are the initial costs and the resale price. But there were other rehab costs along the way including the garden apartment after one of our renters left the unit in poor condition.
Also, we did a 2nd-floor unit rehab after we had some water damage from an overflow accident.  We decided it was time to update our unit to either increase the resale value or be HGTV ready. The pictures give a very good before and after view of our unit.
I don't have the exact numbers other than on our taxes, but I would say that we put another $50,000 into the property beside the initial rehab in 2012.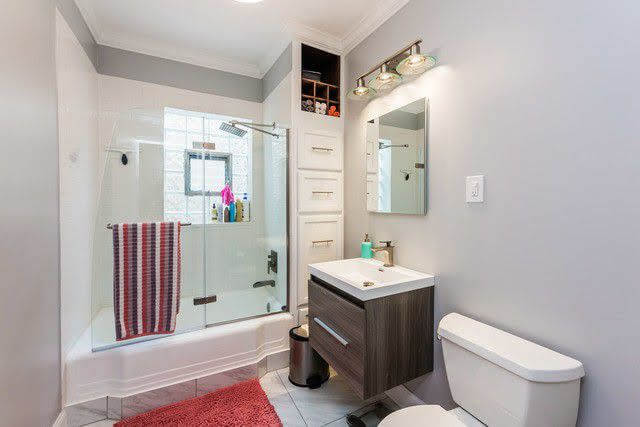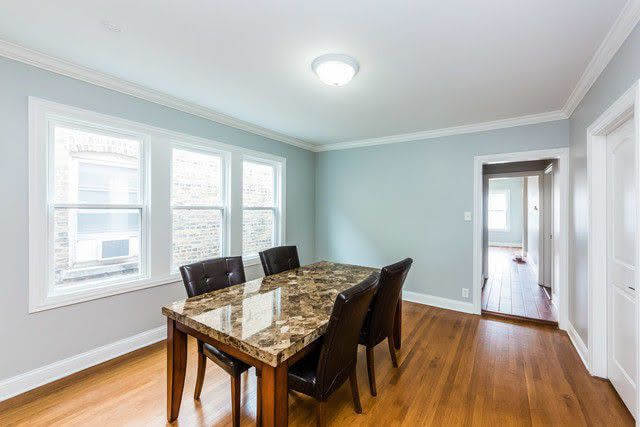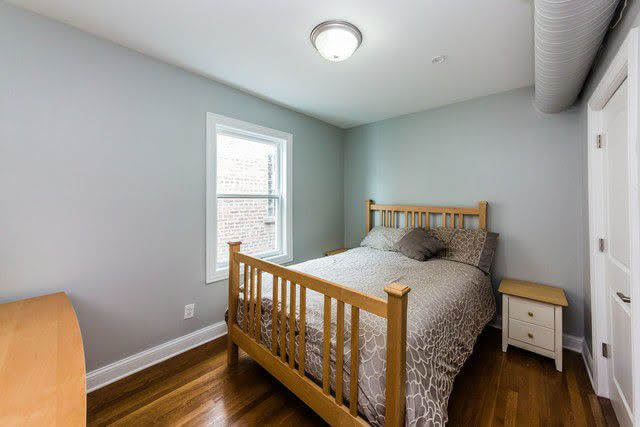 What has been the overall effect of this deal on your life? Lessons learned?
It's essentially how I started my path to financial independence. Before this deal, I was working to pay off $100,000 in personal debt and really just starting to figure out my finances. This deal allowed me to focus more on paying off my personal debt, pay off our Florida home, and have the stability to move to Florida to be closer to my wife's family and start my own business. I don't know if this happens without the purchase and sale of our Chicago house hack.
My biggest lesson learned is to dive in and Just Do It. I'll use the analogy again, but don't study on how to do a push up, get on the floor and Just Do one.
In the world of real estate, it's important to have a general understanding, but I would have been foolish to wait until I knew everything before I purchased a property.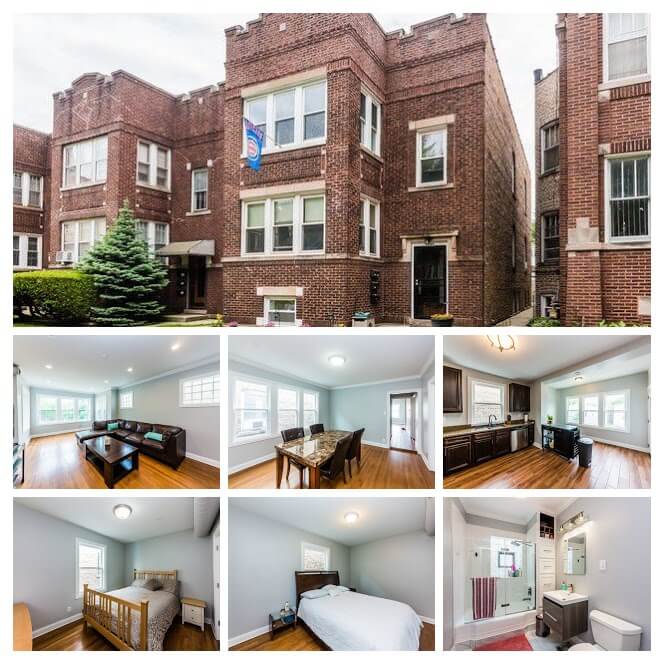 Personal Growth/Development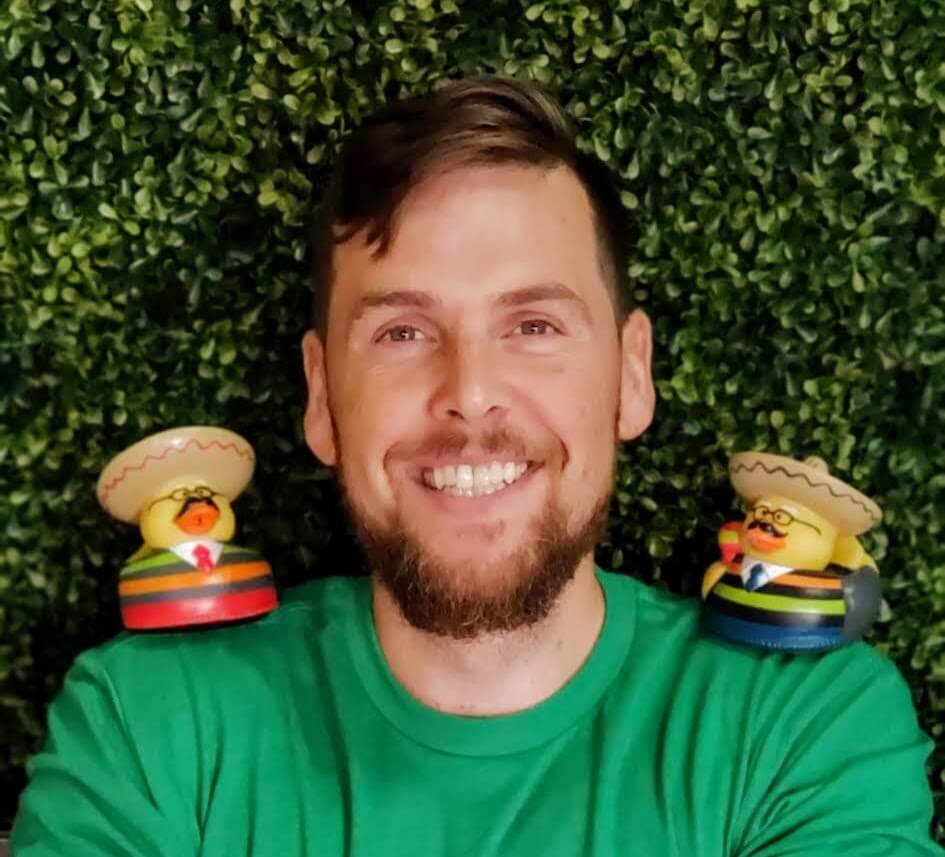 Do you have any tools that help you manage your life, like a physical planner or digital software?
I'm a little old school in this regards. For my health and fitness, I track what I do in a notebook, EVERY DAY.
I'll also create goals and plans usually in 6-8 week periods to track and challenge myself. I'll periodically take pictures, videos, etc. as I believe that if you don't know where you are today, you never will know where you are going tomorrow.
I am working to do this in my everyday business with Even Steven Money. I keep a daily tracker of what I'm working on in a notebook. Then I have a 30-60-90 business plan format in a Gantt chart that is currently my high-level overview. Finally, my daily details are put in a regular notebook.
Writing things down has been really helpful as I have been putting in a lot of work at my website Even Steven Money.
I am in the process of developing a business routine every day which helps manage my life. But if there is something important, I'll use Google Calendar as a reminder on my phone and computer.
[Chad: As an entrepreneur for 16+ years, I also find a lot of value in writing down and tracking my actions every day. One of the biggest challenges when starting a business is the complete vacuum of time you have every day. What will you do? When will you do it? How do you know if you made progress? It sounds like Steven is on track and HUSTLING – which is my favorite superpower of entrepreneurs.] 
What does a typical morning routine look like for you?
Wake up to an alarm all before the sun rises (I tried without and I would still like to condition myself to wake up at a certain time)
Grab my homemade cold brew coffee, made in my french press 24 hours before and walk my dog to the park
The walk gives me time to get outside, clear my head, but also think about what's next or what's important. It's my daily meditation.
Cook breakfast, which during the weekday consists of 2-3 eggs and water
Shower and get to work, which involves walking to a room in my house and turning on my laptop. Although today it's sunny and 75 so I have the doors open to our screened in porch and I'm enjoying a change of scenery.
What's your #1 habit to stay personally productive and fully engaged in life?
Create a routine. One of my biggest struggles is consistency. Creating a routine for me feels like an automatic investment, I don't have to think about it. Whatever I have set up initially I can trust that I am putting self in the right direction.
After your routine is created it's important to focus on the things that matter most to you. I'm constantly measuring, tweaking, challenging, what I did the day before, the week before, etc.
[Chad: I like routine as well. Usually when I go on vacations I soon realize I need a vacation from the sporadic vacation routine! Of course, there is a time for spontaneity and less structure, but when I'm in entrepreneur or creation mode – like when I wrote my book – routine is everything.] 
Who have been your most important heroes, mentors, and/or teachers?
As a kid, I listened to and tried to emulate Hulk Hogan, Charles Barkley, and Will Smith. Over time I moved on to Warren Buffett, Mark Cuban, and Dave Ramsey.
I'm a very project orientated person, so I tend to immerse myself in mentors and coaches as it fits my life and the project I am consuming at that time.
In money and personal finance, I started reading JD Roth's Get Rich Slowly, which piqued my interest and helped me learn so much about money in general.
At some point, I moved to Dave Ramsey. He helped me get rid of my debt and was a constant reminder to keep things simple. Again at some point, I moved on.
I'd like to say Mr. Money Mustache was next, but I would rather say the FIRE movement was next. Carl over at 1500 Days probably led the way as he was one of the few FIRE related real estate blogs that I found at that time.
Ultimately for me, it's different phases of my life that bring different people to immerse myself into.
This year has been more about my health and fitness along with starting a business. So, I'm more likely to check out the Rock, Gary Vee, or any serious Crossfit competitor.
What are your favorite books, blogs, or authors? Can be categories in business, investing, or life/philosophy (other than a sacred book)?
Recently I'm a little light on the books, blogs, podcasts, authors part of my life. Since business has been a large part of my life recently I am especially fascinated with all things Gary Vaynerchuck aka Gary Vee. I would describe Gary Vee as an intense, honest motivational speaker about all things business. He also has a heavy hand in social media as his strength.
[Chad: I'm a fan of Gary V as well! But I find that I can only follow him in bursts. He's intense (in a good way). I learn a little bit and then go do it!]
On a personal level, I'm especially interested in health and fitness which has led me to Crossfit. The principals Greg Glassman, founder of Crossfit, is applying to not only the fitness industry but also health is eye-opening to me. I see a lot of correlation to personal finance and health and fitness.
In fact, I see Crossfit as the FIRE movement. Popular names like Mr. Money Mustache or the World Class Crossfit games competitor like Rich Froning or Matt Fraser are the ones who get the headlines. But we know there is a cult following that is about more than an individual. Crossfit and the FIRE movement are helping so many more people than those that are in the limelight.
As a money coach, I don't want to focus on those saving 50% or more of their income. Those are the Crossfit athletes. Instead, I want to work with individuals who are looking to pay down debt, save more money, earn more money, or change their money mindset.
I'm looking to simplify people's finances. If I can give them a roadmap to financial freedom and coach them along the way I really think I can make a difference.
What legacy do you want to leave personally and in your career?
I don't think I have an answer to this question today. I'm in discovery mode.
I do know and believe that I can help people with their money. I've learned so much over time. And I've experienced so much with debt, savings, and changing my mindset with money. All of these can help me have a personal impact on someone's life.
I want to be the reason that someone paid off their debt, saved enough money for a car, changed careers, or started their own business.
[Chad: I'd say that's a pretty good business mission. If you help enough people do that, you'll be positively affecting people's lives!] 
Final Advice For Other Investors?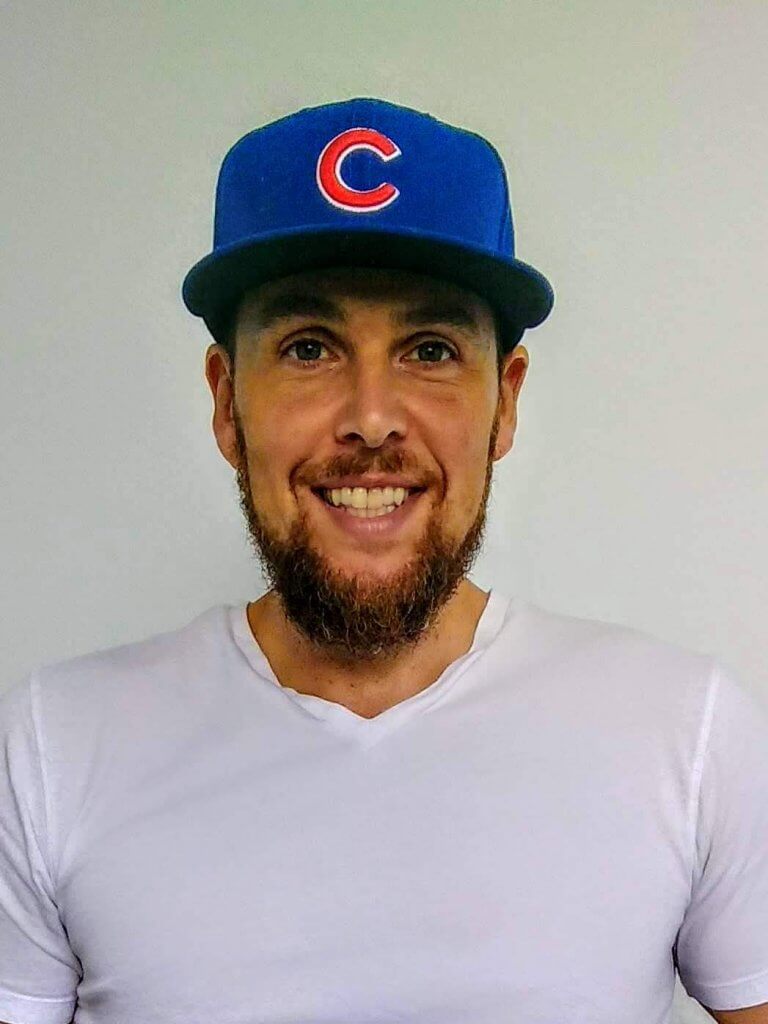 Any big mistakes you've made that others should avoid?
Using the term "afford" when buying a house or car. In 2009 I bought a relatively new Mercedes-Benz with a car loan of $18,000. I could "afford" the $323.95 car payment. At the time I was making $30,000 per year. The car would have been 60% of my total gross income for the year.
It's simply foolish to think that because you can "afford" a monthly payment that you should make the purchase. That's what happened to me and I paid for it.
What advice do you have for a young person just considering their future career and life as an adult?
Put in work and repeat. I don't think I truly understood this as a fresh college graduate.
I expected a job to come my way because I had a college degree or I was smart or knew a person. What I really found out is that you have to put in work every single day. Then you keep working till one of those opportunities happen.
Any final tips for others looking to invest in real estate and achieve financial independence?
House hack your first real estate investment. I could even make the case that if you already own a home you should rent out a room or portion of your house before your first real estate deal.
This gives you the opportunity to see first hand what the real experience of a landlord, property manager, and an investor is all about.
It's an ideal situation to learn and experience real estate investing.
[Chad: Thanks Steven for sharing your experiences and wisdom with us! You always seem to have fun with the process of whatever you're working on, and I admire that. I know the principles you're sharing with others on your blog and with your money coaching will help a lot of people.] 
Do you have any questions or comments for Steven? Be sure to say hello in the comment section below.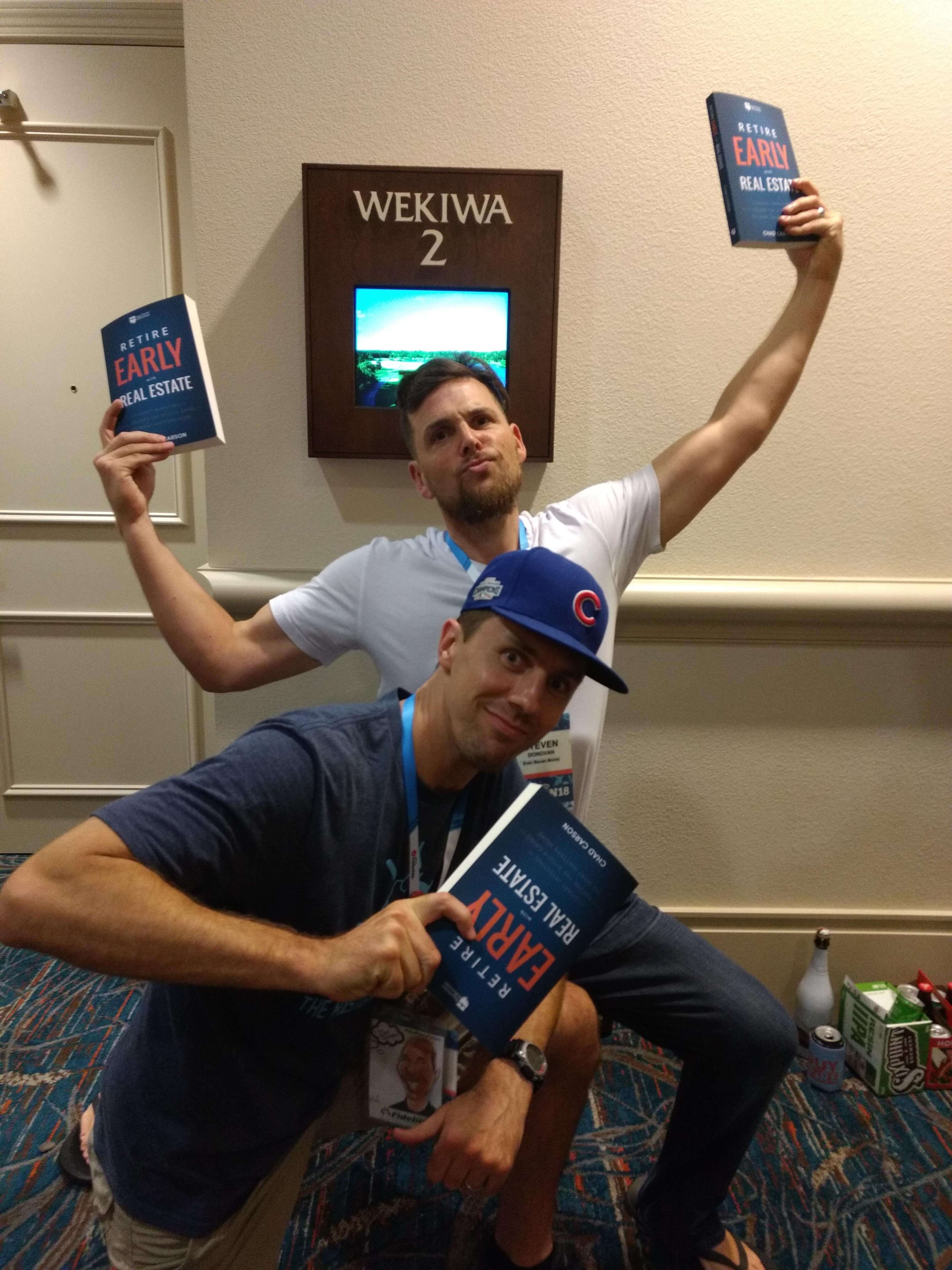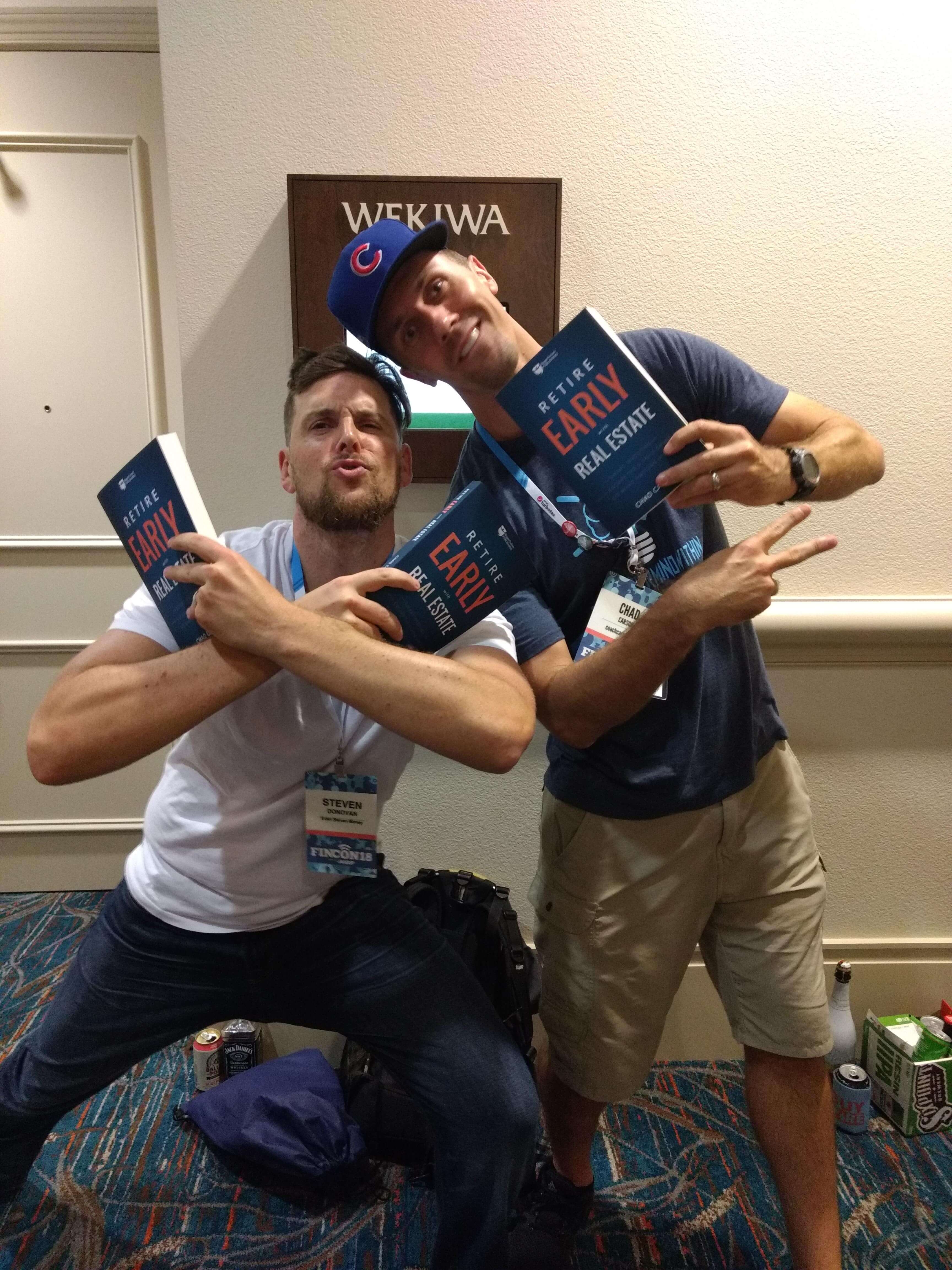 Even Steven and Coach Carson having some fun with book promotion! 
Get My Free Real Estate Investing Toolkit!
Enter your email address and click "Get Toolkit"