My family and I moved to Cuenca, Ecuador for a mini-retirement trip almost 16 months ago. But our rental properties stayed behind in the United States to support us financially. Essentially we became ultra long distance landlords (2,611 miles to be exact!). So, the landlording (aka property management) processes and relationships we built over the years were put to the test. And so far, the results have been good!
This article explains the details of my approach to landlording, step by step. I will share the processes, team members, and technology I've use to successfully manage (with help of course) 90 rental property units from another country.
But you don't have to live in another country or own a lot of rentals to apply the landlording strategies I'll share. The advice in this article will apply whether you:
live one mile away from your rentals or in another state or country
own a lot of rental properties or just a few
manage rental properties yourself or hire a third party property manager
For any landlord, the goal of owning rental properties isn't to spend all your time on your properties.  Instead, the goal you probably share with me is to be flexible so that you can travel, enjoy life, and spend time doing whatever matters most to you.
So, living a better life is really what this article is all about. Successful landlording helps you do that.

Real Estate is an Investment AND a Business
Before we talk about the details of landlording, we need to start with an important reality.
Rental properties aren't purely an investment. Instead, they're a hybrid between an investment and a business.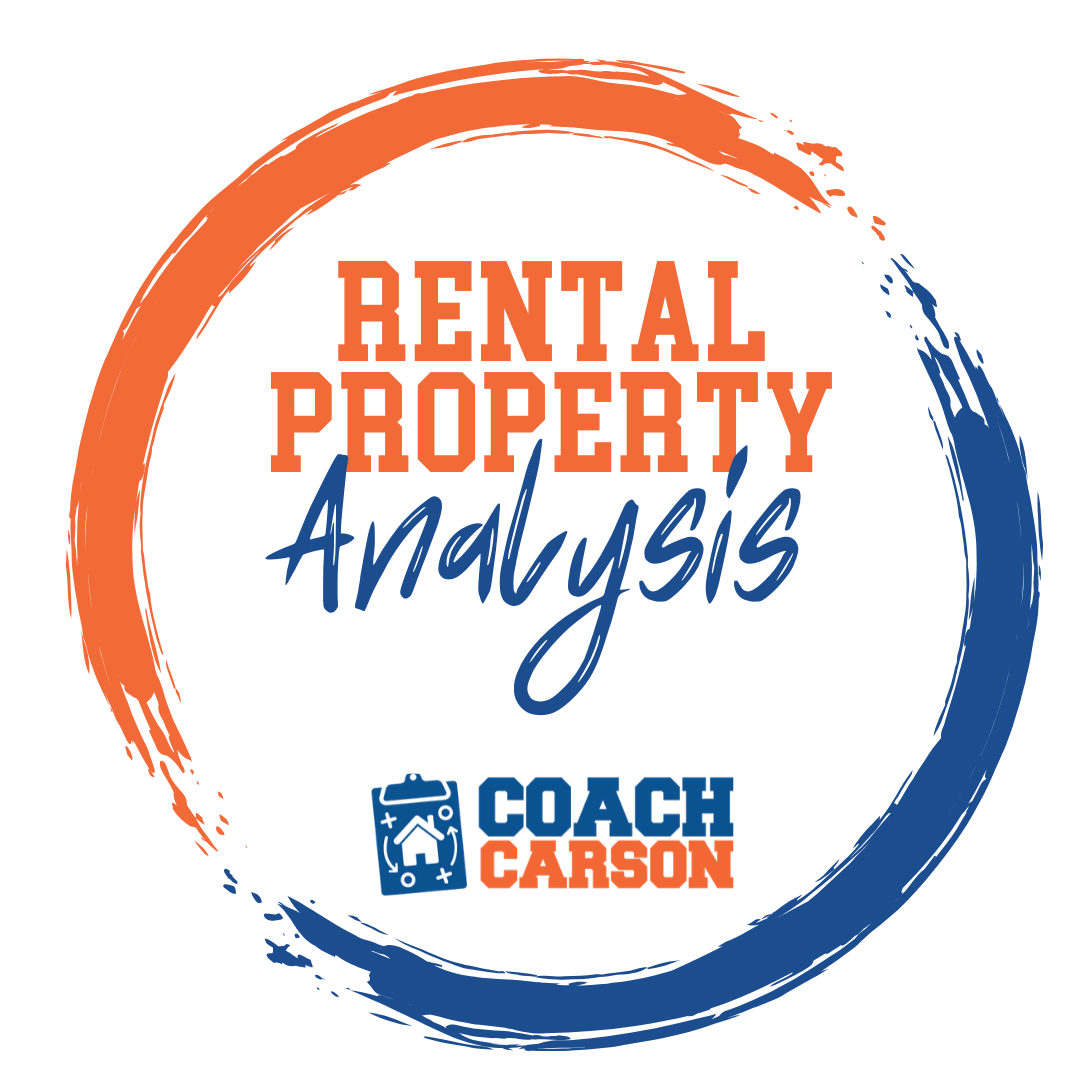 A course by Coach Carson that teaches you how to run the numbers so that you can confidently analyze and buy profitable rental properties. It also includes Coach's rental analysis spreadsheet.
Get the Course
Most of the landlording horror stories I hear involve people not treating their properties like a business. They accidentally or on a whim become a landlord.  And as a result they don't prepare themselves enough.
Is there any wonder why those situations don't turn out well?
It's true that investments like REITs (Real Estate Investment Trusts), mutual funds, stocks, bonds, and bank CDs (certificate of deposits) are naturally more passive than direct real estate ownership.  But these passive investments were MADE passive by someone or some group of people in the past. And you can do the same thing with your rental properties.
In the beginning, my business partner and I began doing almost all of the tasks in our rental business. I distinctly remember sitting in his living room for our first annual corporate meeting (complete with Doritos chips and Dr Pepper).  We then wrote down the 15-20 jobs that would need to get done. And one by one we split those jobs between us, from CEO to the maintenance supervisor.
Now more than 15 years later, we have other people or technology doing 90% of those same jobs. I'll explain who does them and how it happens in the rest of the article. But first let's look at how this gradual outsourcing process optimizes something called your cash flow quadrant.
---
---
Optimize Your Cash Flow Quadrant
In the Cash Flow Quadrant (my favorite book by Robert Kiyosaki) there is a concept of 4 different ways to earn income (i.e. the four Cash Flow Quadrants). Here's my drawing of what that looks like: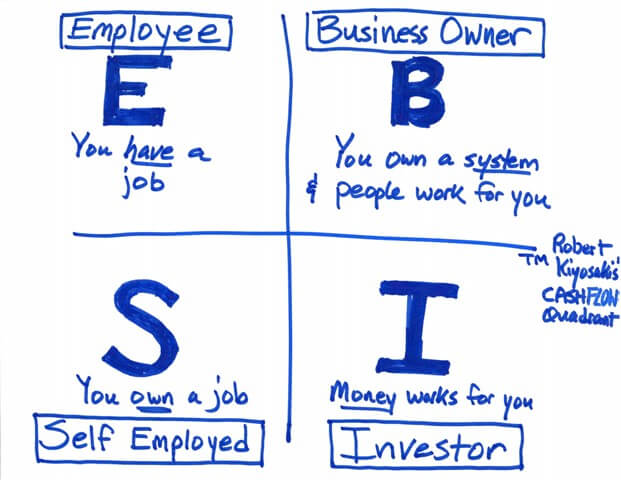 The goal of financial independence is to primarily receive income from the B (Business Owner) and/or I (Investment) quadrants. This means you receive relatively passive income (nothing is 100% passive) to pay for your lifestyle.
Real estate investment income can be in the active S (self-employed) quadrant if you do some or all of the property management work yourself. And especially early on when you need the extra money, there's nothing wrong with that.
But if you deliberately work at it, these same rental properties can move from the S to the B quadrant. At that point you own a system and have other people run it for you. This S to B transition frees up your time and flexibility, and it's what this article is all about.
So, I'll help you make that transition by sharing three key components that made our own landlording business more passive:
Processes
People
Technology
If I had to choose the most important piece of this three-piece puzzle, it would easily be the people. As you'll see, trustworthy and competent people are the heart and soul of managing rental properties. But in order to understand the flow of the business and how everything works together, I'll begin with the structure of the business – the processes.
Processes Give Your Landlording Business Structure and Order
Processes are simply explanations or best practices for how to do something. In my case, processes are checklists, step-by-step instructions, and forms.
If the people are the heart and soul of a business, the processes are its skeleton. And like bones in your body, they give support and form to everything else.
Ever since we created our first checklist, my business partner and I saved and organized our processes in an operations manual (now all online). And every time we outsource a task or group of tasks, we use the content of the operations manual to teach the new person.
As a current or future long distance landlord, you also need to create (or borrow) your own processes. This will allow you to outsource them to someone else. If you simply hire someone to do jobs without your own processes, you abdicate instead of delegate.
Abdicating is like an ostrich that sticks its head in the sand to hide from reality. It means that you simply hope the person you hired gets everything right. And that's not a good business strategy.
Instead, you can properly delegate and teach specific jobs to people by first creating your own processes. And these processes also give you an objective way of holding that person or organization accountable for their job. If they do their job well you can thank and reward them for it. Or if they don't do it well, you can correct, teach, and in a worst case fire them.
In other words, having processes makes your job as the owner of your rental business much easier and more effective.
Processes Are Living Documents
Another thing to keep in mind about processes is they are not written in stone. Instead, they are always open to change and improvement.
For example, your tenants and your team members will likely make suggestions for improvement. And you may network with other investors or read a blog post (like this one!) to get new ideas.
But the main point is that you must first have a basic process to improve upon. NO process is the only wrong answer. Without a process, you have no foundation to build on.
So, the first step (like right now!) is to create a real estate process folder in Google Drive or whatever online storage you use. And within that folder start creating and collecting checklists and documents within the following rental property management categories:
Leasing (AKA Renting Out)
Collecting Rent
Maintenance & Remodeling
Bookkeeping & Administration
Tenant Turnover
I'll start by explaining the first of these processes – leasing.
Leasing (AKA Renting Out Your House or Apartment)
Leasing is all about attracting, showing, screening, signing up, and moving in qualified tenants. It involves all of the processes needed to rent out a house or apartment. Here is what my own leasing process looks like: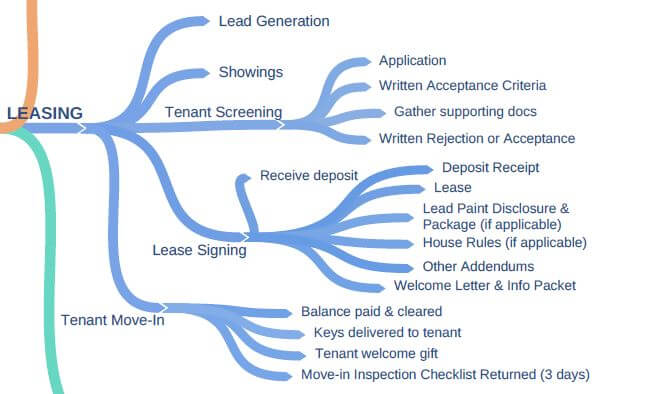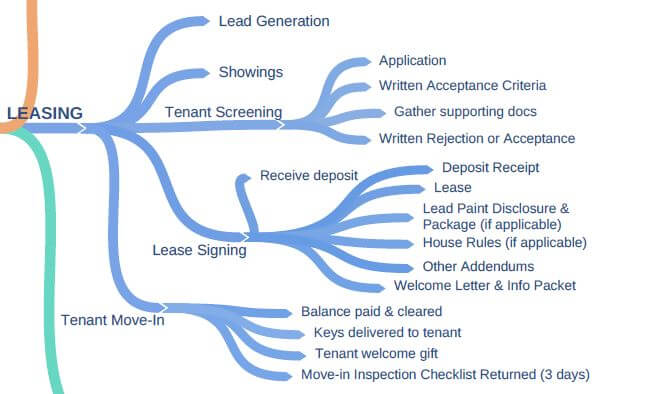 As you can see, there is a natural chronological flow to the leasing process. One thing must happen before another, like this:
Generate leads – use various forms of advertising, like online websites or referral requests from existing tenants, in order to attract prospective tenants
Show apartments – receive calls, schedule, and show units to interested tenant prospects
Screen tenants – receive an application and perform due diligence to ensure a tenant meets our written qualifications. Send written rejection to those who don't qualify.
Lease signing – get the entire package of lease paperwork signed by an approved tenant and receive a security deposit to take the unit off the market
Tenant move-in – receive all monies owed and facilitate tenant moving in to their unit. Welcome them and make them feel at home with a call and/or a gift. Also ensure a move-in inspection is performed.
Each of these leasing steps can in turn have its own more detailed sub-processes. In most cases, these sub-processes are checklists and in some cases a form (like a lease contract).
Leasing is always one of the most time-consuming (yet important) landlording processes. So, it's a good one to outsource early.
If you have a property manager, they usually include leasing as part of their service. But even without a property manager, you can pay leasing agents (either a real estate agent or property manager) to find and place tenants for you. The fee depends on the area, but it's often 50% to 100% of one month of rent.
In my case, we have an internal team member who performs most of these five steps for 2/3 of our properties. I still remotely make the final decision for tenant screening, and I digitally sign all the leases. For the other 1/3 of our properties, a property management company does all of the steps including tenant screening and lease signing. It's completely hands off.
When tenants finish this process, they are now a current customer of your rental business. And they continue moving into the next landlording process – rent collections.
Collecting Rent
The process of collecting rent is an ongoing, day-to-day part of a landlording business. And because rental income is the financial lifeblood of everything else, it's critical to get this step right.
Here is what my rent collection process looks like:


The first goal of the rent collections process is to make it easy and fast for tenants to make their payment. The easier we make it, the more likely they are to make payments on time.
For a large majority of our tenants, easier and faster means paying online. I'll talk more about that in the technology section. We still have about 20% of our long-term tenants who mail checks, but that will eventually be phased out.
Sometimes the rent is not paid by the due date. And in that case, the delinquent rent collection process takes over.
I can't emphasize enough how important it is to have a written process for delinquent rent. And then you have to do something even harder – follow your process!
It's very easy to get caught up in emotions and stories from tenants instead of considering real information. An objective process gives you the real criteria that you need to make the best decision for everyone.
For example, our delinquent collection process automatically charges late fees 5 days after the original due date. And on the 6th day, the person in charge of delinquent collections contacts the tenant to learn about their plan to make the payment. If they haven't communicated and given us a reasonable plan to make up the payment (like paying the rent and late fees on their next pay check), we file an eviction as soon as the 6th but no later than the 15th.
This process is of course particular to the legal system in South Carolina where I invest. You'll have to adapt it to your own local situation. But the point is you need a delinquent rent process no matter where you invest.
Keep in mind that the tenant can always pay their bills and catch up even after you begin this delinquent process. And often that's better for everyone. But the worst thing you can do is let the situation drag on without a resolution. It will cost you money, anxiety, and send signals to everyone involved that you're not in charge of your business.
The next landlording process is about maintenance and remodeling.
Maintenance & Remodeling
It's a fact of life that your buildings will break and need regular maintenance.  And this is usually what scares potential landlords away from direct rental property ownership. But it doesn't have to be that way.
For example, I vividly remember handling a maintenance issue in 2009 before visiting a penguin colony in South America. My wife and I were in Punta Arenas, a town at the southern tip of South America in the Patagonian region of Chile. In a small internet cafe I received an email message from a tenant that they had no hot water. So, I quickly called my plumber using Skype (for $.07/minute). After a 2 minute call he said he'd handle it.  My wife and I then proceeded to brave the cold 25 mph winds and enjoy the penguins.
So, responsive and reliable repair contractors are obviously a key. But these people should also be plugged into a maintenance and remodel process within your business. Here's what mine looks like: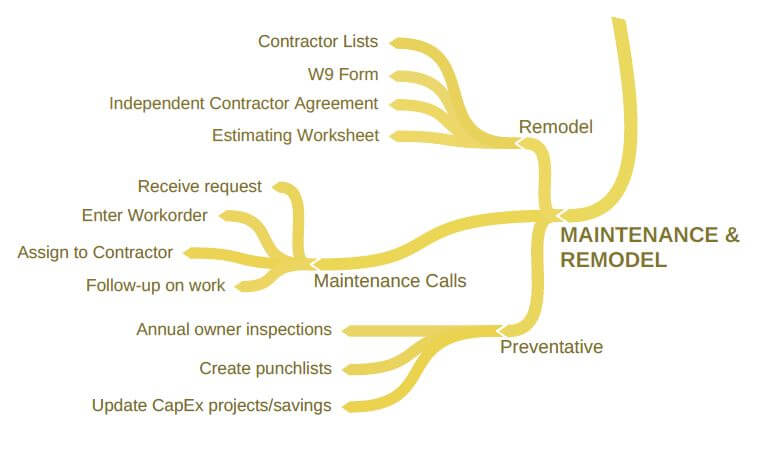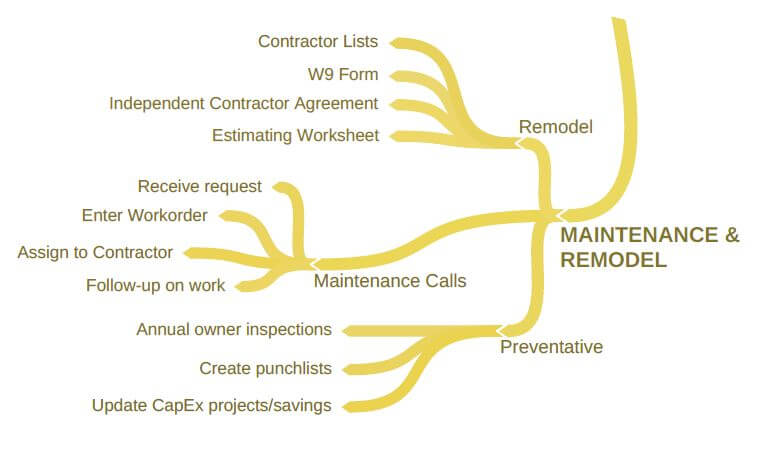 For major remodels, we have a process of getting estimates, W-9 tax forms, and contractor agreements. But for regular maintenance (which you'll usually encounter with rentals), the process simply includes:
Receive maintenance request  – this just means having an easy way for your tenants to contact you with problems. Our preferred method is a message within our tenant portal (see technology later in article). But we also are ok with an email, text, or call. You can have a dedicated Google Voice number for maintenance that transcribes voicemails into emails and texts.  You can also pay for live answering services to take calls for you and do the same thing.
Enter work order – the online property management system we use (Buildium – explained more in the technology section) allows us to enter and track work orders. These are just a written records to track and follow-up on maintenance issues.
Assign to a contractor – the person who supervises maintenance assigns the work order to the appropriate contractor based on availability, price, and type of job.
Follow up on work – because everything doesn't always get done on time or correctly, the maintenance supervisor needs to follow up with the tenant and with the contractor to make sure everything is handled satisfactorily.
In addition to regular maintenance requested by tenants, we also have preventative maintenance. This type of maintenance is an investment in the longevity of systems like heating and air, roofs, gutters, etc. Investing money up front saves even more money over the long run.
Some maintenance gets scheduled with recurring Google Calendar reminders and then assigned to contractors. Other work is found during onsite property inspections that my business partner and I perform on every property once or twice per year. If needed, we also update our regular savings for larger capital expenses coming in the near future (like replacing a roof).
The next landlording process is bookkeeping and administration.
Bookkeeping & Administration
For almost every physical process in a business (like maintenance, rent collection, etc) there is a corresponding bookkeeping entry. This means you track the financial numbers in some type of bookkeeping system. We use a combination of the software Buildium and Quickbooks to do our bookkeeping. Buildium handles all of the day-to-day bookkeeping for our property management company, and Quickbooks handles the more simple books for our rental ownership LLCs.
By doing this well, the financial health of your entire business can be reflected in weekly and monthly reports. And these reports are what you (the business owner) regularly review to understand the current state of your rental business.
For all of you fellow Matrix nerds (one of my all-time favorite movies!), a seamless bookkeeping process can help you see your business in numbers like this:
And using the power of these bookkeeping reports, you as the business owner begin to feel confident like this: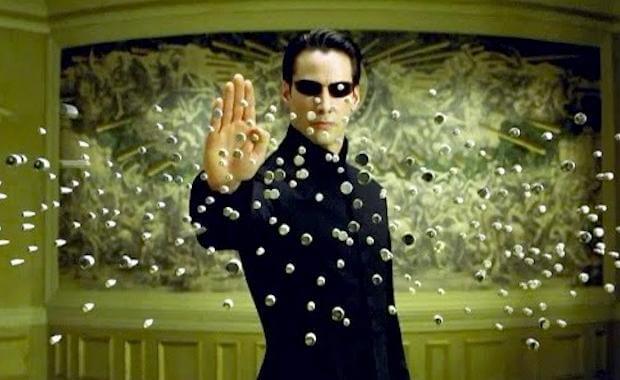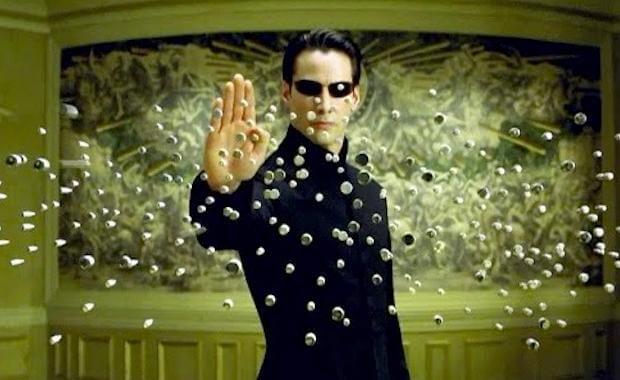 Yes, it's true. You don't need amazing martial arts skills, sun glasses, and all-black clothing to be cool and powerful. You just need excellent landlord bookkeeping!
Our own bookkeeping and administration system looks like this: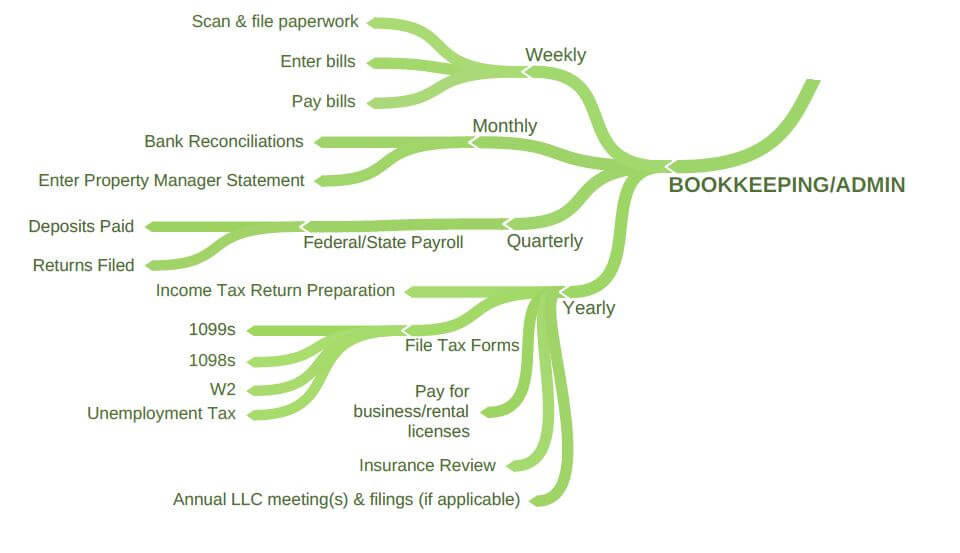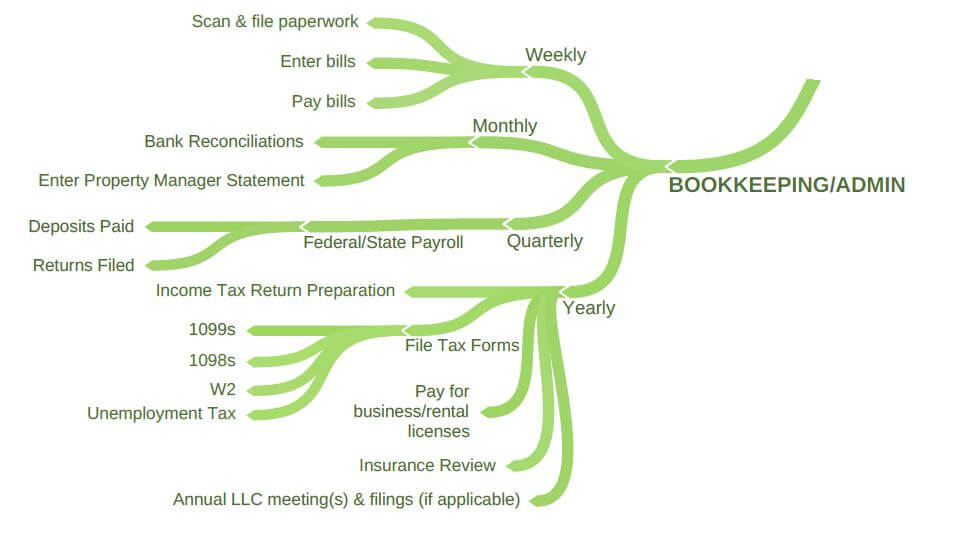 There are parts of the bookkeeping process that get done weekly, monthly, quarterly, and yearly. And most of the tasks are done by our bookkeeper.
But as the co-owner and manager of the landlord business, I pay all the bills myself each week (I prefer never to delegate check writing ability). This takes between 20 to 60 minutes per week.
And I also review and study the entire books every month, which takes 2-3 hours. If you only have a few properties, this could take much less time. I also like to do this myself because it helps me keep a pulse on the entire business and spot any problems before they get too big.
The final landlording process we use regularly is tenant turnover.
Tenant Turnover
Tenant turnover happens when a tenant decides to move at the end of their lease (or after an eviction). By having a good tenant turnover process, you will minimize one of your biggest costs – vacancy.
Our tenant turnover process looks like this: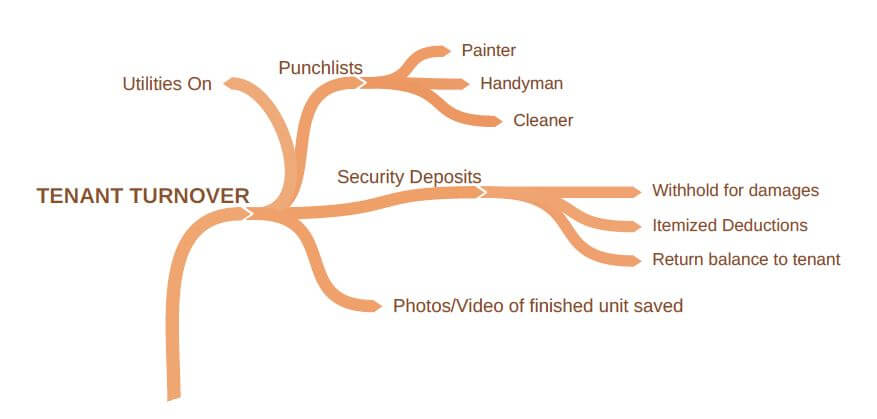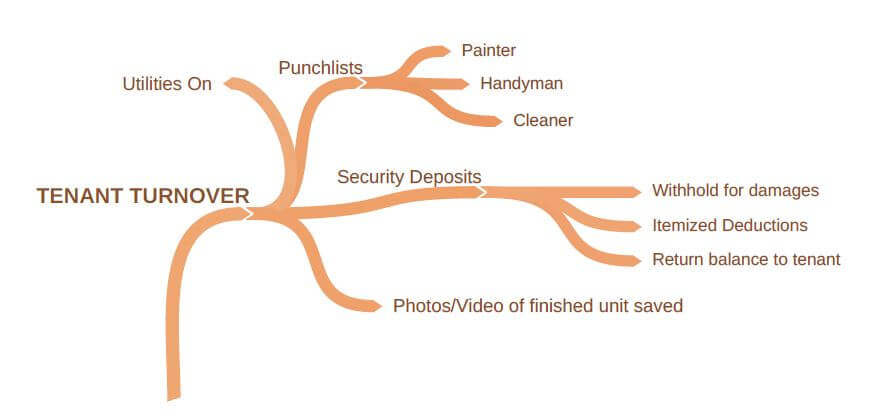 The goal of this process is to seamlessly transition from one tenant to another in the least time possible. We also want to maintain the physical quality of the rental unit itself.
To accomplish this goal, the person in charge of tenant turnover asks tenants as early as possible if they plan to renew their lease. For college student rentals (about 60% of our units), this means asking in December or January before a lease ends in August. For non-student tenants, it usually happens 60 to 90 days before a lease ends. Our management software (Buildium – affiliate link) easily lets us know when leases are close to expiring.
Once we know a tenant is moving, the tenant turnover process begins. Utilities are scheduled to turn on. The painter, handymen, cleaner, and carpet cleaners are scheduled to do work (each of them has a punchlist/checklist to follow). And once the unit is empty, a walk through inspection is done to note and document any damage. Any costs of tenant-caused damage are then deducted from the tenant's security deposit, which must be returned within 30 days of the lease ending.
The end of this tenant turnover process overlaps with the original leasing process as one tenant moves out and another moves in. And like that, the circle of landlording life goes on. And you as the landlord keep happily watching the rent checks roll in!
Now let's look at the foundation of my own landlording business that makes all of these processes come alive – a team of awesome people.
Your Team – The Foundation of Successful Landlording
Hall-of-fame basketball coach John Wooden used to say that your team is the main ingredient of stardom. In other words, you can't achieve anything great individually without an amazing group of people around you. In my case of managing properties while in another country, this has proven to be absolutely true.
My personal inner circle of key team members includes:
A bookkeeper/administration/go-to person – This person initially started just doing bookkeeping tasks. But as she demonstrated her competence and trustworthiness, her responsibilities grew. And she's also become a close friend and like a family member. In addition to most of the bookkeeping, she now handles rent collections, maintenance calls, the turnover process, and much of the leasing process (except final underwriting and lease signing, which I still do).
My business partner – We've been 50-50 partners since we began the business and have also become close friends. Over the last few years I have overseen more of the day-to-day property management, but for big picture bookkeeping and management tasks we still share the load. And in an emergency situation, he can go over to a property while I'm traveling, which gives us peace of mind. If I didn't have this, I would depend more on close investor friends while traveling. We could exchange favors and make decisions for one another in a pinch.
Third-party property management company – When we made a 28-unit major acquisition a couple of years ago, we outgrew our self-management infrastructure. So, we hired a local property management company who we had come to know and trust over the years. They have exceeded our expectations by managing an entire $200,000+ remodel project and increasing rents all while I lived abroad. An excellent management company who handles all of the landlording processes is a pleasure to work with.
Handyman – This person is very reliable and can do painting, small plumbing and electrical, carpentry, cleaning, and other miscellaneous tasks. When we need something quickly and done well, like during tenant turnover or maintenance calls, he's the one we call first.
Certified Public Accountant – Our CPA helps with annual tax preparation, but just as importantly he's a trusted adviser who knows us and our business. For example, when we're making a strategic decision about whether or not to sell a rental property, we listen closely to his tax and business advice.
We also have go-to electricians, plumbers, HVAC contractors, lawn maintenance contractors, pest control companies, tree service companies, mold remediation contractors, septic companies, and roofers. Having a relationship and being able to call them for help makes our landlording business run smoothly.
Building and Managing Your Landlording Team
Finding and recruiting all of these key team members isn't fast or easy.  It's one of the reasons a good landording business takes time to ramp up. My top recommendation for building your team is to network and get involved in a local real estate investing meetup or REIA (real estate investor association). Other local landlords are the best sources of referrals.
And to help you improve your ability to build and manage your team, I recommend the following books:
And if human resources and people management just aren't your thing, simply focus on hiring one or two key team members (like your property manager). They will automatically have all of the other team members you need.  This means you can have an entire landlording business with just one or two key relationships.
Now let's look at the final piece of our landlording structure – technology.
How to Be a 21st Century Landlord Using Technology
Technology continues to advance rapidly in all parts of our society. And in the case of landlording, it's making our business MUCH easier and more flexible.
As I've already explained, the processes and the people are a core part of the rental business. But technology can make the processes more automated and make people's jobs easier.
For example, property management technology has changed our process of filling out lease paperwork. Before, we manually typed or hand wrote information into a lease. Then we printed physical pieces of paper for our tenant to sign.
But now our online management software Buildium (affiliate link) can automatically fill out the lease content. And with the press of a button, Buildium sends them a digital copy that can be signed in minutes using their smart phone.
Buildium starts at $45/month and increases in cost based on the number of rental units and any premium add-ons you use.  We've used Buildium for several years to self-manage our properties, and we've been very happy with it.
But I also like two other online landlording platforms that you can use for free. If you are just starting or only manage a small number of properties, these platforms can work great.
The first platform is Cozy.co (affiliate link). It's extremely user-friendly, and it can do many of the basic features of Buildium for free. For example, you can market, collect rent (for free), accept applications, track maintenance, and more. I also like that you can pay to get a detailed rent estimate to ensure you're pricing your rental correctly.
The second platform is RentMarketPlace.com (affiliate link). It's a newer company on the scene, but I like their expertise and support for tenant screening (their founder Pam Storm wrote an excellent tenant screening guest post for me). And I also like a new feature that reports rent payments to the credit bureaus, which could be a value-added feature for your tenants.
But because I primarily use Buildium for my processes, below I'll explain how we use their technology to run our landlording business.
How We Use Buildium to Run Our Landlording Business
Property management technology doesn't replace the processes I described earlier in the article. Instead, it runs and automates those same processes. So, the technology frees up the time of our team to focus on serving our tenant customers even better.
Before we used Buildium, we were able to find some of the same tools with many separate products around the internet. For example, we screened tenants using SmartMove by Transunion. But now we have these tools and many more all within one system that integrates together into one seamless process. And that coordination of separate processes is a game changer for creating a more passive business!
For example, here is a list of the processes of our landlording business and how Buildium makes each process work better.
Leasing >>> Lead Generation
One-Click Online Advertising – Press a button to syndicates ads to all the major online advertising sites like the Zillow network, Lovely, and Apartment List. This gets the most tenants viewing your rental ad.
Dedicated Website – Your properties are automatically displayed with photos and descriptions on a dedicated website for your rental business.
Leasing >>> Showings
Coordinate Showings – A premium add-on (we haven't used yet) that automates scheduling and follow-up and organizes all tenant showings.
Leasing >>> Tenant Screening
Application – Our rental application is 100% online on our dedicated Buildium website. This makes applying much easier for tenants (resulting in more applications), and it makes paperwork non-existent for us since it's all online.
Tenant Screening Criteria – As this article explains, you should always have written qualifications for tenants. In Buildium, you can create a checklist template that you use for each tenant so that you follow your criteria (like checking credit, getting landlord references, verifying income, etc).
Credit/Criminal/Eviction Reports  – We press a button inside Buildium and the tenant receives an email to pay for their background check. Once they pay and agree to it, we receive the reports within the applicant's profile in our software.
Supporting Documentation  – We gather pay stubs, rental references, and other documents to verify a tenant's application. All of this is uploaded and stored safely within our applicant portal in Buildium.
Notice of Acceptance or Rejection – Once the tenant screening process is complete (usually after a few days), we decide if their application is accepted or rejected based on our written criteria. In either case, we press a button and the applicant is notified in writing (and usually with a follow-up call as well).
Leasing >>> Lease Signing
Online Deposit Payment – We no longer schedule a meeting in person to receive a deposit. Instead, an accepted applicant reserves their unit by paying the deposit through their online tenant portal in Buildium.
Online Lease Paperwork & Signing – One year before I left for Ecuador, we moved to a paperless office. Buildium allows us to automatically fill out each lease using a template and the tenant's stored personal information. Then we press a button to email the lease to the tenant for a digital signature (this costs an extra $5/lease but has been worth the time savings).
Accessible Paperwork – The final signed lease and all associated paperwork is saved within Buildium for the tenant or us to download anytime.
Rent Collections
Online Payment  – Over 80% of our tenants pay online through their Buildium tenant portal, and we expect that to be 100% in the near future. They have the ability to do this manually or set up auto-payments. This saves our team time from checking mail and depositing checks. And it saves tenants time and money from writing, mailing, and delivering checks. We pay the $.50 cost per payment, but this easily saves us much more in time, gas, and hassle.
Automated Late Fees – When a tenant does not pay rent by the due date, they are automatically charged late fees in Buildium. A later payment reminder email or text is also sent to them automatically. And they can login to their tenant portal anytime to see how much they owe.
Track Collections Activity – The person in charge of calling and trying to collect rent can make notes (seen only by us) in the tenant's profile. This helps organize and track the delinquent collections process.
Maintenance & Remodel
Contractor/Vendor Tracking – The contact information, tax ID number, W9 forms, contracts, and any other relevant information for a contractor or vendor can be stored and accessed within Buildium
Maintenance Requests – A tenant can make a maintenance request through their tenant portal. The appropriate person is then notified immediately so that we can respond. Or if a tenant calls or texts outside of Buildium, the maintenance request can be manually entered.
Work Order – A specific work order can be created and sent to the appropriate contractor from within Buildium. This makes tracking and following up on maintenance jobs much easier. And when the job is complete, the work order can turn into an invoice to be paid within the bookkeeping part of Buildium.
Historical Data – When you have many repair and maintenance jobs over the years, you'll tend to forget what happened. But if you need to research all the maintenance done on a property, you can simply look at the old work orders and invoices to learn what has been done.
Bookkeeping & Administration
Weekly Bills  – We pay bills once per week, and these are entered and tracked in Buildium's bookkeeping system. I pay the bills using online banking through my bank. And our bookkeeper archives the invoices and receipts in Evernote.com.
Bank Reconciliations – Our property management bank accounts are reconciled within Buildium.  The bank accounts of our rental LLCs that actually own the properties are reconciled separately using our long-time bookkeeping software Quickbooks.
Year-End 1099 Tax Forms – For an extra fee we file all of our 1099 tax forms for our contractors using Buildium.
Tenant Turnover
Security Deposits  – Receiving, tracking, and deducting expenses from a security deposit can all be done within Buildium
As you can see, almost of all of the landlording processes are made easier using Buildium (or other equivalent property management software). It serves multiple functions so that all of our tenant customers, contractors, and processes work well together within a constantly available online platform.
Is a paid property management technology like Buildium right for you? If you only self manage a few properties, I typically recommend one of the free platforms like Cozy.co or RentMarketplace.com. If you're self-managing more rentals or even managing properties for others, Buildium is a great solution. And if you hire third-party property management, you can just use Quickbooks or other bookkeeping software to track the finances of your rentals. Property management software is not necessary in that case.
Get Started Wherever Your Are
You've now learned about the processes, people, and technology that have helped me run a landlording business of 90 properties from another county. But more importantly, I hope you've picked up some ideas and practices that you can apply to your own situation – whether you're local or long distance, big or small, a new landlord or a veteran.
If you're new to landlording, don't let the size and detail of my own system overwhelm you. I started from scratch just like you and built it over time. You can do the same.
The key is to start wherever you are.  I recommend you begin by just getting organized using the mindmap of my entire landlording system (free download in the top of the article):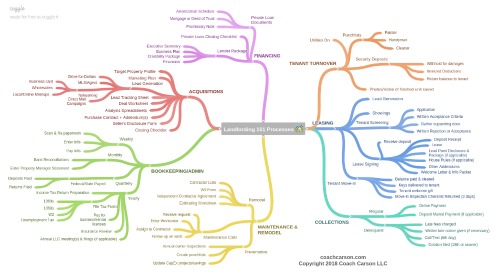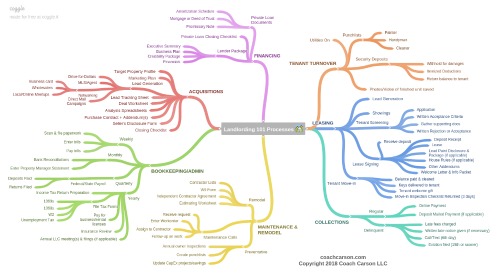 If you're brand new, use my own landlording processes to create operations manual folders in Google Drive or some other file storage service. And then chose one of these process (or a sub-process) from the article and implement it now.
Creating and improving your landlording processes never ends. I learn something new almost every day, and I never plan to stop being a student of the investing and rental games.
And when you take that approach, the landlording business can become a lot of fun in addition to being lucrative. You can receive income to help you do what matters while staying engaged and active for the rest of your life.
Best of luck with your own landlording business!
Do you self-manage or outsource your property management? What processes, people, and technology help you run your business? What parts of my own approach did you find the most helpful?
I'd love to hear from you in the comments below.
Get My Free Real Estate Investing Toolkit!
Enter your email address and click "Get Toolkit"