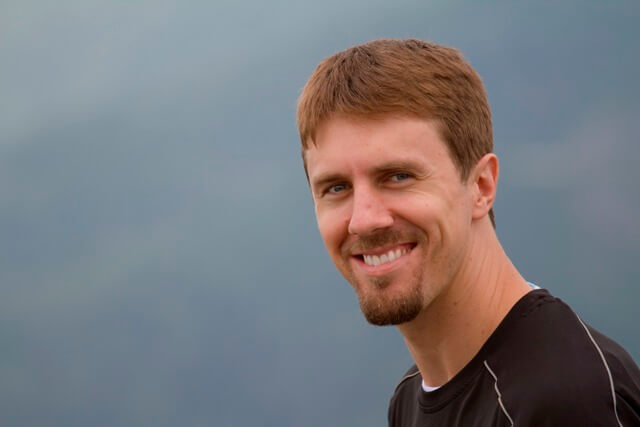 Welcome! My name is Chad Carson, and I appreciate you stopping by CoachCarson.com.
Below you'll learn more about me, about CoachCarson.com, and about my mission (why I call myself "Coach").
Why CoachCarson.com Exists:
The mission here at CoachCarson.com is to help you win with real estate, money, & entrepreneurship so that you can live a better life. I work towards this mission by writing, teaching classes, and offering 1-1 consulting.
I  don't believe money or business are the most important things in life, but they definitely play a critical role in making it better or worse.  Most of us are stressed about money, and we work too much. You might say that we're "making a dying" instead of truly living.
So, winning in these important arenas of real estate, business, and money can lead towards more personal autonomy and freedom, two things that I do believe make our lives better.
More autonomy and freedom allow us to live life on our own terms, which for many of us means contributing more fully to our families and our communities, enjoying life with hobbies and travel, and not worrying about working a "9-5 'til we die."
Why the name "Coach?"
I grew up playing and loving sports. I achieved my childhood dream and earned a scholarship to play college football in 1998-2001. I started at linebacker and was the defensive captain at Clemson University.
In 2003 I started my own business investing in real estate, and I found that the games of business and money were very similar to sports.
I needed goals, fundamentals, hard work, persistence, a team, and coaches.
The best coaches and mentors in my life were always enthusiastic teachers. They truly cared about my success. They never allowed me to settle. They pushed me to be my best.
In 2009 when I began to write, speak, and share my own enthusiasm for entrepreneurship, real estate, money, and life with others, coach seemed like an appropriate title.
Here is what the "Coach" in Coach Carson is all about:
COACH =
An enthusiastic teacher who cares about your success.
No gimmicks.
No "secrets."
Yes hustle.
Yes fundamentals.
Yes enthusiasm and fun.
End Result?
Become a better person.
Win with real estate and money.
Live a better life.
---
Weekly Newsletter & The Business-Money-Life Project
In 2015 I created the Business-Money-Life Project to share over 500 ideas from my favorite books and teachers in the arenas of business, real estate, money, and life.  I send a new idea each week on Tuesday morning, so if you want to follow along be sure to sign up for my newsletter below.  You can also view an archive of past Business-Money-Life Project articles at the BML Project Archive.
---
Sign up to receive my free weekly newsletter:
Zero spam. Unsubscribe anytime
---
Real Estate Articles at BiggerPockets.com
I am also a featured blog contributor at BiggerPockets.com, the #1 online community for real estate investors. You can see an archive of my BiggerPockets.com real estate articles HERE.
Other Free Real Estate Education and Articles
I also have additional real estate education in the archives of my blog here at coachcarson.com. Plus I have a large collection of short education videos on my Youtube page. My real estate content typically rotates between the following subjects:
Real estate deal-making
Deal analysis
Creative, non-bank financing
Building retirement income and wealth using real estate
Rental properties
Property management
Fixing and flipping properties for cash
My expertise is teaching you to use real estate as a tool to win the money game, and as a result to win back your personal autonomy and freedom.
How You Can Connect With Me
If you'd like me to be your coach, I'd love to help you in one or more of the following ways:
You can also stay connected and communicate with me on:
About Chad
Before real estate investing Chad graduated with a bachelor's degree in Biological Sciences from Clemson University where he was a Rhodes Scholar finalist and a 2-year captain of the football team as a linebacker.
Chad began real estate investing from scratch right out of college at the age of 23. Since that time Chad and his business partner have bought well over 100 properties, and today they still actively buy, sell, and manage a portfolio of rentals and notes in and around Clemson, SC.
Chad's expertise in real estate is creative deal-making and financing. Most of his real estate acquisitions do not use bank or conventional financing. Instead Chad uses leases, options, seller financing, private lending, and other creative techniques to safely make more profits and cash flow without depending upon traditional financing sources.
When not doing deals, writing, or teaching, Chad also has a passion for improving his local community and for exploration and long-term travel.
Currently Chad is the president of the board for the Friends of the Green Crescent, a non-profit based in Clemson, SC working to connect the greater Clemson-Central-Pendleton area with a better system of walking and biking trails. Chad is also a member of the City of Clemson Planning Commission and a member of the board of trustees at his church.
Chad and his wife have spent extended periods of time in South America, Costa Rica, Mexico, Spain, and National Parks in Wyoming, Montana, Colorado, and the Dakotas. They now enjoy sharing their wanderlust and love of foreign languages with their children.
Get My Free Real Estate Investing Toolkit!
Enter your email address and click "Get Toolkit"