Is your local real estate market hot? Are good real estate deals getting harder to find? If so, you're not alone.  
But this isn't a new problem. The times when it's easy to find real estate deals are the exception. The 2009 – 2012 U.S. real estate downturn briefly made finding incredible deals as easy as catching fish in a barrel.  You just had to look on the MLS (multiple listing service), make offers, and pull the deal in. 
But in almost every other normal real estate market, it's much more competitive. You've got to develop a competitive advantage to find real estate deals. The good ones don't just fall in your lap.  
To help you build that competitive advantage, this article will share 5 ways to find good real estate deals in any market. They include:
Create a focused real estate plan
Put more fishing lines in the water
Improve your communication & negotiation skills
Build a better toolbox of solutions for sellers
Don't give up too easily
These are the same principles I've used to consistently find deals for the last 15+ years. I hope you'll find them as helpful as they've been for me.
Let's get started!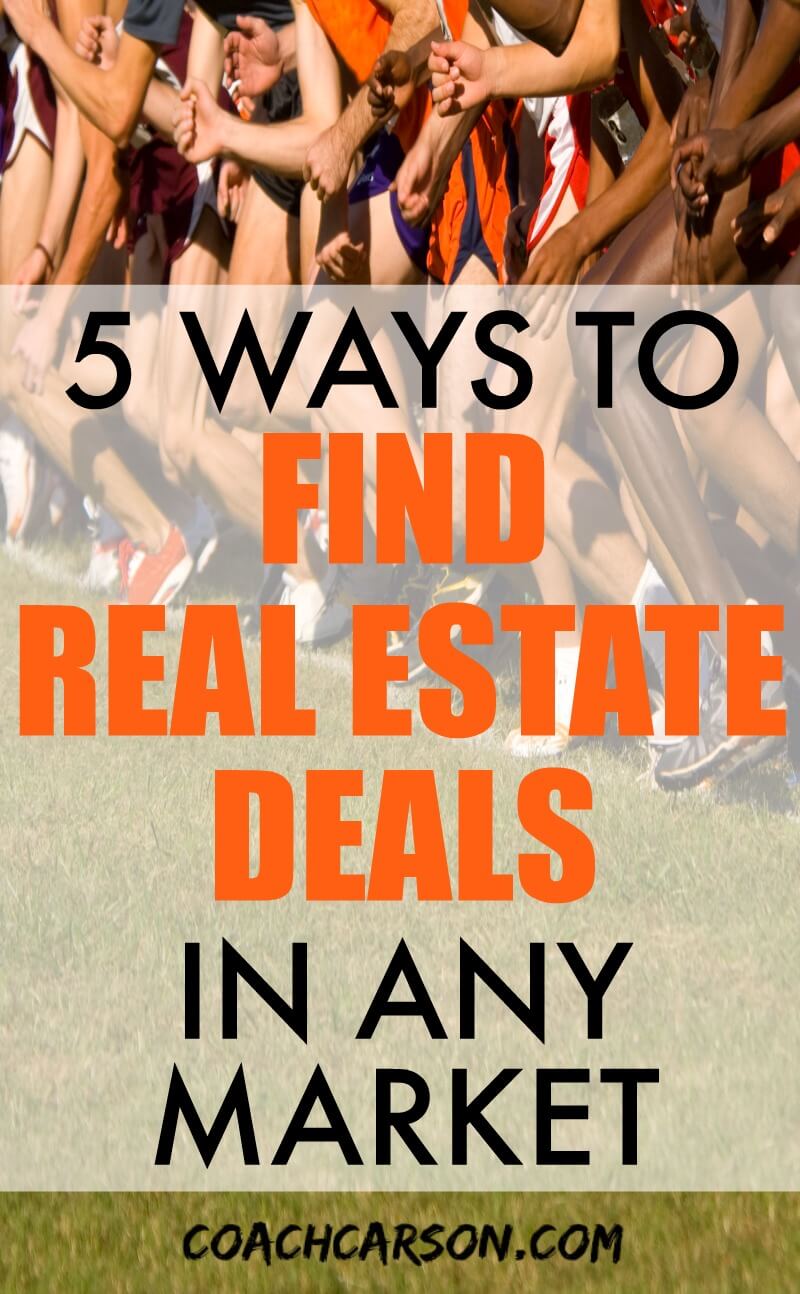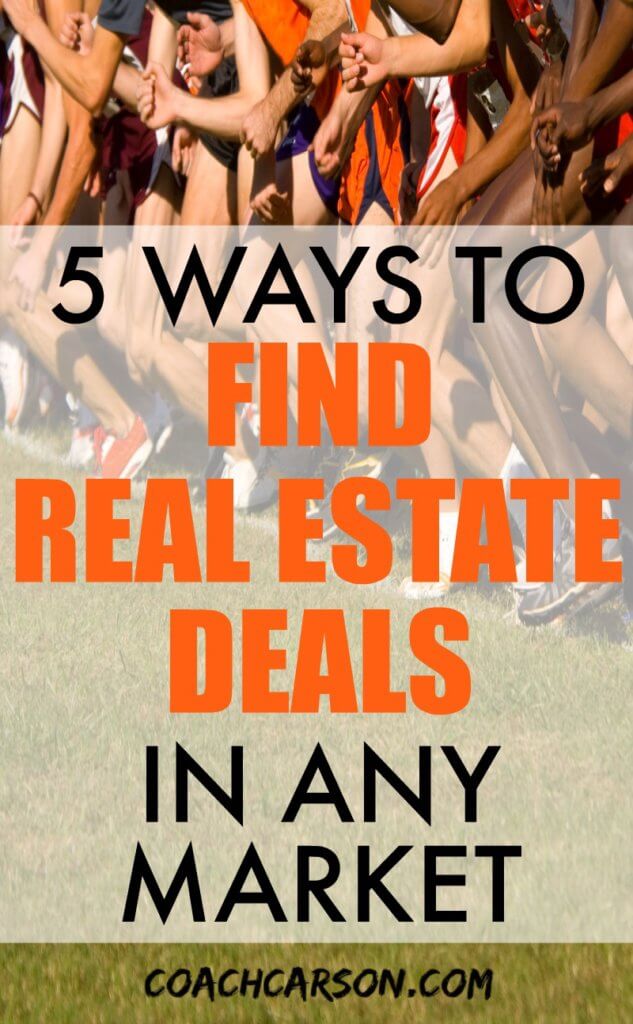 #1: Create A Focused Real Estate Plan
I'll look at anything as long as it's a good deal."
When I hear that answer from an investor, I know they're not focused enough. Why? Because there's not a universal stamp on real estate opportunities that says "good deal."
A good deal depends upon your personal goals, your strategy, your available resources, your personal risk tolerance, your personal preferences, your desired target market, and your chosen niche.
If you're not buying enough deals, you should probably start by asking yourself if you're too scattered and not focused on a specific real estate strategy.
When I help other investors 1-on-1, the first thing we work on is a business plan. We get focused on a big picture strategy, a target market, a niche within that market, and analysis goals for each deal.
The key word here is FOCUS. It's the secret weapon of real estate investors who buy a lot of deals. 
The perfect comparison is a flashlight vs a laser beam. Which is more powerful? Of course, it's the laser beam. The difference between the two is focus and intensity.
To increase your real estate investing focus, here are a few follow-up articles that can help:
#2: Put More Fishing Lines in the Water
If you had to survive by catching fish, you'd try everything possible to catch more, wouldn't you?
You'd probably start by fishing more often. Then when you did fish, you'd probably put bait on several lines and put them all in the water at the same time.
Finding real estate deal opportunities is no different than fishing. You need to look for them more often, and you need to put more lines in the water with attractive bait.
This is a very common mistake I see investors make. They don't seem to realize how many leads they will actually need to generate before they actually get a good opportunity on the line.
You're likely to get dozens and dozens of non-ideal leads before you get an ideal one. Yet many real estate investors get frustrated because they try to make those few non-ideal leads work.
My recommendation is to create a simple marketing plan. Work backward from the end and decide what actions you need to take in order to find your deals.  For example, in order to get just one deal you may need to:
Make 20 offers 

Look at 30 properties in order to make 20 offers

Get 100 leads in order to go look at 30 properties

Receive daily MLS listings, drive neighborhoods looking for properties, network, put ads on Craigslist, and more to get 100 leads
So, the final step of the break down above tells you the activities you need to do. Those are the fishing lines in the water.
In this way, you can quantify and plan on a day-to-day basis what you need to do to buy more deals. Importantly, whatever your plan you also have to execute it with an incredible amount of hustle. 
If you want more ideas on marketing activities to generate leads, here are a few good interviews and articles from me and other investors I know:
#3: Improve Your Communication & Negotiation Skills
I think it's a major misconception that good deals are just "found." In my experience, very rarely are deals found like in a treasure hunt. Treasure hunt mentality seems to remove the most critical aspect of a negotiation – the people!
Negotiations are instead custom-crafted between 2 or more human beings.
Good deals come about when you solve the other person's problem. The more acute or painful the problem, the more likely the decision maker is willing to trade their equity in a property to you for a solution.
But human problems aren't usually solved like fixing a motor on a car. We're not machines. We're living, breathing, feeling beings who happen to also have a problem, in our case related to real estate.
So we have to address the human behind the problem as much as the problem itself. Therefore, the same principles that govern any good human relationship also govern a negotiation with the person on the other side of the deal.
What are some of those basic principles?
Empathy

Willingness to listen

Non-judgement

Honesty

Kindness

Yes, you must also be competent and knowledgeable about the technical aspects of real estate (as I'll discuss in Reason #4). But whenever I've coached others 1-on-1, I've noticed that as many investors are botching the human side of their negotiations as they are the technical parts.
Here are some recommended books and articles to help you improve your communication and negotiation skills:
#4: Build a Better Toolbox of Solutions For Sellers
There are no shortcuts to worthwhile results in real estate or in any business.
The formula that you can't shortcut is this:
VALUE in → RESULTS out
So if you want more results (i.e. deals, profits, income, long-term wealth), you need to shift your focus from the results to the only variable you can control: the amount and quality of value you're providing.
When buying real estate deals, our primary value added is to bring solutions to a homeowner's real estate problems.
As I said in Reason #3, if you don't first acknowledge the human part of the equation, you'll never get an opportunity to solve the real estate problem. But once you have earned another person's trust, then you have the opportunity to offer real solutions.
I think of my own suite of solutions as a "Real Estate Toolbox." Here are just a few of the tools I have available in my tool box:
Quick cash purchase (as fast as 3 days)

Cash purchase, lease back to seller (short or long-term)

Delayed closing (while seller shops for a house with your cash)

Down payment + installment payments (aka seller financing)

Option to buy

Purchase of remainder estate

There are many variations on these tools. As important as the tool itself, I have to explain how the tool addresses the needs or sources of pain of the seller.
If you're not buying enough deals, I recommend that you inventory your own toolbox and evaluate how well you know how to use each tool.
For example, if you like to offer seller financing as a solution, how competent are you with the paperwork? Can you execute a closing (with the help of a closing agent, of course)? Can you explain the benefits and address the objections with a seller and possibly with his family or his attorney and CPA?
If you don't have this level of confidence and competence with your tools, fix this by studying and practicing how to use them.
Especially if you're new or overwhelmed, just choose one tool, get good at it, and then go look for sellers who have a need that your tool is suited to solve.
#5: Don't Give Up Too Easily
Nothing in the world can take the place of persistence …The slogan Press On! has solved and always will solve the problems of the human race."

              – Calvin Coolidge
Even if you fixed the first four reasons, you still might still not find more deals right away.
I've found that the path to my goals is rarely straight or smooth. Instead, the path is more like walking through a room blindfolded. I grope forward, bump into walls, adjust, and clumsily stumble along to my destination.
Without persistence, faith, and determination, these inevitable roadblocks, obstacles, and frustrations can permanently stop you.
But the failure isn't "out there." The failure is inside your head.
A teacher of mine named Greg Pinneo used to ask "How high does the hurdle have to be before you'll quit?"
So, how about you? How high does the hurdle have to be before you quit?
If you make 20 offers and get rejected 20 times, will you quit? Or will you persist and choose to learn from those temporary setbacks? If you do, the 21st offer will be even stronger than the previous 20 and you'll be more likely to succeed.
Start With Yourself To Find Real Estate Deals
It's true that your specific market will affect your ability to find more real estate deals. But it's also true that you have a lot of control over your success.  With each of the 5 ideas I've shared here, you can positively impact your chances of success.
For this reason, success in your real estate investing business ultimately comes from the inside, from a deep-down commitment on your part. You and every other investor face the same market challenges. The question is how you respond.
So I challenge you to commit to the long-run results of finding more deals. And I also challenge you to the personal growth and development that must happen along the way for you to succeed.
Have you struggled to find good deals? What seems to be your stumbling block? If you've found good deals in the past, what strategies and mindset helped you the most?
I'd love to hear from you in the comments below!
Get My Free Real Estate Investing Toolkit!
Enter your email address and click "Get Toolkit"