Updated 9/25/2019
Watch YouTube Version
Listen to Podcast Version
House hacking is one of my favorite ways to get started in real estate investing.  It is a method to live for free or almost for free by making a small multi-unit rental property your principal residence. In this way, your tenants basically help pay for your housing expenses.
The concept of house hacking is simple. But actually executing a house hack and maximizing your personal benefits can be a little more complicated. Finding the deal, getting a mortgage, saving the down payment, managing the tenants, dealing with taxes, and handling maintenance can seem overwhelming. But that's why I created this guide!
Here is a summary of what you'll learn below (click on a link to jump directly to that section):
Let's dive in!

What is House Hacking?
House hacking is when you buy a small multi-unit real estate property, live in one unit, and rent out the others.  The property for house hacking could be a duplex, a triplex, a fourplex, a single family house, or even other creative property uses like garage apartments or mobile homes, which I'll cover later. The income from the rental units can pay for some or all or expenses while you live there. Then once you move out, the property could also become a great long-term rental investment.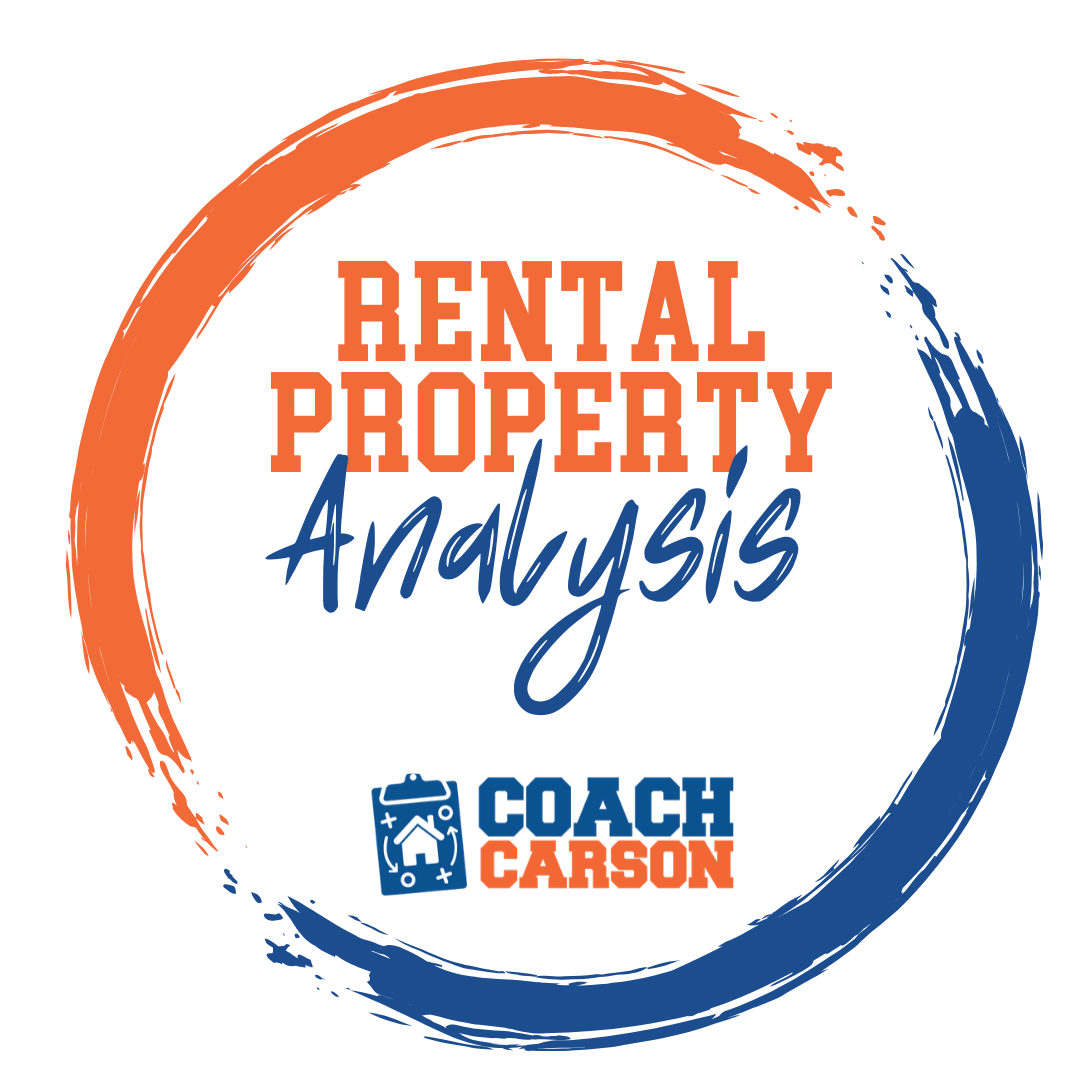 A course by Coach Carson that teaches you how to run the numbers so that you can confidently analyze and buy profitable rental properties. It also includes Coach's rental analysis spreadsheet.
Get the Course
As a real estate investor for over 17 years, I've personally benefited from house hacks. I lived for free in a small multi-unit property for several years before moving out and keeping it as a rental (more on that later). I've also helped others get started with house hacking.
House hacking is the ideal housing choice for young homeowners who are willing to take the extra effort to learn how. If you start with house hacking as a young adult instead of the normal housing options (renting or buying a house), you can build much more wealth over the years.  This is because of a concept called "opportunity cost," which I explained in How to Retire Rich With Embarrassing Old Cars and Ugly Houses.  Housing is one of the biggest expenses of every budget, so if you can cut that expense, save the money, and invest it wisely, you're giving yourself a HUGE head-start towards becoming wealthy and even retiring early.
Now let's take a look at more benefits of house hacking.
Why House Hacking
I've already mentioned the first big benefit of house hacking. It can reduce or eliminate your housing costs, which are a major part of most personal budgets.
A U.S. Bureau of Labor Statistics report for 2015 shows that 19.2% of the average U.S. household's expenses were dedicated to shelter. The actual number was $10,742 per year or $895 per month on average.  Canadian households' average shelter expenses were even higher at 28.9% of household expenses.  The actual shelter expense in Canada was $17,509 per year or $1,459 per month.  Of course, these expenses will be much higher than these quoted figures in some locations, which makes house hacking even more important.
But there are other benefits to house hacking. Here are just a few:
Occupants get the best financing terms – Owner occupant financing has lower interest rates and more attractive terms than investment financing. If you keep the property as a long-term rental, this is a huge benefit because you can keep the owner-occupied loan in place even after moving out.
Smaller down payments are possible – As you'll see in the section on financing your house hack, smaller down payments of 0% to 5% are possible with programs like VA and FHA loans. Typical investment loans require 20-25% down.
Learn how to invest in real estate – House hacking is a hybrid of a residence and an investment. You live in the property while learning to invest.  Everyone makes mistakes while learning, but it's easier to recover when you're on site and personally involved.
Smooth transition to rental properties – When you live in a property, you get to know it well. You also get to know the type of tenants your property attracts. So, once you move out you will have an increased comfort level with the property and your tenants as a landlord. With your low-interest loan, you'll likely also make the best possible cash flow from the property once it's fully rented.
Now that you understand some of the benefits, let's look at the example of my own first house hack.
My First House Hack – Merry Christmas to You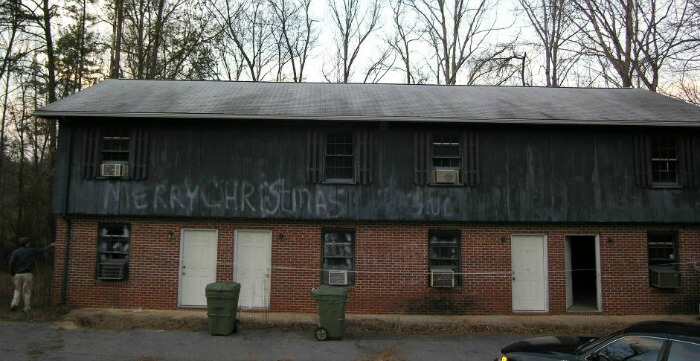 Early in my 20s as a recent college grad, I was living cheap and flipping houses. I actually lived in the spare bedroom of my friend and business partner's house.  My bed was in the corner surrounded by storage boxes! It was inexpensive housing, but I wanted a place of my own.  And because I enjoyed paying little to nothing for housing, a house hack was a perfect next choice.
A friend told me about a vacant, foreclosed fourplex building in my small college town that needed A LOT of fixing up.  I can just imagine the foreclosing banker showing up with a nice car and fancy shoes to see "Merry Christmas" spray painted across the front! Ha! I doubt he even made it out of his car.
Here's how bad it looked inside before I bought it.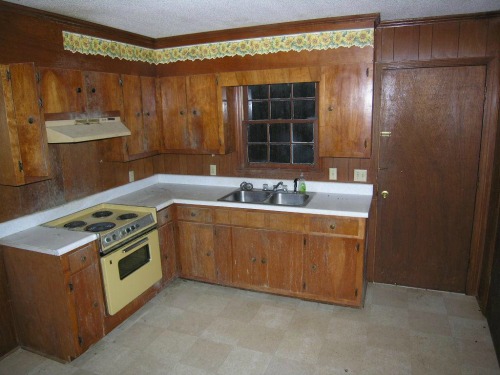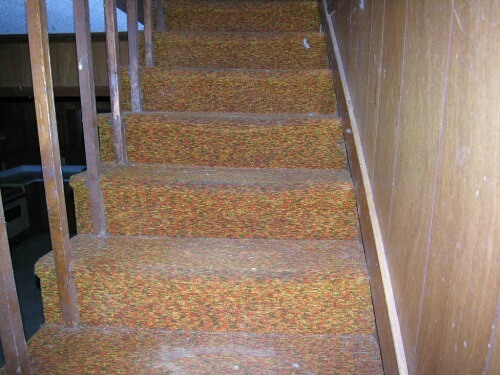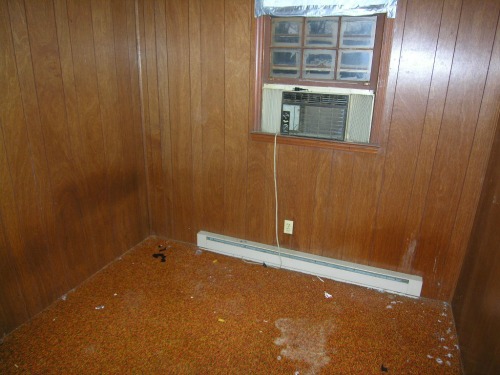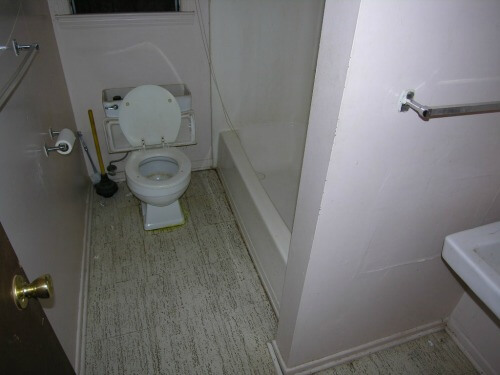 Before you think all house hacks are this nasty,  keep in mind that this was ultra ugly. My motto in real estate is the uglier the better (because you get it cheaper). And this was clearly the worst property in a decent neighborhood close to the campus of Clemson University.
But there are many house hack opportunities without this much work.  The choice is yours. And don't worry. I didn't move into that nastiness. We fixed it up, and pretty soon it was a warm, cozy home.
My Beautiful Little Fourplex After Some Love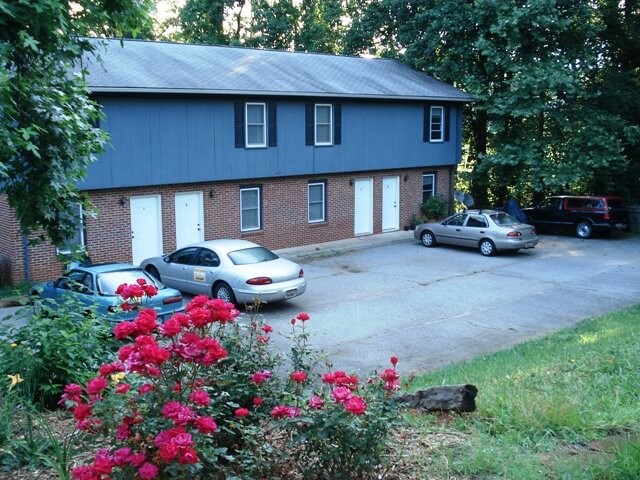 After a few months and some help from repair contractors, my house hacking home was ready. I moved into unit #2, and I rented the other 3 units out to tenants who loved the upgrades.
The upgrades included four new central heat and air units, replacement windows, exterior paint, landscaping, a community garden, dishwashers, paint, new lighting/fans, back decks, and new floor coverings.  Here are a few of the pictures after repairs were finished (you'll notice that my girlfriend at the time, now my wife, loved bright colors).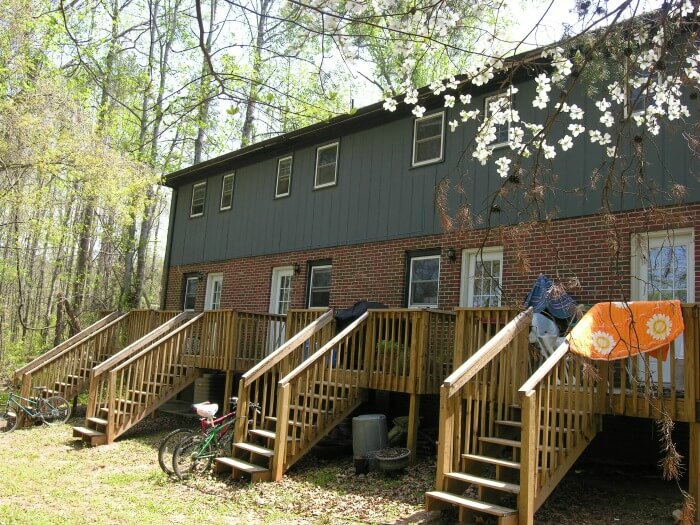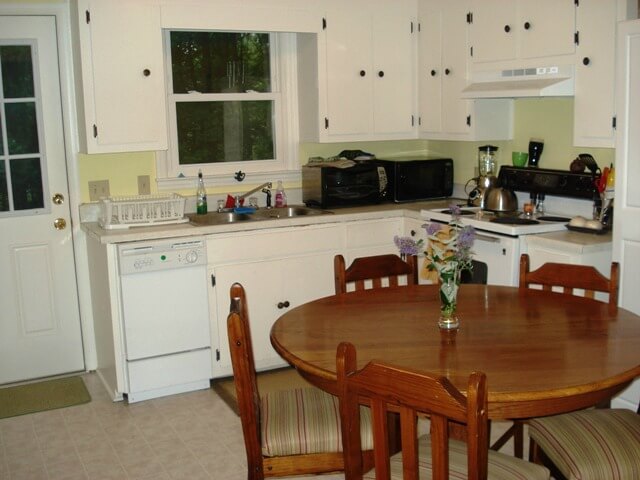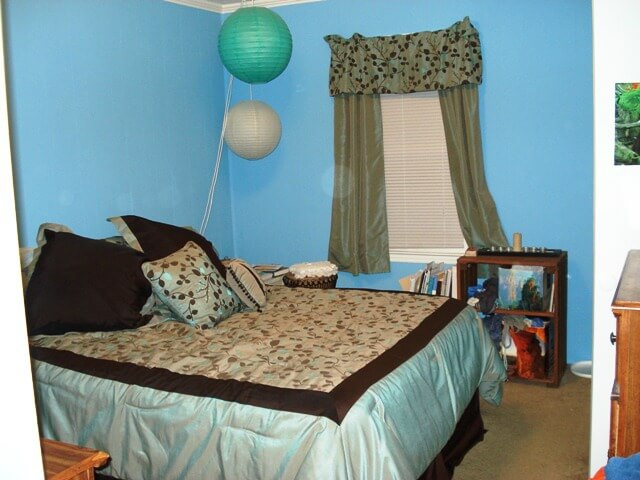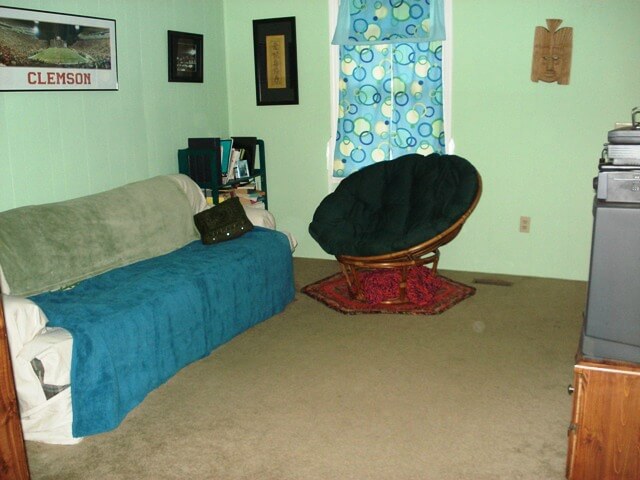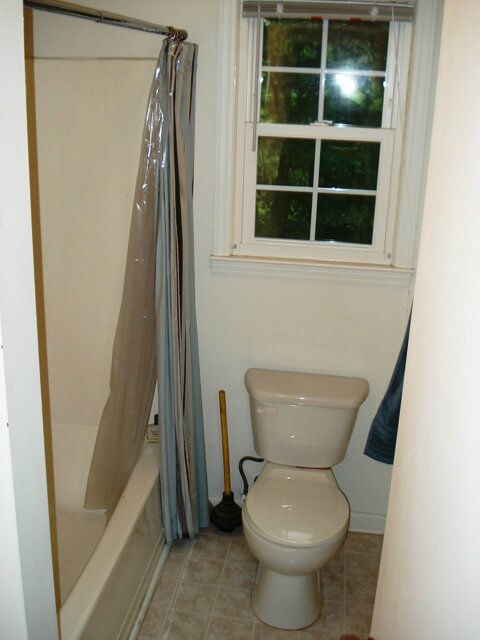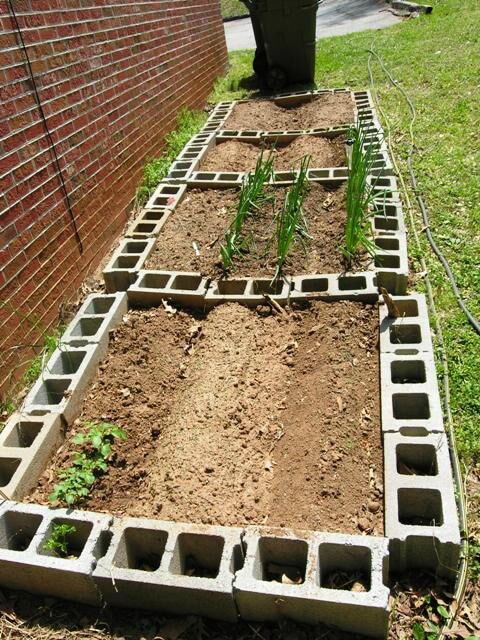 Turning the building around was a lot of fun. And I also enjoyed living there.  In fact, I liked it so much that this was the first home that my wife and I shared for several years after getting married.
But while the feel-good story is important, you and I both also care about the numbers. So, let's look at the bottom line.
The Final Numbers for My House Hack
I bought the fourplex at a good price ($70,000) using a combination of a local bank loan and private financing.  I then spent about $45,000 (yes, I told you it was nasty) rehabbing and upgrading the property.
Once I had 3 of the 4 units rented out, I moved into the 4th unit, lived there for 6 months, and applied for a refinance.  Because the value was now much higher (about $155,000), I was able to borrow $120,000 and pull out 100% of my invested money. This particular strategy is known in online real estate circles as the BRRRR Strategy (Buy, Rehab, Rent, Refinance, Repeat). But I'll talk about that more in the financing section of this guide.
For now, let me show you the cash flow numbers after my fourplex was remodeled, occupied, and refinanced with a  $120,000, 6.5%, 30-year mortgage.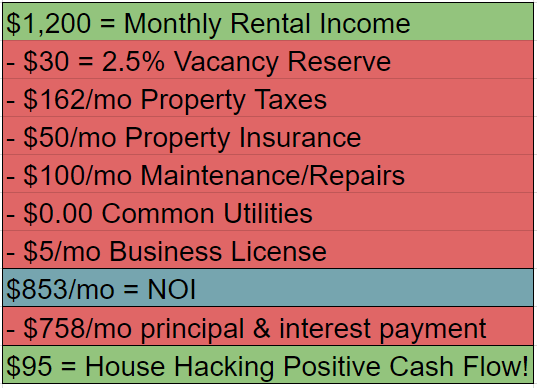 I was basically getting PAID to live in my new home!  Beautiful! And because of the refinance, I had no cash out of my pocket.
Not all deals are this good. I'll admit this was a stand-up triple, to use a baseball analogy. But even if your house hack reduced your payment from $1,200 to $600 per month, would that not be a win? I think so. But you'll have to decide for yourself what a good deal means.
To help you do that, let's continue by figuring out the basic calculations of house hacking cash flow.
The Basics of Running House Hack Numbers
As you can see from my real life example, one of the primary goals will be to reduce or eliminate your housing payment. Fourplexes typically have the best numbers because they have 3 tenants that help to pay the bills. But other properties like duplexes and triplexes can do well too.
In addition to your monthly cash flow numbers, you'll also want to pay attention to the price you pay.  While it's not always necessary to get a deal far below value for it to make sense (although that's always better!), you also don't want to overpay if you can help it.
A knowledgeable local real estate agent can help you estimate the value.  You can also learn to estimate values yourself (a skill I recommend).
But here I'll show you here how to do a few basic calculations that will help you understand your cash flow numbers before purchasing.
Net Operating Income (NOI)
The Net Operating Income, known also as NOI, tells you the amount of money your rental property will produce before paying your mortgage and before income taxes.  Why is this number important for house hacks? Because it tells you how much of your mortgage payment will be covered by rent each month.
Here is the formula: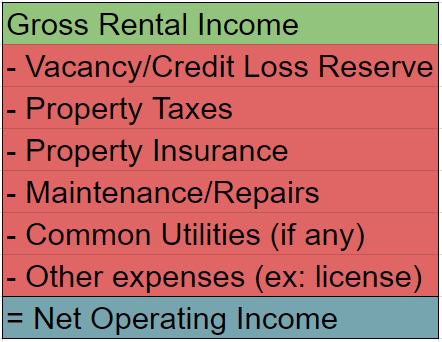 and here is an example: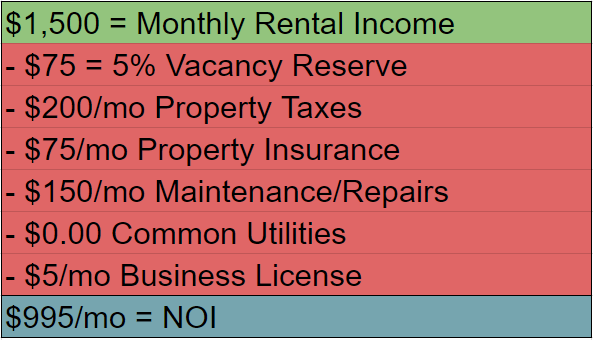 I would recommend that you calculate the NOI when you first find a property and again with the help of your agent or other investors during the due diligence phase before purchasing the building.  Calculating the NOI early is helpful because then you can then run a second calculation – your mortgage payment.
Calculating Your Mortgage Payment
This is a step you don't have to do on your own. Your banker or mortgage broker can easily help you. But if you're reading this article, you're an empowered, DYI type who likes to understand it for yourself (that's me too!). So, let's see how simple it is to calculate a mortgage payment on your own.
Estimate the purchase price of the property
Estimate the down payment
Subtract the down payment from the purchase price to get your loan amount (aka principal)
Go to this online mortgage calculator (my favorite online calculator for years).
Enter the loan amount (principal), interest rate, and the number of payments (leave at 360).  Leave the fields for the payment amount and balloon payment blank, and leave payments per year at 12.
Click "calculate."
The mortgage calculator will tell you the monthly payment amount.  If you want to practice, use the numbers below and enter them in the calculator to figure out your payment. Don't skip ahead yet. I'll show you the answer right after.
Loan principal = $175,000
Interest rate = 5.1%
Term = 30 years (360 months)
Now compare this number to the NOI calculation above. Are we living for free or not?
To find out, you use the mortgage payment you calculated above (the answer is ~ $950 per month). So, your house hacking monthly cash flow looks like this:

Living free! You're welcome to do a happy dance now!  I don't know about you, but it's a wonderful reality when your tenants are paying for your housing expenses.
Creative House Hacking Ideas
As you saw in my house hacking example, a fourplex can be a great property to buy for a house hack. But it's not the only type. And it's probably not the most common because there are fewer fourplexes than other property types.  So, here are some other property types you can use for house hacking.
I'll add a disclaimer that not every strategy will work in every location. For example, I don't see the zoning codes of suburban neighborhoods allowing mobile homes in the backyard! So, do your homework with your local municipality before counting on the extra income.
But the point is that you should think creatively. If you want to house hack and reduce your house payment, seek out opportunities.  This is a form of entrepreneurship, so get excited and go hunt for an opportunity in your location.
How to Get a Mortgage & Raise Down Payment Funds
A critical part house hacking is obtaining a good mortgage.  My definition of a good mortgage includes the following:
Interest rate is as low as possible and fixed long-term (can not adjust)
Monthly payment is as low as possible (30-year loans are preferred)
Small down payment
No "gotchas" – like short-term balloon payments or prepayment penalties
You can accomplish most of these goals with traditional owner-occupied mortgage products (especially in the US). But of many mortgage options, three US-based lending programs stand out because they allow you to buy the property with a lower down payment. I'll explain those briefly here.
1. FHA Loans (Federal Housing Administration)
What is it? A federally insured loan program targeted to owner-occupant buyers who have less cash available and/or a lower credit score
Pluses: Less restrictive qualifying requirements for borrowers (vs conventional loans), only 3.5% down payment, fixed interest rate for 30 years, 1 to 4 unit properties eligible
Negatives: Higher fees (including an up-front mortgage insurance fee), slower approval process, major remodels not allowed (except 203k program, see below)
Where to find it: FHA approved lenders can be found at most bank mortgage departments, mortgage brokers, credit unions, or mortgage lenders.
Further reading: Check out this Wikipedia article to learn more details about this program.
**Update** A comment from guyonfire.us reminded me about something called the FHA 203k home renovation loan. This loan product is pefect for house hacks. Both the streamline and the regular 203k loan give you the ability to borrow money for repairs.  For more details see the Department of HUD 203k loan details.
2. VA Loans (Veterans Administration)
What is it? A federally insured loan program especially for veterans of the US military.
Pluses: No down payment ($0.00), fixed interest rate for 30 years, reasonable qualification requirements, multiple loans possible, 1 to 4 unit properties eligible
Negatives: Paperwork and approval process isn't super-fast, limits on the number of loans based on your "entitlement" ceiling, major fixer-upper properties won't qualify
Where to find it: VA approved lenders can be found at most bank mortgage departments, mortgage brokers, credit unions, or mortgage lenders.
Further reading: For more details on VA loans and using them to buy investment properties, read my friend Rich's Investing With VA Loans – A Complete Guide.
3. Conventional Conforming Loans
What is it? Conventional loans are loans not guaranteed by the government (whereas FHA and VA are guaranteed by the government). Conforming loans are a type of conventional loan that conforms to the underwriting criteria of Fannie Mae and Freddie Mac (two mortgage company giants). Conforming loans benefit house hackers by providing great terms, low interest rates, and flexible down payments (3% to 20% for owner occupied housing).
Pluses: 15 and 30-year fixed interest rates and payments, faster qualifying than FHA and VA loans, 1 to 4 unit properties eligible
Negatives: You'll max out around 4 to 10 approved loans. Credit requirements are typically more stringent than FHA or VA.
Where to find it: Lenders who make conforming loans can be found at most bank mortgage departments, mortgage brokers, credit unions, or mortgage lenders.
Further reading: Read this BiggerPockets article to learn more about qualifying for a conforming loan. Also, check out the Eligibility Matrix (8/2019 version) put out by Fannie Mae to describe their requirements for borrowers.
**Update** Patsy Waldron pointed out in the comments that the FannieMae Homestyle renovation loan program is also a great option for House Hacks. Like the FHA 203k loans, Homestyle loans can be used to purchase and renovate a 1 to 4 unit home as long as you occupy it. It can also be used for single family home investment projects even if you don't occupy it. For more details see the Homestyle Renovation Matrix from FannieMae.
Using the BRRRR (Buy, Rehab, Rent, Refinance, Repeat) Financing Technique
You might have noticed that in the three financing programs I just described, major fixer-upper properties are not allowed (update – except for the FHA 203k loan program). So, if you are buying a typical property that just needs cosmetic upgrades, like paint and carpet, you'll be fine.
But do you remember my personal house hack? It was in rough shape. So, how did I finance it?
I used a strategy that is often called the BRRRR technique.  It's actually been a popular strategy among real estate investors for a long time, but my friend and Bigger Pockets Podcast co-host Brandon Turner kindly gave it the catchy name. You can read Brandon's original BRRRR post on Bigger Pockets here.
How does the BRRRR technique work? Here are the basics.
Buy a property using short-term funds (cash, a line of credit, construction loan, hard money loan, private money, etc).
Rehab the property to get it pretty and rentable
Rent the property
Season the rental (this is often 6 months)
Refinance the property with a long-term mortgage (see the options I described above)
In an ideal world, your remodel will increase the value of the property. This is not a given, however, so carefully analyze the market and your purchase price with the help of a professional before you buy it.  You can then refinance the property to pull out most or even ALL of your money out of the property. This is a happy day!
Little or no money down investing may sound like a gimmick.  But in this case, it's not. And when you combine this small amount of cash invested with the other benefits of house hacking, like reducing or eliminating your housing payments, you can see why it's easily one of the best overall real estate investing strategies!
Objections and Challenges
I've been a house hacking evangelist for a long time. Many people get it right away and run as fast as they can to get started, but I also hear my share of objections. Here are some of the most common objections I hear plus my responses.
"I don't want to live next to my tenants."
The landlord-tenant relationship has bad stereotypes. Plenty of bad landlords and bad tenants have earned this reputation, of course. For this reason, you might be hesitant to live next to your tenants.
But keep in mind, you get to choose your tenants.  You can't and shouldn't discriminate based on race, religion, color, gender, familial status, or other legally protected classes. But you can and should use a thorough tenant screening process to find only the best tenants.
And yes, there will be occasional texts, calls, or knocks at your door with maintenance issues. But you don't have to do these yourself if you don't want to. From the beginning, I've been very good at programming the name and number of contractors in my phone. I call them, they handle these problems, and I write them a check.
And I actually enjoyed getting to know my next-door tenants. I got to know wonderful, interesting people because the were my neighbors in a house hack. My life is richer for that experience.
"I Don't Know How to Be a Landlord."
We all have to learn to walk before we can run.  And house hacking is the perfect way to learn to be a landlord. You're bound to make mistakes, just like I did. But because you are living on-site, you can make up for your lack of knowledge with hustle, sincerity, and your own sweat.
Plus, you're subscribed to the coachcarson.com newsletter for a reason! You're a learner! Just like you learned to do everything else in life, you can learn to be a landlord. You're welcome to search the archives for techniques and strategies. You can also leave comments and questions for me.
And if I can't help you, there are many wonderful landlording resources and books that will bring you up to speed. Some of my favorites include:
"I don't think I can find a good deal?" [or] "There are no good deals in MY town."
In the final section of this article, I will give you some action steps and resources to help find your first deal. But finding a good deal really is one of the most important and challenging parts of the process. But like any other puzzle, it can be solved.
Finding real estate deals is a lot like a treasure hunt. First, you need to know what you're looking for. Second, you need to turn over a LOT of stones looking for a gem.  If you don't have the time to invest up front to find a good deal, house hacking might be something to put off for now.
And I'm very aware that different markets have different pricing and investment fundamentals. For those of you in California, Canada, Great Britain, or many other places around the world, the numbers of my personal house hack seem unreal.
You may or may not be able to find the perfect numbers in your market. But the principle of house hacks remains true – you can use the rent from your tenants to REDUCE your housing payment and save money. So whether you completely live for free or just save a lot of money, the concept is still beneficial.
Now, let's finish by looking at how to find your first house hack property.
5 Steps to Buy Your First House Hacking Property
I've given you a lot of information about house hacking.  But this guide will not be a success unless you take this information and apply it to your life. That's what I want to help you with now.
Here are 5 steps that I think will get you moving in the right direction.
Step #1 – Commit yourself to the concept
If you've made it this far, I assume you like the concept of house hacking. Now, it's time to commit.  If you have a partner or spouse, discuss this with them. Listen to their objections, if any. And decide if house hacking is a good fit for your life.
If house hacking isn't right for you, that's fine. There are plenty of other real estate strategies and real estate niches that you can work on.
But if it is the right strategy for you, commit yourself to making it happen. You'll need the energy of that commitment to stick through until the end.
Step #2 – Prepare Your Financing
I often compare purchasing real estate investments to bird hunting (I can't help it, I grew up in the country).  If you go hunting for birds without loading your gun with ammunition, you're wasting your time and you'll go to sleep hungry that night.
Real estate financing is the ammunition of your hunting for good deals. It's smart to get your financing in order FIRST. Review the information I provided about house hacking financing. Then contact your preferred mortgage banker, private lender, or another source of money and get preapproved.
Once you have that preapproval, you can begin hunting for deals.
Step #3 – Study Your Market
While you are preparing your financing, you can also begin studying your market to increase your chances of finding a good house hacking property.  If you're an experienced real estate agent, you can probably do this on your own. For everyone else, I recommend that you hire an expert who not only knows the market but also understands investment properties.
What are you looking for with your market study? Begin by choosing the right target market. I made a written guide explaining this process.  You want to focus in on a location that has solid fundamentals, like population growth, good jobs, and attractive amenities.
Then ask your real estate agent to show you the small, multi-unit properties available for sale in your target market.  Figure out the current and the market rents for these properties. Run the net operating income and mortgage payment calculations I showed you before.
If the numbers for the listed properties seem good, that is wonderful. But the numbers might not be as good as you like. So, you may need to adjust your target market or adjust your goals to fit the reality on the ground.
Step #4 – Create a Deal-Finding Plan
Now it's time to start hunting. But you can't expect good deals to fall in your lap. You have to be proactive.
Most house hackers begin with the MLS (Multiple Listing Service). This is the database of properties for sale that only real estate agents can access. Your agent can search all of the current properties that meet your criteria. She or he can also set-up a filter search that alerts you anytime a new property that meets your criteria comes on the market.
The key to MLS success is jumping on deals quickly. If it's a good deal, it won't last long. That is why I had you prepare your financing and market study first.
While the MLS is a good place to start, it's also the most competitive. I like other channels to find deals, like:
Walking or Driving Neighborhoods (aka Driving For Dollars) – Get on the side streets, look for interesting properties, call for sale or for rent signs, talk to neighbors, leave your card or phone number, and just follow your nose. Few people will do this, and for that reason, it's always been my favorite strategy to find deals.
Write Letters – Some of my best deals have come from a simple letter. If I find an interesting property, either while driving for dollars or searching online, I'll look up the owner and send them a letter. Keep in mind these are not properties listed for sale. These letters come to the owner out of the blue. Your letter might remind them that they wanted to sell!
Word of Mouth – Don't discount good, old-fashioned word of mouth. Tell everyone you know the type of property and the locations you're hunting for.  Instead of one set of eyes, you'll now have many looking for you.
These ideas should get you started, but you can also study my process and how I found 33 deals in one year.
Step 5 – Take Action
None of this will work unless you take action. And I recommend getting out from behind your computer and out into the neighborhoods where the action actually happens. If you can't do it personally, hire an agent to do it for you.
Successfully executing any plan, including purchase a property for house hacking, means you have to carefully budget your time. I see more dreams come to a screeching halt because of poor time management than any other reason.  People get too busy and their momentum stops.
Prepare for this challenge ahead of time. Carve out time in your schedule. Write down "appointments" in your calendar to work on this just like you would a doctor's appointment. Then don't miss it!
If you need help with this step, I have written a lot about time management. If you begin with one strategy, I would suggest figuring out how to distinguish between the Urgent and the Important.  Then prioritize your life accordingly.
Is House Hacking For You?
I hope this guide has been helpful. I've given you over 4,500 words of advice about house hacking. Now the ball is in your court!
If this article helps you to do your own house hack, please let me know. I'd love to celebrate your success!
Is house hacking right for you? If so, what are your next steps? What challenges do you see with your own house hacking plan? I'd love to hear from you in the comments below.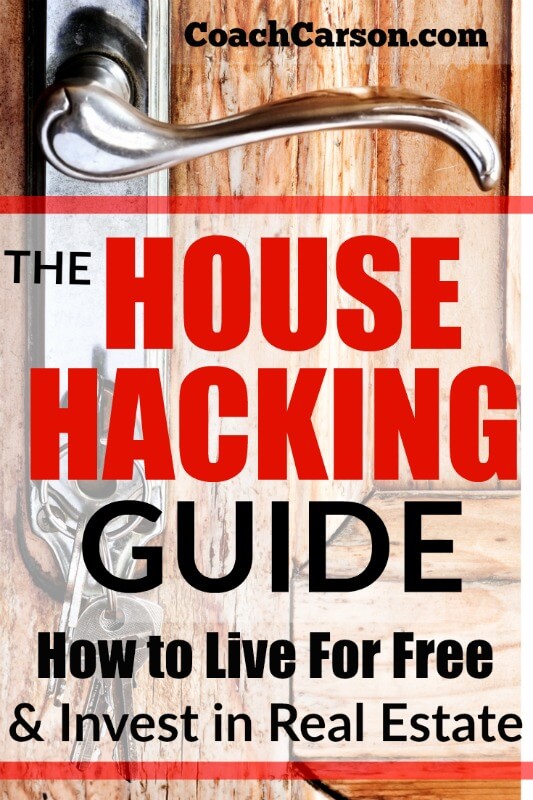 Get My Free Real Estate Investing Toolkit!
Enter your email address and click "Get Toolkit"