If you're doing anything worthwhile, you're busy. There never seems to be enough time in the day, does there?
To improve this situation, you can start by learning better time management techniques, like good to-do lists and productivity hacks like the 2-minute rule.
But at some point efficiency at doing more is not enough. You can produce more faster, but the result is usually a busier and busier life. The stress and exhaustion will never end.
Instead, Stephen R. Covey, author of one of my favorite books, The 7 Habits of Highly Effective People, says:
'time management' is really a misnomer – the challenge is not to manage time, but to manage ourselves."
In other words, time management is not really about efficiently getting more done in less time. Time management may actually mean accomplishing LESS.  As the captain steering the ship of your own life, you have to build the skill of deciding when to say yes and when to say no.
The key, according to Covey, lies in two concepts related to your time:
The Important
The Urgent
The easiest way to understand and apply these two concepts is put them in a matrix with four quadrants.
The Four Quadrants of Time Management

Everything that happens during your day – every call, request, piece of paper, email, T.V. show, or event falls into one of the 4 quadrants above. Covey spends an entire chapter on this concept in the book (which I've read at least 9-10 times), but I'll summarize it for you here.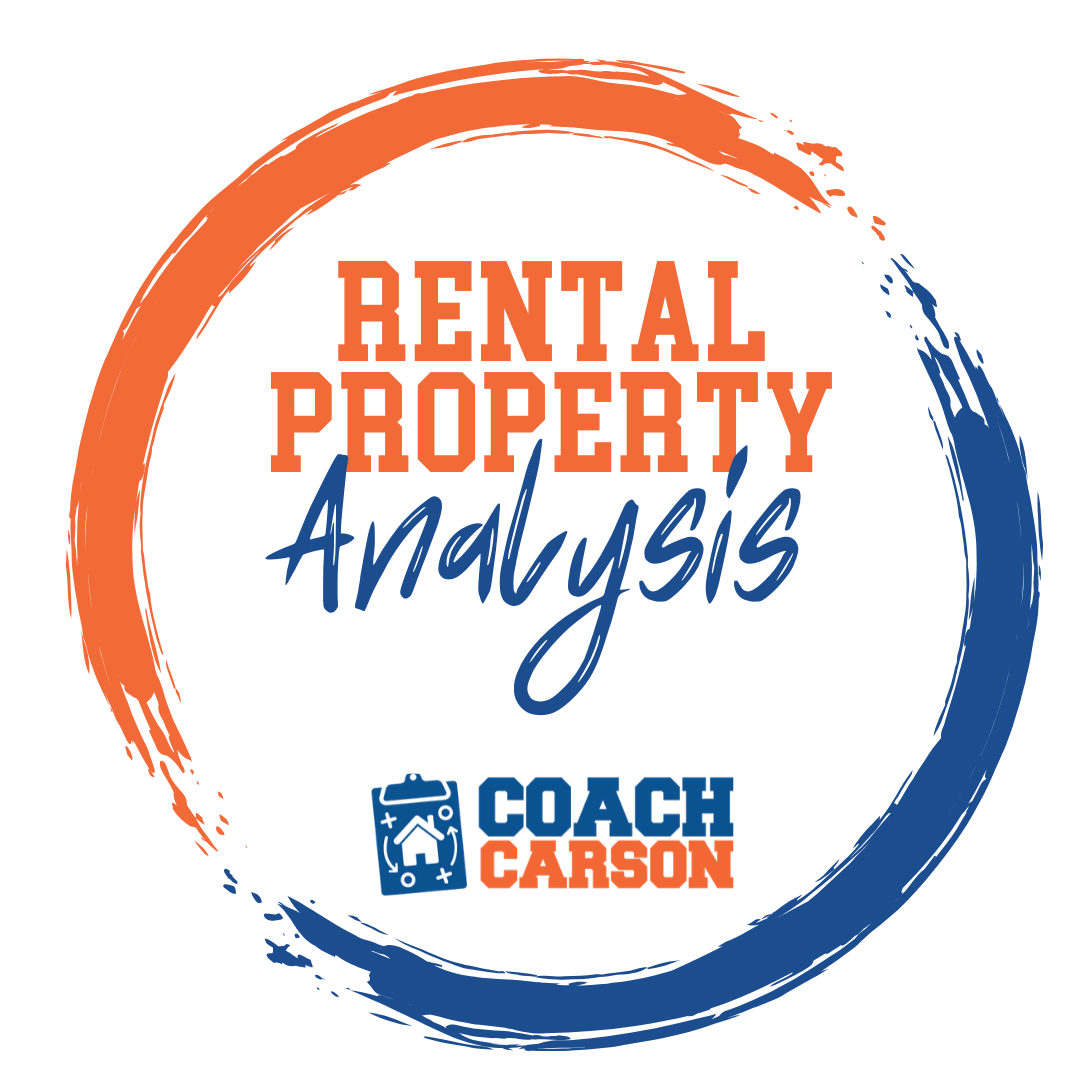 A course by Coach Carson that teaches you how to run the numbers so that you can confidently analyze and buy profitable rental properties. It also includes Coach's rental analysis spreadsheet.
Get the Course
Quadrant I – Urgent + Important
Quadrant I activities are pressing issues with short deadlines.  They are also very important.
These events are the crises and metaphorical fires that must be put out each day.  If Quadrant I fires are not put out, important negative consequences will probably occur.
For example, your mortgage payment must be paid. If you don't pay it on time, you will experience late fees, bad credit, and eventually a foreclosure.
In my business of rental properties, water running on a floor from a leaking faucet is a Quadrant I event. If that leak is not solved quickly, much bigger and more painful costs from water damage and inconvenience for my tenant will occur.
With your health, if your back is in such pain that you can't walk, something must be done now. You can't ignore it. Your body lets you know that it's a Quadrant I event – both urgent and important.
You can't avoid Quadrant I activities in that moment. The fire must be put out. But you can do a better job of preventing crises in the future. That's what Quadrant II is all about.
Quadrant II – Not Urgent + Important
Quadrant II activities are not urgent, but they are the most important thing we can do.
For example, every time my business partner and I face a Quadrant I crisis situation in our business, we like to call it a "seminar."
Putting the actual fire out is Quadrant I.  It has to happen. But the seminar is Quadrant II.  We learn lessons, and we build systems that hopefully help us to avoid another crisis in the future.
This learning and growth is not urgent. No one will call us, scream at us, or threaten us if we don't learn and improve.  Yet it's probably the most important and profitable activity we could do in our business over the long run.
Quadrant II activities occur in all areas of your life, like your relationships, your health, your personal growth, your work, your car and home maintenance, and your investments.  The more time you spend in Quadrant II the better.
But because it's not urgent, Quadrant II tends to get ignored or put off.  Stephen R. Covey again reminds us that:
the essence … of time management can be captured in a single phrase: Organize and execute around priorities."
Priorities. That's what Quadrant II is all about. And that's really what time management is all about.
Can you find a way to schedule, to organize, and then to execute your top priorities?
If you value good health, can you prioritize exercise, healthy food, and sufficient sleep?
If you value quality relationships with family and friends, can you prioritize spending time with them?
If you value the ability to produce more income, can you make yourself more valuable by improving your professional skills and knowledge?
If you value financial independence, can you prioritize time to execute a real estate or some other sort of investment plan?
In my article "How to Transform Your Goals Into Reality" I share the highlights of my own system to organize and execute my top priorities.
Quadrant II activities are the priorities that should be at the top of our daily to-do list. If you can check off Quadrant II tasks daily, you're moving in the right direction.  The next two topics, Quadrants III and IV are what typically keep us from getting to our real priorities.
Quadrant III – Urgent + Not Important
Quadrant III events are urgent but they're not important.
A perfect example of Quadrant III is a "ding" on your phone that notifies you a friend has posted a picture of his cat on Facebook.
The ding got you. It's urgent. You can't help but look down.
But your friend's cat?! Really?
The essence of good time management is to delay or completely ignore the time-vampires of Quadrant III. If you don't, they will suck the time from your life, and you will never have time for the Quadrant II tasks that are so critical.
How do you eliminate Quadrant III time sucks? Here are a few ideas to start, but you will find many more ways if you start working on it.
Turn off all email and other instant notifications on your phone.
Turn off your phone completely while working on Quadrant II or I activities.
Unsubscribe from unimportant email lists
Close the door to your office. Put a sign that says "Do No Disturb Until [2:00]"
Turn off your phone ringer.
Don't answer the phone all the time. Return calls instead.
Of course you need to adapt these to your situation. But the point is to start challenging the urgent but unimportant interruptions that occur daily. In case you haven't noticed, interruptions don't just last 30 seconds. The lost time includes the actual interruption and the much longer recovery time to get back on task. No wonder our days are less than productive.
And remember that just because something is urgent to someone else does NOT make it important for you. You have the right to decide what gets done and what doesn't. If you decide something is not important based upon YOUR criteria, it's ok to let it wait.
Quadrant IV – Not Urgent + Not Important
Quadrant IV is neither urgent nor important.
This one will probably ruffle some feathers, but if you're spending most of your free time doing things like watching TV,  gossiping on the phone, reading or watching all of the news, checking email, or surfing the internet, you're living in Quadrant IV.
But watching T.V. and surfing the internet are relaxing?"
So is taking a walk.
But my old high school friends on Facebook are important to me. I want to stay in touch with them."
Well then schedule time to do it, but if and only if your higher priorities are taken care of first.
It's not that Quadrant IV activities aren't entertaining.  Leisure, diversion, and impractical activities certainly give our life some interest.
But it's a matter of proportion. Is it taking 5% of your free time or 50%?  Be honest with yourself.
It's also a matter of understanding the season of your life.
If you are a parent of young kids and also have major goals in your career and financial life, you can't afford to spend all of your free time just being entertained.
But if you are retired or are in the middle of a mini-retirement,  perhaps cut yourself a little more slack.
In my own tough day-to-day decisions, I like to bust the "relaxation" and "entertainment" excuses by figuring out ways to relax and be entertained by Quadrant II activities instead of defaulting to Quadrant IV.
Here are a few of my staples:
I love reading. It's fun for me. It's relaxing. It also happens to make me a better person in many ways.
I love exercising. I feel great after doing it. I enjoy challenging myself. Exercising also happens to be one of the best activities for stress reduction and mental and physical health (see Scientific American, New York Times, and Psychology Today).
I love conversations with interesting, authentic people. It sure is convenient that my wife, my business inner circle, my newsletter readers, and others I volunteer with are also fascinating people to communicate with.
Ultimately, you are the only one who can put your life events into these quadrants. Only you can answer the questions of what is important and what is urgent. But you need to answer them because the results and direction of your life are depending upon it.
You Are The Captain of Your Time
It matters not how strait the gate,
How charged with punishments the scroll,
I am the master of my fate:
I am the captain of my soul.

from Invictus, by William Ernest Henley
How you spend your time is like a daily, moment by moment investment in your future.  Nothing less than your fate is wrapped up in the time management decisions you make on a daily basis.
If you don't take the wheel by deliberately and carefully deciding how to spend your personal time, all of the other forces in your life will happily take over the responsibility for you.  And your fate will be left in the hands of others.
So, start paying attention to the urgent and the important activities of your life. Start saying no or delaying Quadrant III and IV activities. Get Quadrant I tasks done, but don't miss the opportunity for a Quadrant II seminar.  And prioritize Quadrant II activities before everything else so that you start steering your life instead of letting it steer you.
No matter how busy you are or how difficult time management has been in the past, you are still the captain. You can master your own fate and take back control of your time.
What activities in Quadrant III and IV are taking too much time in your life? What Quadrant II activities do you need to do more of? Do you have any tips or tricks for managing your time and priorities? I'd love to hear from you in the comments below.
Get My Free Real Estate Investing Toolkit!
Enter your email address and click "Get Toolkit"