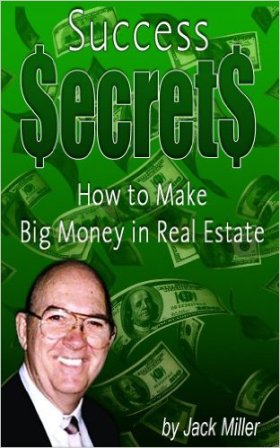 Back in the 1970s Jack Miller and John Schaub (see my book review) were two of the first investors to teach seminars on single family house investing. Sadly Jack passed away in 2009, but both he and John are still favorite teachers of mine.
Jack had a hilarious style as a teacher. He kept it fun by mixing jokes and stories with practical lessons pulled from his deep well of real estate knowledge and experience.
Jack was also a prolific writer. I subscribed to his newsletter each month, and I bought every book he wrote (yeah, I know – I'm a real estate nerd). I also attended several in-person seminars.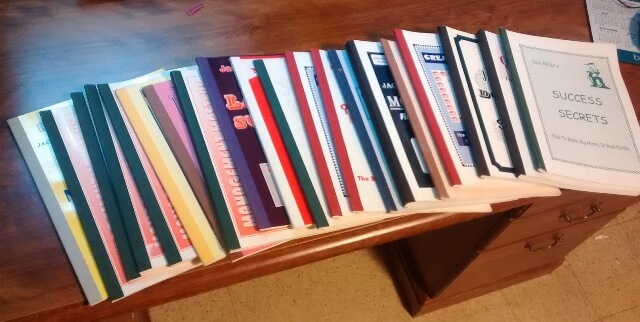 As you can see, I could draw lessons from many of Jack's books, but I've chosen to review a very practical one called Success Secrets: How to Make Big Money in Real Estate.  The title isn't my favorite, because after all there really are no secrets.  But Jack is very good at reminding us of what we already know (or should know) in real estate investing.
The entire book is basically a list of 64 of Jack's best real estate investing tips and recommendations. I've chosen nine of the most helpful ideas to share with you here.
Let me know what you think of Jack and his lessons in the comments section below.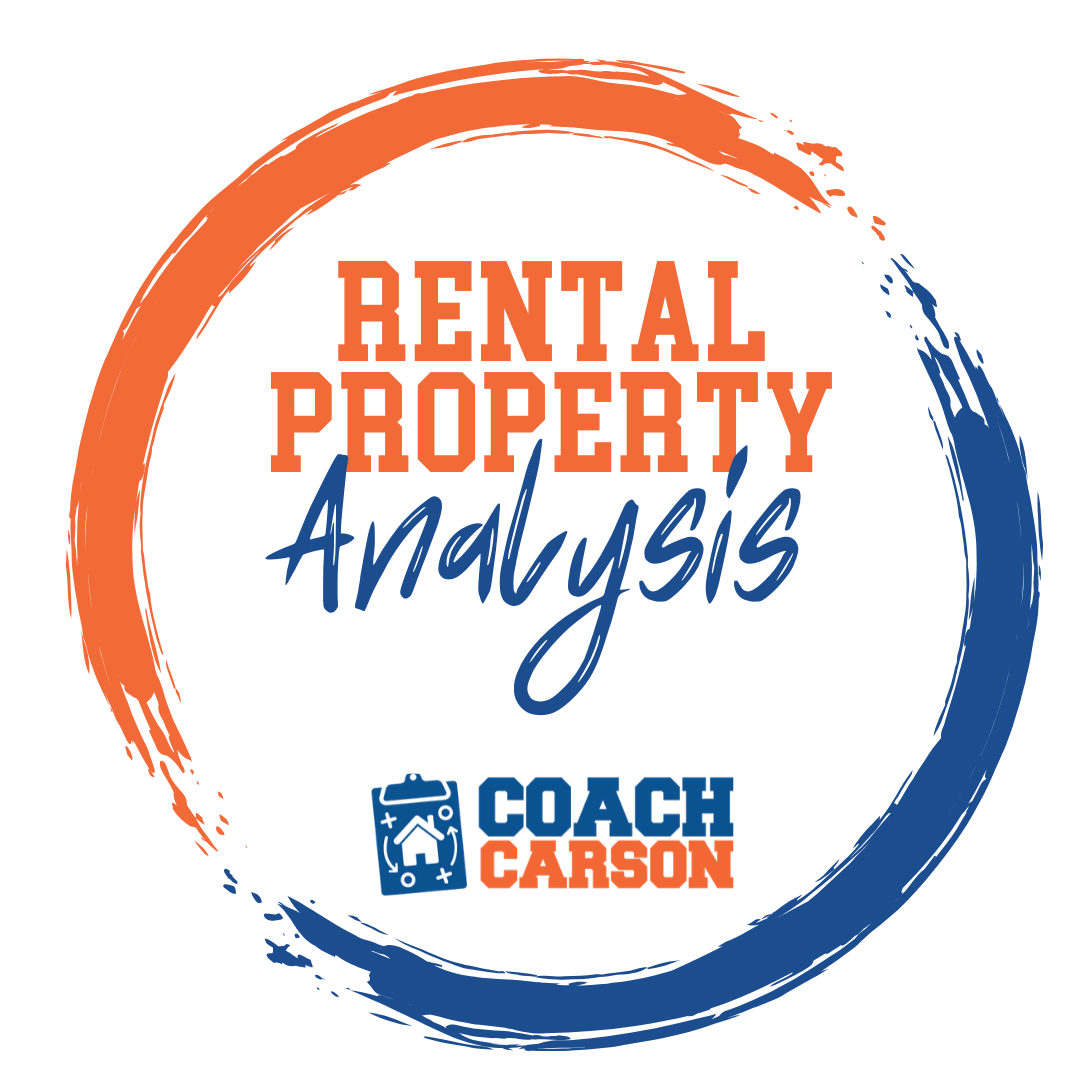 A course by Coach Carson that teaches you how to run the numbers so that you can confidently analyze and buy profitable rental properties. It also includes Coach's rental analysis spreadsheet.
Get the Course
Try to Hit 'Singles', not 'Home Runs'
The turtle has been beating the rabbit since Aesop started writing his fables.  One might think that beginners run the highest risks, but the danger comes to most of us when we've accumulated enough money to play for larger stakes."

Jack Miller, Success Secrets
In baseball the big, strong, exciting home run hitters get most of the attention, but the most consistently valuable players in my memory were the hitters who just got base hits.  They don't experience as many glorious highs (home runs) but they also don't fail as much (strikeouts).  These players just produce and win games.
In real estate some people get bored with the little deals.  But little deals stacked together produce incredible results. This is why John Schaub reminded us of the power of little deals in Building Wealth One House at a Time.
So, a winning strategy in real estate is this: Buy the consistent, safe, profitable investments, and then do it again, and again, and again until you meet your goals.
Don't Invest in Something You Don't Understand
Investing in large, expensive, and complicated properties for the average investor is an invitation to financial disaster … The single family house is far and away the easiest of all of these investments to understand and to use to build wealth because of its simplicity, availability, demand, finance-ability, and ease of management."

Jack Miller, Success Secrets
This sounds a lot like Buffet, doesn't it? There are thousands of brilliant ideas for making money out there, but can you execute all of them? Often the simple, understandable plan, well executed, works the best.
For our own investment plan, my business partner and I love single family houses and small multi-units (duplexes, triplexes, 4-plexes).
Why do we love these simple little residential properties?
First of all, we understand these property types because we've lived in them.  We've been in the shoes of our primary customer, a renter, at some point in our life. This knowledge is powerful as we acquire and market properties.
Second, small residential rentals are consistently in demand.  Just compare them to a commercial building.  If I have a rental house in a decent neighborhood stay vacant for longer than 30 days, I know something is wrong.  A commercial building may sit vacant for years without producing any income.
Third, finance-ability.  Government loan programs like FHA and mega-loan institutions like Fannie Mae are focused on single family houses and small multi-families (they don't loan on anything bigger than 4-plexes). This low-interest, long-term financing is consistently and widely available for these properties.
Even in a tight lending market, we can still find buyers for our single family houses.  This means we can cash-out in a reasonable time for near retail price, which is a hallmark of a safe investment.
Fourth, availability.  Single family houses in particular are everywhere.  Yes, we have to hunt for deals, but every town has houses.  Wherever people need places to live and have jobs (or something to trade you for rent), you can be in the single family house business.
Finally, ease of management. While we own houses, apartments, and mobile homes, single family houses in median price ranges are the easiest for us to manage.  Tenants are more responsible, more likely to do minor repairs, and in general less transient.  This makes for a more pleasurable and hands off management system.
Avoid Financing That Creates Negative Cash Flow
After a couple of bankruptcies, even the brightest stars soon discover that 'Nothing Down' leads to 'Nothing Left'.  Feasible financing is the key to real estate cash flow and wealth.  This is best obtained from motivated sellers than from skeptical bankers who insist that you personally guarantee your payments."     

Jack Miller, Success Secrets
"Feasible financing is the key to real estate cash flow and wealth."
That's worth repeating.
After surviving the downtown of 2008-2010, I agree wholeheartedly. I saw many investors go out of business because of their bad financing.  It led to negative cash flow, either with monthly payments or with big balloon payments. Those negative cash flows are what ultimately brought them down.
So Jack would recommend that we all adopt this as our mantra:  Don't buy with negative cash flow.
While we always want the most profit AND the most cash flow, early in our investing career cash flow is the priority.
In other words, you must survive before you can thrive.
This is why early in our investing business my partner and I often gave up part of our equity to a private lender in exchange for feasible monthly cash flow. We wanted to make sure our monthly rent paid for our loan and also left a cushion. We also wanted longer term payoffs so that we could avoid big balloon payments.
Private lenders and seller financing made all of this possible for us. These individuals were valuable resources because they were often willing to help with current cash flow in exchange for concessions in other areas like a percentage of the profit on the back-end when we sold.
If you haven't learned about the world of creative financing, get started with a few of my articles and videos below:
Trade Price for Terms That Create Cash Flow and Profit
Suppose you were getting ready to take a chance on a rental income property that you felt certain would increase in value over a reasonable period of time; what is the most likely way that you could lose your investment?  Loan default!  If you could trade off some of your future financing that would provide cash flow, that would be a prudent move."             

Jack Miller,  Success Secrets
I had never heard someone state this lesson as clearly as Jack did:  Your biggest risk when highly leveraged and growing is loan default!
Like we just reviewed in the previous section, your number one goal should be to negotiate feasible payments so that you can always afford to pay your lender out of your net rents.
A practical way to do this is by paying a higher price when you buy in exchange for outstanding seller financing terms.  You're giving away some of your future resale profit, but you're securing value in the terms.
If the property really does go up in price, you'll still make plenty of profit even after the higher initial price.  But most importantly, you're more likely to survive to see the day when the profit is finally realized.
In one of my BiggerPockets.com articles, I did a detailed case study of this strategy.
Avoid the Grass is Greener Syndrome
When it comes to investment, absence doesn't make the heart grow fonder.  Somehow, we are prone to think the grass is greener in the other fellow's yard … The net result of this is that, while the grass may indeed be greener, it could be a lot more expensive.  The properties we acquire in remote locales must be able to produce as much as 50% more cash flow than properties in our own area just to pay for all the inefficiency and costs that accompany remote  property investment."             

Jack Miller,  Success Secrets
Finding a location to invest in can be difficult, especially if you live near a big, expensive metropolitan area.  While some locations do have better investment fundamentals than others, I concur with Jack that if at all possible you should stay in your own backyard to invest.
First of all, you've probably chosen to live in your area for a reason – you like the schools, the amenities, the landscape, the people.  Stick with what you know and understand (see the idea above about understanding your investments).
Secondly, it's just more convenient when it's close by.  A town 2 hours away may be wonderful for investments, but how wonderful is it to you if you can't execute your investment plan? You need to get out in the field, get to know people, and get to know neighborhoods.  This market knowledge is crucial, but you lose the intuitive advantage of a local if you invest out of your area.
Thirdly, hiring third-party managers and service providers is much more difficult and expensive out-of-town.  You're more likely to find well recommended property managers, landscapers, plumbers, etc in your own town.
A famous speech was made over 100 years ago called "Acres of Diamonds".  In it the orator noted that failure to seek out opportunity in your own locale may indeed be merely an excuse not to try rather than a fact of life.  Look for your own "grass is greener" excuses, and ask this excuse-buster question:
Has anyone in my area faced similar circumstances and been successful at what I'm trying to do?"
If the answer is even a remote yes, go out and challenge your assumptions.   Change your question from "Why can't I?" to "How can I?" Study intensely how other investors in your area make money.
You can always choose to invest somewhere else later. First make sure there are not diamonds in your own back yard!
Adapt Your Techniques to Different Markets
By using seller finance which is insulated from the costs of money you can time these markets to buy low, sell high, and rent profitably while you wait.  The ability to time the housing and credit markets is what creates real estate fortunes."

Jack Miller, Success Secrets
Don't confuse this with wildly trying to speculate and time markets.  That's not what Jack is implying here.  Jack advocated taking advantage of the enormous momentum of any market cycle to give your wealth building a 'nitro' boost.
In slow markets:  The key word is BUY.  Go out and buy deals at low prices, with long-term, low-interest financing so that you can rent the deals until the market warms up.  No one can predict exactly when markets will change, but if your financing gives you flexibility, you can afford to sit and wait until the perfect moment to resell and make BIG profits.
In hot markets:  The pattern is Sell, Control, Sell, Control.  Sell some of the deals you bought in low markets to put money in your pocket and to pay down debt on long-term properties.  Flip some deals to make cash chunks.  Also use creative financing – like lease-options, options, and seller financing to control properties with low risk, and then resell them for even more cash flow.  Don't forget to save some of this easy cash to use when the market goes back down!
In confused or choppy markets: You can always make money if you control the financing.  Leases, options, and seller financing give you certain terms that you can depend upon.  Business models that depend upon bank financing for their survival are more susceptible to sudden changes.
The 3 Legged Stool – Become Inflation and Depression Proof
Financial stability needs a firm foundation like a 3-legged stool.  One leg should be a depression hedge.  Free and clear income generators would fill this bill very well.  Another leg should be comprised of inflation hedges such as highly leveraged real estate encumbered by non-recourse, fixed rate, assumable loans … The final leg should be in the form of cash, money market funds, gold and silver, publicly traded stocks, mid-term bonds, and highly discounted, high yield mortgages."       

Jack Miller,  Success Secrets
This is really good stuff.  When I first read it, I underlined, circled, highlighted, and flagged the entire page.  
Stability means preparing for any situation that could occur, and not being too heavy in any one direction.  This is a form of what's called investment diversification. 
If everything you own is highly leveraged with debt, you're unstable.  If you don't own any free and clear properties yet, you're unstable. If you don't have large amounts of cash or cash equivalents in the bank, you're unstable.  If all your money is under the bed or in the bank, you're unstable because inflation will ravage the future value of your money.
The goal is to secure the three legs of your "stool," aka your investment portfolio.
If you're very early in your career, this concept is important but not as critical as it will be soon. You have to take some early chances and be a little unstable in the entrepreneurial world in order to grow.
But as you accumulate more assets and equity, start securing your own three-legged stool.
I wrote a more detailed article about this concept here:
Create Your Own Profits With Negotiation Skills
The key to negotiation is to start with a well defined goal and to know what you're willing to sacrifice to reach it… Gathering information about the true state of affairs … is critical. You must invest time in patient questioning and listening to the answers in order to separate what the other party wants from what he perceives he needs.  Fulfilling his needs is your currency in the transaction."             

Jack Miller,  Success Secrets
Reading this was a clouds parting, angels singing kind of "aha" moment for me.  I'm going to repeat this again for emphasis:
Fulfilling his needs is your currency in the transaction."
Question: "How do you get someone to sell their house below market value, even if they're fully aware of what they're doing?"
Answer:  MEET THEIR NEEDS.
Most of us don't blink an eye to pay thousands of dollars for to a doctor to perform a needed surgery.  Why is that?  Because the doctor provides a service and meets an acute need.
When you become a competent service provider and a solver of problems, getting paid is like a doctor or any other professional.  The doctor removes your appendix, she gets paid.  You solve a seller's problem, you get paid.  
Like a doctor, we real estate investors must learn to listen for symptoms as we negotiate.  We must also learn to listen for the root cause of the symptoms by filling in the gaps between what they're telling you and what's really going on.  Then once the problem is known, we must be the kind of expert who has the confidence and ability to fix their problem.  
In this way negotiation and making money is not sneaky or pushy.  It's simply a value proposition.  Your job is to seek out and listen to people who have problems that your expertise can solve.
Zig While the Competition Zags
The single factor that most enables one to rise above mediocrity in real estate is knowledge of the market and skill in creating tax-favored financial transactions or management solutions… Investing the time to become fully grounded in the basic principles of real estate, negotiation, financing, and management fundamentals virtually assures no real competition"             

Jack Miller,  Success Secrets
Competition, competition, competition.  We're always looking over our shoulder.  But Jack points out that you need not worry about competition if you're willing to truly learn your trade.
One of the reasons I call my education business "Coach Carson" is because like sports, I believe in practicing the fundamentals of real estate and finances. And I know from experience that VERY few people are willing to commit to mastering those fundamentals.
What do many investors do instead? Jump from one technique to another. Look for short cuts. Copy-cat television gurus who are better at selling than real estate.
If, instead, you keep developing the skill areas Jack mentioned above – real estate value, negotiation, financing, and management, then your investment of time and money will turn out to make you enormous profits for the rest of your life.
Unlike any other asset, knowledge and skills can never be taken from you. They last as long as you have the energy to apply them.
This is why education and training have always been a top priority investment for me.
Over time, competition will fade, because most people aren't willing to make those same sacrifices.
Isn't that encouraging for those of us willing to pay our dues?
I have no fear of competition, and neither should you.
Conclusion
I hope you've found these ideas from Jack Miller helpful.  Just writing and remembering them has been profitable for me.
To make sure your time reading has been worth while, I encourage you to find at least one thing you can take and apply right now. Which idea spoke to you? Which idea reminded you of something you need to do?
Write the next action down. Schedule it in your calendar.  Or better yet … start it right now!
I wish you all the best in your real estate investing journey.
What did you think of the ideas from Success Secrets by Jack Miller? Do any of these tips for building wealth, acquiring safe financing, avoiding competition, or negotiating with sellers resonate with you? I'd love to hear from you in the comments below.
---
**This article contains Amazon Affiliate links. If you purchase a product as a result of clicking on this link, Coach Carson, LLC will make a small commission. It helps me keep the bills paid around here:). Thank you.
Get My Free Real Estate Investing Toolkit!
Enter your email address and click "Get Toolkit"