Let's be honest. Rental properties are fun and interesting, but what we really want is the large, steady rental income they will give us for many years to come.
That's a fine motivation.
After all, this money can help you do more of what matters.  And that's exactly the point.
So, I'd like to share a case study about Lisa and Todd, a hard-working, money-saving, real estate loving couple in their 40's who create a $100,000 per year rental income within approximately 20 years.
Todd and Lisa are not real people, but their situation is based upon real principles, concepts, and numbers I have encountered in my own business and in those of my coaching clients. I hope this case study will remind you of what's possible with real estate rental properties.
Let's get started.
The Background
Here's a snapshot of Lisa and Todd's financial situation as they begin their journey to create income from rental properties.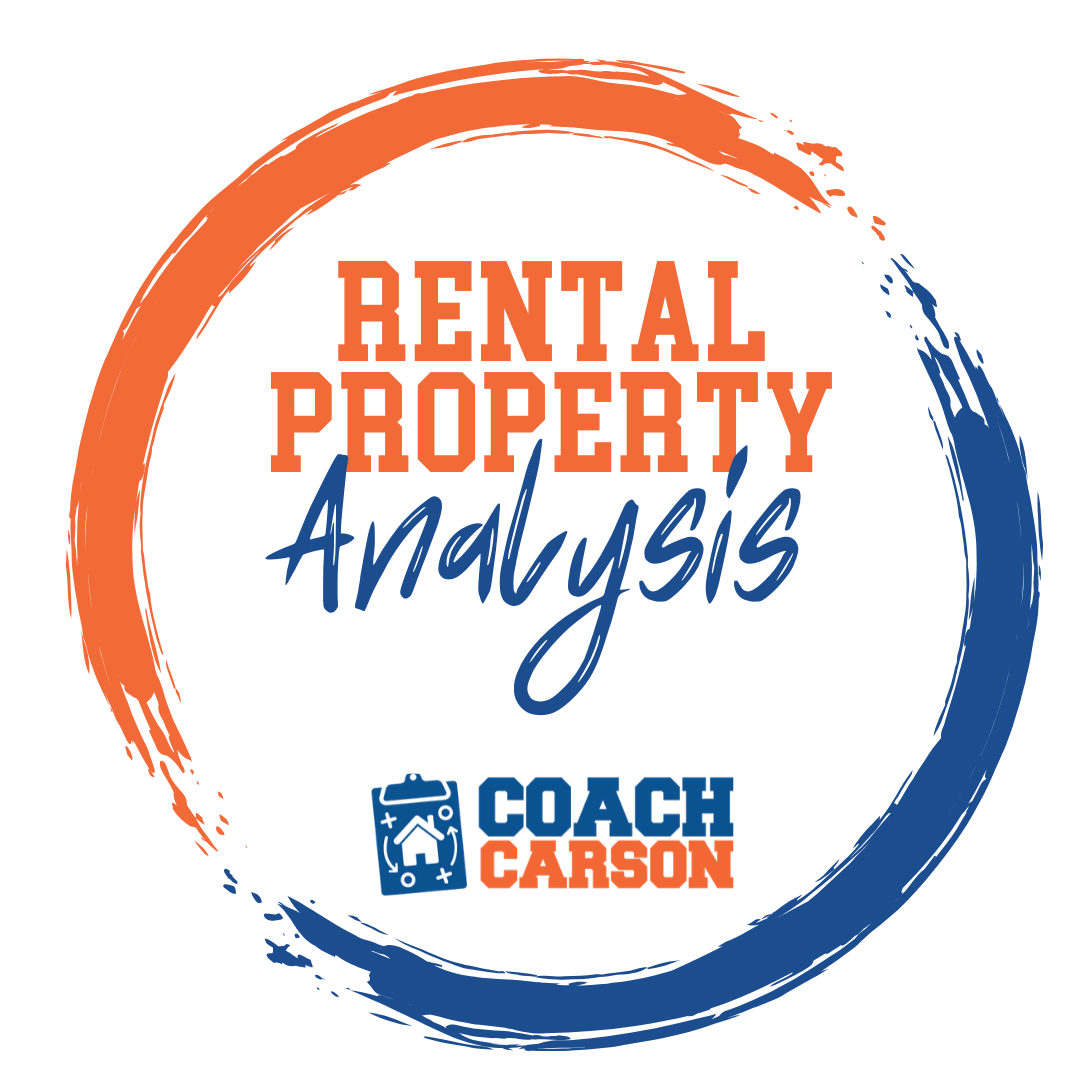 A course by Coach Carson that teaches you how to run the numbers so that you can confidently analyze and buy profitable rental properties. It also includes Coach's rental analysis spreadsheet.
Get the Course
Combined Lisa and Todd earn $100,000 per year
Lisa owns her own business and Todd has a normal salaried job
They each have 780+ credit scores
Todd has $50,000 in his 401k at work
Lisa has $30,000 in her Roth IRA
They have $150,000 in cash savings (from flipping real estate, sale of stocks, inheritance, savings, etc)
They can save an extra  $2,500/month going forward
The own a home worth $250,000 and they owe $100,000
They can get a HELOC (Home Equity Line of Credit) for 80% of their home's value
Lisa and Todd know they want to own rental properties. They were probably convinced (as I was) after reading Building Wealth One House at a Time.
Like all of us, they are busy with jobs, family, and other interests.  So they don't want to spend all of their time with real estate investing over the long run. They want a small and simple life style business, not a big albatross of a business around their neck.
A relatively small number like 7-10 houses would be a reasonable amount for them to manage long run.  Because these houses would be in decent neighborhoods, they'd attract responsible, self-sufficient tenants that would make it even more passive.
Now let's move on to the 5-step plan Lisa and Todd use to accomplish their goal of $100,000 per year in rental income.
Step #1 – Preparation
To accomplish this plan Lisa and Todd must find two things:
The money
Good deals
Easier said than done, I know.
For the money Todd and Lisa ultimately plan to use conventional mortgages.  Their mortgage broker has preapproved them for up to six conventional, 30-year loans on investment properties with 25% down at a rate of 5%. If they run into hurdles with conventional financing down the road, they'll also explore private financing or portfolio lenders at local banks.
But they won't use these loans to BUY properties. Only to refinance.
They learned from reading the Coach Carson newsletter that speed is key when buying properties below value (like my personal record purchase in 3 days). Bank loans are too slow for purchases.  The best deals require fast, available funds without a series of hurdles and delays.
So Todd and Lisa's plan is to use cash for purchases and then refinance with conventional loans 6 months later after seasoning the properties.
After some work, their total access to cash includes:
$150,000 = cash savings
$100,000 = proceeds from an 80% HELOC on their principal residence
$250,000 = Total Cash Available
The couple also plans to save $2,500/month from their job income, so they will add $2,500 x 12 = $30,000 more to the cash stash each year.
They begin to shop for houses in their home location of Greenville County, South Carolina. They hunt for solid single family neighborhoods whose median price is about $160,000 per house.
Each weekend they ride and walk around neighborhoods to get a feel for the places where they want to invest (and where they don't).  They also get market statistics to become very familiar with the numbers for their target properties.
Step #2 – Acquisition 
Lisa and Todd quickly recognize that free time and expertise are two qualities they lack. So they hire an experienced real estate agent to represent them as a buyer's agent. This agent will help them find and evaluate all of their deals.
They choose this agent because she also has experience with rental properties. She understands how to hustle and move fast on good deals. And she is able and willing to evaluate not only the resale value but also the rental values and operating expenses of the properties they find.
The couple and their agent look and make offers on many properties beginning in the summer and fall of 2016.
After months of searching, on January 1, 2017 they purchase Properties #1 and #2.
Six months later on June 1, 2017 they refinance Properties #1 and #2, and they purchase Property #3. A refinance of Property #3 happens by December 1, 2017, and one year later before December 1, 2018 they buy and refinance two more properties for a total of five rentals all together.
Each property is rented for $1,200 per month and has $500 of operating expenses. The resulting net operating income per property is $700 per month.
So, here is the financial picture of the properties and their mortgages towards the end of 2018, two years after the first acquisition:

What does all of this mean after the dust settles at the end of year #2?
It means they have a solid foundation to begin the Snowball phase, where they REALLY grow their equity and cash flow.
Step #3:  Snowball! (Part 1)
Remember from step #1 that Todd and Lisa are willing to save an extra $2,500 per month from their jobs? In years 1 and 2 they used that money to help them have more cash for acquisitions and down payments.
But in year #3, they combine that $2,500 with the $682/month in positive cash flow to save a total of $3,182 each month.
Now here's where discipline meets planning to really add some horse power to their wealth building.
On January 1st of 2019 (beginning of year #3), the couple decides to use this $3,182 per month to start a Debt Snowball Plan. The Debt Snowball concentrates all of the extra cash flow on one mortgage at a time in order to pay it off faster.
Like rolling a snowball, this plan starts slowly and then quickly gains enormous financial momentum as success compounds over time. The end result of a Snowball Plan is that mortgages with 30-year terms get paid off in MUCH less time.
How much less?
Let's see how it works in this case study.
The Snowball Plan begins on January 1, 2019.  Todd and Lisa now combine the extra snowball payment of $3,182 with the mortgage payment of $563.66 on Property #1 for a total payment of $3,745.66.  This huge payment accelerates the payoff time of the mortgage, and as each mortgage is paid off the growing cash flow is applied to the next mortgage.
With a Snowball Plan Excel Spreadsheet to help me with the calculations (I used this one at Vertex42.com), here are the results and timelines of this plan:
Property #1 is paid off by June 1, 2021.
Property #2 is paid off by June 1, 2023.
Property #3 is paid off by February 1, 2025.
Property #4 is paid off by August 1, 2026.
Property #5 is paid off by December 1, 2027.
Did you notice how the pace of debt payoff accelerated towards the end? That's the power of a plan like the Debt Snowball. It keeps feeding and compounding on its own success.
So, just under 11 years after their first acquisition, our disciplined and hardworking couple has 5 houses free and clear of all debt.  Without accounting for any appreciation, the financial scorecard looks like this:

Todd and Lisa now have 5 properties that produce $3,500 per month or $42,000 per year.  They also have total equity of $800,000.
Do I think the rent and value of these properties will have actually appreciated? With the long-term prospects of this region in South Carolina and with the solid locations of the properties, I would guess they will at least keep up with inflation at 2-3%.
In the case of 2% appreciation the results would look more like this (I used this future value calculator to calculate these numbers):

But I don't have unlimited confidence in my ability to predict the future of appreciation.  So, I like that Todd and Lisa have a solid growth plan whether or not their properties appreciate.
At this point Todd and Lisa could decide that after 11 years this is enough to satisfy their needs and just stop here.
Or they could take a rest with a well-deserved mini-retirement.
Or they could just change their pace and switch to a part-time or enjoyable work schedule of semi-retirement.
But let's assume they're a little more ambitious (or paranoid about the future!) and want to continue the climb towards $100,000 per year in rental income. Here's what they do.
Step #4:  Preparations and Acquisitions (Part 2)
Todd and Lisa decide they are willing to work for a few more years, buy five more rental properties, and build their rental income to over $100,000 per year.
Here is the money plan for this stage of growth:
Use a HELOC of $267,500 on their principal residence (now free clear and worth $315,000) for cash acquisition money
Refinance rental Property #1 and #2 ($122,500 each) to raise $245,000 for down payments and closing costs
So, their total available cash to start buying properties is:
$267,500
+$245,000
= $512,500 available cash for acquisitions
With this big wad of cash and even more real estate experience, Todd and Lisa feel very confident that they can find and acquire quality single family properties worth $200,000 at a 15% discount of $170,000.
Their down payment on each property will be 25% or $42,500 and closing costs for each purchase and refinance will be $6,500. The loan terms will be 6%, 30-year loans.
After 3 months of preparations and searching, on April 1st, 2028 they purchase 3 properties.  Six months later on October 1, 2028 they refinance those three and purchase 2 more.
By April 1, 2029 they have refinanced all 5 new rentals, and they are ready to begin Snowballing debt again.
Step #5:  Snowball! (Part 2)
Now that acquisitions are finished and all refinances are complete, Todd and Lisa are ready to renew their Snowball Plan one final time.
Here is what their portfolio of properties and mortgages looks like as of April 1st, 2029 when they begin the Snowball Plan again:

This time around, Todd and Lisa increase their savings to $3,000 per month to increase their snowball.  Combined with their net rental cash flow they have a whopping snowball payment of $6,431 per month.
Using my Snowball spreadsheet again (this one at Vertex42.com), here are the Snowball Plan debt payoff results:
Property 1: paid off by October 1st, 2030
Property 2: paid off by February 1st, 2032
Property 6: paid off by April 1, 2033
Property 7: paid off by June 1, 2034
Property 8: paid off by May 1, 2035
Property 9: paid off by April 1, 2036
Property 10: paid off by February 1, 2037
Finally! The Snowball Plan is done. This time the Snowball Plan only took 8 years and 3 months.
Lisa and Todd now own 10 rental properties free and clear of any debt!
But did they reach their goal of $100,000 per year rental income? Let's see the financials of Todd and Lisa's rental properties in the end, assuming a 2% appreciation rate from the values when they started 20 years earlier: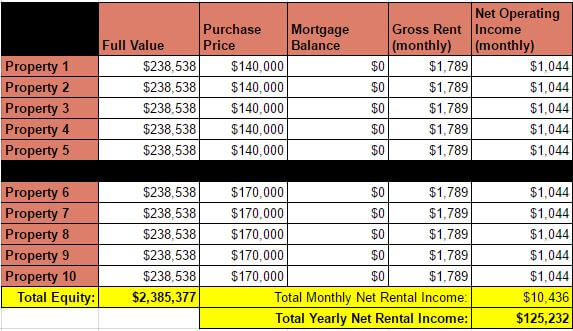 Todd and Lisa accomplished their goal!
At an age somewhere in their 60's, they have a steady flow of over $125,000 per year in rental income that will support them for the rest of their lives.  They also have over $2,385,000 equity in single family houses that can be sold or refinanced if large chunks of cash are needed in the future.
The True Purpose of This Case Study
As you all know, the one thing we know about a plan like this is that it will never work exactly as planned!
And there are many variations on this plan or in my assumptions that could make it much better (or much worse).
But can you see how creating a plan gives you a path to follow? It guides your actions and decisions in the present. As circumstances, the economy, financing, or any other variable changes, you can then change your plan as needed.
I also love a plan like this because it's inspiring. When you see a case study where it works for someone else, it's easier to believe it's possible for yourself.
So the true purpose of this case study is to challenge you to think, to plan, and to take action.  Real estate rental properties are a wonderful vehicle to build wealth and cash flow.  But the most important rental property plan is the one you begin executing for yourself.
I wish you much success in your investing efforts!
What do you think about the case study? Could something like this work for you? Are there alternatives to this plan that work better? I'd love to hear from you in the comments section below.
Enthusiastically your Coach,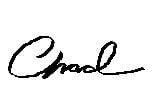 Get My Free Real Estate Investing Toolkit!
Enter your email address and click "Get Toolkit"