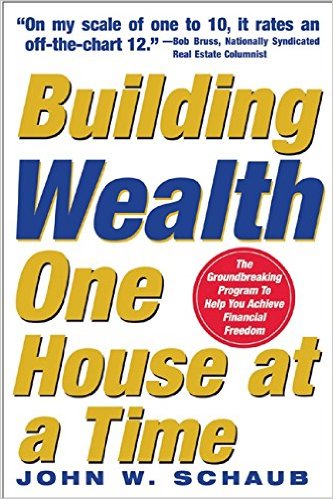 Tens of thousands of ordinary people have made millions of dollars investing in the most humble of real estate investments, the single family house.  I am one of them, and I have a unique perspective because I have helped thousands of others make their first million buying houses … Rather than put their trust in a company pension plan or the government, they have taken control of their financial destiny."

John Schaub, Building Wealth One House at a Time
I was lucky enough to hear John Schaub speak early in my investing career, and right away I subscribed to his newsletter. After 13 years of newsletters and several in-person classes, John's ideas and advice have had a profound impact on my real estate investing career.
I regularly gift John's book Building Wealth One House at a Time for new coaching clients or friends getting started in real estate. It's as good of a place as any to start your education.
What I love about John's strategies are their simplicity.  And that's not a bad word.
As Clare Boothe Luce said, "simplicity is the ultimate sophistication."  Complicated schemes look good on paper and sound exciting in seminars. Simple, powerful, well-executed ideas move mountains (and build wealth).
A few of my favorite simple, profitable ideas from John's book are what I'd like to share with you in the rest of this book review. Enjoy!
Buy Just One House at a Time … Become Wealthy
Building wealth one house at a time does not require a lot of education, money, or even time.  It does require one thing – that you buy a house and hold it until you make some serious money."   

John Schaub, Building Wealth One House at a Time
Really smart people and others who want to be really smart tend to over-complicate things.  While nuclear physics and many other amazing advances come from abstract thinking, building wealth with houses is another game entirely.
Living inside your head with all of your great ideas won't make you one penny.  What do you need?
A solid plan.
Action.
Persistence.
And more persistence.
And still more persistence.
In his book, John teaches that over thinking may even hurt your wealth building:
It's not even important that your first house is a great deal.  The first house I bought I paid retail price for and made a 20% down payment.  The good news is that I could rent it for a high enough amount to pay the expenses and pay the loan.  The reason it has been one of my best investments is that I still have it … An investor with a doctorate in finance would never have bought that house, and he would have never held it for 30 years without refinancing it … He would have never turned a $7,000 investment into more than $300,000, not counting the rent that was collected for 30 years and will continue to be collected for the next 30 years." [my italics for emphasis]
That is really powerful stuff.
It's really difficult when you're getting started to balance the fear of making a bad deal with the need to get moving.
My first deal wasn't wonderful either.  My partner and I estimated $15,000 in repairs and we ended up spending $25,000 (and that was with us doing lots of the work!).  But we found a relatively safe way to get started by using a financial partner, and we plunged in. In the process we learned a LOT.
If you haven't bought your first deal yet, make a commitment to get started.  You can't make money on houses unless you're in the game.  Don't be overwhelmed with the big picture or by competing with others who seem to be making "great" deals.  Everyone walks before they run.
Do like John recommends, buy just one deal, get it rented, and then sit back and take notes on what you've learned. Experience is definitely the best teacher.  If you do this, you'll ensure that your next deal will always be better than the last.
Why Houses Are Your Best Investments
"After 32 years of investing, I still buy houses instead of apartments or shopping centers. Why? Houses make me more money with less work than any other investment." 

John Schaub, Building Wealth One House at a Time
You'll find endless debate in real estate circles about whether you should buy houses, mobile home parks, apartment buildings, raw land, or commercial buildings.  It's impossible to say that every person should concentrate on one or the other, but I agree with John that for the average, small investor, you can't beat houses for many reasons.
Let me show you a few strong benefits of houses as investments.
Houses Are Hybrid Investments
Houses are unusual in the investment world, because they provide rental income but their retail value doesn't depend directly upon that rental income.  A 10 unit apartment building, for example, will go up or down in value depending upon how much net rent is produced.  A well cared for vacant house can go up in value just like a rented one.
Houses Are Safe
Even during bad real estate markets, ask any banker what they'd rather loan money against – a single family house in a nice residential neighborhood, a large commercial property, or a piece of raw land?  A single family house is the answer. That should tell you something.
Houses are relatively stable and tend to hold their value.  There are many more buyers for houses than other types of real estate.  Vacancies are much shorter because the demand for residences is always high compared with commercial properties. This all translates to safety as an investment.
Houses Have Non-professional Sellers
When you buy houses, you often deal directly with a seller who is not a full-time, professional investor.  Investors normally want to make a profit when they sell. They're often better negotiators than you are.  A normal homeowner may be selling for non-financial reasons, and solving that problem can be worth money to them. This means you can sometimes buy for below market prices and financing terms.
Unlimited Supply of House Deals
Every day new sellers decide to sell their houses.  People move, start families, get divorced, retire, and pass away.  There are many more single family houses in your average town than any other type of real estate investment. This means you'll always have houses to shop for.
Houses Attract Lower Management Tenants
Compared with apartments, lower end houses, and mobile homes,  tenants for decent houses in decent neighborhoods are much more self-sufficient and tend to pay on time more often.  If you value a wealth of free time and addition to a wealth of money, this factor is crucial.
Houses Tend to Sell for Retail Prices and All Cash
This is perhaps the most compelling strength of single family houses.  The federal government has a long-term vested interest in subsidizing the housing market. It's very political that people are able to buy houses.  Therefore many loan products are available that allow buyers to purchase a house and cash you out when you sell. When you sell a mobile home park, commercial property, or apartment building, it's much more difficult to get cash at a retail price when you sell.
The Right House = More Profits & Less Hassle
Most people who buy real estate do not set out to buy a particular property. They just look at everything that is for sale and hope to find a good deal … Not all houses are created equal.  Some houses will appreciate more; some will produce more cash flow because they will attract better tenants; and others will require more maintenance and have higher expenses. No house is perfect, but you can increase your profits significantly when you target a certain house to buy."    

John Schaub, Building Wealth One House at a Time
This is such a HUGE lesson.  It's amazing that I've heard John and others preach it many times, yet I have still made big mistakes ignoring his advice!
Yeah, I'm one of those who must get burned in order to learn!
Essentially John points out that you must balance the quantitative aspect of a deal, i.e. the numbers, with the qualitative aspects like quality of construction, size of house, type of lot, school district, busyness of road, the price range, etc.
Balancing the quantitative and the qualitative is not easy.   Many investors are attracted to very cheap prices on smaller, inexpensive houses. They seem more profitable and safer just because the number is lower. But many times a higher quality house in a better neighborhood would be more profitable and safer, even buying at less of a discount from retail
In my local market, I have found certain sweet spots for properties depending upon my goals.
If I am looking to maximize cash flow and loan amortization, I focus on houses, small multi-units, and double wide mobile homes about 50-60% of the median price. If I buy at lower or higher prices, the cash returns get worse.
But if I am looking to maximize profits from capital gains and appreciation, I've found properties a little more up the price spectrum are much better.  These properties are more difficult to buy far below market and the rent/price ratio is not as good, but they are more liquid (easier to turn into cash).  In my area this second type of property has a retail price hovering around 80-120% of median prices in the area.
John currently owns houses in the second type. But he and many other investors started with the first type and traded up to nicer properties over time when they were ready.
You'll have to figure out which type of properties are the best for you at this point in your real estate investing.
The Right House = Better Tenants & Less Vacancy
When you choose the right house in the right neighborhood, you also make the management of your property MUCH easier. John Schaub explains:
The best tenants have their choice of houses to rent because every landlord with a vacancy would love to meet them. You can attract the best tenants in your town. The secret is simple …The right house will attract a superior tenant."
We real estate investors spend a lot of time working on collecting rent, reducing vacancies, and minimizing tenant problems. But ONE thing trumps every other management strategy out there: buy a house your tenants want!
John lists several things that his ideal tenants, the ones that pay on time, stay forever, and take care of the property, look for:
A house in a safe neighborhood
A house big enough to hold all our stuff
A house that is clean and in good repair
A landlord who will maintain the property
Fair rent
Fair rent raises
Privacy
A house that is not for sale
John has built his purchase criteria for houses around these eight core wants of his ideal customers.  Because he's able to provide these things to his customers, he routinely keeps tenants for five years or more.  John says if someone stays two years or longer, he makes a profit, but if they move in one year or less, it costs him money.
I really like John's business model because it's a good balance of the money/profit part of the business and the hassle/management part.  I imagine that you are like me, and you want your investments to make the most money and use the least amount of your time and energy necessary.  John has mastered that.
When I choose teachers to emulate, I like to observe how they live their life to see if what they teach really works.  John has invested for 35+ years and he manages all of his properties (25+) himself with the help of a part-time assistant.  He travels regularly for pleasure and spends time with his family.  He writes newsletters, teaches courses, and helps others build wealth just like he did.  He's a laid back guy who has a lot of fun.
That's my kind of guy, and I like to model his type of investing and lifestyle!
A Free and Clear Plan
The first step is to set a goal for the number of free and clear houses that you want to own. Work backwards into this goal by first setting an income goal and then asking how many free and clear houses you will need to produce that target income."  

John Schaub, Building Wealth One House at a Time
Here are the basics of John Schaub's Free and Clear Plan.
Step #1:
Set a Goal
If your goal is $5,000 per month, how many free and clear houses do you need?
Let's say a house today in decent neighborhood rents for $1,000.  Your operating expenses might be $300/month (not including management since you'll be managing the small number of properties your self). So the net operating income (NOI) = $700/month.
$700 x 8 = $5,600/month.
So you need 8 houses free and clear to accomplish your goal.  And since rents on good houses tend to keep up with inflation, there's a good chance that your future net income will buy the same thing it buys today.
Step #2:  Buy Houses
Buy one good investment house at a time, at a good price, with good terms, and hold it until it increases in price.
Step #3:  Get Free and Clear
Plan A: Use increased cash flow from increasing rents to pay off your debt.  If you borrow at a fixed payment and then make increased money from rents, from a job, or from other investments, you can use the cash flow to pay down debt.
Plan B: Buy more houses than you need, then sell some to pay off the rest.  This plan requires managing more houses, using more leverage, and taking more risk, but the results can be spectacular.
Plan C: Refinance some houses to pay off others.  Eventually you may own several houses with small loan balances that still have large payments.  You can refinance one house at a low-interest rate, pull out equity from the house, and use it to pay off the other loan.  If done correctly, you could have the same or better total cash flow, yet have one property free and clear.  John points out that owing 80% on one house and 0% on the other is a much safer position for you than owing 40% on both.
Remember I said powerful strategies are simple? This has been one of my favorite simple strategies in all of real estate investing.
Build Wealth, Enjoy it, Share it
"Build wealth, enjoy it, share it" is the quote that John Schaub wrote when I asked him to sign my own copy of Building Wealth One House at a Time.
If I had to adopt an entrepreneurial creed, this would be it.
We all have a desire for security for ourselves and our family.  So by all means study learn to win with money from John and others so that you can take care of yourself and your loved ones.
But if your entire life is dominated by a need for security, you'll do nothing but grab for more and more and more.  You'll never take the time along the way to enjoy it.
Some of my true pleasures in life – time with family and friends, time reading a good book, and long-term travel – really require time and flexibility more than money.  That has made me step back and reconsider how much money is really enough. How much money do I really need to maximize enjoyment?
Finally, no matter where we started, it's certain that our own success and growth was made possible by the help of others.  So shouldn't we pass it forward?
John really likes Habitat for Humanity, which he says was "founded on a simple concept:  Rather than delegating to government the responsibility for housing the poor, housing that is expensive to build and maintain, Habitat solves the problem permanently by helping people in need of housing build and buy their own homes."
I love socially conscious businesses and institutions like Habitat for Humanity that leverage private energy and capital to make social change.  I look forward to getting more involved in those and to sharing some of my favorite ideas about social business in the future.
So now it's your turn.  Build wealth, enjoy it, and share it!
What did you think of the ideas from Building Wealth One House at a Time? Do you have your own simple yet powerful plan for building wealth? Have you found humble investments like a house to be a solid investment? I'd love to hear from you in the comments below.
Get My Free Real Estate Investing Toolkit!
Enter your email address and click "Get Toolkit"