Early in my career, Jack Miller was one of my favorite real estate investing teachers. He passed away in 2009, but I still reread a lot of his old books and newsletters, like the book Success Secrets (here's my book review).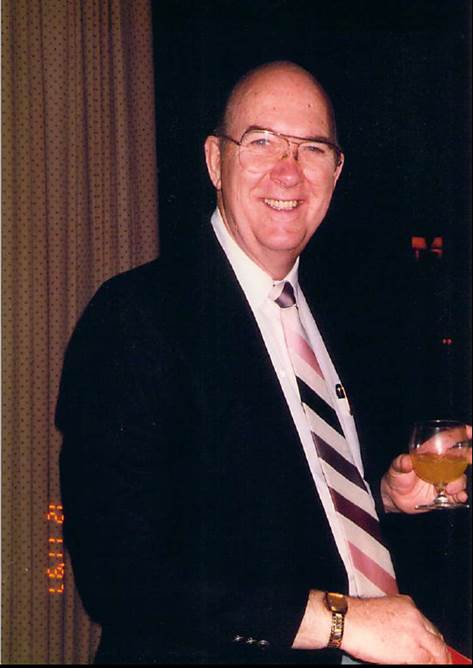 Jack taught a lot of classic lessons. But one that stuck with me, in particular, was this:
Buy good investments, not trophy houses
Let me explain what he meant.
Trophy Houses Aren't Always Profitable
By trophy houses, Jack meant properties that are big and/or beautiful. It's the type of real estate that appeals to your pride and emotions.
And I'm the first to admit, real estate CAN be beautiful. Pride of ownership is one of the appeals of investing in properties. I'm personally a sucker for great design and craftsmanship from the early 1900s.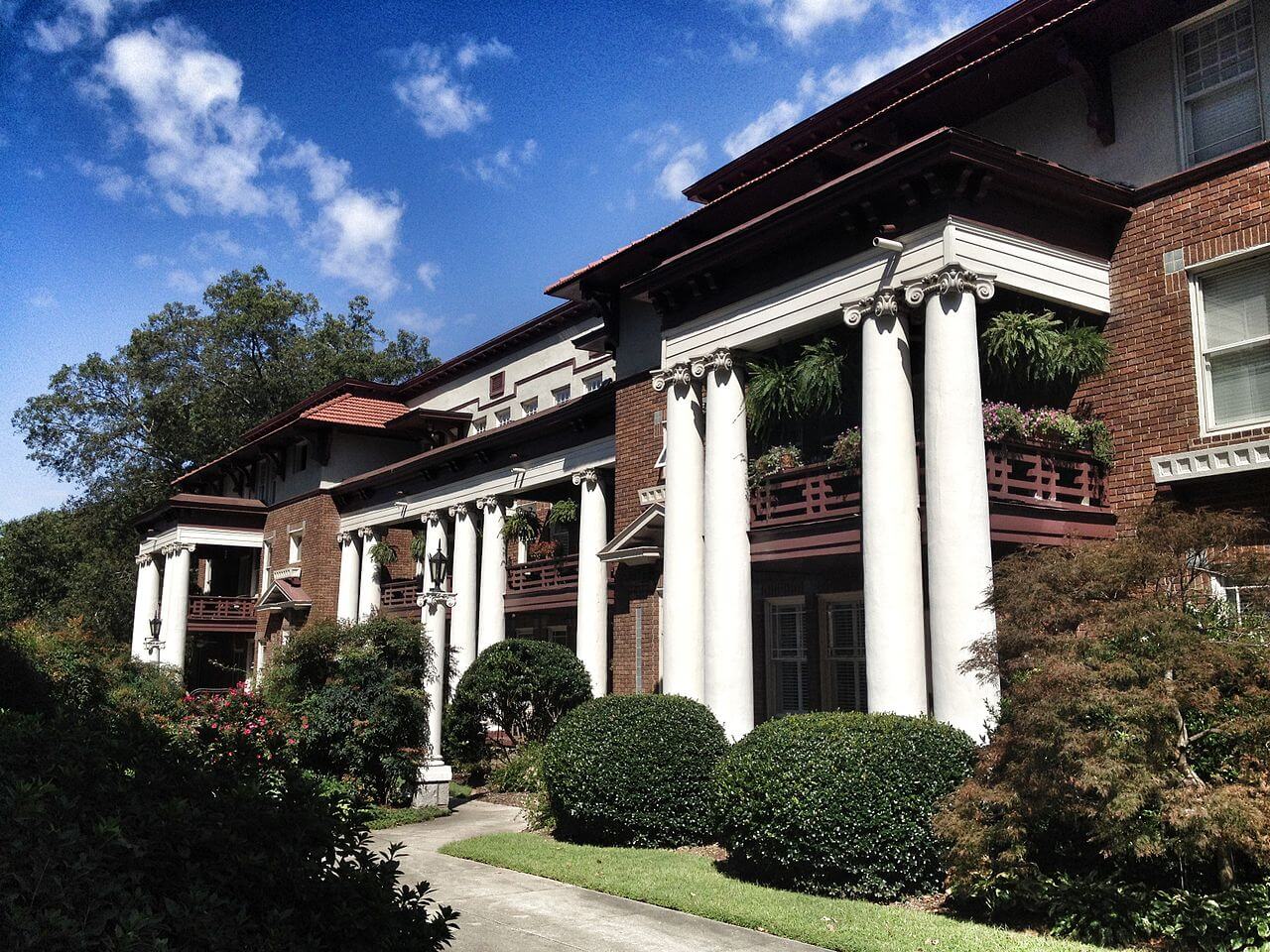 But beautiful properties that you can brag about to your friends aren't always the ones that help you accomplish your financial goals. For every gorgeous building like the Colonnades, there are thousands of ordinary, simple, rectangle-shaped boxes that lack beautiful trim, complicated rooflines, or stunning architectural design.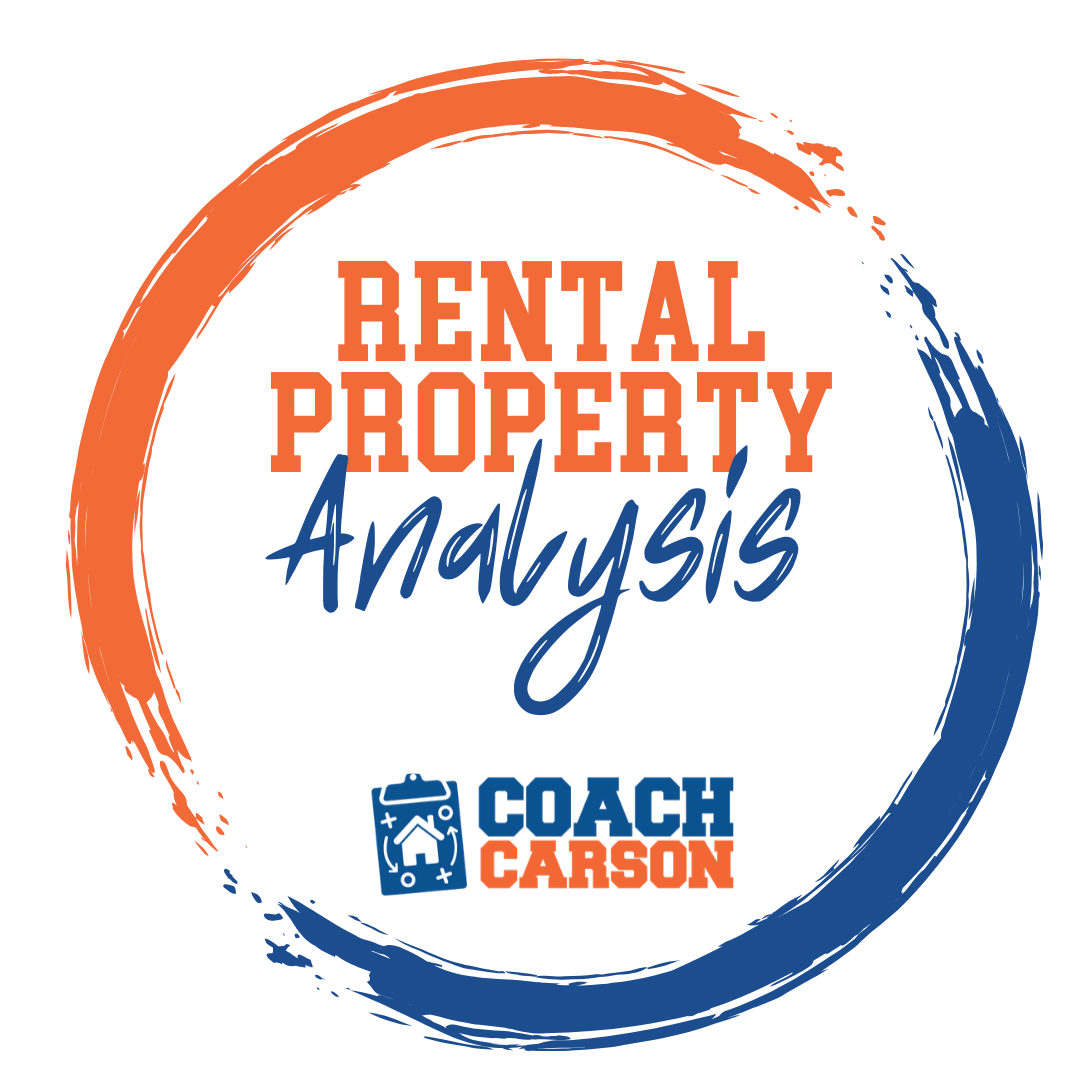 A course by Coach Carson that teaches you how to run the numbers so that you can confidently analyze and buy profitable rental properties. It also includes Coach's rental analysis spreadsheet.
Get the Course
But in my experience, these "boring," working class properties can be extremely profitable long-term investments. What they lack in flash, they make up in cash!
Now I'll explain a few ways you can identify these simple yet profitable investment properties.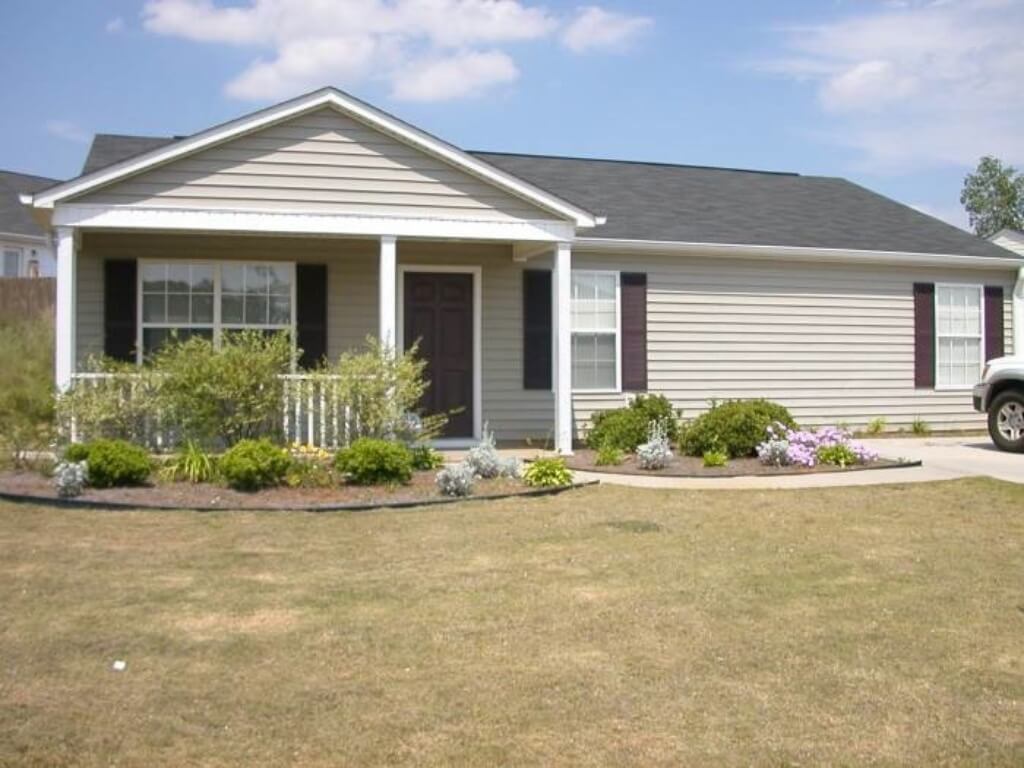 The Best Rentals Are Economically Efficient
The best rentals are economically efficient, which means they have an ideal balance between income and expenses over time.
Fancy, beautiful properties often have complicated roof lines, expensive materials, grand layouts, and large lawns. These make for great pictures, but they are often expensive to maintain over time. And the benefits don't always bring in enough extra rent to compensate for the added cost.
Rental properties are really a simple game. You receive a certain amount of rent (i.e. your return), and you pay a certain amount of money in order to receive that rent (i.e. your investment).
The game is to receive more on the rent and spend less on the total investment. But don't forget, your investment isn't just the upfront price. For a long-term hold, it's also your operating expenses that add up over the long run.
I'll share an example to demonstrate.
Example of an Economically Efficient Rental Property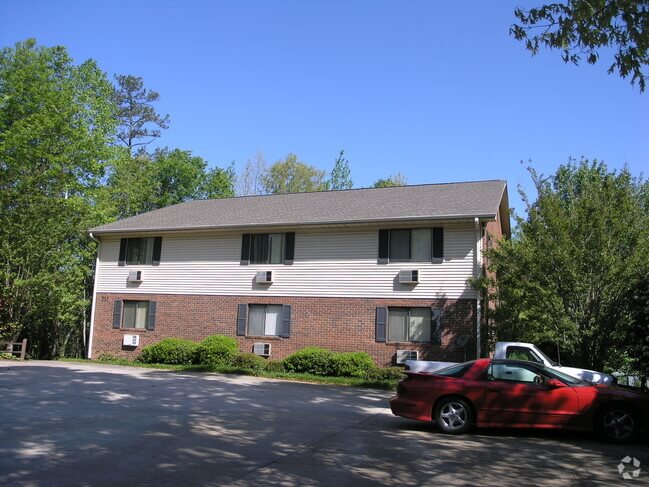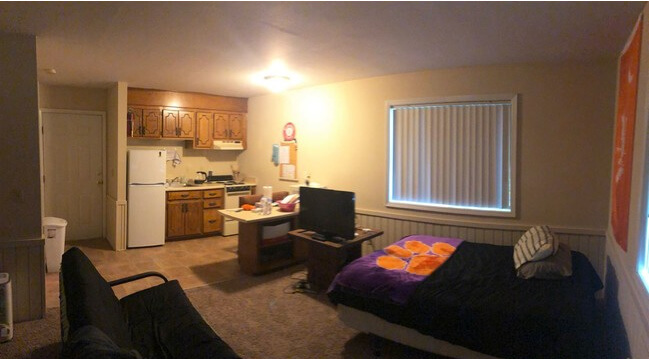 We own a building in Clemson, SC that has 12 studio apartments. All of the units share one simple roof, and the footprint of the building is relatively small at about 2,300 square feet. One hotel-style, wall air conditioner heats and cools each apartment at minimal cost to the tenant. And an interior, covered hallway contains a stairway to the second-story units. This minimizes wear from weather on the wooden stairs.
The units themselves are less than 400 square feet and have only two rooms (living/sleeping/kitchen area and bathroom).  During tenant turnover, it costs very little to repaint and clean the unit. And with a rent of $500/month, they earn $1.25 per square foot of rent.
This building is very economically efficient!
On the other hand, we have a 4-unit building that also shares one roof and has a footprint of about 2,100 square feet.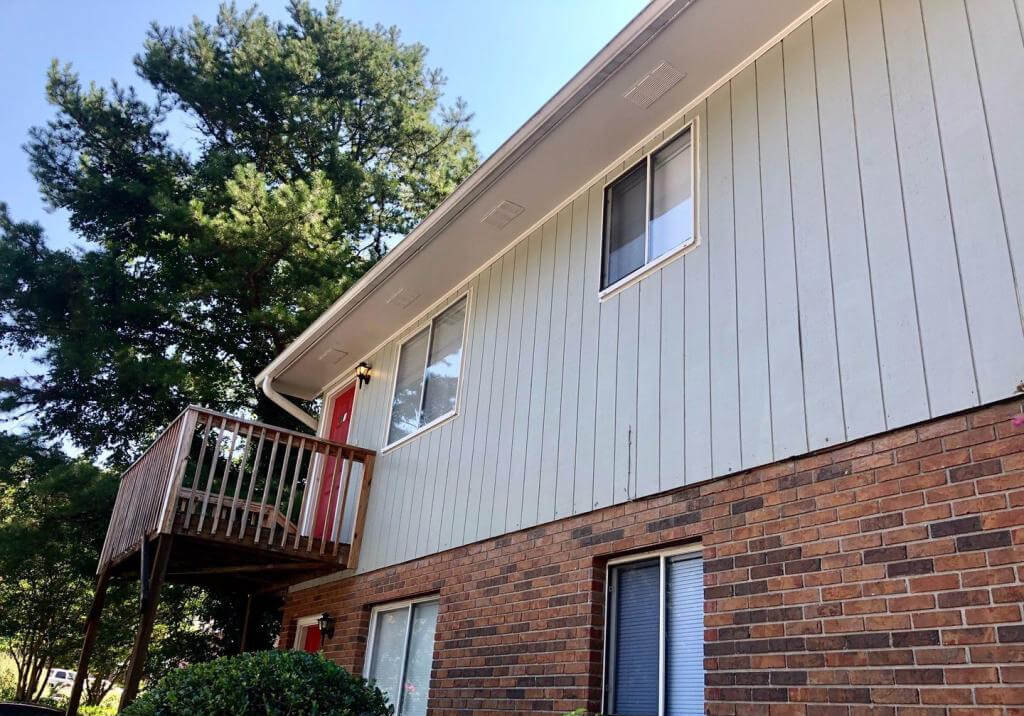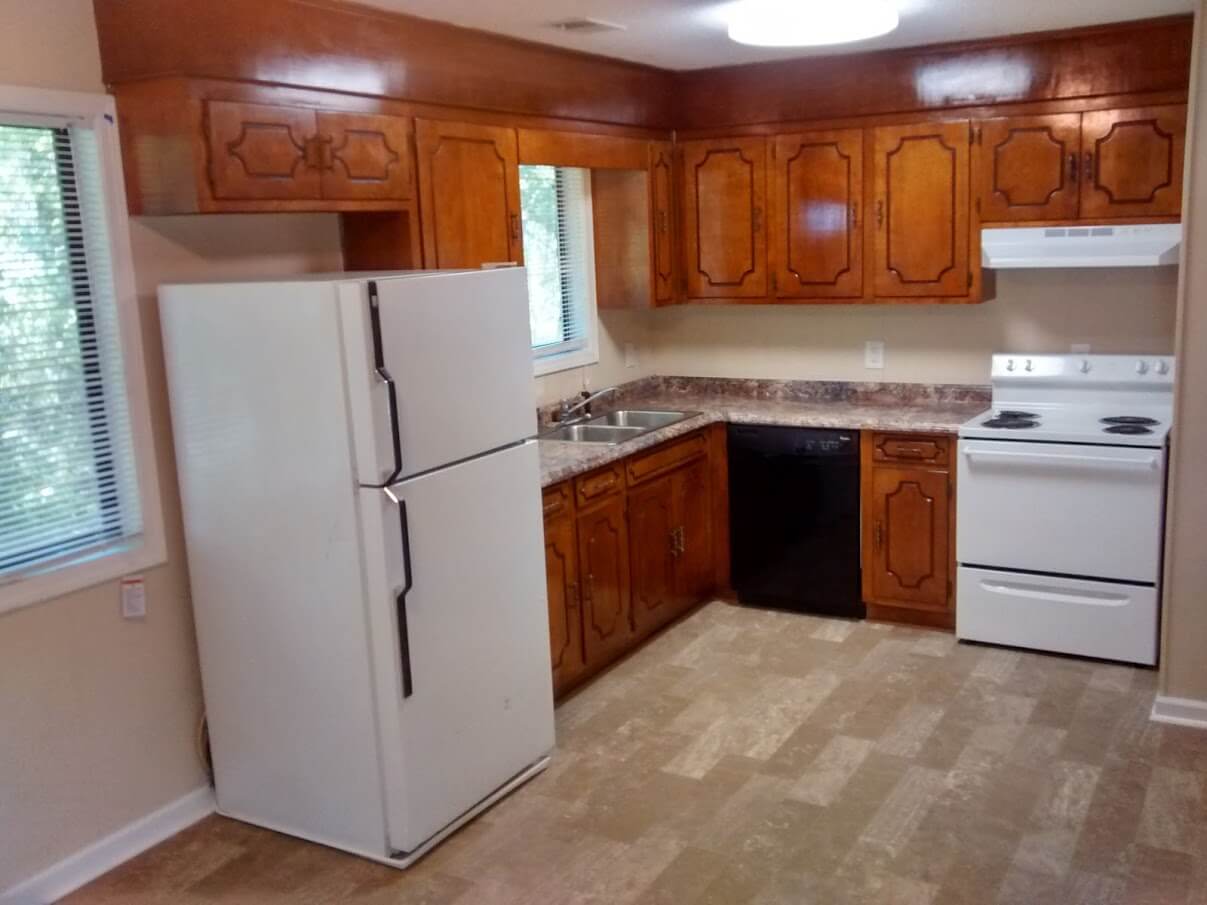 But each unit is 1,050 square feet and has one forced-air, central heating and air unit (its mechanical systems are more complicated and expensive than our studio air conditioners). And we have wooden decks on the outside of the building that require continual maintenance and care.
Each unit rents for $700/month, which is $.67/sqft (about HALF of the rent/sqft of our 12-unit!). This means we have less rent to pay for more walls, carpet, and other materials that must be maintained and replaced from time to time.
While better than some buildings, our 4-unit is MUCH less economically efficient than our 12-unit.
Of course, the upfront price you pay for a building also matters to the overall profitability. But we happened to get good prices on both properties.
So over time, the cost to paint, maintain, clean, and replace the materials in the 4-unit will be much more than the 12-unit. So all other things equal, the economically efficient property wins the investment game.
Fancy Neighborhoods Don't Produce Fancy Rent
Beyond the building itself, certain neighborhoods and price-ranges of your community produce better income returns than others.
I wrote an in-depth article explaining the informal A, B, C, D Rating System used by many investors to describe certain neighborhoods. In general, A-rated neighborhoods are the "trophy" neighborhoods. They contain the nicest and most expensive houses and properties.
But these neighborhoods also have a very high price relative to the rent. This happens because market prices continue rising but the market rents don't keep up. The means the rent curve flattens and looks like this: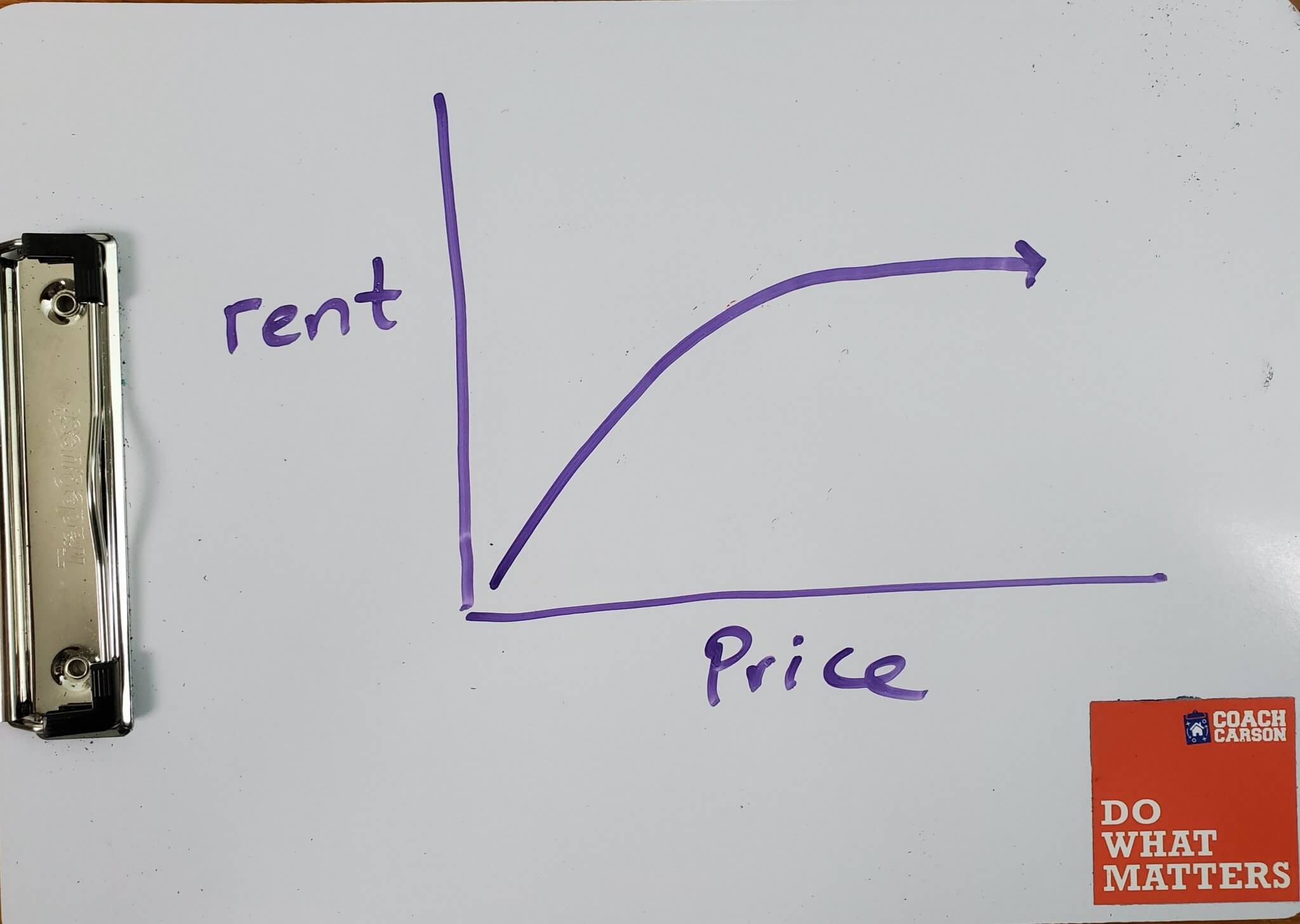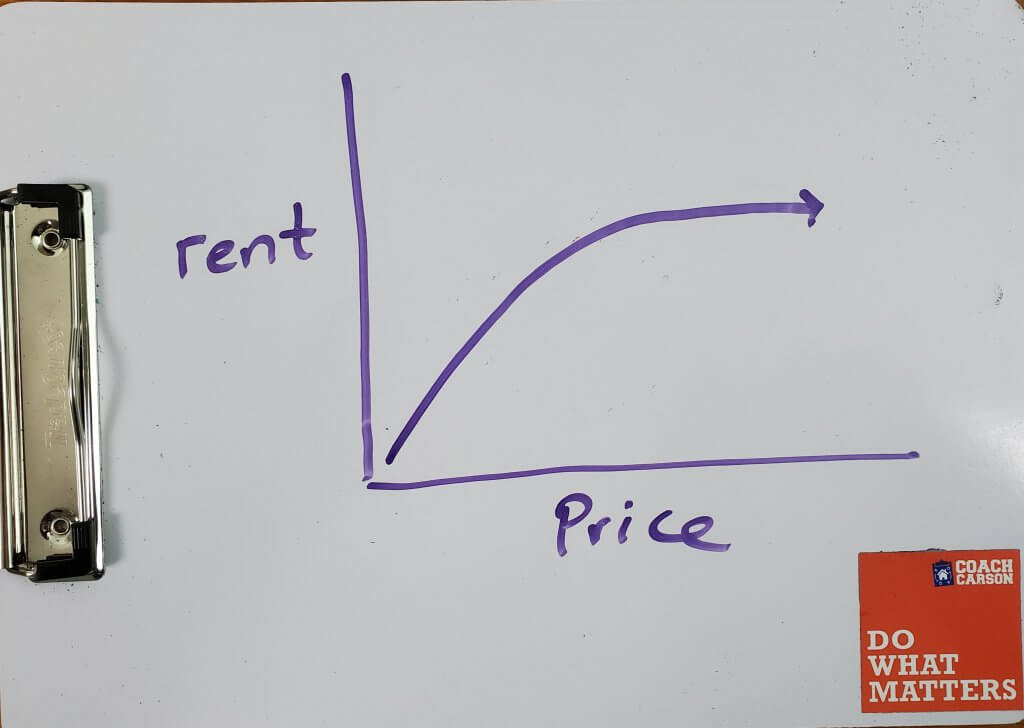 For example, let's say you find a beautiful, larger home (house #1) worth $600,000 that you can buy cheap for $450,000.  The monthly rent is $2,500, which leads to a yearly rent of $30,000 before expenses.
The price-to-rent ratio on your purchase of house #1 is $450,000 / $30,000 = 15.  This means it would take 15 years to collect the same amount of rent as you paid for the property (and even longer to recoup your investment after you deduct expenses).
But another home (house #2) worth $200,000 can be bought for $160,000.  This home rents for $1,600/month, which leads to a yearly rent of $19,200 before expenses.
Your price-to-rent ratio for house #2 is $160,000 / $19,200 = 8.33.  So, it only takes 8.33 years to collect the same amount of rent as your price.
So in general, lower-priced properties tend to produce income at a better rate than higher-priced properties.
But rental income isn't the only important factor of a real estate investment. What about when you want to sell?
The Easiest Houses to Sell
You might think that a trophy house would also be the easiest to sell. Wouldn't it be easier to sell an investment that everyone likes?
But in reality, people buy the best place they can afford. And by definition, most people can afford right in the middle price range (i.e. median) of the market.
So if you want to always have a pool of buyers for your investment properties, you are better off owning properties in that median price range.
And beyond price, also keep up with the trends of what's important to buyers based on recent data. For example, this article at Realtor.com gave a surprising list of the common themes of houses that appreciated the most.
The top factors included smaller houses with fewer bedrooms (yes, you read that correctly). The top in-demand amenities also included 2-car garages, an open floor plan, a patio, a view of a park, and a modern style. These factors all led to above average appreciation rates.
Other factors (at least for now) did not influence appreciation as much. These included larger houses, more bedrooms, granite countertops, stainless appliances, and hot tubs.
Of course, the specifics of popular amenities and styles change. But if you stick to the fundamentals – good locations in easy-to-afford price ranges, your investments will typically be easier to sell at rising prices.
Now let's put all of this together to find a sweet spot for the best real estate investments.
The Sweet Spot For Real Estate Investments
In the end, the goal for buy-and-hold rental properties is to maximize long-term profitability and minimize hassle.  You're looking for the sweet spot at the intersection of maximum income, rising prices, and lowest turnover and tenant-issues.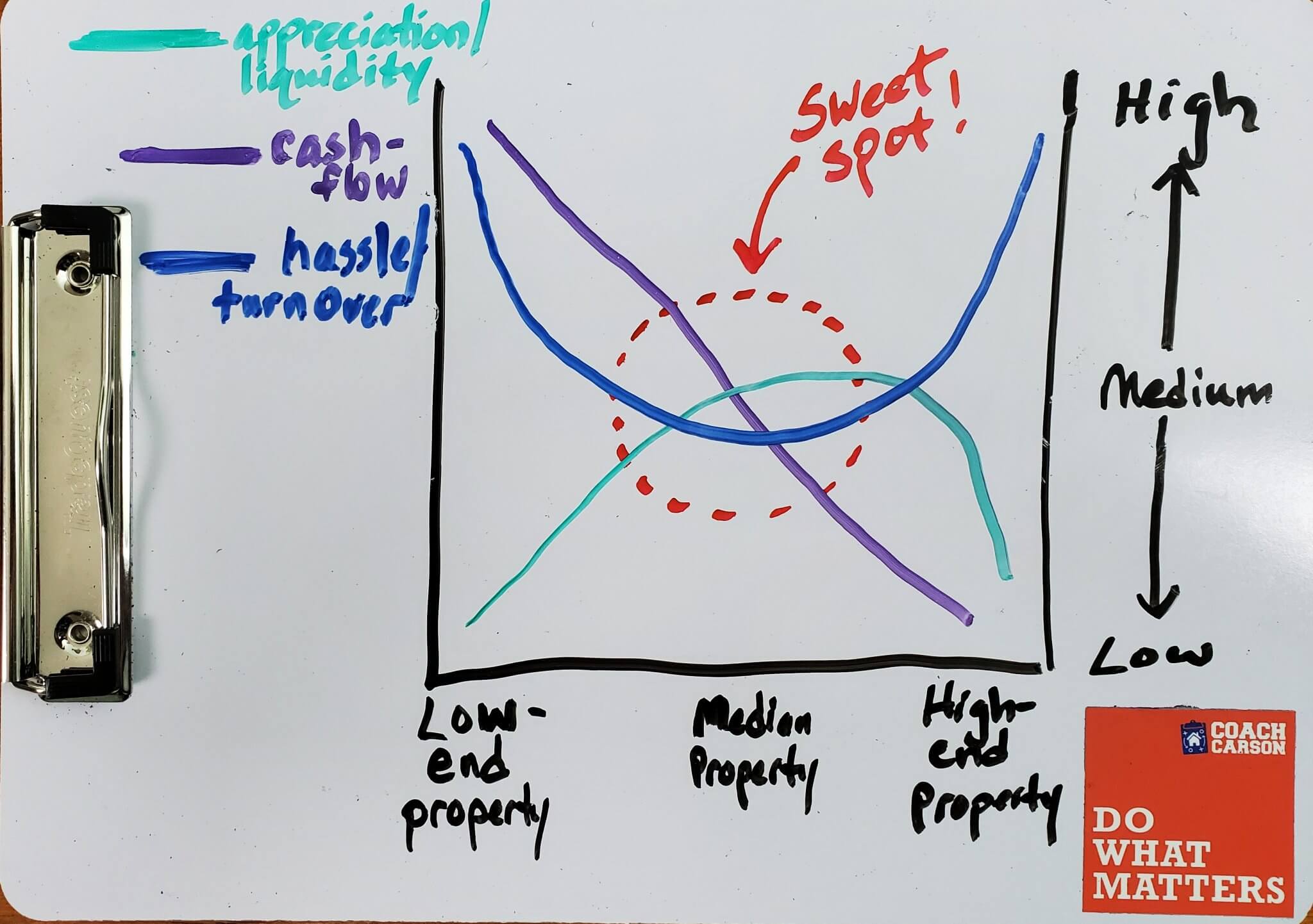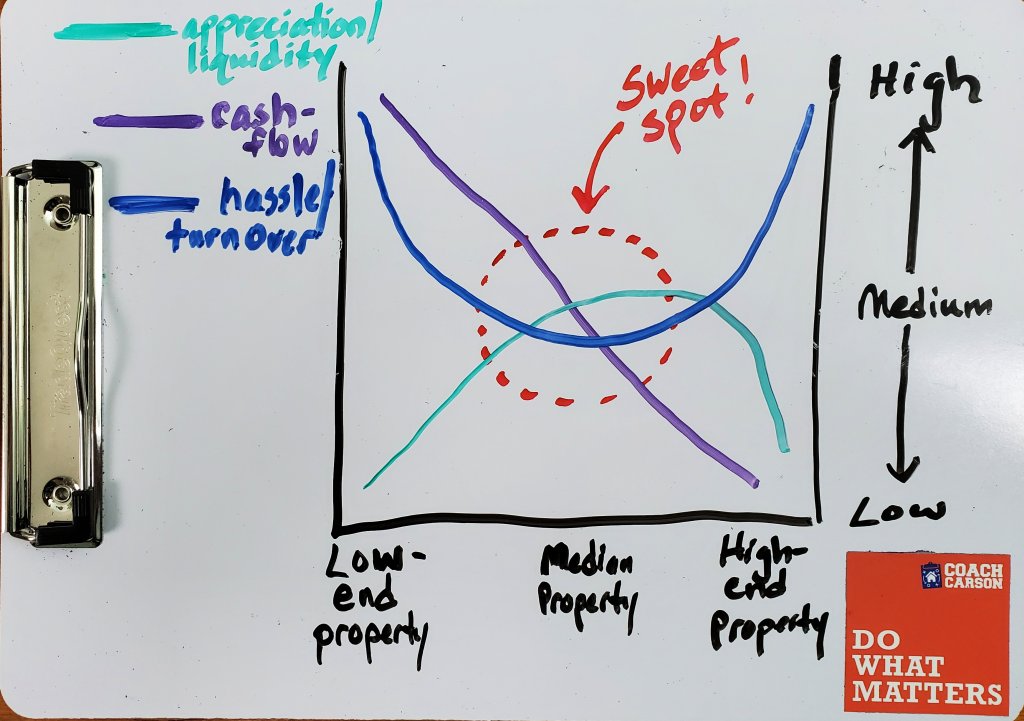 As you can see from my sophisticated clipboard graph, low-end properties produce a lot of cash flow but also produce a lot of hassle and little appreciation.
High-end properties have low cash flow, sub-par liquidity (i.e. ease of selling), and high turnover/hassle (how many long-term, luxury tenants do you know of?).
But somewhere around the middle (and often 20% below and above median) is the sweet spot.
Unfortunately, there's no magic formula to translate this sweet spot for every market. And it won't always be right in the center of the bell curve. Every market is unique, so you'll have to test and observe the actual numbers and trends in your target rental market.
To do this, I recommend asking local landlords, fix-and-flip investors, and property managers. They often already have an intuitive feel for the local sweet spots. And you can also do a lot of exploring and nerding-out on Zillow, Redfin, and other online real estate data sites.
The result of all of this testing, observation, and questioning will be to develop a set of property criteria that guide your hunt for new rental property purchases. These criteria tell you, and those helping you, the types of locations, price ranges, lots, buildings, layouts, and amenities that are a good fit in your target market. And your focus will allow you to jump on good deals quickly when they emerge.
Occassionally, you'll get the opportunity to own a "trophy" property that ALSO meets excellent financial criteria. I've got a couple that I'm proud of. But even if you can't outwardly impress your friends and family, take solace in the steadily growing bank account and net worth that your boring rentals produce.
And when you achieve financial independence and spend more time doing what really matters, you'll impress yourself.
Have your best real estate investments been boring or impressive? Simple or fancy? What criteria and price ranges have you found work for solid real estate investments in your area? I'd love to hear from you in the comments below.
Get My Free Real Estate Investing Toolkit!
Enter your email address and click "Get Toolkit"