This article is about using real estate investing to help you reach a destination of financial independence.  More specifically I'll be sharing the basics of a plan called the Rental Debt Snowball, which helps you achieve a goal of free & clear (no debt) rentals.
Your free & clear goal might be, for example, to own 10 houses that together rent for $12,000 per month ($1,200 per house) and net $7,000 per month after expenses. In other words, you put $84,000 per year in your pocket.
That's not bad for a simple little goal with 10 houses!
But a goal is not enough.  You also need a plan to achieve that goal.  So, that's what you'll learn in the rest of this article.
The Rental Debt Snowball Plan
The Debt Snowball Plan is a popular strategy used to pay off personal debt more quickly. You might have heard of it from famous financial experts like Dave Ramsey. But the strategy can also be used to pay off debt on investment properties.
The Debt Snowball Plan basically works like this:
Save cash for down payments
Purchase several income properties using conservative, low-interest loans.
Save 100% of the real estate income plus extra savings from a job.
Use all savings to apply towards one of the loans each month until one loan is paid early.
Use all savings + new free & clear income to apply towards another loan until paid early.
Repeat until all loans are paid off.
A Rental Debt Snowball Plan Example
Let's say you want to end up with 3 properties free & clear. You could do more properties of course, but this will keep my example simple.
You decide to buy easy-to-manage single family houses in good locations.  Your target properties might be 3 bedroom, 2 bath homes with a garage, in a solid neighborhood in a good school district.
Let's say each house rents for $1,200.  After subtracting $500 in operating expenses, which does not include your mortgage payment, you would net $700 per month.
Since you have good credit, you plan to put 20% down and get a 4.5%, 30-year mortgage.
You work hard for one year and you buy three investment properties.  Here are the numbers:

So, to purchase these three houses, you needed $90,000 cash plus good credit.
Here is what your positive cash flow would look like once you get all three properties rented:

As you can see, your rentals produce $579 per month in positive cash flow.  I also assume you would save an extra $500 per month from a job or other income source.
In this plan, the main point is to snowball your mortgages (i.e. pay them off faster and faster over time) by eliminating one mortgage as quickly as possible, and then the next, and the next.
To do this snowball, you use every bit of the positive cash flow and extra savings to make an extra-large monthly payment on one mortgage.
Here is what that would look like in this case:
+$579 … positive cash flow from rentals
+$500 … extra savings from job
+$487 … regular mortgage payment (Loan for House #1)
= $1,566 per month extra-large mortgage payment
This massive extra payment begins the snowball. Each time a mortgage is paid off, the additional savings are then added to the next loan. So, the snowball gets bigger and bigger.
The Amazing Momentum of Debt Snowballs
How fast does your debt snowball accumulate in this case? Take a look at this infographic for the big picture.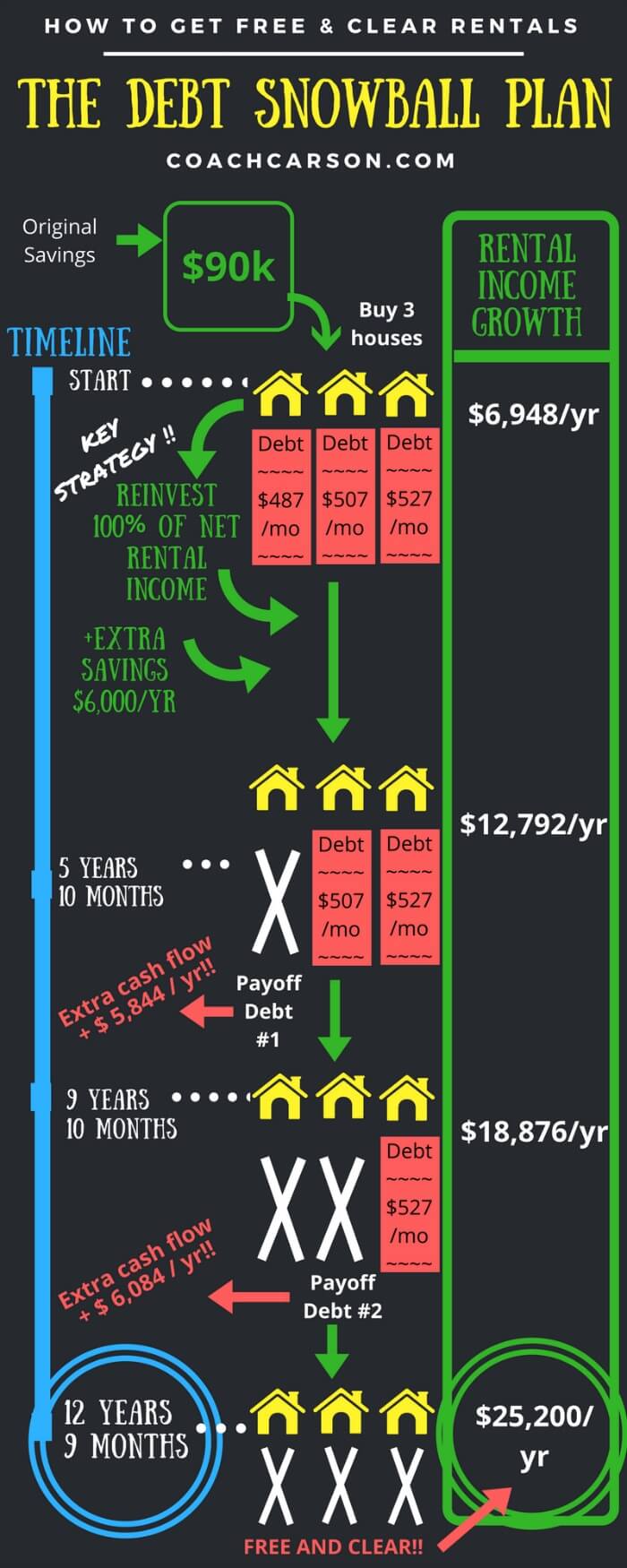 So, in a total of 12.75 years (153 months), you have your 3 properties free and clear.  This means all $2,100/month or $25,200 per year of net operating income from the rentals goes into your bank account.
You have essentially started with a $90,000 investment, added $500/month for 153 months, and ended up with $25,200 per year income for life.
Not bad! And if $25,200 per year is not enough, you can buy more properties in the beginning or buy more properties at the end using your extra cash flow.
Benefits of the Debt Snowball Plan
No plan is perfect. But, I think you'll find that The Debt Snowball Plan has several big benefits.
Benefit #1 – Control
Success does not depend upon inflation, luck, speculation, or a Wall Street expert.
What does it depend upon?
Buying good properties, up front.
Financing with good loans, up front.
Remaining a disciplined saver for almost 13 years.
These can all be accomplished with a little education, focus, and soul-searching.
Most real estate investors I know like this idea of having more control.  They like that success depends upon their own efforts, not someone they don't even know on Wall Street.
Benefit #2 – Visible, Measurable, and Steady Progress
The progress you make in the Debt Snowball Plan is visible, measurable, and steady.
You can literally track your progress month by month as you pay off your mortgages.  Each chunk that is taken out of your mortgage is one step closer to your end goal.
The psychological benefit of this visible progress is HUGE.
Personal finance teacher Dave Ramsey often says that success with money is 80% behavior and only 20% math.
In other words, we are not robots, no matter how rational and intelligent we think we are.  Visible and measurable progress (especially for long-term goals) gives us a little reward that reminds us "You're on your way. Keep going!"
While rising stock prices can also give us visible and measurable feedback, they often roller-coaster up or down and terrify even the most self-disciplined of us.
Instead, progress with the Debt Snowball Plan is steady and gets better and better over time.
Benefit #3 – Flexibility
Real life is unpredictable, and our plans should be flexible to reflect that reality.
The Snowball Plan can be slowed or stopped as needed.
If you hit a major job crisis that cuts your extra savings, you can temporarily hold off on the full Snowball until you get back on your feet.  You will actually continue making progress, just a little slower.
You are also flexible to decide how many or how few properties you want in the end.  A bigger portfolio of free and clear properties will require more cash and more time invested, but you'll have a bigger cash flow in the end.
Is the Debt Snowball Plan Right For You?
My hope with giving you a plan like this is not to tell you exactly how it will happen in your life.
Former president and general Dwight Eisenhower famously said:
In preparing for battle I have always found that plans are useless, but planning is indispensable."
That is the idea here.
This plan will be useless if you think the details will happen exactly like I've written them here.  But it may be very helpful if it gets you planning and thinking and moving forward.  
So, now back to you.
Is the Snowball Plan something you'd like to implement? If yes, what is the next step? If no, why not? Are free and clear houses part of your financial independence plan? I would love to hear from you in the comments below.
Get My Free Real Estate Investing Toolkit!
Enter your email address and click "Get Toolkit"