I began real estate investing right out of college with no cash or credit. I would have preferred to have both! But instead of doing nothing, I learned to buy real estate investments by being creative with financing and thinking outside of the box.
One creative financing tool was using a private loan from another investor, typically from their self-directed retirement account. I also learned to negotiate seller financing. But even before I started using those, I learned about another strategy called a credit partner which allowed me to start investing with no cash or credit.
In the rest of this article, I'll explain what a credit partner is, how it works, and how it can benefit you and your credit partner. I'll also include an example so you can see how it applies in real life.
If you are new to real estate investing and don't have enough cash or credit, this information will be very beneficial to you. Or if you are a more experienced investor who has hit your limit with traditional loans, credit partners can be a way for you to continue making money on new real estate deals.
Let's get started!
---
Watch me explain the concept on YouTube:
---
How a Credit Partnership Works
With a credit partnership, one party finds the deal (an entrepreneur) and the other party puts up the cash and credit to buy the deal (the credit partner).
I started investing in real estate with a business partner (we are still partners today). We stumbled upon the idea of a credit partnership on our very first deal.  We had a solid plan to buy, fix, and resell bank-owned houses.  But neither of us had the money to implement the plan! So, we approached a mentor and friend to see if he could help.
Our mentor had a large number of assets, but his existing investments tied up a lot of his cash.  So, he didn't have the full amount of cash to make us a loan.
Instead, we figured out this idea.
Our friend would buy our deal, and he'd go to his existing commercial lender for the money.  He'd ask the bank to loan him 80% of the purchase price, and he'd fund the down payment and fix-up costs himself.
Our job was to find a good deal, get it under contract, get it closed, manage the rehab, and get it sold.  Basically, we did all the work, and he provided the capital and credit.
Without knowing it, our friend introduced us to a credit partnership!
Our First Credit Partner Deal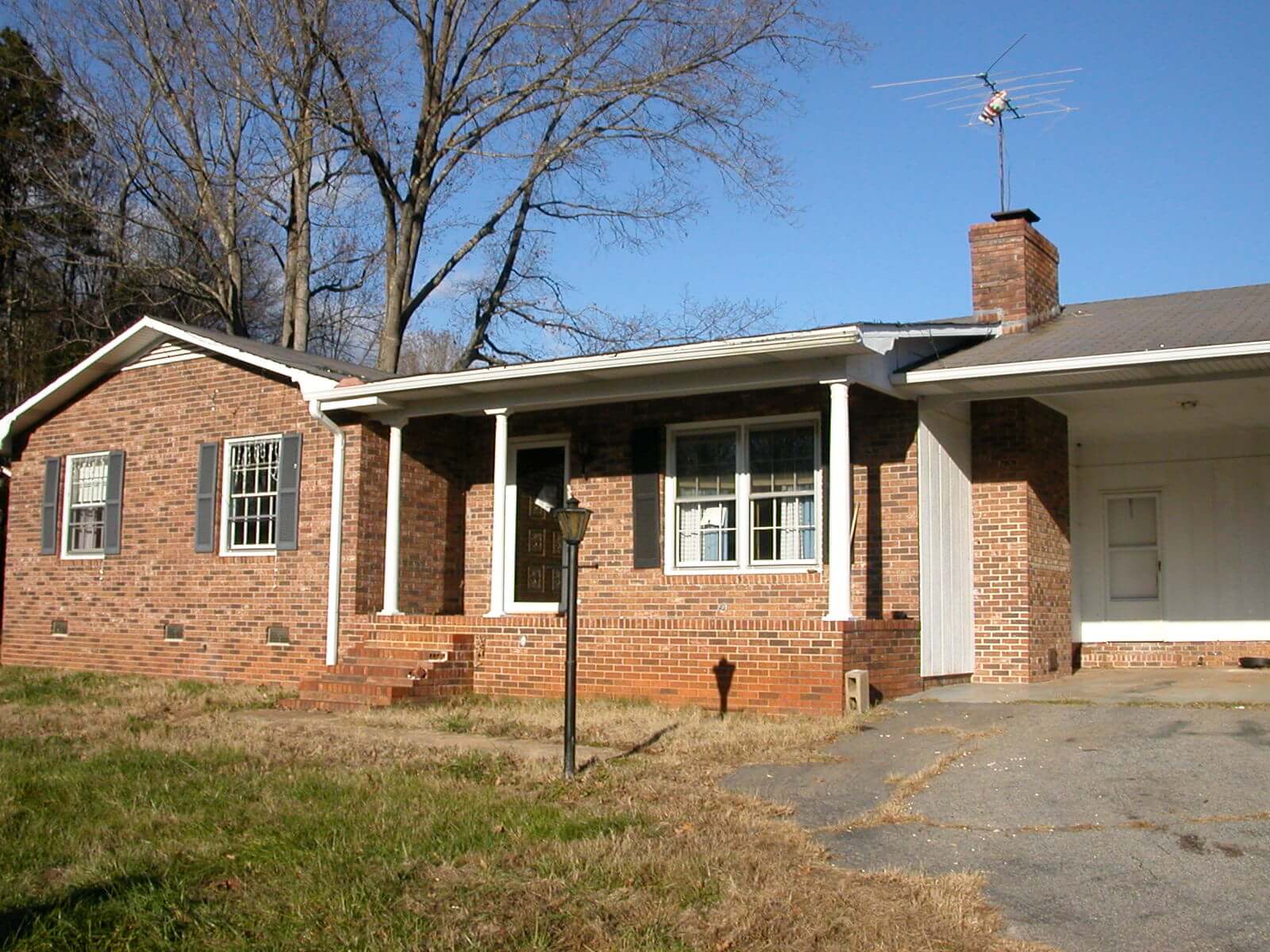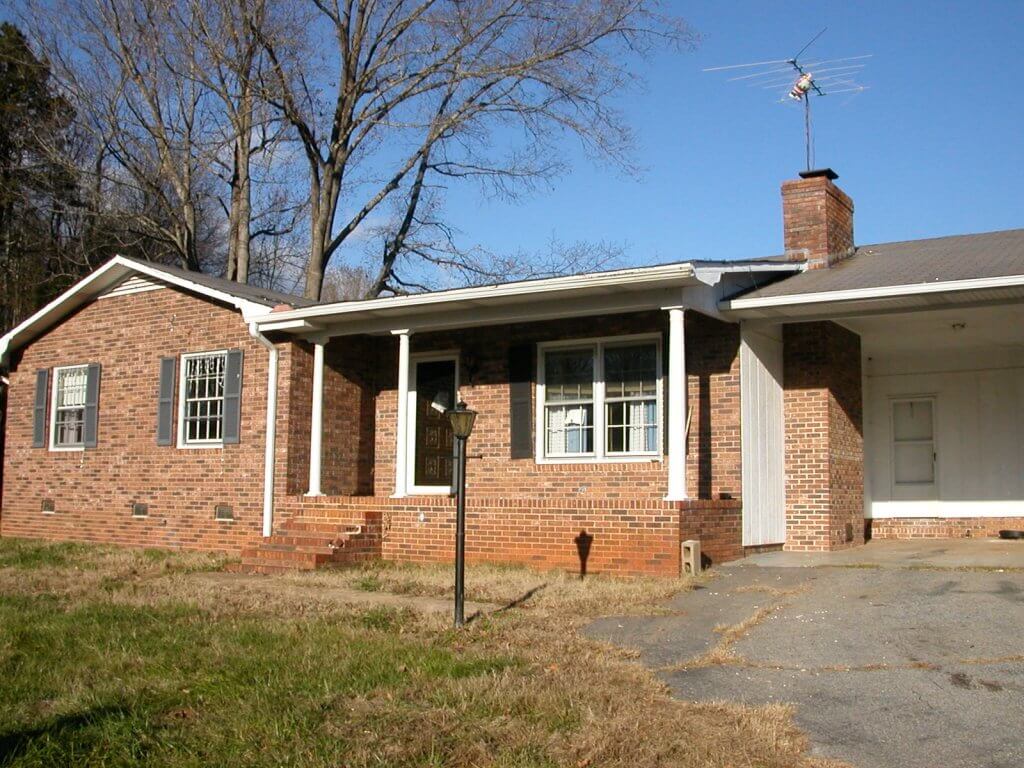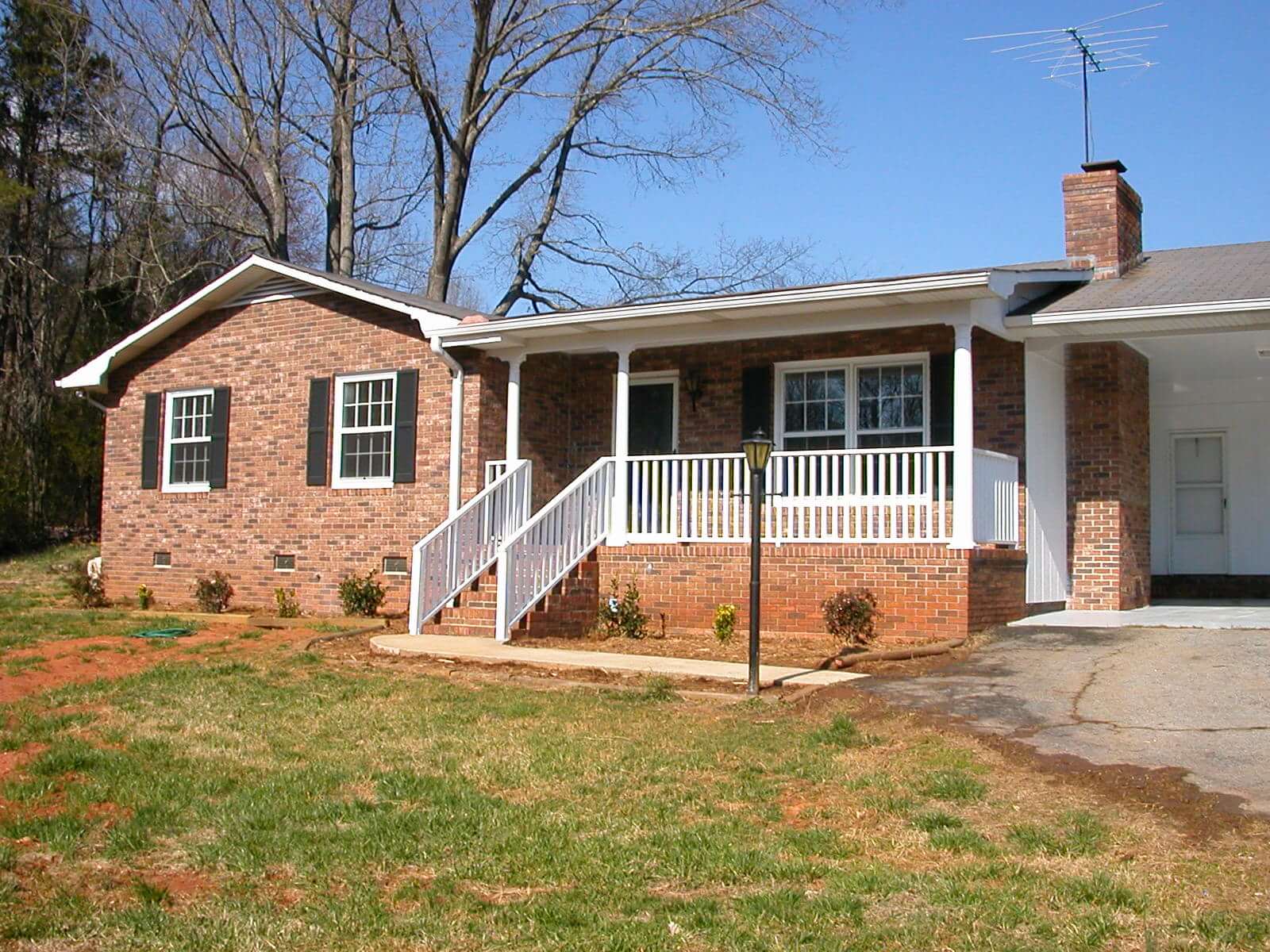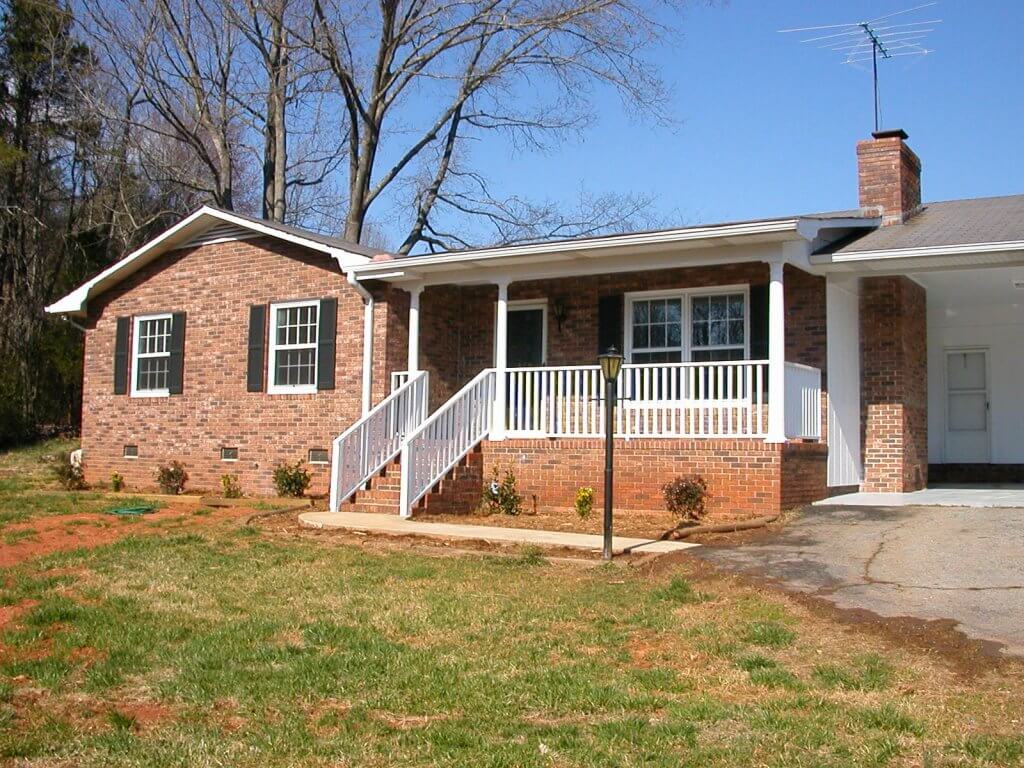 On this first deal, the three of us formed an actual partnership (within an LLC). There's nothing wrong with this structure, but we made it more complicated than it needed to be.
Our partnership agreement was to split all profits from reselling the house, which meant all the money left over after subtracting purchase costs, rehab expenses, commissions, closing costs, interest, and holding costs from the final sales price.
We also signed onto the loan with our credit partner to help build our credit with the bank.  The bank loaned the money because of our credit partner's application, not ours. But, it was a great arrangement for us in the end.  After demonstrating our abilities to the banker, he then loaned money to us without the credit partner on future deals.
The first deal was a roller coaster because we did a poor job choosing and managing contractors.  But, we bailed ourselves out with long hours, hard work, and a lot of sweat. In the end, we sold the house for a profit of over $10,000 (which we split with our partner).
We didn't make a huge profit for our time, but we learned a lot on this first deal. One of the most important lessons was that we could use another person's cash and credit to help us buy a deal. But going forward, we decided to go about it in a slightly different way.
Our Preferred Structure For a Credit Partner Deal
After the first deal, we closed down the LLC because we found a simpler way to structure our deal.
Here is how the new credit partner arrangement worked:
Entrepreneur finds a good deal

Credit partner puts the deal under contract

Credit partner buys the deal with a combination of bank financing and personal funds

Entrepreneur receives an option to purchase and a lease agreement from the credit partner

Entrepreneur eventually buys the deal from the credit partner or resells the property for a profit.
We basically decided to work together on a deal by deal basis. Neither party had long term ties beyond the one deal, although we certainly planned to do more together.
And instead of using an LLC structure, we split up our deal using contracts called options and leases. This structure made future planning, legal paperwork, and potential partner break-ups much simpler to address.
Now let me explain in more detail how this structure works.
The Basics of Option Contracts
An option is just a special type of contract to purchase real estate. It gives the buyer (aka the optionee) the right (but not the obligation) to buy the property at a certain price for a period of time.  In order to get this contract, a buyer gives the seller (optionor) something of value (usually money).
For example, the buyer gets an option contract to buy the property for $100,000 anytime within 2 years. And in exchange, the buyer gives the seller $1,000 as a non-refundable option fee.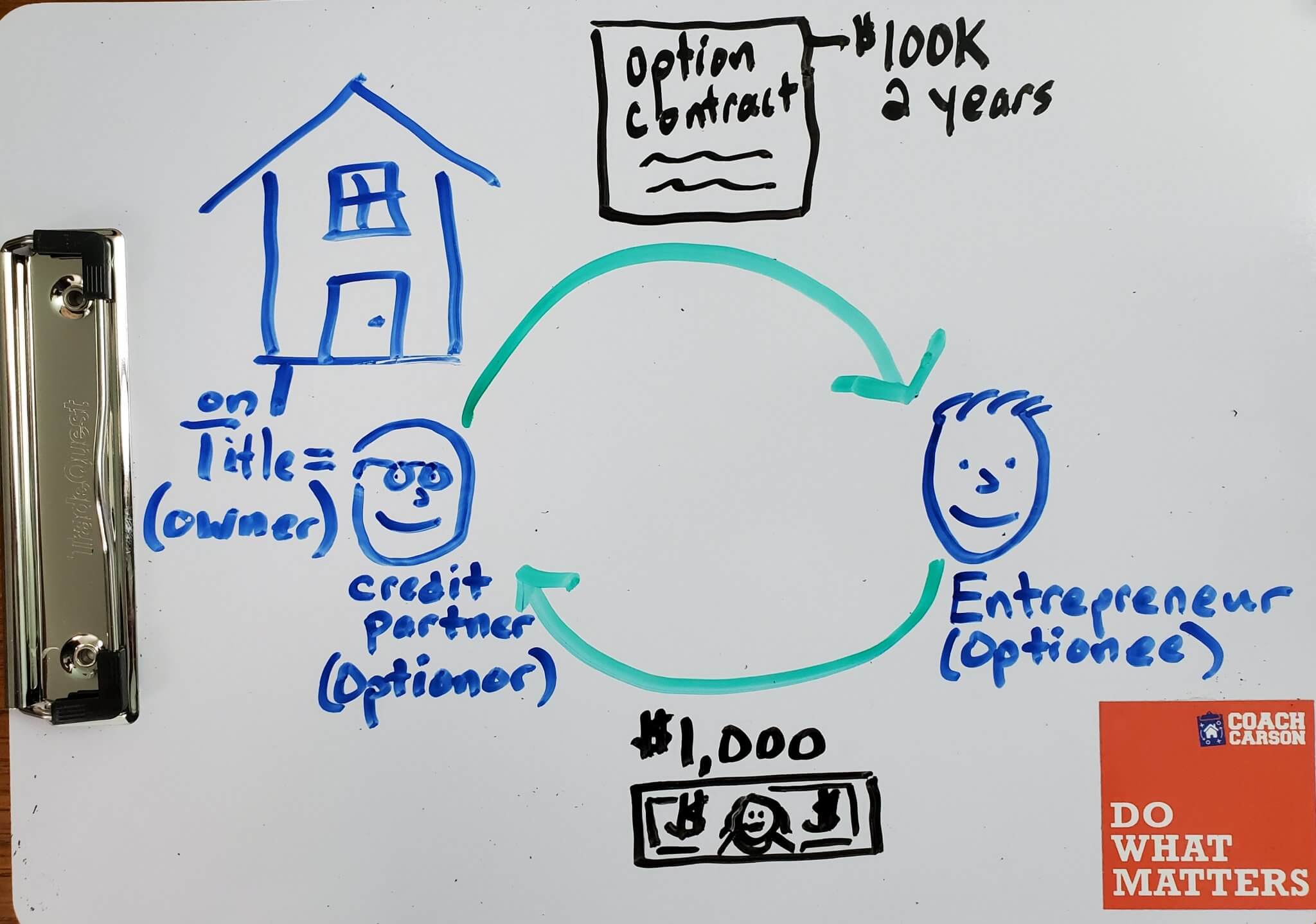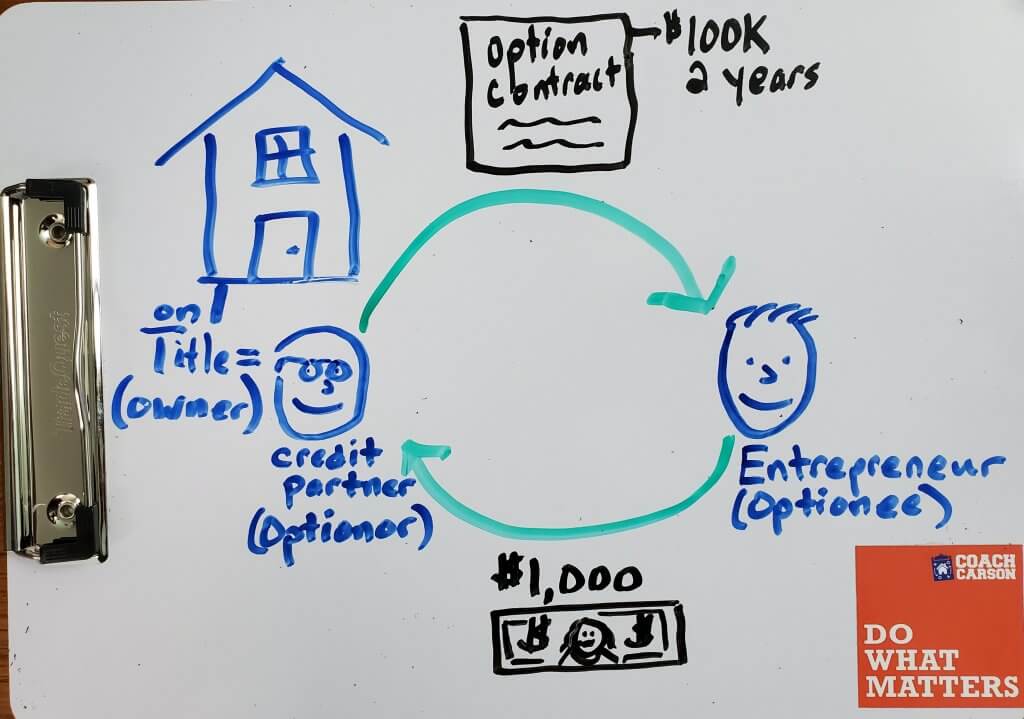 As the entrepreneur/buyer, the option contract lets you control the price of the property without having to come up with large amounts of money or a loan.
And the credit partner gets an option price higher than his purchase price. So, he has a built-in profit from the start.
But the option contract was only part of our deal. Let's also look at the master lease.
The Basics of a Master Lease
As part of the credit partnership, the entrepreneur also signs a lease agreement with the credit partner. But rather than a regular lease, the entrepreneur gets a master lease with permission to sublease the property to other tenants for a profit.
For example, the entrepreneur might pay the credit partner $800/month on the master lease, which would be enough to cover the mortgage plus reasonable monthly cash flow.  The entrepreneur then finds a sub-tenant to pay $1,100/month and keeps the $300/month difference. But the entrepreneur is also responsible for maintenance and any vacancy.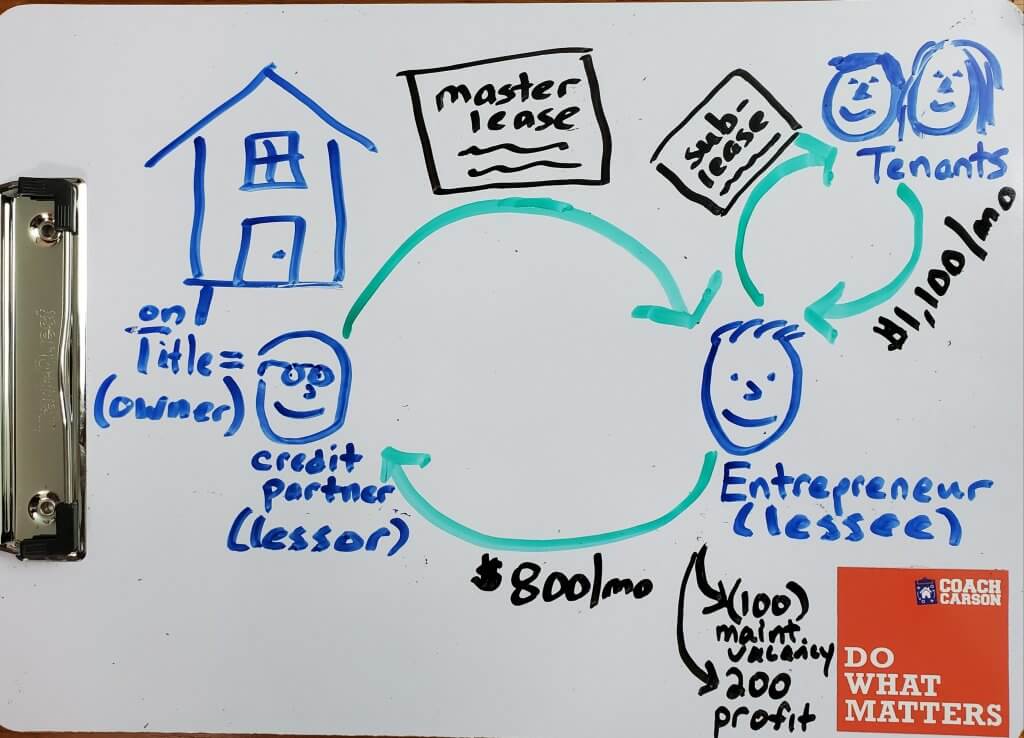 It's a win-win so far, right?
Starting with a minimal upfront investment, the entrepreneur gets monthly cash flow AND a chance at future appreciation. And the credit partner gets a passive, leveraged investment with a built-in profit and controlled risk.
Now let me bring all of this together with an example of how it worked for us in real life.
Credit Partner Example
We did several deals like this with our credit partner, and each one was slightly different. But a basic deal worked something like this:
We (entrepreneur) would get a property under contract for a price of $100,000
We'd assign the contract to our credit partner, who would buy the property.

He might get a 20% down, commercial loan of $80,000 at 5.5% with a payment of $550/month (20-year amortization)

The credit partner would invest $20,000 cash for a down payment and another $20,000 for repairs and improvements (total price + repairs = $120,000).
At closing, we'd create an option contract with these basic terms, among others:

Option price = $130,000 ($10,000 above our credit partner's total investment)
Term of option = 5 years, starting immediately
Option consideration (aka fee) = $100 + willingness to manage remodel and rental (with a lease)
Other details about how a closing would work, who paid closing costs, etc

At closing, we'd also create a lease agreement with these basic terms, among others:

$750/month lease payment (enough to cover the mortgage, tax, insurance, and $50/month cash flow) that begins 30 days after closing
Term of lease = 5 years
We (entrepreneur) would be responsible for all regular maintenance
Any large capital expenses beyond the initial $20,000 in repairs (like an unexpected HVAC replacement) would be split 50:50
These steps would get us to the point where we had a remodeled property with solid financing and a stable long-term plan. But how did we actually make money on this property?
Let's now talk about potential exit strategies.
Credit Partner Exit Strategy #1 – Short-Term Hold Rentals
In many cases, our plan with credit partner deals was to make the property a short-term hold rental. At the time, we were young investors who flipped houses to make a living.  But we realized that holding properties as a rental had many benefits like stable monthly cash flow and the potential to build more wealth.
Ideally, we'd rent a property for between 1 and 3 years. Then in a best-case scenario, our tenant would build enough credit to buy the house from us.  This fit well into our buy 3, sell 2, keep 1 plan to generate profits from selling houses in order to keep some as long-term rentals.
For example, the tenant would pay us $1,000 per month in rent for 2 years. We'd use that to pay the $750 in rent to our credit partner and $75/month in property maintenance. Then we'd keep about $175/month as our profit for leasing and managing the property.
At the end of the 2 years, our tenant would qualify for a loan to buy the house for $160,000.  Our option price with our credit partner was $130,000, so we'd make around $27,000 ($160,000 – $130,000 – $3,000 closing costs).
There is a little nuance to the process of actually closing the credit partner deal. So, I'll explain that next.
How to Close a Short-Term Credit Partner Deal
Because our credit partner originally bought the property, the title (i.e. the deed) is in his name. So, how do you handle that in the scenario where the tenants want to buy the property?
There are several options, all of which you'll want to coordinate and consider with your local real estate attorney (because laws and local applications of the general idea vary by location). The entrepreneur could:
Credit partner pays the entrepreneur a fee to cancel or release their option contract, then sells the property to the tenant
Perform a double closing where the entrepreneur buys the property from the credit partner and then immediately sells it to the tenant
Entrepreneur assigns the option to the tenant for a fee and the tenant purchases the property for the original option price
Options 2 and 3, while possible, typically have challenges with traditional mortgage lending situations.  In #2 the entrepreneur owns the property for mere minutes before reselling it, so it doesn't always meet lender guidelines for length of ownership (aka seasoning). And #3 typically means the tenant has to come up with a large amount of cash to pay the assignment fee (over $27,000 in this case), which typically doesn't fit into their budget.
So, option #1 was usually the most feasible method. Here is a visual summary of how it works (with my amazing artistic skills!):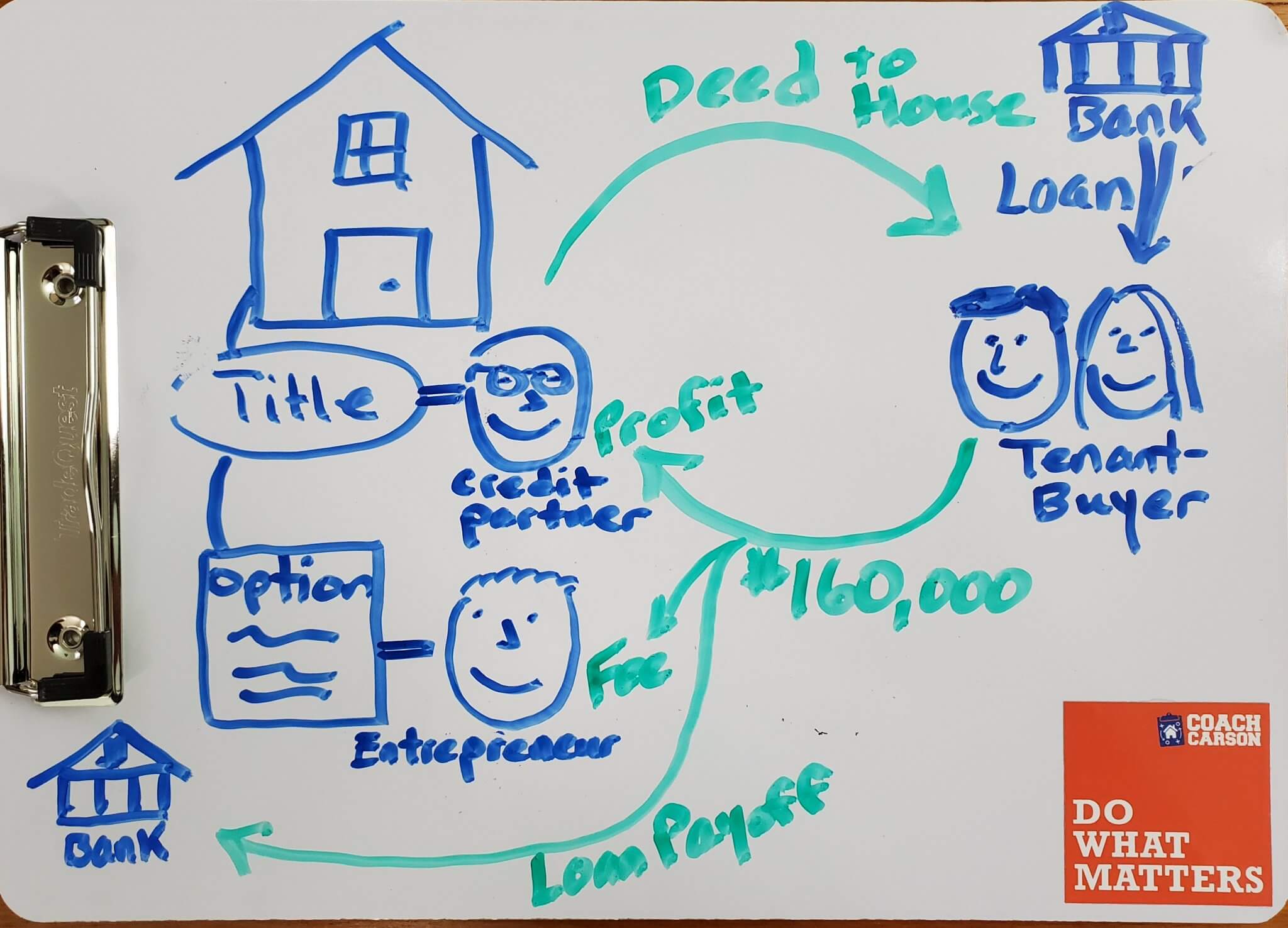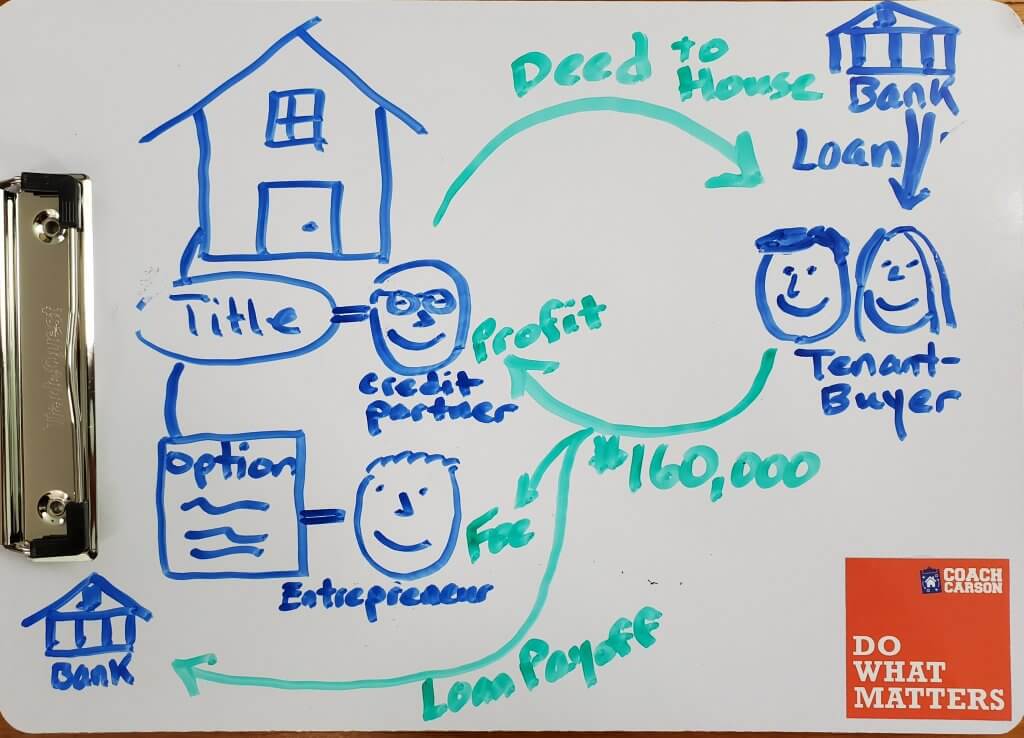 Back when the deal started, the entrepreneur recorded a notice or memorandum of option contract in the public records. So at the resale closing, this option is a cloud (similar to a lien) on the title.  And it must be cleared in order for the tenant to buy the property with a clear title.
So to clear this title cloud, the attorney handling the closing pays the entrepreneur a cancellation fee. This functions similarly to paying off the credit partner's existing bank mortgage at closing. Then the credit partner sells the property directly to the tenant.
Now let me explain how this particular application of the credit partner strategy is a win-win-win for everyone involved.
A Win-Win-Win Real Estate Strategy
It's always more fun to create deals where everyone wins.
Our tenants were able to buy the house they wanted. They started off with a lease, built their credit and down payment, and qualified for a loan without ever having to move. They are now long-term homeowners instead of renters.
Our credit partner got back his original investment of $40,000 when the property sold. And he also paid his loan down by $5,000, received $50/month for 24 months ($1,200), and got paid a $10,000 profit in the end. So, he made about $16,200 on his $40,000 initial investment.
As an aside, the credit partner may want to optimize his taxes and continue doing more deals with us by performing a 1031 tax-free exchange and buying another credit partner deal with us right after this one. This is how you do repeat business!
And as entrepreneurs, we made $4,200 in monthly cash flow and $27,000 profit in exchange for $100 plus our time, knowledge, and effort. As promised in the title of this article, we made money using very little of our cash and none of our credit.
The other wins, of course, are the repair contractors, vendors, and bankers who profited by our efforts to create entrepreneurial activity.
I love making money, but it feels good to know it also positively affects so many people in the process.
Before we close, let's look at one more application of the credit partner strategy using long-term hold rentals.
Credit Partner Exit Strategy #2 – Long-Term Hold Rentals
The prior example of a short-term rental worked well. But what if you as the entrepreneur want to hold a property for long-term wealth building? As you probably know, the right long-term rental properties produce cash flow, loan amortization, and property appreciation.
So, if you don't have the ability to get your own long-term financing, you could work out a long-term arrangement with the credit partner.
For example, you could get an option contract to buy 50% of the property whenever you pay the credit partner 50% of his total upfront investment. In our prior example, that means you'd pay back $20,000 of his $40,000 upfront investment.
As long-term partners, you'd split the cash flow, profits, and expenses 50:50. And when you execute this option, you'd jointly own 50% of the property with the credit partner.
Or if you do have the ability (and desire) to get your own financing, you can just buy the property yourself instead of splitting it 50:50. Steps 1 – 5 from the prior, short-term hold example would be exactly the same. But instead of reselling the property, you as the entrepreneur would buy it with long-term financing and keep it as a rental. The credit partner would still make the principal paydown on his loan, the monthly cash flow, and the price mark-up.
This arrangement is a GREAT strategy if you need to have properties available for 1031 tax-free exchanges.  Tax-free exchanges are a fabulous tool, but their greatest weakness is timing. It's hard to find a good deal in the small 45-day allowed window of time after selling the prior property.
But in this case, you essentially build your own pipeline of credit partner deals that wait in the wings so that you can buy them anytime when needed.
Conclusion
You've now learned how to use a credit partner to buy real estate as an investment. This is a tool that you can use whether you are brand new with no cash or credit or a more experienced investor who needs extra methods to finance deals.
This tool, like any other real estate technique, doesn't make sense in every situation or for every person. But if it sounds promising, I recommend adding it to your toolbox of creative financing strategies.
Best of luck!
Have you used a credit partner before? Is it a strategy you'd like to try, either in the role of entrepreneur or credit partner? I'd love to hear from you in the comments below.
Get My Free Real Estate Investing Toolkit!
Enter your email address and click "Get Toolkit"