Real estate investing is an amazing tool to help you retire early and do what matters. But before you can achieve those big goals, you have to begin much more practically. For starters, you have to learn how to buy an investment property!
And if you're brand new, the buying process can be intimidating. There are many risks and costly mistakes that you could make. It's not like you went to school to learn how to buy real estate.
So in this article, I want to help you become more knowledgeable and confident in the process of buying a property. I'll take you through the 5 steps of putting a property under contract and then becoming the new owner (click on the link to skip to that section):
But before we get into each step, I want to share briefly what you need to do well before you reach the stage of buying a property.
Before You Buy an Investment Property
Buying an investment property is actually the last step in a series of other important milestones. You can learn each of those milestones in my Free 7-day course "How to Get Started (or Restarted) in Real Estate Investing."
But to summarize, here a few of those preliminary steps you need to work on:
If you execute those preliminary steps, you'll be looking at many potential real estate deals. And eventually, you'll begin negotiating to buy a property. That's where the 5 steps of buying an investment property actually begin.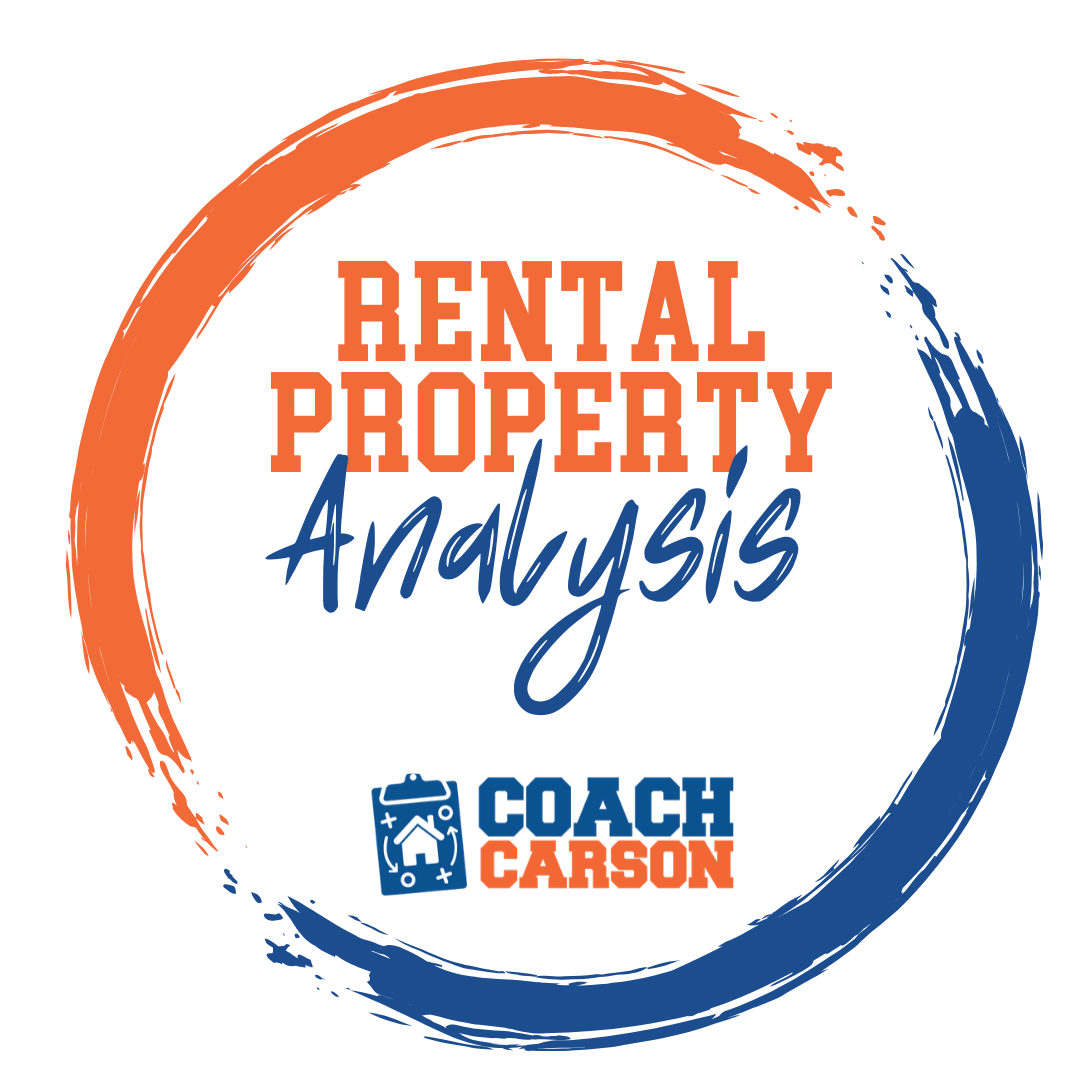 A course by Coach Carson that teaches you how to run the numbers so that you can confidently analyze and buy profitable rental properties. It also includes Coach's rental analysis spreadsheet.
Get the Course
Step #1: Negotiation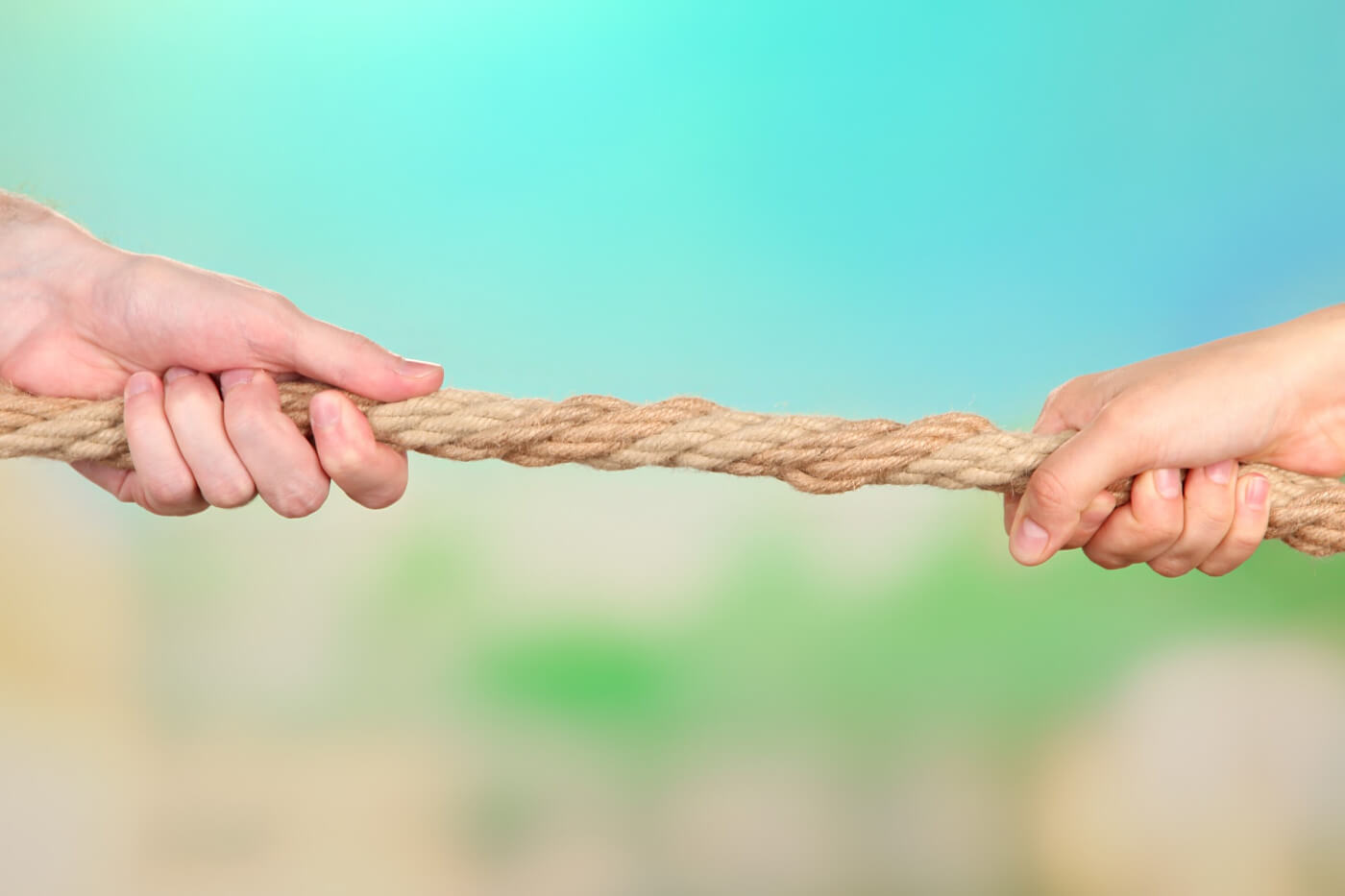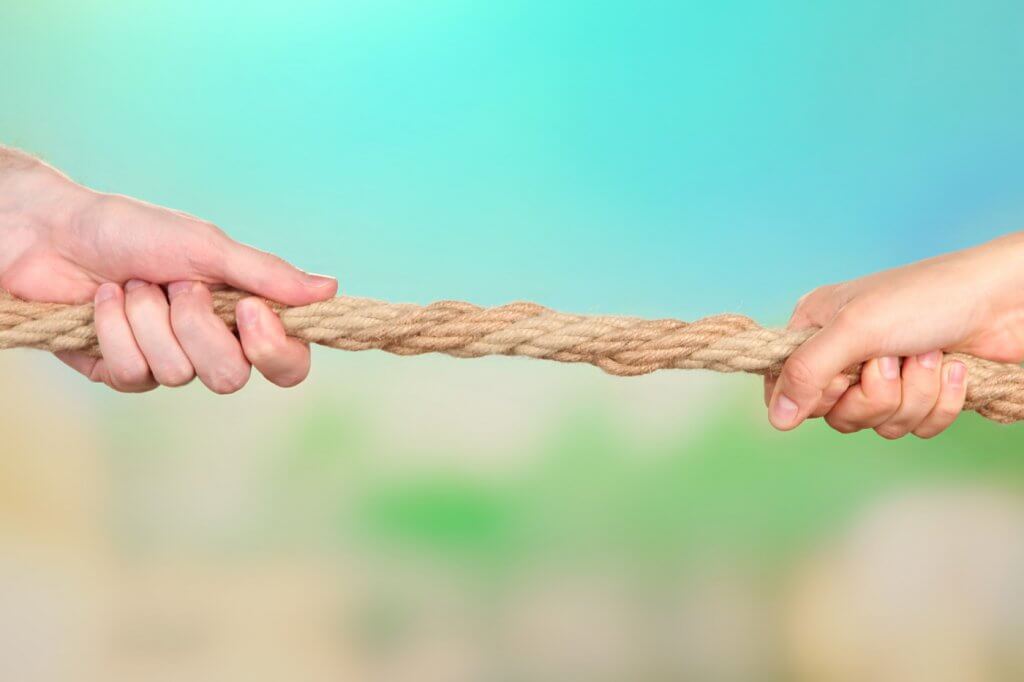 Negotiation is the first step of buying an investment property. In some cases, you'll be talking directly to the seller of a property (my preference). And in other cases, you'll be negotiating with an agent or a family member of the seller.
But whomever you negotiate with, the goals are generally the same:
Get what you want – a good deal
Build goodwill and a better relationship with the other person
There are negotiation strategies that could accomplish #1 without #2. You could cheat, manipulate, and trick someone to get what you want. But I'm assuming you won't sell your soul just to get a good real estate deal!
So for those of us who want to sleep well at night, both goals are equally important. In fact, I make goal #2 – to build goodwill and better relationships – my priority with every negotiation.
Some properties I'll buy, some properties I won't. That's ok. But treating people right is a must. And it turns out that authenticity influences best in the end.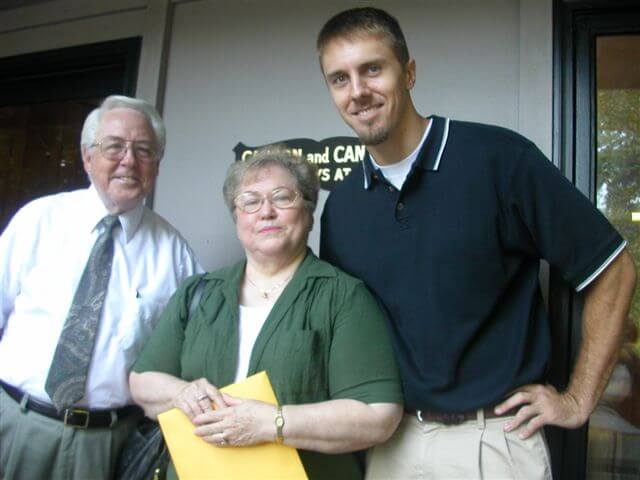 This process of negotiating and building goodwill begins with listening, learning, and collecting information.
Listen, Learn, Collect Information
Listening, learning, and collecting information begins the first time you even hear about a potential deal. It might be an MLS (multiple listing service) lead from your realtor. Or if you're doing more direct marketing to sellers, it could be a call or email from a property owner.
The process continues when you talk to the seller or agent on the phone or in person. Be like a sponge so that you can pick up all the details – both what's said and what's not said (like if a person avoids a question or subject).
Remember that negotiating is simultaneously about the property AND the person with whom you're negotiating. So, don't forget to listen, learn, and collect information about both.
I use a detailed Deal Worksheet in order to remember all of the information I want to collect about the seller and the property. It also helps me know what to ask when negotiating over the phone. If you'd like a copy of this Deal Worksheet, just sign up to get my Free Real Estate Investor Toolkit:
Evaluate
Once you've gathered enough information, it's time to do your first evaluation of the property. In my process, I like to evaluate two different things:
The qualitative aspect of a property and location (i.e. understanding how desirable it is)
The quantitative aspect of a deal (i.e. running the numbers)
For the qualitative, I've normally already evaluated the location both from a macro and micro level. On a micro level, I'll be more excited about the deal if has qualities like convenience, emotional appeal, walkability, safety, good school districts (especially in the suburbs), and public transit (in a more urban area).
I also want to avoid any obvious problems that I can't control, like a ferocious dog in the backyard of the next door neighbor. I have a list of these issues to avoid on my deal worksheet referenced above.
Based on that qualitative analysis, I'll then run the numbers.  For rental properties, I may begin with a high-level analysis like the one percent rule. Then I'll dig into more in-depth formulas like a cap rate.
In the end, I'll compare my financial goals with the asking price of the seller. If my target price is close enough, then I'll make an offer.
Make an Offer
Making an offer is one of the most important steps of buying an investment property. It's when you finally commit and move out of analysis paralysis!
Most buyers use a real estate contract to make an offer. When negotiating directly with a seller, I'll sometimes just make a simple "memorandum of offer," which is a fancy way of writing the offer on a piece of paper before we put it in contract form.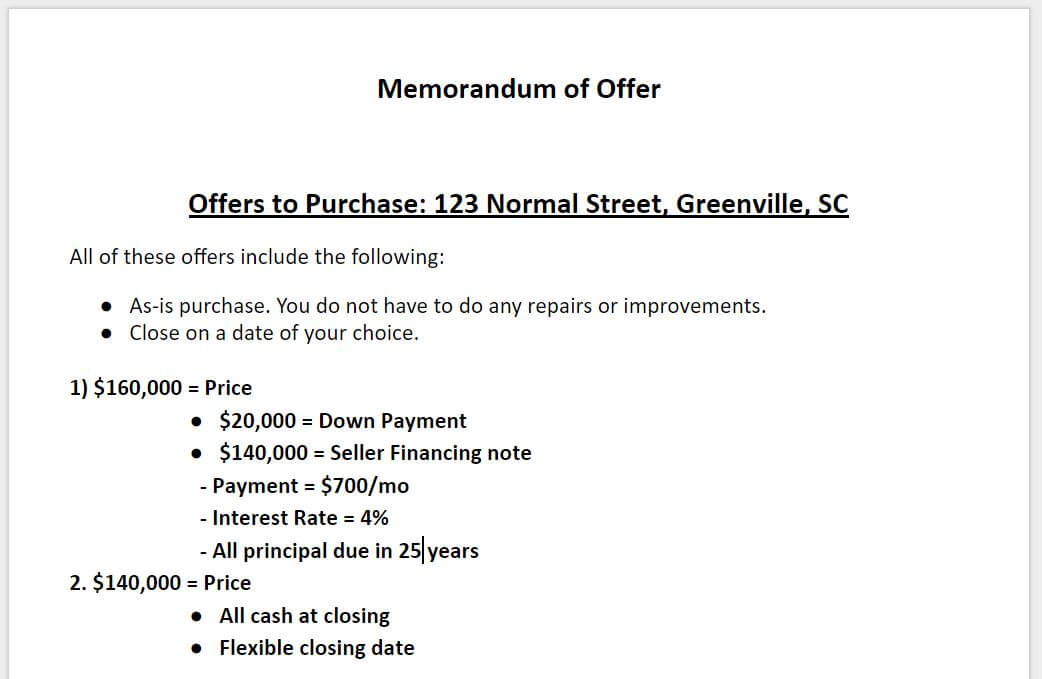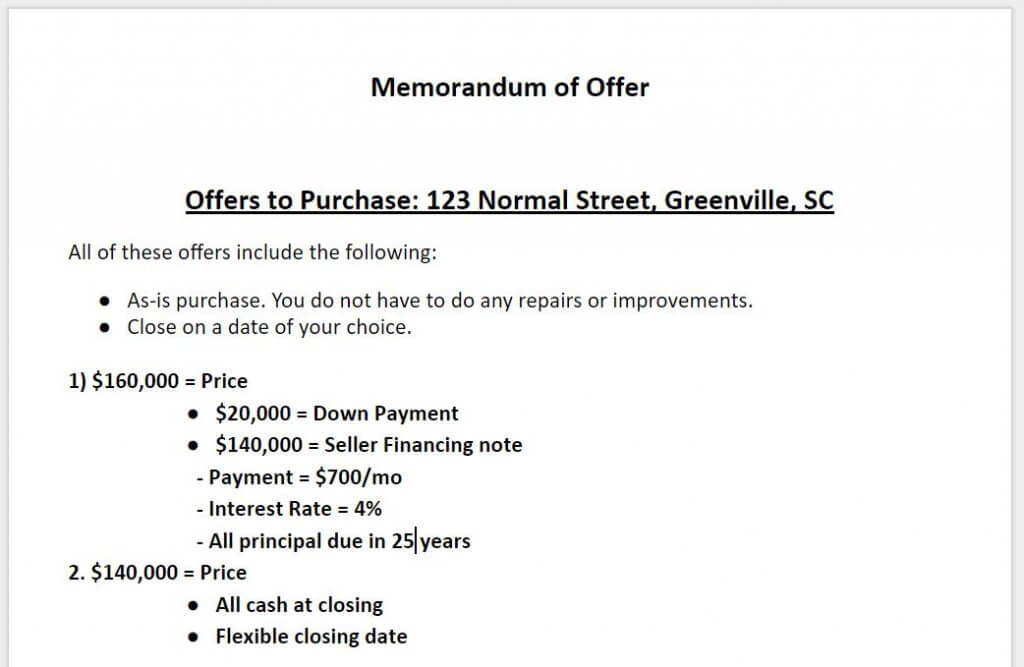 The most important term of an offer is normally the price. But an offer can also include other terms like a due diligence period, seller assistance with closing costs, or even seller-carryback financing for part of the price.
I realize that as a new investor the commitment of an offer could be terrifying to you. But remember that you can't buy a property unless you ask! So you have to learn to prepare well in the previous steps and then just do it.
Also, keep in mind that an offer is not the same as buying a property. Even if the seller accepts your offer, you can include a due diligence clause in your contract (I'll discuss this more in the next section). This clause allows you to cancel the contract if you find a hidden problem.
Of course, you don't want to go around canceling contracts all the time. You'll burn bridges and lose credibility with real estate agents and sellers. But a due diligence clause does allow you to make offers with more confidence.  And in the end, confidence and certainty are really what you are exchanging with the seller for a good deal.
Get Under Contract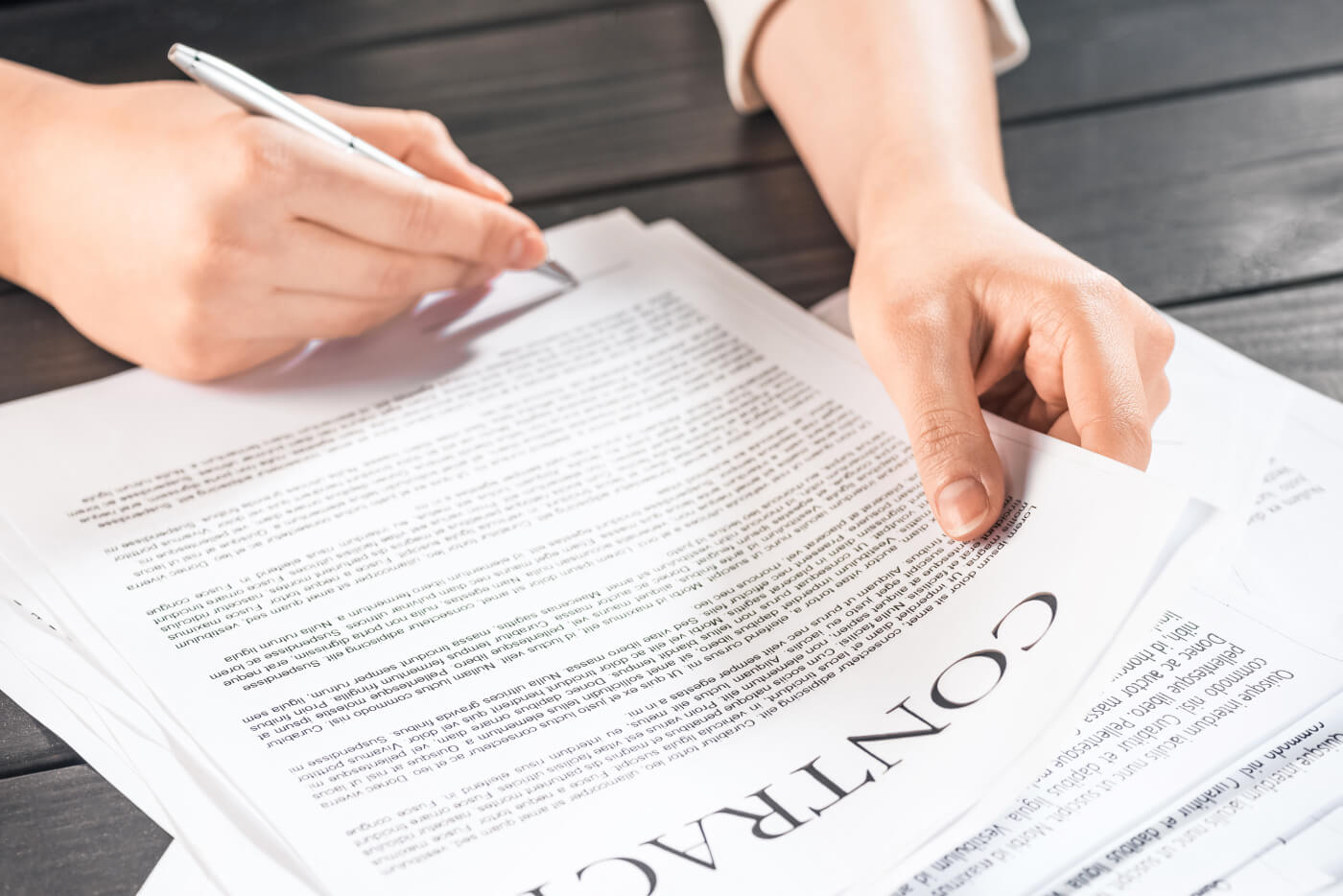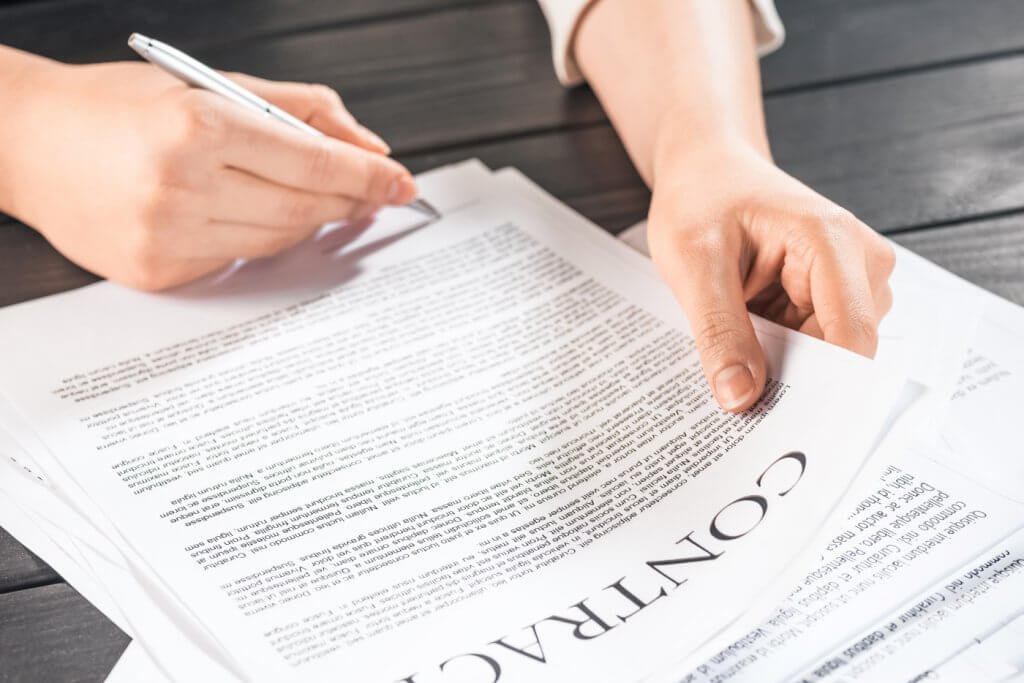 One of the best moments of real estate investing is when the seller accepts your offer! The next step at that point is to quickly get the property under contract.
If you use a real estate agent, this process will be straightforward. Your agent and the seller's agent will send contracts back and forth so that you and the seller can each initial each page and sign the final page.
Then you'll typically write a check for an earnest money deposit, which in my experience normally ranges anywhere from $100 to $1,000. But the amount depends on the market and your individual negotiation.
With real estate agents involved, one of the agents typically holds the deposit. When working directly with sellers, I prefer to have the closing attorney (or title company) hold the deposit until closing. And in some cases when the deposit is smaller, I'll just give the deposit directly to the seller.
I can't begin to explain everything to know about real estate contracts. Most importantly, purchase contracts vary from state to state based on local laws and customs.  So, I highly recommend that you find a local contract and review it with your real estate attorney.
And no matter what other terms are included in the contract, make sure you understand and have a due diligence clause. You want to have a period of due diligence to inspect the property and other relevant information.  If you find something during this period that makes the deal not work, you want to be able to cancel the contract and get your earnest money deposit back.
Now I'll explain what typically happens during this due diligence period.
Step #2: Due Diligence
Due diligence is a time period when the deal is in limbo. This time period can be as short as 24 hours or as long as a few months depending on what you negotiate.
During the due diligence period, you as the buyer get a chance to inspect the property and any related information.  If you find a major problem, you can still back out of the contract.
Your specific contract and local laws will determine the consequence of backing out. In some cases, you must forfeit some money. In other cases, you get 100% of your deposit back.
Let's look at some typical steps you'll want to take during this due diligence period.
Move Financing Forward
Financing is typically the biggest hurdle and potential delay before a closing. So as soon as you get a property under contract, contact your lender and move the process forward.
With an institutional bank, this will mean providing them with up-to-date financial information like your bank statements, tax returns, etc. Be a smart investor and have everything the lender needs ahead of time. Then you can send all of your documents in a quick email so that they are not waiting for you.
With a hard money lender or private lender, you might have to provide similar financials. But they'll also be interested in the property information like the value, repair budget, etc. So, be sure to involve them in each step of your due diligence process.
In either case, you want a written, preliminary approval as soon as possible. This means they approve you for the loan as long as the appraisal and title work look ok. Each lender will have a slightly different process, so just make sure you know what the steps are and get ahead of them.
Get Access to Property and Property Information
In order to perform due diligence, it makes sense that you need to get access to the property and all related documentation.
First, you'll need to get access to the property. If it's occupied and listed with a real estate agent, you'll need to set up appointments. But if the property is vacant, you can sometimes get a key from the owner and let yourself and other third properties into the property as needed. I often make use of coded lockboxes that you can buy at Lowes or other home improvement stores.
Second, request any relevant documentation from the seller that might be helpful. For properties with existing tenants, this will include a current rent roll, leases, business licenses, common area utility bills, and payment histories.
If the tenants are on a month-to-month agreement, you still want to look at their original lease to see what rules you can apply to the tenants. And if the leases are long term, this could affect your ability to remodel the property and resell or rerent it.
I also like to ask for a rental history, if available. I want to know how these tenants have performed because that's likely what I can expect going forward.
Third, you request copies of past remodel permits from the local municipality. These can often be found online at their website. This information will allow you to track the work done by the owner and identify any unpermitted or problem repairs.
Inspect Building and Grounds
I highly recommend that you hire a third party inspection company to help you evaluate the physical condition of the house. You can ask for inspector referrals from your local network of investors and real estate agents.
I have bought hundreds of properties, yet I usually still pay $300 to $400 (on a typical single-family home) for this service.  It's like insurance to give me an extra set of experienced eyes on the property.
Ideally, you will have the utilities on for this inspection so that the inspector can evaluate the plumbing, electrical, and HVAC systems. Once you receive the inspection report, you can use it to create a Scope of Work and estimate remodel costs.
Prepare Scope of Work and Estimate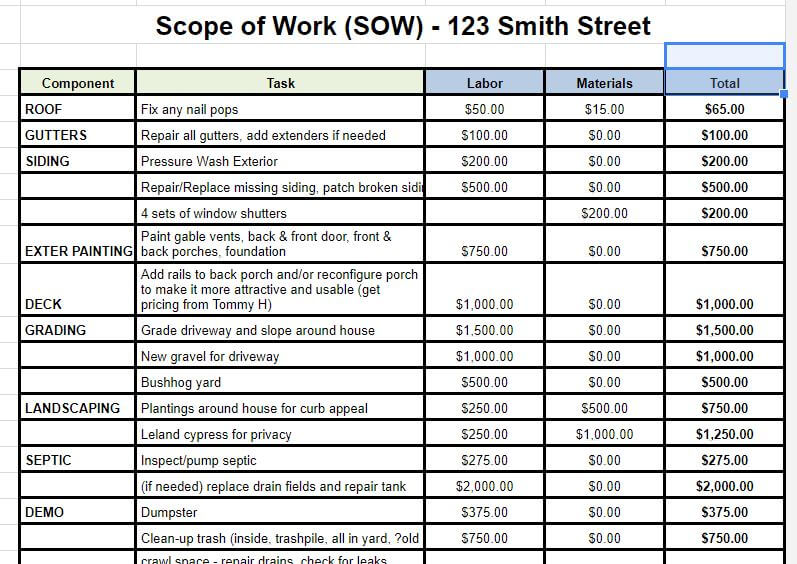 A Scope of Work is like a written, organized list of what you'd like to remodel for a property. The items on the list will include deferred maintenance and repairs from the inspection report. And they will also include cosmetic improvements that you must do in order to lease or resell the property.
This list is important because it will guide the decisions you and your contractors make while fixing up the property.
If you are brand new, I recommend you involve your team in this process. Your property manager and a general contractor will be helpful if you plan to lease the property. And a listing agent and general contractor can help you if you plan to resell it.
Preparing a Scope of Work requires vision and a basic understanding of how house remodels work. My favorite expert on this topic is a fellow investor and author named J Scott.  You can buy his Bigger Pockets book on the subject called The Book on Estimating Rehab Costs. 
Inspect Title
Ownership of real estate is a deep, interesting rabbit hole. If you're curious, you can begin exploring on the Wikipedia page for Title (property). In the U.S. title is grounded in English common law, but it's also influenced by your local laws and customs.
While you don't need to be an expert on real estate titles, you DO need to hire an expert. And that means you want to hire a title company or real estate attorney to do a title examination for you (which you use will depend on your state).
Further Reading: The Attorney Call That Taught Me the Value of Title Insurance
Most purchase contracts have a contingency that the seller must deliver "clear, marketable title" to you as the buyer. Make sure you ask your attorney about that when you get your contract.
I don't always pay for a title inspection during the due diligence period.  because we have until closing to still get out if the title is bad. But if you have a quick turn around for your closing, it wouldn't be a bad idea to go ahead and do it.
Evaluate Zoning, Local Laws, and HOA rules
In addition to the title, you want to also inspect zoning, local laws, and HOA (homeowners association) rules.
Your local municipality controls the use and development of property through zoning and licensing laws. For example, it's possible that a zoning law could prohibit you from renting to more than two tenants that aren't in the same family (that's a law in my small college town).
Your property may also be grandfathered into an old zoning classification, like small multifamily. But the rule may say that when the title transfers it automatically converts to a new zoning classification, like single-family houses. That would be good to know if you were buying a 4-plex, wouldn't it?!
There are also business and rental licenses, architectural review districts, historical districts, and other laws that can cost you money and time. You just want to know what you're dealing with up front so that you can decide if the cost and hassle are worth it.
Finally, be sure to check your HOA or condo association rules. These rules are restrictions on all property owners in the neighborhood, and they could include not allowing you to rent your property. It would be a rude awakening not to be able to rent your new investment property!
Verify Value and Rental Assumptions
Have you ever heard what happens when you assume too much? It makes an ASS out of u and me!
Ok, my humor is bad.
But seriously, always verify your assumptions during due diligence. And two of the biggest assumptions you make when running the numbers are property value and the rent amount.
I like to use my go-to real estate agent to help me with value. They can perform what's called a CMA (comparable market analysis) to give you an estimate of what the property is worth. You can also hire an appraiser.
For rent amounts, your best bet is to get an expert opinion from a local property manager. If you'll be using a property manager, that will be simple. If you won't, I would consider paying a good one for their opinion. Alternatively, you could lean on your network of local landlord friends and ask them for their opinion of the rent.
Get Property Insurance Quote
You shouldn't buy a property without insurance, so it's important to verify what a solid policy will cost.
Contact your insurance agent and ask for a quote for hazard and liability insurance. Hazard normally covers damage from things like a fire or hot water heater leak. The liability insurance helps protect you from potential lawsuits.
Your agent will probably require the basic property information, like size, age, construction type, etc. Once they have that information, they can give you a quote fairly quickly.
If you also happen to be in a floodplain, near the ocean where hurricanes like to visit, or in an earthquake or volcano zone, those specialty insurance types might be something to also get a quote on.
Step #3: Pre-Closing
Congratulations! You've made it through the due diligence period.
That was an intense, important stage in the purchase of your investment property. Now you should be armed with information that makes you more confident to move forward with your purchase.
Your job now is to make final preparations for the closing (i.e. actual purchase) so that everything goes smoothly.
Request Closing and Title Insurance
Either a title company or closing attorney (aka a closing agent) will handle the actual transaction of the property purchase. This is sometimes called an "escrow" because they hold and settle the money from the transaction in an escrow bank account.
If you haven't already done it, contact the closing agent to schedule a closing appointment. Also, give them a copy of the purchase contract and request a title search.
The closing agent will perform a title search to examine the historical public records for your property. Then he or she will examine this information and deliver you a certificate of title. This certificate assures you as the buyer that the seller indeed owns the property and that no one else has any claims against it.
In addition to this title search and certificate of title, you should also consider title insurance from a reputable insurance company. This gives you additional protection in case of an unknown title defect. Any mortgage lender will require you to buy them a lender's title insurance policy to cover them. But you can also purchase an owner's title insurance policy to cover your equity investment.
The fees for title insurance are normally paid on the day of closing.
Get Final Approval For Financing
Hopefully, you kept your financing process moving at the beginning of your due diligence period. Now is the time to keep the pressure on and communicate with your lender.
The likely next step with institutional lenders will be an appraisal. Because many appraisers have busy schedules, you want the lender to request this as soon as you know the due diligence period is done.
Also, ask your lender if there are any other pieces of information or steps that they're missing. If so, get it to them asap.
Finally, connect your lender with the closing agent so that they can be in touch about the lender's requirements and paperwork at closing.
If you're using a private lender, you may volunteer to do some of these steps for them. For example, I'll often agree ahead of time on the note and mortgage my private lender will use. And I'll submit those and the title insurance request on behalf of the lender to save them a step (and I'll cc them to the email, of course).
If your private lender is using their self-directed retirement account to fund your loan, you can also provide extra customer service by completing the paperwork for them. My private lenders often just meet me briefly or sign their paperwork over email because I do all the preliminary steps for them.
Turn on Utilities
Turning on the water, electric, and gas utilities can sometimes involve a long process. So, contact the utility companies at least a week or two before the closing date to request utilities to be turned on in your name.
This may seem like a small thing, but keep in mind that once you own a property, the costs begin adding up. Starting on day one, interest, taxes, insurance, and opportunity costs begin accruing.
So, you don't want to waste any time. Having utilities on will allow your remodeling crews (which could be yourself!) to begin work immediately.
Organize and Schedule Remodel Contractors
Just like the utilities, you want to organize and schedule your contractors for remodeling ahead of time.  The best contractors are often booked up weeks in advance, so this is an important step.
I tend to be old school so I use a pen and paper or a spreadsheet to do this. But you can also use project management apps like Asana or Trello.
Remodel and construction projects have a logical order to them. For example, you shouldn't install new floor coverings before painting because it would take extra effort and cost to cover the new floors.
If you hire a general contractor, he or she will understand this job flow. If you're brand new, I recommend hanging out with other investor remodelers to learn from their own process.
And if you want to do some reading, J Scott's The Book on Flipping Houses has an entire chapter on scheduling remodel projects and another on hiring contractors. This is a companion book to the Book on Estimating Remodel Costs that I recommended earlier.
Review Closing Documents
At least a day or more before closing, ask the closing agent to send you a copy of the following closing documents for your review.
Certificate of Title
Title insurance binder – look for any exceptions to the insurance and ask your closing agent if they're normal
Deed – read the names and the legal description to ensure accuracy
Closing Disclosure Statement – this document explains all of the closing costs and settlement of cash funds. You want to review this one carefully. HERE is a good tool to understand this important document.
Financing documents – like your promissory note and mortgage
The point is to review these documents before closing, if possible. I always see people wait until closing when there is the pressure from everyone to move fast. Instead, you should look at them calmly and slowly on your own so that you can ask questions or request changes if needed.
Now, you're finally ready to purchase your investment property.
Step #4: Closing
If you've done all of your preparation well, the actual closing appointment should be a simple, painless process. Here's what normally happens.
Sign Documents
The closing agent and a notary will sit down with you to explain the documents and then have you sign them. If you're long distance or don't want to attend the closing, these documents can be express mailed to you. You'll then have to get your own witnesses and notary and return them on time.
As I said before, you should have reviewed all of these documents beforehand. You can now just quickly review them to make sure nothing has changed before you sign.
Pay or Receive Cash Funds
Often you'll be making a payment at closing. This can include your down payment and closing costs. So, you'll need to bring a certified check or wire funds from your bank, depending on what your closing agent requires.
But there are some closings where you'll receive cash funds. One common case is when you take over a property with existing tenants and the prior manager transfers their security deposits.
I've also received funds when private lenders loaned me more money than I paid for the property in order to finance remodel costs. This requires a lot of trust from the lender and doesn't happen on your first deal. But it is possible to walk away from a purchase closing with a large check!
Get Keys and Garage Door Openers (if needed)
Make sure to receive any keys, garage door openers, and post office box keys (in the case of apartments) before leaving closing. You'll want to change the locks anyway, but it's nice to have everything you need to get into the property.
Confirm Insurance
Ensure your insurance agent has emailed a copy of an insurance binder and that it's effective the day of closing. Also, make sure your lender has been included and that their address is correct on the policy.
Take a Picture With Sellers (& Celebrate!)
I often build a strong relationship with the sellers during our many meetings and calls leading up to the closing. So, the day of closing is a time to celebrate a transition together!
I typically bring a gift for the seller to closing, like a big plate full of cookies or a bouquet of flowers. The staff of my closing attorney office often got jealous of my yummy foods!
I also ask the seller if I can take a picture to share with other potential sellers in the future. This helps me with credibility. Here are a few examples (you can tell I was much younger then!)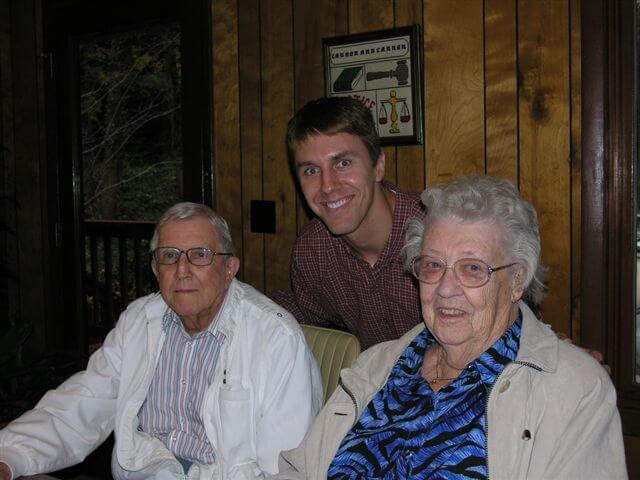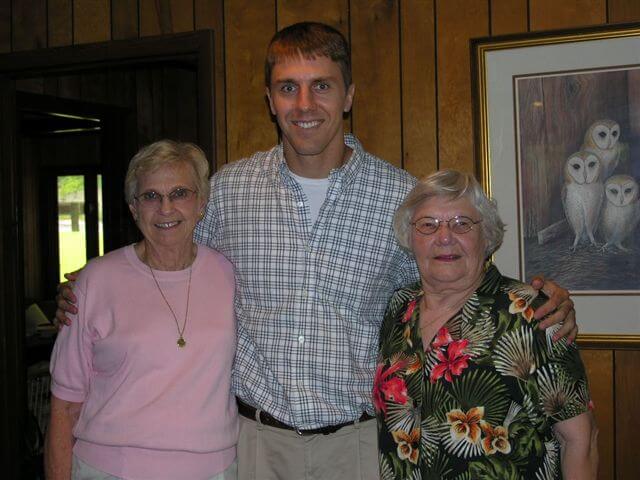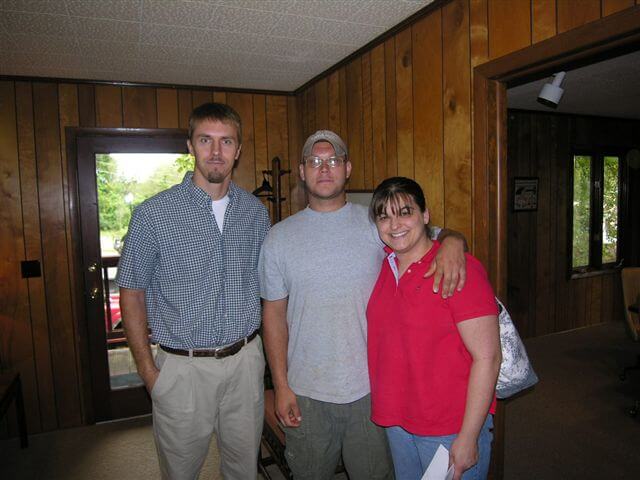 No matter what you do, just make sure to see the closing as more than a transaction. The entire process is an opportunity to build a relationship that can lead to referrals, future business, and even your wedding officiants (like my earlier picture!).
Step #5: Post Closing
When you buy an investment property, the actual closing is just the beginning. You'll have many months (with a flip) or years (with a rental) to get to know your property. But there a few immediate follow-up items that I suggest within a week or two of the closing date.
Notice to Tenants
If you inherited tenants, you should give them written notice of the new manager. If you self-manage, the notice will be from you. Or if you have a third party management company, you can coordinate with them to give notice.
There are practical things to tell them, like how to make their payments. But you should also inform them of your rules and what you expect of them.
If you have an uncooperative tenant, you want them to know you're serious and professional up front. They may realize that and move on to another easier landlord. Of they may choose to stick around. But either way, you'd rather confront the tough issues up front instead of prolonging a problem.
Thank You Notes
Did your grandmother teach you to send thank you notes? Mine did, and it was one of the most valuable lessons I ever received.
After a closing, I like to send the sellers and/or the sellers' real estate agent a handwritten thank you note. A simple message of gratitude will often go a long way.
You also might find, as I have, that gratitude just makes you happier!
Bookkeeping Entries and Paperwork
This is a big one that many people skip. Make the bookkeeping entries from your closing as soon as possible.
What does this mean?
It means taking the closing disclosure statement with all of the numbers and entering it into a spreadsheet or your bookkeeping system (I use Quickbooks).
I have taught a Quickbooks for Real Estate Investors class before, and during the class, I spend 1-2 hours on this one bookkeeping entry alone. So, I'll plan an article or a video on it in the future.
Also don't forget to save an amortization schedule of your new mortgage loan, if applicable. I've used this simple, free amortization calculator for years.
Double Check Your First Payments to Lenders
Do you want to know how to build trust? Do what you say you'll do!
And there's no way to ruin your trust faster, especially with a private lender, than messing up your first payment. So, schedule it early or even hand deliver your first check to your lender. See it as an opportunity to impress them, show them how important they are, and build trust.
When you take those types of steps, you'll get more business from them and from their friends.
Conclusion
You've now been on a journey from the contract to the closing and you know how to buy an investment property. Are you excited yet? Exhausted? Or both?!
There are a lot of steps and details to learn. But you can do it. And you don't need to master it alone, especially on your first deal.
Be sure to build a good team around you, especially an experienced real estate agent and closing agent. And be sure to save this article to reference so that you're informed during the process.
Best of luck when you buy your next investment property!
What have your experiences been like with investment purchases? What other steps could I add to this list? I'd love to hear from you in the comments.
Get My Free Real Estate Investing Toolkit!
Enter your email address and click "Get Toolkit"