Thanksgiving is my favorite holiday of the year. I do love the food – in particular just about anything with sweet potatoes, pumpkins, and pecans! I also love relaxing and reconnecting with friends and family. But most of all, I love this simple reminder invoked by the Thanksgiving holiday …
Slow down. Count your blessings. Be thankful.
Focusing on gratitude around Thanksgiving makes me feel good right down to my core. And I've often wondered if there was a way to call up that positive feeling any time of year.
It turns out, an impressive amount of scientific studies about gratitude show that you can! These studies demonstrate that a simple practice of gratitude is a powerful way to make yourself happier and healthier.
In the rest of this article, I'd like to share some of these practices so that you can use them regularly in your own life.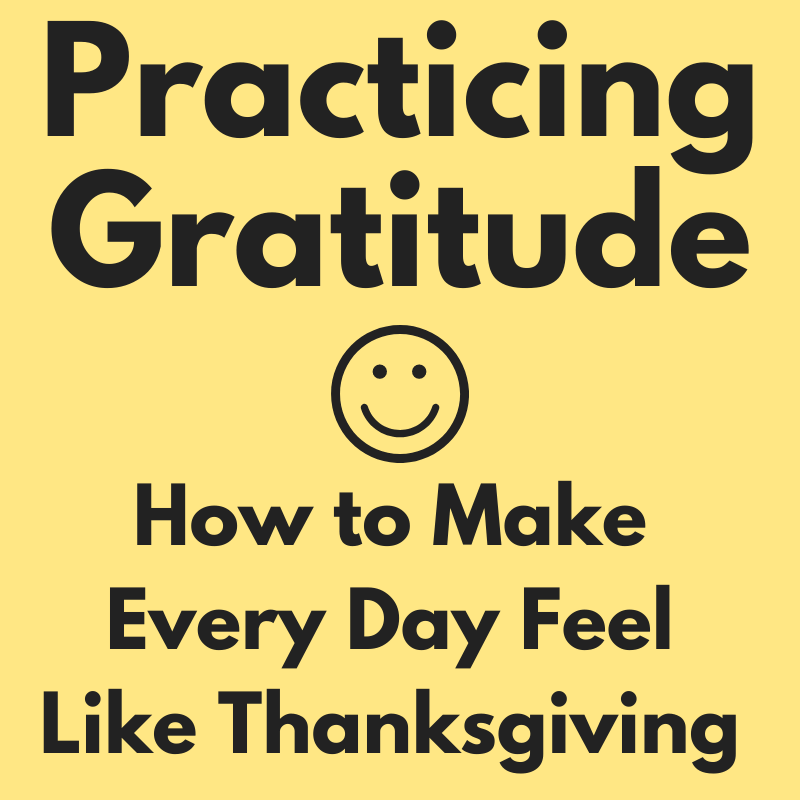 The Study of Gratitude and Happiness
In a pioneering 2003 study, Dr. Robert A. Emmons of the University of California, Davis and Dr. Michael E. McCullough of the University of Miami asked participants to each write something in a journal every week during a 10-week study.
The first group was asked to write down five things they were grateful for from the previous week.
The second group was asked to write down things from the previous week that irritated or displeased them.
The third group was asked to just write down things from the previous week.
After 10 weeks, the first group was measurably happier and felt better about their lives than the other two groups. Even more, the first group also exercised an average of 1.5 hours more and had fewer visits to the doctor!
There are many more similar studies that suggest specific ways to apply this idea of practicing gratitude. Here are just a few:
Gratitude journaling, either daily or weekly like in the study
Verbalizing appreciation to people like your spouse, kids, employees, and tenants
Saying thanks before a meal
Writing thank-you notes (which boosts your happiness and the happiness of the person who receives the letter)
In addition to affecting your well-being, other studies show your attitude of gratitude can improve your relationships with others (and even make you sexier!).
As with many ideas in the world of psychology, it's not clear the cause of these connections. But unlike pills with negative side effects, there are no negative side effects to this happiness prescription! So, what do you have to lose?
My Bedtime Practice of Gratitude
When I first read about this idea (in this awesome Philosophers Note by Brian Johnson), I decided it was too good not to start right away.
So, fairly consistently for the last few years, I have pulled out a notebook or journal before going to bed and I list 5 things I am grateful for.
The practice literally takes 2-3 minutes. It's not difficult at all.
I just think back over the day, and I write down whatever comes to mind.  Often it's about my family, my health, friendships with people, accomplishments, and projects within my business.
But whatever I write, it tends to make me feel just a little better.  It stops stress in its tracks, holds anxiety at bay, and gives me a much-needed perspective about my current life.
What Are 5 Things You Are Grateful For?
If you are considering creating your own practice of gratitude, I can't recommend it highly enough.
Why not try out the habit right now by sharing 5 things you are grateful for? I'll go first, and then I'd love to hear from you in the comments section below.
"I am grateful for:
the opportunity to share ideas with thousands of readers each week.
that I know how to read and write (at least most of the time!)
the internet, which allows me to connect with people in so many places.
my wife, who sometimes edits my writing and always supports me
the opportunity to grow, personally and financially.
Your turn!
What are you grateful for? It can be simple, silly, deep, or profound.  Anything is fine. Just write down your gratitude list – either privately or in the comment section below.
And if you want to pass this simple but wonderful practice on to others, share this with a friend! Thank you.
Get My Free Real Estate Investing Toolkit!
Enter your email address and click "Get Toolkit"