This article was inspired by a series of posts by fellow early retirement bloggers about how to live off your wealth during retirement (thanks, PoF and Fritz for getting it started). They called this a retirement drawdown or withdrawal strategy, which, by the way, could be very different than your strategy to build wealth. I touched on my withdrawal strategy in How to Retire Early & Confidently Using Real Estate, but I will go into more depth in this article.
For me, a good retirement withdrawal strategy has two primary goals:
Pay for all your current living expenses
Not run out of money in the future
It turns out that rental income and other real estate investing strategies work great to achieve these goals. And real estate can make a big difference whether it's a small or large portion of your overall portfolio.
So, in the rest of the article I'll share ideas on how to use rentals for a retirement withdrawal strategy. Here's a table of contents to help you navigate to the different sections.
No Perfect Plans
As you read this, keep in mind that I am not an authority figure or guru who has this all figured out. I currently live off of my real estate investments in my 30s, but I'm learning and growing as I go.  Many of the ideas I'll share below I learned from more experienced investors and teachers.
Also, keep in mind that a withdrawal strategy could vary significantly depending on your age, ability to work if needed, and personal preferences. There is no perfect early retirement withdrawal plan to copy.
Instead, a perfect plan for you should be flexible and dynamic. You'll probably continue to tweak and improve it throughout your life.  So, take and adapt the concepts here that you like, ignore the rest, and let what matters to you be the ultimate guide. 
Let's start by looking at the basic challenge of living off your investments in retirement.
The Challenge of Living Off of Your Investments in Retirement
If you're living off the income from your investments, the biggest fear is usually running out of money.  Your investments are like a large lake or reservoir full of water.  When you are working, you save money and continually fill the lake up.  But when you stop working (or go part-time), the reservoir has to support you on its own.
When you're building financial reservoirs, it's not acceptable if the reservoir dries up before you and your loved ones do!
In the past, pensions were a primary solution to this challenge.  People retired in their 60s, and if they were lucky, a pension (typically from a former employer) comfortably paid their bills until they died. The former employer withdrew from its own pension reservoirs so that the retirees didn't need a large reservoir of their own.
But outside of military and some other government worker plans, pensions are by and large a relic of the past.  You must create your own pension. The primary exception is social security income, which begins at the retirement age of between 62 and 67 for those born after 1960.  You can estimate your future social security benefits here.
But most people are living much longer than before, and social security income doesn't usually cover all of their living expenses in retirement.  So, a personal reservoir of retirement savings is still a necessity. And for those leaving full-time work earlier in life, like in their 30s or 40s, social security income isn't even a part of the solution until much later.
So, the plan for most of us is to build up our own reservoir of savings as large possible.  This is also called building wealth. You can read how to do this with the power of your savings rate and my real estate wealth building plans.
But how will you know if you've saved enough to support a withdrawal plan for the rest of your life? Let's take a look.
Do I Have Enough Saved For Retirement?
You may have heard that a nest egg of 25x your annual expenses is a reasonable goal for financial independence.  So, if you have personal expenses of $60,000/year, you need $1.5 million of investment savings according to this rule of thumb.
The source of this "25x expenses" goal is something called the 4% rule.  It's a rule of thumb that says you can withdraw about 4% of your investment portfolio each year without it running out (4% x 25 = 100%, thus 25x). With a traditional portfolio of stocks, bonds, and mutual funds, this rule of thumb usually assumes the 4% withdrawal will come from a combination of dividends, interest, and some sales of assets.
If you want to learn more, The Ultimate Guide to Safe Withdrawal Rates over at earlyretirementnow.com is the most detailed and nuanced explanation of retirement withdrawal strategies and the 4% rule I've ever seen. But I'm warning you, the author Big ERN is SMART, and his graphs, statistics, and explanations may have your head swimming on first reading!
The subject is complicated because the withdrawal strategy counts on, at least in part, selling investment assets in order to pay out that 4% annual withdrawal. And this makes you vulnerable to something called the sequence of returns risk. This means that if you sell at the wrong time, like right after a major stock market crash, you could permanently disable your portfolio.
While I'm fascinated with the 4% rule discussion, it's honestly never been a major concern for me as a real estate investor.  Real estate isn't perfect and has challenges of its own, but it does give you a major advantage when living off your assets. The right real estate investments tend to produce income at a much higher rate, while also offering a reasonable inflation hedge if you choose locations well.
This combination of factors allows you to build a simple real estate portfolio where you never have to eat into your investment principle. And I'll explain why that's important below.
A Simple Rental Income Retirement Strategy
Let's say you buy a single-family house in an economically strong metropolitan area. In my experience, a well-trained real estate investor can eventually find properties that produce between 5% and 10% unleveraged rental income yields (i.e. cap rates).
And based on historical real estate appreciation rates, your rent on these well-located properties may keep up with inflation. This means your rentals should be able to buy the same amount of lifestyle in 30 years as they do today.
So, the right real estate investments allow you to have a withdrawal strategy of more than the traditional 4% rule for the same money invested. This allows you to pay for your lifestyle expenses with more ease (goal #1 of a good withdrawal plan). And at the same time, you're not eating into any of your principal.
And why is not reducing your principal important? Because when you never reduce your principal, it's kind of hard to run out! And not running out was my goal #2 of a withdrawal strategy.
This approach also makes the early retirement math a lot simpler. As I explain in How Many Rentals Do You Need to Retire, you don't need a fancy retirement calculator with rental properties.  When your real estate investments produce enough net rent to safely covers your lifestyle expenses, you can relax a little bit.
And after reaching this milestone, there is little need to sell investments to support your living expenses. You may choose to sell for other reasons, like improving your portfolio. But overall you can be a patient, opportunistic investor who can hold on even when property values drop.
But you might rightly point out that traditional assets like stock, bonds, and CDs produce income too. Can't you use the same approach of not touching the principal with those investments? Let's take a look.
Non-Real Estate Plans That Don't Touch the Principal
You could use a non-real estate portfolio to produce enough income to fund living expenses. And that's actually what dividend stock investors do. They pick a portfolio of individual stocks that pay higher than average dividends, and the income performs in a similar way to rental income within a withdrawal strategy.
But other assets like a bank certificate of deposit (CD) and broadly diversified funds of stocks or bonds give a much lower income yield (at least as I write this in 2018). This means you'd have to save a LOT more money or reduce your living expenses in order to live off income and not touch the principal.
As of January 2018 when I'm writing this, the dividend yield on the S&P 500 index is only 1.73%. The rate on ultra-safe 10-year U.S. Treasury bonds is slightly higher 2.55%.  And the interest rate on the best, FDIC-insured 5-year bank CDs is 2.45% according to BankRate.com.
So, if you wanted to live on dividends of the S&P 500 without eating into principal, you'd need to save about 58x your annual expenses (100% / 1.73% = 58).  So, annual expenses of $60,000 would require investment savings of almost $3.5 million!
With a portfolio of 10-year treasury bonds at 2.55%, you'd need about 39x your annual expenses. So, annual expenses of $60,000 would still require investment savings of $2.34 million.
On the other hand, with a portfolio of single-family houses with rental yields of 6%, you would only need savings/equity of 17x your expenses.  So, with annual expenses of $60,000, you'd only need investment savings of a little over $1 million.
That's a big net worth difference for the same income-producing result!
But this isn't a battle between real estate investing and other assets. Every asset has its pluses and minuses and proper place in an overall diversified portfolio.  But even with diversification, I like the idea of using real estate as a foundation or income floor for the rest of the portfolio. Let me explain how.
Build an Income Floor, Then Invest for the Upside
Some of my best learning about retirement planning and withdrawal strategies came from an excellent book called Can I Retire Yet by Darrow Kirkpatrick. In the book, Darrow recommends a hybrid approach where you first build an income floor to cover your essential expenses. Then he recommends upside investing to provide for discretionary expenses, future uncertainties, and inflation.
Darrow describes the difference between essential expenses and discretionary expenses as follows.
For me, essential expenses allow for a small condo or townhome, food, insurance, medical care, taxes, and utilities. That works out to about 60% of our current retirement budget. The rest is discretionary spending, and could be foregone or cut way back if necessary, especially later in retirement.
To cover the essential expenses, Darrow likes to build an income floor with safe, consistent, income-generating assets like annuities, pensions, and social security income.  These assets do not always provide inflation hedges or a lot of personal control over performance, but they do lock in guaranteed income and give predictability and security to your financial life.
And to cover discretionary expenses and uncertainty in the future, Darrow also invests in the market where you benefit from growth but also have some downside risk. You can see Darrow's complete 2018 investment portfolio here, which is a diversified mix of funds that hold stocks, bonds, commodities, and cash.
Darrow's approach does not get into real estate investing. And I've got no arguments with how he does it because it works very well for him and others. But what I want to explore is how Darrow's floor + upside concept can be applied beautifully by those of us who like to use real estate investments.
Using Free & Clear Rentals to Create an Income Floor
An income floor must be built on sources that are consistent and safe. The point is to remove as much risk and unpredictability as possible. This way you can sleep comfortably knowing your basic expenses are covered.
My favorite way to create an income floor using real estate investing comes from a long-time teacher and mentor of mine named John Schaub. In his book Building Wealth One House at a Time, John explains something I've called the free and clear real estate goal.
Basically, the idea is to own a small portfolio of safe, easy-to-manage rental properties (likely single-family houses in quality neighborhoods) that have their mortgages paid off.
Why no debt? Because it reduces your risk, increases your income, and simplifies your life.
Why single-family houses in quality neighborhoods? Because they tend to attract tenants who stay the longest, pay on time, and are most self-sufficient. And that translates to less time and hassle with property management.
Houses in quality neighborhoods have the added benefit of being more than an income floor. As I said earlier, if you chose your location well, there is a good chance the price and rents will increase with inflation over time. But even if they did not perfectly keep up with inflation, the security of their steady income is the main point.
Let's look at the numbers for a simple portfolio of 6 free and clear houses.
The Retirement Income Numbers With 6 Free and Clear Houses
Let's say you owned 6 single family houses that each rented for $1,500/month. To be conservative, let's assume your operating expenses and savings for future capital expenses cost 50% of your rent. So, you'll net $750/property each month after all expenses (not including income taxes).
With those numbers, here's what your retirement income floor would look like:
Retirement Income Floor – 6 Free & Clear Houses
Investment
Net Rent/Month
Net Rent/Year
House #1
$750
$9,000
House #2
$750
$9,000
House #3
$750
$9,000
House #4
$750
$9,000
House #5
$750
$9,000
House #6
$750
$9,000
Total
$4,500
$54,000
Would $54,000 be enough to cover your essential expenses? You'll have to decide that for yourself. But remember that Darrow in Can I Retire Yet said his essential expenses (not including discretionary expenses like travel, eating out at nice restaurants, etc) were about 60% of his total budget. So, be sure to differentiate between the two types of expenses.
And even if you include all of your expenses, a small number of houses may be enough. In a recent survey that I conducted for my upcoming real estate early retirement book with BiggerPockets.com, 832 aspiring or current real estate early retirees shared the expenses they needed to cover in order to reach financial independence. Here's a chart of the results: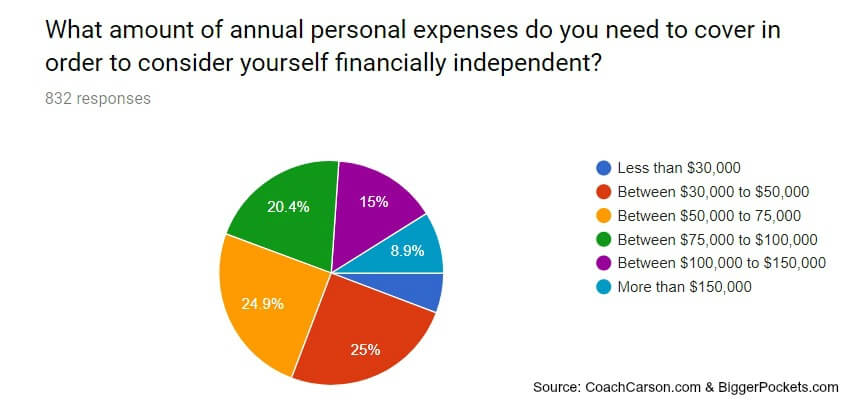 Over 30% of respondents needed less than $50,000 per year, and over 75% needed less than $100,000 per year.  That means most people would cover all of their expenses with between 5 and 12 houses using my example numbers above. And I can tell you from personal experience, self-managing that number of properties is a VERY part-time retirement job (like less than an hour per week).  And hiring 3rd party managers would even reduce that.
It will be your choice how much of an income floor is necessary. If your absolutely essential expenses are $36,000 per year, then 4 of the houses above would be all you need. If you need $100,000 per year, you'll need a lot more.
And you'll also want to judge where you are in life. If you still plan to work for another 5 years, you may not need to lock-in an income floor yet. Growth may still be your priority. But if you want to leave an income-producing job as soon as possible, an income floor is a top priority.
Once your income floor is in place, then you can also build up investments for the upside.
Investing For the Upside
Investing for the upside means you continue to prioritize long-term growth of your wealth. This gives you the flexibility to pay for discretionary expenses.  It also allows you to contribute to important causes, leave an inheritance, and prepare for the unknowns.
In many ways, the approach is similar to the investing you did to build wealth in the first place. You'll need to find an overall growth strategy for the portion of your wealth not invested for the income floor. And it will need to meet your personality and risk tolerance.
One of my core strategies has been investing in quality real estate leveraged with safe debt. So, that will continue to be part of my upside investing approach, especially with inflation as a possible future challenge. But as my investment portfolio becomes larger, I continue to reduce the overall percentage of leverage. I'm closer to 50% leverage now.  But over the long run, I'm moving towards a more comfortable 25% of my overall portfolio.
I also invest in my self-directed IRA with private notes, limited partnership investment properties, and broadly diversified stock index funds. For an early retiree who doesn't touch these funds, retirement accounts are perfect for upside investing vehicle.
I also see entrepreneurship as upside investing.  Within real estate, I occasionally flip houses, develop properties, and otherwise create wealth with my efforts and knowledge.  This is something I can continue to do my whole life at a pace that's fun for me.  And outside of real estate, I'm slowly but surely building the revenue of my Coach Carson business with online courses, a few affiliate products, and 1-1 consulting.
A business or part-time work that you enjoy can be great long-term wealth builder.  You can use it to cover your discretionary expenses and to hedge for the future.  But as I've found out, this is very different than traditional work. With an income floor in place, this kind of work is much more fun, flexible, and on purpose.
One final consideration in my withdrawal plan has to do with backup plans and flexibility.
Flexibility and Lifeboat Strategies
So far, the plans I've laid out may seem neat and tidy. But I realize that life is uncertain. Major changes could occur in both my life and the world around me.  So, backup plans and flexibility must be a key part of a long-term withdrawal plan.
First of all, both in my personal finances and businesses, I like to keep cash reserves. My preference is to keep the equivalent of 3 months of expenses.  In my real estate business, this typically gets even larger.
Cash reserves are particularly important for a real estate investor. Properties can't be converted into cash in a pinch as easily as other assets types. So, you need cash for the inevitable uncertainties of the market.
Second, I prefer not to have any personal debt. We don't have any credit card balances, car debt, or other personal loans. I still have a mortgage on my principal residence, but my wife and I are considering paying that off.
Eliminating debt makes your financial life safer and more flexible. Yes, those funds could be invested for more growth. But as my blogging friend John at ESImoney.com says, when you've won the game, it's time to stop playing. Simplicity and safety become a higher priority than growth at some point.
Third, I love another idea from Darrow Kirkpatrick at CanIRetireYet.com called "lifeboat strategies." It made Darrow sleep better at night to create backup plans. Essentially he was defining nightmare scenarios and using pessimism to his advantage.
Lifeboat strategies should be both ways to increase income and reduce expenses. Here are a few of mine:
Income:
Sell properties to raise cash quickly
Refinance properties to raise cash quickly
Annuitize assets to withdraw both interest and principal

My first choice would be selling a property or two with owner financing
I'd also consider an annuity (the good kind), especially as a plan for my heirs if I die or can't actively manager investments

Work (especially while still young) – Both my wife and I could pursue active income much more than we are now
Expenses:
Use location arbitrage – expenses are not the same in different locations. If you're in a big city, move to a small city. If you're in the US and healthcare is too expensive, move to Costa Rica or Ecuador. This could just be temporary, and it could also be a lot of fun
Move to a smaller residence – like a condo, townhome, RV, or tent (ok, not for most of you – but I've considered it!)
Take cheaper vacations – use travel hacking and other creative ways to have fun without spending much money
Finally, I think it's most important to keep your own mind flexible. YOU are your #1 asset, no matter how big your net worth. So, stay healthy, never stop learning, ask questions, and keep an open mind. As long as you're still alive and sharp, you can adjust to the punches life throws at you.
Conclusion 
You've now seen my early retirement withdrawal plan built around real estate investing.  If you're still building wealth, just let these ideas simmer until you need them at a later date. And if you have enough wealth already and want to use real estate as part of your withdrawal plan, I hope these ideas will be helpful for you.
Remember that there are no perfect plans. The goals are to cover your personal expenses and never run out of money. But the methods to accomplish the goals may vary.
Build your withdrawal plan around your own strengths and investing preferences. And then be open to changes that improve your strategy as you go. This evolution has been a fun part of my own process thus far. And I'm sure I'll continue to update my thinking and strategies as I go.
Other Blog Posts in the #DrawdownStrategy Chain
As I mentioned in the beginning, I'm not the only one who has written about this. At least 20 other interesting and intelligent bloggers have shared their own drawdown or withdrawal strategies. Most are not real estate investing based, which makes them even more interesting. You learn the most from those outside your circle of competence.
So, I recommend you check some of them out.
Our Drawdown Plan in Early Retirement by Physician on Fire
Our Retirement Investment Drawdown Strategy by Retirement Manifesto
Retirement Master Plan by Othala Fehu
Planning for Success: Drawdown Versus Wealth Preservation in Early Retirement by Plan.Invest.Escape
The Groovy Drawdown Strategy by Mr. Groovy
The Nastiest, Hardest Problem In Finance: Decumulation by The Green Swan
Show Me the Money: My Retirement Drawdown Plan by My Curiosity Lab
Early Retirement Portfolio & Plan by The Financial Journeyman
Our Drawdown Strategy by Cracking Retirement
Our Unusual Early Retirement Drawdown Strategy by Retire by 40
The ERN Family Early Retirement Capital Preservation Plan by Early Retirement Now
Mr. 39 Months "Drawdown" Plan by (you guessed it) Mr. 39 Months
Drawdown Strategy — Joining the Chain Gang by 7 Circles
How I'll Fund my Retirement by Ms. Liz Money Matters
DDD Drawdown Plan Part 1- Living with a Pension by Dads Dollars & Debts
Saving Is The Easy Part: Our Retirement Drawdown Strategy by Atypical Life
5 Steps for Defining Your Retirement Drawdown Strategy by NewRetirement
Practical Retirement Withdrawal Strategies Are Important! by Maximize Your Money
Drawdown Strategy | Retirement Manifesto podcast by ChooseFI
I'd love to hear from you in the comments below. What do you think of the withdrawal strategy I've outlined? Is real estate part of your pan? How is yours similar or different? What are your core strategies to live off your assets and ensure they never run out?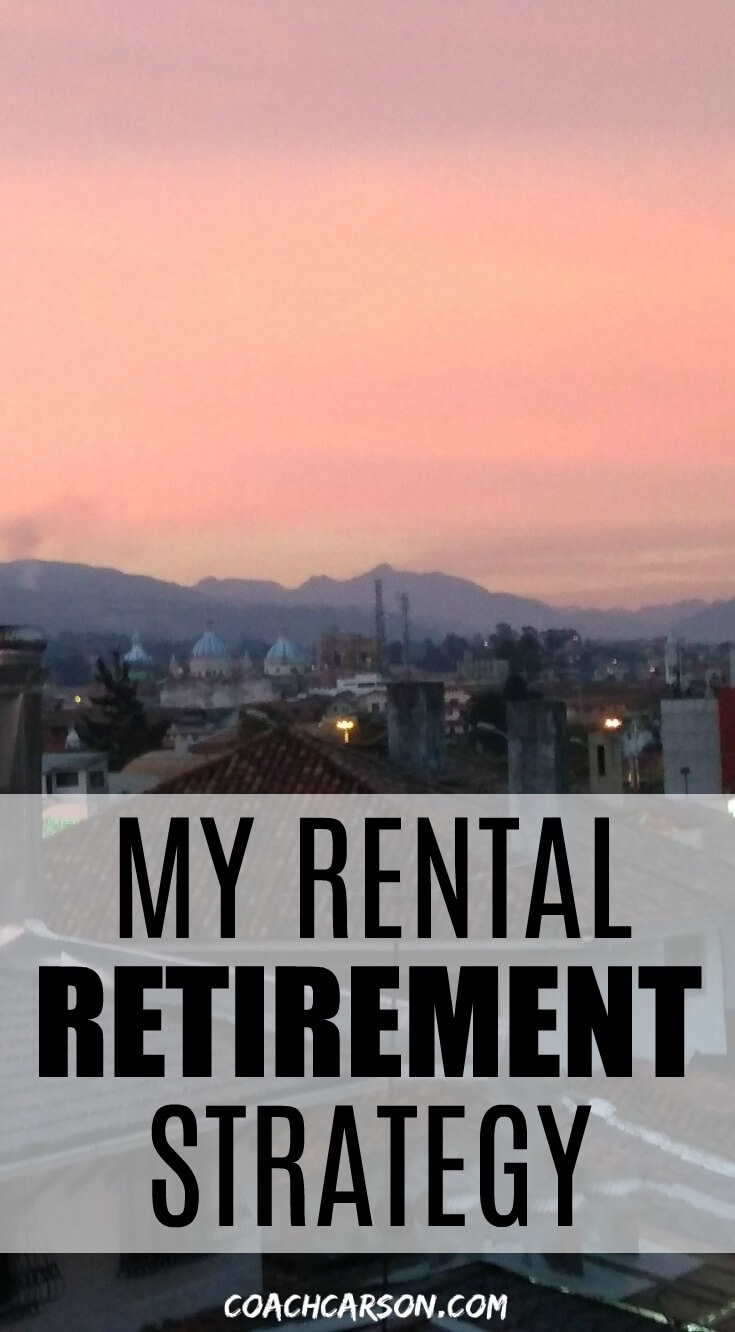 Get My Free Real Estate Investing Toolkit!
Enter your email address and click "Get Toolkit"