I feel very fortunate to have Brad Barrett guest post for me today about a topic I love – travel hacking.  If you're not familiar, travel hacking isn't illegal and doesn't have anything to do with computer hacking. It's a side-hobby that you can use to travel for free.
I'll let Brad, a CPA, blogger, and all-around awesome guy, explain the details. But I asked Brad to write this post because I learned a lot from his expertise.  In fact, my wife and I used what we learned to earn free hotel rooms and flights on my family's extended trip to Ecuador this year. While this topic isn't real estate related, it IS related to the fun and adventure that motivate many of us to invest in real estate in the first place.  
Take it away Brad!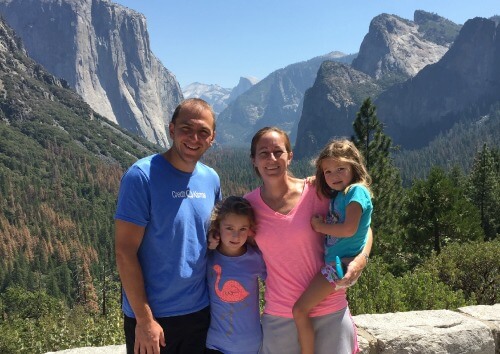 First, I wanted to thank Chad for having me guest post here. I'm a big fan of his site. I hope to use the knowledge I've gained here to take my first steps into real estate investing later this year.
Today, I want to introduce you to the fun and lucrative world of "travel hacking." Then I will present you a 'quick-start guide' on how to take action and get started.
If you follow this strategy I expect you can earn at least one (and more likely two) nearly free vacations every single year. So, there's a huge upside to reading this article, even if it sounds a little unusual to you at the outset.
Honestly, it sounded unusual to me when I got started nearly 6 years ago! My wife and I are both CPAs, and at first, this didn't really pass our 'BS filter.' But after dozens of hours of research, I concluded it was legitimate and certainly worth moving forward with.
And wow was that a smart move!
In the past few years, we've taken trips to Bermuda, Disney World, San Francisco, Boston, and New York City using points & miles. And we've literally saved at minimum $15,000 and still have well over 1,000,000 miles banked and ready to use.
This article will serve as a quick-start guide, but if you're looking for more in-depth information, I'd suggest two things:
Listen to this episode of my new Choose FI podcast, which is a great intro to this concept.
(Chad's comment – I highly recommend Brad's Travel Miles 101 Course. I took it myself and learned a lot. Plus, it's free! And the Choose FI podcast is packed with not only good information on traveling for free but also many other important topics if you're interested in achieving financial independence.)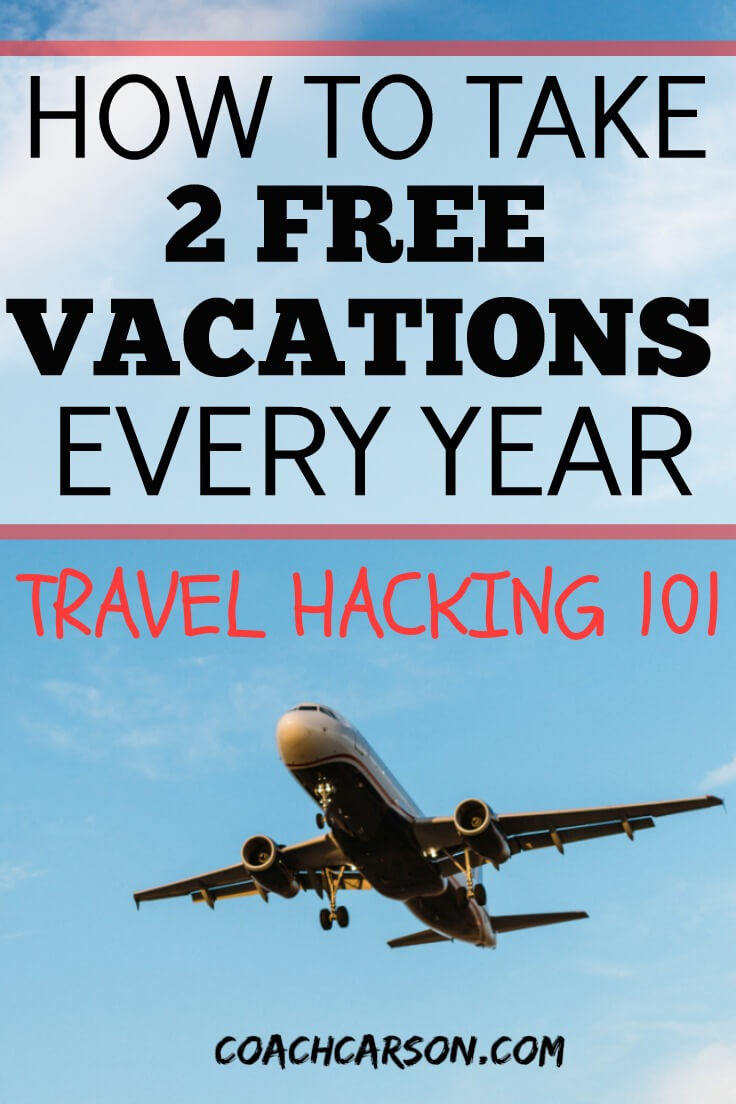 What is Travel Hacking?
If you haven't heard of travel hacking, at its essence it is this:
The major credit card companies offer huge bonuses (often 50,000 miles/points) to consumers to sign-up for one of their top rewards credit cards. Each of these bonuses can be turned into roughly $500-$1,000+ of free travel.
When you stack these bonuses together, you can put together entire trips with airfare, hotels and rental cars included.
My wife and I found that if we opened up a few new credit cards each year and put our normal everyday spending on them that we could easily fulfill the bonus requirements for each card and earn a number of lucrative sign-up bonuses each year. We could then take those large sign-up bonuses and turn them into nearly free travel for our family of four.
What do you need to make this strategy work?
Responsible with your credit cards: This is obviously credit card related, so travel hacking is not for everyone. This strategy should only be used if you are extremely smart & responsible with your credit cards. I define this as paying your cards on time and in full every single month and not spending more on your credit card than you otherwise would with cash/debit/check.
Have an excellent credit rating: In order to be approved for these premium credit cards, you are going to need at minimum a 700 credit score.
Be somewhat organized: While nothing about travel hacking is difficult, it does take some minimal organization to track the spending requirement on your current credit card, keep your logins and passwords in order and keep track of when you opened and closed cards. For nearly everyone, this shouldn't be a problem and it takes me less than 10 minutes a month to keep track of, but it is important to mention.
What Do You Have to Do? And What's the Potential Value?
I've mentioned the 'spending requirements' a few times already. So, I want to drill down on this. Each of these credit cards offers a bonus, but there are some spending stipulations. A typical bonus offer might read:
Earn 50,000 bonus miles when you spend $3,000 in the first 3 months. $95 annual fee waived the first year.
To unpack this statement: you have to spend a cumulative $3,000 in the first 3 months after your approval date. You can and should pay it off on time and in full each month.  So, you aren't running any debt and you aren't paying any interest.
When you reach that cumulative $3k figure you earn your 50,000 bonus miles after the close of that current credit card statement (so no need to wait 3 months if you get there earlier).
This card also has a $95 annual fee, but it is waived the first 12 months, so you can earn your bonus during this trial period and close the credit card at the end of that year if you determine you aren't getting value from it any longer.
So there's no interest expense and no annual fee expense on most cards. That means you literally just earned 50,000 miles that you should get at minimum $500 – $1,000 worth of travel value out of for $0 in expense.
For that $3,000 in normal life spending that you simply put on this new credit card you earned $500 – $1,000 in value. That's like getting a 16.67% – 33.33% rebate on that $3,000!
Compare that to your normal 1% "rewards" credit card where you'd earn $30 for that same $3,000 and you can see how powerful this strategy really is.
Now picture yourself opening a few of these cards every year to earn thousands of dollars of travel.
How to Hit the Spending Requirements
My wife and I put all of our possible expenses on our credit cards and we pay them off in full every month. So the shift is as simple as just using a new card for all our life purchases instead of our existing card.
Everything goes on the card: groceries, restaurants, cable & internet, cell phones, etc., etc.
As soon as we reach the cumulative spending requirement on the card we're using (we go over by about $100 just in case we have any returns) we just apply for a new card and keep rolling through these bonuses.
It's important to note that each person can open their own account in their name and SSN for each of these credit cards and still get the sign-up bonus, so for a couple that essentially doubles the entire universe of these cards that are available.
I count at least 20 top-tier travel rewards cards, so if my wife and I eventually each open all these cards, we can earn 40 of these bonuses.
There are constantly new cards being offered, so there's no reason to believe this strategy is finite either.
Okay, so let's start getting into the fun part: earning and redeeming these points & miles!
Earning points: The Three Types of Travel Rewards Cards
There are 3 main types of rewards cards:
Fixed value travel reimbursement: Examples are the Capital One Venture and Barclaycard Arrival Plus. These cards offer "miles" that are redeemable for nearly any type of travel expense. You simply pay for your travel with this credit card and log in after the fact to redeem your miles for a statement credit. They generally are worth 1 cent per point, so 50,000 points = $500 in free travel. These cards are nice since they are so flexible, but the value is fixed.
Co-branded airline and hotel credit cards: These are cards like the Delta American Express or the Citibank American Airlines cards. These cards earn you points in that one particular airline or hotel program, so they are not flexible in any way. However, there is much more upside potential as compared with the 'fixed value' cards as, for example, 60,000 American Airlines miles would get you a free round-trip flight to Europe.
Transferable points cards: I saved the best for last, as transferable points programs – most notably Chase Ultimate Rewards and Amex Membership Rewards – are the ultimate point currencies. Chase UR points, for instance, transfer to 11 different airlines and hotels including favorites such as Southwest, Hyatt, United and British Airways. The points stay in your Chase account until the time you're ready to use them, so they preserve that transfer flexibility. These points get you the upside potential of the actual airline & hotel points but have the added benefit of being transferable to so many programs. This is why I recommend nearly everyone starts with Chase and Amex transferable points.
Travel Hacking Quick Start Guide:
Okay, so if this sounds interesting to you and you're ready to take action, then what now? This is what I would suggest for you to get started on this strategy today:
1) Register for Free Travel Miles 101 Email Course
I'm obviously a little biased here, but I think we've put together the best free resource on the internet for getting started with Travel Hacking. You can register for free HERE.
It is 100% free and there's no time requirement. You'll get an email a day for 15 days (or you can zip through it quicker if you want!). At the end, you'll have enough info to confidently move forward.
We also have a private Facebook community with over 6,000 members. This is a great place to ask questions and see some amazing success stories.
2) Register for Airline & Hotel Rewards Accounts & Organize With Spreadsheet
Download this excel tracking sheet (note there are 2 worksheets in this file).  Then sign up for free rewards account at the major airlines & hotels (ex: Southwest Airlines Rapid Rewards or Hilton Honors).
You'll want these reward program account numbers and logins if you apply for a co-branded credit card (see card types above). That's why I highly recommend signing up for them first.
3) Check out your local airport(s) Wikipedia page
You want to look at your local airport(s) Wikipedia page to see what airlines operate there and what type of direct destinations are available.
The best way to search this is "city airport wiki" (so for me it is "Richmond airport wiki") and then scroll down to the "Airlines and Destinations" area to see what's available.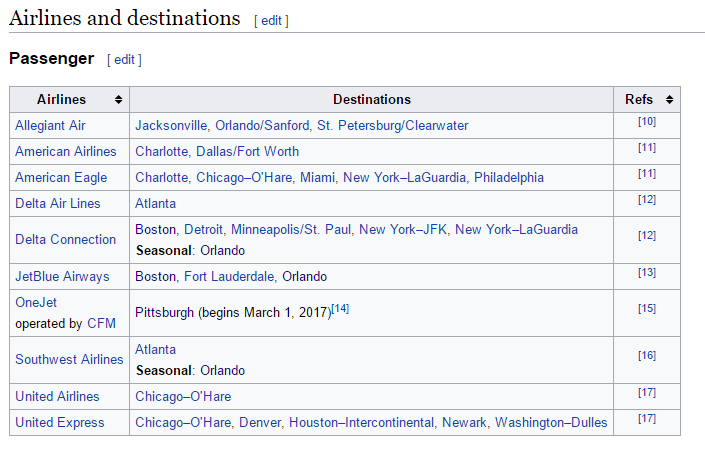 Generally speaking, you're looking for any airline with a significant presence there. Depending on the airport size, this usually means at least 10 different direct destinations.
You're also looking to see if your airport has any significant Southwest Airlines presence, as they are universally considered the easiest airline to use miles with. This is true because there are no award limitations/blackout dates.
Once you've determined what airlines fly out of your airport, you can get a sense of what co-branded & transferable points programs to focus on.
Naturally, you wouldn't want to gets tons of Delta miles if your airport had zero Delta flights. That's why I think it's important to take the time to do this at the beginning.
4) Ask yourself how flexible you can be with your travel.
If you have a lot of flexibility, especially with dates of travel (and by "a lot" I even mean plus or minus a few days, or certainly plus or minus a few weeks would be a huge amount of flexibility) then you should go the traditional frequent flyer mile route (from transferable points programs and co-branded cards).
There's so much more potential travel value here than with the fixed-value cards, but there are a limited number of award seats available at the 'Saver' level (as compared with the Standard level seats which are 2x-3x the Saver points and a terrible deal). So, if you are dead set on traveling from Point A to Point B on exact dates then you can get frustrated and think this is a scam.
However, if you say something broad like, "I'd love to go to Europe next fall for a 10-day trip," then you can easily make that happen!
If you cannot be flexible, then you can still save a lot of money. But the upside value of this strategy is reduced. I would tell less flexible people to focus on the fixed-value cards and use your Chase and Amex points to book travel directly through their search engines.
I would also focus on Southwest Airlines and hotel programs like Starwood and Hyatt (also a Chase UR transfer partner) since all of them do not have award limitations.
5) Take action by opening your first rewards card!
It can be difficult to know where to start with rewards credit cards since there are a few dozen of these top-tier offers at any given time. It can seem overwhelming.
You can always start with the top credit cards page on my site to give you the best current offers we find on the internet (as opposed to just Googling and hoping), but I want to give you some concrete info to get you started right:
In my opinion, most of the top credit cards are offered by Chase bank.
Chase, however, has recently instituted a rule that is known as "5/24," which means that if you've opened up 5 or more credit cards in the past 24 months, they are NOT going to approve you for a new card.
These five cards are from ANY bank, including authorized user cards on someone else's account (like a spouse), so keep that in mind.
What this means is, when you're starting out with travel rewards, you need to really manage your relationship with Chase's 5/24 and try not to add authorized users unless you must.
In fact, unless you're dialed in on one trip that would require opening up a card from another bank (a Starwood or Delta Amex for instance), I would argue that your first five cards should all be from Chase.
You're going to want to space these out, though.  So, even assuming you could meet the minimum spending requirements, you don't want to open up all five at once!
The general rule is one personal and one business card can be approved at one time, but I would try to wait 2-3 months between personal cards.
My top current Chase bank credit cards:
Sapphire Preferred from Chase
Ink Business Preferred from Chase
Sapphire Reserve from Chase (caution: huge annual fee)
Southwest credit cards: 3 different cards available (50,000-mile bonus is what you're looking for)
United MileagePlus Explorer (50k bonus)
British Airways card (great deals on American Airlines and Alaska Airlines flights in North America)
And if you're married or in a relationship, keep in mind that you each are able to open up five Chase cards and each adult can open up every one of these cards in their own name and SSN. So, if my wife opened a Chase Sapphire Preferred and got the bonus, I'm still eligible to open the card and get the bonus myself.
My #1 card right now is the Chase Sapphire Preferred. So, that would be the card I'd suggest you open today to get started on your journey.
Closing Thoughts
A lot of people get bogged down in the details of travel hacking, but it honestly doesn't have to be that difficult! I am 100% convinced that with minimal effort, just about any financially responsible person (and if you're reading Chad's site, that likely means you!) can take 1-2 nearly free vacations every single year just with this one small, but important life hack.
But it starts with that first step. So, make today the day you get started. Take the steps I suggest above. Then, sign up for my free course and get some questions answered in our Facebook group.  Soon, you'll see results and be confident that you can accomplish this.
(Chad's comment – I hope you enjoyed this information from Brad.  Travel hacking is not for everyone. But for those of you who love to travel and don't mind spending a small amount of time, this can be a very profitable and fun hobby. It has been for me!)
Is travel hacking something you'd like to start doing? Have you used rewards credit cards to earn free travel in the past? Do you have any questions for Brad about your personal situation? Please leave your comments below. We'd love to hear from you!
Get My Free Real Estate Investing Toolkit!
Enter your email address and click "Get Toolkit"