The longest journey begins with a single step. And a small (or big!) real estate empire begins with the next achievable milestone. This article and podcast provide 8 steps (i.e. milestones) that you can follow to build momentum and make progress toward getting started with real estate investing.
This is also the core paradigm of my premier course – Real Estate Start School.  In the course, we start small and focus on making steady progress. By focusing on the process, the bigger goals will then take care of themselves.
Very importantly, as you cross each milestone, don't forget to celebrate! If you can learn to enjoy the journey AND the destination, you'll continue making new, worthwhile journeys your whole life.
Now let's get into the 8 milestones (plus a bonus to start!).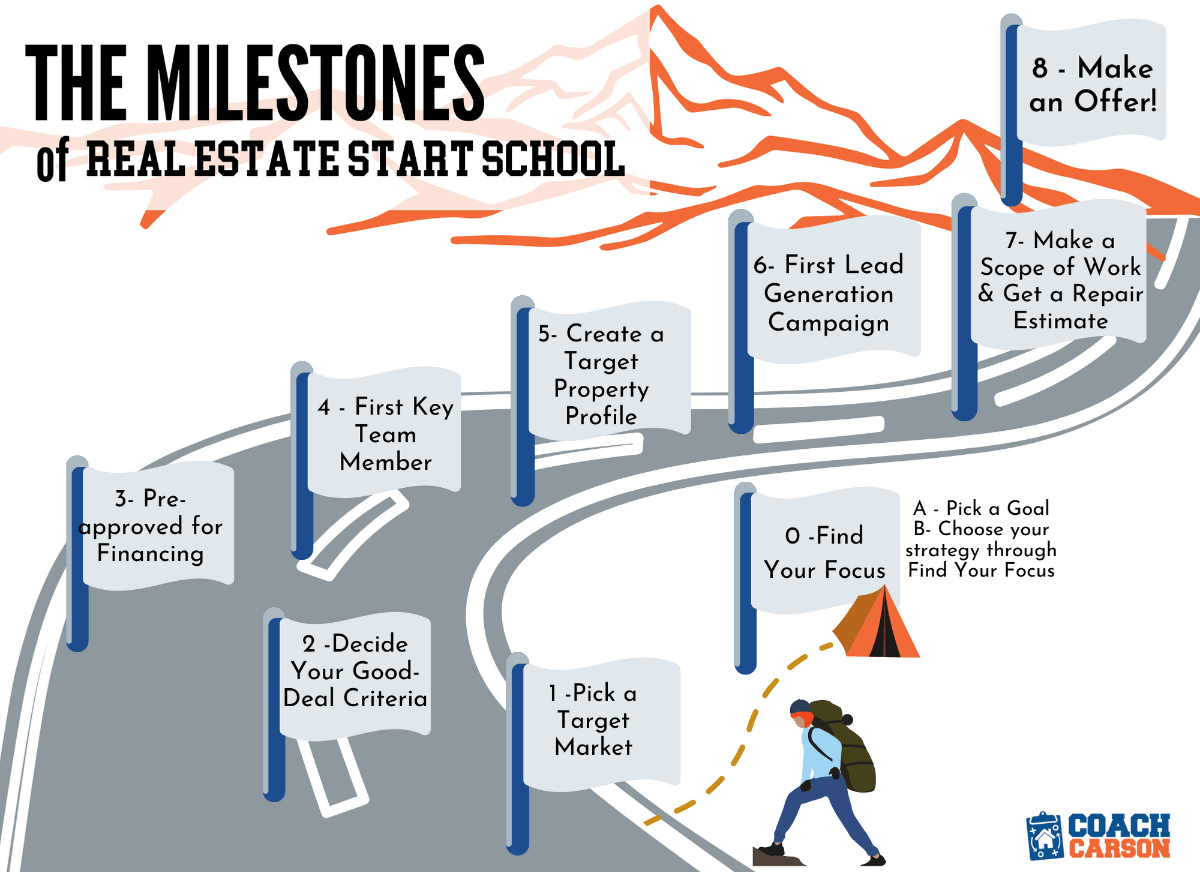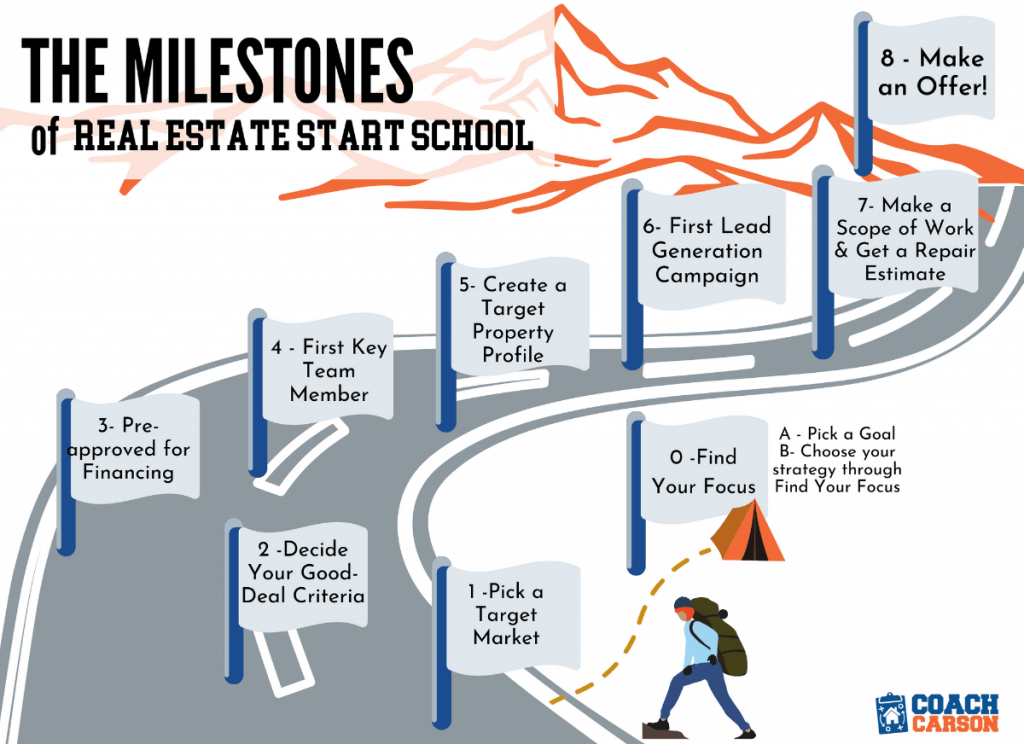 Milestone 0 – Find Your Focus
This milestone is sort of like base camp. You need to begin here before you start moving to the other milestones.
Some of you may already have these figured out. But if you're brand new, getting focused is the first step. Here are a couple of areas I recommend you focus on:
(A) Set a Big, Hairy, Audacious Goal
Set a BIG, exciting financial goal to climb towards. For example, a number of rental properties, an amount of investment income, and/or a net worth amount.
(B) Pick a Strategy for Real Estate Investing
You don't have to use a particular strategy forever, but you do need to focus on something for the next 6-12 months. Use my article The 15 Best Real Estate Investing Strategies and my guide Real Estate Investing For Beginners to pick a strategy that makes sense for you at this point in your journey.
Milestone #1:
 

Pick a Target Market to Invest In

WHERE you invest is an important early milestone. Study my guide to the best target real estate markets, and then pick (A) a regional market (ex: Atlanta, GA) and (B) a sub-market/neighborhood (ex: College Park, GA).  Where you invest should also align with the strategy you chose in milestone #1.
Milestone #2: Decide Your Good-Deal Criteria (1 to 3 criteria is plenty)
You have to have a focused, clear idea of what a good deal means for you. Using the lessons in my guide How to Run the Numbers – Back of the Envelope Analysis, pick a few clear, simple criteria that you can use to filter a good deal from a not-so-good deal.
Milestone #3: Pre-approved For Financing (or Have Cash Available)
Before you can search for an investment, you must line up the money. Use the lessons in How to Get Started With Little or Not Money to pick one or more sources of money and ask for pre-approval (i.e. approval subject to things like an appraisal, title search, inspection, etc).
Milestone #4: First Key Team Member On Board
You will only be as successful as the team you build around you. Hall of Fame basketball coach John Wooden always said your team is the main ingredient of stardom.
So, in real estate investing search for and recruit a key team member who can help you accomplish your other milestones. This first team member is often a real estate agent, mortgage lender, or property manager.
Milestone #5: Create a Target Property Profile
When you know what type of deals you're looking for, you're more likely to find it. This milestone is to create your own Target Property Profile, a simple document that explains to your team members and yourself what you're looking for. Completing this milestone will help you focus!
Milestone #6: First Lead Generation Campaign
Good deals won't fall in your lap. Instead, you need to proactively implement lead generation campaigns to bring opportunities to you.
This basically means you need to work on becoming an expert real estate deal finder. You have to do whatever you can to bring leads to you instead of having to chase down potential good deals.
I recommend beginning with one of the low-cost, tried-and-true campaigns like driving for dollars.
Milestone #7: Make a Scope of Work and Get a Repair Estimate
Estimating remodel costs is a key skill that takes time. That's why I include The Book on Estimating Rehab Costs as part of the course resources in Real Estate Start School.
So, let's start practicing! Make a list of the estimated repairs you will need to do on a property you are making an offer on. Then get a repair estimate from your contractor (remember those key team members!).
Milestone #8: Make an Offer
You can't buy an investment property unless you make an offer. And as most of my successful students find out, you'll probably make MANY offers before your first deal (this new investor made 11 offers before his first deal!).
So, let's get this thing started by going out to make an offer (even if you get rejected).
Baby-Step Your Way to Success
Getting started with real estate investing is like being new at anything else. You have to break the big goal into tiny, baby-steps. The 8 milestones you've just learned are the baby steps I've recommended to my own students for many years inside my course Real Estate Start School.
Please try them out yourself and let me know how they go. In the end, the only way you'll make progress is to get out there and take action. I hope this process will help.
What milestones and steps are you taking (or have you taken in the past) to get started with real estate investing? I'd love to hear from you in the comments.
Get My Free Real Estate Investing Toolkit!
Enter your email address and click "Get Toolkit"