People don't want to be millionaires – they want to experience what they believe only millions can buy… $1,000,000 in the bank isn't the fantasy. The fantasy is the lifestyle of complete freedom it supposedly allows."   

Tim Ferriss, The 4-Hour Workweek
Have you ever had this conversation about money in your head?
Everything will be just fine when I have $x,xxx,xxx in the bank."
Supposedly John D. Rockefeller, who at one time was the richest person in the world, was asked: "How much money is enough money?" He replied, "Just a little more."
Now, don't get me wrong. I have no guilt or problem with earning and accumulating money. Not having money doesn't make you a better person, either.
Buy my point is this:
Will we ever really have enough money?
Will money ever make us feel truly secure?
Is it possible we are sacrificing something that money can't buy in our quest to maximize money?
The last question about sacrifice has always been the most challenging for me.  What other areas of my life am I sacrificing now in my pursuit of more money? How much of those am I really willing to invest for future financial returns?
Back in 2007, I was already questioning my own hyper-focused sprint up the real estate mountain. And then I picked up Tim Ferriss' newly published book The Four Hour Workweek.
It was the right message at the right time.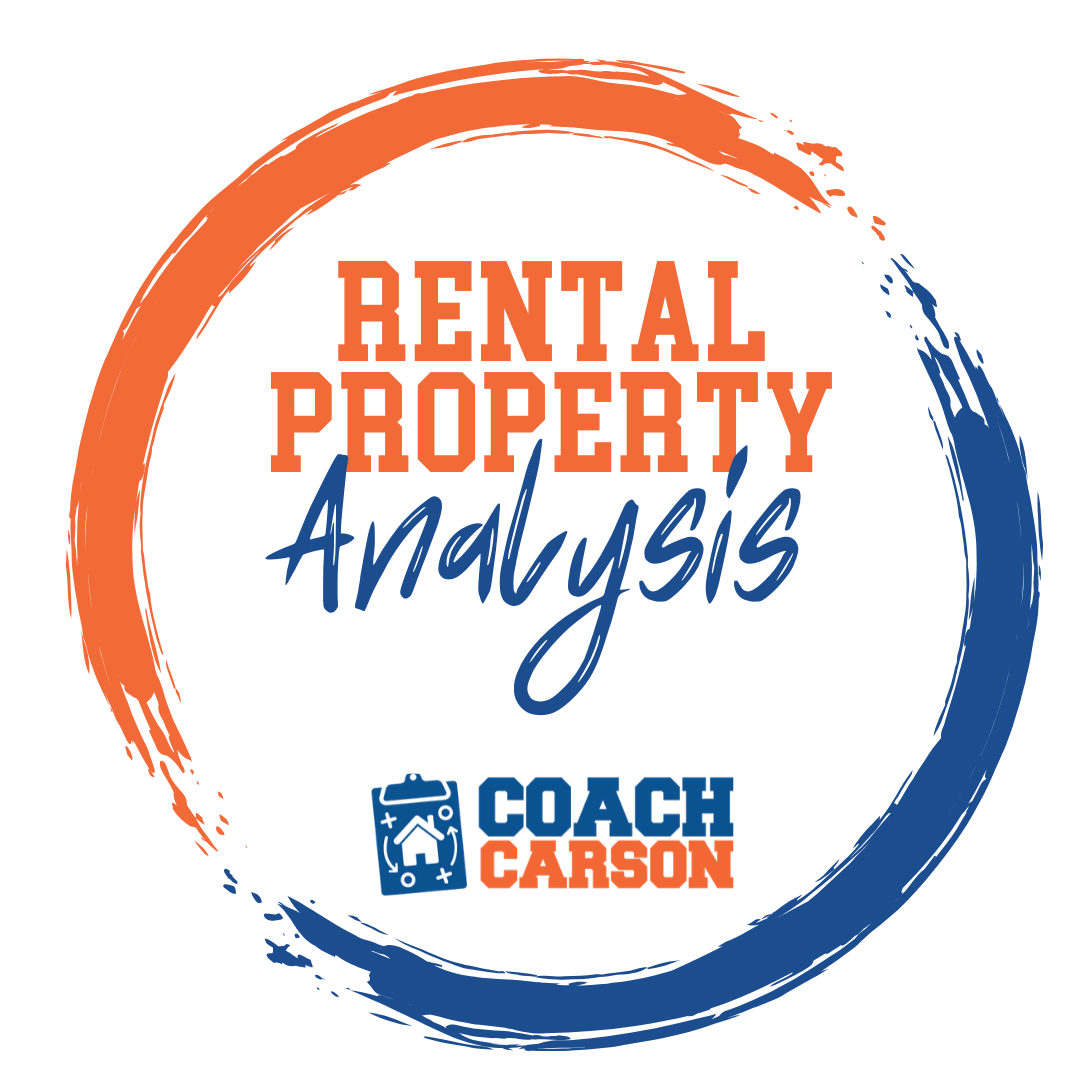 A course by Coach Carson that teaches you how to run the numbers so that you can confidently analyze and buy profitable rental properties. It also includes Coach's rental analysis spreadsheet.
Get the Course
The philosophy from the book that resonated the most with me was something like this:
Money is not the only currency we should use to measure our wealth and our lives. Instead, to get the things we really want in life we should measure at a minimum 3 currencies.
Aha! Three currencies of life.
Money was important, but it's not what I really wanted. I needed to start measuring and prioritizing differently.
The Three Currencies of Life: Time, Money, and Mobility
You've probably heard that time is your most precious commodity. But on the balances sheets that define "success" in our society, how often do we measure an abundance of free time?
Traditionally, the time-rich were kids or people without a job. Not exactly who we aspire to be when we grow up!
And what about mobility? Why isn't the ability to travel and come and go as you please valued as highly as a Mercedes-Benz or a fancy house? 
And the mobility-rich are usually college-aged people studying abroad or roaming vagabonds who never really fit into the "real world."
Of course, we all have responsibilities. And we have to work for money at some point.
But what would your life look like if you measured and prioritized all three currencies equally – time, money, and mobility?
In Pursuit of a Different Kind of Wealthy
Early in my career as an entrepreneur, I did not make a salary as large as a doctor or a corporate worker. I had thought about pursuing those paths, but a squeaky voice in the back of my mind told me I would lose something important if I did.
As I later learned, the precious qualities I would have lost were free time and mobility. And even from the beginning as an entrepreneur, I used those resources to do cost-free activities that I loved, like regularly play basketball in the middle of the day for 2 hours.
Score!
Henry David Thoreau warned not to spend "the best part of one's life earning money in order to enjoy a questionable liberty during the least valuable part of it."
He had a point.
When can we best use and enjoy our free time and mobility? While we're still mentally and physically at our best!
And that's a big reason the FIRE movement has become so popular. Leaving typical work roles and abandoning traditional retirement paths can lead to more freedom, flexibility, and happiness.
But implementing all three currencies requires thinking differently. It requires questioning assumptions and strong social conditioning, including the "wisdom" of your family, co-workers, Suse Orman, and major societal forces (marketers, politicians, media).  And it also requires courage, persistence, and a different approach to measuring personal success.
But if you can do make this switch, the payoff is BIG. You won't have to wait until that "someday" that may never arrive.
My Break From the Work-Money Grind
Soon after I first started evaluating my business and investing from this three-currency-lens, my wife and I decided that a slow, meandering trip through Spanish-speaking countries would be exactly the type of activity that would feed our souls and enrich our lives.
Money was certainly an obstacle.  My estimation for 4 months of travel was $15,000, the price some people pay for a car. But we worked hard and saved the money over time.
Saving money required that we live more simply, although I don't consider eating a peanut butter and banana sandwich at a park to be worse than a paid meal in a stuffy restaurant.  We also started to notice that most so-called necessities of today were luxuries only 50 years ago. Life could go on perfectly without many of them (cable TV, new cars, fancy houses, smart appliances, and fashionable furniture).
But the bigger challenge was freeing up time and flexibility so that we could actually leave for 4 months! We had to forgo opportunities for more money and more advancement in both of our careers. These opportunities would have fed our egos and our bank accounts, but they also would have held us back from the freedom to do what mattered!
In the end, we made our 2009 mini-retirement happen – right in the middle of the Great Recession.
A Mini-Retirement Trip That Changed It All
For our mini-retirement, we spent one and a half months in Spain and then two and a half months in South America (Peru, Chile, Argentina).
The trip exceeded even our wildest expectations. The free time and mobility made space for experiences that enriched our lives in so many dimensions.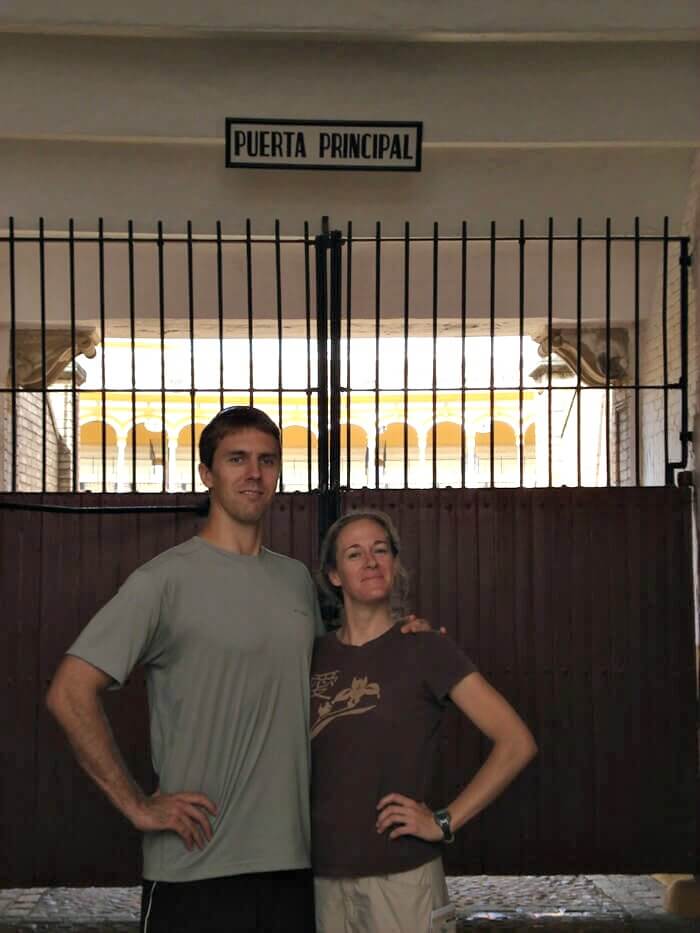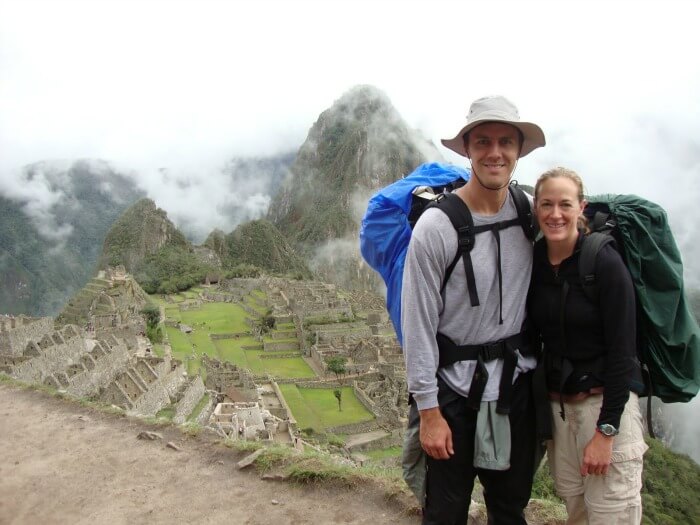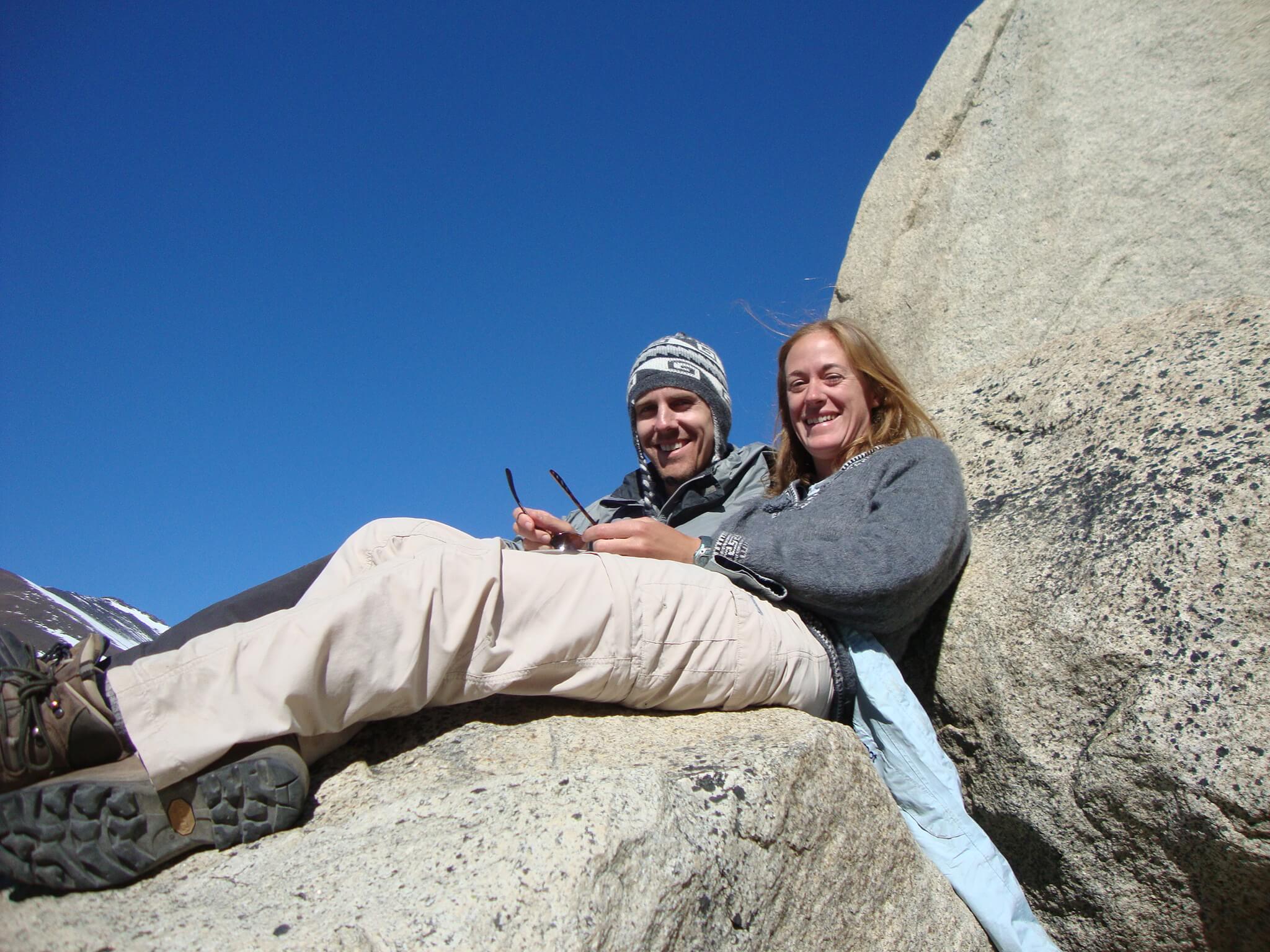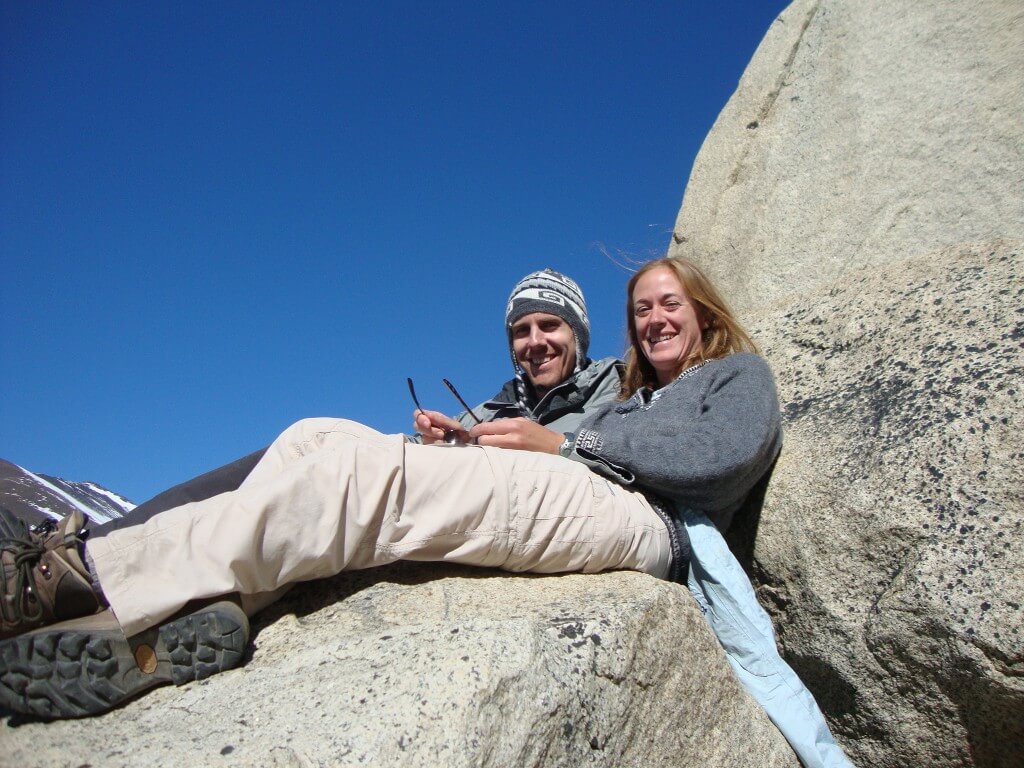 I learned to speak Spanish semi-fluently after taking regular, personalized classes in Spain and Peru. My wife Kari volunteered as an English teacher to amazing local kids. And we met new friends, took spectacular hikes, and ate interesting new foods.
And even the low points of the trip were growth experiences. My wife and I had plenty of frustrating experiences with one another where we learned what made the other person tick.
And the slow, quiet spaces of the time were psychologically challenging. Old painful experiences and stubborn, unhelpful mindsets started bubbling up for both of us. But as we both worked through them, we became more and more grateful that we had the opportunity, time, and space to reflect on our lives in this way.
The Call to Adventure
"A musician must make music, an artist must paint, a poet must write, if he is to be ultimately at peace with himself. What a man can be, he must be.

– Abraham Maslow, Motivation and Personality
Long-term world travel may not be your idea of a worthwhile goal. But I'm sure you have some dream or call to adventure itching at you below the surface.
Is it more time and flexibility with family? More time and flexibility for that favorite hobby or passion? Or more time and flexibility for that vocation that fulfills you but doesn't earn enough money?
For me and my wife, it all started with a change of priorities. Instead of only measuring and prioritizing money, we switched to also measuring and accumulating the currencies of time and mobility. This different lens continues to give us a very practical tool to evaluate everyday decisions and the real sacrifices that will result.
I challenge you to start evaluating your own assumptions about the three currencies of life. If you're ready, take out a journal and set aside some quiet time this week to brainstorm these questions:
In the end, what do I want money to buy me?
What's keeping me from my dreams? Is it just money or also time, mobility, or something else?

How much of my non-financial currencies am I investing now in order to meet my financial goals later?

When my life is over, would I rather have given up the time now or had the time later in life?

What is never worth sacrificing in the present moment?

How can I change my wealth strategy to be more balanced now?
And of course, no one else can tell you the right answers! These are your questions, and the answers will be personal to your own unique life adventure.
Good luck pursuing those questions and a "bank account" full of mutiple currencies!
I'd love to hear your thoughts or questions in the comments below.
Get My Free Real Estate Investing Toolkit!
Enter your email address and click "Get Toolkit"