On your path to a destination of Financial Independence, a simple but powerful goal of free & clear rental properties (a.k.a. no debt) is a good idea.  Your free & clear goal might be, for example, to own 10 houses that together rent for $12,000 per month ($1,200 per house) and net $7,000 per month after expenses. In other words $84,000 per year.
Once you have set your personal free & clear goal, the next natural question is how do you get there?
Luckily, there is not one best way to get your properties free & clear of debt. There are actually multiple plans that can work well. Here are three of my favorites:
The All-Cash Plan
In this article, I'll explain #1 – the All-Cash Plan.
The All-Cash Plan
I am going to start with the most conservative plan.  This plan is conservative because it involves no debt.
I am personally not afraid to use debt, as long as it fits my rules. I see it as a simple risk-reward trade-off. In some situations, the rewards of debt clearly outweigh the risks.
But, I have also found that simple, conservative plans executed consistently and with enthusiasm will often out-perform more debt-filled, "intelligent" plans.
In the worst case, these conservative, no-debt plans reach the goal slower. But very often in real-life scenarios, the "tortoises" of the investing world reach their financial goals just as fast. And most importantly, the most conservative investors maintain their financial status over time.
Plenty of fast, debt-filled strategies crash and burn because of their excessive debt. And like the hare who lost to the tortoise in Aesop's classic fable, what's the point of being fast if you don't reach the goal you set out for in the first place?
So my version of a simple, conservative All-Cash Plan basically works like this:
Save enough cash to buy one income property
Save 100% of the rental income plus extra savings from a job
Buy another income property
Repeat until your goal for free & clear properties is met
Sounds simple, doesn't it? But will simple work?
Simplicity Executed to Perfection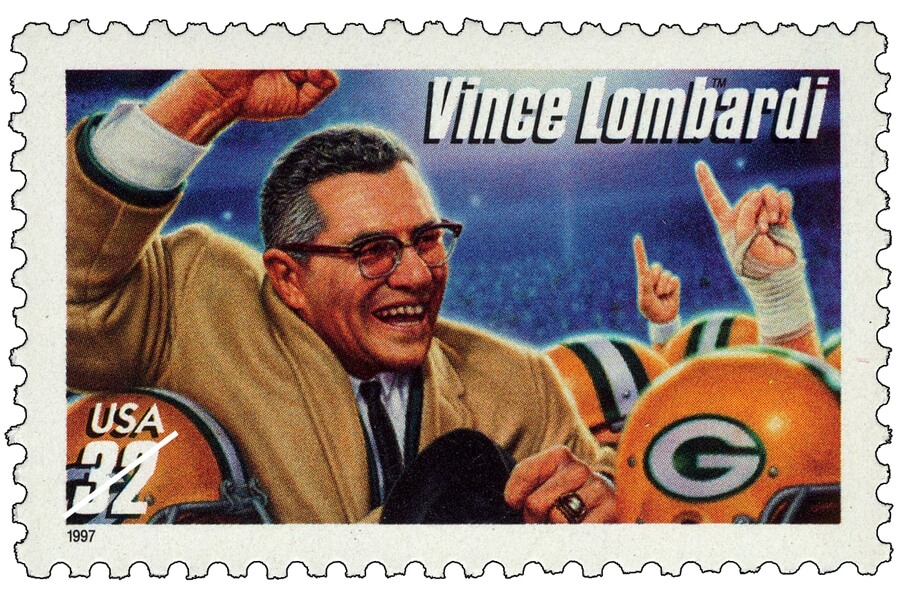 I love the story of Vince Lombardi, an NFL Hall of Fame coach.  It was said that Coach Lombardi ran only two simple plays on offense – a sweep left and a sweep right.  This play is as simple (yet powerful) as it gets in football.
His players would practice these two plays over, and over, and OVER!  They became sick of the endless and boring repetition.
But, you can probably guess what happened.  His players executed these simple plays to perfection and won championships.
So this All Cash Plan is the equivalent of Lombardi's sweep left and sweep right for real estate investing.
An All-Cash Plan Example
To shed light on how this plan works, let me show you some real numbers using an example of lower-priced duplexes.
First, you will need to build up savings of $60,000.  If you earn a lot, this could happen very fast. If you don't earn a lot, this could take years.
Either way, you will need to get good at saving lots of money.
Next, you buy a duplex.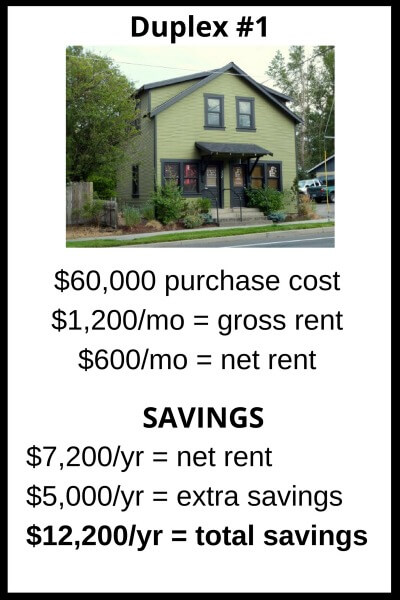 Because you own this duplex free & clear, all $7,200 of the net rent goes into your bank account. Importantly, I also assume that you can save $5,000 per year from your job or another source.
So each year you'll accumulate $12,200 in your bank account (before taxes, although depreciation will likely shelter part of the income from taxes).
After 4 years, 11 months you'll have another $60,000 saved. So you buy duplex #2.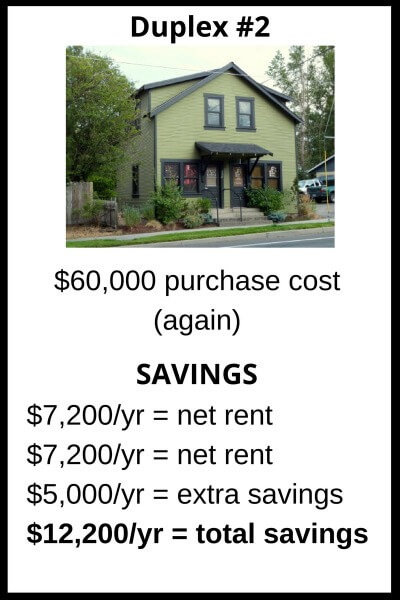 After another 3 years, 1 month you'll have another $60,000 saved. So you buy duplex #3.
This pattern keeps going on and on, and the money accumulates faster and faster over time.
The Overall Results of the All-Cash Plan
If you want to see the big picture, in just 13.5 years you would own 6 duplexes (12 units) that produce over $43,000 per year in net rent, free and clear of any debt!
Here is an infographic that shows the simple plan and the fantastic financial results: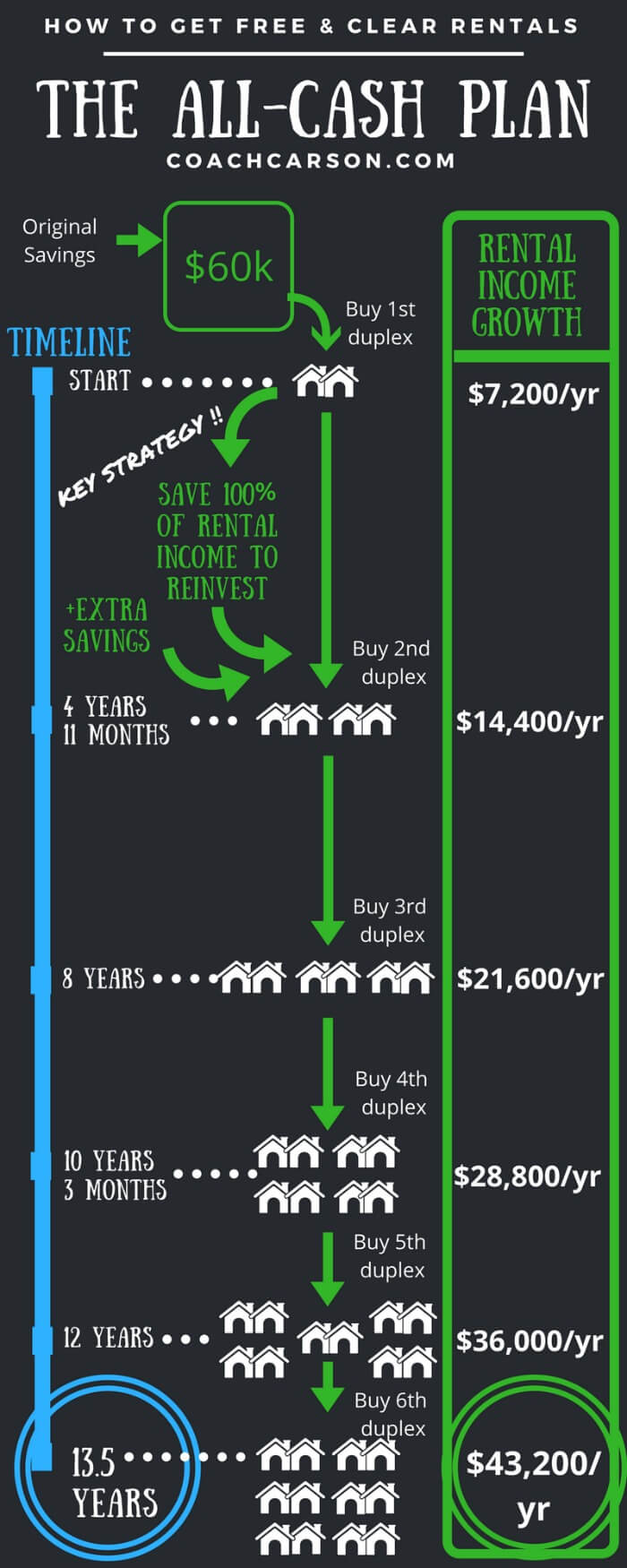 How many plans do you know that turn a $60,000 initial investment + $5,000 per year savings into a $43,000 per year income stream for life?
I know of very few.
And the other ones that do claim to work depend on a lot of factors outside of your control.  This plan depends primarily upon your ability to do three things:
Save money
Purchase good properties
Manage a small number of properties (or to hire a manager)
I like it when my financial destiny depends upon my efforts and not upon chance or the whims of others!
Objections
I welcome your comments, counter-arguments, or questions.  But, there are a couple of primary objections that I have heard in the past when discussing this particular plan.
"I can't find these great deals in my area"
You might object that these deals have incredible cash flow numbers and that you'll never be able to find deals like that.
I agree these numbers are very good. But in many markets, you can find deals like this if you are persistent and if you build systems and networks to find deals.
If you are in one of the high-priced markets where numbers like these absolutely won't work, you may just have to buy in other markets. Or you can try one of the other plans I'll suggest in subsequent articles.
And even within markets with these types of deals, you have to understand the A-B-C-D scale of properties and neighborhoods. You will likely never find amazing cash flow deals in an A or even a B neighborhood.
My preference for the All-Cash Plan would be a C neighborhood, which typically means working class with a mix of owners and renters. Unless you are very good at property management, I would avoid D neighborhoods with higher crime even if the numbers seem great on paper.
But, also remember that even if you can't find numbers as good as my example, the principle still works.  The time-table just might take a little longer.
"I don't have enough cash. It will take too long to get started."
My first response is patience.  If you don't have enough cash yet, you have an earning and savings problem, not an investing problem.
Learn to win the games of earning money and saving money first, then start focusing on investing in real estate.  Get a side job, get a raise, cut your personal overhead, sell all your junk, sell your fancy car, get a simpler residence.
Get the picture?
Also, you might consider thinking outside of the box.
Do you have enough money in an IRA or 401k? These types of accounts can be self-directed to buy real estate.  I personally have worked a variation of this all-cash plan in my own self-directed IRA with much success.
You may also be able to partner with someone else.  If you have $30,000 and someone else has $30,000, together you can buy one property.
So, if you like your real estate wealth building steady and super-safe, this might be a path up the mountain for you.  There will certainly be challenges, but as you can see, the final payoff is worth the effort.
Do you want to own free & clear rental properties? Does the All-Cash Plan appeal to you? Have you ever used a plan like this or some variation? What challenges do you see?
Please leave your comments below.
*Updated 7/8/2019
Get My Free Real Estate Investing Toolkit!
Enter your email address and click "Get Toolkit"