[In my 
Investor Profile Series
, I use a question & answer format to share the stories of actual real estate investors at different stages of their investing careers. Be sure to comment below if you enjoyed it or if you have questions for the investor.]
Today's investor profile is of Sunny Burns from famvestor.com. Sunny is a 28-year old investor who along with his wife bought two small multiunit properties in an expensive market 15 minutes from New York City. They live for free in one of the buildings, and they make over $20,000 per year in net income (after all expenses)!
I think you'll love all of the details that he shares (including photos and spreadsheets).  He also outlines his plan to retire early using the income from these properties after a few tweaks.
I'll turn it over to Sunny and let him explain his fascinating story …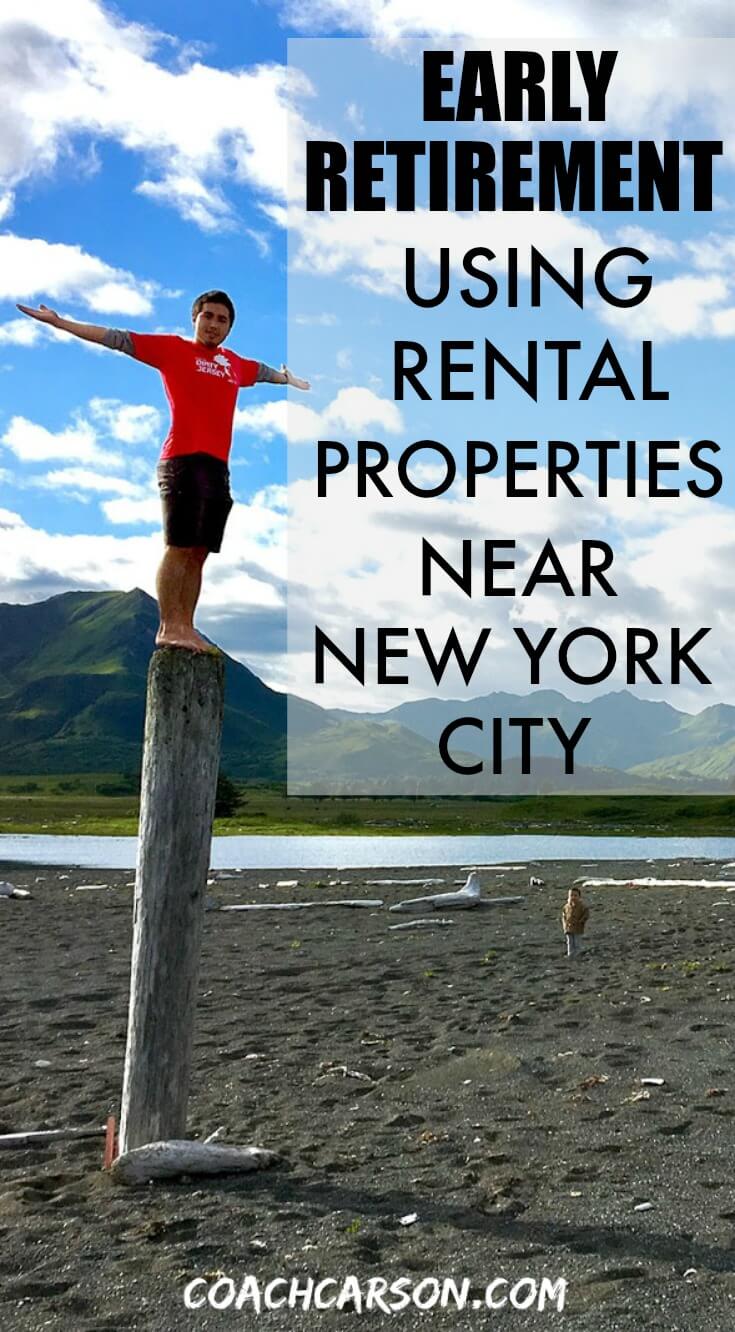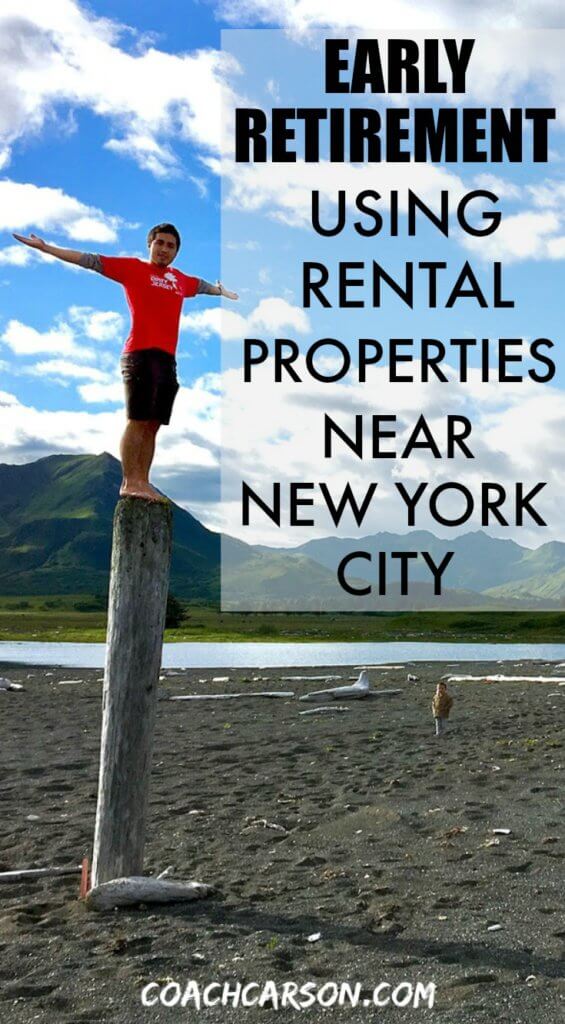 Personal
Age?
27
Your home location?
Northern New Jersey (15 minutes from New York City)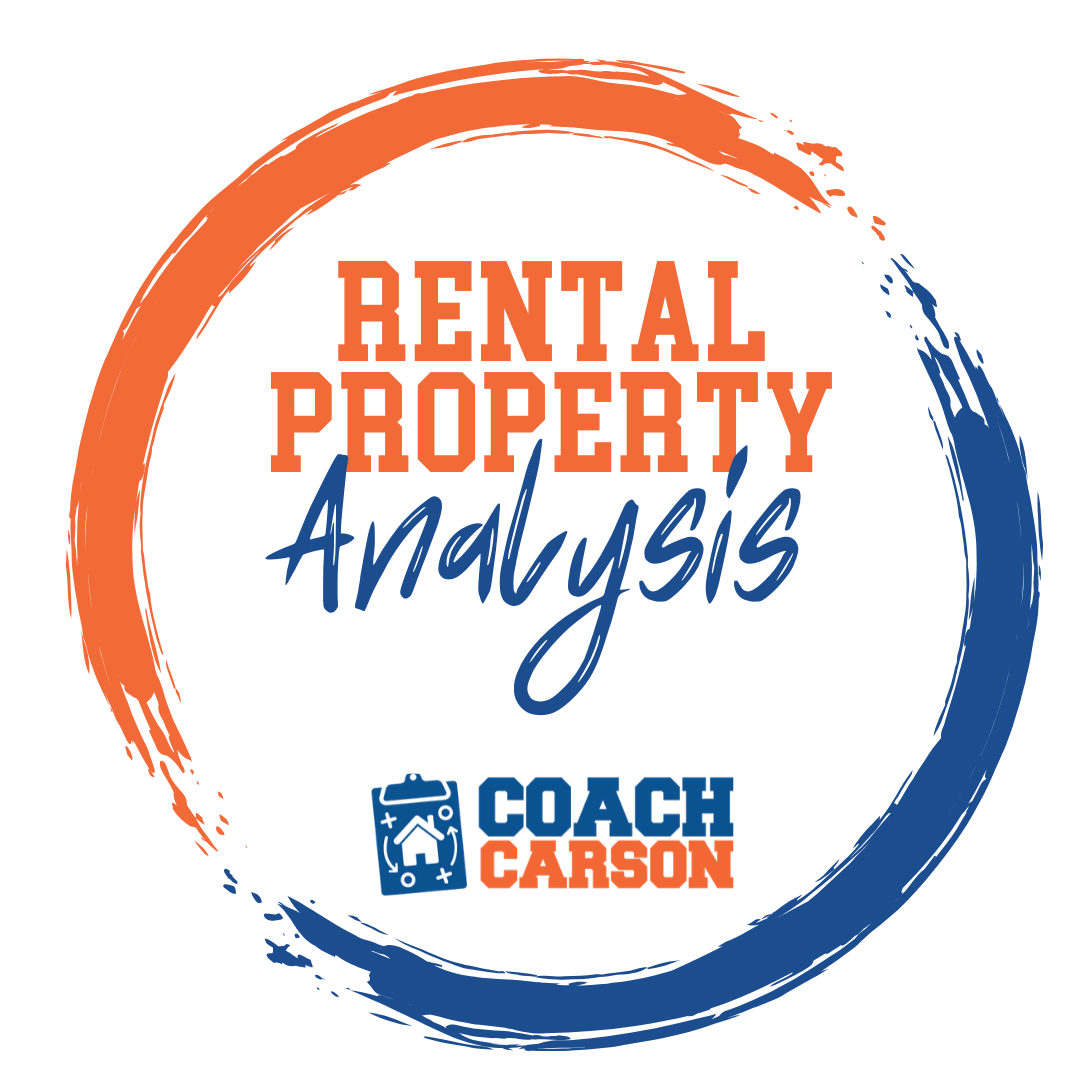 A course by Coach Carson that teaches you how to run the numbers so that you can confidently analyze and buy profitable rental properties. It also includes Coach's rental analysis spreadsheet.
Get the Course
Career/Source of regular income? 
Prototyping Engineer for the Department of Defense
What hobbies do you enjoy? What do you do for fun?
Ultimate (Frisbee), Volleyball, Barefoot Running, 3D Printing, Listening to Podcasts/Audiobooks, Microadventures, Traveling, Hiking, Camping and Raising my Two Kids.
A fun/interesting/little-known fact about you?
I've never paid for a haircut or cup of coffee. I flipped cars throughout college to pay for my tuition.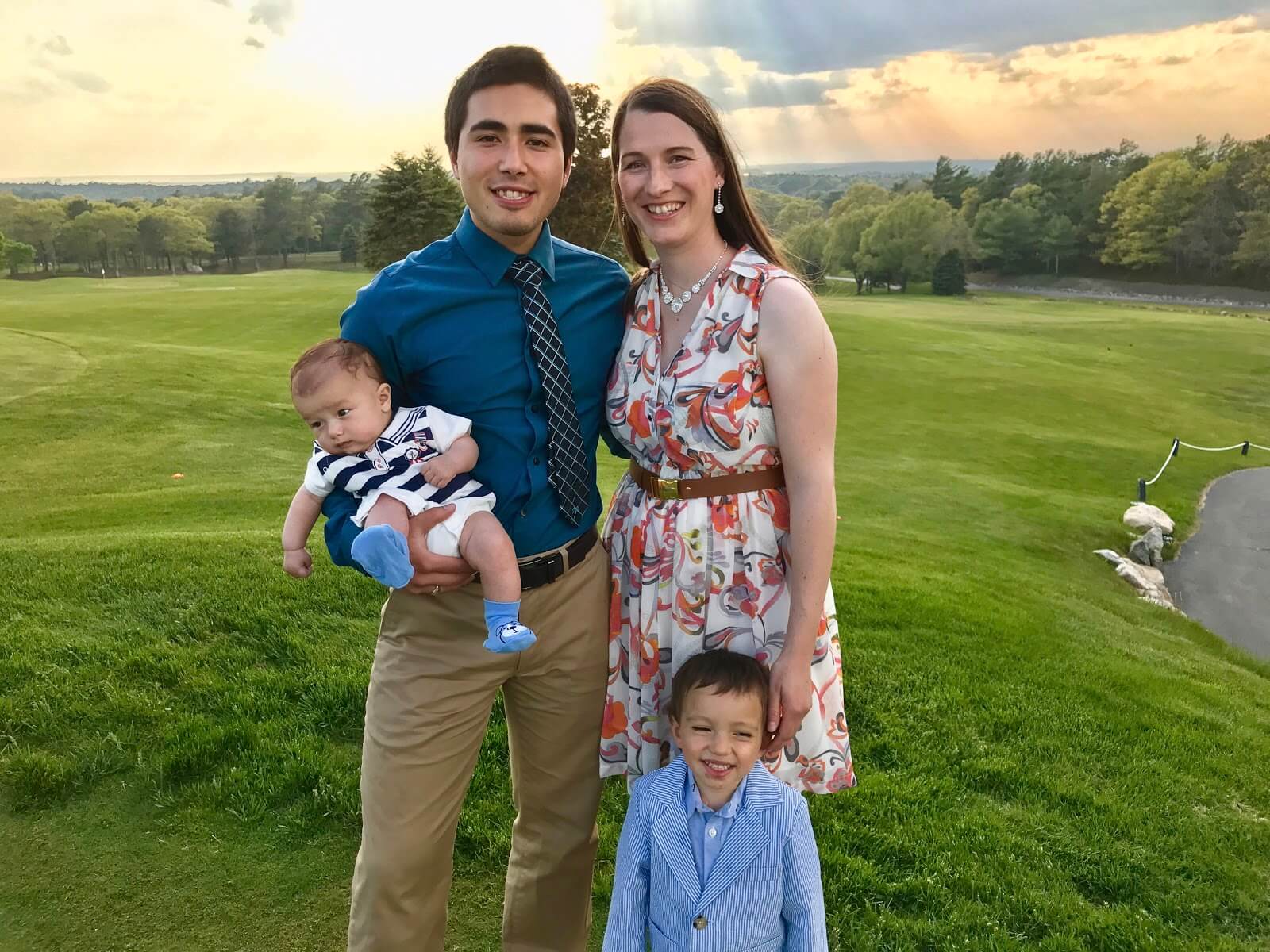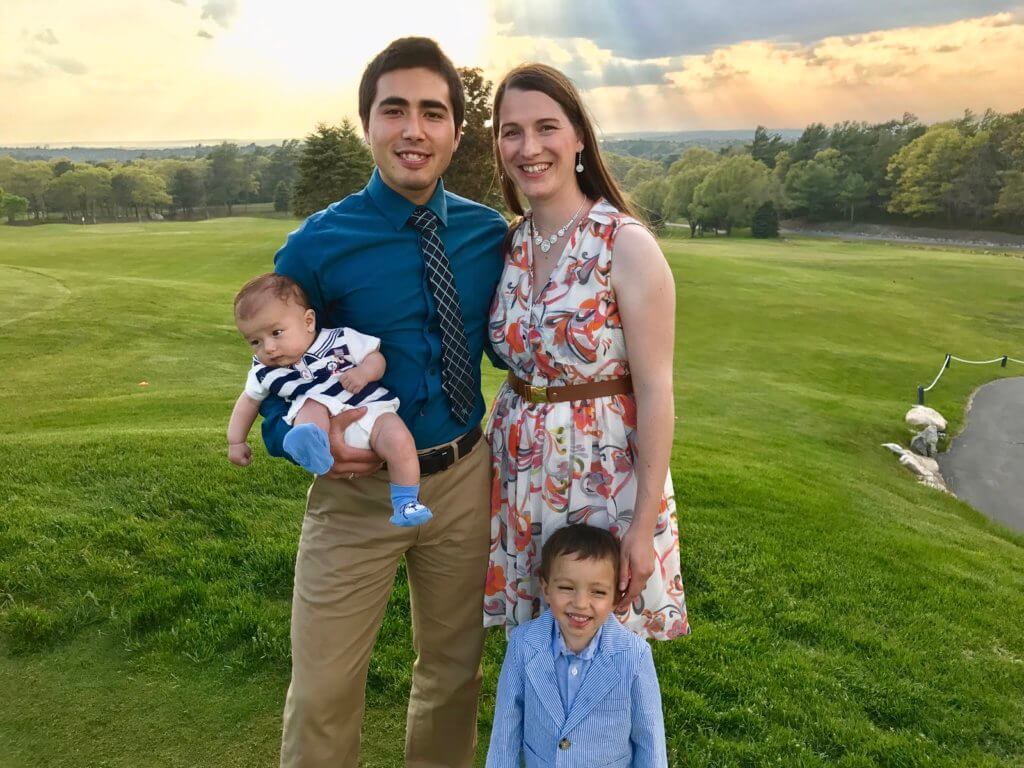 Financial Independence/Retirement Plans
What does financial independence mean to you?
To me Financial Independence is not about gaining riches, it is about dethroning money and reallocating time as your most valuable resource. Acquiring money and things does not lead to happiness, but having money allows you the freedom to spend your time as you see fit.
[Chad: "Dethroning money" – I love that! And time is the most valuable currency in life, no doubt.]
Do you have plans for financial independence/retirement? Or have you already reached financial independence?
So I have a reach-goal (28 years old) and an absolute cut-off date to my retirement (47 years old). After we bought our first investment property, my wife at the age of 28 was able to retire from her job as an elementary art teacher. I would really like to match that age and retire as well when I am 28.
At the same token, I am in the rare position where I actually enjoy my job. I would enjoy working full-time towards fulfilling my own dreams more – but for now I like what I do at my 9 to 5 and find fulfillment through it. At the age of 47, I would be eligible to receive a pension (25% of my salary and full health-care) and would definitely retire by then.
Why do you want to achieve retirement/financial independence? What kind of activities and projects will you spend more time on? What projects, causes, hobbies, or other activities mean the most to you?
My goal is to be a stay at home family; as I alluded to earlier, my Wife is already a stay at home Mom and I would like to join her.
I want to have the freedom to travel the world with my kids, raise them the way we want to, and receive a worldly education. I want to go on adventures. One of my life goals is to bicycle across the country as a family.
I also want to have more time to work on my blog and other ventures I have going.
[Chad: For those who have young kids, spending more time with them always seems to be a primary motivation for early retirement (or mini-retirements). The window of time is so short as a parent, so I personally can't think of a better way to invest your time.]
If you had to start over and wanted to become financially independent, what's the most important thing you would focus on?
I'm not sure if I would, but if I had the chance to go back, I might have skipped going to college (I have my bachelors and masters in mechanical engineering). I like engineering, but I have a passion and gift for personal finance and entrepreneurship. I am just now starting to share about my own financial journey and see how many people it inspires and it really lights me up.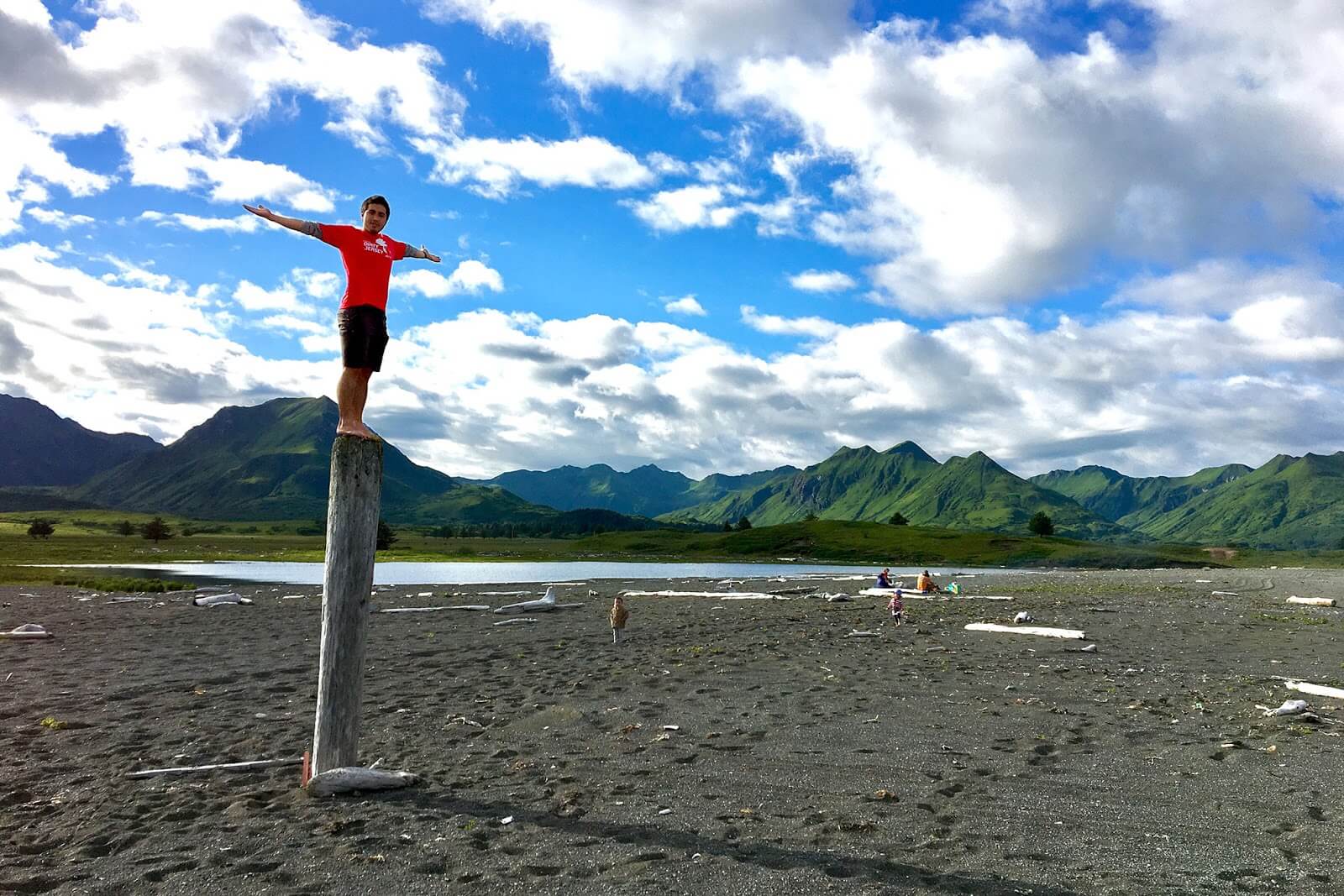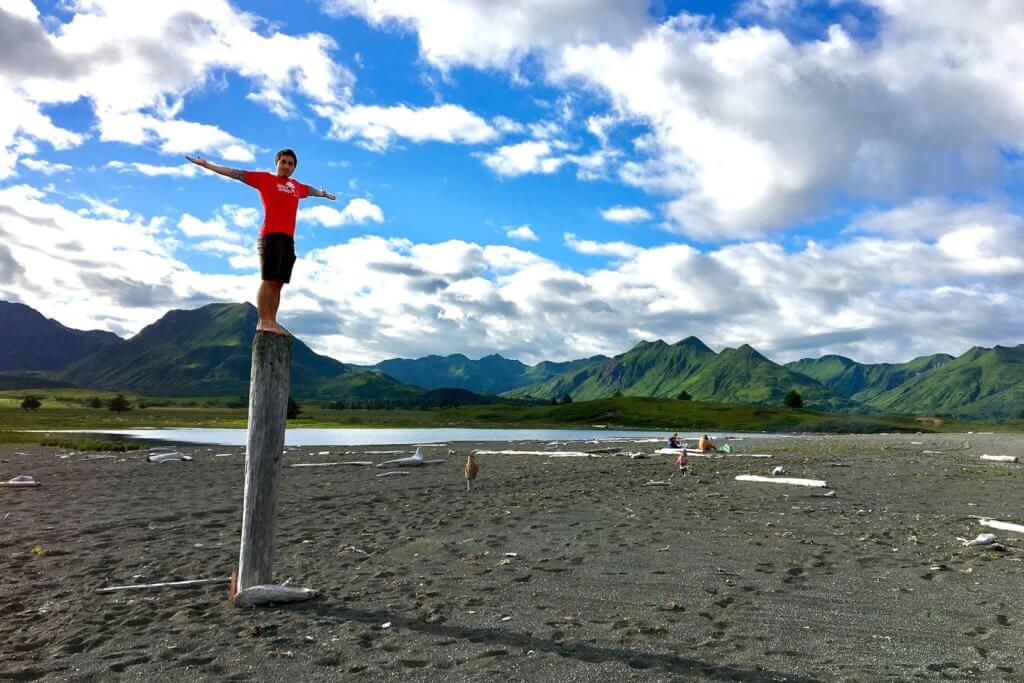 Investment Portfolio
Do you invest in real estate? If so, why do you like it?
Yes, we (wife and I) house-hack small multi-families. I like it because in less than two years, we were able to go from $0 in real estate to $1 million dollars, and with just two properties can gross $100,000/year in rents.
How did you get started in real estate investing?
I first got the idea for real-estate when I stumbled on the Bigger Pockets Podcast around 2012 when I was 22. I didn't know anything about it before that, and was instantly hooked, I started listening and reading as much as I could on it.
[Chad: The Bigger Pockets Podcast is one of the few real estate podcasts I listen to. If you're looking for good listening material for real estate investing, Josh and Brandon do a great job producing it and finding interesting guests.]
How did you get the money? Did you have any help?
The answer is quite simple, Frugality!
When we got married in 2013, my Wife started her career as a teacher making $50k, and I started my Career as an engineer at $53k. So we were bringing in over $100k/year! Pretty good money and both being raised in frugal families, we saved it!
Our Frugal Strategies
We lived at home (9 adults in a 4 bedroom house with 1 bathroom), paying my parents $500/month
We packed our own lunches to work
Lived off a cash-budget of $450/month in out-of-pocket expenses
Cut our own hair at home
Rarely went out to eat
We re-sell unwanted things and clutter
Don't pay for Cable TV or even own a TV
We don't drink Alcohol or Coffee
Bought everything used off eBay, Craigslist, or Garage Sales
Travel for free/cheap via Travel-Hacking and don't fall for tourist-trips
Pay less than $20/month each for our Cell-phone Service. (T-mobile Unlimited Family plan of 8)
Bought reliable used cars – Honda Fit ($3000) for her, Yaris ($5000) for me
Didn't collect massive amounts of student debt, got scholarships, and worked through college even while taking 23 credit semesters
So by the time 2015 hit we had over $100,000 saved up, we were ready with a down payment and money for renovations.
[Chad: Wow! I love this answer.  I have emphasized the fundamental importance of savings many times in the past, but Sunny explained it with such great examples. They kept their frugal habits at the same time they got well-paying jobs, so they created a big savings gap that allowed them to accumulate their down payment. Nothing fancy, but incredibly impressive!]
What were the biggest obstacles you faced when starting? How did you overcome them?
The biggest obstacle we faced was finding that first deal. We searched and searched, analyzed deal after deal, and put in offers – but we constantly got outbid. An offer of $25k over asking price that we made never even got a best and final response!
We finally had success 18 months after searching when an REO (Real Estate Owned) popped onto the MLS that had a restrictive first-time home buyer program with it. The REO was through Wells Fargo, and for the first 12 days, they were only going to accept offers from non-investors, people that would live in the property. So even though the place was crawling with investors, we were only one of three to submit an offer.
[Chad: A small point Sunny made is very important. They got the deal because they were moving into the property as a house hack. Several REO sellers have programs like this, and it's a BIG advantage for those of you moving into your investment as a house hack or a live-in flip. You have a window of time when regular investors can't bid against you. Look for those opportunities!]
What % of your net worth (roughly) is in real estate?
68.94% calculated using my nifty one page Financial Overview Spreadsheet (See below).
What other types of assets do you invest in? Why? How do they fit with/complement real estate investments?
I max out my 401k at work and my wife's and my own Roth-IRA's. They complement our real-estate investments by increasing our assets, which looks good to the lenders.
But it also gives me some liquidity to help with purchases should I really need to use them because I can borrow up to 50% or $50,000 from my 401k and I can take out any contributions (Not Gains) penalty-free from my Roth-IRA.
It's also a way to diversify our investments, so everything isn't sunk in real estate.
Real Estate Deal

What's the best or most memorable real estate deal you've made? Why?
For that first quadplex in Garfield which we bought in October of 2015, we got a conventional mortgage with 10% down with no PMI. Purchase Price was $430,000.  So, we had to put a $43,000 down payment.
Over a period of about 6 months, we put another $25,000 into it.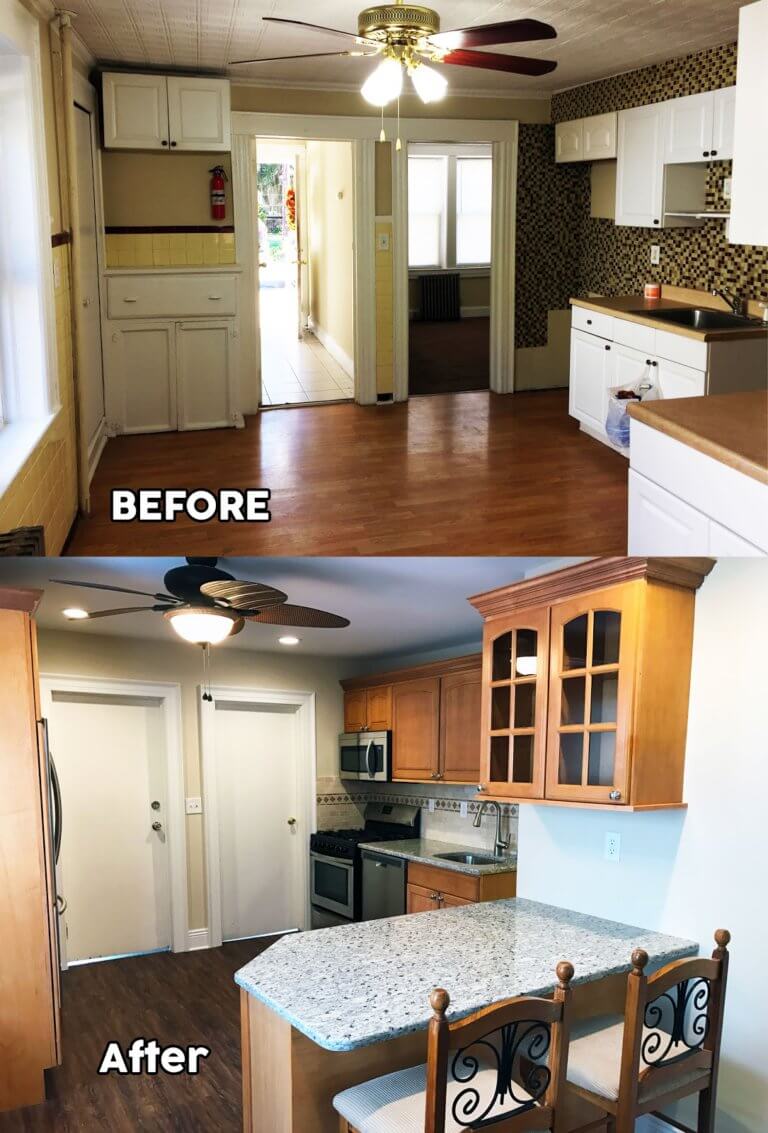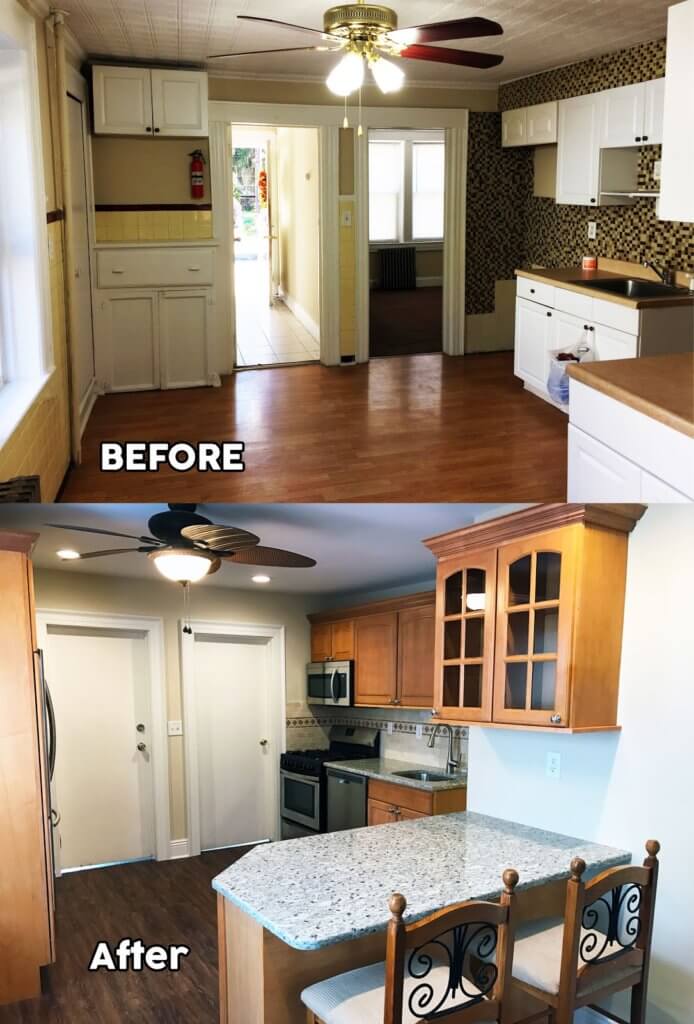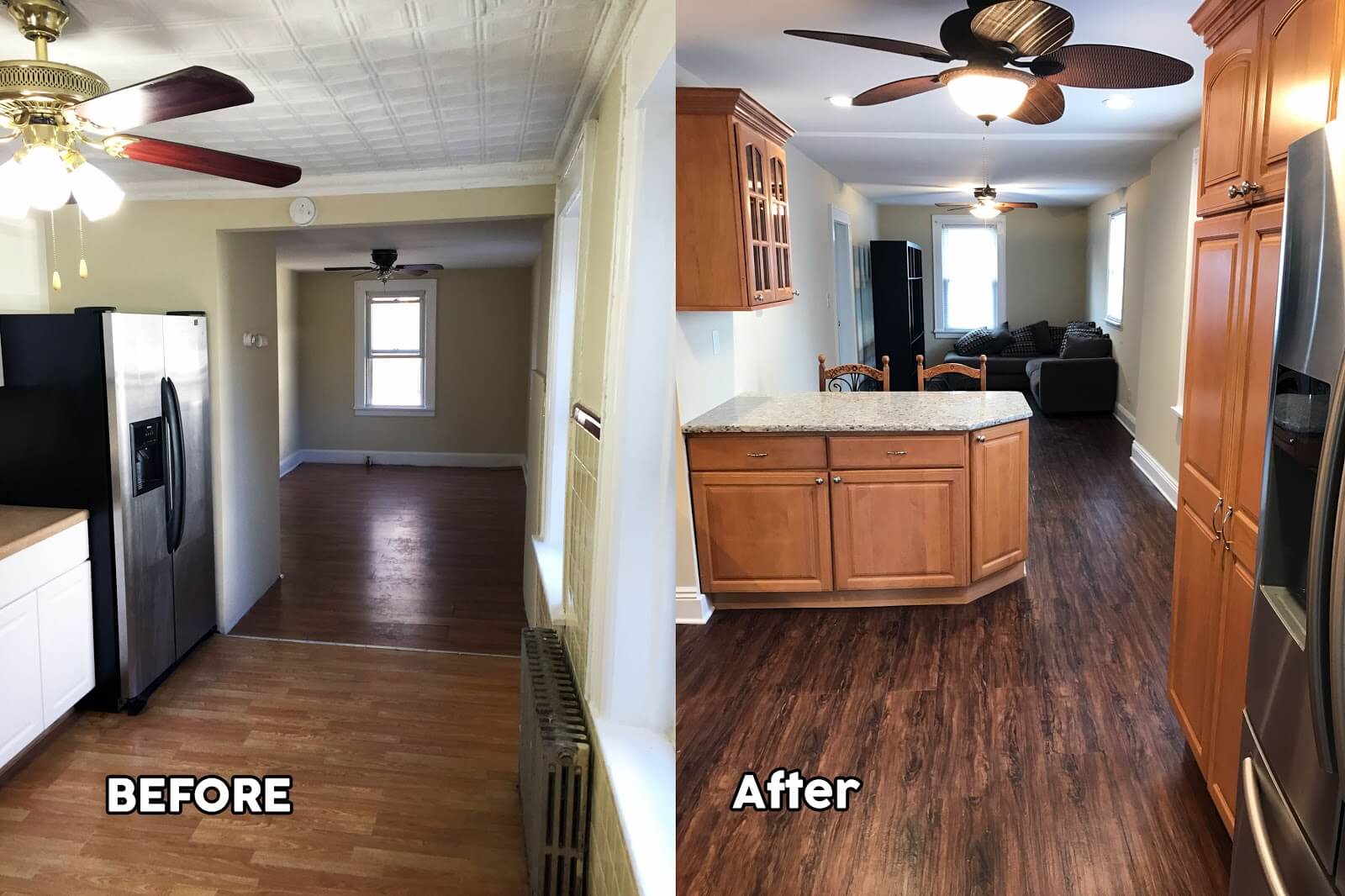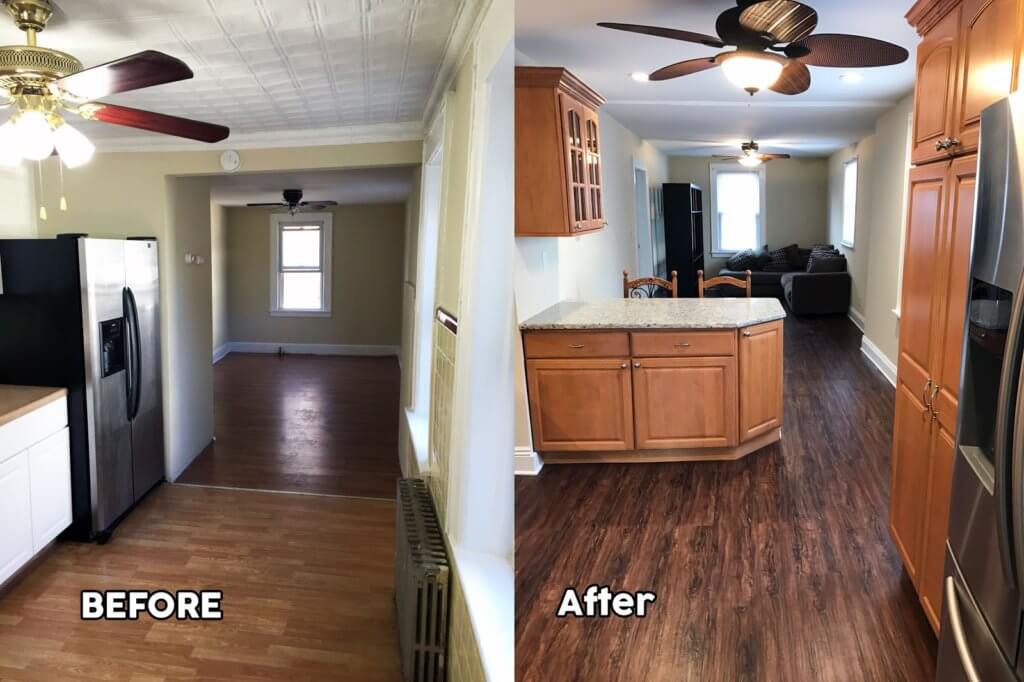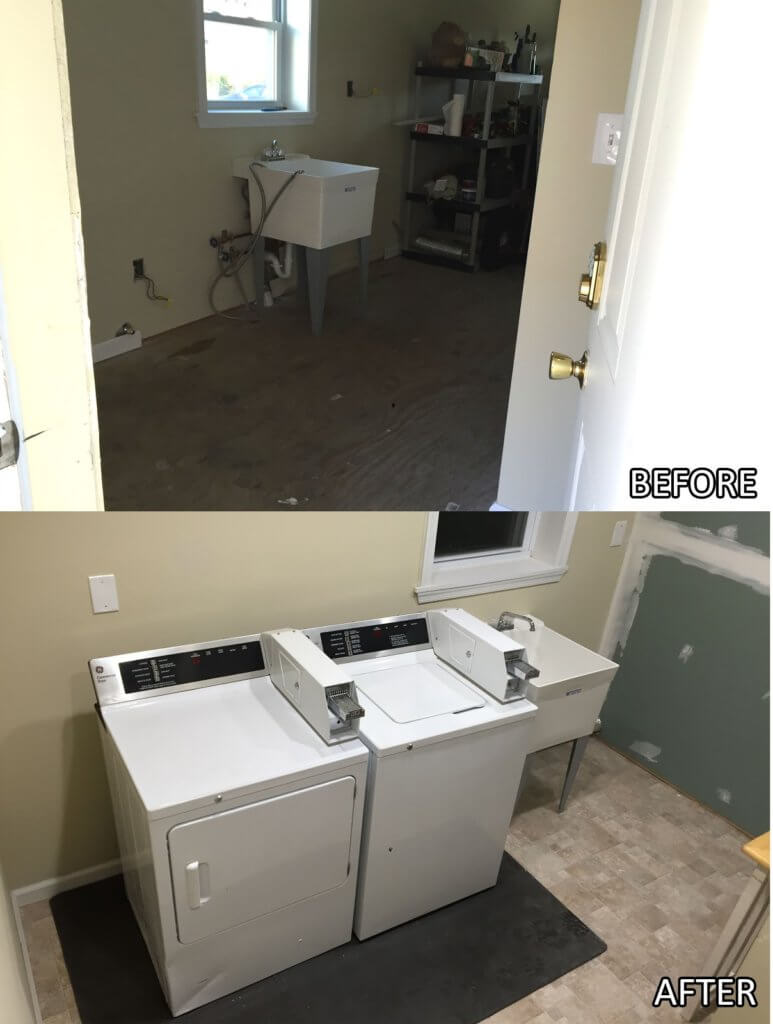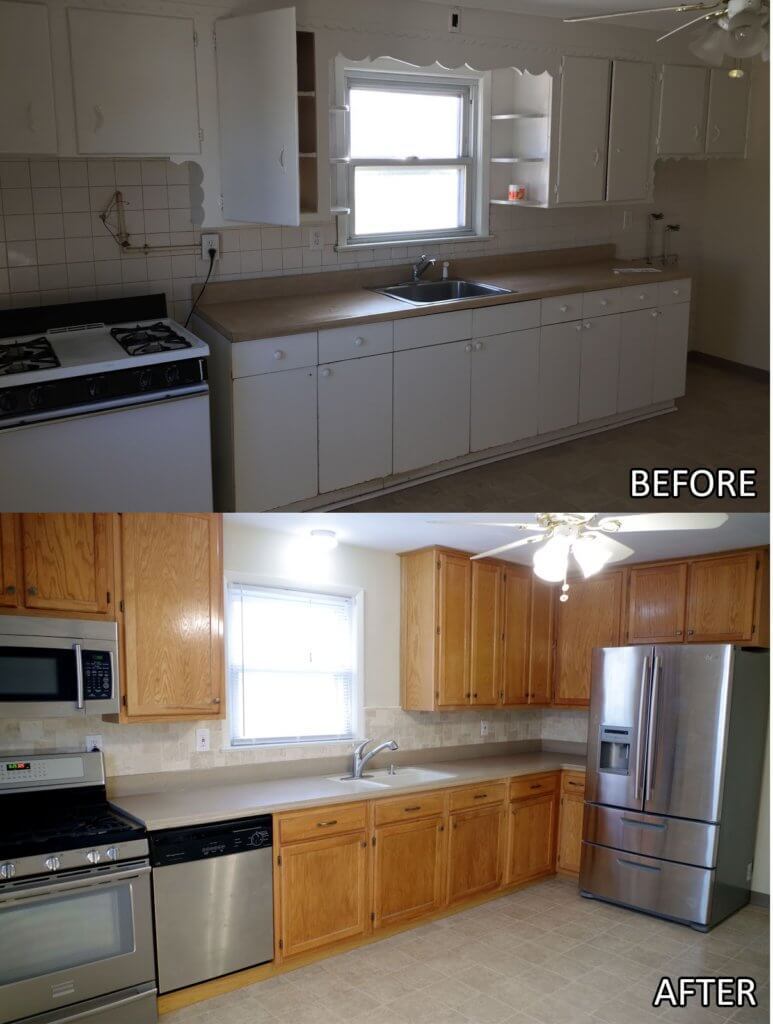 We then applied for a cash-out refinance, and the property appraised at $550,000! A $120,000 increase from when we bought it half a year earlier. We pulled out $67,000 of that equity in cold-hard cash. Pretty much dollar for dollar returning all our investment money.
We then put in another $15,000 of work really beautifying the unit we would be living in.
Then we decided to apply for a Home Equity Line of Credit(HELOC) on the property, and this time about a year after we bought it, it appraised for $630,000! $200,000 over what we bought it for!
We got approved for a Credit-Line of $61,500
So just to make it clear, we already took out $67,000 in cash, and now also have available to us $63,000 in a line of credit at a low 2.49% interest rate.
So we rolled over the funds from the cash-out refinance and the HELOC to invest in our second Investment-Rental-Property. This was a 3-Family home in North-Arlington, NJ; 15 minutes from NYC. We bought it for $350,000 and it appraised for $370,000 (Low in my opinion).
What are the basic numbers for your rental properties?
I recently made it a goal for myself to join the $8,350 a month club… that equates to $100,000 annually in gross rent.
Currently, we live in one of the units in Garfield, and our In-laws live in another so here is how the rents breakdown:
$0 / month = Unit 1 (3 bdrm)
$1000 / month = Unit 2 (3 bdrm)
$1710 / month = Unit 3 (3 bdrm)
$1700 / month = Unit 4 (3 bdrm)
$4410 / month = Total
In North Arlington, the 3rd unit is currently vacant, and the other 2 units are paying $1200/month, which is far below market rents. Below is what I plan to rent out the units for once leases expire, etc:
$1,500 / month = Unit 1 (2 bdrm)
$1500 / month = Unit 2 (2 bdrm)
$1,200 / month = Unit 3 (1 bdrm)
$4,200 / month = Total 
So together that's $8,610/month ($103,320/year) in gross rents, well passed my goal.
So, with just these two properties, we should be able to get over $100,000 in passive rental income (keep in mind that includes us living in one of the units for FREE!)
Of course, there are major expenses to consider, things like Mortgage, Home Insurance, Property  Taxes, Vacancy Considerations, Maintenance.
Expenses For the Two Rental Properties:
Here is a breakdown of expenses for each of the properties:
Garfield (Quadplex) Annual Expenses:
 $24,216 ($2,018/month) = Mortgage 3.49% interest
$11,181 = Property-Taxes
$1,581 = Insurance
$3,000 = Utilities
EST $3,500 = Vacancy+ Maintenance
$43,478 = Total Expenses
North Arlington (Triplex) Annual Expenses:
$15,792 ($1,316/month) = Mortgage 3.875% interest
$13,672 = Property-Taxes
$1,112 = Insurance
$2,000 = Utilities
EST $3,000 = Vacancy+Maintenance
$35,576 =Total Expenses
$79,054 = Total Yearly Expenses for Both Properties 
What Impact Could These First Purchases Have On Your Life? How Could You Use These Properties to Retire Early?
If you subtract the total rental expenses of around $79,000 from the income of around $100,000 and you are looking at a net income of $21,000/year or $1,750/month.
Not super extravagant but decent, and we still get to live in one of the units for free!
But what if we paid down the mortgage?
The approximate total mortgage expenses are $40,000, and this would be free cash flow once the loans are paid off. So, we'd get about $61,000/year or $5,083/month of income from our rentals.
That amount with our frugal lifestyle means we could actually live off the income, especially considering that our housing costs are covered by living in one of the units.
[Chad: I like simple plans. In real estate, business, and even sports – simple plans executed well beat complex, "smarter" plans all the time. What Sunny just outlined here is a simple plan that could meet his family's financial goals. And it is very attainable and practical.  You can see his awesome spreadsheet below that outlines his family's financial situation in one snapshot.]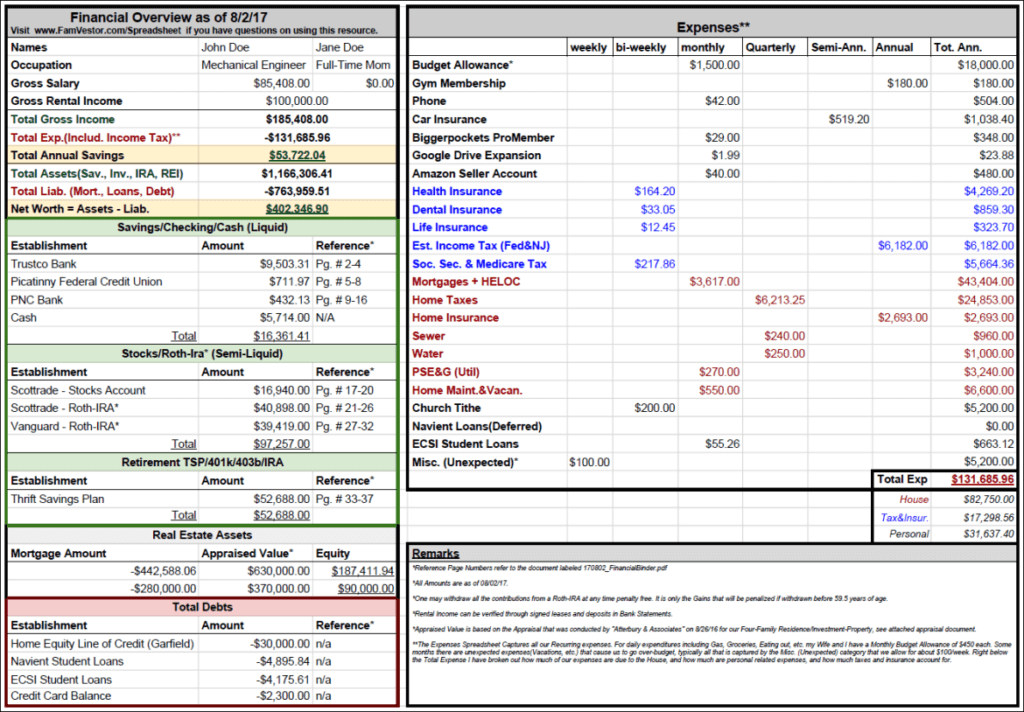 What Would Be Your Plan to Pay Down the Rental Mortgages?
I calculated using my Financial-Spreadsheet – assuming the $100,000 in rent – that our annual savings rate after all expenses is $53,722. After maxing out my 401k ($18k) and our IRA (2x $5.5k), that still leaves $24,722 in excess to put towards our mortgage.
I would focus on paying down the smaller one first … $280,000 (North Arlington Triplex). That would take 7.75 years. Once that was paid off, I would continue to contribute the same amount + the $1,316 I was paying towards the North-Arlington Triplex mortgage to the Garfield Quadplex Mortgage. I could pay that down in another 6.5 years.
So, in total it would take 14.25 years to own the houses outright and get our after expenses, passive income checks from the rental properties of $5,080/month.
Now the dilemma. Do we strive for more and keep buying properties that expand our income but also our expenses? Do we make our life a little more complicated, but perhaps greater? Or do we want to just live simply… keep the income the same and just lower our expenses.
Once that mortgage payment is gone we are in essence financially independent.
[Chad:  Sunny is essentially outlining a rental debt snowball plan, which uses any excess cash flow to pay loans off faster, one at a time.  It's one of my favorite ways to predictably grow your net worth and create a passive retirement income stream. Most importantly for Sunny and his family, within 14 years – or sooner I would predict – in his early 40s they'll be able to retire early off of free and clear rental income! How many other retirement plans have you found that work that predictably and effectively? I'm still waiting to find one.]
Personal Growth/Development
Do you have any tools that help you manage your life, like a physical planner or digital software?
So, as shared earlier that financial spreadsheet has proved invaluable for calculating income, expense, savings rate, assets and debts, and tracking net worth.
For tracking receipts and expenses for the rentals, I just use a simple spreadsheet and Scanbot app. You take a picture with the receipt and the app automatically uploads it to a receipt folder in Google Drive, where it saves it as a pdf automatically filled in format YYMMDD_Town.pdf.
I have a helper/intern/vitual assistant input the info (Items, Cost, Category, Mileage Driven) from the pdf receipt into the spreadsheet so it's ready for taxes at the end of the year.
[Chad: This is brilliant! I love it!]
For landlords, I highly recommend using Cozy.co. It is a one-stop shop for all your tenant needs. And the best part is it's completely free! You can collect applications, rent, background checks ($19.95, tenant pays), Credit Score Check ($19.95 tenant pays), all online.
[Chad: Online property management tools have come a LONG way recently. And Cozy.co is one of the best free apps out there.]
What does a typical morning routine look like for you?
On weekdays I leave the house for work at 6am, so I try to get up an hour earlier to get a few things done at home. I drink a green smoothie and maybe cook an egg. I then bicycle to my vanpool meetup location 2 miles away from my home.
On the 40 minute commute to work (if it is not my turn to drive) I am either writing blog posts, answering emails, or listening to podcasts/audiobooks.
On weekends it's similar, but I let myself sleep in till 6:30ish. This usually gives me at least two solid hours to work on various ventures.
What's your #1 habit to stay personally productive and fully engaged in life?
Running. I always get the best ideas when I run, and I feel good about myself when I run. It keeps me physically fit and it keeps me fully engaged in life.
[Chad: Regular movement and exercise is probably my #1 habit too.  And Sunny has good reason to say that he gets his best ideas when he runs. Our brains actually function much better after exercise. Watch this fascinating 11-minute book summary/review about the book Spark  – The Revolutionary New Science of Exercise and the Brain.]
Who have been your most important heroes, mentors, and/or teachers?
My Parents, but especially my Father – even though we didn't have much money, they truly loved each other and that is the greatest blessing any child could ask for. We had a very harmonious upbringing, and they are great people.
[Chad: Beautiful!]
What are your favorite books or authors? Can be categories in business, investing, or life/philosophy (other than a sacred book)?
I am a huge reader/listener, so I will give my top 8 books that made the biggest impact on my life:
[Chad: Some of my favorites are also on this list, but there are also some new ones for me. I'm a bit of a sci-fi reading buff, so Ender's Game is a classic for me. And The Way of the Peaceful Warrior and the author Dan Millman have been a big influence on my path. You can read Sunny's comments on each book in this article. ]
What legacy do you want to leave personally and in your career?
My life purpose is to be a role model with a sound body, no addictions, financial independence, and a strong loving family that can inspire and empower others to invest in their families.
Final Advice For Other Investors
Any big mistakes you've made that others should avoid?
One mistake related to investing that comes to mind, is the importance of considering holding costs.
When we first bought that quadplex it was completely vacant, and being frugal proud new owners we set about doing all the work ourselves so we could save on labor costs. Working full time and taking care of a little one, it took us close to 5 months to rent the whole thing out. That's 5 months where we had to pay all the expenses without any help with rent from tenants! It was a very painful experience.
I don't regret it since I learned a lot about home ownership and repairing things, but I am sure if I had hired contractors we could have had the place ready in half the time, saving on 3 months of holding costs (~$10k).
What advice do you have for a young person just considering their future career and life as an adult?
Life's purpose is True Happiness
Live below your means
Effort counts for more than genius
Time is your greatest asset
Money and things do not equal happiness
Every defeat is temporary, and comes with it an advantage
Always do more than is expected of you
Be Kind
Any final tips for others looking to invest in real estate and achieve financial independence?
Start with a plan, here was mine:
Start saving the down payment, renovations costs
Gain knowledge: Listen to podcasts, read real-estate books, & ask anyone and everyone
Analyze Properties for cash flow
Put in Offers, every property is worth it at a certain price
Keep going for it. If you look long enough, something is going to turn up. There are very few real get rich quick schemes, and buy-and-hold real estate is no different. But as I hope you have understood from this post, there is a system to it. You save diligently enough, you persevere through your education, and you keep going for it. Eventually, you will succeed and be on a path towards real long-term wealth.
Good luck and Godspeed!
[Chad: Thank you Sunny for taking the time to share such an awesome profile! You went above and beyond. I know all of us have benefited from your story and wisdom.  To read more from Sunny, be sure to visit him at his blog famvestor.com]
If you have any questions or comments for Sunny, please leave them below. He'd love to hear from you.
Get My Free Real Estate Investing Toolkit!
Enter your email address and click "Get Toolkit"