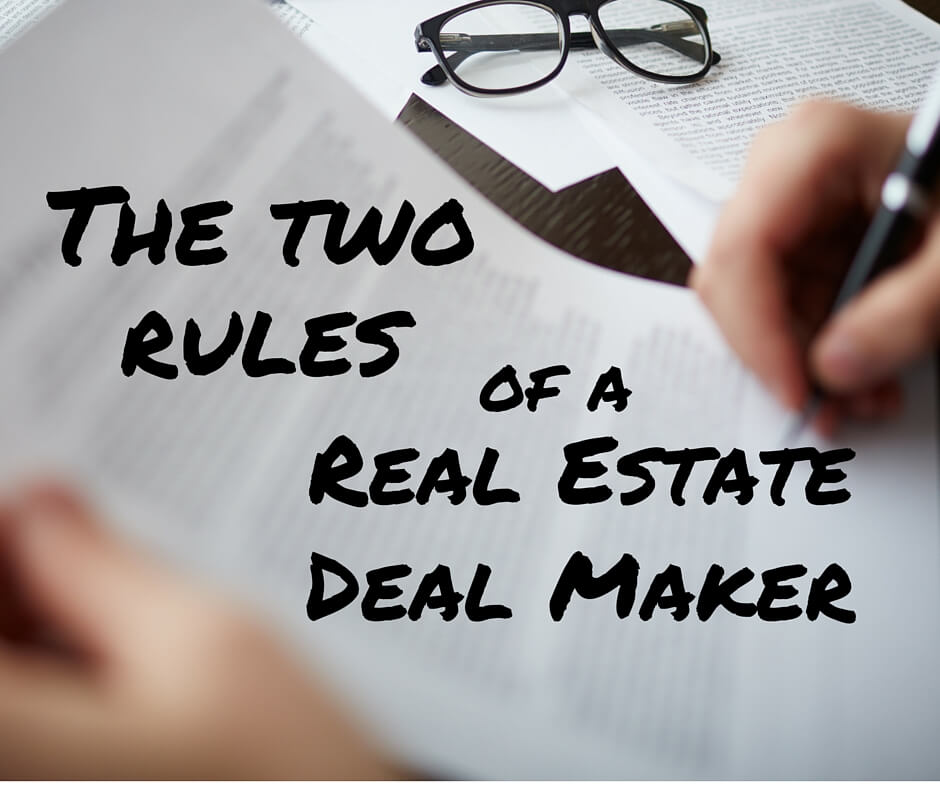 I'm here to tell you that you're a real estate deal maker. Or at least you should be.
After almost 14 years of full-time real estate investing, I've come to realize that my #1 asset is my ability to put together good deals. The world is awash in money (really, it is – look at this stunning visual of all the world's money), but the world is not awash in good deals.
So, if you can learn to find and create good deals, the money will find you.  And you will get paid for your services as a deal maker.
The payment for being a deal maker is quite lucrative. You can earn quick cash infusions from commissions or wholesale profits.  Or, you can own all or part of a deal in order to build wealth and cash flow for years to come (my favorite).
Real estate investing essentially just matches deals (i.e. the real estate) with the money (i.e. loans, equity partners, or your money).  But money sources have strict rules.  The better you understand those rules, the easier it will be to put together profitable real estate deals.
That's what this article is about. What follows are the two rules of deal makers that I use. These rules are the beginning point for becoming a deal maker yourself.
The Two Rules
Here are the two rules: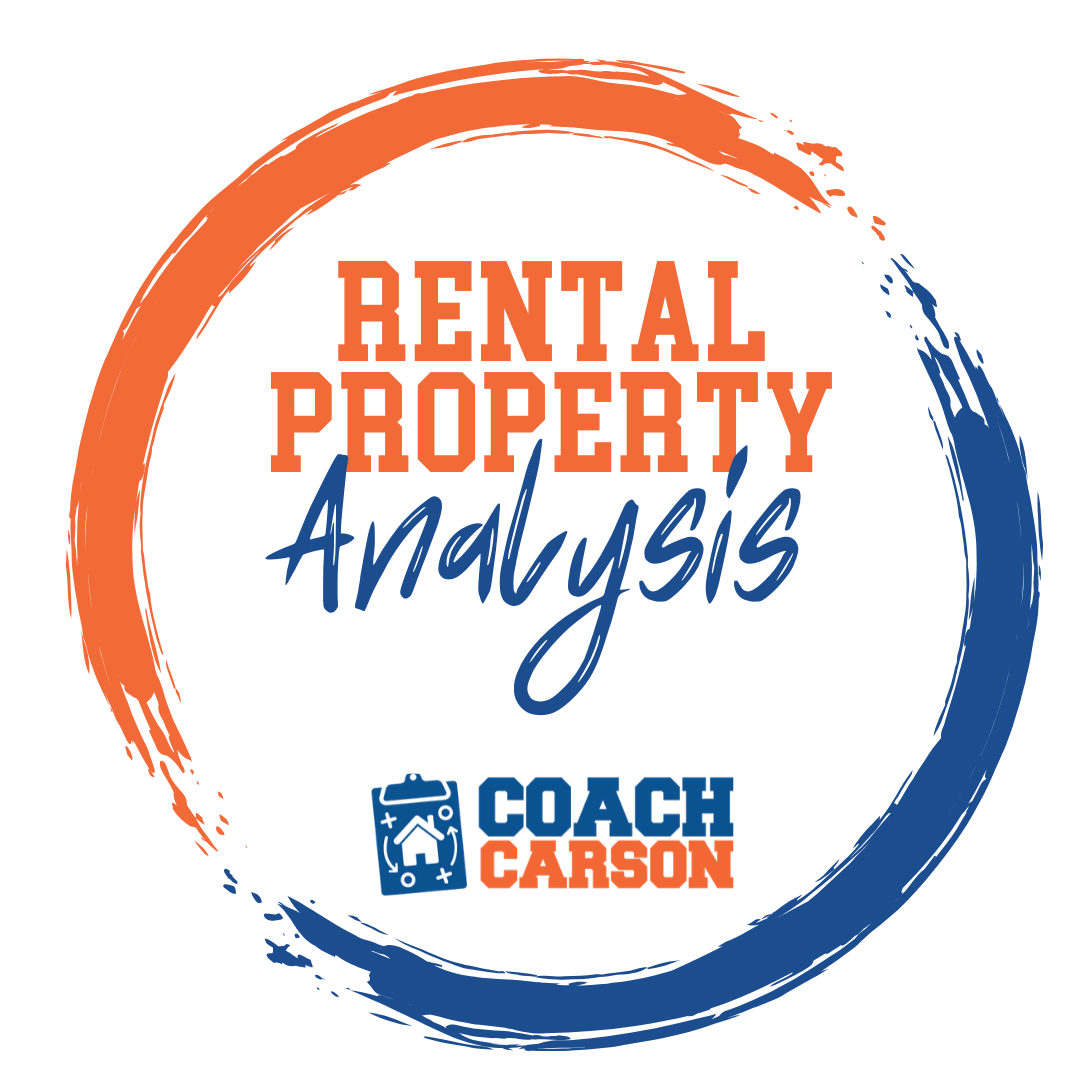 A course by Coach Carson that teaches you how to run the numbers so that you can confidently analyze and buy profitable rental properties. It also includes Coach's rental analysis spreadsheet.
Get the Course
Avoid excessive risk of loss
Build in a profit 
The rules are very general, but they can be applied in many specific and useful ways. I'll give some examples in the next sections.
But for now, keep in mind how you will use these rules.
They are a filter to help you evaluate deals in your day-to-day business of acquiring real estate.  Like special glasses you wear, the rules go everywhere with you and affect the way you see the entire real estate investing market.
Let me unpack each rule to explain how it works.
Deal Maker Rule #1 – Avoid Excessive Risk of Loss
Benjamin Graham was an investing legend and a mentor to Warren Buffett.  In The Intelligent Investor, Graham makes a clear distinction between (1) speculation and (2) investment.  He defines investment as the following:
An investment operation is one which, upon thorough analysis promises safety of principal and an adequate return. Operations not meeting these requirements are speculative."
Graham's key concept is "safety of principal."  Investors focus first on return OF their principal (safety) and only then shift focus to return ON their principal (i.e. profits).
On the other hand, reckless speculators tend to focus on profits at the expense of safety.  They become enamored with return ON investment and discount return OF investment.  Unwise speculators allow the upside possibilities to cloud their judgment on the potential worst case scenarios.
Not surprisingly, speculation is often compared to gambling in Las Vegas, where hope springs eternal while the reality of loss is drowned out by the chorus of dinging slot machines.
Three Practical Ways to Avoid Investment Loss
How do you ensure that you avoid excessive risk of loss? Here are a few practical goals I strive for in my real estate investing.
Build a Margin of Safety – This is another Benjamin Graham idea.  It means to acknowledge the uncertainty of the future, and always build in a cushion.  The cushion is often a lower price, but in real estate it can also be a cushion between the net rental income and the monthly payment on your mortgage.
Have Multiple Exit Strategies – This means to build a plan A, B, C, and D.  You don't want to back yourself into a financial corner.  Multiple options give you more ways to avoid a loss.
Avoid Dangerous Debt – The leverage of debt can be powerful and can also be dangerous. I try to follow rules for using smart leverage, which include avoiding short-term balloon notes, adjustable interest rates, and personal loan guarantees when possible.
As I said in the introduction, deal makers are good at matching properties to money.  But if you are just starting real estate, you likely have very little money! So, just as I did, you new investors out there will have to internalize and think as if every dollar from your lender or your partner is your own.
The more disciplined you become at protecting the principal of your money sources, the more likely they will give you more money for new deals. And the more disciplined you become at protecting your own money from loss, the wealthier you will become over time.
Now let's move on to rule #2.
Deal Maker Rule #2 – Build in a Profit
Building in a profit means that you should buy deals that can pay you back from the start.  This is the opposite of hoping you will profit by something happening outside of your control (like passive appreciation, population growth, future development, etc). That's another sign of speculation.
Fortunately, real estate investing has multiple tried and true ways to profit from deals.  You can measure and focus on these as you negotiate a purchase. To help you remember the primary profit sources in real estate investing, remember the acronym I.D.E.A.L.
Why Real Estate is the I.D.E.A.L. Investment
I = Income
The difference between your net operating income and your mortgage payment (if any) is your net income.  This is the regular, monthly cash flow that you put in your pocket as an investor. While common investments like stock index funds, bonds, or bank CDs produce very low 1-2% income returns, the right real estate investment can produce considerably more. An unleveraged return of 4-10% is typical for real estate that I see every day, and with leverage, the returns can be much higher.
D = Depreciation
Like other large capital asset purchases, the IRS requires real estate investors to depreciate the value of the building over time. Residential real estate, for example, has a life of 27.5 years. This paper expense (it's not actually cash out of your pocket) can shelter your rental income. This means less of your rental profits are exposed to current taxes.  If this depreciation creates a loss for your rental, it can sometimes also be used to shelter other income from tax (with some limitations).
E = Equity Build-up
Real estate investing gives you access to long-term, fixed, low-interest, fully amortizing mortgages.  Few other investments give you this possibility. This leverage can be a powerful and safe growth tool because you build up equity by amortizing your loan. One of my favorite concepts in real estate has been that my tenants go to work each month, pay me rent, and effectively pay off my mortgage for me. It's beautiful! 
A = Appreciation
When I evaluate the purchase of a deal, I don't count on passive appreciation in the overall market.  I do think rents and prices on real estate tend to keep up with inflation rates over time. This article does a nice job of summarizing real estate appreciation statistics. But I look at this passive appreciation more like a bonus.
I do, however, take into account forced appreciation. Almost every property I buy has value-added potential, like remodeling, increasing sub-market rents, improving cosmetics, adding storage, building more apartments, etc. This form of appreciation is very much within your control, and you can build it into your assumptions before you make a purchase.
I also like to buy properties below their current market value. Using a combination of good marketing and quick access to cash, a 10-30% discount from the current market value is very possible.
L = Leverage:
As mentioned before, safe leverage is available in real estate. This can allow you to take $100,000 and invest in 3-4 properties instead of one. I have certainly used this strategy, but I am also leery of too much leverage. Unwise use of leverage kills more real estate portfolios than any other factor. Debt is like a loaded gun, which can be helpful if you're an experienced hunter looking for food but extremely dangerous if you're careless and untrained.
Using these profit sources as a guide, you can measure every deal to ensure it has sufficient profit built-in from the beginning. Your criteria for sufficient profit might be totally different from mine. And your criteria this year might be totally different than three years from now. That's ok.
The important part of rule #2 of a deal maker is that you're measuring and building in a profit now instead of hoping for it to come later.
Conclusion – The Balance of Deal Making
You might have noticed that the two rules of a deal maker conflict with one another.  There is a natural tension between deals that avoid risk and others that offer reasonable, built-in profits.
The reality is that you will have to balance these two competing visions.  And because your standards are higher, you will also have to look at many more deals than the average investor.
Does that make your job harder? Of course.
Does that mean that other "investors" will ignore these rules, especially in hot markets? Of course.
Becoming a deal maker is not easy.  But its payoffs are huge.
All of the real estate, business, money, and life lessons I offer on coachcarson.com are in many ways aimed to help you in this hunt to become a better deal maker. I hope you'll keep coming back for more, and I'd be honored if you'd invite your friends to join in the fun!
---
What do you think? Do you use the two rules of a deal maker? If so, how do you apply them in your investing? What other criteria and skills are important to put together good real estate deals? I'd love to hear from you in the comments section below.
---
Get My Free Real Estate Investing Toolkit!
Enter your email address and click "Get Toolkit"