Stoicism – have you heard of it? It was an ancient philosophy of life very popular for hundreds of years in ancient Greece and Rome. But its wisdom applies to us in the modern world. Stoicism can help you to become a better investor and a happier, more fulfilled person.  And relevant to the mission of this site, it can help you to live a life that matters.
Stoicism was not a religion. Instead, it was more similar to an ancient form of personal development and moral guidance. And Stoicism's most famous practitioners were not monks on a secluded mountain. They were engaged in society in roles such as statesmen, writers, teachers, merchants, and even emperors.
If you've seen the movie Gladiator, the old emperor in the beginning was Marcus Aurelius, one of the most famous stoic philosophers. Other famous Stoics include Seneca, a wealthy adviser to the Roman emperor Nero, and Epictetus, a feisty former slave who became a famous teacher to the elite of Rome.
Stoicism has very practical ideas that you can apply starting today. And in the rest of this article, I'll share some of my favorite practices that you can use in your roles as investor, entrepreneur, employee, parent, or partner.
But first, let's start with the idea of why philosophy matters.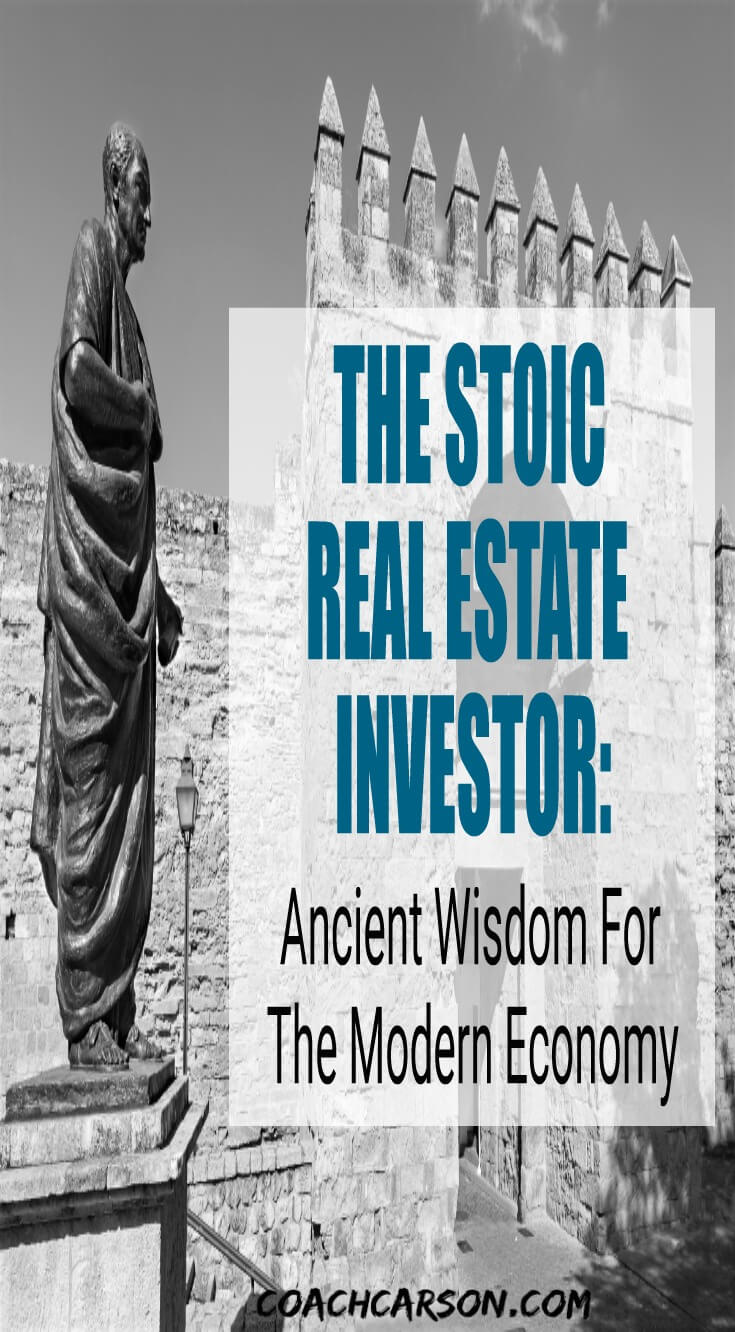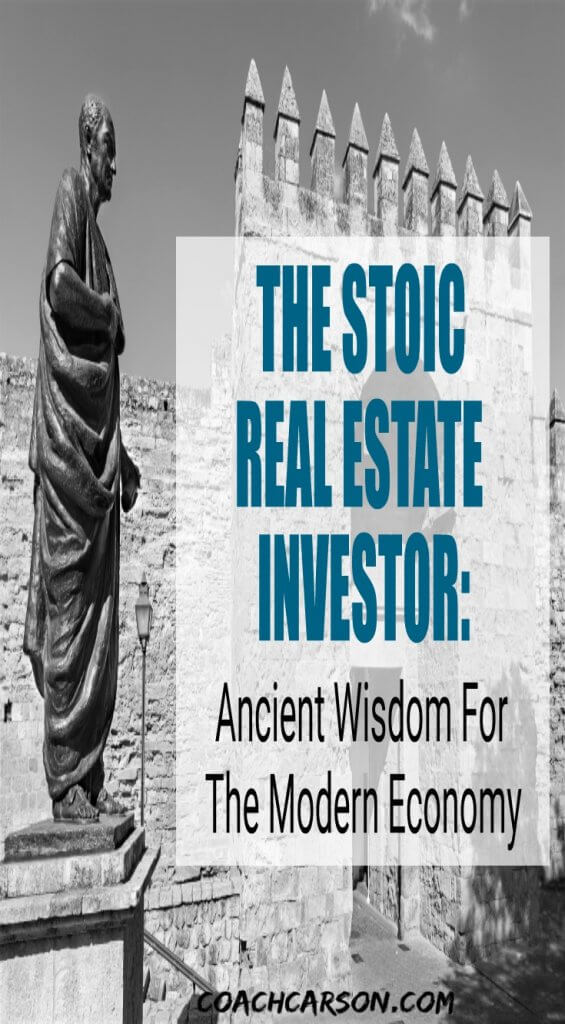 Philosophy = The Art of Living
"The philosopher: he alone knows how to live for himself. He is the one, in fact, who knows the fundamental thing: how to live."

– Seneca, Letters From a Stoic

"According to Epictetus, the primary concern of philosophy should be the art of living: Just as wood is the medium of the carpenter and bronze is the medium of the sculptor, your life is  the medium on which you practice the art of living."

– William B. Irvine, A Guide to the Good Life: The Ancient Art of Stoic Joy
It would be understandable if your eyes glazed over when I mentioned the topic of philosophy. In modern times, philosophy has become less practical and more of an academic subject for a book or PhD thesis. But in ancient Greece and Rome, philosophy was something to be lived and applied to your daily life.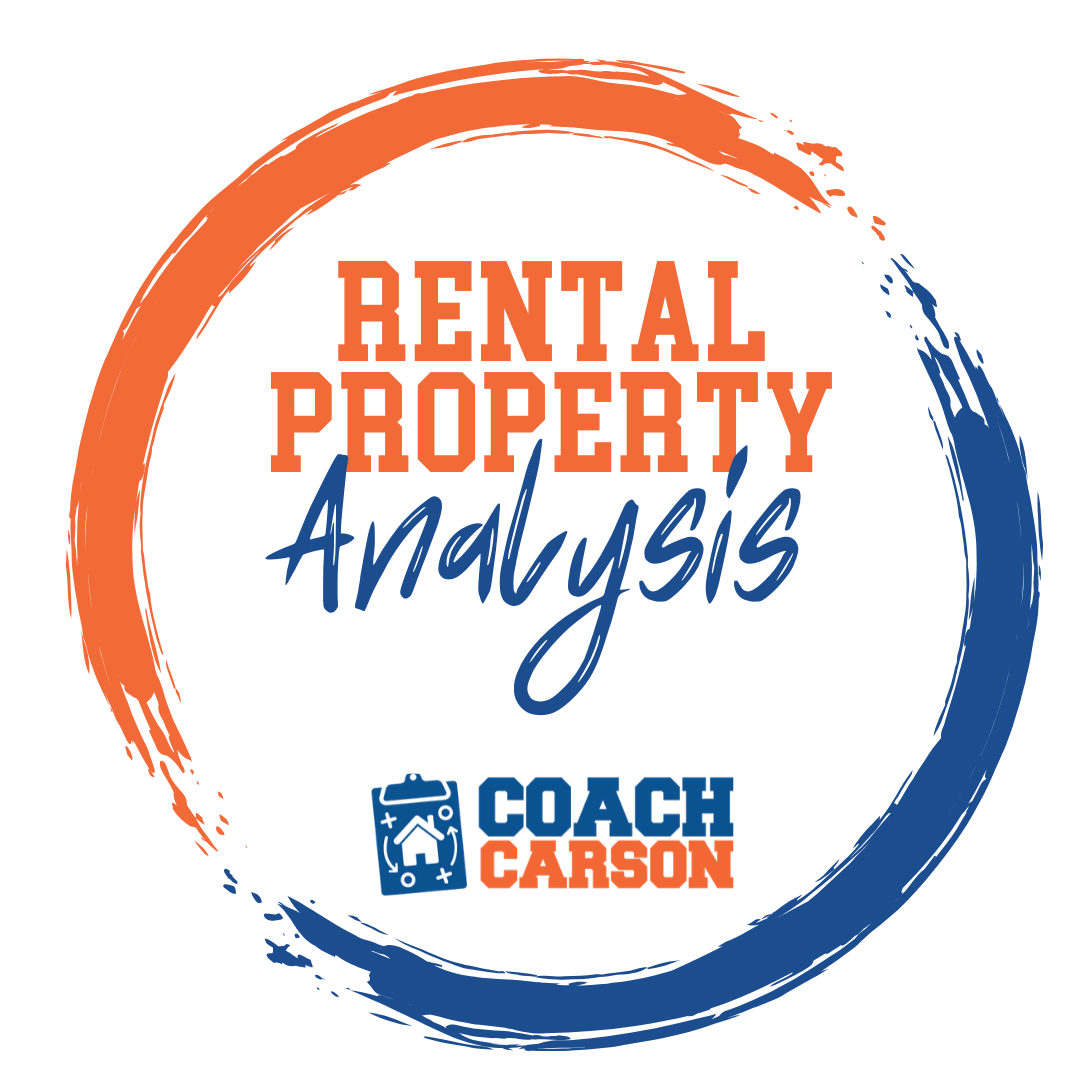 A course by Coach Carson that teaches you how to run the numbers so that you can confidently analyze and buy profitable rental properties. It also includes Coach's rental analysis spreadsheet.
Get the Course
In fact, the root of the word philosophy comes from the ancient Greek words "philo" meaning love and "sophia" meaning wisdom. Wisdom in this context was less about abstract knowledge and more of a practical knowledge of life.
So, philosophers were lovers of the knowledge and art of living. I love that!
In the modern world, most of us spend a majority of our time in careers earning money. So, the practical philosophers of today also embrace money. They don't sell out for money by making it too important or too unimportant.  Instead, they learn to control and use money so that they can spend their time doing what matters.
And to control money and put it in its proper place, you have to start with the central rule of Stoicism.
The #1 Rule of Stoicism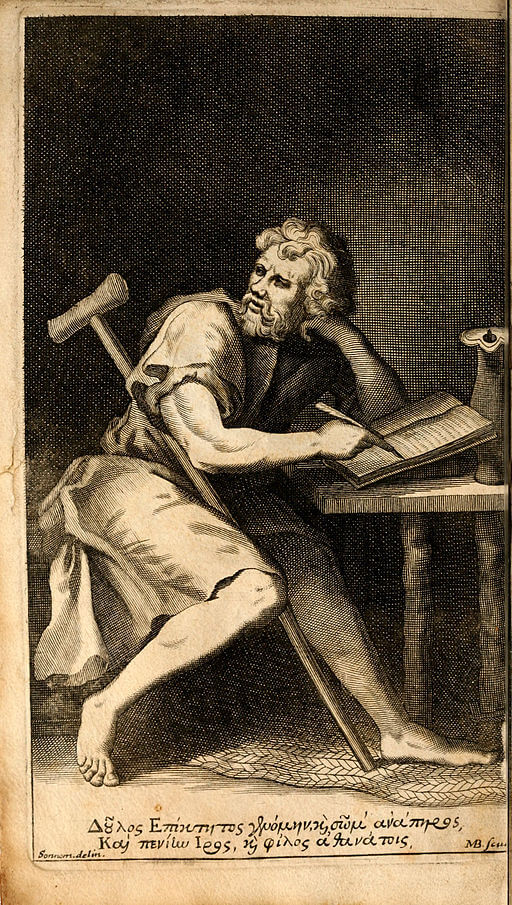 "The chief task in life is simply this: to identify and separate matters so that I can say clearly to myself which are externals not under my control, and which have to do with the choices I actually control."

– Epictetus, Discourses (as translated in The Daily Stoic: 366 Meditations on Wisdom, Perseverance, and the Art of Living)
The foundation of Stoicism is a simple idea. Some things you can control and some things you can't.  And in reality, the only things you can control are your thoughts and behaviors in this moment. External events, the opinions of others, the past, and the future are all outside your direct control.
If this idea sounds familiar, it's because it's echoed throughout history in many different traditions. For example, the Serenity Prayer of Reinhold Niebuhr has been used for decades by the addiction recovery program Alcoholics Anonymous.
"God, grant me the serenity to accept the things I can not change,
Courage to change the things I can,
and wisdom to know the difference."
And one of the most moving modern examples of this idea is the life of Viktor Frankl. During World War II the Nazis in Germany killed all of his family and put Frankl in a concentration camp. But out of this most extreme of hardships, he learned this truth:
Everything can be taken from a man but one thing: the last of human freedoms – to choose one's attitude in any given set of circumstances, to choose one's own way.
While not formally a Stoic, Viktor Frankl's ideas echo the core Stoic philosophy. And he taught millions of people through his books and lectures that you have a choice of how to respond to the circumstances of life.
So, you probably get this core Stoic idea. But how do you apply it to your life? Responding ideally to the problems of life doesn't come naturally. Like any other skill, you have to learn it and practice it day by day, moment by moment.
I'm certainly no expert, but below I'll share some of the Stoic practices I'm currently working on. Pick the ones that resonate with you so that you can apply them to your own life and investing.
Challenges? Bring 'em On!
 
Roman Emperor & Stoic – Marcus Aurelius
"We might not be emperors, but the world is still constantly testing us. It asks: Are
you worthy? Can you get past the things that inevitably fall in your way? Will you
stand up and show us what you're made of?"

– Ryan Holiday, The Obstacle Is the Way
Have you ever had a maintenance call, a problem tenant, or other investing situation that didn't go well? I have had them a lot, and I tend to get overly anxious and stressed when they happen. What about you?
But I've begun to think about this and other stressful business situations in the context of Stoicism. And I realize that these "problems" are just stimuli. I can't control a broken HVAC unit, the behavior of a tenant, or any other problem that's already happened. But I CAN control my response.
How I respond to these problems will determine the quality of my decisions. It will also affect how my team members choose to respond in similar situations. And just as importantly, my response will also determine how I feel on a day to day basis.
Because in business, investing, or any other challenging arenas of life, you'll always have some sort of problem. So if you don't change your habitual response, you'll constantly be stressed and anxious.
My practice, then, has been to shift my mindset from threats to challenges. Instead of saying to myself "oh, no!" I try to remember the mantra "bring it on!"
Essentially this practice reframes a problem from something that threatens me into an exciting challenge. Challenges are like competing in sports, doing a puzzle, or playing a game.  The feeling of a challenge is completely different than a threat. And your typical response to a challenge is much more productive, helpful, and enjoyable.
And in the big picture, these daily challenges become opportunities to grow. The baby challenges of investing are training for the actual threats of life so that you can respond with more poise and calm.
Lucky for us, this is something you and I can practice every day!
Do you have any problems right now? Is there something stressing you out? Try to force yourself to pause. Look at the situation and tell yourself "This is just a challenge. Bring it on!"
Practice Simplicity and Discomfort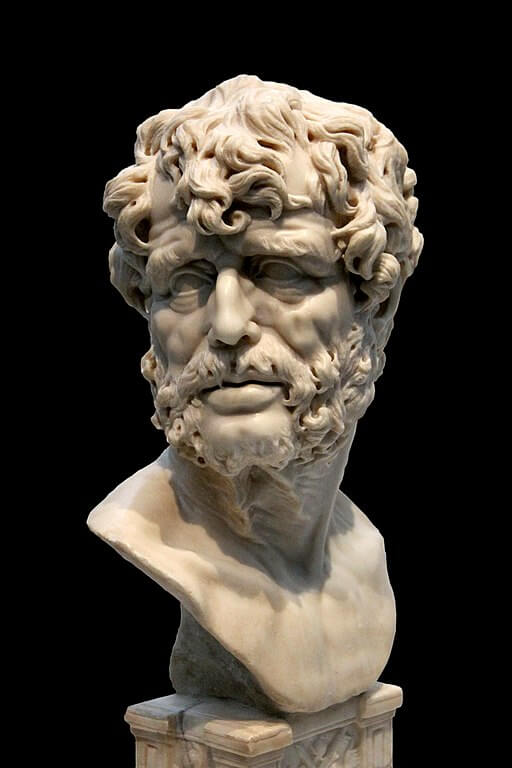 "Set aside a certain number of days, during which you shall be content with the scantiest and cheapest fare, with coarse and rough dress, saying to yourself the while: "Is this the condition that I feared?" … Let the pallet be a real one, and the coarse cloak; let the bread be hard and grimy. Endure all this for three or four days at a time, sometimes for more, so that it may be a test of yourself instead of a mere hobby. Then, I assure you, my dear Lucilius, you will leap for joy when filled with a pennyworth of food, and you will understand that a man's peace of mind does not depend upon Fortune; for, even when angry she grants enough for our needs."

– Seneca, Letters From a Stoic
I love camping and backpacking. Yes, sometimes it can be cold and wet. And my back doesn't always appreciate a few nights of sleeping on the ground. But by practicing a simple (and even uncomfortable) life where everything I need is on my back, I'm reminded how little I need to be content and happy.
The opposite can also be true.  It's easy for us to become accustomed to better and better material circumstances. But with each move up the comfort ladder, we become unsatisfied and then "need" even more to be happy. Modern scientists have called this the hedonic treadmill. It just keeps getting faster and faster.
As a modern Stoic, you don't need to camp in order to practice simplicity if that's not your thing. But why not practice taking away some of the comforts and securities you take for granted? Turn the air conditioner (or heater) off for a few days. Cook all of your food instead of eating out. Wear only one or two outfits.
Does your life fall apart when you do these things? Probably not. But practicing simplicity and discomfort can interrupt the hedonic programming. And as an investor aiming to achieve financial independence, it will help you make better decisions about what's really important in life (and what's not).
Shoot Straight. Let Go.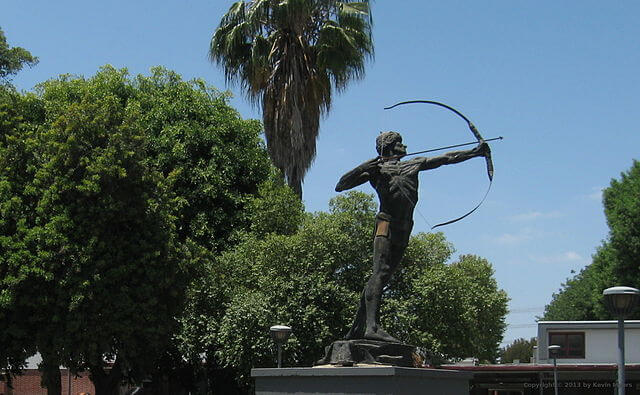 "The sage, thereby, holds two complementary propositions in mind simultaneously …
1. I will do my very best to succeed …
2. while simultaneously accepting that the ultimate outcome is beyond my direct control.
It implies, 'I will try to succeed, but am prepared to accept both success and failure with equanimity' …"

– Donald Robertson, The Philosophy of Cognitive Behavioural Therapy – Stoic Philosophy as Rational and Cognitive Psychotherapy
In ancient Greece, the patron god of philosophy was Apollo, who happened to be an archer. An archer wants to hit the target with his arrow. But he also knows that he can only control shooting the arrow straight. The actual flight of the arrow depends on outside conditions like the wind.
So, the archer's (and philosopher's) mantra is:  Shoot straight. Let it go. 
A Stoic would say "I'll hit the target if fate will have it."  Christians later used the same idea by saying "God willing" or in Latin "Deo Volente." Muslims also have their own term, inshallah, or "if God wills."
It's a beautiful concept that combines doing your best with letting go of the final outcome.
The same concept applies to your investing and business goal setting. Your goal or desired outcome is the target. The process that leads to the outcome is shooting the arrow straight.
So, a Stoic investor who wants to earn $100,000/year puts all of her energy into the process, like hustling every day to find fixer-upper properties. But she also doesn't become overly fixated or stressed about the outcome. The only measurement that matters is the part of the process she can control –  her own efforts.
In my Annual Review article, I give practical tips on the actual steps to move from outcome to process goals with investing.
Play Your Role Well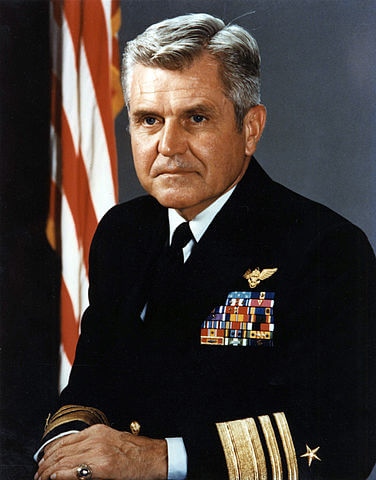 "Remember that thou art an actor in a play of such a kind as the teacher (author) may choose; if short, of a short one; if long, of a long one: if he wishes you to act the part of a poor man, see that you act the part naturally; if the part of a lame man, of a magistrate, of a private person, (do the same). For this is your duty, to act well the part that is given to you; but to select the part, belongs to another."

– Epictetus, Enchiridion
The Stoics saw life as a sort of theater play. And as an actor in the play, you're assigned a role. Your role may be to born into poverty and a horrible family situation. Or your role may be to "win the ovarian lottery" as Warren Buffett has said about himself.
What's important isn't the role you've been assigned. It's how well you play the given part. 
James Stockdale was an American fighter pilot shot down during the Vietnam War. As he parachuted for 30-seconds towards the main street of an enemy-held village, he thought to himself "Five years down there, at least. I'm leaving the world of technology and entering the world of Epictetus."
During graduate school only a few years earlier, a favorite teacher had given him the book Enchiridion by Stoic philosopher Epictetus. And his last thoughts in the 30-seconds before landing were on the lessons from Epictetus. Stockdale knew that he was about to lose control of almost every personal freedom except his thoughts and responses to external stimuli.
And Stockdale was right. He was a prisoner of war in an anonymous prison camp for almost eight years! Four of those years were in solitary confinement, and he faced regular torture and interrogations.
In the amazing little book, Courage Under Fire, Stockdale tells us how Stoic philosophy helped him not only survive but find purpose during these 8 years of hardship:
I was forty-two years old—still on crutches, dragging a leg, at considerably less than my normal body weight, with hair down near my shoulders, my body unbathed since I had been catapulted from the Oriskany, a beard that had not seen a razor
since I arrived—when I took command (clandestinely, of course, the North Vietnamese would never acknowledge our rank) of about fifty Americans. That expatriate colony would grow to over four hundred—all officers, all college graduates, all pilots or backseat electronic wizards. I was determined to 'play well the given part."
As a real estate investor and someone trying to build wealth, you can't choose your starting place.  I personally had a lot of head starts as an investor. My father was an investor, so I had someone to model and to call for questions. I also had no student debt because I had a college football scholarship. And on top of that, I'm a white male in a time where that still gives me built in advantages.
But you may be in a completely different situation. You may have had a tougher, uphill climb. But Epictetus and James Stockdale would tell you, don't compare yourself to me or anyone else. And they'd tell you not to try to change the role you've been given. Just accept your role and focus on the things you can control. Then do your absolute best.
So, what role have you been given? Are you using all your mental energy to try and switch parts? Or are you working to play your part to the best of your ability?
Arete – Make Today Your Masterpiece
"Be true to yourself, help others, make each day your masterpiece."

– John Wooden, Wooden – A Lifetime of Reflections and Observations On and Off the Court
The ultimate virtue for Stoics was a Greek word called arete. It's directly translated as "excellence" or "virtue." But my understanding of the word is something closer to "being your best from moment to moment."
Arete is the objective of every practice and philosophy described here. If in this moment you apply these philosophies with excellence, you are living with arete.
And ultimately for me, arete is the purpose of real estate investing, financial independence, and every role I play – as an investor, a father, a husband, and coach here at coachcarson.com. Can I play the role I've been given with excellence? Can I overcome the challenges put in front of me? And can I make this moment, and the next, and the next a masterpiece?
And fortunately, this ultimate game of becoming our best never ends! Striving for arete continues day by day, moment by moment until our last breathe. What a privilege!
I hope you find these Stoic practices helpful. And I hope something you've read will resonate so that you can apply it in your life – starting today.
Have you heard of Stoicism before? Which of the Stoic ideas did you like best? How can you apply this to you roles in life? I'd love to hear from you in the comments below.
** Much of my research on Stoicism began with the awesome Philosophers Notes and Optimize classes from Brian Johnson. I'm a long-time fan and member of Brian's educational membership program. If you're interested, you can learn more here (this is an affiliate link.)
---
Image Credits:
Get My Free Real Estate Investing Toolkit!
Enter your email address and click "Get Toolkit"