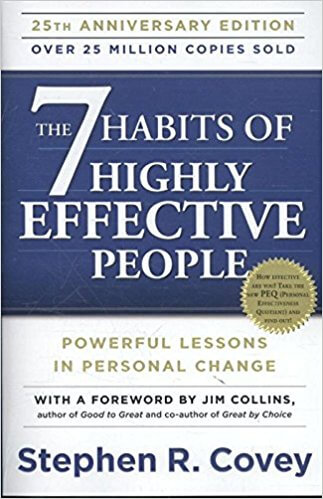 What I Like About the Book
The 7 Habits of Highly Effective People was a book that came into my life at the perfect time. I remember "borrowing" it from my dad's bookshelf right after college (I don't think he ever got it back!). It blew me way at the time because it was so useful and profound. Since then, the ideas from the book have had a large influence on my thinking and my approach to business and life.
I recommend and reference this book constantly, and I've probably reread it 6 or 7 times. The reason I keep coming back to it is because it contains principles that apply to many parts of life, including personal growth, relationships, business success, and more.
What I like most about the book is that it doesn't contain slick techniques or methods to influence others (or yourself) in a way that makes you feel slimy. The advice is similar to what you'd hear from your grandparents, but Stephen Covey delivers it with stories, examples, and data to back up his recommendations.
Here are my favorite ideas from the book, although there are many more I had to leave out.
My Favorite Big Ideas From the Book
**When possible for further reading, I include links to past articles I have written on each big idea.
1. Inside Out – Private Victories Precede Public Victories
If you want exterior types of greatness, like career success, money, or recognition, you have to begin inside yourself. There are no shortcuts. It starts with you. And more fundamentally, it starts with your mental paradigms, your character, and your motivations.
2. Paradigm Shifts
A paradigm is the way you see the world. It's the entire lens or filter through which every idea or experience enters your brain.  Therefore, to truly and deeply change your results with business, investing, or life, you have to change your paradigms. Some of the most famous people in history like Christopher Columbus, Albert Einstein, and Martin Luther King changed the paradigms of entire societies. It sometimes takes that kind of radical, outside-the-box thinking to change your own ingrained paradigms.
3. Be Proactive 
Life happens (stimulus), and we react (response). But between the stimulus and the response is a gap. This gap is our freedom to choose. Victims blame circumstances and others for their problems. They ignore the gap. But truly effective or proactive people embrace the gap between stimulus and response. They work to widen it so that they control life despite external circumstances. This is called being response-able, and it gives you personal freedom no matter your outside circumstances.
Further Reading: 
4. Begin With the End in Mind 
All things are created twice – first in your mind and second in real life. This is the habit of values, vision, and goals. By first creating the ideal in your mind, you can then work to bring the ideal into physical reality. This is the habit I practice every year with my Annual Review.  It's also the habit at the heart of the big picture, self-discovery exercises in the second article below.
Further Reading: 
5. Put First Things First
Being effective means doing "the right" things on a day-to-day basis.  The right things are the important priorities, values, and goals you decided in the previous habit. To execute these priorities, you must focus only on what's truly important, and ignore what's unimportant.
Further Reading:
6. Emotional Bank Accounts
The trust you have for another person (and the trust they have for you) is the ultimate bank account. Trust (or lack thereof) makes or breaks your personal and professional relationships. "Dividends" occur when your trust is high with someone. "Taxes" occur when your trust is low or non-existent. You can build trust over time by making sincere, consistent deposits into your relationship with another person. There are no short-cuts.
Further Reading:
7. Think Win-Win or No Deal
Win-win isn't my way or your way. It's a third way – a better alternative reached by a process of mutual listening and a desire to understand one another.  The alternatives (Win-Lose, Lose-Win, or Lose-Lose) are the typical results of negotiating, but the side-effects are broken relationships and lack of trust. Win-Win is a more difficult but worthy goal. No Deal is often a necessary fall-back when the relationship is more important than the final result.
Further Reading: 
8. Seek First to Understand, Then Be Understood
In order to influence another person, you must first sincerely seek to understand them. Listening is the primary skill. Don't assume you know a solution before you understand the problem. It's like a doctor providing a prescription before making a diagnosis. People have a need to be understood, appreciated, and validated. So, problems with people are not just about facts. Understanding also means listening empathetically for feeling, meaning, and context.
9. The Circles of Concern & Influence
Happier, more effective people focus more on what they CAN control and less on what they can't. In other words, they only focus on their circle of influence.  Of course, there will still be other things in your larger circle of concern. But if the concern does not overlap with your circle of influence, the only logical response is to either accept it or work to grow your circle of influence (over time).
Further Reading:
---
My Favorite Quotes From the Book
You can't be successful with other people if you haven't paid the price of success with yourself."

Stephen R. Covey, The 7 Habits of Highly Effective People
---
My friend, love is a verb. Love—the feeling—is a fruit of love, the verb. So love her. Serve her. Sacrifice. Listen to her. Empathize. Appreciate. Affirm her. Are you willing to do that?"

Stephen R. Covey, The 7 Habits of Highly Effective People
---
Between stimulus and response, man has the freedom to choose."

Stephen R. Covey, The 7 Habits of Highly Effective People
---
You can't talk your way out of a problem you behaved your way into!"

Stephen R. Covey, The 7 Habits of Highly Effective People
---
If You Liked This Book, You Might Also Like:
---
What do you think?
Have you read The 7 Habits of Highly Effective People? Did you like it? What were your favorite ideas? What are the ideas from the book most important to you? I'd love to hear from you in the comments section below!
Get My Free Real Estate Investing Toolkit!
Enter your email address and click "Get Toolkit"