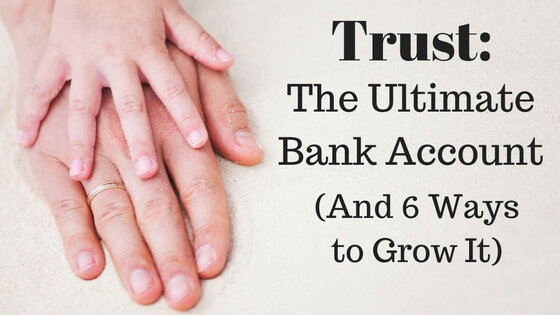 I write a lot about financial accounts.  Don't you love the idea of savings accounts with a lot of cash or real estate investments with large equity balances? I know I do.
But there is another type of account that probably affects your life much more profoundly.  This account measures trust.  Stephen R. Covey calls this an emotional bank account:
An emotional bank account is a metaphor that describes the amount of trust that's been built up in a relationship.  It's the feeling of safeness you have with another human being.  When the trust account is high, communication is easy, instant, and effective."

Stephen R. Covey, The 7 Habits of Highly Effective People
Relationships are like bank accounts because you make deposits and withdrawals.  When you make continual deposits, your relationships become more fulfilling, happy, and productive.  You could say you become more "wealthy" in terms of trust with that person.
On the other hand, when you make too many withdrawals, you empty your account of trust and goodwill. This emotional poverty shows itself with increased conflict, suspicion, and inefficiency.
The reality of emotional bank accounts affects every single part of your life, including your family, friends, customers, vendors, business partners, and lenders.  It even affects entire industries who become over-regulated because society can not trust them (or at least can't trust the few bad apples).
But like real bank accounts, trust can not be built quickly.  There are no short cuts.  You must make consistent, long-term deposits to the relationship.
Also like bank accounts, major errors or breaches of trust can quickly empty your account that took years to build. This is why Warren Buffett constantly reminds his managers: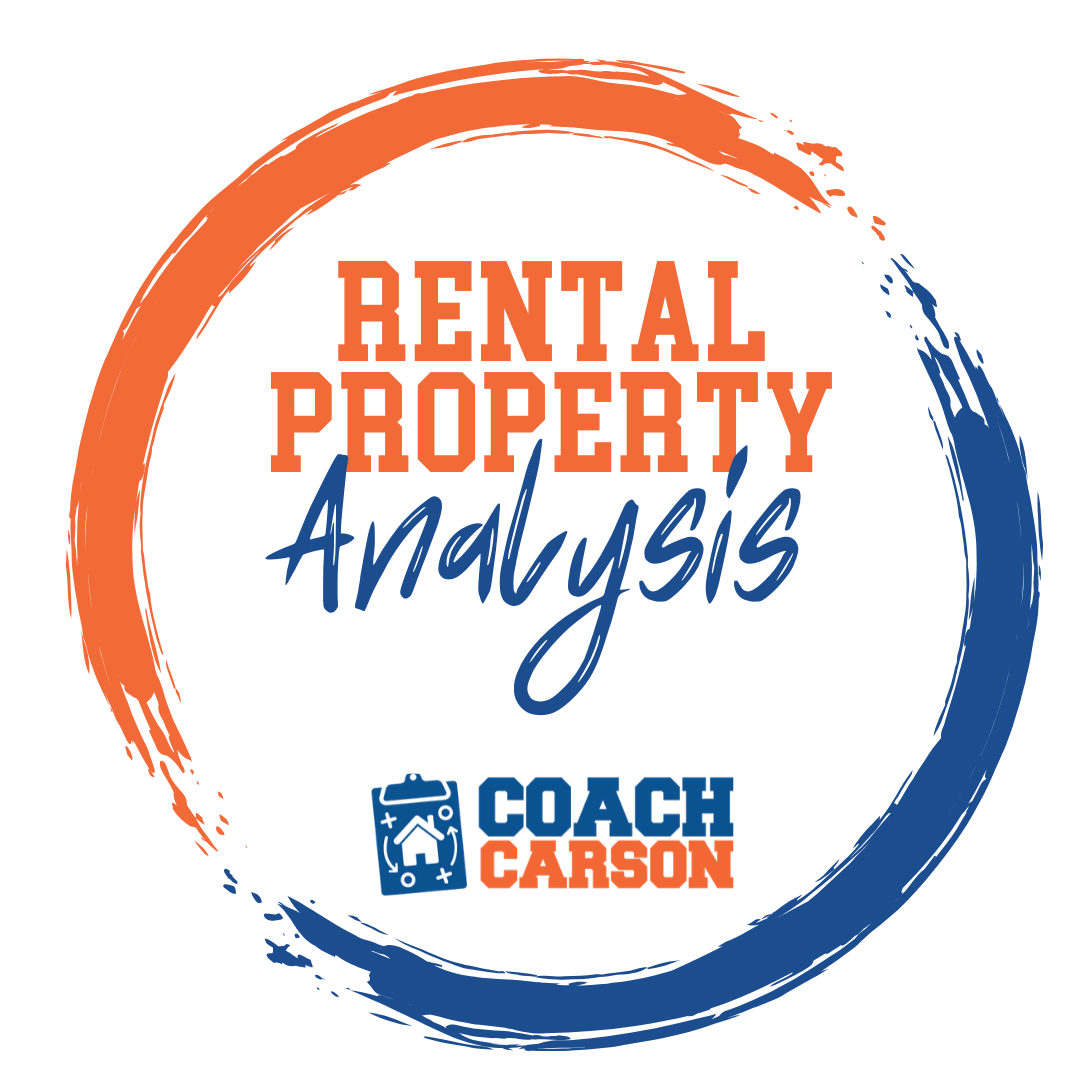 A course by Coach Carson that teaches you how to run the numbers so that you can confidently analyze and buy profitable rental properties. It also includes Coach's rental analysis spreadsheet.
Get the Course
It takes 20 years to build a reputation and five minutes to ruin it. If you think about that, you'll do things differently."
The choices you make to either build or empty  your emotional bank account leads to definite consequences.  You could think of these as trust taxes and trust dividends.
Trust Taxes and Dividends
Stephen M.R. Covey, the son of Stephen R. Covey, built on his father's ideas with a book called The Speed of Trust.  The book makes the case that trust is not a warm, fuzzy, nice-to-have virtue.  Instead, trust is at the center of every personal and economic transaction in the world.  And as a result, it has a greater personal and economic impact than any other factor.
Covey quantifies the concept with the idea of trust taxes and dividends. I'll explain it with a story.
Rick is a tenant. For 5 years he has lived in a rental house owned and managed by Carl.  Maintenance problems don't come up often, but when they do Carl handles them professionally and promptly.  Even with unpleasant things like rent raises, Carl communicates honestly and with plenty of forewarning.  Carl also makes thoughtful gestures like sending birthday and holiday cards to show Rick he cares about him as a customer and values his business relationship.
One day Rick comes home from a hard day of work to water all over his kitchen floor.  He's shocked and a little upset because Carl called a plumber to fix a small leak under the kitchen sink that morning.  But now the problem has multiplied!
How does Rick respond to the problem?  Does he call and scream at Carl? Does he make Carl's life miserable? Or does he simply let Carl know about the problem and ask him to fix it?
Because Carl has built a strong emotional bank account with Rick, he avoids the taxes of extra drama associated with low-trust relationships.  This one mistake by Carl's plumber doesn't turn into a bigger problem.  Rick also doesn't cause further problems by going around town saying what a bad landlord Carl is.
Carl avoided trust taxes by investing in the relationship all along.
But Carl also receives dividends from the relationship.  Rick regularly refers friends to Carl for vacancies in other rental units.  And Rick decides to renew his lease and stay for many years.  He likes the house, but he also trusts Carl and doubts he can trust other landlords in the same way.
As anyone in business knows, referrals and repeat customers are THE indicator of a mature, healthy business. These dividends only come from a base of trust between the customer and the business.
Trust may not be as easy to count as money in the bank.  But there is no doubt it has the power to multiply your efforts or slow them down depending upon the balance in the emotional bank account.
If trust is so important, how can it be cultivated?  Is it a magical quality that either exists or doesn't exist? Or can you take concrete steps to increase the balances of the emotional bank accounts of your life?
In The 7 Habits of Highly Effective People, Stephen R. Covey shares 6 major deposits you can make to increase the balance of trust in any relationship.
Trust Deposit #1:  Understand the Individual
This is the key to all other deposits.  You have to know what constitutes a deposit before you can make one.  What's helpful for one person may be insulting to another.
We tend to project our own life history and solutions onto others.  But when you listen with the intention of understanding someone else, the other person feels it and appreciates it. And you learn more about that person so that you can make other deposits that are meaningful to them.
Trust Deposit #2:  Attend to the Little Things
You probably already know that with human interactions, little things are actually the big things.
When I was a kid my mother and grandmother would chastise me if I didn't send a thank-you note after receiving a gift or favor from someone.  I didn't think it was a big deal then.  But later I realized how special a simple gesture like that can be.  The small amount of time it took to handwrite the note, put it in an envelope, address, and add a stamp shows the person you're really thankful.
Thank you notes and other "small" gestures are so simple yet not often done. Thus, they are very meaningful and unique.
What about other small gestures of kindness? Holding doors?  Smiling at strangers?  Letting someone into your lane of traffic?
You don't need to be kind because it's transactional and will make all of your emotional bank accounts bigger. It will benefit you even if no one else knows about it.
Wayne Dyer in his book The Power of Intention shares the connection between kindness and serotonin.  Serotonin is found in antidepressants because it's a chemical that makes you feel good.  But you also have serotonin naturally in your body, and kindness can stimulate the release of serotonin.
Dyer shared that when you perform an act of kindness, it increases serotonin levels in your brain AND the brain of the person who received the kindness! But even better, if a random person walking by observed your act of kindness, it increases the level of serotonin in their brain, too!
I think that's pretty cool.  No problem overdosing on kindness, is there?
Trust Deposit #3:  Keep Your Commitments
Kept or broken promises are the foundations of trust.  If you consistently keep commitments, you build large emotional bank accounts with people.  Breaking promises is one of the easiest ways to empty your bank account.
I alway learn a lot about a potential tenant when they show up late for a rental appointment or don't show up at all without even calling. These prospects quickly go into a negative emotional bank account with me, and there is virtually no second chance for that prospect if they call me back.
Because keeping commitments is so important, I sometimes become stressed when I over-commit myself.  I am continuing to learn (and relearn) that saying no or deferring commitments is often as critical as working hard to keep the one's I've already made.
Trust Deposit #4:  Clarify Expectations
Stephen R. Covey says that forgetting to clarify expectations is the root of many relationship problems.
When my business has issues or problems with contractors, for example, we often hear "I thought you meant this" or "He said to do that."  It can be really tedious, time-consuming, and maybe even awkward to clarify expectations up front, but boy does it help avoid pain down the road!
This is a major problem with business partnerships, too.  Not only do partners need to have similar goals and values, but also similar work ethics.  These aren't easy to clarify up front, but they're crucial!  In my own business partnership, we were lucky to both have similar expectations for what hard work means.  We've hired people for jobs who didn't have similar work ethics, and they didn't last long with us.
Trust Deposit #5:  Be Loyal to Those Not Present
I love the distinction by Stephen R. Covey about integrity:
Honesty is telling the truth … conforming our words to reality.  Integrity is conforming reality to our words … keeping promises and fulfilling expectations."
One of the best ways to manifest integrity is to be loyal to those not present.  When you hear someone gossiping, complaining, or bad-mouthing about someone behind their back, don't you wonder what they'll say next time about you when you're gone?
Be loyal to those not present. You'll earn the trust of those who are present and who are not present.
Trust Deposit #6:  Sincerely Apologize When You Make a Withdrawal
Isn't it hard to swallow your pride and to admit that you're wrong? This requires an enormous amount of courage and self-esteem.
But defending your actions and proving you are right rarely helps relationships.  I mean, who are the best at arguing and proving they are right? Lawyers (like my brother).  And who do we make all of the snake and shark jokes about? Exactly.
Try to defend less and sincerely apologize more often.  Challenge the assumption that you'll get run over by appearing too weak.  Most real business and sales situations aren't confrontations until you make them that.
Conclusion
Metaphors all have their limits. You and I both know relationships are much more fluid and complex than a real bank account.
But even so, I hope you find this metaphor as helpful and practical as I have.
In business, trust really is as valuable as money in the bank.  But more than that, trust is the glue that holds our marriages, our families, our businesses, and our society together.
None of us are perfect. I'll be the first to stand up and say that!  But you and I can aim to do better.  We can choose to prioritize activities and choices that build trust. And, we can recognize and quickly apologize when we fall short.
---
Have you found trust to be valuable in your business and investing? Do you have examples when trust either provided taxes or dividends? Are there other trust deposits that weren't mentioned in the article?
I'd love to hear from you in the comments below. 
---
Get My Free Real Estate Investing Toolkit!
Enter your email address and click "Get Toolkit"