God, grant me the serenity to accept the things I cannot change,
The courage to change the things I can,
And the wisdom to know the difference."

Serenity Prayer (used by Alcoholics Anonymous)
We all worry and stress about something.  It's part of human nature.
But, my research during the Business-Money-Life Project  has shown me that the most effective, wise, and happy people handle the stresses of life differently than the rest of us.
How do these people respond differently?
They focus their time and energy on things they can control, and they seek some kind of serenity on the things they can't.  In other words, they focus on their "Circle of Influence", and not only on their "Circle of Concern."
Let me explain.
The Circle of Concern vs The Circle of Influence
I got this idea from one of my favorite books, The 7 Habits of Highly Effective People by Stephen R. Covey.
Think of all of the events or situations in your life that concern you.  Now imagine collecting all of these concerns into one big circle called the Circle of Concern.  Everything inside the circle is of concern to you, and everything outside of the circle of of no concern to you.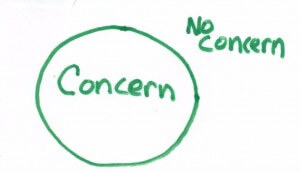 The problem with this circle is that many of the things you are concerned about are outside of your control.
For example, you may be worried about the health of a family member. You may be concerned about the economy. You may be frustrated with a difficult colleague at work.
Within your larger Circle of Concern, there are some situations within your control or influence.  These we could put inside of another circle called the Circle of Influence.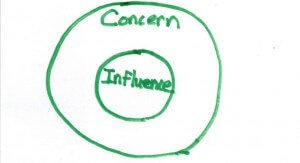 For example, you might be worried about the stability of the overall economy (Circle of Concern). But what about that is within your Circle of Influence? What can you DO about it?
For financial security, maybe you could save up extra cash reserves.  For job security, maybe you could think of ways to make yourself extra valuable or even indispensable at work.  To support your favorite but struggling businesses, maybe you could buy their products or services.
The main point of the Circle of Concern and the Circle of Influence is to help you focus your thoughts and your actions on things you can control or influence.
As a result, you will feel more empowered, more positive, and more confident about the events in your life.
The opposite is true when you focus exclusively outside your Circle of Influence in the Circle of Concern.  In that space you tend to complain, react, blame, and gossip.  You also tend to feel helpless and out of control, which is the source of much of our stress and anxiety.
The Circle of Influence and the Last of Human Freedoms
Viktor Frankl called optimism "the last of human freedoms."  He would know.  During World War II, Frankl lost just about every other freedom as the Nazis in Germany killed his family and imprisoned him in some of the most horrible conditions imaginable within concentration camps.
But, Viktor Frankl survived the Holocaust and became one of the best illustrations of living within his Circle of Influence.
Frankl obviously had some legitimate and grave issues within his Circle of Concern.  Even worse, he had a very small Circle of Influence because he had so few personal freedoms within a concentration camp.
What did Frankl decide to do?
Frankl focused on the LAST thing left in his Circle of Influence,  his inner mind.  More specifically, Frankl focused on the meaning he gave to his current situation.
The Nazis could imprison him, abuse him, starve him, and work him nearly to death,  but only Frankl could choose to let them control the meaning of these events.
Frankl had been a psychiatrist and teacher before being imprisoned.  He knew that he possessed skills to help others within the camp to face the horrors of their situation. He also knew that if he survived, these experiences could be powerful teaching stories to help future patients, students, and audiences.
Frankl decided to focus within his Circle of Influence, and it literally made the difference between life or death for him.
He began by working on the person he had the most control over, himself. Simply realizing that he still had this last of human freedoms, optimism, changed his attitude and his entire outlook.
He could imagine the people he could help some day by sharing this experience. He could also see right away the people he could help in the concentration camp.
His attitude and his actions were noticed by the people around him. He became a source of hope and comfort for others. His circle of influence began in a small place within his mind, but it quickly expanded to people around him, both prisoners and guards!
And after the war and the liberation from the concentration camps, Frankl's Circle of Influence continued to grow and spread around the world through books, speaking invitations, professorships, and more. Amazingly, his Circle of Influence continues to grow even today as you and I read about his story and make changes in your our lives.
This amazing story all began with Frankl's courageous decision to shift his focus from his Circle of Concern to his Circle of Influence.
That courageous choice is something you and I can make as well.
Practical Application: Direct, Indirect, or No Control
Whether a problem is direct, indirect, or no control, we have in our hands the first step to the solution. Changing our habits, changing our methods of influence and changing the way we see our no control problems are all within our Circle of Influence."

The 7 Habits of Highly Effective People, Stephen R. Covey
The best way I have found to apply this concept is to think about all our problems and to categorize them into one of three buckets suggested by Stephen Covey:
Direct Control
Indirect Control
No Control
There is always something we can do in each case.  Here's how.
Direct Control: 
These problems are directly within our control because they are related to our own habits and behaviors.
For example, I tend to go through cycles where I don't sleep enough, my body gets worn down, and I get sick. Although I have legitimate excuses (don't we all), I still control when I go to bed.  I could control when I turn off the computer, when I start winding down, and when I turn off the lights.
This is a problem, but it's a direct control problem because it will get better as soon I work on my behavior.
Indirect Control
These problems are not within our direct control because other people are involved. With indirect control we must work on our relationships and our communications with others.  The best we can do is change our methods of influencing others.
This is obviously a big, important subject, but you can see a couple of my ideas on authentic influence here:
No Control
These are the problems acknowledged in The Serenity Prayer: "grant me the serenity to accept the things I can not change."
We may not have direct or indirect control over these problems, but like Victor Frankl found out, we can decide the meaning of these events. We can also decide to respond with hope or with dejection.
As Stephen Covey again wisely counsels:
No control problems involve taking the responsibility to change the line on the bottom [of] our face – to smile, to genuinely and peacefully accept these problems and learn to live with them, even though we don't like them."
As Viktor Frankl's life so eloquently showed, there are times when the no control problems force us to make the most powerful changes within ourselves.
What's Inside Your Circle of Influence?
The most powerful ideas are those that you can apply immediately within your life to make improvements.
So I leave you with these questions:
What are you concerned about? What problems in our life are causing stress and anxiety?
Which problems are within your direct control? Indirect control? No control?
In all cases, what are the next actions you can take right away within your Circle of Influence?
If a problem is outside of your control, can you acknowledge and accept that? Can you ask for serenity to help you find peace with it?
These are not easy questions or tasks.  I know.
But I also know that actually doing this exercise is a wonderfully empowering and freeing process. So, as soon as you can, write down the problems in your Circle of Concern and identify the actions that are still within your Circle of Influence.
And if all else fails, follow the example of Viktor Frankl and search within yourself for that last of human freedoms, the ability to choose your attitude and perhaps even to smile in spite of the world around you.
Thank you for giving me your time and attention. I'd love to hear your thoughts and comments in the comment section below or on Facebook or Twitter. 
Get My Free Real Estate Investing Toolkit!
Enter your email address and click "Get Toolkit"