It's nearly time to say goodbye to the old year and to say hello to a new one.  Soon you will jump into the hustle and bustle of another 12 months of your life.  But before you do, why not take a little time to slow down and reflect?
Writer Carl Sandburg made a strong case for carving out time to ask important self-reflection questions:
It is necessary now and then for a man [or a woman] to go away by himself and experience loneliness; to sit on a rock in the forest and to ask of himself, 'Who am I, and where have I been, and where am I going?' . . . If one is not careful, one allows diversions to take up one's time—the stuff of life."
The exercises you'll find below are about going deep. They're about prioritizing your life and your future before getting lost in busy day-to-day details.  And if you practice them regularly, you'll find more clarity and direction throughout the year.
So, here are three of my favorite self-reflection exercises. A pen, paper, and a quiet space with no distractions are all you need.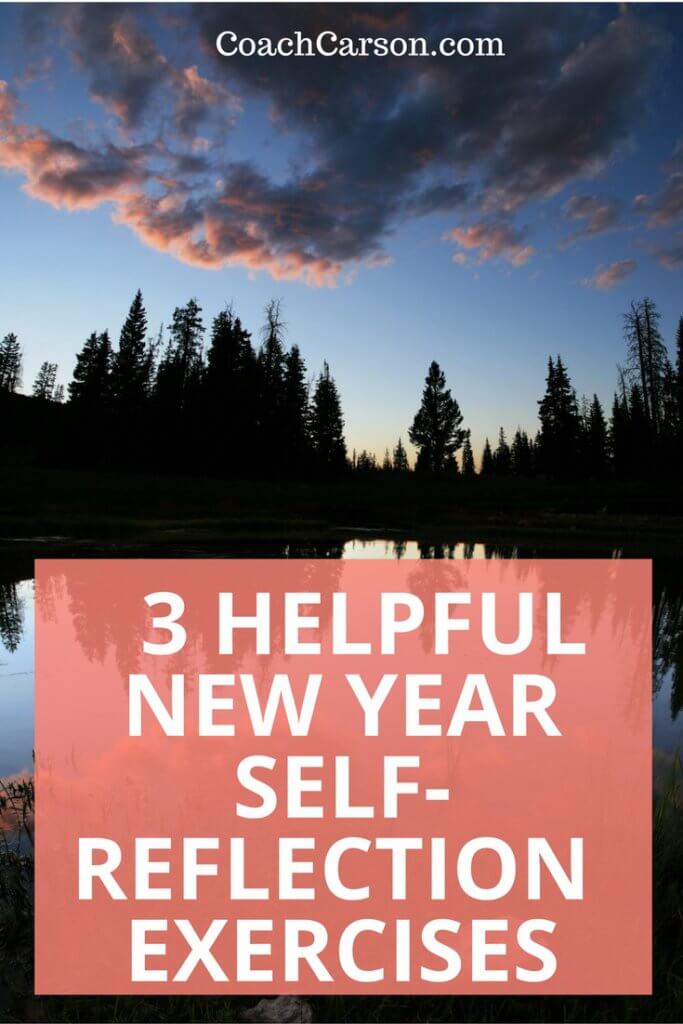 Self-Reflection Exercise #1 – The 110-Year-Old You
Tal Ben-Shahar is a leader in the field of positive psychology and author of the really cool books Happier and Pursuit of Perfect.  Tal tells us that we already have within us all of the wisdom we need to face the challenges in our life.
To prove his point, think about stories you've heard when people have near death experiences or terminal illnesses and then radically transform their lives for the better.  All of the sudden they know what they should be doing and the types of things they won't ever waste time on. Nothing new had to be learned. The wisdom was just dormant inside of them.
To tap into that wisdom we already have, Tal shares the following helpful exercise.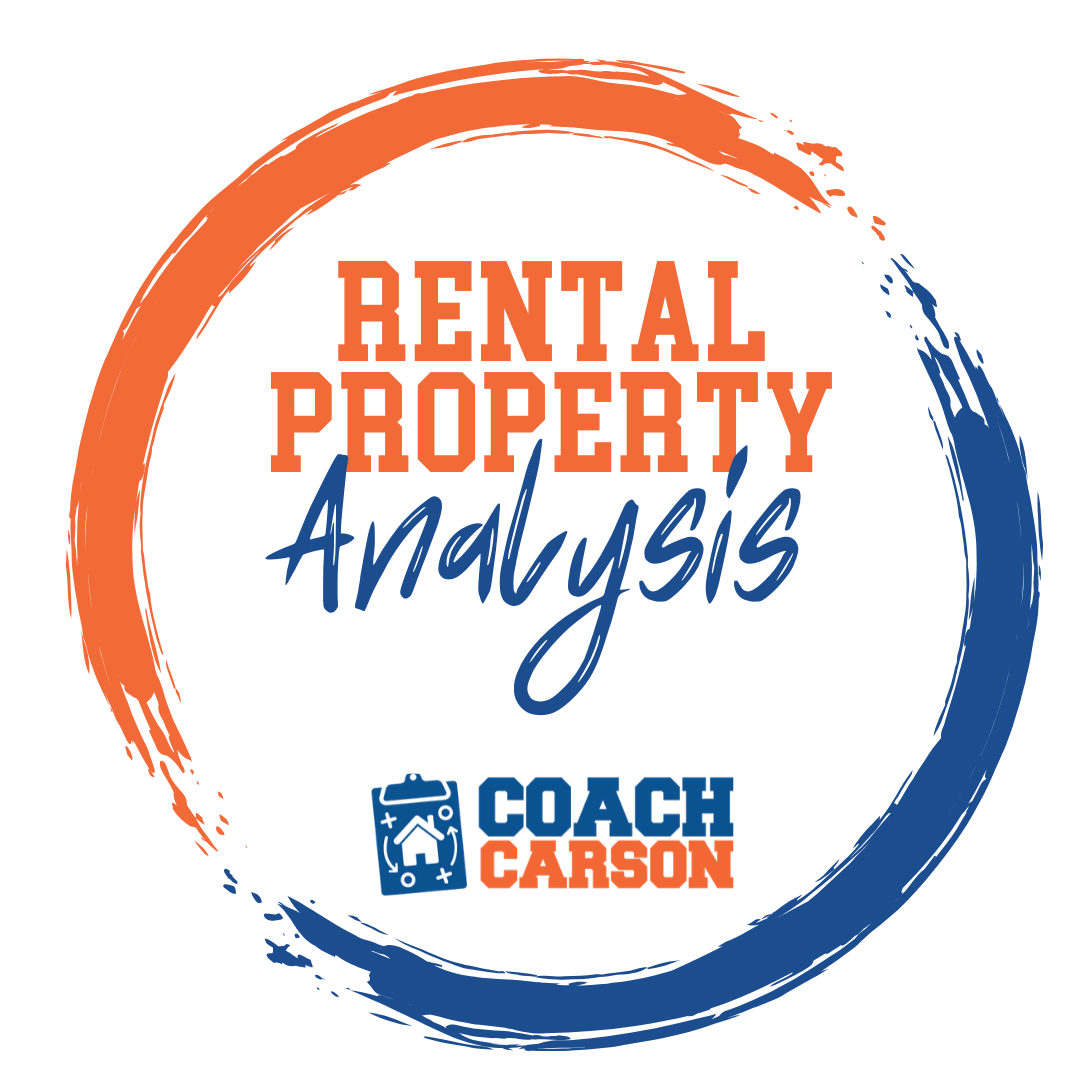 A course by Coach Carson that teaches you how to run the numbers so that you can confidently analyze and buy profitable rental properties. It also includes Coach's rental analysis spreadsheet.
Get the Course
Imagine that far in the future Sir Richard Branson's Virgin business conglomerate creates a new company: Virgin Time Travel.  Your 110-year-old-self chooses to travel back in time to meet with the current you right now, at this moment.
You and your future self only have 30 minutes together.  What truths, advice, and lessons would your 110-year-old-self share with you?
And if you only had 10 minutes together?  What would your future self tell you then?
And if you only had 60 seconds!? What then?
Get out your pen and a journal or a notebook, sit down, and write down these questions and your responses. If your experience is anything like mine the advice you'll receive is extremely helpful and thought-provoking.
My advice … LISTEN TO YOUR ELDER!
Self-Reflection Exercise #2 – DaVinci & 100 Questions
When I was in college, a mentor shared a book with me that I still cherish and pull off of my book shelf often.  The book is called How to Think Like Leonardo da Vinci by Michael Gelb.
In the book, Gelb shares 7 principles that characterize the genius of da Vinci. He also gives you exercises so that you can grow in these areas.
The first principle is Curiositá, Italian for an insatiable curiosity.  And the corresponding exercise is called "100 Questions," which helps you apply this curiosity to yourself.
Here are the steps to this powerful exercise.
Step 1:
Set aside at least 45-60 minutes of quiet, uninterrupted time. In your journal or notebook make a list of 100 questions.  These questions can be anything you want, from "How can I make more money?" or "What is the meaning of life?"  to "Why do emus have wings?" or "What's for dinner?"
The only rule is that you have to do it all in one sitting.  Write whatever comes to mind, write quickly, and don't judge the questions or worry if they're good enough.
The first 10-20 questions will be easy, but then you might hit a wall like I did.  Keep going.  Don't worry about repeating the same question or coming back to the same topics (this is actually an important part of the exercise to recognize themes in your mind).  The questions that come to you late in the process may be the most important.
Step 2:
Once you've finished with at least 100 questions, review your list and highlight the themes that have emerged.  Did you write a lot about money?  Your family?  Your job? Vacation? Hobbies?
Some of the themes will be familiar but others may be a revelation.
Step 3:
Again review your list of 100 questions and choose the 10 that seem most significant to you.  Then rank these in importance from 1 to 10.  Don't worry about answering these questions right now.  The work of writing them and creating a list that you can go back to is all that's important.
Power Questions:
Gelb calls your top 10 questions Power Questions.  If you ponder and reflect on them they have the power to change your life for the better (and also the power to shake you up a bit, so be careful!)
Here is a great list of 10 Power Questions compiled by Brian Johnson, creator of Philosopher's Notes, after he did this exercise:
How can you use your strengths in greatest service to yourself, your family, your community, and the world?
How can you get paid to do what you love?
What 5 things are you most proud of? What 5 things will you be most proud of?
If you had all of the time and money in the world, what would you do?
What's your ideal day look like? When you get up? What do you do? With whom? For whom? Imagine it in vivid detail!
Who are your heroes? Why? How are you like them?
What would you do if you weren't afraid?
If you were guaranteed to succeed, what's the #1 thing you would do? What else?
What is it that you and only you can do for the world?
How can you live in more integrity with your ideals? What's the #1 thing you could start doing that would have the most positive impact in your life? What's the #1 thing you could *stop* doing that would have the most positive impact in your life? Sweet. Now rock it!
I recommend writing down any of the power questions that resonate with you. Then just let them simmer in your mind for days.  Let them bubble up when you're in the shower, when you wake in the morning, or when you're driving your car.
Pondering these questions, like "How can I get paid to do what I love?" has been significant in my life.  My real estate investing business, the article you're reading, and the online classes I teach are the results of living this question!
Self-Reflection Exercise #3: Work Backward From the End
A favorite book of mine is Stephen Covey's The 7 Habits of Highly Effective People.  Covey's 2nd Habit is "Begin from the End" (right after "Be Proactive" and right before "Put First Things First.")
The basic principle of Habit #2 is that everything in life is created twice, first in the mind and second in reality.
Think about building a house.  Someone always creates a design or blueprint of the entire structure first.  Then the house is actually built.
Our lives are the same way.  We have to first imagine our ideal self in our mind before this ideal can become a reality.
Covey shares an amazing exercise to begin thinking from the end … the ultimate end.
Imagine this:  You're walking into a funeral.  Look around and notice what the place feels like, sounds like, and how many people are present.
Then realize that it's *your* funeral!
You get to observe as the people in your life, one-by-one, say their last words for you.  What do they say?
What words are shared by your family? From your colleagues at your job? From people in the community? And even from your tenants and customers at work?
I'm willing to bet they wouldn't brag that you had the biggest bank account, the most impressive title at work, the best house, or the fanciest car.
If not those things, what legacies and gifts DID you leave? What did you stand for during your short time here on earth?
Using the End of Your Life to Create a Better Life Now
As you sit and think about the funeral at the end of your life, it's helpful to compile a list of priorities and ideas that come to your mind.  You can organize these ideas into a list of values.
For about 15 years now, I've done this exercise off and on.  I was also inspired by Benjamin Franklin's list of virtues in his autobiography. So, I decided to create a list of virtues. Over time this list of personal virtues has become a special and important part of my life that I revisit almost every day.
On my best days, I use this list as a code to guide my decisions and actions in life. Of course, I also have plenty of days when I fall short. But the list is always a useful tool that I can lean on when my life or thoughts get shaky.
For those curious souls, here's my latest version of a values list (updated 11/25/2018):
Mindfulness
Acceptance
Joy
Enthusiasm
Wonder
Humility
Love
Kindness
Hustle
Tenacity
These virtues may not inspire you. That's fine. But they do mean something to me, and that's the point.
Now it's your turn to do the end of life exercise above. What virtues or values seem most important and naturally rise to the top? It can be 5, 10, or whatever number you feel comfortable with.
Going Forward
I hope these exercises have been as helpful for you as they have for me.  While they may not seem directly related to real estate investing and financial independence, I think they are the very foundation of any success in those areas.
And I realize these types of exercises aren't easy. They take time, and they can be uncomfortable.  But, you will thank yourself for taking on the most difficult but important of all projects – your own mind.
I look forward to hearing your feedback from these exercises.
Have you done any of these self-reflection exercises? Were they helpful for you? Do you have any other practices that help you learn more about yourself? I'd love to hear from you in the comments below.
Originally published 12/30/2016. Updated and republished 11/25/2018.
Get My Free Real Estate Investing Toolkit!
Enter your email address and click "Get Toolkit"