Updated December 6, 2020
Of all the strategies to begin investing in real estate, perhaps the simplest (and safest) of all is to rent your house and buy another. I call this the "Live-In-Then-Rent" strategy.
In this article, I want to help you use this strategy for yourself. I'll share a detailed case study of how I successfully bought, fixed-up, lived in, and eventually rented my own principal residence. I'll share pictures, charts, and details so that you can understand how to do it and why it can be an extremely profitable decision.
Let's begin with a very ugly property.
It All Began With an Ugly Property
This particular house story begins in late 2008 with a very ugly property in my hometown of Clemson, South Carolina. I noticed the house was in rough condition, but I liked the potential of the neighborhood. The location was quiet, close to Clemson University's campus, and not yet "on the radar" for many other homeowners.
I later learned that the house was being rented for $450 per month (the market rent was more like $900-$950).  Just for perspective, the rent 12 years later (and after a full house remodel) is $1,320 per month!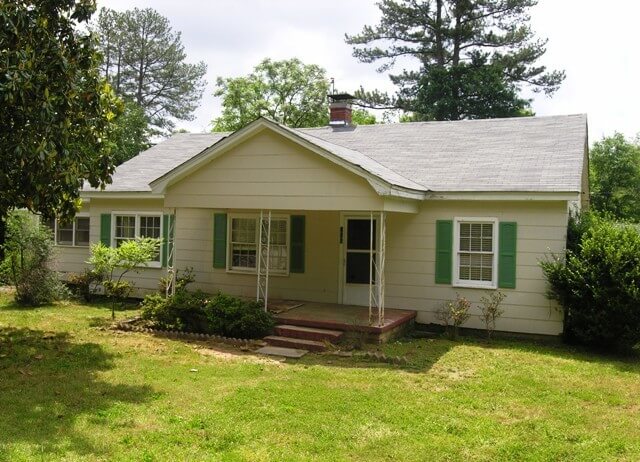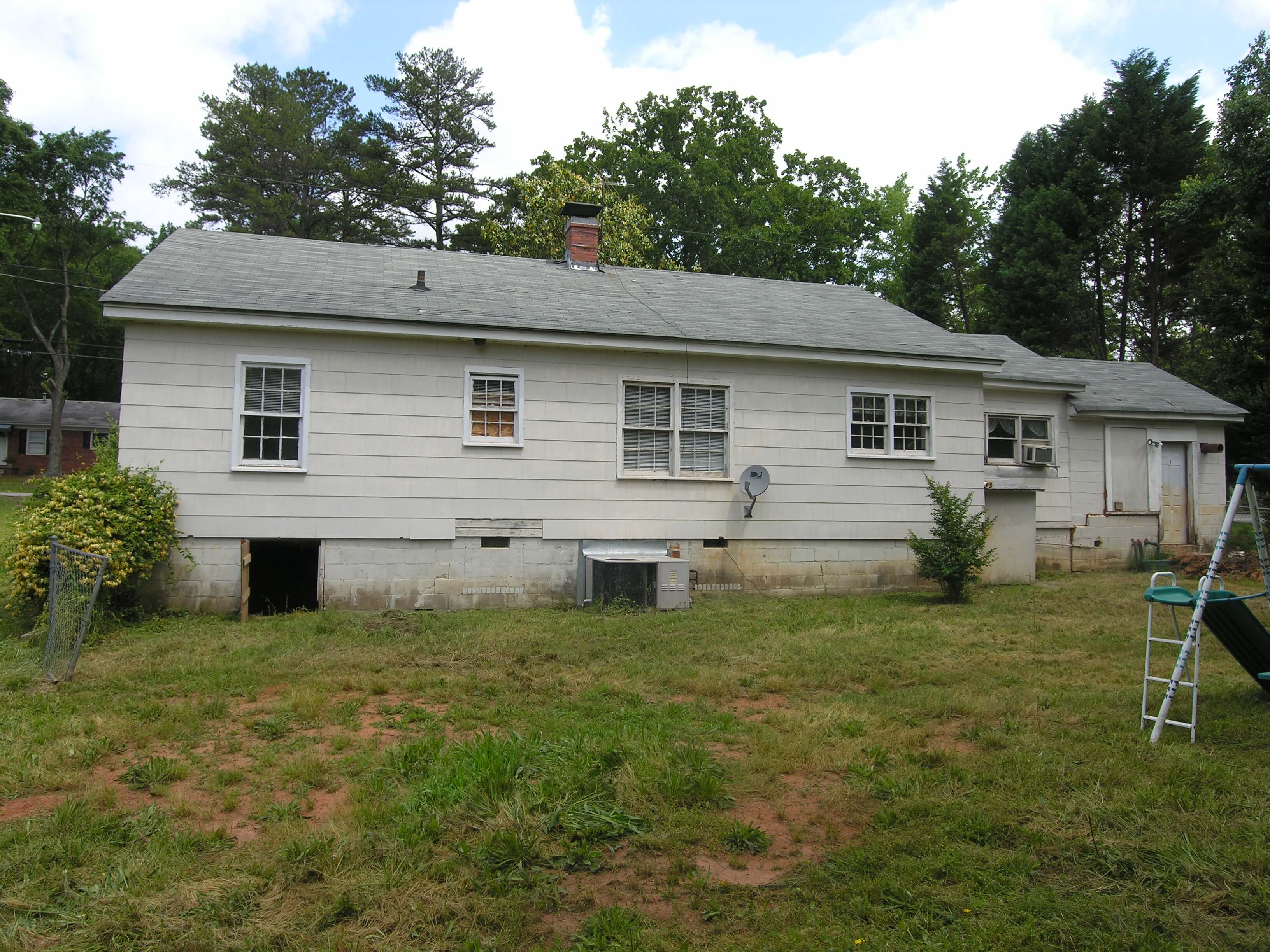 As most real estate investors learn, the nasty-looking houses in a good neighborhood are often an opportunity! But first, I had to get in touch with the owner.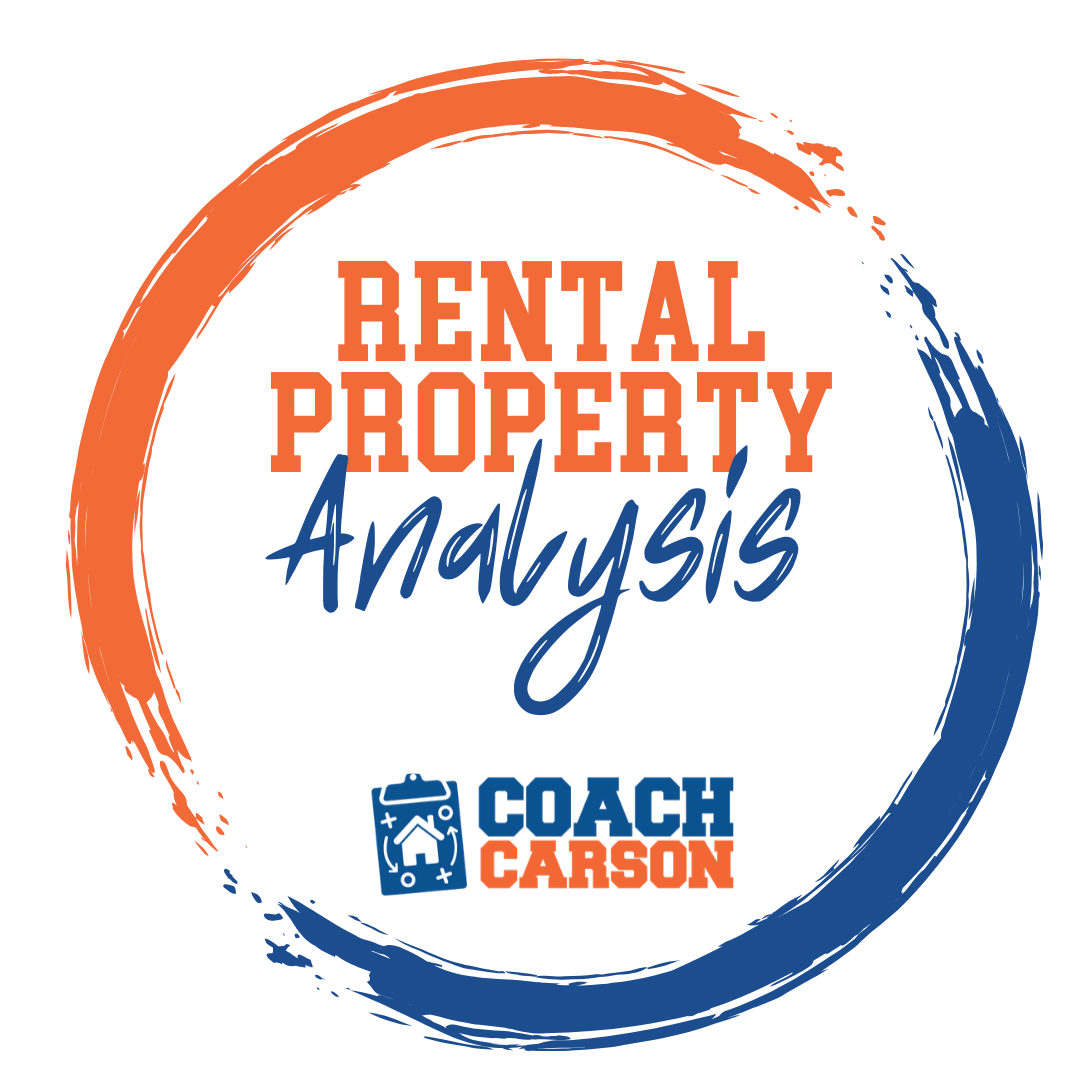 A course by Coach Carson that teaches you how to run the numbers so that you can confidently analyze and buy profitable rental properties. It also includes Coach's rental analysis spreadsheet.
Get the Course
May I Buy Your House?
Like I do with many properties in my area, I sent a letter to the man who owned this house as a rental. And then I sent another letter. Then another!
By the time the owner finally responded to me in 2009, the house was vacant. His tenants had left the house a mess, and they owed the owner back rent.
The owner was in his late 80s, and he was tired of managing tenants. His exact words were "I don't want to fool with it anymore!"
The truth was that his poorly maintained house typically attracted people who were difficult to work with. The tenants with good credit and well-paying jobs usually didn't want his place. So, over time his tenants wore him out.
But his frustration was my opportunity. I made him an offer, and after a couple of meetings, we came to an agreement.
How I Negotiated and Financed the Purchase
I agreed to pay a price of $130,000 with a down payment of $5,000 and a seller-financing mortgage of $125,000.  My payments for the first couple of years were low ($200/mo and $300/mo). But in our agreement, I agreed to increase my payment to $400/month, which was closer to the amount he was receiving in rent.
Negotiating seller financing deals like this isn't easy. I explain my approach to negotiating seller financing in this article. It requires patience, knowledge of how to structure financing, and a willingness to take a personalized approach to property acquisitions. But most of all, it just requires you to ask! If you don't ask, the answer is always no!
But now his vacant, ugly property was MY problem! Let's look at what I was dealing with.
Uh, Oh! His Problem House is Now Mine
The owner had not spent a lot of money on the house during his four decades of ownership. Here were just a few of the problems I had in front of me:
The cosmetics and layout were bad.
The house had termite damage all the way into the interior walls (much of the wood looked like Swiss cheese!)
The windows were leaky and falling apart.
The electrical and plumbing were substandard.
The crawl space was a mess and it flooded with each rain.
The roof was at the end of its life.
The heat and air-conditioning system was also old
Here are a few photos to show you what I was dealing with.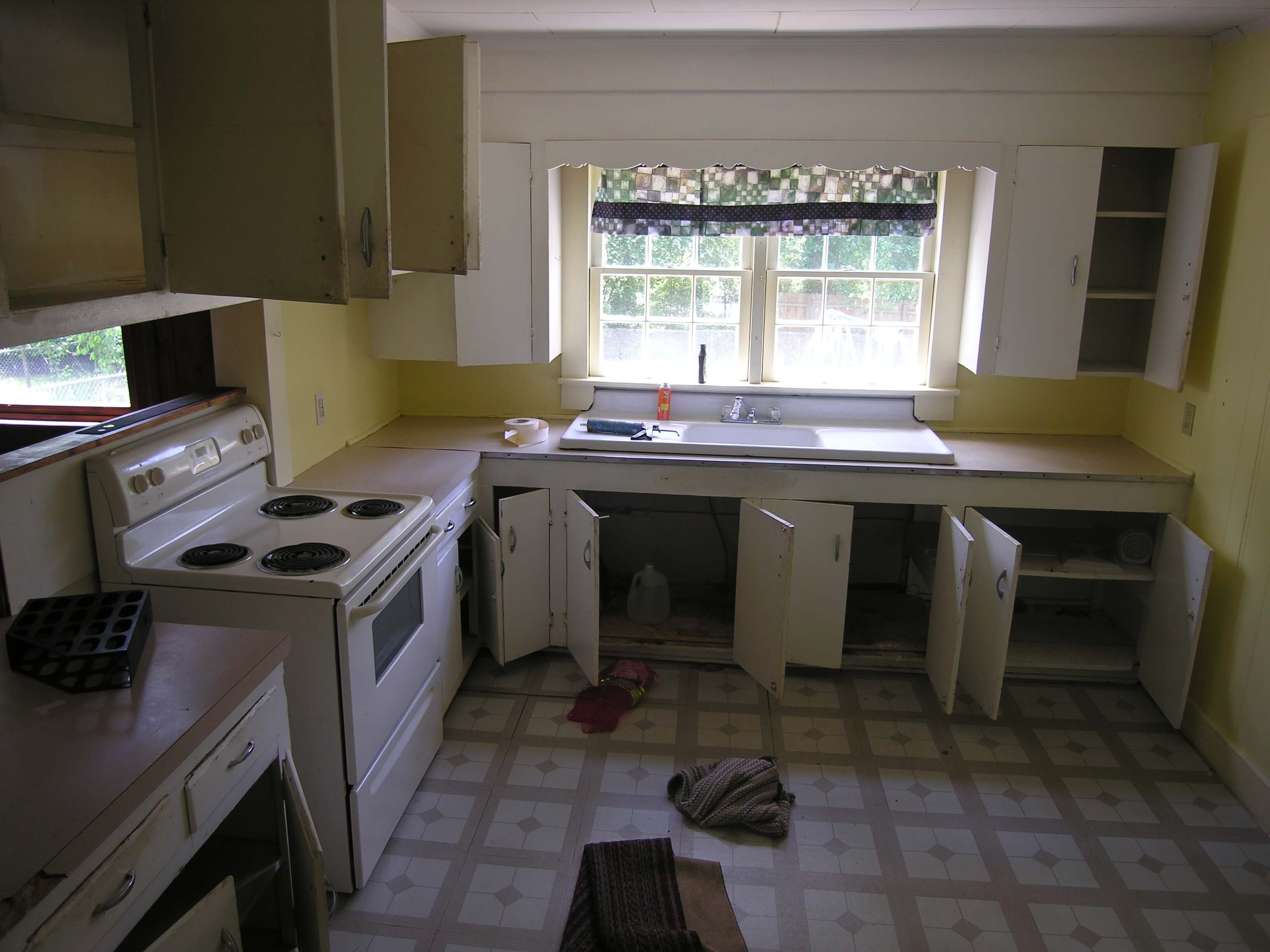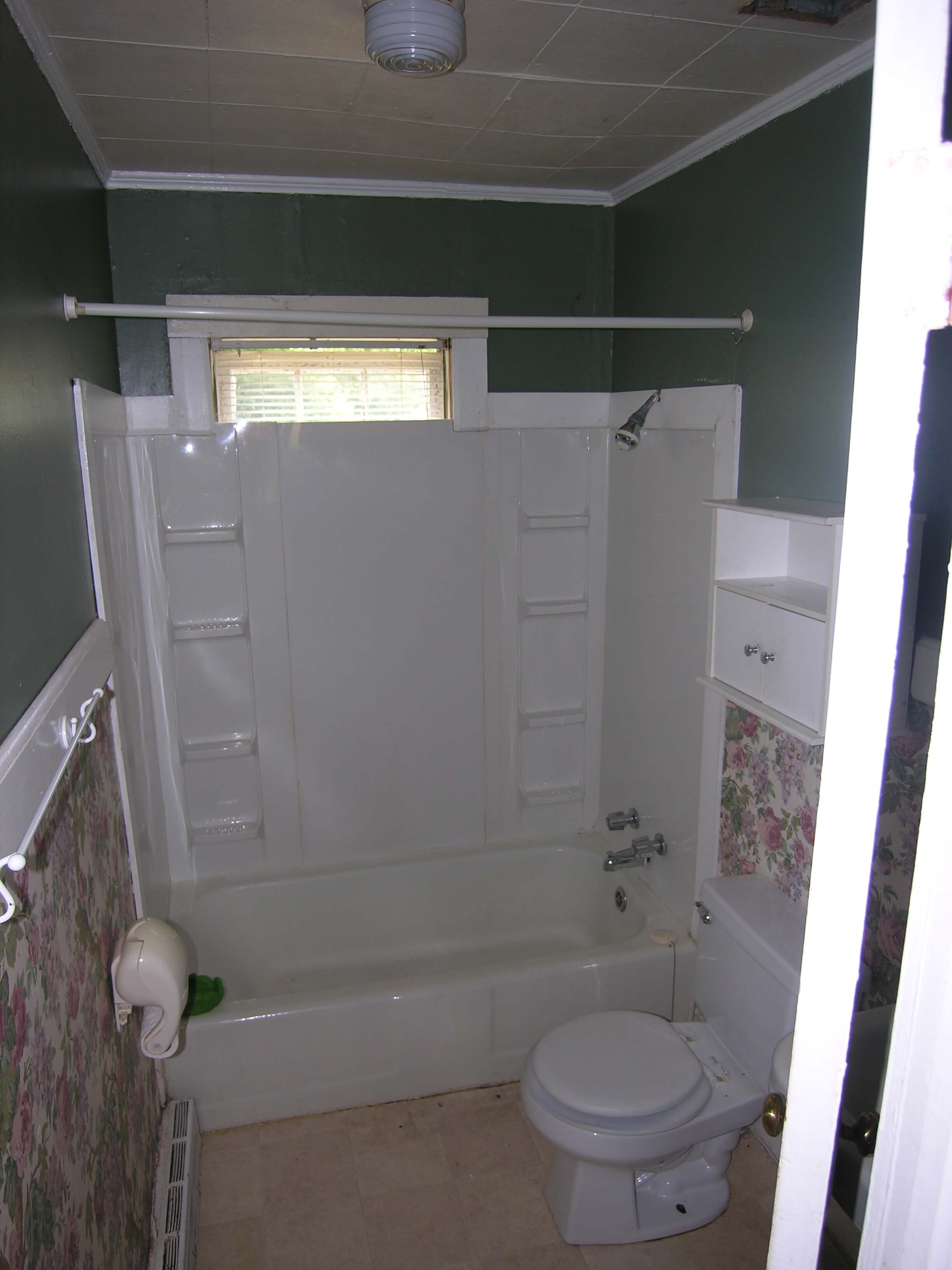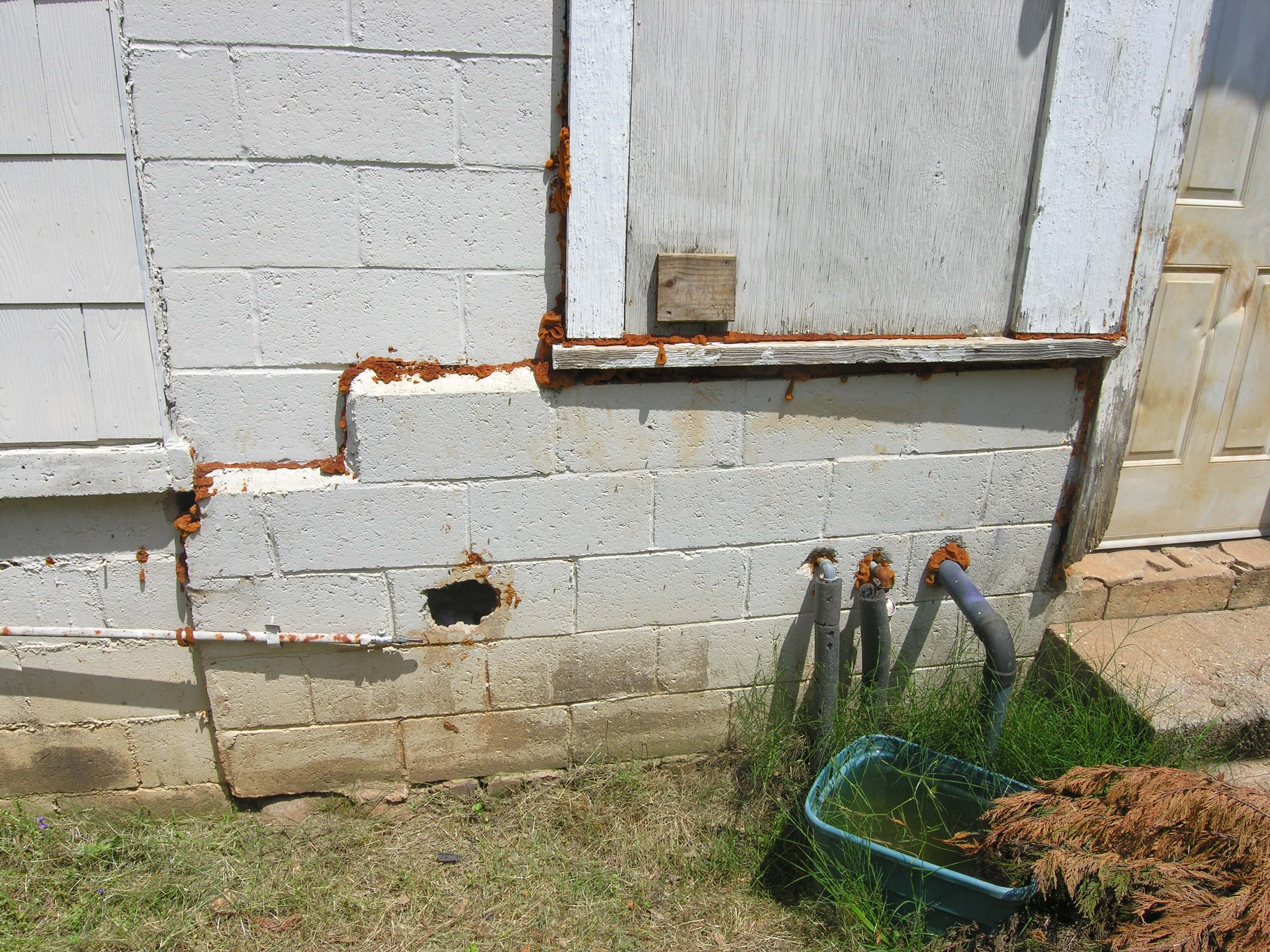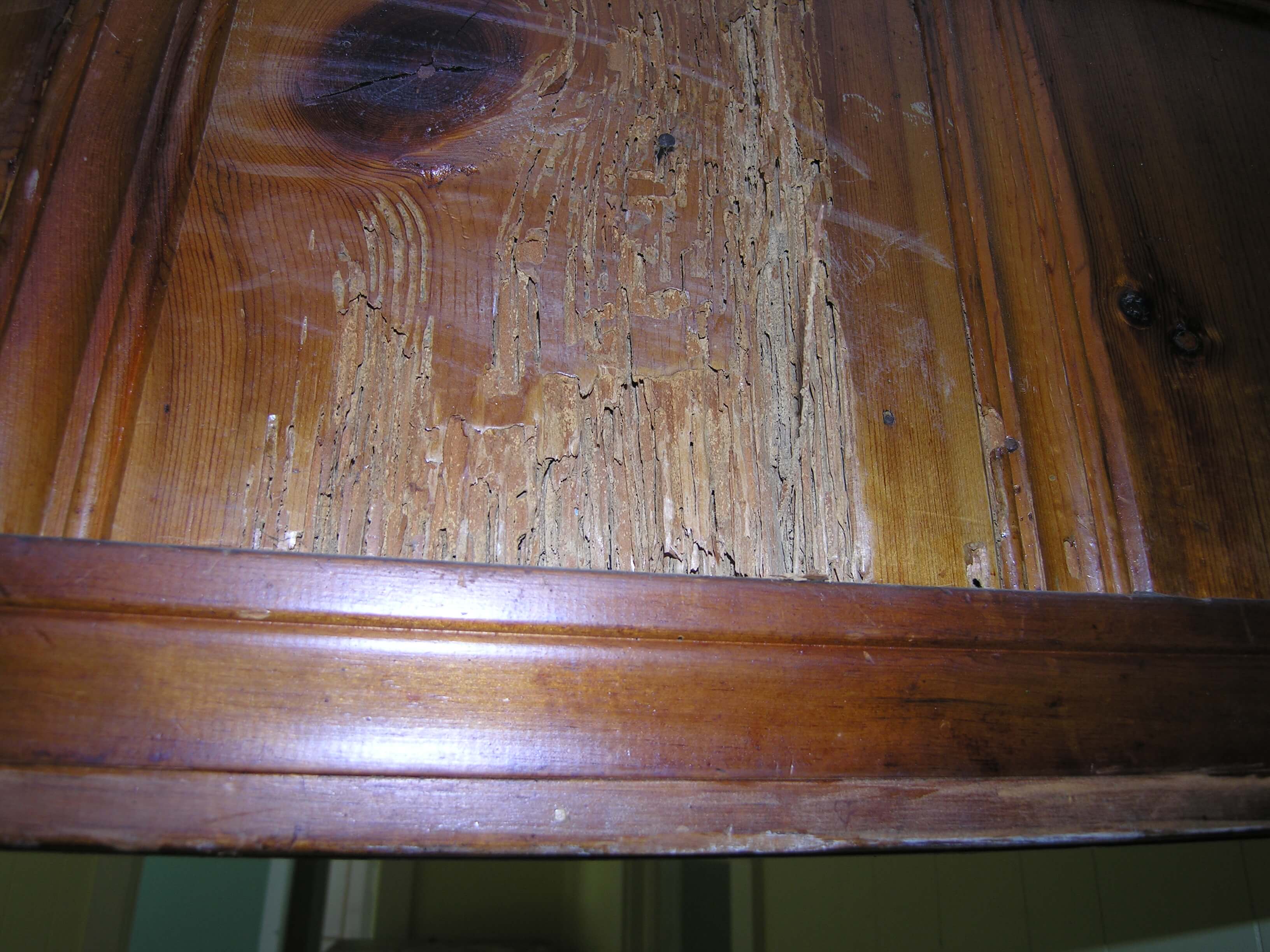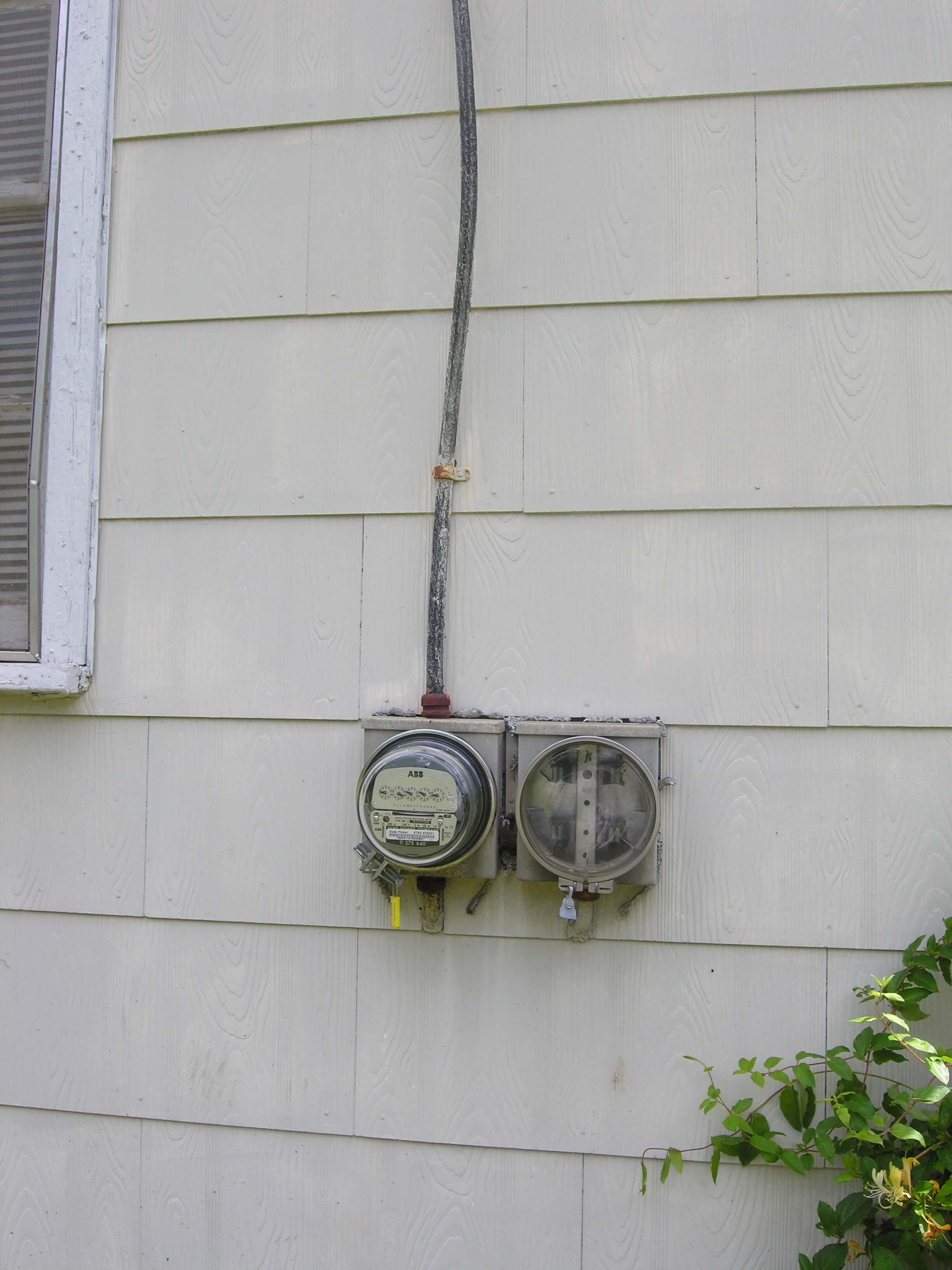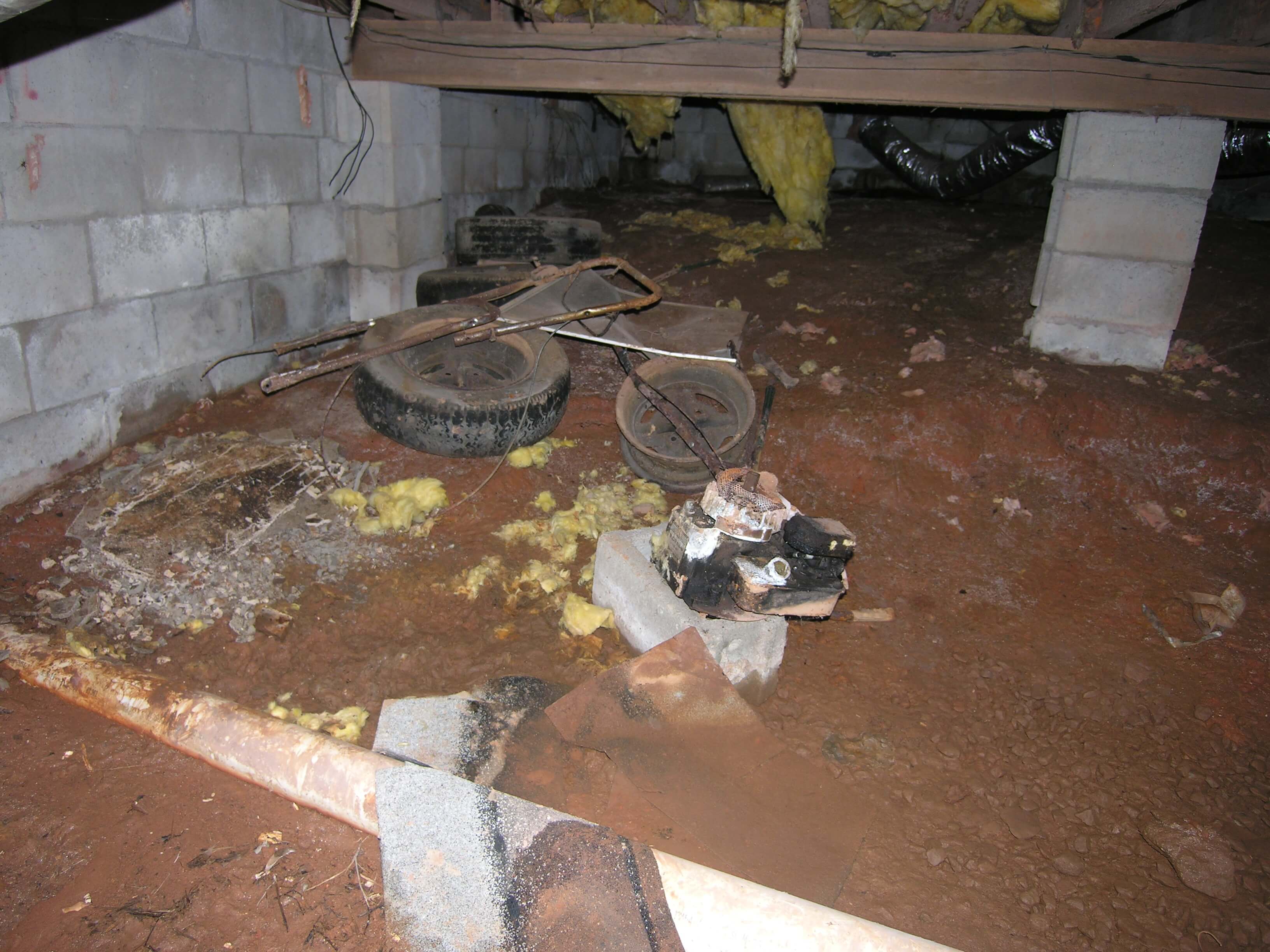 Before you think I was completely crazy to buy the house, it was within a mile of the Clemson University campus. And I also couldn't wait to walk regularly to the nearby South Carolina Botanical Gardens (one of my favorite places in town). And probably the only redeemable qualities inside were an old fireplace and charming pine floors under the carpet.
I began to see a vision for a nice home beyond all the mess!
The Engine of Real Estate Wealth = Solving Problems
You may think of real estate value growth as something that passively happens over time (aka passive appreciation). But the most predictable (and profitable) growth usually happens when you strategically and actively do something to the real estate.
When I began investing, a mentor told me to look for "good dogs with fleas."  He knew that my best real estate deals would be otherwise good properties with problems (i.e. fleas). The problems could be with the property itself, like the physical structure, the zoning, or the title. But sometimes the property is ok, and the problem is with the owner's financing, tenants, or other personal problems.
Like fleas on real dogs, most people don't want to get too close to these problems.  But as an investor looking to make a profit, more problems mean less competition. This also means you can make a better deal.
The key, of course, is learning how to solve the problems economically so that you can still make a profit. In the case of my house, the property need a full "gut" remodel.
The Remodeling Process
With the rental property in this story, the problems were primarily with the structure, the cosmetics, and the water drainage. So, my plan was to spend time and money to remodel and turn it around. After the turnaround, I hoped the property would be a good place to live for me and eventually for my future tenants.
Here is a summary of the repairs that were done after I bought it:
Termite treatment and repairs
Grading to divert water (and later a french drain and sump pump in the crawl space)
New gutters
Replacement windows
New insulation in the walls, ceiling, attic
Opened up walls to change the layout
Moved the kitchen
Added a master bath suite
Installed new wiring and plumbing
Installed new sheetrock
New HVAC system and ducts
Interior and exterior paint
Refinished pine floors
New tile in kitchen and bathroom
Except for the painting, we hired contractors to do everything. We started by just tearing out almost everything so that we could start fresh and rearrange the layout: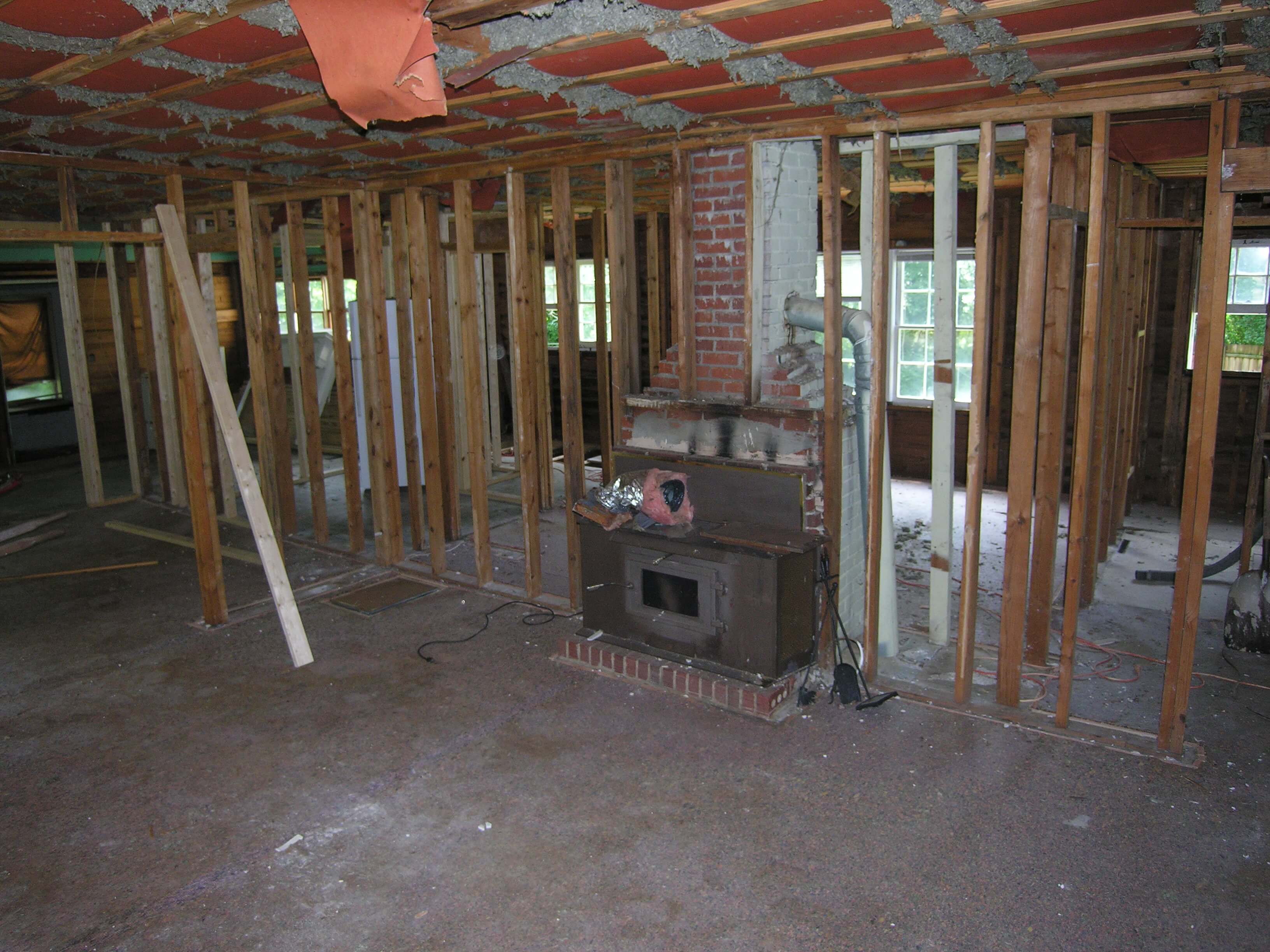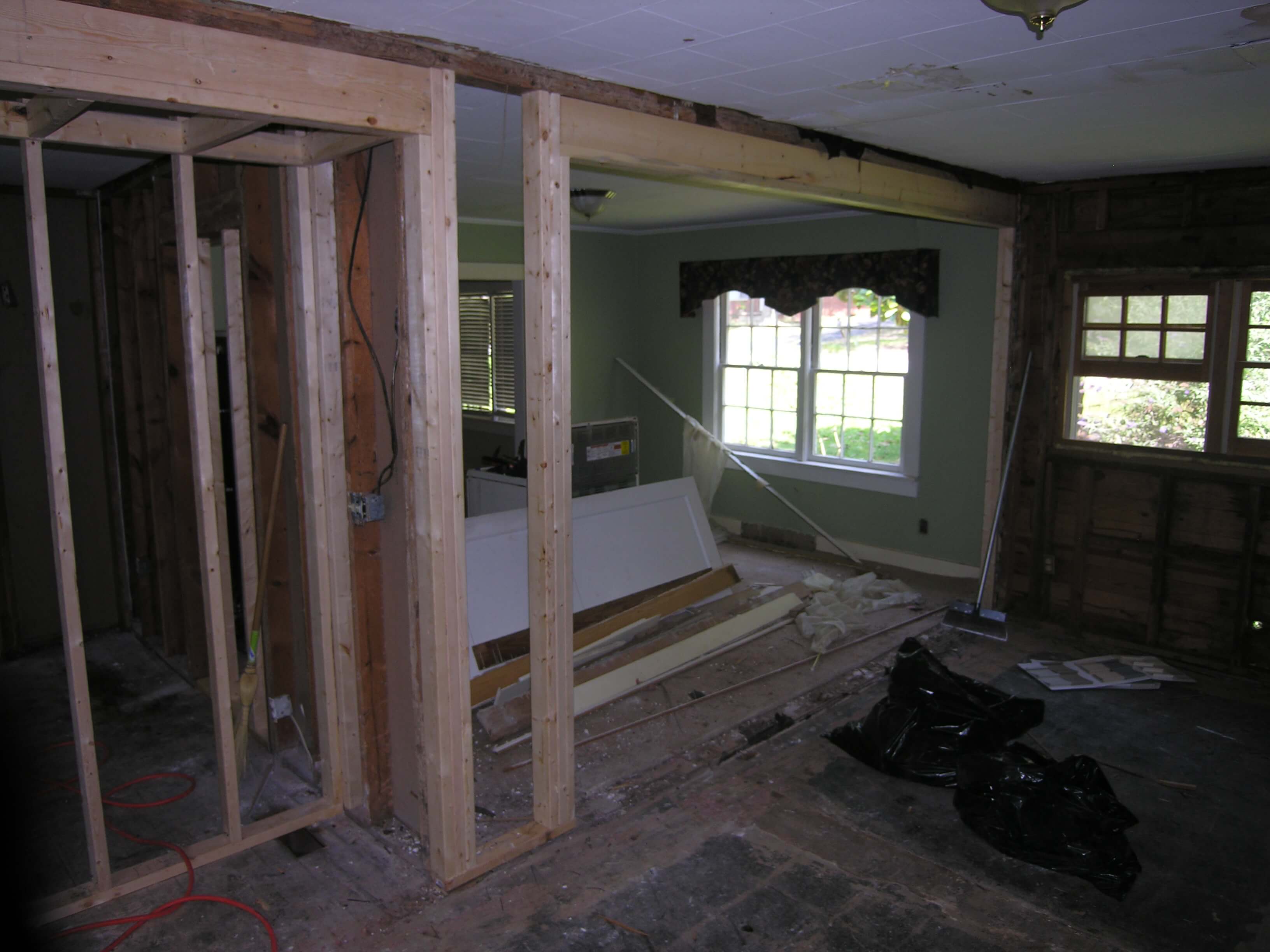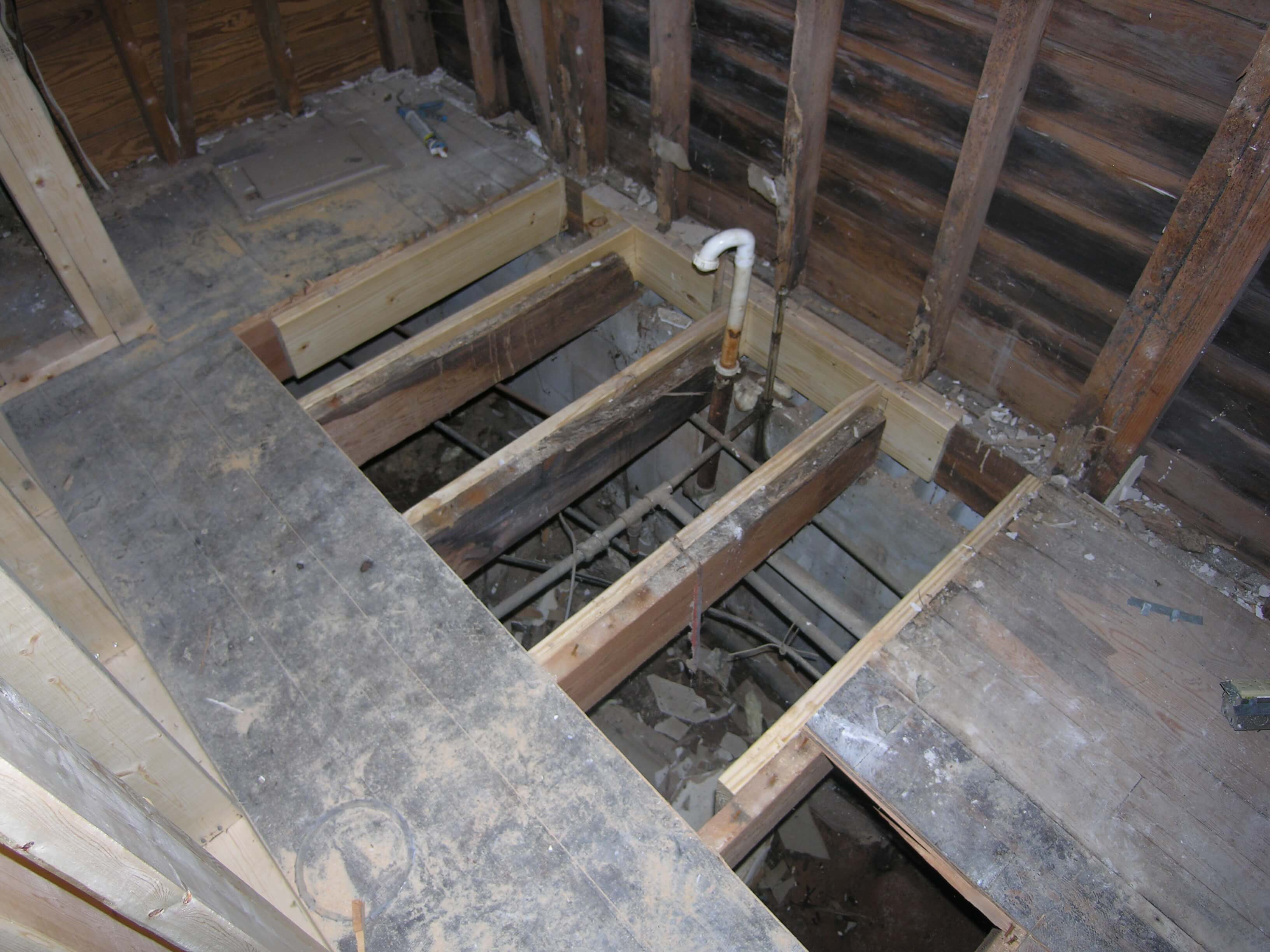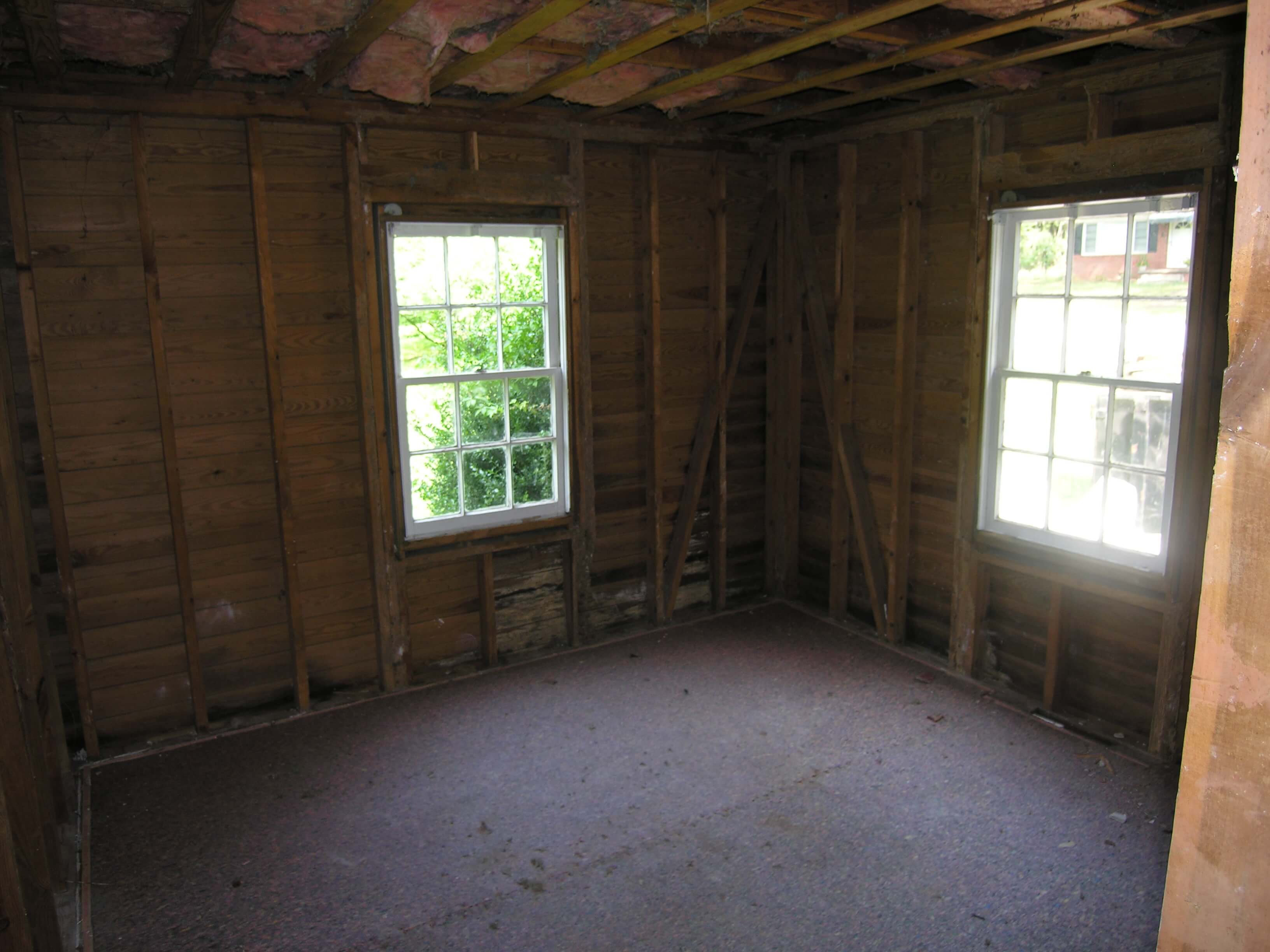 Ripping out the old, bad stuff was the first step. But then we had to put it back together.
The Important Stuff Goes in Behind the Walls!
Tearing out the old stuff of a house can be a little scary. The house basically looks like a big skeleton!
But our contractors slowly began to put it all back together with important, often underappreciated repairs behind the walls. These repairs included insulation, wiring, plumbing, bathrooms, HVAC ducts, and windows.
Here are a few pictures at this stage.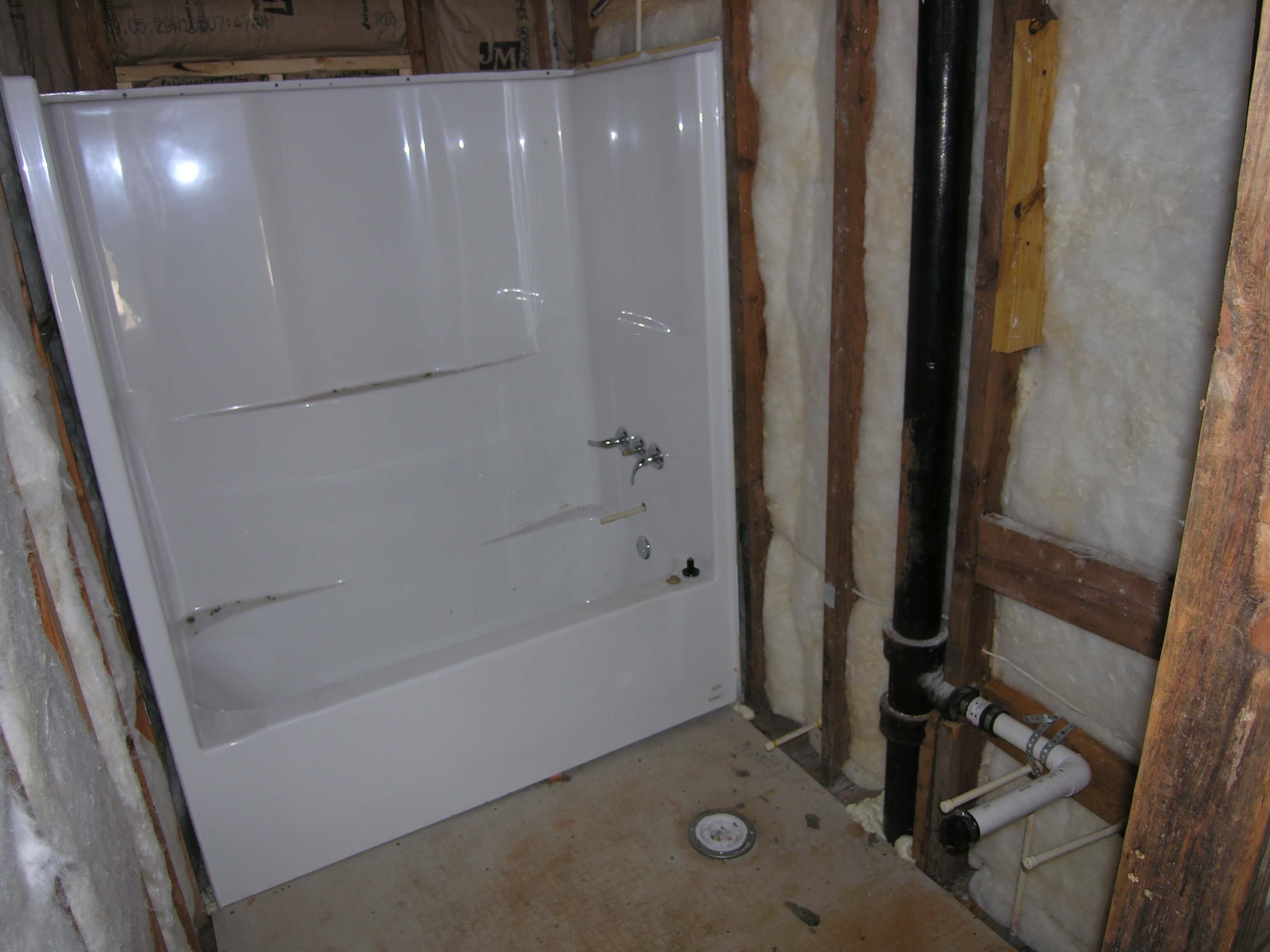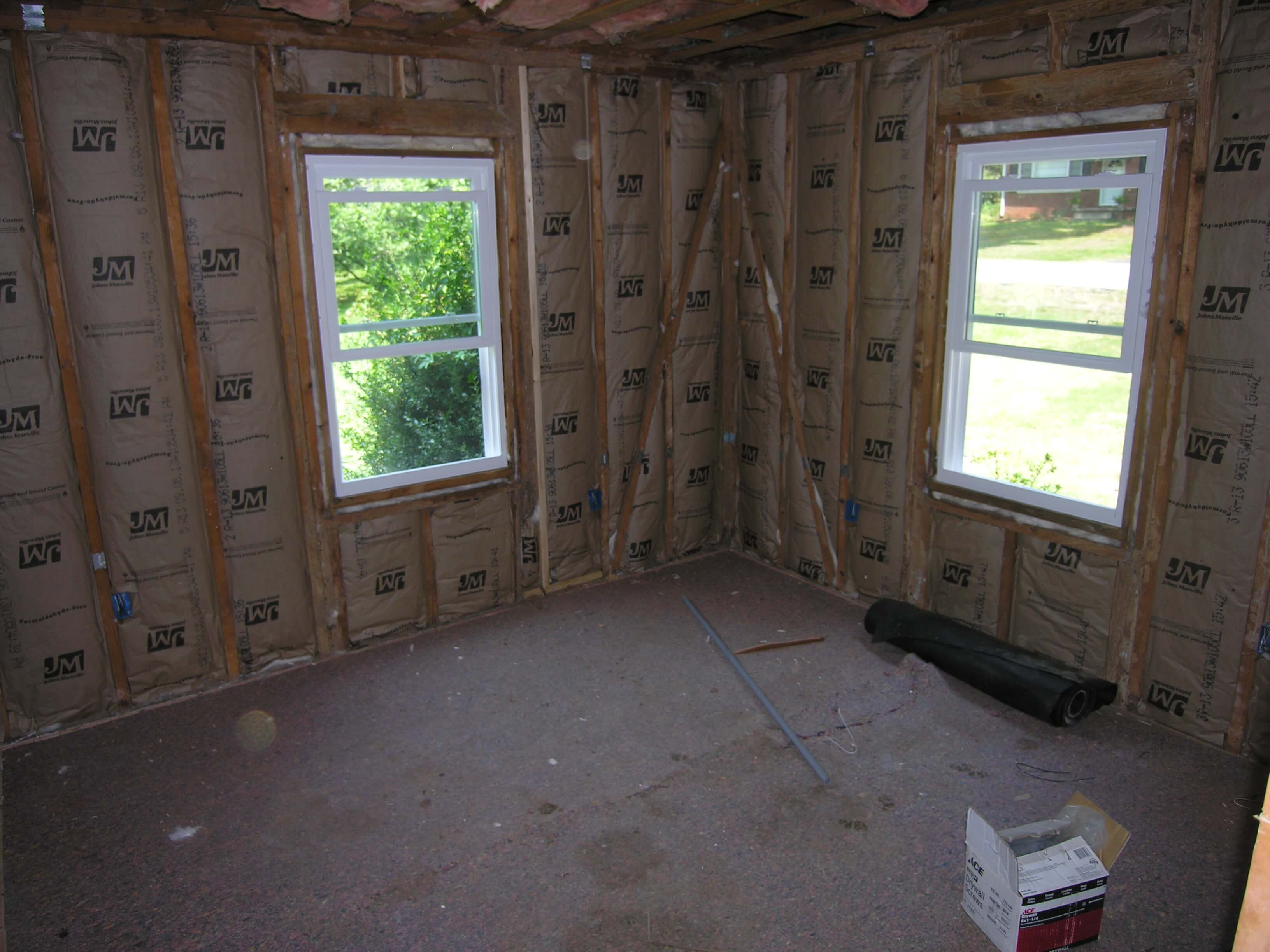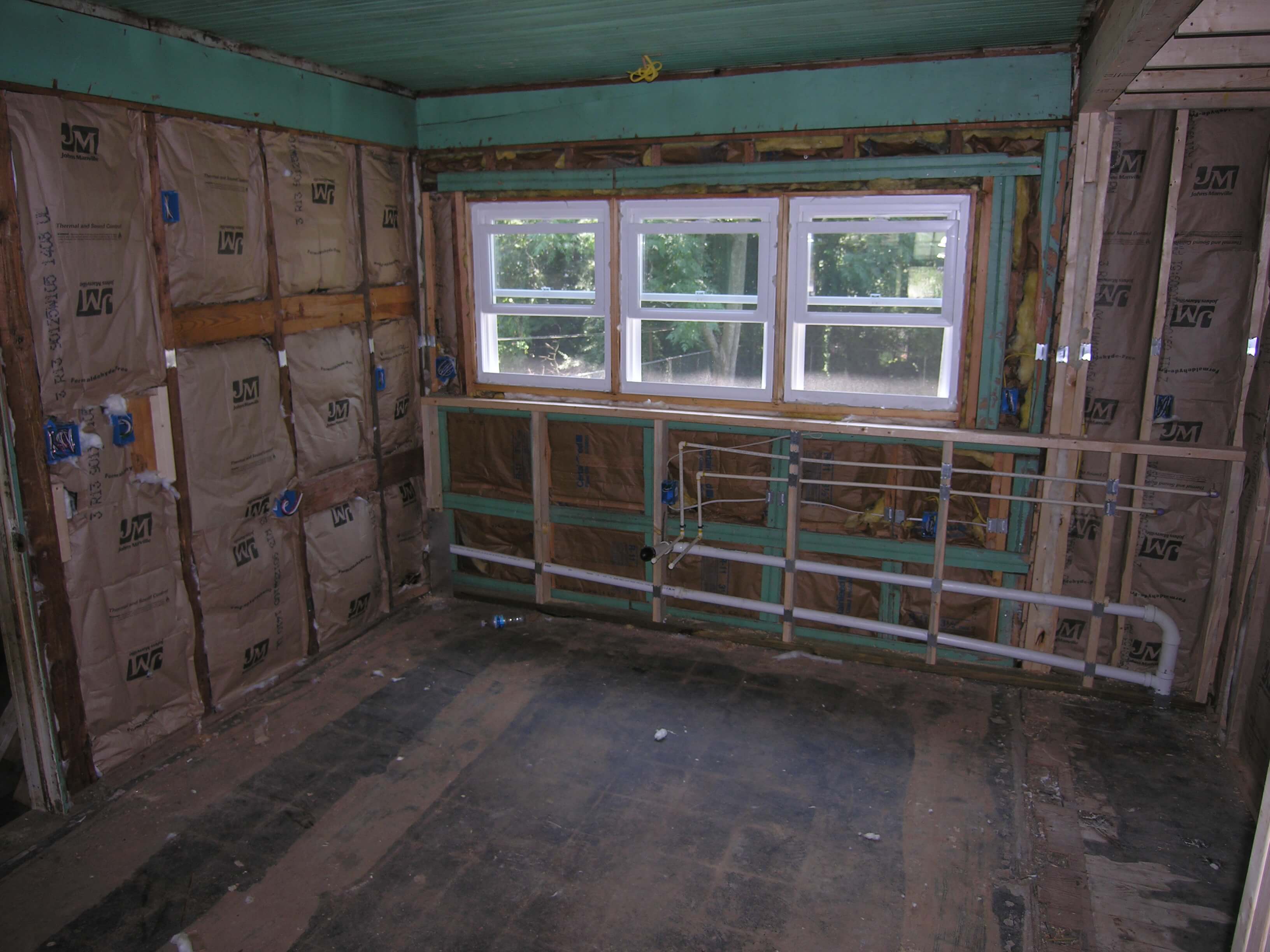 While these repairs were crucial (and expensive!), it still didn't feel like a house yet. But that changed with the next stage.
It Actually Begins to Look Like a Real House!
The house actually began to look and feel like a home with the installation of drywall, trim, doors, cabinets, electrical fixtures, and finish plumbing fixtures (i.e. sinks, faucets, etc).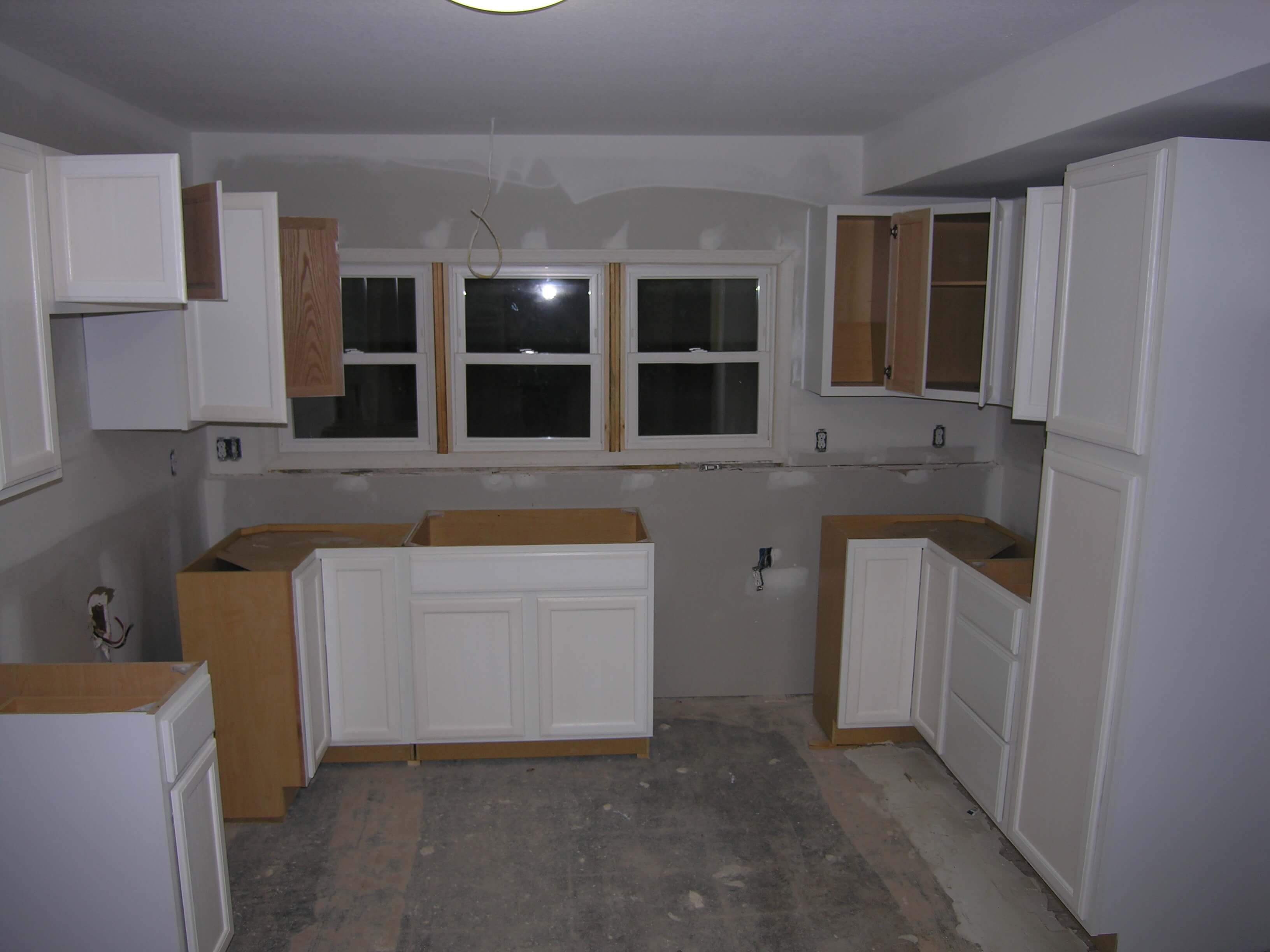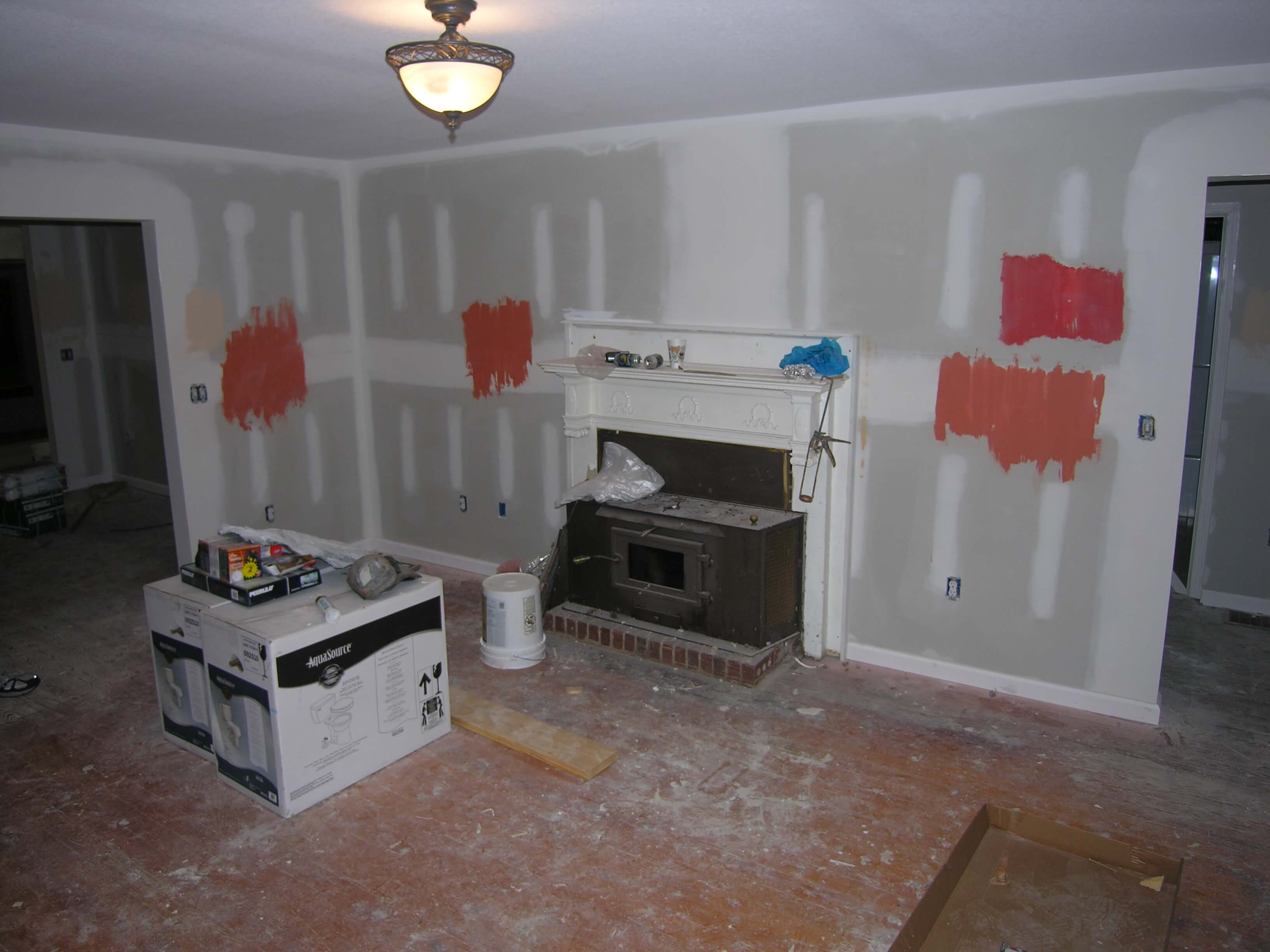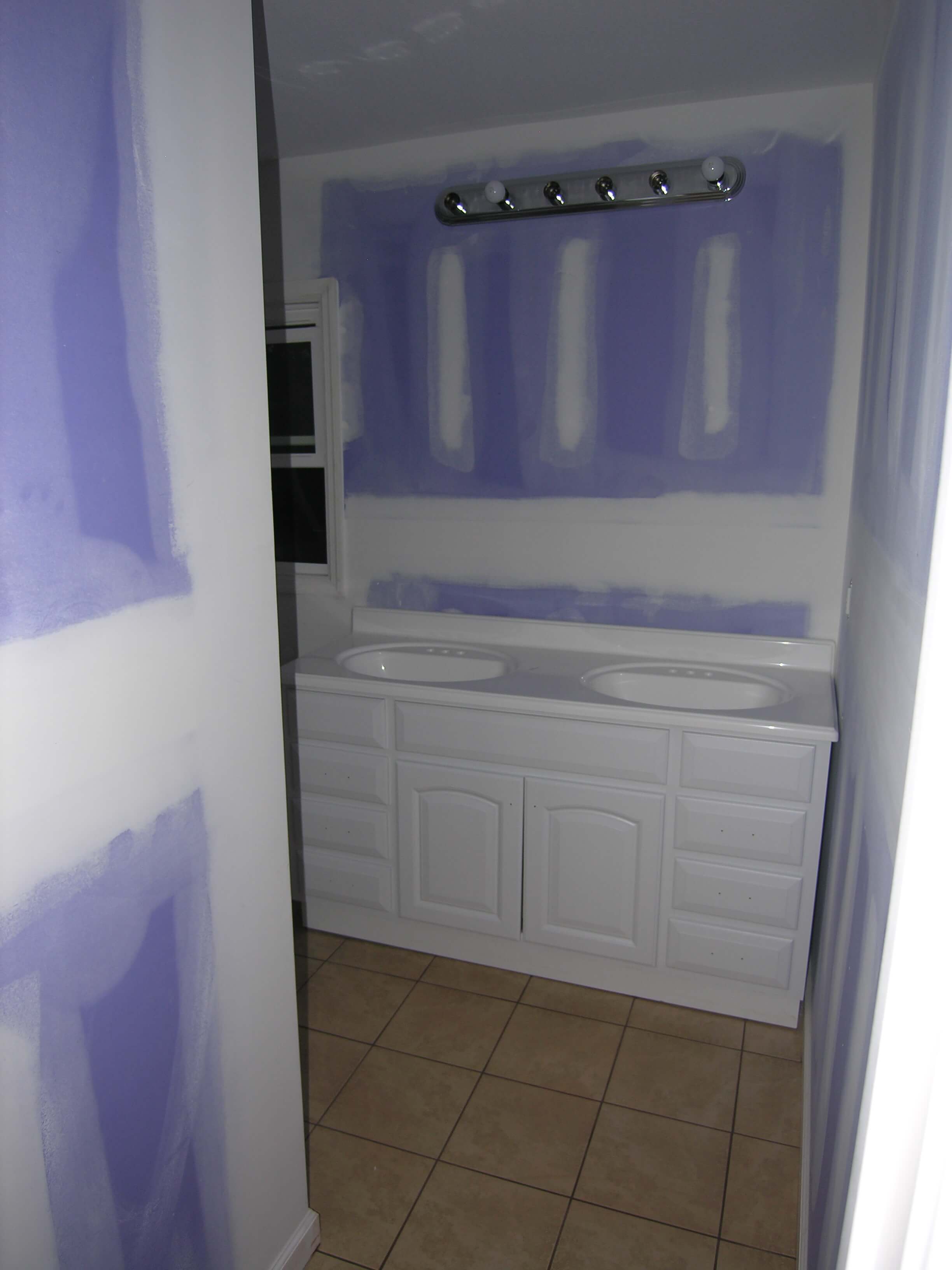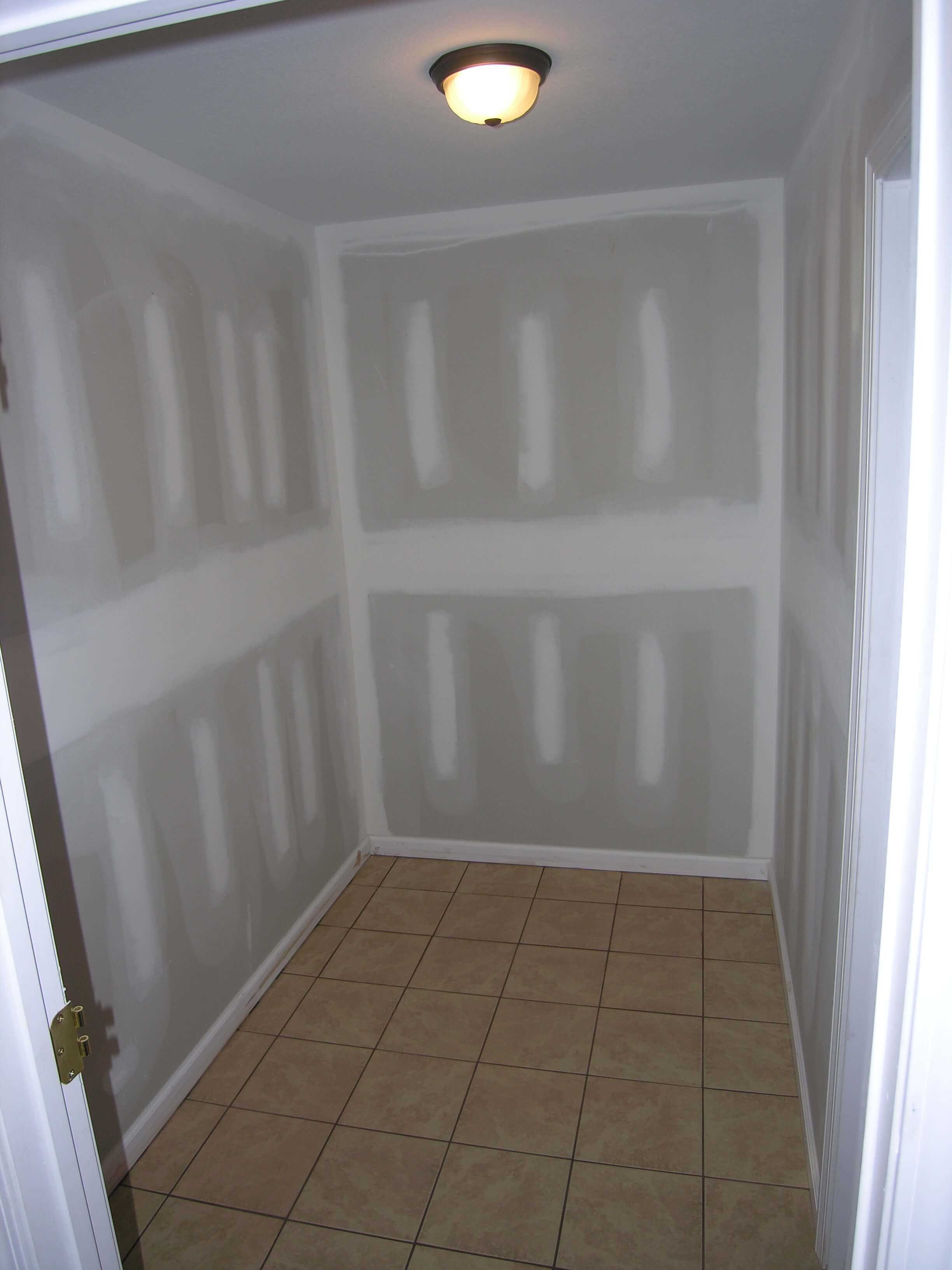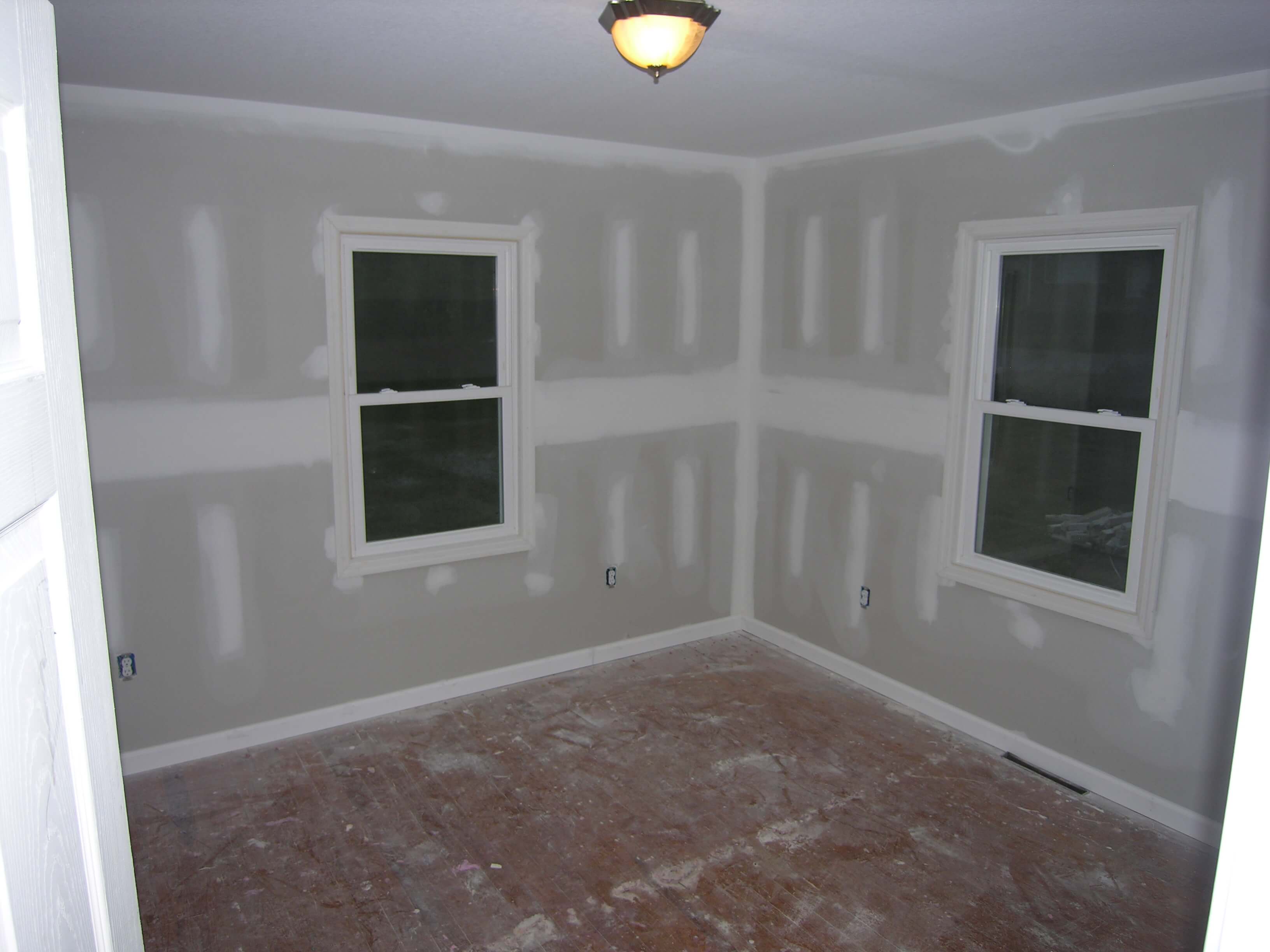 Paint and Finishing Touches
Finally, we put the finishing touches with fresh paint inside and out. As you can see, the younger versions of myself and my wife (along with our parents) helped us to save some money at this stage.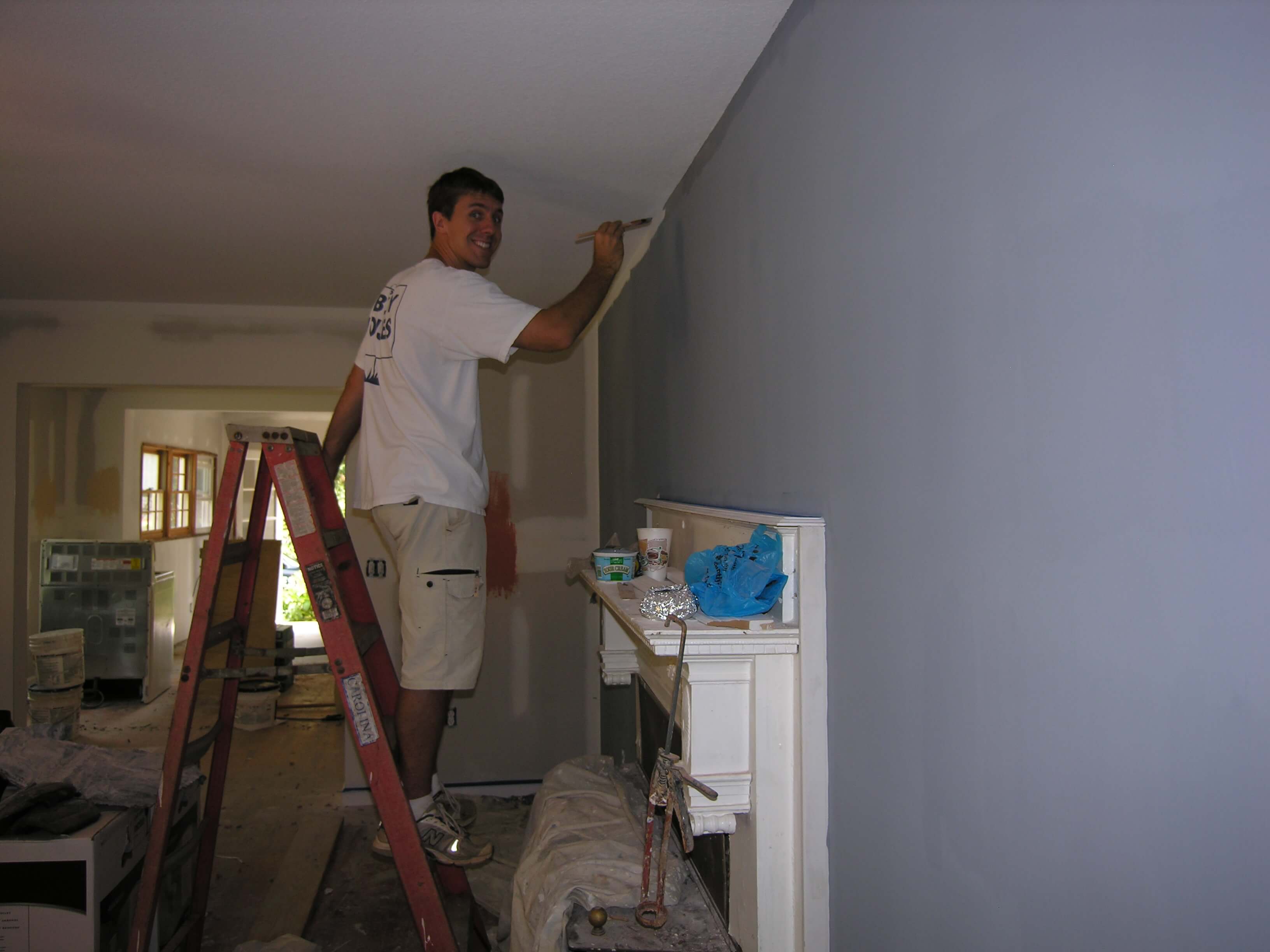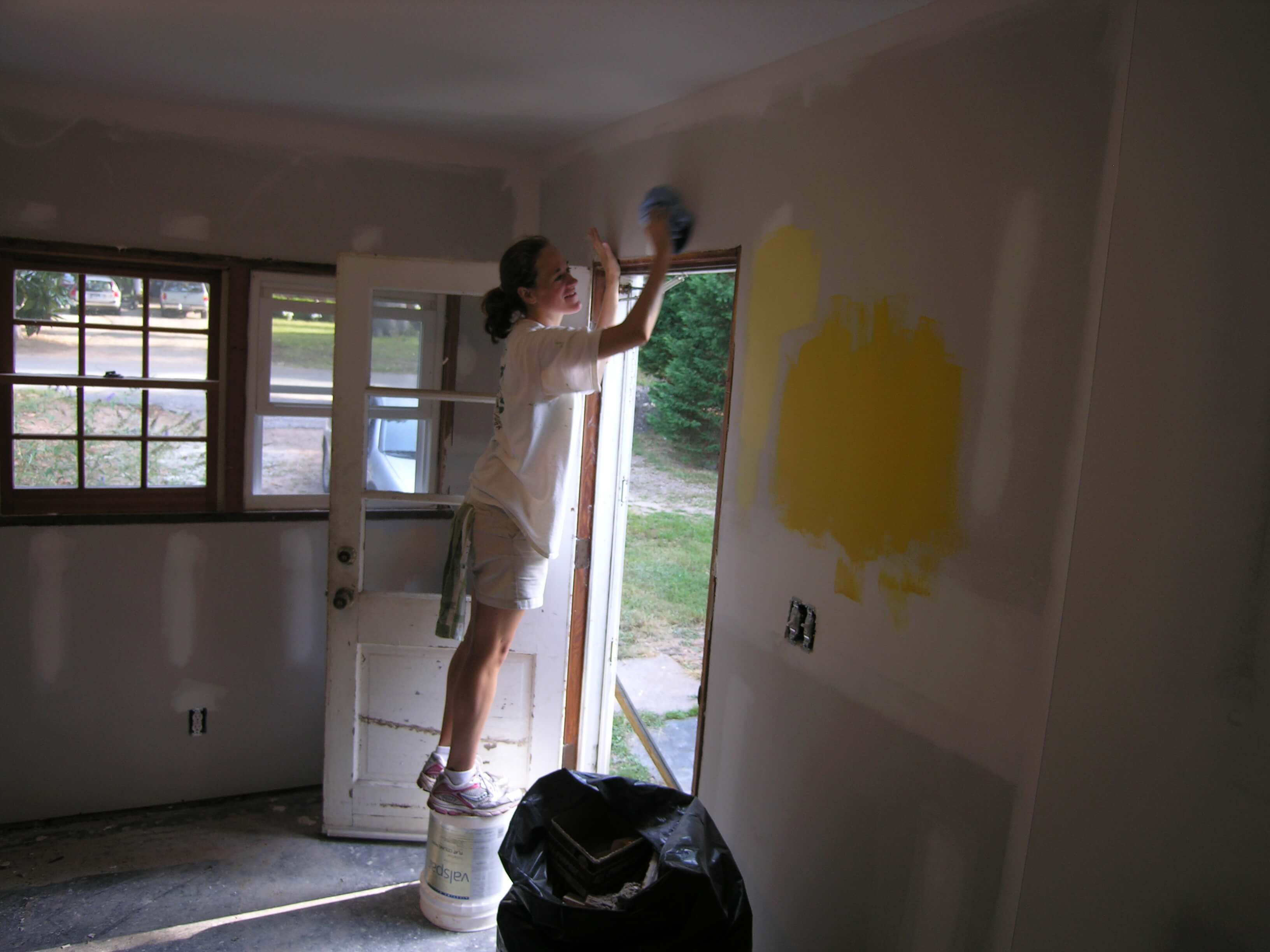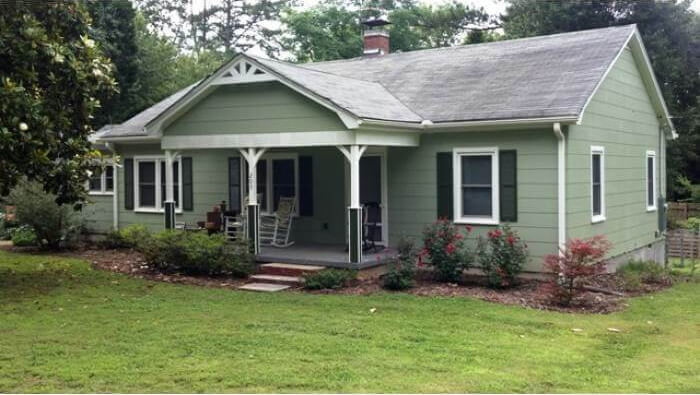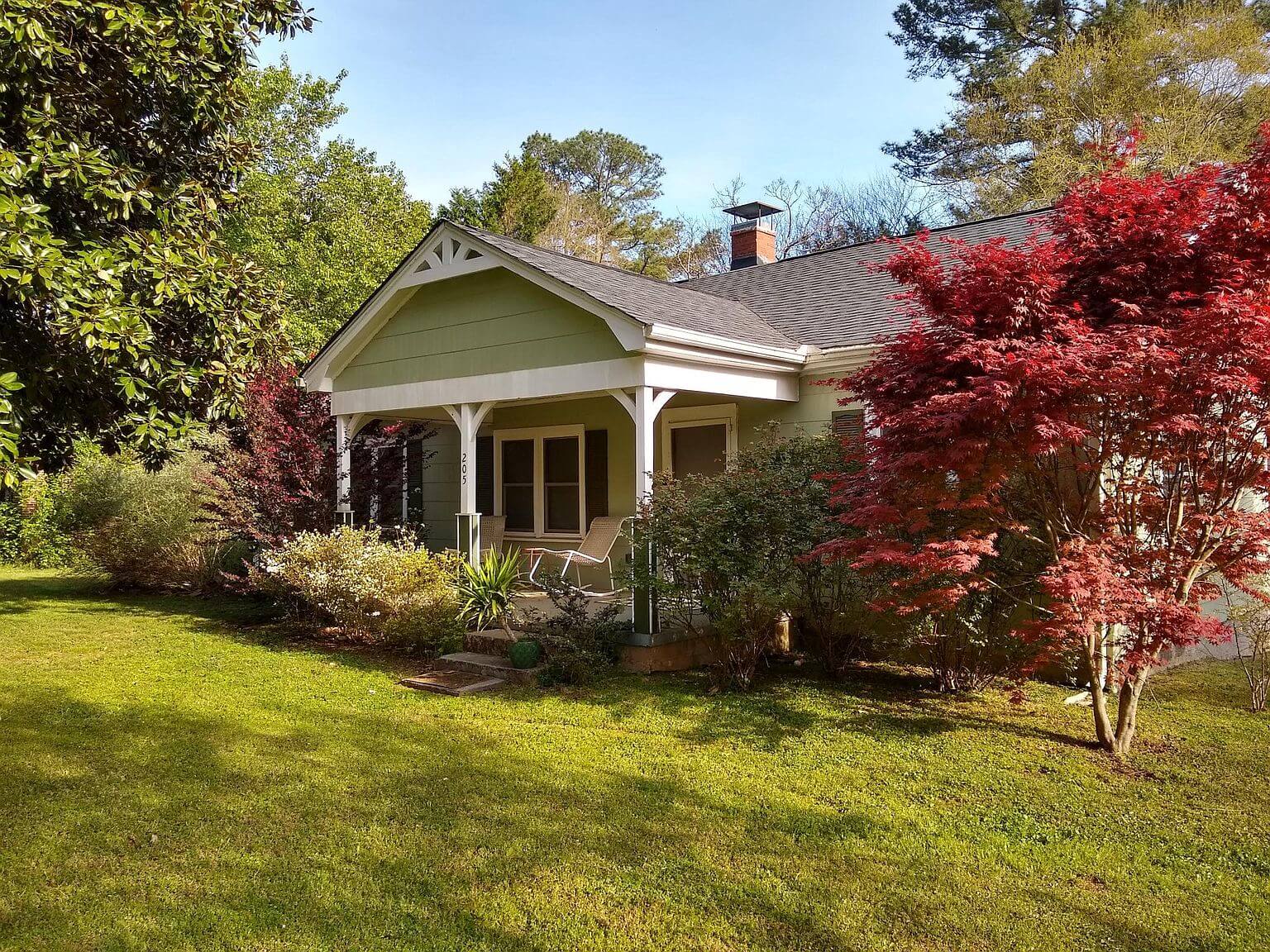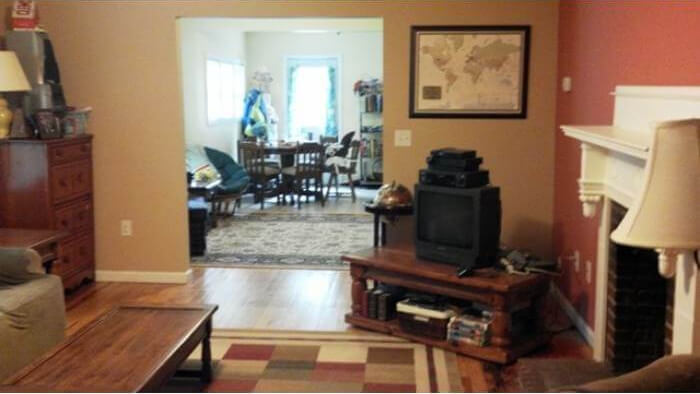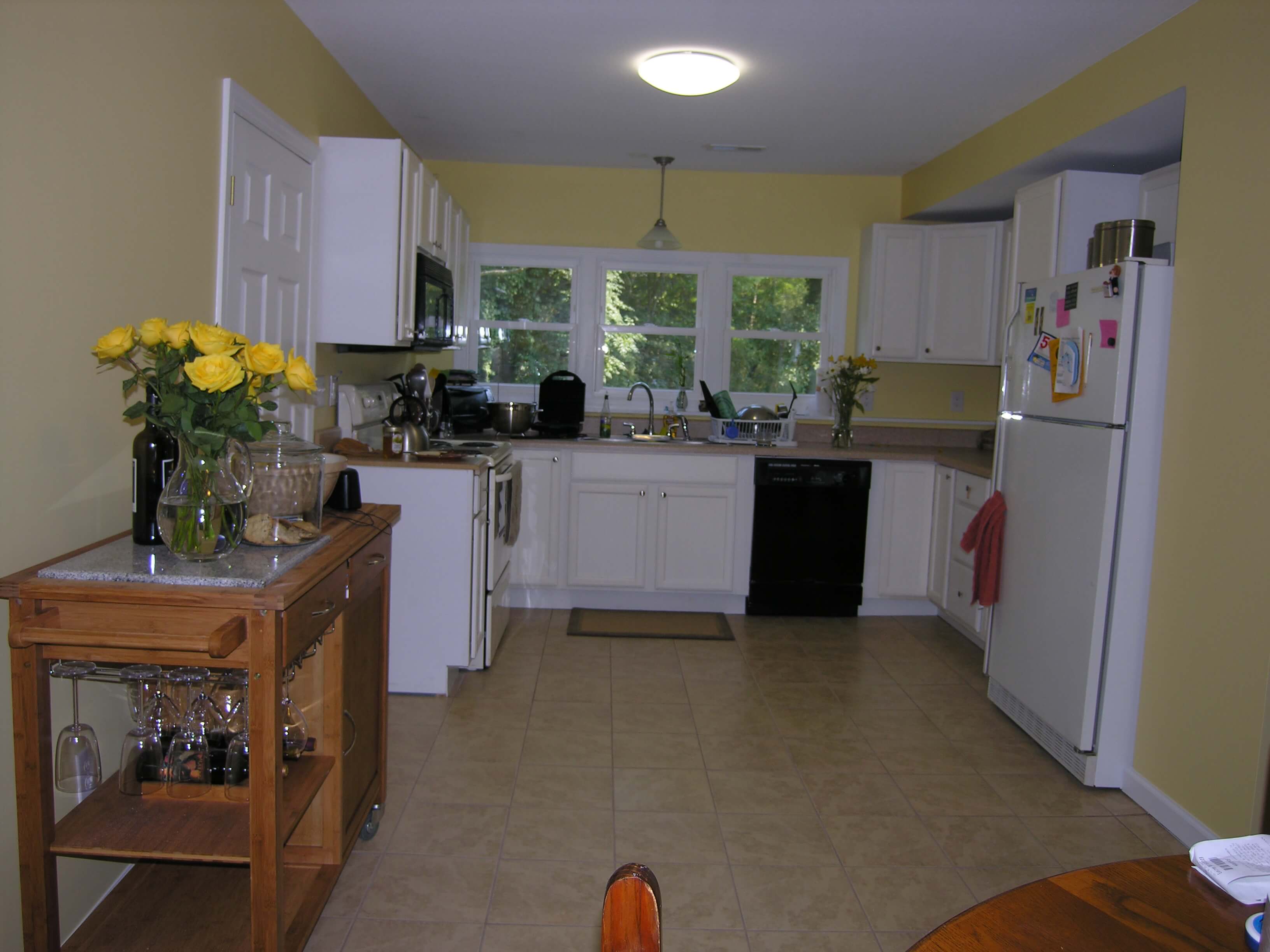 The entire remodel process took several months and a lot of cash. Let's look at a summary.
Summary of Our Major Remodel
In the end, we spent over $45,000 to bring the house back into shape. We could have spent more, but we stayed simple on many of the electrical and plumbing finishings and delayed some of the major improvements (like the roof, which was not leaking).
Since we paid $130,000 for the house, our total investment was over $175,000. The value at the time was likely right around what we had invested, so it was not a homerun investment deal (yet!).
We also did not have $45,000 cash in our bank account. So, we borrowed the money from a private lender at 6% interest, and we later paid off the loan once we saved enough cash.
Most importantly for the future, however, our improvements made the property more marketable and low-maintenance. The house was structurally sound, more energy-efficient, and cosmetically more attractive. The flow and layout also made more sense, and we added more functional space with an extra master bath suite and walk-in closet.
We enjoyed living in the property for almost 2.5 years, but we knew eventually this would be a rental property. So in next phase of this story, I want to explain the details and numbers as our house became a rental.
Live-in-Then-Rent – a Delayed Rental Harvest
In many cases during my career, I bought properties, fixed them up, and immediately rented or sold them. But this time, my wife and I fell in love with our Clemson cottage and decided to make it our home.
For several years, we had been house hacking and living for free in my favorite 4-plex building.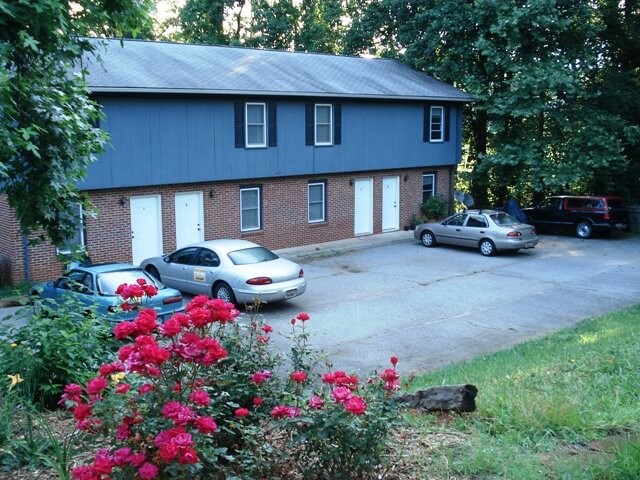 But we were about to start a family and could use a little more space. Plus as a real estate investor, I often have the itch to do a new, better deal!
The market rent for our newly remodeled house was about $950 per month at the time we moved in.  So if you remember our original numbers, we had taken the monthly house rent from $450 to about $950 within several months. This was a rental appreciation of $500 or 111%!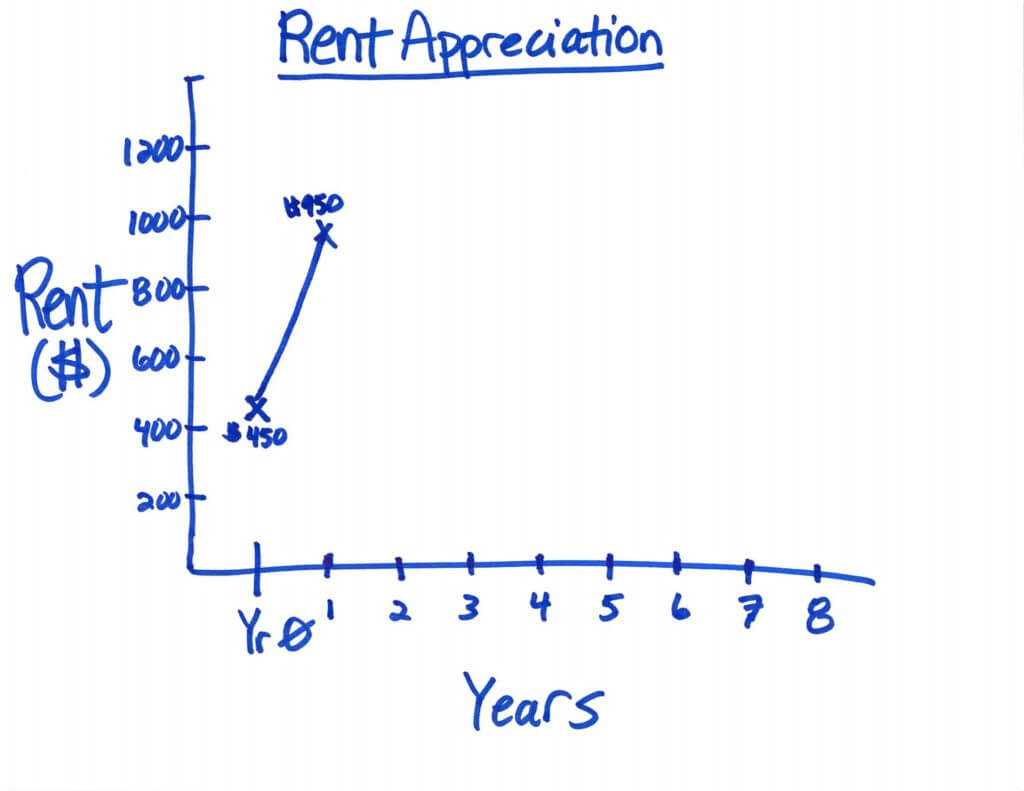 Yes, the rent was already undervalued for the neighborhood to start, but no one would have paid $950 for the house in its prior condition. The specific improvements we made gave us the ability to maximize the house's potential.
Within 2.5 years, we decided to move again (another kid and another good deal on a fixer-upper house!) So we rented the house for $950 per month to a great, long-term tenant. This began the next phase of our rental adventure.
Buying the New House
Our new house was in the same town, but it was bigger, had a basement (with an office for me), and had an amazing backyard with woods. It was also a fixer-upper that could eventually be rented for a profit (see a pattern?).
We bought it for $105,000, and this time we used a local bank to finance the purchase. Fortunately, we had enough personal cash flow and no personal debt so that we could easily qualify for the new loan even with the old house mortgage. But our lender also counted the $950 of potential rent we would soon be getting. Although every lender is different, if they will include the rent in the first house it will help you to qualify for the second.
We repeated the strategy of using some of our own cash and some private loan to fund the down payment and repair costs. Our repairs increased the value of this property enough that we later refinanced to pull back out our cash and pay off the private loan.
Now let's take a look at the financial results of the first house that we kept as a rental.
A Built-In a Profit For Our Buy-and-Hold Rental
Our rental house had a built-in profit with the original numbers. Our fixed financing payment (in this case seller financing) was $400 per month. After covering all of our operating expenses we had a small positive cash flow of $150-200 per month. We also were amortizing (paying down the principal) on a large portion of each payment.
So, our investment was basically paying us in two main ways:
cash flow
amortization (increase in equity)
Even if the property value or rent stayed the same (i.e. no appreciation), we still made money. But that doesn't mean we didn't hope for or plan for some type of appreciation in the future! In fact, we did.
How to Increase Your Chance of Property Appreciation
Although it was no guarantee, I anticipated that our economy, like most modern economies, would experience some inflation over time. As our national government prints more money, the value of that money slowly diminishes. For us as consumers, this means prices tend to go up (lately at 2-3% on average, although that rate could change in the future).
But real estate is very local, so prices can go up (or down) faster or slower than overall inflation. This is why I recommend you carefully pick a target investing market so that you can set yourself up for success. The better location you pick, the more likely you will experience massive growth over time.
And that's exactly what happened to our house in this case study:
Our town's primary renter population, faculty and students at Clemson University, increased in numbers (i.e. increased demand)
Supply of rental housing did not keep up with increased demand (which tends to increase prices)
The new rental housing that was built was primarily high-rise student apartments, so single-family rental houses became even more in-demand for our ideal tenants (university faculty and young professionals)
Our location close to campus and parks made it more desirable than other house rentals in town
Although taxes, rental licenses, and inspections in our town increased the hassle and cost of renting, they were not prohibitive enough to make it unprofitable (at least not yet!)
As a result of these forces and others, by 2020 as I write this  (12 years after my initial letter to the owner) we have the house rented for $1,320 per month to great, long-term tenants. And I think we could rent it for $1,400-$1,500 when this tenant moves out.
What an increase in just 12 years! This phenomenon of patiently waiting on rent increases turns into an incredible wealth-building machine.
The Incredible Long-Term Profitability of Rental Properties
As you can now see, the house that was once our home has now become a very profitable investment. It makes us money in three ways:
Cash flow
Amortization of the loan
Appreciation
We also have some built-in tax savings because we get to shelter some of the cash flow with property depreciation. And the overall value of the property is going up, which means we could sell or refinance it someday to capture the increased equity.
Because of the simple but powerful nature of buying and holding rental properties in good locations, these profit centers also get better and better over time. Look at the effect of this simple investment concept when it's allowed to work over 30-years!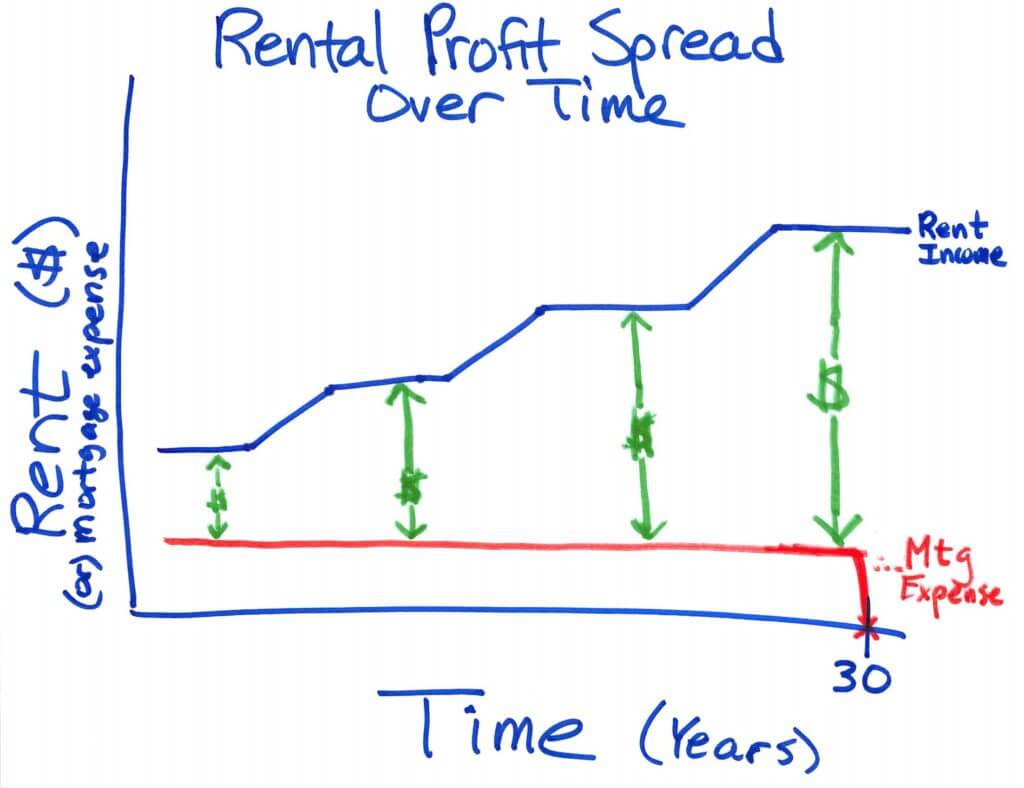 The income of your investment (rent) increases over the long run. But at the same time, your primary expense (the mortgage payment) stays the same. So, a beautiful, profitable gap begins to grow and grow as the rent continues to increase.
If you choose, you can use these increased profits to payoff this or other mortgages faster (see the rental debt snowball).  You can also save it to invest in other investment properties. Or if the time is right and you've grown enough, you can just spend it!
Conclusion
Now you've seen how I rented my house and bought another. This strategy, which I call the Live-In-Then-Rent, may sound simplistic. But that simplicity and ease of implementation is also its primary benefit! By successfully renting just a few of your residences, you can become wealthy for the rest of your life!
I hope my case study and explanations have given you some practical ideas and illustrations that you can apply for yourself. Good luck!
What did you think about this case study? Are you planning to rent out your house? Have you done this type of deal in the past? I'd love to hear from you in the comments below!
Get My Free Real Estate Investing Toolkit!
Enter your email address and click "Get Toolkit"