This is a guest post from J Scott, a successful investor who has flipped over 300 houses. J also wrote two real estate books I recommend more than almost any others – The Book on Flipping Houses and The Book on Estimating Rehab Costs.
J is one of the best investors I know at adapting strategies to changing economic and real estate markets. So, he and I recently partnered to produce a new course called Recession Proof Real Estate – How to Survive (& Thrive!) During Any Phase of the Economic Cycle.
This article is an excerpt from the e-book that's included in that course. Enjoy!
---
In May 2008, my family and I moved to Atlanta, Georgia. Driving through the city and surrounding counties, we couldn't pass three houses without seeing a "For Sale" sign in the yard or a foreclosure notice taped to the front door.
To say Atlanta had been devastated by the 2007 housing crash would be an understatement. It was one of the hardest hit real estate markets in the United States. Housing values in some areas dropped as low as 30% of what they'd been two years earlier. Foreclosure rates in Georgia were up 44% from 2007 and 117% from 2006.
And Georgia wasn't alone.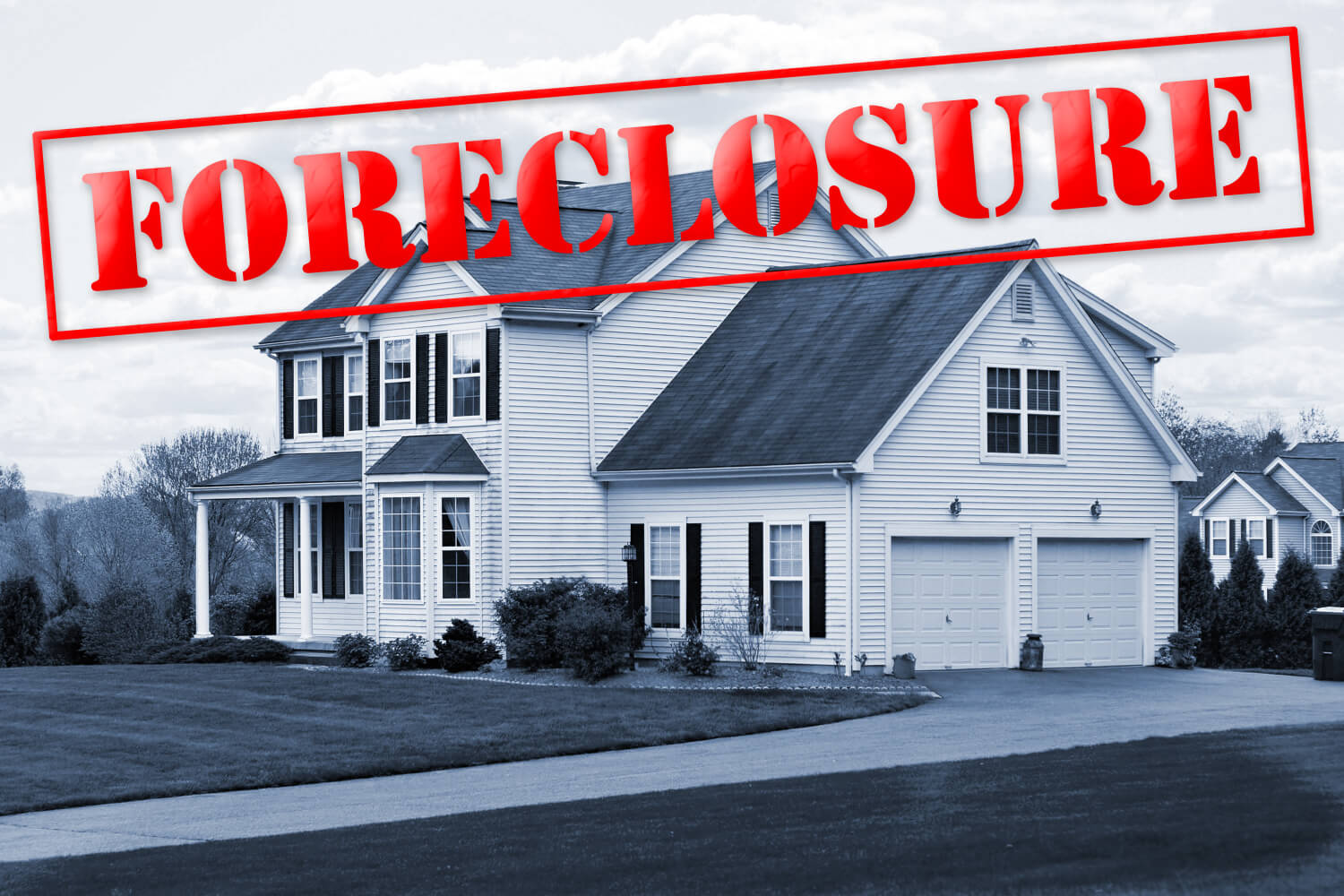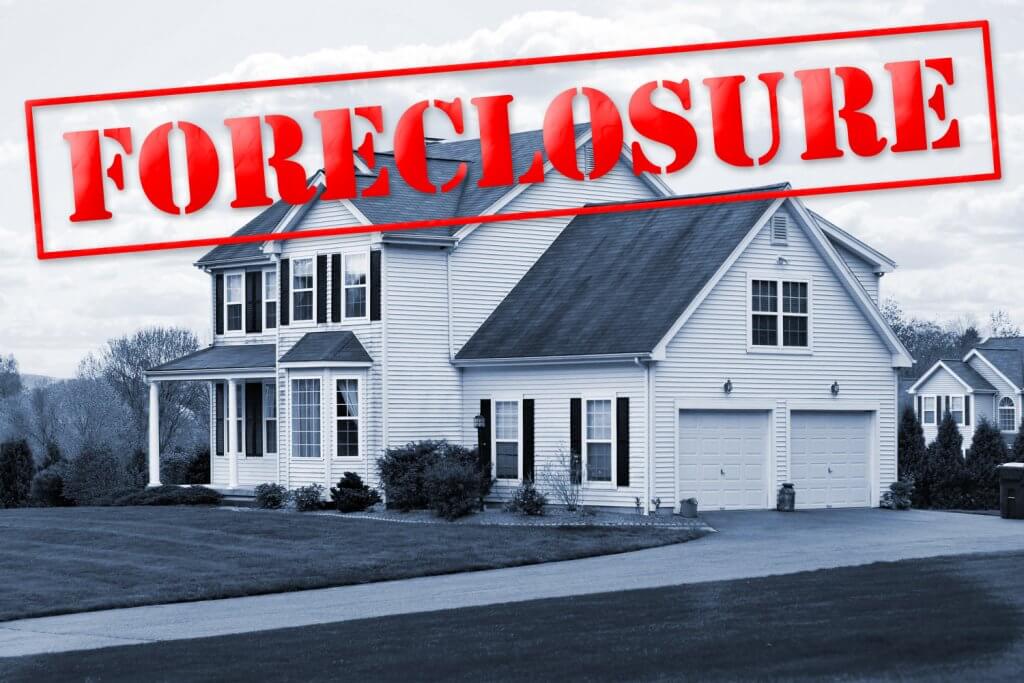 Nationwide, foreclosure filings increased by more than 81% in 2008, with more than 800,000 families losing their homes. And that trend continued for the next two years. From 2009 through 2010, about 45% of existing home sales in the United States were REOs or short sales.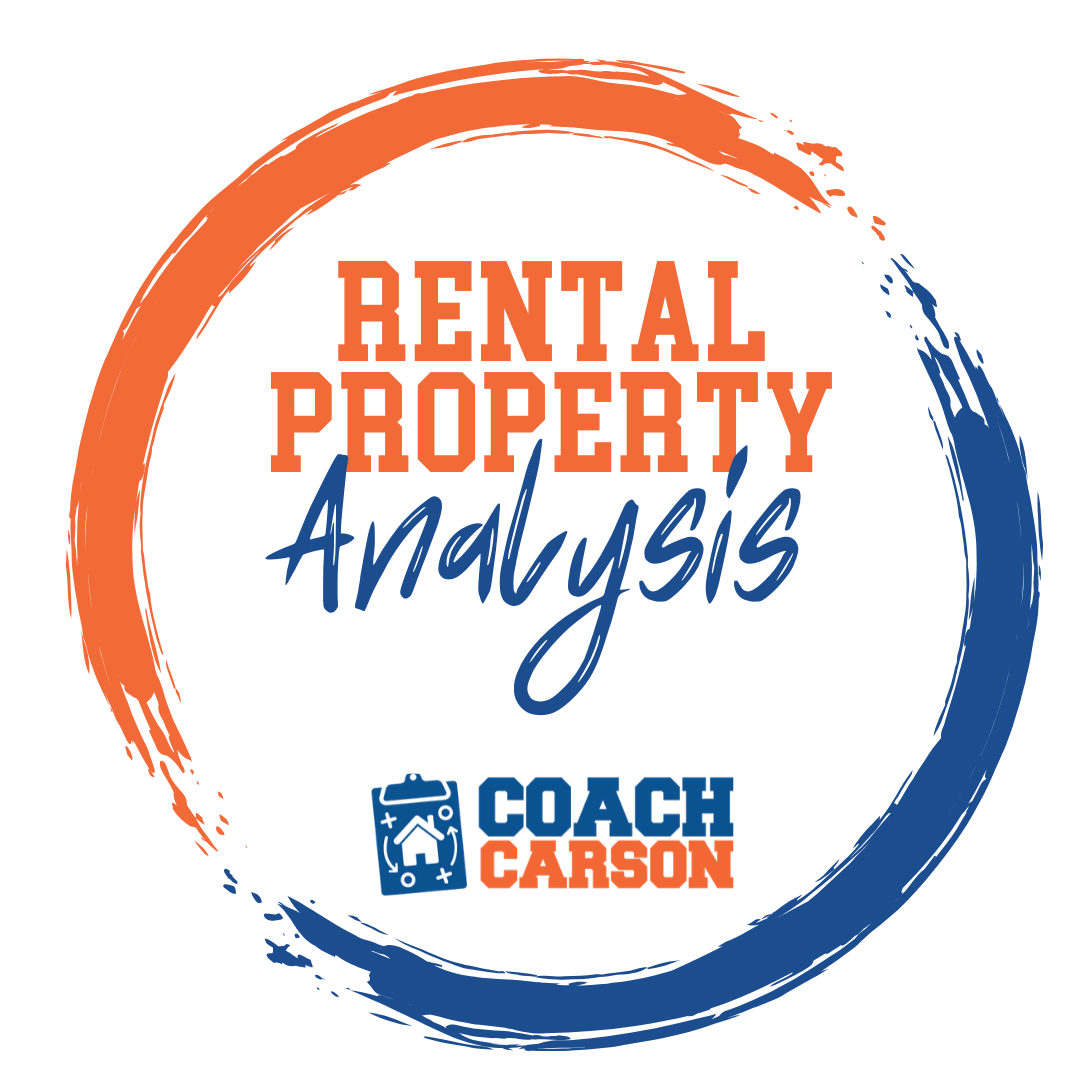 A course by Coach Carson that teaches you how to run the numbers so that you can confidently analyze and buy profitable rental properties. It also includes Coach's rental analysis spreadsheet.
Get the Course
As we drove through the neighborhoods near our house, we couldn't understand why investors weren't taking advantage of the situation. Prices were reduced, and they should have been buying up the distressed properties. I started attending some local real estate meetups to see what was going on.
The only information I could get from the two or three investors who attended – down from hundreds just a year earlier – was that they were too scared to buy. They worried that prices would continue to drop and that they wouldn't be able to resell their investments. In other words, these investors were passing up potential deals-of-a-lifetime because they didn't have confidence in their exit strategy.
These investors were waiting for the "perfect" time to jump back into the market. They didn't understand that the real estate market works in cycles just like the broader economy.  It swings up and down, and that there is never a perfect time. Instead, they should have been creating an investment strategy that worked across the full cycle.
This is what we do, and hopefully after reading this article, what you will do as well.
Economies and Markets Work in Cycles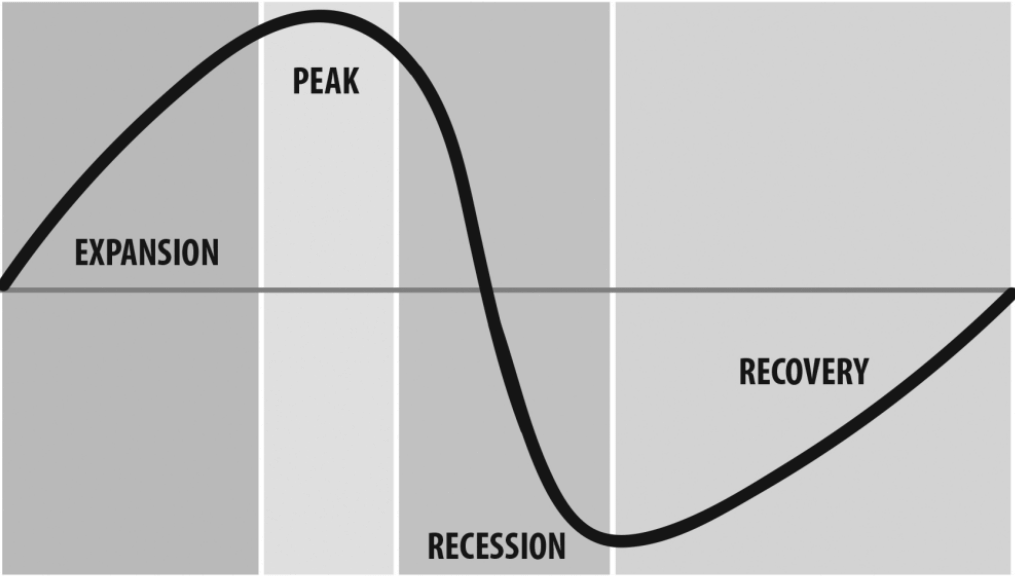 All economies experience ups and downs. They go through periods of expansion where growth is strong and steady (see the historic list of expansions), followed by periods of retraction where growth slows, plateaus, and eventually reverses. The individual markets (real estate, stock, oil, technology) within the economy experience similar fluctuations.
Do you remember the dot-com boom in the late 1990s or the skyrocketing gas prices in the mid-2000s? These timeframes represented periods of strong growth in the tech and oil markets. But they didn't last forever.
Eventually, the markets peaked and began to decline. The same thing happens within other markets, as well as the overall economy, perpetuating cycles that repeat themselves over and over again.
How Economic Cycles Work
Let's look at what drives a typical economic cycle, in the most basic scenario:
Growing Economy
When the economy is chugging along well and businesses are generating strong profits, they'll pass some of these profits onto their employees in the form of increased wages. When employees earn more money, they spend more money.
As you can imagine, everyone benefits from this cycle of increased business profits, increased employee wages, and increased spending. As businesses hire more workers, unemployment numbers drop, and consumer confidence in the economy increases.
Eventually, things are so good for the average American that consumer demand for products and services starts to outpace the ability of businesses to produce those goods and services. Businesses become desperate to hire more workers to keep up with the demand. And so do their competitors.
Inflation
Unfortunately, thanks to the low unemployment rate created by the strong economy, there aren't many new workers to hire. Businesses must increase wages to get retired workers back into the workforce and to entice workers to leave other jobs and come to them.
This quick and steep increase in wages leads to an increase in the cost for businesses to produce their goods and services, which leads businesses owners to increase prices in order to maintain profits. The term we use for an increase in the price of goods and services is inflation.
Inflation is a sign of a growing economy, but it's also a drag on economic growth. When goods and services cost more, consumers' money doesn't go as far, leading many consumers to spend less or use credit cards to finance their purchases.
Rising Interest Rates & Slowdown
The government knows that too much inflation isn't good. When inflation starts to take hold, the Federal Reserve steps in and raises interest rates. Higher interest rates encourage consumers to spend less and save more (remember, higher interest rates means higher returns from savings accounts, CDs, and bonds).
On the negative side, this rise in interest rates also means that consumers can't borrow as much money, and the cost of making payments on their existing credit lines increases, leading to reduced consumer spending.
When people spend less, economic growth starts to slow. Businesses start laying off workers they recently hired and pay their remaining employees less. To avoid losing their jobs altogether, workers must accept lower pay and fewer hours. Now consumers have less money to spend and repaying their existing debts becomes more difficult.
Economic Contraction
Economic contraction is next.
Unemployment increases. Consumers default on their mortgage and credit card payments. Bankruptcies increase. And businesses must downsize, or worse, close down.
Depending on how bad the downturn is, the result may be a recession – which is typically defined as at least two consecutive quarters of economic contraction – or even a depression, which is a much more severe and long-lasting economic spiral.
Recovery & Start Over Again
Eventually, the government steps in again. This time, they decrease interest rates to encourage consumers to stop saving, help businesses borrow more and cheaper money, and stimulate consumer spending.
When borrowing and spending increase, the economy begins to grow. Then the cycle begins again.
The Main Point to Understand About Cycles
While this is an oversimplification of the way an economy and the markets within it work, it hopefully helps to illustrate why we see large-scale economic cycles. I'll explain in greater detail what specific factors influence an economy and its markets later.
But for now, you just need to know these ups and downs occur, they occur regularly, and they're normal.
Understanding that, as well as some key economic indicators, will help you recognize where we are in the current cycle.  It will also help you recognize when you can expect conditions to change. That, in turn, will allow you to develop an investment strategy that works not just during the upswings but during the downturns as well.
*** For much more detail on these investment strategies for different real estate markets, be sure to check out our course Recession Proof Real Estate. *** 
And keep in mind that the concepts we'll explore extend past real estate to all markets within an economy. In fact, these lessons apply to nearly any type of investment – the stock market, bonds, businesses, commodities, and even precious metals.
Common and Historical Economic Cycles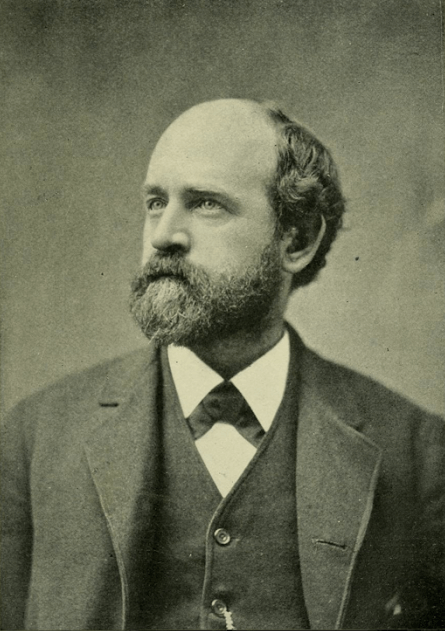 Economic cycles are not new. Experts have been tracking them for more than a century and a half. Unfortunately, those same experts – even the most well-respected ones – disagree over how long a cycle lasts and when we can expect a change in the current one.
Just take a look at the headlines on any given day. You can likely find one expert predicting strong economic growth for the next two to three years, while another one says we're headed for a recession. Another may even contend that we're already in the process of an economic contraction.
Sometimes the experts are right and sometimes they're wrong. But there are two things you can count on:
No part of a cycle lasts forever
Every cycle will eventually repeat
Changes to economic policy, tax policy and the way businesses operate may impact the length and magnitude of our economic cycles. However, it's reasonable to assume the markets and broader economy will continue to fluctuate. Macro and microeconomic factors will continue to influence the economy just as they have throughout history.
In other words, looking at economic cycles throughout our history should give us a good idea of what to expect in the future.
Before we continue, it's important to point out that the cycles we'll talk about in the rest of this section are national cycles. That's not to say these cycles don't exist independently at the local level as well. They do.
But keep in mind that what we discuss in the following paragraphs and may not align perfectly with the cycles you've seen in your local market. Though, for many of you, I bet it will be pretty close.
The Business Cycle
When we talk about economic cycles, what comes to mind for most Americans is what we call the business cycle. This is the cyclical expansion (strong economy) and contraction (weak economy) that we see about once a decade or so. It's also what we typically think of as basic economic fluctuations.
According to the National Bureau of Economic Research (NBER), since 1854 there have been 33 business cycles in the United States. Prior to 1945, the average length of a business cycle was only about 51 months. Since 1945, the average length has grown to about 69 months.
Some have been shorter, while others much longer. In fact, the longest expansion (and that's just one part of the cycle) recorded by NBER lasted 120 months, from March 1991 to March 2001, when the tech bubble burst.
Here is a view of every cycle from 1860 through today: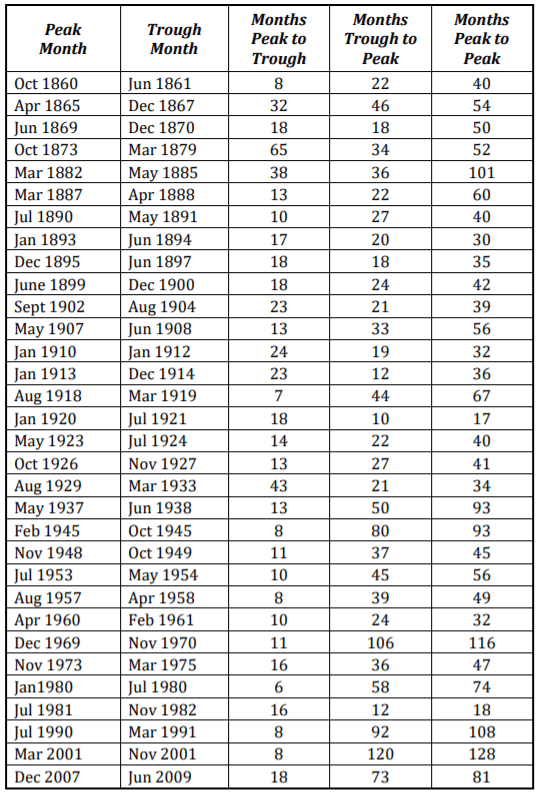 Note that while the lengths of a business cycle may vary, each has one very important factor in common: The expansions are almost always longer than the contractions.
Since 1945, the average expansion has lasted 58 months, while the average contraction lasted only 11 months. And, over time, it appears that this discrepancy between the length of the average contraction and the length of the average expansion is getting more pronounced:


How We Changed Real Estate Strategies (& Profited)
When Carol and I started our real estate investment business in 2008, the housing crisis was at its worst. The foreclosure rate was the highest it had been in modern history. As flippers, that worked to our advantage.
To find our next great investment opportunity, pretty much all we had to do was choose a random home from a list of foreclosures available for sale by the banks (also known as REOs). For the first couple of years we were in business, we only bought REOs because there were so many. Nearly all of them were good investments.
But in 2010, Carol started to notice a decline in the number of foreclosures on the market. She realized if we wanted to keep our inventory pipeline full we'd need to start looking for different types of investments by the following year.
She'd heard that some real estate agents were focused on short sales. This is a strategy where lenders give sellers permission to sell their properties for less than their mortgage balance. These types of sales were becoming more and more popular. So, we decided to start shifting our buying strategy to take advantage of the increasing supply of short sales on the market.
Shift to Short Sales
Within a year, REOs dried up in our area, but short sales were taking off. Because we'd started building our short sale pipeline soon after the real estate market began to shift, we positioned ourselves better than most investors to take advantage of this new trend in acquiring investment properties.
Fast-forward two years, and Carol again recognized a change in the market. She noticed banks getting more conservative in their approvals of short sales. So, she suggested we find a new strategy for acquiring deals because she didn't believe short sales were going to be a viable option for much longer.
Shift to New Construction and In-Fill Development
Around that time – 2013 or so – I noticed builders started to sell off some of their excess lot inventory. They had empty lots in newly developed subdivisions that weren't as optimal or at the same level of profit potential as others. But these lots were perfect for investors looking to build spec houses, which is something we wanted to pursue.
In addition, as the real estate market started improving, we began to see opportunities to buy older homes on "infill" lots. We knocked down the existing structures and replaced them with new construction spec homes. For the next several years, building new construction spec houses was our niche. Because we saw the opportunity before many other investors, we were able to capitalize on our ability to change direction quickly and efficiently.
We continue to do so today. Every few years, we alter our strategy to keep pace with the changing market. Our flexibility has allowed us to keep our deal pipeline filled. And it has also given us a head start compared to other investors who aren't as flexible and don't change their strategy as quickly and easily as we've been able to.
Don't Fear Change, Embrace It
Change is inevitable. And you can respond to it in one of two ways:
You can embrace it, modify your investment strategy around it, and reap the benefits from the opportunities that present themselves.
Or you can fear it, refuse to adapt, miss out on the opportunities that come your way, watch your profits shrink, and potentially lose money.
Successful investors are flexible. They understand that to succeed they must be prepared to take advantage of the opportunities that come their way. And this could be during an upswing, a down real estate market, or an inflection point.
It doesn't matter if you're just getting started or you're a seasoned veteran, there are ways to make money during every phase of the real estate cycle. But to do so, you need to have a strategy to handle changing market conditions.
With all that in mind, at the time of this writing in late 2018/early 2019, we're in the middle of the second longest business cycle expansion in U.S. history. Whether this current expansion will outlast the one we saw during the 1990s tech boom remains to be seen.
But history has shown us that this expansion won't last forever. There will come a time (perhaps soon) when growth will start to decline. We'll experience a downturn in the economy just like we've experienced thirty-three other times.
The goal of this article and the course Recession Proof Real Estate is to help you prepare and develop strategies for when this change occurs. Understanding and applying the right techniques will help you both survive and thrive no matter what the real estate market brings you!
Best of luck!