[In my Investor Profile Series, I use a question & answer format to share the stories of actual real estate investors at different stages of their investing careers. Be sure to comment below if you enjoyed it or if you have questions for the investor.]
This profile is from Craig, a blogging friend of mine from the suburbs of Washington, DC. Craig blogs anonymously (while still at his job) at RetireBeforeDad.com. I love Craig's practical and funny style of writing , and I find his balanced approach to investing and financial independence very inspiring.
Craig was an accidental landlord who paid too much for a condo before the 2007-2009 U.S. financial crisis. In this profile he shares how he transformed his rental from a money loser into a positive cash flow generator. He also talks about his plan for financial independence and balancing real estate with other investment strategies.
Enjoy this profile! And please let me know what you think in the comments after the article.
Personal Information
Name: Craig
Age: 41
Home Location: Virginia suburbs of Washington D.C.
Career/Source of Regular Income: IT Consultant
Something fun/Interesting: In my mid-twenties, I put my career on hold to go backpacking in Asia and Latin America. I visited 18 countries in 14 months, spending just $10,000. While in Myanmar, I acquired the world's ugliest dollar bill and later spent it on an order of 7-11 nachos.
Real Estate Portfolio
Number of Properties: Two – One rental, one primary residence
Location of Properties: Northern Virginia
Types of Properties The rental is a one bedroom, one bath condo. The primary is a single family home.
How Long Investing in Real Estate: I bought the condo in September of 2006. It became a rental property in April 2011 when we moved to the primary.
Self-manage or 3rd party: Self-manage
Retirement/Financial Independence Plans
My plan is to completely retire at age 55, one year before my Dad retired. However, I'm devising a new plan to quit my full-time job earlier to pursue passion projects. Hopefully within five years.
Why do you want to achieve Financial Independence (FI)?
I want to reach FI to be able to travel with my family. We have three kids aged five and under. We want to travel for extensive periods without the restrictions of time or money.
While the kids are in school, I want to be as involved in their lives as possible. Once we're empty nesters, we intend to travel internationally for 30%-40% of the year.
Do you have other investments? What types? How do they fit into real estate?
Most of my retirement money is in index funds and ETFs, while my taxable stock accounts are invested in dividend growth stocks. I buy solid dividend paying companies with long histories of paying and increasing dividend payments.
This makes my retirement accounts mostly hands-free. The taxable stock portfolios are designed to provide cash flow to cover expenses before traditional retirement age (59 1/2).
I've also been investing peer to peer lending notes through Lending Club for the past four years.
In 2017, I'm exploring investments in real estate crowdfunding platforms. The most interesting to me are Fundrise, RealtyShares, and PeerStreet.
Sample Deal (Good or Bad)?
I'm an accidental landlord. My investment condo started as my own bachelor pad. It was never meant to be a rental and I didn't evaluate it as such, though I should have.
When the value failed to recover after the 2007-2009 crisis, we decided to rent it instead of sell in 2011.
The location is excellent. It's in a walkable historic town near public transportation, grocery stores, and a beautiful bike path. It's a one bedroom, one bath, and has a unique bonus loft which makes it stand out. It's the top unit of a three-story building.
The price dropped significantly when the local real estate bubble started to burst in late 2006. So it felt like a good deal for a home. Of course, not long after the initial bubble burst came the subsequent banking crisis and recession.
During the depths of the crisis, the unit was worth about $50,000 less than what I paid for it. Instead of doing a short sale like many of my neighbors, I decided to work through it.
Two-and-a-half years after buying it, my future wife moved in and I charged her $500 rent a month until we married.
After we married and we were ready to move and start a family, the condo value was still $30k-$40k less than what I paid. Instead of taking the loss we decided to rent it.
In early 2011, we moved out of the one bedroom and into a more suburban single family home 15 minutes from the condo.
I've been renting the condo ever since. The unit lost money for a while. But after two refinances and significant principal pay down, the unit became cash flow positive.
The numbers below show the initial purchase price, the two refinances, and the current rental numbers.
Note: At the time, the market was really out of whack. Over-paying for a unit was the norm! I'm not proud of myself for purchasing when I did. It was my first home and I was uneducated about real estate.
But I learned a lot from the mistake, and turning it into a positive cash flow unit has been a difficult but worthy life lesson.
If I had never bought the unit, it's unlikely I would have met my wife. So in that sense, it's the best thing I've ever done.
Deal acquisition 
When purchased: September 2006
Did it begin as a residence?: Yes
Source of the deal?: Agent
Why did the seller sell: Upsized to a single family home.
The Numbers
Again, 2006 was a crazy time. I waited until the bubble burst and thought my timing was perfect. Six months before I bought the unit, it would have sold for $330k-$340k. The list price was $299,000. I offered $290,000 thinking I got a fair deal.
Purchase price: $290,000
Closing costs: ~$4000
Financing structure
At the time, the 80/15/5 method of financing was still popular. That is, 80% first mortgage, 15% second mortgage, and 5% down. These loans mostly went away after the crisis.
By structuring it this way, you could avoid private mortgage insurance (PMI).
First Mortgage
| | |
| --- | --- |
| Down | $14,500 (5%) |
| 1st Mortgage |  $232,000 (80%) |
| Interest rate |  6.375% |
| Term | 30-year fixed |
| Payment |  $1,447.38 |
| HOA |  $329 |
| Tax and Insurance |  $209.74 |
Second Mortgage
| | |
| --- | --- |
| Borrowed | $43,500 (15%) |
| Interest Rate | 8.50% |
| Term | 30-year/15-year balloon |
| Payment | $334.48 |
Total Payment for Original Financing
| | |
| --- | --- |
| 1st Mortgage | $1,447.38 |
| 2nd Mortgage | $334.48 |
| Tax/Insurance | $209.74 |
| HOAs | $329.00 |
| Total | $2,320.60 |
When I look at those numbers now, I wonder what the hell I was thinking. My rent prior to this was only $750 in a cool house in a great location. To jump from $750 in housing costs to $2,320.60 is probably the worst financial decision I've ever made.
The mentality at the time was that real estate was a surefire way to build wealth and real estate always goes up. I was eager to get in once the bubble burst to start building my own wealth. And I also just received a $22,000 raise, so the bigger payment was easier.
I bought because of the lingering real estate euphoria, and at that point I finally saved enough money. Instead, I should have been patient. Had I waited one more year, the big mess would have come to light.
My best estimate is the price of the condo bottomed out around $240,000. Area sales froze. HOA fees jumped as did tax rates. It was an ugly period of time. However, the D.C. metro region wasn't hit nearly as bad as many regions. Being D.C. with all the government and organization money, the economy didn't sink as quickly.
Remodel costs
After buying, I invested in a cool modular staircase and railing ($2,200) for the loft which replaced a vertical ladder.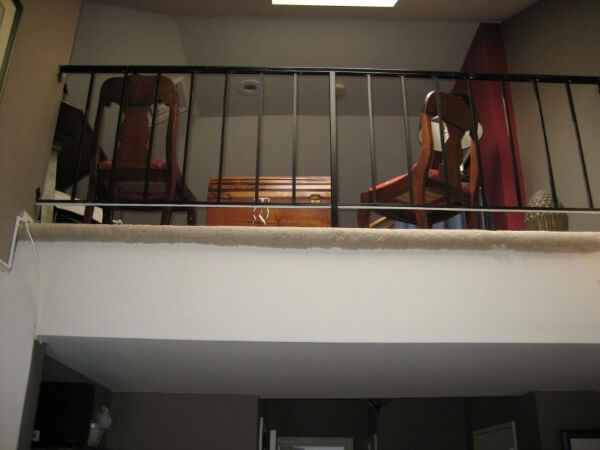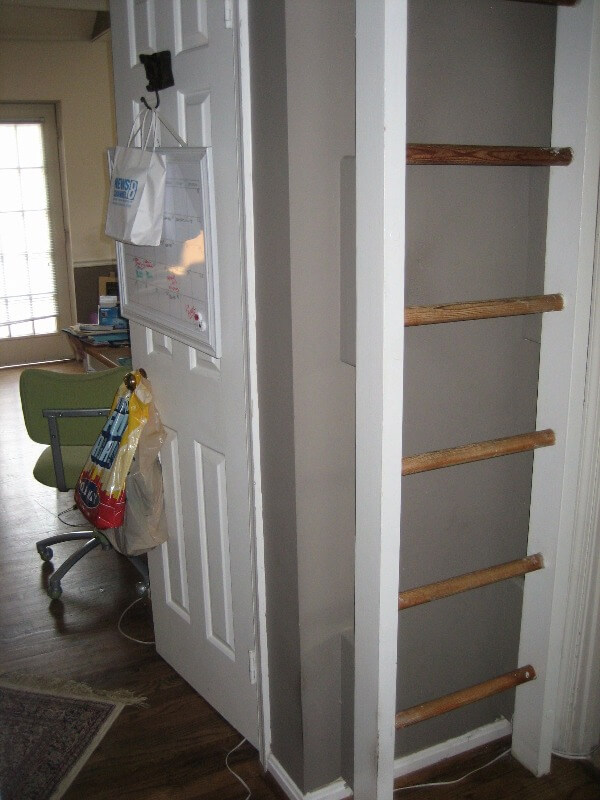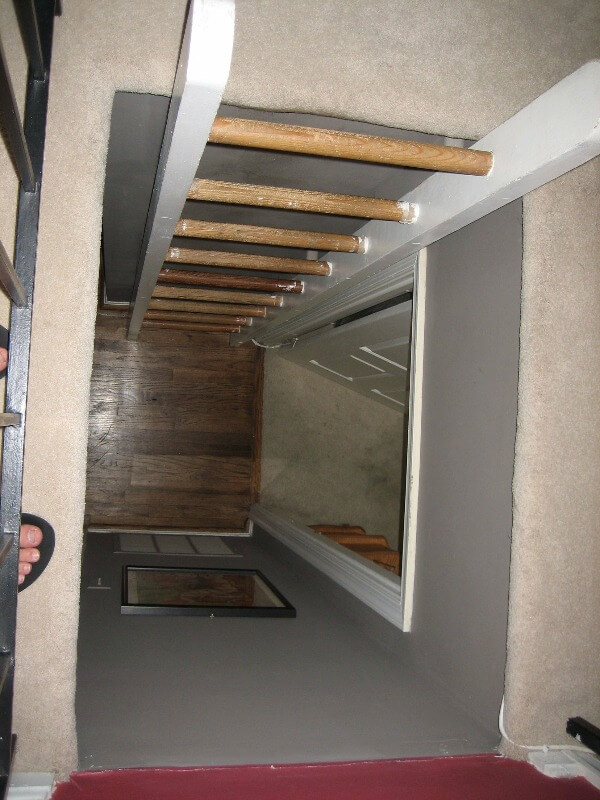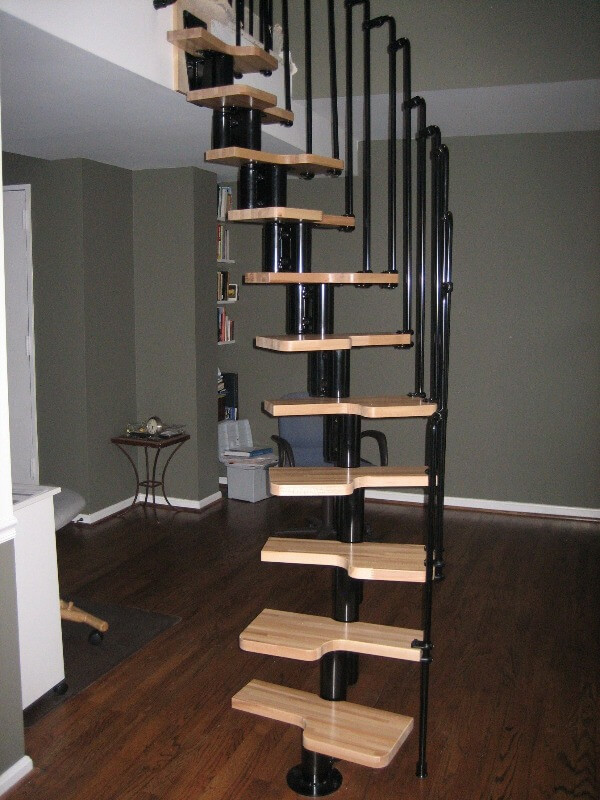 Then the condo association required me to replace a balcony ($3,500). And the HVAC ($5,500) went sour. Aside from that, just some carpet, paint, and elbow grease.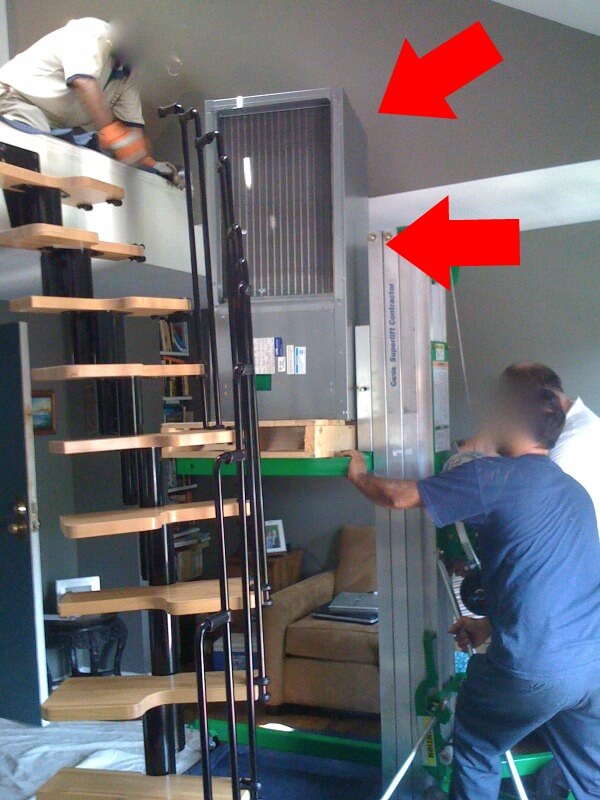 Because these improvements were made during the significant downturn, the only value added was making it more attractive to renters and eventual buyers.
First Refinance
I hated the second mortgage. So I figured the best way to work to make the property work was to pay off that loan.
Paying down the 8.5% interest rate was a good return for my money. I paid an extra $500 against it every month and threw extra chunks of money at it when I could.
I was single and had a decent salary. My Toyota Echo was paid off in 2004. Aside from housing, my only significant expenses were beer and travel.
I paid down the $43,500 second loan in 23 months during 2007 and 2008. In hindsight, this was a good use of the money as the stock market was ready to tumble in 2008 and 2009. But it was difficult work.
Once the second loan was completely paid off in September 2008, rates had fallen significantly and an opportunity to refinance the first mortgage opened.
First Refinance January 2009
| | |
| --- | --- |
| Loan Balance | $223,008.50 |
| Costs and Prepaids | $3,991.50 |
| New Loan AMT | $227,000.00 |
| Interest rate | 5.0% |
| Term | 30-year fixed |
| Payment | $1,218.59 |
| HOA | $410.48 |
| Tax and Insurance | $219.16 |
| Total Payment | $1,848.23 |
Through paying off the second loan and refinancing, I lowered my payment by nearly $500.
Then on Valentine's day that year, my future wife moved in and started paying $500 in "rent".
She was previously spending $1,400 on rent, so she used the $900 in monthly saving to quickly pay off her student loans. A year later we were married and combined creating $5000 to $6000 in excess cash flow per month. We saved that cash flow for a down payment on a single family home.
Transition to Rental
We decided to move to the suburbs when we saved enough for a 20% down payment on a single family home. Speaking to our buy-side realtor who was much more experienced, she said the condo would only sell for $260,000 or $270,000 at best.
Considering I paid $290,000 and put in another $12,000 or of improvements into it, we weren't eager to take the loss already. I decided to put it up for rent and manage the property myself to save on management fees.
I joined the National Association of Independent Landlords (NAIL) for screening and used their recommended lease. NAIL is a good resource for individual landlords like myself.
I found a suitable tenant on Craig's list. My target tenant was a single, young urban professional. The location was good so it was easy to find a highly educated, high-income earner with a good credit report. The first to apply ended up being the best of five candidates.
I used a service called Rentmatic to collect automated rent for $4 per month (it was acquired by Lovely in 2013).
Now I use the Square Cash app which is free.
We moved out April 2011. The unit was rented starting May 1st.
The united rented for $1,625. Since my monthly costs were $1,848.23, it was a loser.
But all was not lost. I was knocking down the principal on the loan every month. And once it became a rental, I began realizing the incredible tax benefits of real estate investing. On top of that, more time would help the value recover.
Second Refinance
I held onto the first refinance loan for 42 months. Toward the end, I could see that rates were falling and another opportunity to refinance would become available. If I was going to keep this as a rental, I wanted it to have a positive effect on my cash flow, not negative.
By this point, I had paid the loan down to $196,289.23 from $227,000. To really take advantage of the next refinance, I wanted to pay the loan down as far as I could to lower my monthly payment. So I threw more money at the loan.
Second Refinance (10/01/2012)
| | |
| --- | --- |
| Loan Balance | $196,289.23 |
| Balance Pay down | $21,289.23 |
| Closing costs | $3,500.00 |
| New Loan Amount | $175,000.00 |
| Interest Rate | 3.75% |
| Payment | $810.45 |
By aggressively paying off the original second loan, and refinancing twice, I was able to lower my mortgage from $1,781.86 to $810.45 saving me almost $1,000.
The property swallowed a lot of money to make this possible. Was that the best use of my cash? Maybe not. But I'm much more content with a positive cash flow situation than negative.
The original tenant left after one year. I replaced him with a couple who has been in the unit for almost five years now. They've never given me a problem with rent payments. I raised the rent to $1725 when they first signed the lease, then increased the rent to $1,775 in late-2015.
Taxes and HOA fees have continued to rise, but I've aggressively saved every dime of maintenance allowance and positive cash flow into a high-interest savings account. Expenses have been few over that time period, so the account now has about $12,000 earning 0.75% interest.
Current Rental Numbers
| | |
| --- | --- |
| Gross rent | $1,775.00 |
| Mortgage payment | $810.45 |
| Mgt fee | $0.00 |
| Taxes/Insurance | $275.00 |
| Maintenance allowance | $147.92 |
| HOA | $439.00 |
| Total Expenses | $1,672.37 |
| Net Income | $102.63 |
This is not a good income for the amount of equity l have in the unit. This is why I'm contemplating selling the unit to reallocate the cash.
On top of that, condos generally make bad investment properties. The HOA is high, though not unusually for the area. Condo association responsibilities are out my control. I don't like being vulnerable to HOA increases or special assessments. The association is currently run well, but there's no guarantee that will continue.
If and when I sell, the cash savings will likely go toward a kitchen remodel to increase the sale price.
Interesting/helpful lessons
So many lessons. Here are a few.
Selecting an Agent
I thought I knew everything in 2006. So I preferred an agent that would listen and take direction from me. Me, the guy that knew nothing!
I met an agent at an open house and she sent a follow-up postcard in the mail. I liked her so I chose her without doing much legwork.
Turns out she was a brand new agent. She acted as though she was experienced, but it very well could have been her first deal. She offered some advice when looking at condos, but anyone who watches HGTV could have offered the same. The two of us were over our heads together.
Lesson learned: Find an experienced agent and listen.
Real Estate Bubbles Don't Suddenly Pop
I was certain there was a real estate bubble in 2005. Once I saw the signs of trouble in 2006, I hurried in. Of course, severe real estate declines need time to bottom out, so I was way too early. The crisis took many years to sort itself out.
Lesson learned: When there are obvious price imbalances, be patient.
Don't Rely too Heavily on One Metric – Watch for Pitfalls
I focused my purchase analysis on cost per sqft of comparable sales. That made sense to me and my spreadsheets. This property was an outlier compared to comps on this metric, but I ignored a somewhat obvious pitfall.
The unit has an antiquated HVAC system in the loft area. I liked the loft because it added charm and uniqueness to the unit. But this HVAC unit was about 25 years old and clearly on its last legs.
It's a water source heat pump. I didn't understand what that was, and neither did the agent or inspector. This is an uncommon type of HVAC unit that is expensive to replace and requires some expertise. Thought efficient, it's reliant on a complex-wide closed water loop which often needs repair.
The unit finally died during a 100-degree day streak in July.
My wife and I spent 3 weeks in those temps until we could hire the right HVAC people who wouldn't gouge us.
To pass the hot evenings we played Guitar Hero in our underwear with fans blowing on us. I felt like Flea.
The replacement required custom duct work and a hoist rental to get it into the loft space. The installation cost me $5,500, and that was the lowest of 5 quotes by $2,500. The highest bid was $12,000. Wild estimate ranges are typical in the D.C. area.
Lesson learned: Pay attention to big-ticket repair items. Understand the kind of HVAC unit if it's uncommon. This should have been a major red flag.
Rising Taxes and HOAs
Another oversight when I bought this condo was the potential for higher HOAs. The complex is wooded and has a lot of land. This is not a high-rise building. As such, the shared spaces require a lot of maintenance. This includes landscaping, buildings, common area, and two complex plumbing systems (water hot/cold, and the HVAC circulator). These cause problems constantly.
Hence, the high HOA.
Over the years, association management has been good and bad. Right now it's good, so I feel now may be a good time to leave the complex.
Lesson learned: Avoid condos as investment properties to maintain more control of your investment.
Anything Else About the Deal that we Should Know?
Just last week, my tenants informed me they are moving out after five years! Since then, I've been showing the unit to realtors to decide whether or not to sell and to see what improvements can be made to increase value.
Best case scenario, the unit will sell slightly higher than my original purchase price in 2006. Inventories are currently low going into a healthy spring market.
Part of me wants to erase this unit from my life because it's been a bad overall investment. I can take the proceeds (should be > $100,000) and invest in better properties and/or real estate crowdfunding.
If I continue to rent, I can likely raise rent again and build more equity. Hopefully, after a few more years, I'll finally realize some appreciation. I'll also move the property into a business entity which I've avoided up to this point.
Overall Real Estate Business Strategy
Overall asset diversification is important and real estate should play a significant part. In addition to my two properties, I've invested in real estate investment trusts (REITs) in both retirement accounts and college savings. REITs provide good yields and fit my income investing strategy. I've also started building a portfolio of real estate crowdfunding investments.
With the proceeds of a sale, I would like to find a townhome to rent in a further-out suburb. I'm eyeing a few markets where the right opportunity may be hiding. This would target military or young families.
A few years ago I almost bought another one bedroom condo as an investment. The deal fell through five days before closing. Cash on cash was about 6%, so not great. But the financing was very cheap and the location and rentability were ideal. After that experience, no more condo investments.
Advice To Achieve Financial Independence
Financial independence is easier to attain when you have low expenses. Building your life around low housing costs will get you there quicker. Either buy a modest home, house hack, or move to achieve FI. Make that move before you start a family, because the longer you stay, the harder it is to move.
D.C. is an expensive area. We struggle to justify living here when other options are much more affordable. But we haven't pulled the trigger yet, and not sure if we will or not.
I'm an advocate of creating multiple streams of income for FI. If you're great at one thing (like real estate), then go with what you know. For me, I like to diversify my income streams. So if one goes sour, I have something to fall back on.
Real estate should definitely be one component of your income streams. If not through a rental, then through REITs or crowdfunding. Listen to Coach Carson before you buy your first property so you don't make a mistake similar to mine.
[Chad: I hope you enjoyed this detailed real estate investment profile of one of my blogger friends, Craig. I really how he turned a sour investment (negative cash flow) into something with positive cash flow he could live with. I also  like the holistic financial picture he painted. Real estate investing doesn't exist in a bubble. It's part of your life and it can be balanced with other strategies. Retirebeforedad.com is one of the blogs I like to follow, so definitely check Craig out if his style and story resonate with you. ]
Please leave your questions or comments below. We'd both love to hear from you.
Get My Free Real Estate Investing Toolkit!
Enter your email address and click "Get Toolkit"