About This Episode
Episode #225 – Learn the details of how Coach Carson has been able to travel around the world, including living 17 months in Ecuador in South America while owning rental properties back in the US.
Episode Transcript
[00:00]
So you have dreams of traveling, maybe going to the Caribbean on a cruise or travelling abroad to other countries and relaxing, enjoying yourself. And then you remember, oh yeah, I've got rental properties back at home. Or maybe you're going to be buying rental properties and you're worried about how am I going to manage these properties and deal with all the problems that come with rental properties while I'm traveling? Well, that's the question I'm going to tackle in today's episode of Asked Coach, and we're getting started right now.
[00:33]
Welcome to the Asked Coach edition of the podcast, and we haven't met yet. My name is Chad Carson. You can also call me Coach. And my mission here is to help you get out of the financial grind so you can do more of what matters. And the Asked Coach series is where I do my best to answer your burning questions about real estate investing and personal finance.
[00:50]
Today's question comes from one of our YouTube viewers with the username DNM. And the exact question was, how did you handle traveling while having rentals? What if an emergency and fixing needs to be done? And what if you want to be your own property manager to save some money? So I love this question because I love travel, I love real estate investing.
[01:08]
And I've wanted to do both of those for my entire career. And so I want to share a few stories of my own experience and what I've done to make this work and also just give you a couple of tips to hopefully help you with your own real estate investing if you also want to travel. So my first story goes back to 2009. And just to give you some context, you probably know that time period, but it was in the middle of the Great Recession and I was a relatively new investor still. So I started in 2003 and we had made a lot of progress buying properties in 2007.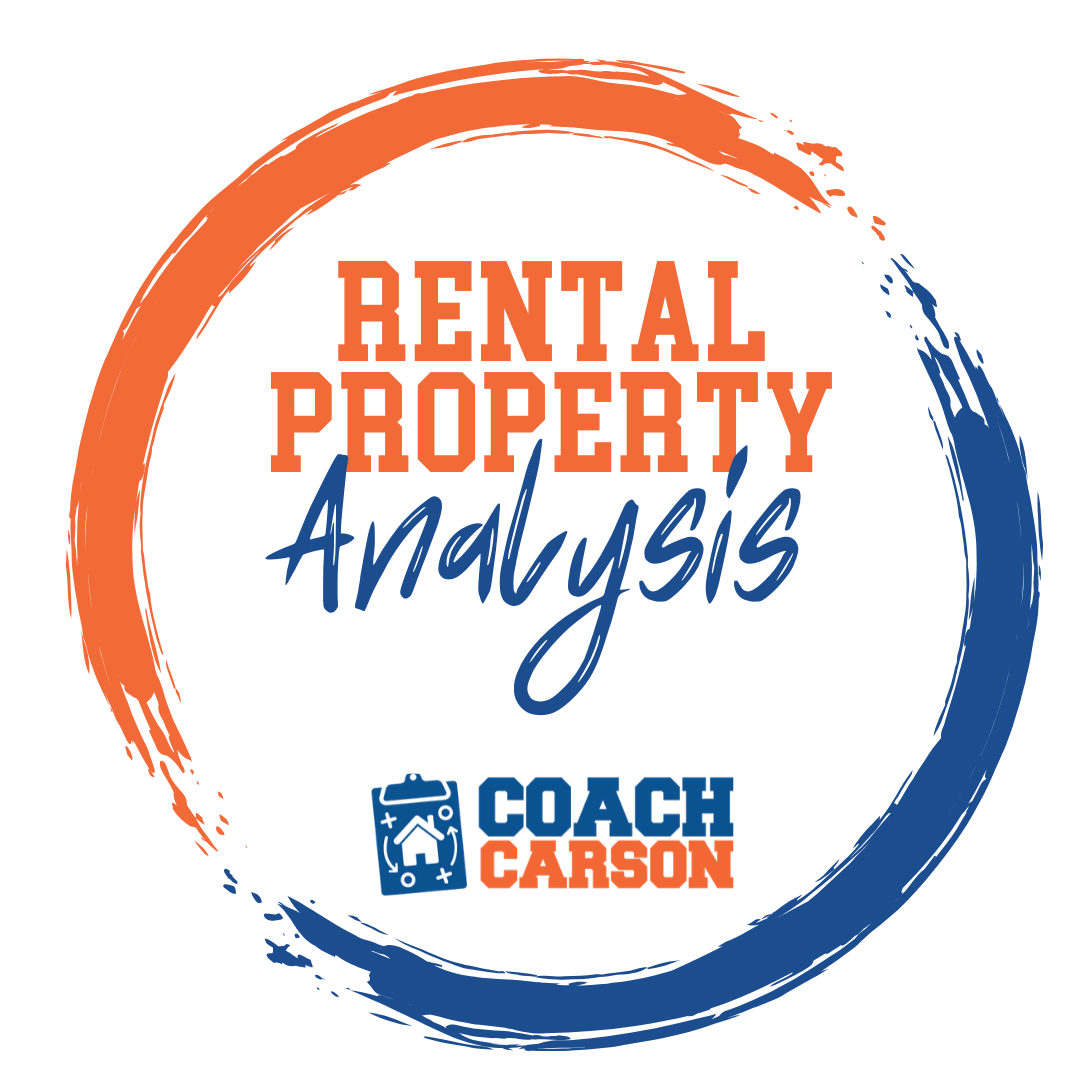 A course by Coach Carson that teaches you how to run the numbers so that you can confidently analyze and buy profitable rental properties. It also includes Coach's rental analysis spreadsheet.
Get the Course
[01:37]
Almost too much. You can watch other videos I've talked about that where we bought a lot of properties and had to sort of digest them and also deal with the changing market in 2008 and 2009. But by the end of 2009, I was sort of in a place not where I was financially independent. I didn't have enough money coming in to pay for my bills. I had a little bit of rental income coming in, but I just saved some money, saved some cash.
[02:00]
I was married at that point, did not have any kids, and I had a business partner who is really the main way that I was able to travel for four and a half months with my wife. We went to Spain for about six weeks and we went to South America starting in Peru. And I learned how to speak Spanish there. We lived in IDA, Kipa, Peru and Southern Brew, went to Montu, Petro, and some other places in Peru and made our way down to Chile, the Patagonia region there, did a lot of backpacking, went to Argentina and Patagonia and ended up in Buenos Aires. So it was like an August to December trip.
[02:31]
And the way we're able to make it work from a management standpoint was a couple of ways. One, my business partner was there to handle closings and emergencies and things like that. So that was very helpful. Not everybody has a business partner, but I'll give you a couple of tips later for how you can do that, even if you don't have a business partner using other investors, you know, but that was the main way. But we also had remote technologies.
[02:53]
So just helping me. I can remember a specific story where I was in the Southern tip of South America. We were getting ready to go to a tour of a Penguin colony. And this is showing you how much has changed since 2009. I had a little laptop that had Skype on it and some other.
[03:07]
And I could pay money on Skype just to call back. And one of my tenants emailed or sent a message or left a voicemail that they had a plumbing problem. Hot water heater was leaking, and it was kind of a mess. And so I got on my little laptop using Skype called the Plumber. Didn't have to mention anywhere where I was.
[03:24]
I said, hey, we've got this issue at this apartment. The hot water heater is leaking. It's going to be a mess. Do you mind fixing it? And do you have any fans or anything you can put out there to kind of help clean it up and whatever you need to charge?
[03:37]
I understand this is kind of an emergency situation. And so they went out there, they took care of it. They sent some pictures by email. But the point was, I went on my tour of the Penguin colony right after that. So I took the call, responded and moved on.
[03:50]
So the way I handled that in 2009 is a combination of remote technology, which everybody, of course, now has. You can have your cell phone and you can take calls anywhere in the world at this point, but also having somebody on the ground to help me out. So that was kind of part one. Part two is my wife and I, and we had kids at this point in 2017 and 18 took a longer trip for about 17 months. We lived in Ecuador, in South America.
[04:13]
We kind of evolved our strategy at that point. And we had an internal assistant who used to be a bookkeeper. She kind of grew into an internal property manager. So it's essentially somebody on my team internally, not a third party property manager. But I outsourced about 90% of the property management work that I was doing managing our own rental properties.
[04:32]
So she would go out and put signs at the properties. She would go inspect the property on the checklist to make sure the turnover worked okay. When we had tenants turning over, she would take the initial calls and we had a maintenance issue. She would also do some of the check our mail and do some bookkeeping. So those things were things I used to have to do or my business partner used to have to do that she handled and I would still do things like making a final decision on a big repair.
[04:57]
Or I would be digitally signed all of our leases and decide if a tenant was going to move into a property or not. But she would do all the legwork ahead of time. So that was a big deal because in Ecuador, I probably spent an hour, sometimes 2 hours a week. On Thursdays was my day paying bills remotely. So she would load the bills into our QuickBooks system and then I would pay the bills every once in a while, get a message from her, hey, what about this?
[05:20]
How do we do this? But it's a very small amount of time and that's how I handled that. And most 99% of my time was spent doing other stuff in Ecuador. So that's kind of solution number two, we had solution number three. Fast forward to the present and we are getting ready.
[05:34]
If you've watched some of my other videos to go on another trip abroad here in 2022, my wife and I and our two kids, who are now older, they're both eleven and eight. We're going to go to Spain and lived there for about a year. And so it's a much different situation and that we've now outsourced almost all of our property management to third party property managers. So it's still a similar relationship that I had with our internal property manager, except for that they do even more of the tasks. They do all the leasing, they do all the screening of tenants, they put the signs up or they do the ads online, they handle maintenance calls and I'm still in touch with them.
[06:11]
Like if there's a repair over a certain amount, $500, $300 in some cases, then they ask me what should we do? But it's often a text message or an email. And so these are the kinds of things you can handle anywhere. And yes, it might be on your mind a little bit and that might make you nervous. But think about a job or something else you have to have and how much that attaches your attention.
[06:30]
Doing real estate is a rental property with a manager is very part time, is very mobile. You can do anywhere in the world. This is a small amount of your time, even on a busy week. And it's just worked very beautifully for me. So I want to give you a couple of tips.
[06:45]
Just strategy wise, if you're trying to build up systems to be able to travel and still have rental properties and the first thing I would say is property managers are a great solution. If you have a competent person on the ground who can help you handle the day to day things, I think that's the best solution. Finding a good property manager is important, screening them, talking to them, making sure you're comfortable with their systems. But that can be a way to really set you free from having to do the day to day work. So that's solution number one.
[07:14]
But the question today was also, what if you want to do it yourself? And I think a great solution is to have a collaboration with you and other investors. So I network a lot. I go to local real estate meetups and there's upstate. Cree is the name of the meet up that I go to in Greenville, South Carolina.
[07:30]
And I have a lot of friends there, and some of them invest in my local area. And so you could find other investor friends and offer to help each other out. When one of you is gone for a couple of weeks and you just want to be completely off the grid and not have to take calls, you can give your phone or forward your phone number to them. They could take the maintenance calls. They could make decisions.
[07:48]
You could give them authority to do that. You could even pay each other back if they needed to pay for some things. So trust in relationships is how you do this. For me, it was a business partner for you can also be a collaboration with other investors. And that's how you figure out how to free yourself up, even when you're in the throes of managing the details of rental properties.
[08:07]
But ultimately, as you grow your business, you can step back from it. You can be more the manager of the manager and not have to do all the day to day work. But that's something you have to kind of grow into over time as you grow your business, as you get more cash flow, as you build a team. So you might listen to my story and say, yeah, that worked well for you, Chad. But what about me?
[08:25]
And so I want to give you a few tips that will help you prepare your business, whether you're going to do it this month or whether you're going to do it a few years from now to where you can own rental properties and travel. And I'm going to do that by taking a step back and think about what actually happens as a property manager, as a landlord who has rental properties, and you can kind of break it down into four primary functions. You have the function of leasing your property every time it's vacant. You need to find a tenant and get it turned over and find a new tenant to move in. So that's one component.
[08:55]
Once you have a tenant living there, you have to collect rent so that's another component of it. And then while they're living there, you might have maintenance or customer service issues. That's the third component. And then you just have basic kind of bookkeeping and administrative tasks. So those four kind of buckets of different tasks are what you as a landlord are doing.
[09:14]
When you think about anxiety of saying, I'm going to travel, what am I going to do? Think about how you can solve each one of those, perhaps with third party property management. That's kind of a solution. Number one, if you have a third party manager, they are going to do all your turnover and leasing. They're going to collect the rent for you, and then every month they're going to distribute the net rent after expenses to you.
[09:34]
So that's nice. You have a report and everything's there for you. You can always check in with them to find out what's going on. But they're going to handle the day to day type steps and they're also going to handle maintenance calls. And so you discuss that ahead of time with them.
[09:46]
And what I do is I give them a threshold. If it's over a certain amount of money, they need to call me and check in. It's a major repair, but if it's something minor, minor leak or something, they handle it. They pay for it. And if I have a problem with it later on, we can discuss it.
[09:59]
But most of the time you delegate the responsibility, let them have the responsibility to handle it themselves. So those are three main functions. The administrative bookkeeping stuff is something you still do, but even today, like when I'm traveling, I'm doing other things. I can do that remotely. I have remote bookkeeping software.
[10:17]
People scan and email me bills if I have to pay them. The property manager usually pays the bills, but I can then enter all that data into my bookkeeping software anytime, anywhere. A couple of hours a month, not that big a deal. People look at their investments in stocks and other things a couple of hours a month. So doing bookkeeping is a function you want to maintain.
[10:36]
And I would argue you want to maintain no matter what. You always want to watch the money, watch the income and the outgo of money to see what's going on. But going back to the solutions for you and those four functions, a property manager can handle three out of the four really well and help you with your bookkeeping by giving you really clean reports. If you don't want to use a property manager, you're self managing. Remember I mentioned you could also have a person on the ground who is helping you out, in my case as a business partner.
[11:04]
But you might be able to do something where you have a coalition or kind of a collaboration with other local investors. So this is why networking and connections is important. If you have one or two fellow landlords who you really trusted, you can then trade off. So when they travel on vacation for two or three weeks, you could watch their properties. You could take the calls for them.
[11:23]
You can make decisions for them, kind of like a property manager would, so that they don't have to get the call and deal with it while they're gone and then vice versa. When you're gone, they could handle it for you. You can even do some kind of trade. Either have them have your credit card or they use their credit card, and then they just send you a bill and you reimburse them. So this is where trusting relationships make a big difference.
[11:43]
They're everything. That's been the big deal for me. Even when I wasn't financially independent, I had a business partner. We trusted each other. We could help each other out.
[11:50]
But you can do the same thing with sort of a loose partnership with other investors. So that is a second solution. Then I would also offer a third solution that could help you handle some of those functions, and that is leaning on your tenants themselves. And then also help getting contractors to help you out, particularly with the maintenance function. If you have a responsible tenant, like a single family house I mentioned, because they are typically more self sufficient than maybe like I have student rentals that turnover every couple of years.
[12:21]
They need a little bit more hand holding. But in most cases, all of those tenants can pay you your rent online. So you don't need to go be in person to collect that. So that function is taken care of. And then you have the turnover.
[12:32]
If you do have a property turnover and you happen to be traveling, that's going to be one where you're going to need to either have a friend on the ground who can help you out and you can pay them a fee for that or have a property manager you could pay. That function is a little bit harder to handle while you're traveling. But if you have five or six single family houses and one of them turns over and you're gone for three or four weeks, you can wait until you get back. It's not the end of the world to wait a little bit longer. It's not as much of an emergency, like if you have a maintenance call.
[12:57]
So how could you handle maintenance calls? You can delegate some responsibility to your tenants and to your contractors. So let's say you have a plumbing leak. You can have a list of things like if this happens, Mr. And Mrs.
[13:08]
Tenant, here's the phone number of the plumber that I trust, and you have a good plumber on your team. And you tell them you can call the plumber, they will come out and handle it. You schedule it, and then I will pay the plumber the money for that fix. So you have to trust that person. Of course, you have to have a track record with them, but see how that helps you get out of the loop on the front end, that stressful situation when it's happening at that moment, the tenant calls the plumber.
[13:31]
The plumber handles it, ask them to send you some pictures, send you an email after the fact with the invoice. But they're in the business of doing that. They do that every single day, making calls to people with leaks and the things that are going on. And so you can have the plumber handle those problems directly from the tenant. I've done that.
[13:48]
Other landlords I've known have done that, and it could be a solution that everybody is happy with that allows you to also step out. And that might be the hardest thing for those of you who do everything yourself is to hand off control to other people and to build systems and to build trust with those people instead of you jumping in and trying to control everything. That might be harder for you than it is from a practical standpoint. But if you can get to the point of doing that, it allows you to have more flexibility to travel, to do whatever else you want to do without being micromanaging every step of the way. I hope you enjoyed this edition of the Asked Coach Podcast.
[14:22]
If you'd like to have your question considered for a future episode, there's a couple of different ways you can do that. Number one, send an email to [email protected], or you can just leave a comment on one of the YouTube videos here. If you watch the podcast on YouTube and let me know if this is a question you want me to consider for a future episode. We get more questions submissions, and we have the ability to publish. So to increase your chances, be sure to make it as short and concise as possible and keep it on topic with the topic of this show, real estate investing and personal finance.
[14:51]
If you like the show, I'd like to invite you to subscribe to my free email newsletter at coachcarson.com/reitoolkit. In addition to weekly updates, articles and behind the scenes tips from me, my email newsletter subscribers get my Real Estate Investing toolkit, which includes a property closing checklist that I actually use when I buy properties, a real estate deal worksheet, a tenant screening criteria checklist and other spreadsheets, and goodies that will help you on your journey to financial independence. Using real estate. You can get it all for free at coachcarson.com/Reitoolkit.
[15:24]
I also want to take this time to thank the people behind the scenes who make this podcast possible each and every week. This includes my podcast editor extraordinaire, Michael Nguyen, my amazing virtual assistant Megan Thompson, my wife Kari, who helps me behind the scenes and is my partner here at Coach Carson. And of course, thank you to all of you, the listeners of the show who make everything possible. This show exists for you. It exists because of you and I really appreciate you being here for another episode.
[15:46]
Everything I've shared with you in this episode has been for general education purposes. I have not considered your specific situation or risk before buying your own investments, be sure to consult a financial real estate and or a legal professional. Until next time, I'm Chad Carson. You can also call me Coach and this is a show all about helping you get out of the financial grind so you can do more of what matters. See you next time.
Help Spread the Word!
Help me reach new listeners on Apple Podcasts by leaving us a rating and review! It takes just 30 seconds. Thanks! I really appreciate it!
Links & Resources
Get My Free Real Estate Investing Toolkit!
Enter your email address and click "Get Toolkit"