Today I'm sharing a guest post by Dyches Boddiford about how to become a private money lender (aka hard money lender) in real estate. This is a real estate investing niche that I plan to do more of myself in the coming years. So, one of my selfish reasons for reaching out to Dyches was to pick his brain for my own knowledge!
Dyches is a veteran real estate investor and teacher who began investing in the early 1980's.  In my opinion, no one in our business knows the contracts and technical side of real estate better than Dyches.  He's the one I continue to go to for advice and education more than any other. 
Dyches has become a nationally known expert in investment properties, private and discounted notes, asset protection, and self-directed retirement account investing. I respect that as a full-time investor, he actually USES the information he teaches. 
I'm excited to share Dyches story about an investor who built an interesting niche with low-risk, high return (12% and higher) private real estate loans.
Take it away, Dyches …
---
Moving From Owning Real Estate to Making Loans
Al recently contacted me and told me what he was doing since he and his father took my Hard Money Lending Class several years ago.  The class taught them how to make good, low risk returns using both their personal funds and funds from their IRAs.  They came at a time when Al's dad wanted to slow down, sell off some property, but still get a good return on his capital.
Both Al and his father had several years of experience with real estate.  This is a prerequisite for the class.  You see, by having real estate experience, Al and his dad could evaluate each new lending opportunity based on that experience.  This also allowed them to give helpful suggestions on their borrower's deal and any rehab needed.
And, if the borrower defaulted or was unwilling or unable to complete the project, Al and his dad would not be hesitant to step in and take over.  Their experience afforded them the opportunity to warn the borrower of potential issues and would help the borrower avoid situations that could cause a default.  It would be in everyone's best interest for the borrower to perform and be able to bring future projects to Al and his dad for loans.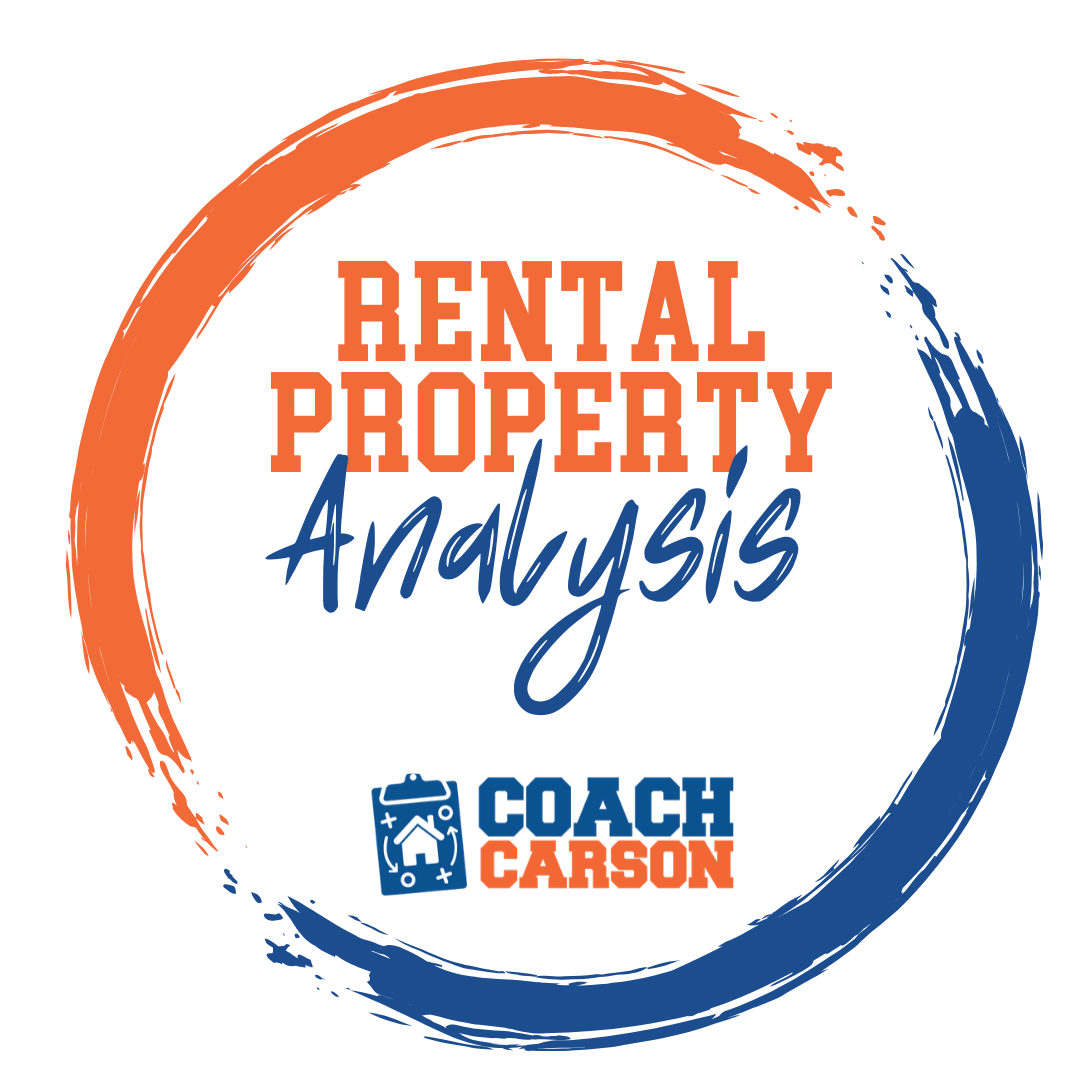 A course by Coach Carson that teaches you how to run the numbers so that you can confidently analyze and buy profitable rental properties. It also includes Coach's rental analysis spreadsheet.
Get the Course
Taking Lending to Another Level
Al and his dad were very happy with this low risk, 12% return on their capital.  But Al figured he had time to step it up a notch.  He began to buy at the courthouse steps and otherwise do real estate deals.  But, instead of fixing up the properties himself and selling, he offered them to other investors…with financing!
Al and his dad had been successful in real estate for years following some simple rules:
Do a lot of homework
Know values
Set limits on the price they paid
Be patient.
They brought these simple rules to the new venture of hand picking good properties to be bought and resold with financing to investors.
And not just any investors.  They have now built a list of good investors to whom they offer loans and properties.  Al always sells the properties for only a little more than his purchase price, leaving the investor plenty of room to make a good profit.  This approach not only increases safety for himself (the lender), but it also assures investors will keep coming back for more.
Synergy and Local Market Expertise
Being younger, Al does not have the capital his dad does, so the profit from buying and selling adds to his current income. On the other hand, the lending by his dad on these properties keeps his dad's capital working.
The deal between Al and his dad is that if any of the borrower's default, Al takes over the property. At this point, Al would either resell to another investor or complete the project himself. In both cases, he then pays off his dad's loan.  So, dad does not have to worry about being hands-on if a default occurs.  Of course, any extra profit is Al's to keep.
This arrangement works because Al and his family know the local markets.  They know what houses to buy or bid on at auction, and they know what areas of the city are selling and at what prices.  They also know the rehabbers. Best of all, they have the money diversified across numerous properties that secure the loans at values that reduce the risk to a minimum.
This structure does not have to be a family investment.  It could be a joint venture between a money person and an experienced investor.  Take a few minutes to consider the possibilities…
---
The Property or the Money
This is Chad again …
That was just a small taste from Dyches of the possibilities available to you as a private or hard money lender. For those who have never heard of the term – hard money refers to the hard asset (real estate) which serves as collateral for the loan.
Although credit of the borrower may also be important, the most important factor with hard money lending is the value of the property securing the loan. As a lender, your most important protection is a large margin of safety. This means the loan is typically only 60-70% of the value of the property.
The private money lender story shared by Dyches was particularly interesting to me because it reminded me that every real estate deal involves two things:
A piece of property
The money to buy the property
You can specialize in 1, 2, or both.  Most investors specialize in the property and borrow the money. But it's just as profitable (or perhaps MORE profitable) to specialize in the money.
Why Do Banks Have Big, Fancy Buildings? Hmmmm.
Once you become an investor with more experience and capital (or if you partner with someone who already has those), you can become "the bank" and hand pick deals that meet your criteria for low risk and higher returns.
There is a reason banks have the biggest, fanciest buildings in towns and cities around the world. Lenders make good money!
But let's be clear that this real estate niche is not for everyone. First, you need capital to lend and to set aside for reserves. Things can and will go wrong occasionally. So, you need strong capital from either yourself or from a partner.
Second, you need experience. This isn't the part of the real estate business to get into as a newbie. You need to know the real estate business of the borrower better than he or she does. And you need to understand real estate value.
But if you, a partner, and/or your retirement account fit those criteria, this could be a lucrative real estate investing niche for you. Especially in a hot market, this can be an excellent way to securely earn passive, above average returns without chasing competition for good deals.  It's something I have begun pursuing more lately – especially through my self-directed retirement accounts.
1-1 Interview With Dyches to Learn More
If you decide to pursue this lending niche, I highly recommend you learn more from Dyches – someone who has done this for 35+ years.  Dyches agreed to a special 1-on-1 interview with me, and I recently recorded the call and uploaded it to YouTube so you can listen anytime.
On the interview you'll learn:
How Dyches got his start in real estate investing back in the 1980s
Why it took so long for Dyches to finally leave his job and invest full time
Who should become a hard money lender? Who should not?
How becoming a hard money lender compliments other investing strategies (rentals, flips, etc)
The benefits of hard money lending (sneak peak: you spend less time and still make good money)
Example lending deals (including how closings work)
The main challenges of hard money lending
How to control and mitigate your risk of loss
Dyches' recommending lending guidelines
How to loan smaller amounts of money safely using a technique called a wrap mortgage
How to find good deals to loan your money against
Here is the YouTube Video:

Hard Money Lending Class
For those of you just curious about Hard Money Lending, just stick to the free interview above or ask me questions in the comments below. This blog and most of my work are free so that you can learn as cost effectively as possible.
But if you are seriously considering lending your own money, I highly recommend investing in more in-depth education first.  Mistakes in this arena of investing are much more expensive than the cost of a quality class. And the only class I've found that teaches this topic with the detail and depth you need for real-world application is Dyches' Hard Money Lending Class. He only does this class once per year, so check out his website for the next available event.
I rarely promote other people's classes or events, but I can wholeheartedly endorse this one. Dyches has been teaching Hard Money Lending for 17 years, and he's been applying the principles for over 35 years! So, you're getting a teacher who knows his topic very well.
At the class you get excellent in-person instruction (from Dyches and from his attorney). You also get networking with experienced investors and zero upsells or pitches. All attendees receive a thick manual with detailed explanations and sample forms. I use my own shelf full of manuals from Dyches' classes as reference ALL the time.
As an incentive for my readers, Dyches created a 20-page Special Report on Hard Money Loans Using IRAs & Solo 401k Accounts.  Your self-directed retirement account is a great vehicle to make these loans. It's the method I'm personally using. To get the bonus, just write "Coach Carson" in the additional notes on his online sign-up form. You can also register by phone with Dyches' office (Kay – 404-492-6009). Just tell Kay I referred you.
Best of luck in your real estate and hard money lending ventures!
Have you ever made or borrowed money from a private or hard money lender? Did the deal work out well for you? Has anything ever gone wrong? Do you plan on loaning your money more in the future?
I'd love to hear from you in the comments below.
Get My Free Real Estate Investing Toolkit!
Enter your email address and click "Get Toolkit"