About This Episode
Episode #221 – Should you hire a property management company after a few rental properties? Or should you even hire a property management company at all? Coach Carson gives tips and shares his own experience and how has self-managed AND hired property managers for his investment properties in this edition of Ask Coach.
Episode Transcript
(00:00)
As a rental property investor. When should you hire a property management company? Is it after a certain number of units? Is it after you've made a certain amount of money, or should you just go ahead in the very beginning and hire a management company? That's the question I'm going to tackle in today's edition of as Coach, and we're getting started right now.
(00:23)
Welcome to the Ask Coach edition of the podcast. If we haven't met yet, my name is Chad Carson. You can also call me Coach. And my mission here is to help you get out of the financial grind so you can do more of what matters with the Ask Coach podcast series. I do my best to answer your burning questions about real estate investing and personal finance.
(00:39)
Today's question came from Melody on YouTube. So thank you for that question. But I know a lot of you have this question of when should you hire a property manager, or maybe even whether you should hire one in the first place. And I'm going to give you some specific ideas on how you might be able to decide in your own situation when you should do that or if you should do it. But I want to give you a couple of stories from my own experience and one other investor I know just to show you that this is a personal decision that could go either way.
(01:05)
There are different approaches that are both effective and both can work as a real estate investor. And I'll tell you about my own situation first, when I began investing in real estate, I was 23 years old. I have a business partner. We began flipping houses, but slowly but surely, we started acquiring some rental properties. And we managed those properties ourselves.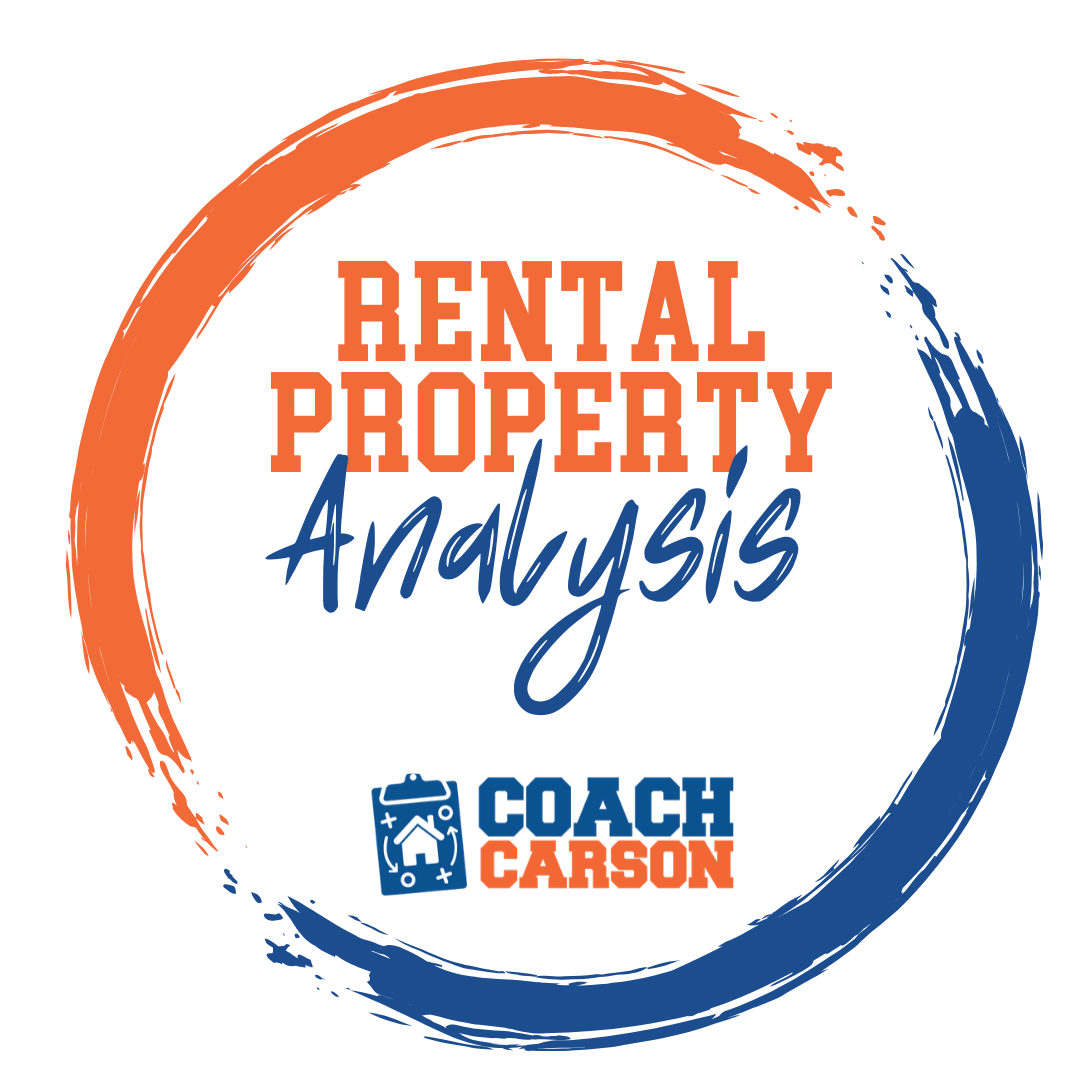 A course by Coach Carson that teaches you how to run the numbers so that you can confidently analyze and buy profitable rental properties. It also includes Coach's rental analysis spreadsheet.
Get the Course
(01:22)
So we did the leasing, we did the collections of rent, we handled maintenance calls. And so we kind of built up our understanding of the systems and how to run the processes of a rental property company by doing it ourselves. And I think in general, if you have the ability to do this, it's always a good idea to learn the business from the ground up. I kind of equate this. There's an old maximum business that if you're going to have a shop or a store, learn to sweep the floors of the store first.
(01:47)
Learn to do the mundane tasks so that you can build up to doing other tasks. And the bread and butter, the blocking and tackling, the shooting and dribbling. To use every metaphor in the book of real estate investing is property management. And so it can't hurt if you really want to learn the business all the details to do it yourself a little bit. And that's what we did to start off.
(02:06)
But we eventually grew to the point where we started hiring somebody. We hired a bookkeeper just to help with a few tasks, like checking the mail and just doing some stuff. Like that. But then she was so good at that, and she also had better skills. And so we hired her to do more.
(02:21)
So she started helping us with some of the collections on our rental properties. She eventually started helping with some of the leasing. So putting signs up, putting applications at the house at the time. Now we can do it all digital. But she grew into about 90% of our property management business.
(02:36)
Internally, she would handle and I was still the person who signed leases and did things, certain things, but she handled a lot of it to the point where when I traveled in 2009 and also 2017 with my family to Ecuador, she was able to handle almost all of it on the ground. And I could do a little bit of it remotely from wherever I was. So that's how we handled it. Originally, she decided to retire, unfortunately, had other things going on, and so we now have moved to everything is outsourced to a couple of different property management companies, every 99% of it. My wife and I still manage a couple of our own properties, and then my business partner and I still have a few that are just kind of odd situations, either outside the area that we manage ourselves.
(03:18)
But most of that is handled by third party management companies, particularly the ones that are a little bit more time intensive. We have College student rentals. That more turnover, and the leasing process takes a little bit more time. There's a few more maintenance calls with apartments than there are single family houses. So that is our situation.
(03:34)
We have outsourced almost all of it now to property management companies. But let me tell you about one other person who I've looked up to as a mentor for a long time named John Shop. He's down in Sarasota, Florida. He wrote a book called Building Wealth, One House at a time. And he has been in the business for more than five decades.
(03:52)
And he has, I believe, about 30 single family houses. I don't know his exact number, but somewhere around there, and he self manages all of those. Still to this day, he might have gone through some other management processes, too, but he has found that with single family houses in particular. And he's kind of honed in which types of single family houses he like that attract very self sufficient tenants who stay for a long time. Those are really easy to manage.
(04:17)
Every once in a while you need to have a turnover and lease and do a punch list here and there. But he can travel. He can do all sorts of other stuff. He's a real estate investor that I always looked up to who had the best lifestyle. He was really flexible.
(04:29)
He was coaching his kids sports. He was traveling. He was donating his time. So it's very possible to self manage and do it that way. If you buy certain properties, particularly the small and mighty real estate investor kind of mindset that I advocate keeping it as small as possible or small as necessary to accomplish your goals.
(04:47)
And if you buy the right properties, you can self manage. But let's go back to the question. So there are two different examples. There of ways you can do it. When should you do it?
(04:56)
Is it a number of units? I think there's a different criteria to say after you get to a certain number of units, then you should hire a property manager. The point of telling you those two different stories, both my own journey as a rental property investor and also John Shaub, is to show you there's a variety of different approaches to property management, whether you do it yourself, like John has done, or whether you grow into a different approach where you hire out all your property management like I have done. Either case, you can accomplish the same goal, which is to have flexibility to have a lifestyle where you have a lot of time to do what matters to where you have income coming in to pay for your lifestyle. And then the other side of the coin so that you also serve and take care of your tenants well, so that you have these tenants who are happy and like enjoying living your properties, and you take care of your properties so that all works together.
(05:43)
And there are different approaches to accomplish that. But the other point of that story, particularly in my case, is that it can change over time. And I think that was the point of Melody's original question is when do you know that you need to transition? So let's assume that you're listening to this, and either you started off doing it yourself, like I recommended saying, that's a good approach to learning the business and taking care of sweeping the floors yourself so you can learn the management company business or whether you're just starting brand new and you're just not sure what to do from the very beginning. In either case, I think there are three different situations where I would recommend not being a property manager yourself and hiring somebody to do it for you.
(06:23)
The first situation is if you're not interested in being a property manager. Now, this might happen right away. Like if you decide, I just don't want to be a property manager, I'm not interested in leasing the property. I'm not interested in learning the business and the details on that level. I just want to be an asset manager, kind of from a higher level.
(06:38)
That's totally a legitimate reason to hire a manager. But you also might be in a situation where you started off like I did, sweeping the floors of the business. You were interested in learning the business, to do it for a period of time. But then you outgrew that interest and you're like, okay, I've learned how to do it now, I want to do something different. That's another time when it's legitimate to hire somebody.
(06:57)
Now, when does that happen? Does it happen at one property, five properties? I don't think there's a particular number that it happens at. But if you are somebody who is going to start off self managing, here's a really important tip from the very beginning. Even though you are paying yourself to manage it, you need to build in to your numbers when you buy that rental property, paying somebody else to do it.
(07:17)
So even if you manage it for the rest of your life, you need to build in a management fee. And whatever the going rate is. I use 10% in my area, and that's what the kind of going rate for a lot of my property managers are. If you use that 10% and build that in, if you manage it yourself, you pay yourself that money great. But if you do lose interest, if something changes in your life, you're then able financially to outsource it.
(07:41)
Think about the situation where somebody talks themselves into a deal by not paying themselves a management fee. They're essentially working for free. You've got this side hustle. You justified this deal because you kind of pitched the numbers down a little bit to make the deal work. And now you have a job that you're making no money on who would go hire themselves at another job and not pay themselves money for it when you're doing that as a real estate investor.
(08:05)
And yes, there are long term benefits. Yes, there's growth. I know all that. But the money today is important. It's going to keep you motivated.
(08:12)
It's going to help you avoid losing interest. So it's kind of an aside related topic, be sure to pay yourself. Always build that into your numbers. But it's a legitimate reason. Situation.
(08:21)
Number one, if you're just not interested in being a property manager, whether it's in the beginning or down the road, hire somebody else to do it. That's perfectly fine. The second situation where it probably doesn't make sense to manage the property yourself is if you're long distance. So if you're buying a property, you're in California, the properties in South Carolina, it's going to be very difficult to manage it yourself, not impossible. There are situations you could have a hybrid maybe where you hire a leasing agent to do the hardest work, which is getting the property rented and showing it.
(08:49)
And then you could manage the tenant from there using technology and communications. You could do that kind of situation. But even there, you do have somebody on the ground helping you. So I think that is a legitimate situation from the very beginning, whether it's the first property or the 10th property, your long distance having a team member on the ground is a big benefit to you, and it's even more beneficial beyond the practical steps of just handling the maintenance calls and things like that. It's also helpful to have somebody on the ground who knows the market when I'm buying properties.
(09:18)
One of my first calls to a third party is to my property manager to ask them, hey, what would this property rent for? Or what's the trend in this neighborhood? What are you seeing here? They're on the ground. They're experts.
(09:30)
And so you can lean into their knowledge. And so even beyond the practical steps, don't just look at them as a technician to collect rent for you. They are another mentor. They're somebody who's going to help you out to make you a better real estate investor. And so that second situation being long distance, we're just not being engaged in the real estate market, even if you're close by.
(09:47)
But you don't know that local market as well. That's a great reason to hire a management company. But remember, just like I said in the last situation, make sure you build in your numbers so that you can pay somebody to do this. The third situation where it might make sense to just go ahead and hire a property management company is when you have a real estate strategy or a niche within real estate investing that requires some expertise or some extra time to implement it. And what I'm thinking about with this in particular is Airbnb.
(10:13)
In my case, my wife and I have one apartment unit that we rent on game day rentals. So this is in a football town, clubs in South Carolina. So College game days, people come into town and their hotels are all full. And so we can get a lot of rent for this apartment and we hire it out to somebody else. We just don't have the interest the time to take care of that.
(10:32)
I've got this podcast and YouTube channel going on. I'm teaching classes. I have our family stuff. We have this travel things we're doing. It's just not a business I have the expertise in or the desire to learn all the details or to manage the person, changing the sheets and the furnishings and doing all that.
(10:48)
Some people love it. And some of you listening to this, like doing that niche yourself and managing yourself. But if you don't, hiring somebody to do it is the way you can go. And of course, you do need to build in the numbers. Again, we're paying 25% to a management company to do all that for us.
(11:03)
But as an investor who runs the numbers, you can always build that in on the front end. If you can't pay somebody to do it and it'll still be a good deal, it's probably not a good deal. So that is one approach we've taken. Another is just with the student rental niche. That is another one where sometimes being a property manager with a little bit of scale has its benefits.
(11:22)
So if you're already as a property manager talking to hundreds of other students because you have hundreds of units. Sometimes it's easier to cross promote and fill up your units than it is if you only have two or three units yourself. So both of those are examples. There's probably others I'm thinking of the little niche rental property investing strategies where it can also make sense to hire it out to a property manager right away. So all of those are some thoughts on whether and when you should hire a property manager.
(11:49)
But I want to leave you with one final point, which is sort of a lesson in progress for me, is that once you do hire a property manager, whether that's from the very beginning or later on in your career, it doesn't stop the process of you being an involved and engaged real estate investor. There's sort of this idea that this is the hands off approach. When you hire a property manager, they do everything for you, and in some cases they do. They do all the leasing for you. They handle maintenance calls for you.
(12:15)
But this is still your property, and this is still your job to oversee this property, to make sure the policies are being implemented, having a regular discussion with your property manager about your screening criteria for your tenants, a regular conversation about maintenance, not only the maintenance when it comes up as an emergency, but even more important, about preventative maintenance. And how can we get ahead of the curve? How can we make sure our property still looks good and it's in good condition for our tenants? And so those are some things that I'm working on, systems to improve there, and so that you can call this an asset manager role. Like a lot of the hedge funds and big, huge funds that buy properties all over the country, they see that role, naturally, because they hire property managers on the ground and they are the owners of these properties.
(12:58)
We, as small and mighty real estate investors, sometimes forget about that kind of extra layer of responsibility. It's easy to kind of forget about. And this abdicate 100% of the responsibility to property managers. They do what they do, but it's still your responsibility to stay engaged. And I'll have future podcast episodes about that.
(13:15)
This is again learning and process, and I'm going to teach courses on this as well. But it's a fun business that you don't necessarily have to be super involved in from a time standpoint. But you do want to have checklists. You do want to have meetings here and there virtually just to make sure your properties are taken care of. If you like the show, I'd like to invite you to subscribe to my free email newsletter at coachcarson.
(13:34)
Com/reitoolkit. In addition to weekly updates, articles and behind the scenes tips from me, my email newsletter subscribers get my real estate investing toolkit, which includes a property closing checklist that I actually use when I buy properties. A real estate deal worksheet, a tenant screening criteria checklist and other spreadsheets and goodies that will help you on your journey to financial independence using real estate. You can get it all for [email protected] Rei toolkit. I also want to take this time to thank some people behind the scenes who make this podcast possible each and every week.
(14:07)
This includes my podcast editor extraordinaire Michael Win, my amazing virtual assistant Megan Thompson, my wife Carrie who helps me behind the scenes and is my partner here at Coach Carson and of course thank you to all of you, the listeners of this show who make everything possible. This show exists for you. It exists because of you and I really appreciate you being here for another episode. Everything I've shared with you in this episode has been for general education purposes. I have not considered your specific situation or risk before buying your own investments.
(14:33)
Be sure to consult a financial real estate and or a legal professional until next time I'm Chad Carson. You can also call me Coach and this is a show all about helping you get out of the financial grind so you can do more of what matters. See you next time. Bye.
Help Spread the Word!
Help me reach new listeners on Apple Podcasts by leaving us a rating and review! It takes just 30 seconds. Thanks! I really appreciate it!
Links & Resources
Get My Free Real Estate Investing Toolkit!
Enter your email address and click "Get Toolkit"