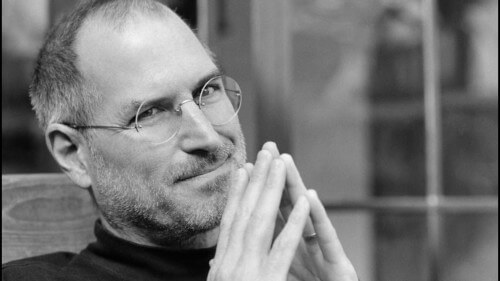 By the way, what have you done that's so great? Do you create anything, or just criticize others' work and belittle their motivations?"

Email from Steve Jobs in response to criticism, Walter Isaacson, Steve Jobs
I laughed out loud when I read this exchange in Walter Isaacson's biography of former Apple co-founder and CEO, Steve Jobs. Inside I even did one of those victorious fist pumps and said "that's right!"
I love reading biographies of great people not because they are perfect. In fact the opposite is true. I enjoy reading about their great successes contrasted with their imperfections, character flaws, and major screw-ups.
Imperfection makes the stories real. Steve Jobs, like all of us, certainly had MANY of these imperfections.
But along with those imperfections, it's fascinating to experience the can-do, creative spirit that drives people like Steve Jobs even in the face of constant and harsh criticism.
I can relate to that creativity and to that criticism. Creating anything makes me vulnerable. It's like I'm putting a piece of my soft inner core on display for the world to do with it what it will.
I feel vulnerable any time I write public words like these, advertise my real estate business, take my children out into the world, lead a movement for a trail system in my hometown, or just try to make myself a better human being.
If it's important, it will be criticized. I can count on it.
And despite all of the stoic serenity I can muster, criticism hurts. It especially stings when the criticism is about my most precious, important creations.
But it feels good knowing that like Steve Jobs, I'm a creator and not a critic.
When I'm on my death-bed, I won't count how many people I criticized or tore down.  But I will take pride in being a creative person who did my little part to make the world a better place.
What about you? Are you creating or criticizing? Are you building people up or tearing them down? Are you on the arena floor staring down the lions or are you comfortably sitting in the stands saying how you could do it better?
I'll leave you with my all-time favorite challenge to the critics from Theodore Roosevelt:
It is not the critic who counts: not the man who points out how the strong man stumbles or where the doer of deeds could have done better. The credit belongs to the man who is actually in the arena, whose face is marred by dust and sweat and blood, who strives valiantly, who errs and comes up short again and again … who knows the great enthusiasms, the great devotions, who spends himself for a worthy cause; who at the best, knows, in the end, the triumph of high achievement, and who, at the worst, if he fails, at least he fails while daring greatly, so that his place shall never be with those cold and timid souls who knew neither victory nor defeat."
Get My Free Real Estate Investing Toolkit!
Enter your email address and click "Get Toolkit"