About This Episode
Episode #206 – Is it smart or stupid to borrow against your home to buy a rental property? In this Ask Coach episode, Coach Carson shares when borrowing against your home makes sense, when it doesn't, and how to borrow safely if you do.
Episode Transcript
(00:00)
Let's say you've been working hard, you've been earning money, and you've been saving that money month by month in order to buy your next or maybe your first rental property. But it's a grind. You're having to take longer and longer, and you're still not there yet. You're getting impatient, and so you're facing the choice ways of should you borrow money against your personal residence, either refinancing with a permanent mortgage and pulling some cash out, or maybe getting a home equity line of credit. But in either case, the point is your decision is, should I borrow that money against my house to invest in real estate and have a down payment, or should I keep waiting until I have enough cash saved up?
(00:35)
That's the question I'm going to tackle in today's episode of Asked Coach, and we're getting started right now.
(00:48)
Welcome to the Ask Coach edition of the podcast. If we haven't met yet, I'm your host, Chad Carson. You can also call me Coach. My mission here is to help you get out of the financial grind so you can do more of what matters in the Asked Coach podcast series is where I do my best to answer your burning questions about real estate investing and personal finance. Today's question comes from one of our viewers on YouTube who goes by Ohio Digger.
(01:09)
Says, I'm looking to start buying some single family rental properties I've been saving for the last year or so. But I'm wondering, is there an advantage to refinancing my personal home and using that as my down payment? Considering rates are pretty low, is it better just to hold on to my cash? He goes on to say, for your information, your info is awesome and super easy to follow along the way you present it. Thanks for that subscribe.
(01:30)
Well, thank you for your question. The first thing I want to say is there's no blanket answer. That's the same for everyone to this question. It's one of those that comes down to your personal risk tolerance. Now, when I hear people say that how it depends on your risk tolerance, I get a little frustrated because it seems like such a fuzzy concept.(01:46)
So I'm going to answer and try to give you a story or some explanation for how you can make that choice for yourself. But I just want to point that out as I go through this. Each of us are going to have different tolerances for how much risk we want to take, and that's going to be the biggest decision here. So it might come down to your gut feeling on what it tells you, or maybe especially talking with your partner or spouse, if that's the case for you to see collectively what your gut feeling is and what can help you sleep at night. The next thing I want to say is that all entrepreneurs take risk.
(02:15)
It really is. If you had to boil down the essence of what being in business or being an entrepreneur is taking risks. I think about it a lot like a journey, like these old storybook type journeys where you're the hero of the story and you progress down this path. Maybe you're climbing a mountain, maybe you're going on a journey, but at each place there's a fork in the road. You could take this choice, or you can make this choice and you're having to make a decision often about this balancing of risk and reward.(02:45)
Risk is what can happen bad, what's the worst case scenario or what is possible here? And could I survive that? Could I live through that financially and live to see another day? But then the other half of that coin, that decision that you're making in this journey, is what's the upside? What good could happen if I take this road, if I make this fork over here, what are the upsides?(03:08)
And then you weigh those two. And I mentioned just before that with the risk part of it, if you can't sleep at night, if it's just driving you crazy, then you probably shouldn't do it. But at the same time, if you never take any risk, you're never going to see the reward of real estate investing. I see a lot of new investors get stuck in this phase because they had this perfect idea of a plan. And here's how it's going to go.
(03:30)
I'm going to take this fork and this fork almost like a Google Maps. But in reality, your personal situation is so different. And you're the one who has to make that gut feeling. I can't make it for you as a person talking in this podcast, no person who wrote a book can make that for you. This is you.
(03:44)
You're the hero who has to live with that. But let's kind of get out of the theoretical or the general concept to move into your specific situation. As a brand new real estate investor, you're working hard to save this money. And the thing I want to say about this is as a new investor, the sooner you can actually get started buying a property, the better. And I think about this a lot like the concept of compounding money in general.
(04:09)
So there's a couple of different layers here. If you get your money invested quickly, then you have longer for the money to compound. Like if you just do the math, if you've ever looked at an exercise where you put the money $1,000 and invest it when you're 20 years old and you let that sit and just compound and compound and grow and grow and grow in an investment for the next 30, 40 years, and you compare that to somebody who started ten years later. And even if the person who started ten years later made an even higher return, they're going to make a lot less than the person who started at 20 because they started early. So there's a financial benefit to just getting started, even if it's not perfect.
(04:46)
There's also a psychological and a knowledge benefit. You compound the stuff. You know, like when you get in early and not wait a couple of years from now, you're going to build relationships with people. You're going to learn the real world lessons of owning a rental property. So all of this kind of fits in the benefit column.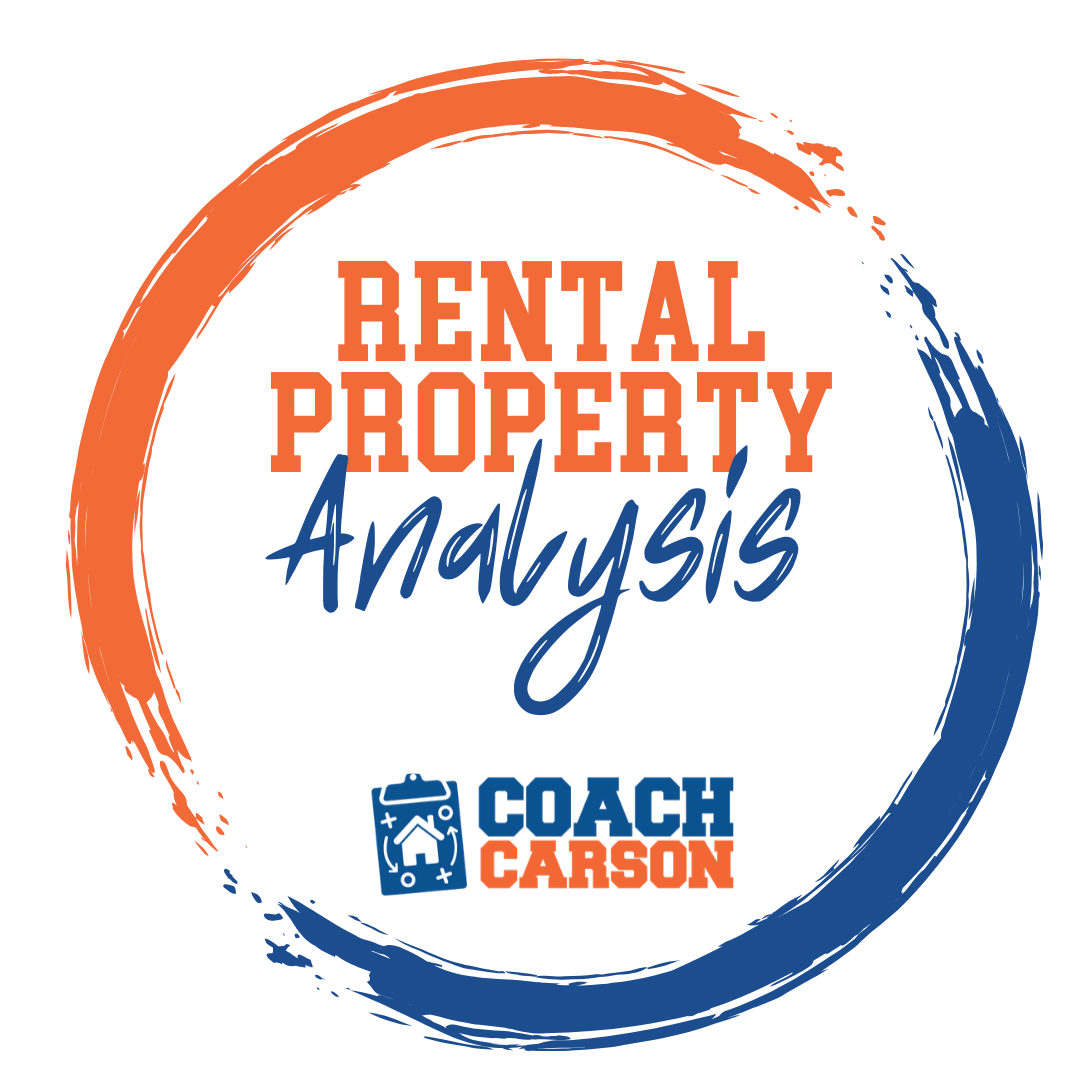 A course by Coach Carson that teaches you how to run the numbers so that you can confidently analyze and buy profitable rental properties. It also includes Coach's rental analysis spreadsheet.
Get the Course
(05:04)
Why would you go ahead and do it? Why would you maybe go ahead and borrow the money to get started earlier? So those are the benefits. The downside, of course, though, is that you're borrowing money. And I have a healthy respect for debt and borrowing money.
(05:17)
In fact, I'm in the phase of my career right now where I'm paying debt off because I don't think there's the benefit of me getting another property. And growing even more has diminished a lot more than the risk of this whole thing falling apart if I borrowed even more and more. So I have enough. But when you're brand new, I tend to think that it tilts a little bit further in the way. Have you got to take a risk?
(05:38)
Like, what do you want to take? Which risk are you willing to take? So I'm going to give you a little exercise here where I go kind of a plan A, where you don't borrow the money, plan B, where you do. And let's talk about the specific risk that you might face and how you might deal with that. So say a scenario A, that you have already saved up $50,000, but you estimate to buy a property in your area, you're going to need about $100,000 total.
(06:02)
That's for your down payment. That's for closing costs. That's maybe to have a reserve when you buy the rental properties, you don't have anything bad happen on a rainy day. But roughly speaking, you need about 100 grand. You only have 50.
(06:14)
And let's say you can aggressively save a couple of $1,000 per month. So it's going to take you about two years, 24 months, because 2000 times twelve in one year. It's about 24,002 years. That's 48,000. So 50,000 ish plus or minus a couple of years before you'll have enough money to buy the next rental property.
(06:32)
And you decide to patiently do that. You're going to keep listening to podcasts, you're going to read books, you're going to keep learning about real estate investing, but you're not going to actually buy that property yet. So that's scenario A and the plus is you're not borrowing any money. You are taking the risk of borrowing money. You're being patient with that.
(06:48)
But the downside is you're not buying that property to actually learn the most, you earn 10200 times more when you buy the property. You build all the relationships. There's just so many things that happen. That compounding that I talked about starts by buying the property. You also start generating some cash flow and some wealth building.
(07:06)
That is the real benefit of owning real estate. So that's the downside of that missed opportunity cost of buying the property. Now let's go to scenario B, and you still have $50,000, but you also have your home, which you did not choose to tap into in scenario A. And you could go borrow some money. So let's say you have a $400,000 home, you have enough equity, you owe a first mortgage on that property, but you have enough equity such that you could either refinance it with a permanent mortgage and interest rates have gone down.
(07:36)
So maybe it's still not going to affect your payment that much. Or maybe you get a home equity line of credit and you can borrow that money, I guess a home equity line of credit, which is like if you've never heard of that, it's like a credit card, but it's secured by your house so you can write a check against it. You don't have to use it all the time. And then you can pay it back and then use it again and pay it back. So there's some benefits to a HELOC versus a regular loan.
(07:56)
I'm not going to get into that. It'll be another Scout episode at some point. But the point is you borrow the money. So you get 50,000 out of your house. You got the 50,000 you saved.
(08:05)
Now you got your 100,000 right now. And over the next few months, you find your first property. You buy it maybe a year and a half to two years earlier, you own a property. What's the benefit? What's the risk reward thing here?
(08:20)
The reward is you own that property sooner, you start building wealth sooner, you start cash flowing sooner. But you also, I think most importantly, had that knowledge start. You're learning so much. You're building relationships. You have that property manager, you have that real estate agent.
(08:33)
And so that compounding begins. But of course, there is a downside, right? You had to borrow this money. And I want to use just a very simple example. Your details may differ a little bit, but if you borrowed $50,000 at three and a half percent for 30 years, that'd be about a $225 payment.
(08:53)
So one way I look at risk is like, what's the worst case scenario? So you are taking the risk of borrowing money. So you as a family have to say, am I willing to come out of pocket $225 for this down payment because you're going to use this to invest in this other property, and you may get enough cash flow to pay for that $225 per month. That would be great. But you also need to think about the worst case scenario.
(09:16)
What if that property is empty? What if I can't resell that property for a while down the road and I want to get rid of it? You are obligated for that $225 per month and you're borrowing the money against your personal residence. So that's where you live. That's your home for you and your family.
(09:32)
That's what you have to think about. It really comes down to that. Are you willing to take that $225 per month risk if you lose your job, or can you afford that? Do you have a rainy day fund? And if you can say, yes, I can sleep at night with that $225 payment, no matter what happens with this other property, then you move forward.
(09:50)
That's how I make my decisions. That's why I said earlier, it comes down to your gut feeling, that's just math. And there's a risk to doing that. But you have to decide, is that a risk I'm willing to take? Is it not a risk I'm willing to take?
(10:02)
And you can make some decisions about how you borrow money. Like I mentioned, a 30 year loan. That's a much safer loan for you because you can fix that payment. It's not going to go from $225 to $500 per month if you fix it for 30 years. Home equity line of credit.
(10:16)
The terms differ, but sometimes they're a ten year loan. Then after that they turn into like a 15 or 20 year loan. There are some that are interest only. You just need to ask around. So a loan that you have to pay off sooner is going to be riskier than a loan as a 30 year loan.
(10:30)
But again, all of this is your decision to say, here's the upside of me going and buying a rental property. Here's the downside. What should I do? So I didn't give you a direct answer to this question that we went over, but I hope that gave you some things to think about. Some pluses and minuses.
(10:45)
The last thing I'll say, some of you might be thinking, hey, what about the market? If you buy right now, two years from now, the prices of the houses could be a lot more. And so that's a consideration that if you think the market is going to be much more expensive, which has been trending that way lately, then getting in sooner and go ahead and borrowing that money is going to be even more beneficial because you'll own that rental property that will then go up in value itself. I also want to say that the other thing, the other side could happen, you could buy that property today and it could go down in value. And then you'd be saying, well, I wish I would have saved the money and waited two years from now.
(11:19)
So really it's either one could happen. I'm not big on choosing and timing markets, so I don't think that's the prime consideration for actually getting into it now. Although if you do think the market is going up a lot, you do think there's going to be more inflation, you'd be even more inclined to go ahead and get it. Now, I hope you enjoyed this edition of the new Asked Coach Podcast. If you'd like to have your question featured in a future episode, just send an email to [email protected]
(11:44)
I will say we get more questions than we have the ability to publish. So if you want to increase your chances, please number one, keep your question as clear and as short as possible and also keep it on topic. Keep it relevant to this podcast by talking about real estate investing, personal finance, early retirement or personal development. If you like the show, I'd like to invite you to subscribe to my free email newsletter at coachcarson. Comreitalkit.
(12:10)
In addition to weekly updates, articles and behind the scenes tips from me, my email newsletter subscribers get my real estate investing toolkit which includes a property closing checklist that I actually use when I buy properties, a real estate deal worksheet, a tenant screening criteria checklist and other spreadsheets and goodies that will help you on your journey to financial independence. Using real estate, you can get it all for [email protected] Rei toolkit. I also want to take this time to thank the people behind the scenes who make this podcast possible each and every week. This includes my podcast editor extraordinaire, Michael Win, my amazing virtual assistant Megan Thompson, my wife Kerry who helps me behind the scenes and is my partner here at Coach Carson. And of course thank you to all of you, the listeners of the show who make everything possible.
(12:52)
This show exists for you. It exists because of you and I really appreciate you being here for another episode. Everything I've shared with you in this episode has been for general education purposes. I have not considered your specific situation or risk before buying your own investments, be here to consult a financial real estate and or a legal professional. Until next time, I'm Chad Carson.
(13:11)
You can also call me coach and this is a show all about helping you get out of the financial grind so you can do more of what matters. See you next time, bye.
Help Spread the Word!
Help me reach new listeners on Apple Podcasts by leaving us a rating and review! It takes just 30 seconds. Thanks! I really appreciate it!
Get My Free Real Estate Investing Toolkit!
Enter your email address and click "Get Toolkit"