Real estate investing can produce big-time wealth and passive income if you use it correctly. But getting started and maintaining your progress isn't always easy. That's where regularly listening to real estate investing podcasts comes in.
The right podcasts can give you a boost of weekly education and inspiration for free.
Below you'll find a list of my top 12 recommended real estate investing podcasts for 2021. I've included different types of shows that are all excellent, so find a few shows that resonate with you and add them to your lists of go-to podcasts.
Before I start, let me briefly tell you why I'm qualified to share this list with you.
The Real Estate & Financial Independence Podcast with Chad "Coach" Carson
I've been investing in real estate for 18 years (since 2003), and I used passive real estate income to achieve financial independence before I turned 37 years old. You can read more about my story here.
I love listening and learning from podcasts while I walk, clean dishes, cut grass, or drive in the car. So, in 2019 I decided to create my own podcast to help other investors invest in real estate and achieve financial independence.
My podcast is called The Real Estate & Financial Independence Podcast, and it's now a top 150 investing podcast on Apple Podcasts. I'm not including it on this top 12 list (because it just feels awkward!), but if you'd like to use real estate to achieve financial independence and do what matters, I think you'll enjoy my new episodes each Monday morning.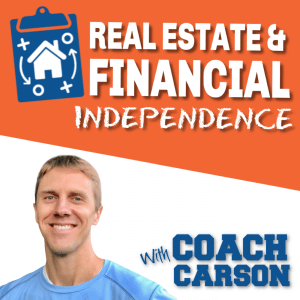 Links:
Now here's my list of the 12 best real estate investing podcasts.
Enjoy!
---
1. The BiggerPockets Podcast with Brandon Turner and David Greene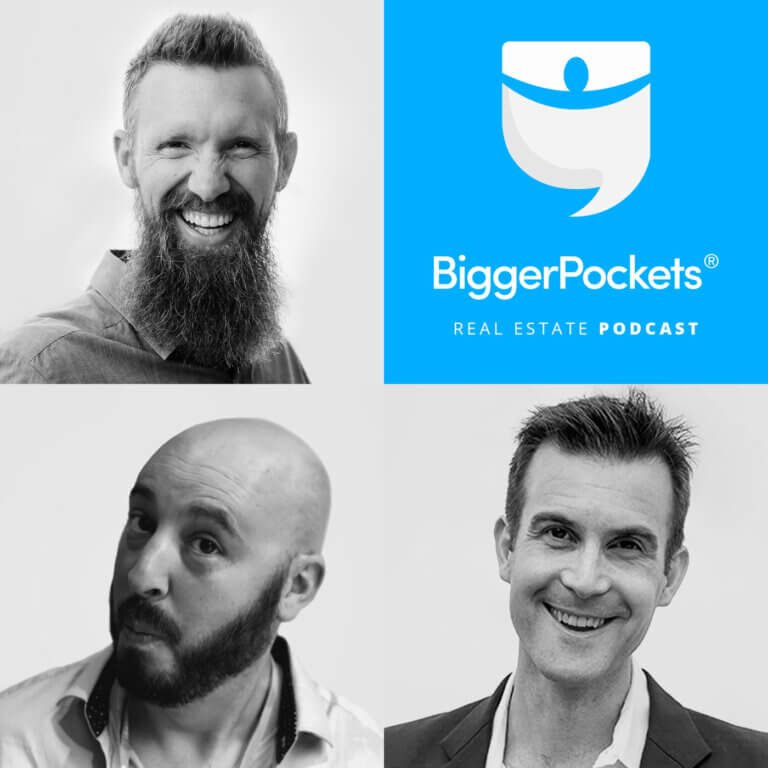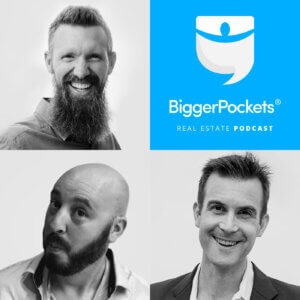 Podcast Description:
Released weekly on Thursdays, the BiggerPockets Podcast is hosted by Brandon Turner and David Greene. It features off-the-cuff interviews with investors of various backgrounds, niches, and experience levels.
Imagine you're friends with hundreds of real estate investors and entrepreneurs. Now imagine you can grab a beer with each of them and casually chat about failures, successes, motivations, and lessons learned. That's what they're aiming for with The BiggerPockets Podcast.
Comments From Coach:
This is the most downloaded real estate investing podcast for a reason. It delivers excellent, relevant advice, and it's been doing it for years.
I've known the co-host Brandon Turner for years now, and he's the real deal. Not only is he an excellent teacher who knows the craft of real estate investing as well as anyone, but he also delivers each show with a lot of energy and fun.
Brandon's co-host David Greene is also an active investor with a depth of knowledge. You can't go wrong checking in with the BiggerPockets podcast each week or exploring the archives.
Check out my interviews on the BP podcast:
Links:
---
2. The Real Estate Guys Radio Show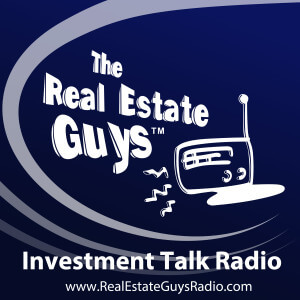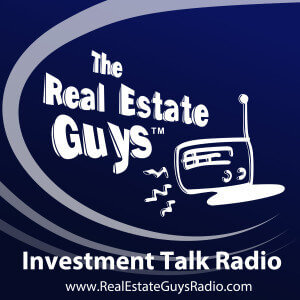 Podcast Description:
The Real Estate Guys™ Radio Show is a real estate investing talk program for investors and has been broadcasting weekly on conventional radio since 1997.  The podcast version of the show is one of the most downloaded investing podcasts on iTunes.
Fun and informative, this real estate investing talk show is hosted by professional investor Robert Helms and financial strategist Russell Gray. The show delivers no-hype real estate investing education and expert perspectives in a fast-paced, entertaining style.
Comments From Coach:
This show has been running since 1997!! That's incredible. I listened to a few of their recent shows, and they're still delivering solid advice about how to invest in real estate, build wealth, and manage your money wisely.
Links:
---
3. Real Estate 101 / Millennial Investing with Robert Leonard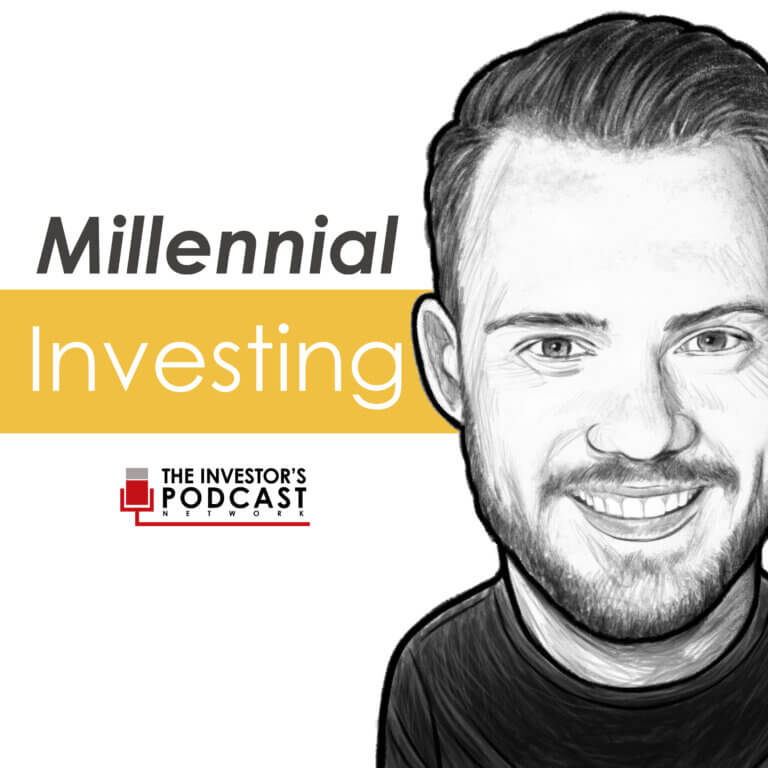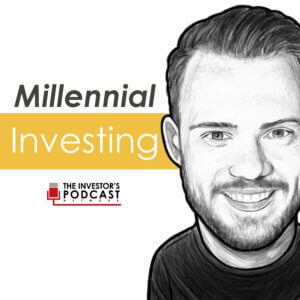 Podcast Description:
Millennial Investing by The Investor's Podcast Network is hosted by Robert Leonard. He talks with successful entrepreneurs, business leaders, and investors to help educate and inspire the Millennial generation, to improve their financial literacy, and make better investment decisions, with both their time AND money.
Real Estate 101 by The Investor's Podcast Network airs is also hosted by Robert Leonard and shows up in the same podcast feed. Robert brings on a wide range of guests, from fellow "newbie" investors investing as a side hustle to full-time multimillionaire real estate investors to walk you through all the questions and roadblocks you face as a new investor. You don't have to face the world of real estate investing alone – let Robert, and his guests, be your guide on your investing journey. Break past the paralysis-by-analysis stage and get your first deal, or next deal, done with actionable tips, strategies, and guidance from Robert and guests!
Comments From Coach:
I've gotten to know Robert well over the last couple of years, and he's a young, extremely knowledgeable investor who does an excellent job with both his weekly shows – Millennial Investing and Real Estate 101. They are published on different days on the same feed.  Robert and I both love to discuss Warren Buffett and value investing, and he brings that common sense approach to his interviews and content on the podcast.
Links:
---
4. The Norris Group Real Estate Radio Show and Podcast with Bruce Norris

Podcast Description:
The award-winning Norris Group Real Estate Radio Show is hosted by author, California real estate investor, hard money lender, and educator, Bruce Norris. From real estate regulation, legislation, and economics to war stories, local investment pros, and tricks of the investor trade, this is your no-nonsense connection to what's happening in the real estate investing world today.
Comments From Coach:
I've listened to and learned from Bruce Norris for a LONG time. I love that the show takes both a macro approach by looking at economic trends affecting us as investors and also a micro approach by interviewing actual investors in the trenches. Bruce himself has a wealth of knowledge as someone who has invested in rentals, flips, and hard money lending for decades. Bruce also has an excellent sense of the trends and movements of real estate markets, so I pay attention to what he says!
Links:
---
5. The Real Estate InvestHER Show with Elizabeth Faircloth and Andresa Guidelli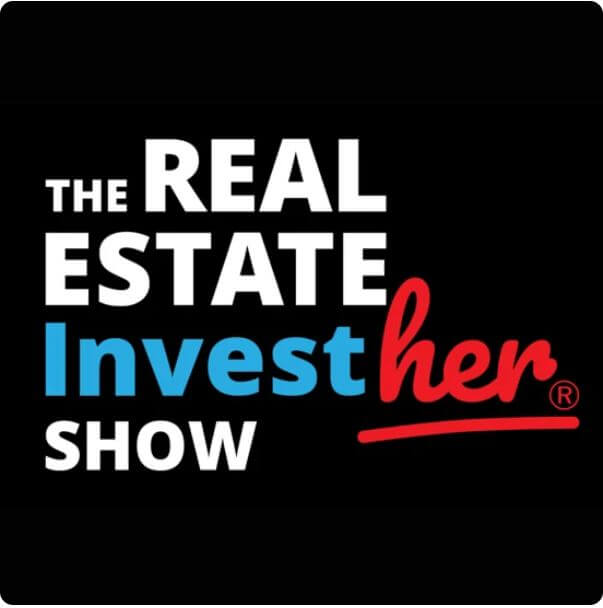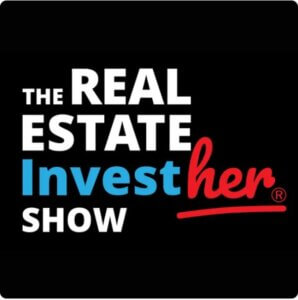 Podcast Description:
Ever notice women are overwhelmed and struggling to keep it all together? This podcast provides straight talk along with inspiration for existing and aspiring women real estate investors to live both balanced and financially free lives. Liz Faircloth and Andresa Guidelli chat with some amazing women real estate investors, who open up their lives and share practical and strategic tools for growing a rental portfolio, flipping houses and the mindset that allows them to run a successful investing business while taking care of their families and most importantly taking care of themselves.
Comments From Coach:
I first met co-host, Liz Faircloth, at a BiggerPockets real estate conference. She was speaking at a standing-room-only session where people were lined up to hear her speak about her multi-family rental portfolio. And she delivered!
This show does a great job each week delivering practical content about real estate investing and the mindset that will help you as an investor. I also love that the content comes from the perspective of women investors, who aren't focused on enough in the real estate or financial services space. But whether you're a man or a woman, I think you'll like this show.
Links:
---
6. Rental Income Podcast with Dan Lane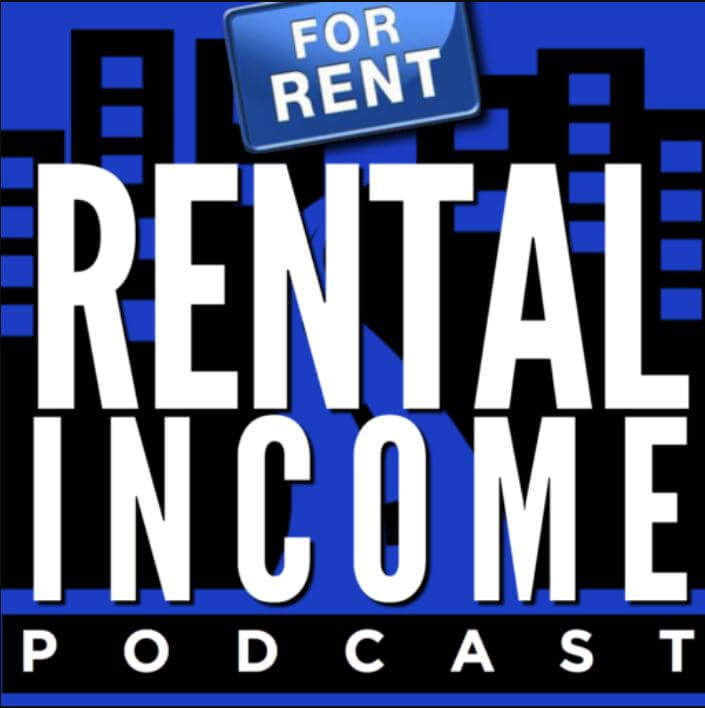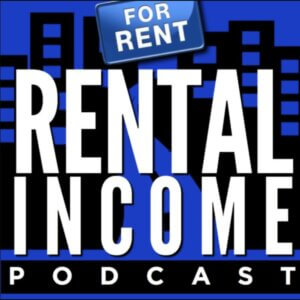 Podcast Description:
Inspiring interviews with landlords who are generating passive income by investing in real estate. In each episode, the host Dan Lane talks to guests about how they generate cash flow with their rentals, and issues they face with property management, and managing tenants.
Comments From Coach:
This is a relatively new show to me, but I was impressed that each interview shares real-life, in-the-trenches stories of landlords – both new and long-time veterans. Sometimes just listening to the details of someone else's story is all you need to make progress on your own journey. That's the kind of gold nuggets this show delivers each week.
Links:
---
7. The Remote Real Estate Investor by Roofstock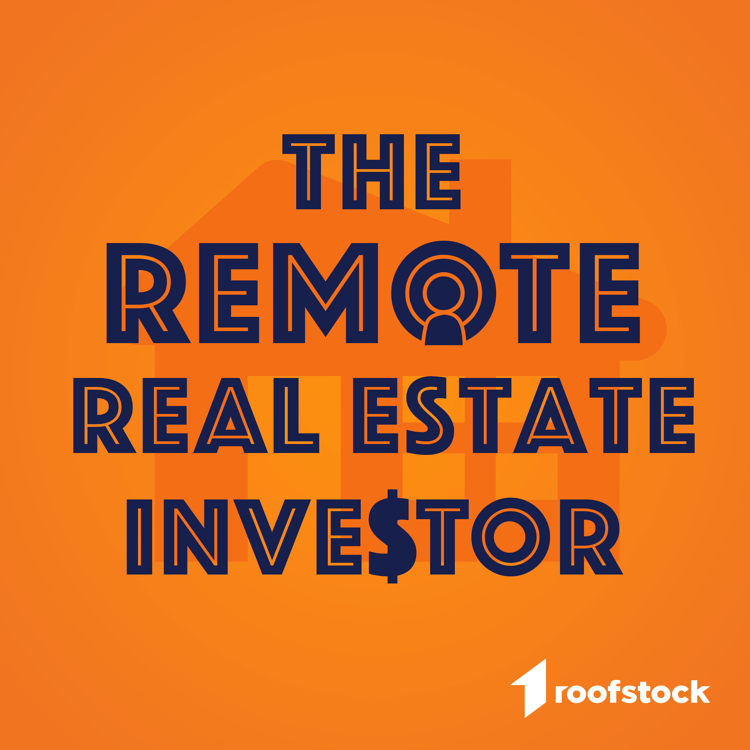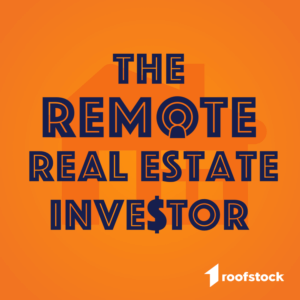 Podcast Description:
Brought to you by Roofstock, hosts and fellow investors Tom Schneider, Michael Albaum and Emil Shour share their experience to help those curious about investing in real estate outside of their local markets.
Comments From Coach:
I've been a guest on this show a couple of times, and I was very impressed by the preparation and delivery of the hosts Tom, Michael, and Emil. This show shines by focusing exclusively on long-distance investors, or those who'll own their investments remotely. From finding, financing, to managing deals, you'll get all the details in this show.
Links:
---
8. The Real Estate Investor Goddesses Podcast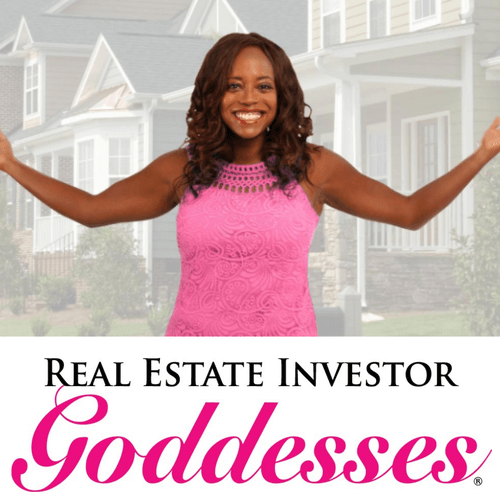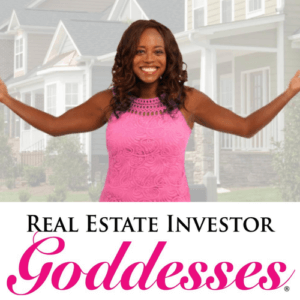 Podcast Description:
In the Real Estate Investor Goddesses Podcast, Monick Halm interviews badass women real estate investors – women who are crushing it in the real estate investing game. They share their biggest mistakes, the best advice, and their tips and tricks for women to be successful in real estate whether you are a newbie, or already building your portfolio.  Monick is the founder of Real Estate Investor Goddesses.  Her mission is to assist 1 million women to achieve financial freedom through real estate.  She is a real estate investor, syndicator, and developer with over 15 years of real estate investing experience in multi-family, industrial, mobile home parks, RV parks, flipping, and vacation rentals.  She is a #1 bestselling author, keynote speaker, recovered attorney, certified interior designer, Feng Shui expert, avid world traveler, wife, and mother of three amazing kids.
Comments From Coach:
I've met Monick in person at a conference, and I was very impressed with her. She knows a lot about real estate, and equally important she has the ability to communicate clearly what she knows. So, I wasn't surprised to find the same thing with her weekly podcast.
As you can tell from the title, Monick also does a great job of providing information and stories that her fellow ladies (but also fellas!) will appreciate. For example, some of the recent topics that I thought were excellent and not discussed enough in the real estate investing space were:
Finding balance in real estate investing
From rags to real estate – overcoming obstacles and inspiring women
How women can attract money in their life
Creating generational wealth
Definitely recommend you check this show out.
Links:
---
9. The Real Estate CPA Podcast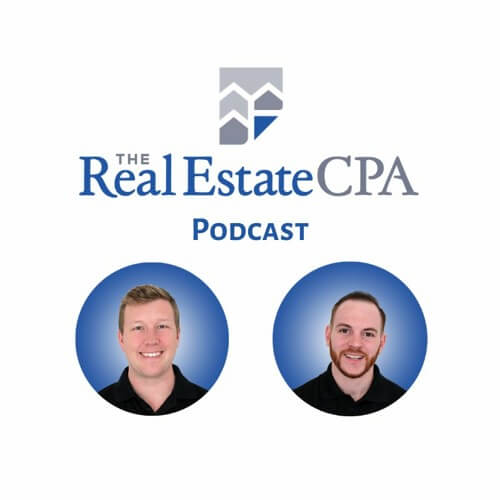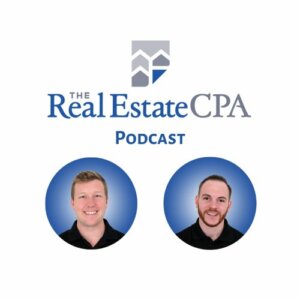 Podcast Description:
The Real Estate CPA Podcast cuts through the fluff and explores hard topics like accounting and tax. Every week, your hosts Brandon Hall and Thomas Castelli bring new episodes featuring special guests and going over tax tips that will save you money. By taking what you learn and applying it to your real estate investing, you'll increase profitability, streamline systems, and reduce your tax liability.
Comments From Coach:
You've heard the old refrain: "Only things guaranteed in life are death and taxes." Podcasts can't help you with the death part, but THIS podcast can help you with the taxes!
But don't let the topic of taxes turn you off. The hosts are CPAs but also investors, and they explain all sorts of real estate techniques and strategies from the point of view of a tax strategist. This is definitely a show to add to your list if you're serious about mastering the tax aspects of real estate investing.
Links:
---
10. The RE Tipster Podcast with Seth Williams and Jaren Barnes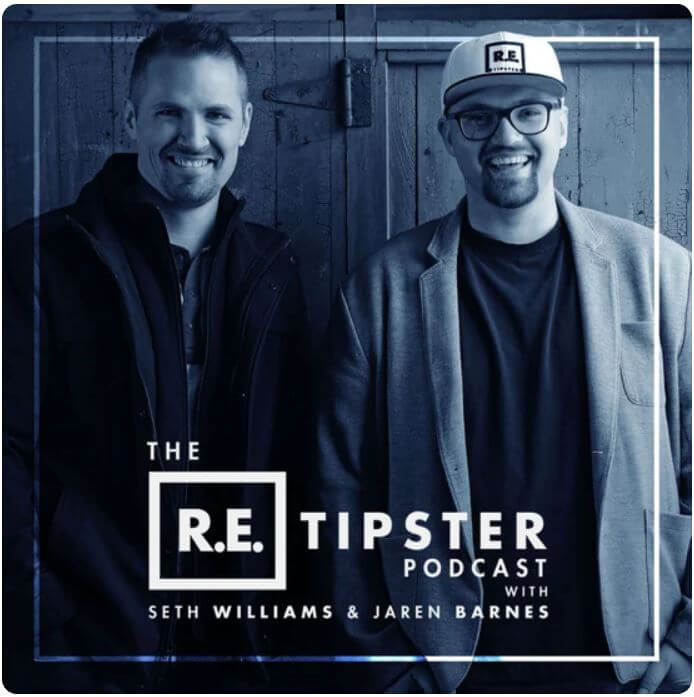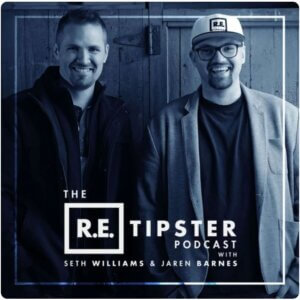 Podcast Description:
Discover how to make great money investing in real estate, in a way that helps people, doesn't require a lot of risk, and leaves plenty of room for you to live your life. The REtipster Podcast is the best source of insight and inspiration for new and experienced real estate investors! Seth Williams pulls back the curtain to reveal the inner workings of how he runs his land investing business and rental property portfolio.
In each episode, Seth explains the most essential real estate investing strategies and business essentials you can use to stay ahead of the curve in your real estate profession. Discover how to skyrocket your income, replace your day job and earn your financial freedom WITHOUT risking your life savings in the process. Seth dishes out real-world guidance about what works and what doesn't in today's business environment. Seth is a land investor, rental property owner, online educator, and skilled communicator who has been a student of the real estate investing game for over a decade. Join him in the next episode and learn how to crush it in your real estate business!
Comments From Coach:
My friend Seth Williams (aka the RE Tipster) has a knack for delivering TONS of value on a consistent basis. His podcast, like his entire website, is a consistent gold mine of helpful information.
The podcast covers a variety of real estate investing topics, but you'll also get a healthy dose of Seth's specialty – land investing. You'll learn how to find and buy land at low prices and then flip it for a profit. Plus, Seth is an excellent teacher in the art of finding good deals. This skill will help you whatever your strategy happens to be.
Links:
---
11. Master Passive Income with Dustin Heiner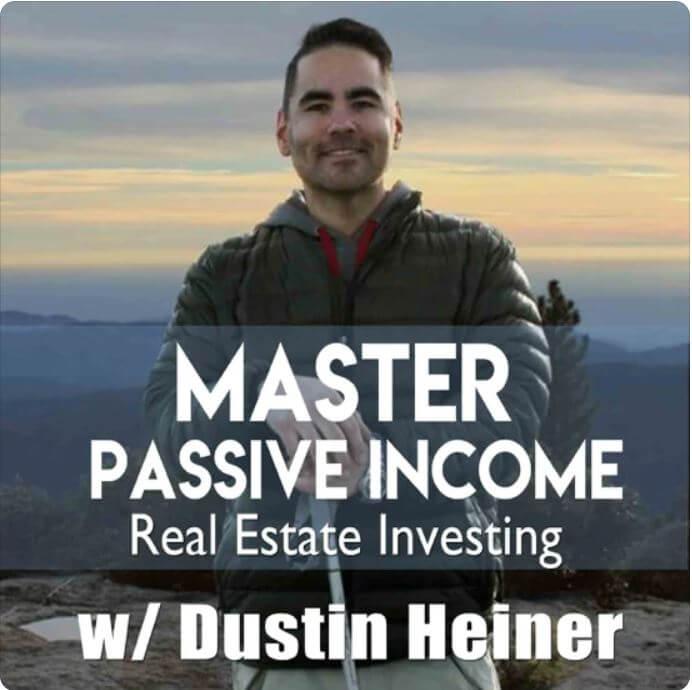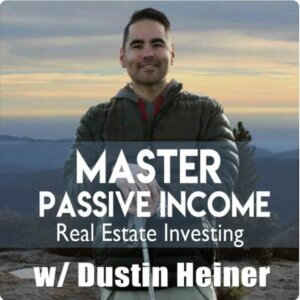 Podcast Description:
Dustin Heiner from the Master Passive Income Podcast reveals his real estate investing business and rental property strategies that he used to quit his job at the age of 37. With passive income and monthly cash flow, Dustin is now successfully unemployed and is financially independent having enough money, time, and control to do whatever he wants. Discover how you can create your own real estate investing business from scratch so you can live the dream life and do what you love. Travel the world, spend time with your family and friends, devote more time to your hobbies, or anything else, you will have the freedom and money to do whatever you want.
Comments From Coach:
This is another podcast host whom I've met personally, and I must say that Dustin is the real deal. His weekly podcast talks specifically about income-producing real estate that lets you leave your job (if you want). But what you need to know is this is EXACTLY what Dustin and his family have already done. So, both Dustin's own lessons and the interviews with his students are coming from real-world experiences.
Links:
---
12. Flipping Junkie Podcast with Danny Johnson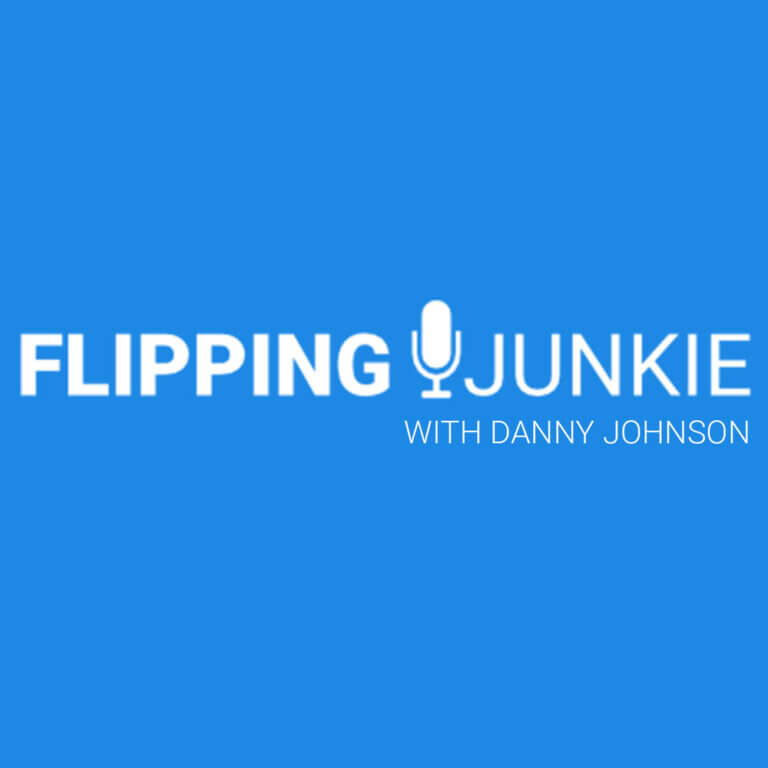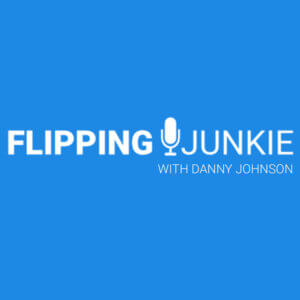 Podcast Description:
Flipping Junkie is a podcast for people addicted to flipping houses and real estate investing. Danny and Melissa Johnson started flipping houses over 15 years ago and have chronicled their journey to help house flippers both new and experienced. Subscribe for weekly episodes featuring interviews with people just getting started as well as big-name investors like Brandon Turner of Bigger Pockets and Justin Williams from House Flipping HQ. The podcast covers a range of topics like what is working today to find great deals for flipping, how to properly analyze deals for flipping, renting and owner financing, determining repair costs, finding contractors and managing rehab crews, what improvements to make and how to quickly sell your houses for big profits and so much more.
Comments From Coach:
Show host Danny Johnson has successfully flipped 1,000's of properties himself. He's also built successful online businesses (LeadPropeller and FlipPilot) to help other investors find and profit from investment properties. What I love about Danny's show is that it focuses on finding deals, which is one of the most difficult parts of the business. If you can figure out that skill, you can make money in real estate in ANY market. Listen to this show and learn.
Links:
---
What are your favorite real estate investing podcasts?
I hope you've enjoyed this list of the top 12 real estate investing podcasts. There were MANY worthy podcasts that I left off the list. So, please let me know in the comments if there are other shows you enjoy.
Get My Free Real Estate Investing Toolkit!
Enter your email address and click "Get Toolkit"