Not all those who wander are lost."
― J.R.R. Tolkien
If you're around me long, you know how much I love to travel. I have the wanderlust deep in my soul!
In fact, I'm writing this while looking out my apartment window at the beautiful green mountains surrounding Cuenca, Ecuador – my family's home this year. And as if on cue, an enormous rainbow just appeared so that I could take a picture and share it with you (no kidding!).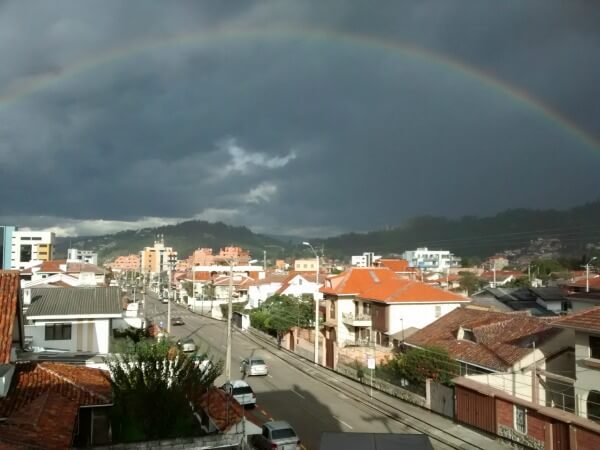 I was fortunate to meet my wife, who has the travel bug like I do.  Early in our marriage, we traveled to Costa Rica, Mexico, and numerous long road trips in the western U.S.  And in 2009 we took a mini-retirement to Spain, Peru, Chile, and Argentina.  All of these kept the fire burning for our first ultra-long excursion with kids this year in Ecuador.
But as much as I love to travel, I also love real estate investing and the income it produces month after month. And on the surface, those two passions might not seem to mix.
After all, everyone will tell you that real estate isn't a passive investment. You have to be local and hands-on in order to screen tenants, collect rent, fix leaky toilets, manage contractors, and perform all the other minutia of real estate.
Or do you?
Real Estate is an Investment AND a Business
The truth is that YES, all of the real estate work I mentioned above has to get done. But you don't have to be on-site to do it all. And for many tasks, you don't have to do them at all. Other competent people are more than capable of doing them for you.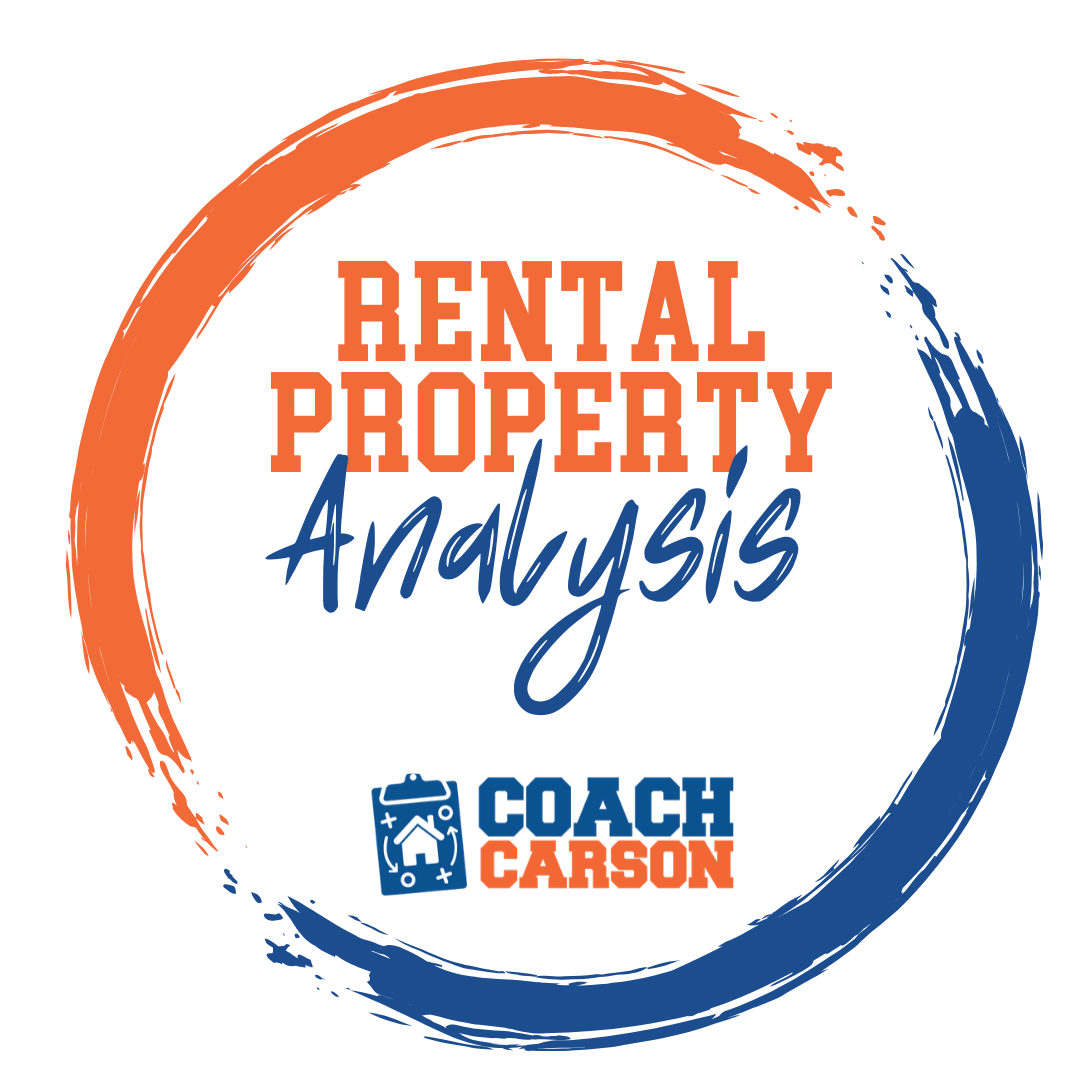 A course by Coach Carson that teaches you how to run the numbers so that you can confidently analyze and buy profitable rental properties. It also includes Coach's rental analysis spreadsheet.
Get the Course
The key insight is this: real estate investing is one part investment and one part business.  
On the investment side, you invest your money in order to build wealth and income.  That's what attracts most people in the first place. But on the business side, the property and tenants must be managed (aka property management). And, you must pay attention to the big financial picture of your assets (aka asset management).
You can create a job for yourself and personally do everything in these businesses. And at least in the short-run, I think that's a good idea in order to learn the details from the ground up.  But at some point, you must treat it like a true business if you want personal freedom. A true business pays for itself without your ongoing, everyday involvement.
How do you as the business owner create a true business? You must build systems, leverage technology, and outsource key tasks to competent, trustworthy people. And you must also create enough cash flow and profit to pay for all of those.
Michael Gerber in The Emyth Revisited calls this the process of working ON your business, and not just IN your business. It's the critical step to take real estate investing from a time-consuming hobby to a life-enriching business.
An Investment Business That Sets You Free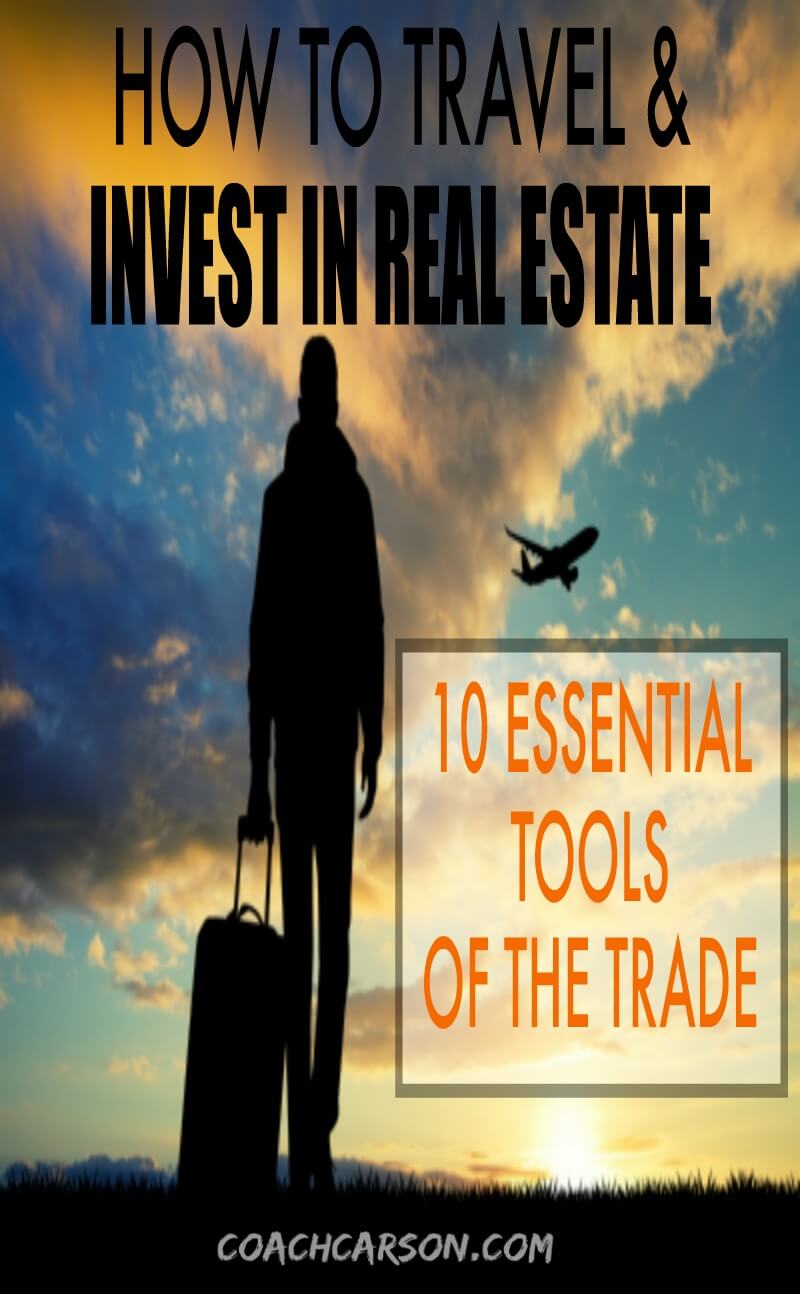 When you take this important step of treating your real estate as a business, you can then travel or do whatever else matters to you. There may still be some tasks you want to perform – like I still remotely pay my bills, approve tenant applications, and perform some bookkeeping. But this is a VERY part-time job of 2-5 hours per week that I can do from anywhere.
My business partner and I never plan to outsource the asset management role. This means we handle unusual or strategic decisions, and we perform annual reviews of our finances and our properties. But this does not take an enormous amount of time, and it is no different than we would treat any other investment portfolio.
So, with that approach in mind, I now want to share 10 of the essential tools we've put into place in our real estate investing business.  These systems, technologies, and team members are what make travel and real estate investing possible for me.
Tool #1 – Online Property Management Software
Our rental business has been well organized for many years. We created an operating manual that had all of our forms, systems, procedures, and checklists. But the problem was that most of the tasks were done manually or used several different computer programs that didn't work together.  It was inefficient and cumbersome to execute.
This all changed a couple of years ago when we began using online, cloud-based property management software. We're now able to run all of these systems and processes within one umbrella program. It's made us much more effective, and it's also allowed me to easily check on everything as I travel.
We use a software called Buildium (this is an affiliate link, which means if you sign up I'll earn a commission, at no extra cost to you).  Buildium starts at $45/month and gets more expensive based on the number of properties you manage. So, you might need to get a group of properties under your belt before it financially makes sense.
But for that monthly fee, we get many benefits, including:
Listing management to organize and promote our available rentals to all the rental websites online
Marketing website and online applications (this dramatically increased our number of tenant applications)
Tenant screening that lets us collect references, pay stubs, credit/background checks, & more in one place
Online lease (no printing or physical signing)
Online payments from tenants so that we don't have to physically deposit payments
Professional tenant website portals so they can check their balance, make payments, and get documents
Track all maintenance online through work orders
Hire third party inspections of properties (if needed when you are out of town)
Handle all property management accounting in one spot
This system is accessed using a web login or my smartphone, which means I can check it from anywhere in the world. And my bookkeeper, contractors, business partner, and other team members can do the same with their own login.
There are also free tools that do a portion of these tasks. Some of the ones I'm familiar with are rentmarketplace.com and cozy.co.  These sites also let you market your properties, screen tenants, and in some cases accept rent online. The solution is not as comprehensive as I like for my business managing many properties, but for small landlords, they could be perfect.
Tool #2 – Inexpensive & Flexible Smartphone Service
Smartphones have changed my business by letting me do many functions on the go. Occasionally, I'd like to throw my phone into a lake so I never have to hear it ring or ping again! But most days I appreciate it for the helpful tool that it is.
But the problem with many smartphone plans for international travel is their high cost and lack of flexibility. Plans that cost $150 to $200 per month for a family don't work for me anymore, especially while traveling. These expensive plans also don't usually include international calls or data.
Several years ago back in the U.S., we switched to an innovative cell phone company called Republic Wireless (this is an affiliate link).  When in the U.S., we pay $30/month per phone for unlimited talk, text, and 2 GB of data.  What makes Republic Wireless unique is that the phone also works for unlimited talk, text, and data while on WiFi connections (like in your house). This dramatically reduces the data you use each month. But importantly for international travel, this also allows us to use the same phones on a cheaper plan (less than $15/mo) that only work on WiFi. So, we can do everything like normal from our hotel, apartment, or any public WiFi connection along the way.
But our solution isn't the only way to handle phones while traveling. Here are some other solutions I'm familiar with:
Buy an "unlocked" phone and sign-up for a local plan wherever you're traveling (Amazon has many phone choices). For example, a high-quality local plan with data here in Ecuador is $14 per month, and you can use WhatsApp or similar programs to make and receive calls back home for free.
Purchase an international plan like Google Project Fi, which starts at $20/month and includes data in many countries around the world.
Use MagicJack, which costs $35/year and lets you plug into an internet connection anywhere in the world and call back to the U.S. and Canada.
Tool #3 – Day-to-Day Communication With Google Apps
Communication with team members back home is critical to traveling as a real estate investor.  Aside from rare phone calls, my methods of regular communication fall into three categories – email, messaging, and collaborative documents.
First, like many people, I use and love Gmail to handle all of my email needs. It's flexible, free, and works great for filtering and finding emails.
Second, I use Google Hangouts as an online messaging service.  I message with individual people on my team, like my business partner and my bookkeeper. We also create messaging groups that allow us to send and receive messages together on collaborative topics.  Importantly for digging out old information, you can also use Gmail to search for topics within your old Hangout messaging threads.
Third, I use Google Docs to create and share business documents and spreadsheets and Google Drive to store and organizes all of these.  For example, we have separate spreadsheets with our property details, insurance information, and mortgage information. Each person on my team can update and comment on these documents so that we don't have to send them back and forth.
Tool #4 – Google Voice For Free Phone Numbers & Voicemail
Google Voice is a very helpful, free phone tool for a real estate investing business.
First, Google Voice substitutes for any cell phone's built-in voicemail and does a much better job. It transcribes all of your voicemails (and sends you a text and email copy) so that you don't have to listen to any more voicemails.  You can also forward these voicemails to others, like when a prospective tenant calls and someone else needs to call them back.
Second, Google Voice provides a free, local phone number that can be forwarded to a live cell phone. You can choose to send calls to your phone only during certain hours and directly to voicemail during other hours. These free numbers are very handy for marketing rental properties. You could even have a phone number for each rental, with a recorded message giving callers details about the property.
Tool #5 – Online Banking
Almost every bank does online banking now. And this service has made it much easier to travel and invest in real estate.
Each week I pay bills to my contractors and other team members back home.  The regular bills are paid automatically and direct deposited into the person's bank account.  The other bills I manually enter into my online banking, and they're either direct deposited or mailed. The mailed checks take about a week to arrive.
When online banking isn't appropriate, you can also use credit cards to pay bills online or over the phone. Between these two solutions, we are able to pay every bill in the entire business without physically being there.
As I'll explain in the next section, I also review the actual bills and invoices as I make payments. This paperwork is scanned and uploaded online by my bookkeeper as she enters the bills into our bookkeeping software each week.
Tool #6 – Paperless Filing System
Working to go paperless was a big change in our real estate investing business. After all, real estate involves a LOT of paperwork. And we had a good physical filing system that worked fine. But making this paperless office step has given us greater flexibility, both when at home and when traveling.
In the future I plan to write a more detailed article about our paperless system (if you're interested), but here's a brief overview of our system:
Scan every single important piece of paper. (See Tool #7)
Create a descriptive name for every scanned file.  (This is important for searching later)
Upload the file to Evernote, an amazing online filing system.  (Click link for a free month of Evernote Premium)
Organize each Evernote file in a particular Notebook and with one or more Tags.  We only have a few Notebooks (one per company), and the tags are organized by category, like vendors, properties, accounting categories, etc.
The end result of this is that we can easily and quickly find everything online. The system holds and organizes everything that used to be in file cabinets, including invoices, insurance policies, leases, closing statements, and more.
Evernote also has an incredible search function that makes finding paperwork easy.  For example, you can even search for words contained within a document, like "Lowes" on a credit card statement. This makes the online filing system much more useful for digging out old information than a physical one.
Tool #7 – Ultra-Fast Scanner
The paperless filing system isn't all effortless, especially at first. One of the biggest bottlenecks is continuing to scan all of the papers on a weekly basis so that they don't get stacked up.
To make this step easier, we bought an expensive, top-of-the-line scanner called the Fujitsu iX500.  I've already admitted many times on this blog that I'm a nerd, but I did not realize how much fun scanning 25 pages per minute could be! After having prior scanners eat and crumple up pages like a plant-eating dinosaur, the contrast was amazing! If you're also a scanning nerd or want to work on going paperless, I highly recommend this particular scanner.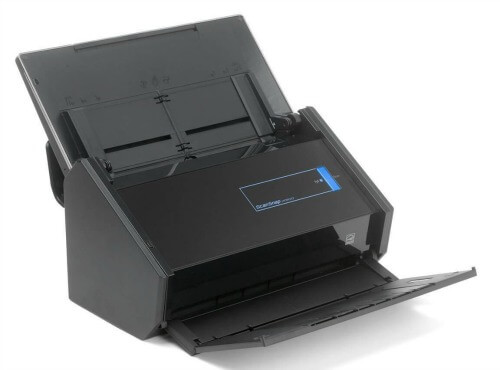 Tool #8 – Virtual Signatures
Signing paperwork used to be one thing that tied real estate investors to one location. But virtual signature tools changed that.
I personally use and love an online app called DocuSign.  It has a free version that lets you sign any pdf document using your smartphone or any computer with internet access.
This is especially helpful because I sign all of our leases with tenants. So, our administrator first prepares the lease for my approval. Then both the tenants and I initial and sign all pages using Docusign.  We never even print the document!
And once the document is signed by everyone, we save it in two places. First, we save it to Buildium so that our tenant can always get a copy. Second, we save it in our online filing system, Evernote, so that we can easily access and search for it when needed.
You can get the free version of DocuSign here.
Tool #9 – Remote Desktop Software
Remote desktop software lets you log into your home computer from anywhere with internet access. There are two programs that I currently use and recommend, Teamviewer and Google Chrome Remote Desktop.  Team viewer has more features and is free for personal use.  Chrome Remote Desktop is simpler, but it also works just fine.
Remote desktop is important when you need to access programs on a home computer. For example, we still use Quickbooks Desktop (instead of the subscription-based, cloud version) for our rental property bookkeeping.
While we still use this tool for now, I could see it be less important in 5 years as everything is done in the cloud online.
Tool #10 – *MOST IMPORTANT* – Team Members
So far I've spoken exclusively about technology, but this last and most important tool is very low tech.  The "tool" is simply the relationships I have with trustworthy people back home. Interestingly enough, it's the only truly indispensable piece of this entire puzzle of travel and real estate investing.
My own team is small and lean.  It starts with our bookkeeper/administrator who checks the mail, processes bills, files paperwork, handles maintenance calls with tenants, schedules showings, and does many other miscellaneous tasks. We have a long-term, trusting relationship with her, and I certainly could not travel without her.
We also have handymen, electricians, plumbers, HVAC techs, carpenters, roofers, and pest control vendors who respond quickly for us when needed.
I distinctly remember in 2009 calling a plumber from the Magellan Strait, almost at the bottom of the world (see where I was on this map), to get a hot water heater changed! I called my plumber and told him what needed to be done. Then I went on to tour a penguin colony!
Because we grew our portfolio of properties recently, we also decided to hire a third-party management company to handle some of our rental units.  So far, this company has been an excellent addition to our team.  We can count on them to manage just as well or better than we do ourselves.
Finally, I have a business partner who I've worked side-by-side with for almost 15 years now.  While partnerships don't work for everyone, our own partnership has been great for us. Our partnership gave us both a greater amount of flexibility knowing we can cover for each other when needed.
If you don't have a partner or don't want one, consider creating a strategic alliance with other local real estate investor friends.  I've heard of alliances where friends will cover for each during a month while the other was traveling (and vice versa).
The Voyage of Discovery in Business and Life
The real voyage of discovery consists not in seeking new landscapes, but in having new eyes."
― Marcel Proust
I've given you 10 tools that allow me to travel and invest in real estate. But also keep in mind the underlying theme behind all of these tools:
Business and investing can give you more freedom.
It's very easy to let your business and investments create a gravity of their own that keep you stuck. Even while putting money in your bank account, they can consume your time and limit your life possibilities.  To me, this is like letting the tail wag the dog!
Traveling while owning a local real estate business is not simple or easy, but it can be done.  Like traveling itself, it requires a voyage of discovery. It requires seeing your business and your life with new eyes.
But the rewards of the process are incalculable.  Why? Because travel or any other passions aren't something to save until the end. They are investments you make in yourself throughout your life.
Are you someone who loves to travel? If not, what other passions would you like to spend more time on? How do you balance your business/investing and your passions? What tools, systems, and team members are essential for you?  I'd love to hear from you in the comments below.
Get My Free Real Estate Investing Toolkit!
Enter your email address and click "Get Toolkit"