Background: The Nastiest House We've Ever Seen
Earlier this year my business partner and I found ourselves with a VERY ugly house. Actually, ugly is an understatement.
Our normal clean-out crew wouldn't touch this house.  It was NASTY.
The smell of roaches, feces, and dog urine all mixed together with the piles of trash and rotting food.  It was the most repulsive house condition we'd EVER scene in 10 years of real estate investing.
How were we so lucky to end up with the house?
Seven years earlier we bought the house and immediately seller-financed it to someone. It went well for over five years, but it ended badly after some personal problems made the house unaffordable for our buyers. Unlike similar difficult situations we've faced in the past, they didn't exactly give it back to us nicely.
We weren't very excited about renting the house again because we were going to have to sink a lot of cash into it for repairs.
If we were going to spend all that money on this house, we decided it was better to just sell it as quickly as possible, recoup our cash, and move on.
We did the mandatory things like cleaning up, fixing the plumbing, fixing structural issues, and repairing rotten wood.  But we also put together a more detailed plan to sell this house quickly.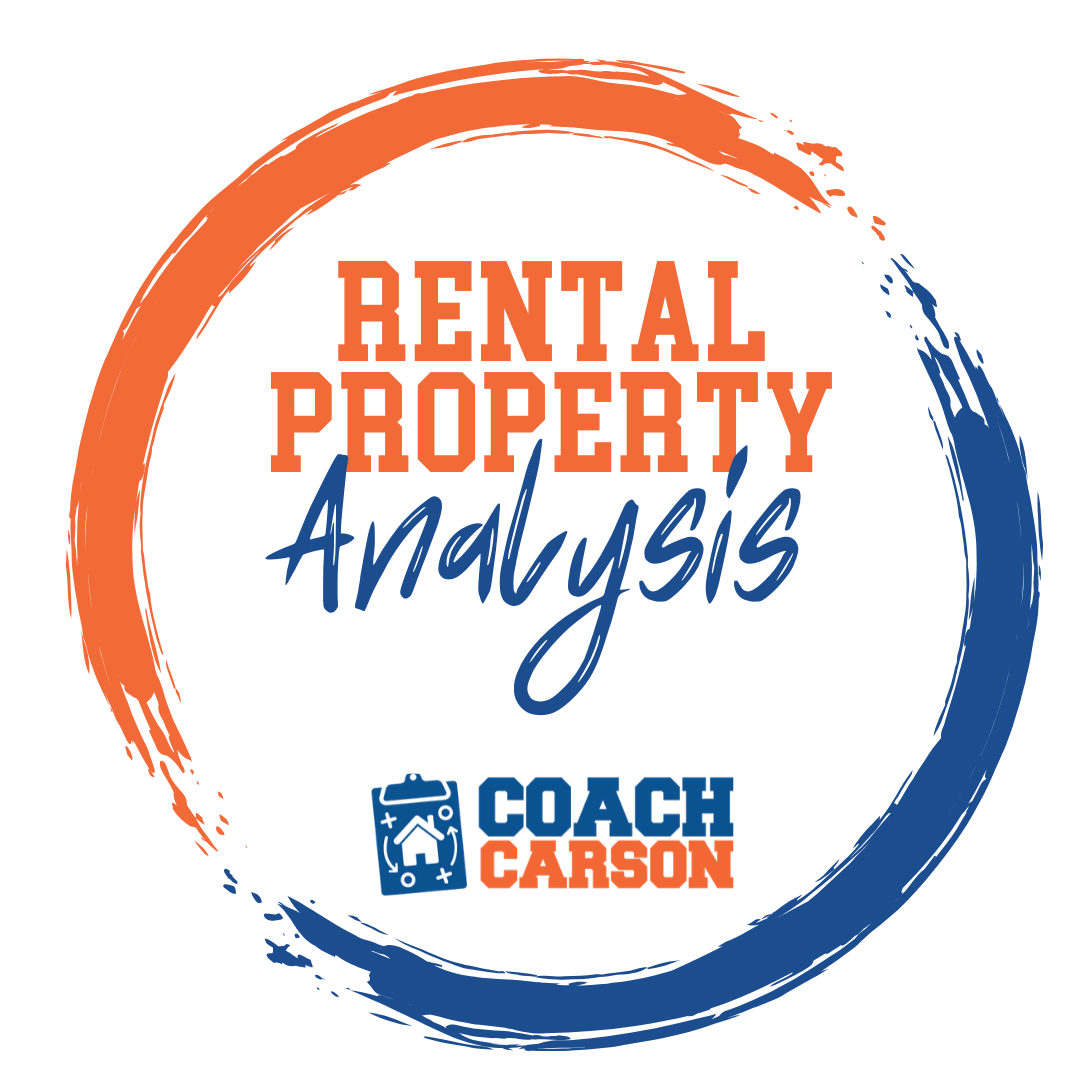 A course by Coach Carson that teaches you how to run the numbers so that you can confidently analyze and buy profitable rental properties. It also includes Coach's rental analysis spreadsheet.
Get the Course
Here's that plan in 5-parts:
Part 1: Jazz Up Curb Appeal
As you may know, people often make a decision to buy a house when they first pull up or first see a picture on the internet.  This makes curb appeal very important for selling quickly.
But the curb appeal was rough on this house.
There were 3 different kinds of siding – brick, vinyl, and aluminum that made the house look choppy.  The windows were odd sizes and in odd alignments. There were no landscaping beds.  The front porch and entrance looked small and insignificant.
So we painted the exterior 3 tones – a darker on the brick (SW 7047 – Porpoise), a lighter color from the same card on the vinyl and aluminum (SW – 7045 – Intellectual Gray), and a bright white on the trim.
To strengthen the front porch, we started by replacing the front door and painting it a bold reddish/orange (SW 6867 – Fireworks). We also bought an expensive door handle and kick plate.
Then on the front steps and porch floor we installed a beautiful, dark slate tile that we found on clearance.  We also put in a new porch light and painted the railings white.
The colors and front porch gave the house new life and created more interest from the road.
Then to put it over the top, we also spent money on extra nice landscaping beds.  We made curved walls and we covered them with a manufactured stone, which is just a formed and stained concrete that looks very much like rock but is much easier to work with (we used Ledgestone – Kona from Carolina Stone in Seneca, SC).
The front beds were planted with some nice but simple plants you find at Lowes or Home Depot – Azaleas, Loropetalum, and Sky Pencil Holly.
All of this combined gave us the extra "wow" factor we wanted.  Here is the after picture from the road. What do you think?
Part 2 – New, New, New
Our house was built in 1952 and it showed.  Some old things, like refinished hardwoods are appreciated.  But all of the other old surfaces had to go.
This process included:
– New carpet/pad in master bedroom
– New hardwoods in the kitchen
– New appliances in the kitchen
– New sheetrock instead of paneling in some rooms
– New vanities in bathrooms
– New bathtub and surround (although we like to refinish tubs sometimes)
– New plumbing fixtures in kitchen and baths
– New sink in kitchen
– New HVAC vents
– New electrical outlets and covers
– New light fixtures
– New door hardware (handles and hinges)
– New wall, ceiling, and trim paint (of course)
– New fans in living room and master room
– New plumbing supply and drain lines (not by choice, just a bunch of leaks)
Some people skimp on this step. For example, remodelling the whole house but leaving dirty, old electrical outlets. If you're going all out for a sale, it's often worth the extra expense to make everything new.
Part 3: Stage to Sell
A vacant house feels strange, cold, and unappealing.  The right staging makes a HUGE difference in selling a house fast.
I'm a complete convert and wouldn't consider listing a house to sell without staging.
Some people do staging themselves, and on rental properties, we do that some too.
But to do it right we use a professional to stage the house a lot better than we can.  And it just so happens she also is our Realtor! (I HIGHLY recommend Mona Lisa Harrison if you're in Upstate SC – staging and listing to sell).
Check out what our staged house looks like:
4. List on MLS (Multiple Listing Service)
I have sold a lot of houses FSBO using seller financing and lease option techniques.  And I know that today there are plenty of great, free online listing services (Zillow, Trulia).
But if you want to find buyers with ready financing to cash you out, the Realtor Multiple Listing Service (MLS) is the still the best place. I don't know the exact stats, but I know that most prequalified buyers use agents to buy their home.  Agents use the MLS to find their properties. So if you want maximum exposure you should put your house on the MLS somehow, some way.
You can do flat fee listings or full service listings to get on the MLS. I've opted for the full service listing lately because my Realtor (Lisa Harrison) adds so much value with her staging, consulting, listing, and agent services.
5.  Price Realistically (NOT With Wishful Thinking)
A decent house in a relatively healthy market WILL sell at some price.  So this final key to our strategy means studying the current market and choosing a price that is in line with reality.
I study recently sold (12 months back), active, and under contract properties.  I look for the best 2-3 comps in each category, which means the location, size, and desirability factors are the most similar to mine.
No house is exactly alike, so I then compare my house to my chosen comps and add or subtract based on the most important factors.
This is basically a rough appraisal process, but I don't worry about being too exact.  I just want a tight range – like $5 – $10,000 that I feel confident in.  I then compare my opinion with my Realtor's opinion, and we decide on a price that will be within striking distance of the likely value.
An overpriced house is usually a result of your pride, which causes you to evaluate this process with too much emotion. The more objective you can be, the better.  Put yourself in the shoes of your potential buyer who is shopping around, and try to make your product competitive in relation to all other choices.
In the case of this house, when I first started rehabbing I had thought the very rough price range was $85 – $95,000.  I hoped we could push to $100,000.  But when I did updated comps after our rehab, the real range seemed to hover around $85,000.
So our list price was $90,000.
Results and Conclusion?
I'm happy to say that after doing these 5 steps we sold the house relatively quickly for $88,000. It was under contract within 3 days and it just closed, 33 days after listing.
I certainly don't want to make the process sound too easy. There were a lot of hiccups and problems that we had to solve in order to get this result.  But the main point I hope you take away is the benefit of a deliberate, step-by-step plan to sell your house.
Have you ever had to fix up and sell a nasty house? Let me know your comments and questions below.
Get My Free Real Estate Investing Toolkit!
Enter your email address and click "Get Toolkit"