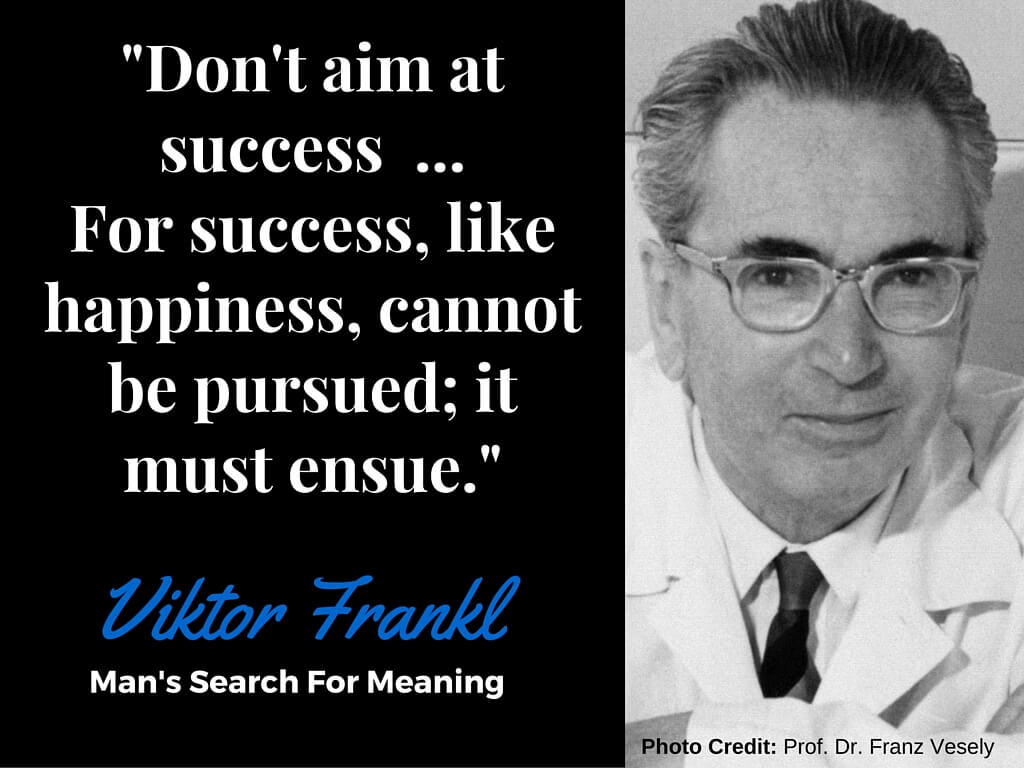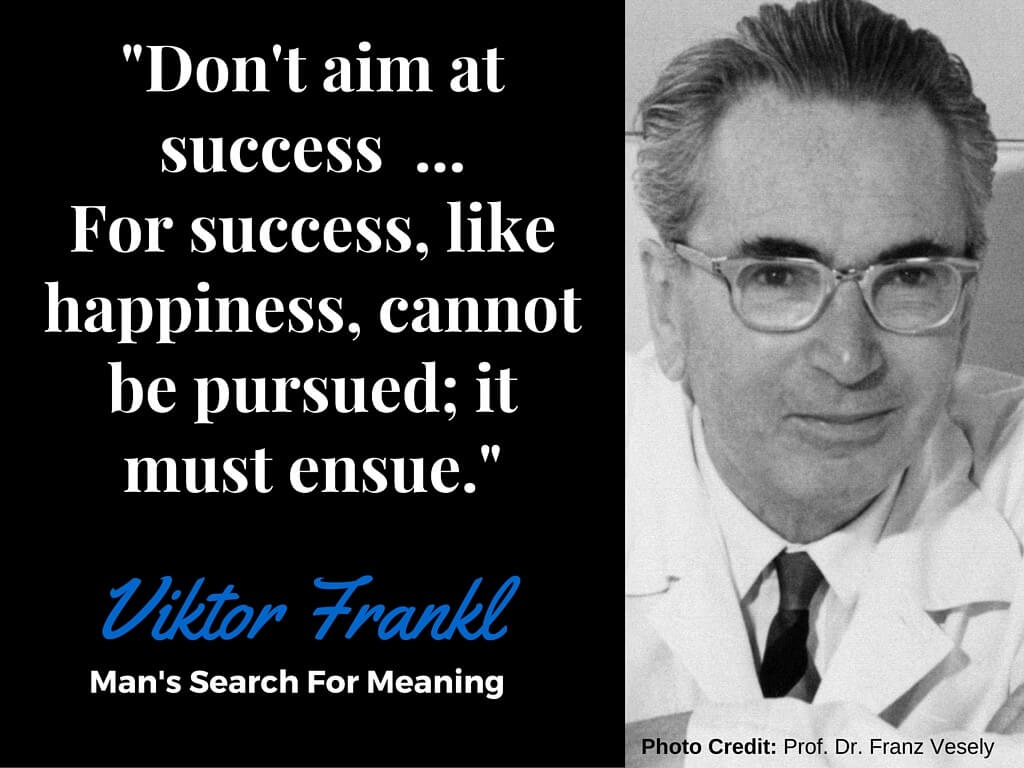 This is my favorite quote from an amazing and inspiring person,  Viktor Frankl. He survived a German concentration camp in World War II, and for many decades after he practiced psychiatry, taught, wrote, and inspired millions of people to find meaning and live better lives.
I don't know about you, but I often chase after a successful end result. Whether it's making money, hitting an exercise goal, finishing a project, or achieving financial independence, the end goal seems to become the most important thing.
But, I love that Frankl reminds us not to aim at success. If we do, we're more likely to miss it.  To explain the concept Frankl uses the word ENSUE, which is not in my every day vocabulary.
Ensue means that something follows as a consequence or result.  In layman's terms, success is the result, and something else is the cause.
What is the cause of success, you may ask?
Let me share the rest of Frankl's quote to explain:
For success, like happiness, cannot be pursued; it must ensue, and it only does so as the unintended side effect of one's personal dedication to a cause greater than oneself or as the by-product of one's surrender to a person other than oneself. Happiness must happen, and the same holds for success: you have to let it happen by not caring about it. I want you to listen to what your conscience commands you to do and go on to carry it out to the best of your knowledge. Then you will live to see that in the long-run—in the long-run, I say!—success will follow you precisely because you had forgotten to think about it"

Viktor Frankl, Man's Search For Meaning
Dedication to a cause greater than oneself.  Surrender to a person other than oneself. Let success happen in the long-run by not caring about it.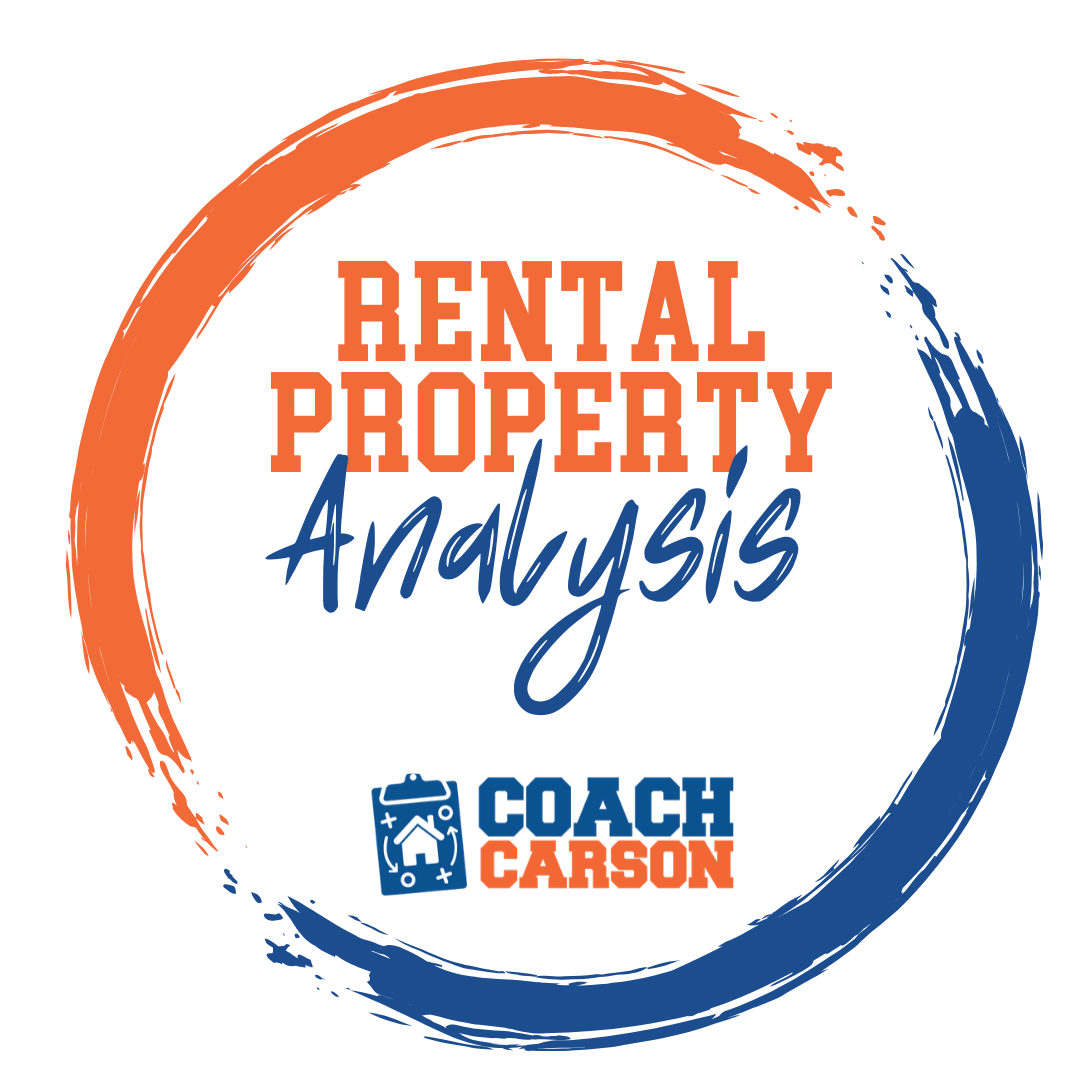 A course by Coach Carson that teaches you how to run the numbers so that you can confidently analyze and buy profitable rental properties. It also includes Coach's rental analysis spreadsheet.
Get the Course
Isn't that beautiful?
I certainly don't meet the high standards Frankl sets here, but I know that each time I read his words it inspires me to try.
The worlds of personal finance, entrepreneurship, and personal development are dominated by a manic chase after end goals and the symbols of success. Those are what we yearn for.  Those are what we paste pictures of on our dream boards.  Those are how we recognize success in someone else.
But a truer measure of success is the process by which success comes.  It's the dedication to something meaningful.  It's the striving to become a better person. It's the standard of excellence you push yourself to in each moment.
There is nothing wrong with a better job, more money, more free time, and financial independence. But these are simply the by-products and unintended side effects of a far more fundamental cause of success.
The Big Picture and the Practical
This is one of those big ideas that I think Frankl intended us to share as a lesson for life.  I've certainly taken it to heart and tried to absorb it as part of my own life philosophy.
But as I've sought to integrate this idea, I've come to realize that the basic idea is also very practical and applicable to just about every project we take on.  Focusing on the cause of success works as well with our personal finances and our health as it does with overall happiness in life.
So, here are a couple of practical ways that I've tried to apply this idea of letting success ensue.
Yearly Income Goals
At the end of each year I sit down and craft my goals for the next year.  One of my categories of goals is to earn a certain amount of money.
This is of course, a result. So, I immediately translate that number into its cause.  In my case as an entrepreneur, the cause is the selling of a service or a product.
For example, when I buy real estate, my service is the timely, hassle-free, private, and painless purchase of a property from someone.  The more functional goal is to make a certain number of offers.  I want to focus all of my energy and effort into getting face-to-face with my ideal customer and presenting an offer of a solution to them.
If I am successful in that pursuit of service, I know my financial goals will take care of themselves.  This process has never failed me for 13 years as a full-time entrepreneur.
Exercise and Fitness Goals
I am currently just an amateur exerciser whose goal is to keep a basic level of strength, flexibility, and fitness so that I can be active and not get hurt when I play with my kids.  But for many years in my past (and probably at some point in my future) I have pursued much more elite exercise and fitness goals.
In college I was a scholarship football player for Clemson University in South Carolina.  My position of linebacker required a certain level of strength, explosiveness, speed, and stamina.  So, we constantly set goals in exercises like power cleans, squats, bench press, 40 yard dashes, shuttles runs, and 1.5 mile runs.
But, just like money goals, success with exercise could not be aimed at. If I tried too hard to achieve my goals, I would inevitably get hurt or experience frustrating setbacks.
Instead, the path to successful achievement was to focus on the fundamental causes of success.  For me, they looked something like this:
I never missed a workout.  I focused each workout on improving technique.  I pushed my edge that day, during that exercise, to do just a little bit better than last time. I optimized my nutrition to help my body recover and perform at its highest.
I did keep my eye on the end goals from time to time. I did measure my progress. But as Frankl says, the greatest gains come when you stop caring about success.  For me the workouts and the process itself became as satisfying as achieving the goal.
Those repeated fundamentals also led to excellent results over time.  At the time I graduated I held the Clemson Football record for power cleans, and I was near the top in several other exercises.
Parenting
As any parent knows, a child has an agenda of his or her own almost from the time of birth.  Yet, we as parents have a desire to influence our children so that they grow up to be self-sufficient, happy, and fulfilled.
Can we control our kids and shape them into what we want?  Not exactly.
Can we dedicate ourselves to our children and to the process of being the best parent possible? Absolutely.
I am FAR from a perfect parent, so please take these ideas as guiding stars and not a path that I walk that well. But my own goals are to be present as much as possible in my kids lives. When present, I try to be the kind of person in words and actions that I hope they'll one day be.  And I also give appropriate guidance and specific mentoring when they're open to it (and sometimes when they're not!)
Those are the nuts and bolts of parenting. The successes and failures happen day after day, moment by moment.
The end result, our child's life, is a consequence of both our efforts and a multitude of other factors.  But we can influence success by letting it ensue.
Dedicate Yourself to Excellence
The highest ideal in ancient Greek society was something called Arete. Directly translated, it means excellence or virtue, but its deeper meaning is something  like living at your highest potential from moment to moment.
It seems to me that Arete is what Frankl is really talking about.  When we focus on becoming our best, whether it's as a parent, an athlete, an entrepreneur, or a human being, the accolades and the success tend to follow.
But very importantly, Arete itself is the prime virtue. It is our focus. We really can't control the end results. Life (or death) can get in the way.
Nothing is really guaranteed.  Nothing, that is, except your ability to live this moment with excellence.
*Tweet This!*
Here's to focusing on Arete in this moment (and the next, and the next) and letting success ensue.
Get My Free Real Estate Investing Toolkit!
Enter your email address and click "Get Toolkit"