This is a guest post from a fellow blogger Chris who is also a soon-to-be retiree before the age of 40! Chris writes anonymously (so that he can share all of his real numbers and ambitions while still at his job) over at EattheFinancialElephant.com.   
I stumbled upon Chris and his site when I saw the term he aspires to be … a "Dirtbag Millioniare!" I loved it because it described perfectly the kind of lifestyle I value.  Simplicity. Outdoors. Travel. And a big 'ole nest egg producing income that can support my dreams.
I am particularly excited to have Chris share his story with you because his path is different than mine. He is not into real estate (yet!). He and his wife have built their independence with some basic but powerful financial steps that anyone can replicate. 
I read a lot of Chris' articles, and I find his thoughtful yet no-nonsense style very refreshing. If you like it, I recommend you subscribe to his blog like I have.
Now, here's Chris … 
__________________
Thank you for letting me share a bit about our journey to financial independence and early retirement. We started out with no technical financial knowledge, planning to be a couple of "Dirtbag Millionaires". We've learned and grown a lot along the way and today we would like to share a few of those things in hopes of helping you on your own journey.
The Standard Path
We all know the narrative of how to become successful, grow rich and live a happy life.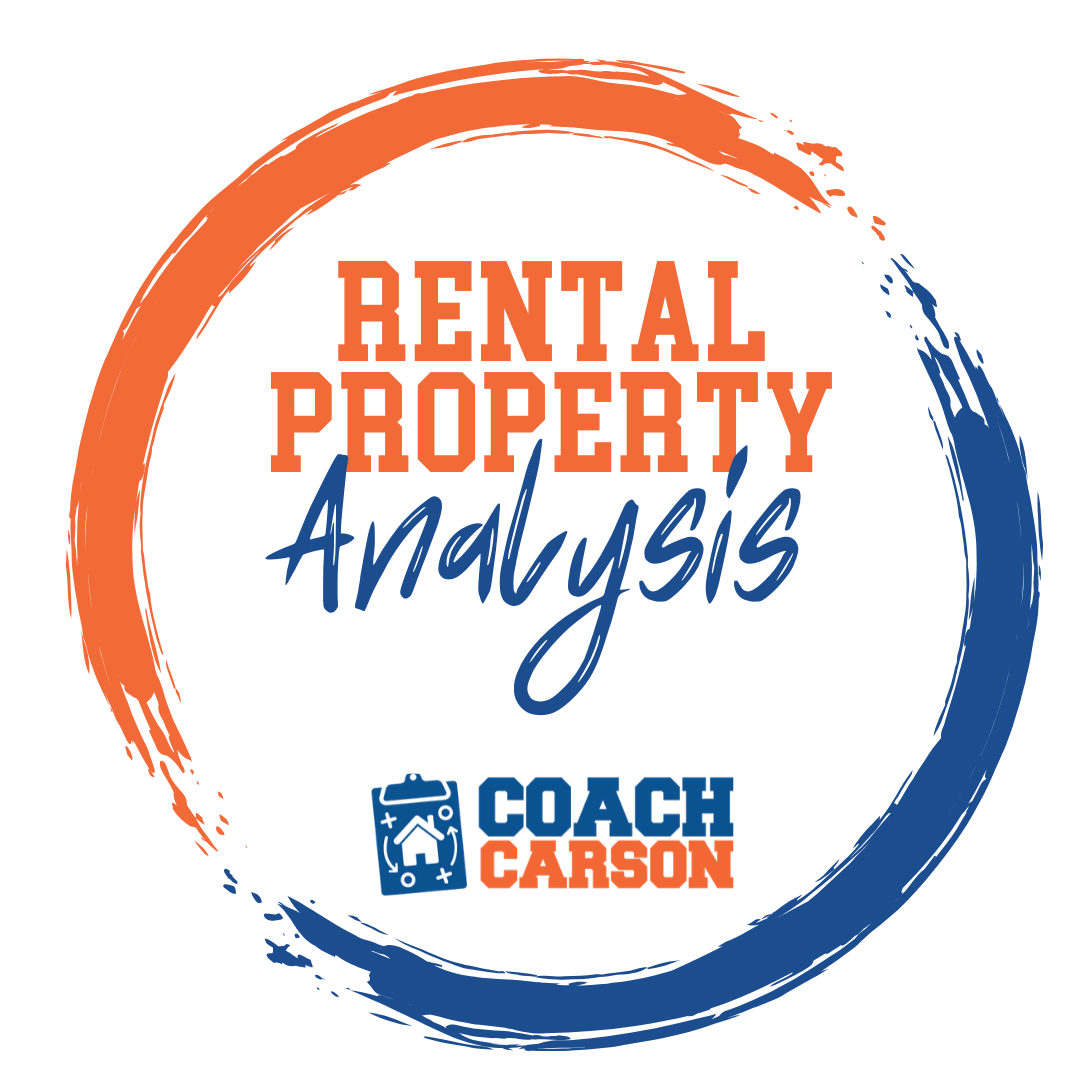 A course by Coach Carson that teaches you how to run the numbers so that you can confidently analyze and buy profitable rental properties. It also includes Coach's rental analysis spreadsheet.
Get the Course
Go to college and get a degree so you can…

Get a

"

good job

" and then

…

W

ork

hard

to

make

as much money as possible to

…

.

Use that money wisely to

invest in the market so you can…

Retire with wealth and happiness.
We hear this our entire lives. This is conventional wisdom we learn in school and hear from media, politicians and the financial industry. It must be true right?
We followed this path and I can tell you it can work. We are a married couple in our late 30's. We are on track to be financially independent and retire in about 18 months by age 40.
However, we have many peers who did most of the same things that we did. Most are still being crushed by student loans and drowning in auto and mortgage debt in their 30's, 40's and 50's. Many people follow this strategy and yet can't retire comfortably by 60 or even 70.
What's the Catch?
Our story is not one of inheriting wealth, selling off a major tech start-up or being high paid executives, athletes or entertainers. We started out on very average salaries. While we quickly increased our earning power, neither of us has ever earned a 6-figure salary in our lives. We know many people (physicians, lawyers, executives, etc.) who make/ have made far more money than we have but are nowhere near where we are financially.
Ours is also not a story of "extreme frugality". We're definitely not the people you see on TV recycling bath water, rationing toilet paper or extreme couponing. In fact, we are parents, live in a very nice home, have traveled the world, have hobbies like skiing, mountaineering and scuba diving and have attended major events such as Super Bowls.
What makes our situation so much different than others? How did we position ourselves where we are? Today, we would like to expand on the popular narrative and share the rest of the story.
Start At The Beginning
Listen to our presidential debates. "We need to make college affordable for everyone!" I drive by billboards for private Catholic schools every day touting "98% of "X" High School students go on to four-year colleges after graduation." These ideas are great if you want to win an election or get more parents to enroll their kids in your private school. However, if you want financial independence, you need to ask yourself if college is a good investment for you.
We have shared how we have obtained 3 degrees each. Despite coming from modest backgrounds, we have done this with minimal debt. While the details are beyond the scope of this post, you can read about it here if interested.
For us, college has been a great investment. However, this is because we have actually looked at each of our six degrees as investments. Any good investor understands that a great investment must be bought at the right price and it must provide a good return on the time and capital spent obtaining it.
Investing in yourself and your ability to earn money is something we all need to think about when starting out. I would argue it is your best initial investment.
However, this does not mean we should all just go to college and put ourselves deeply in debt paying inflated tuition and living above our means, as is often the case. It can mean apprenticing while being paid, attending a trade school or developing a small business. It can mean working while going to college, gaining both experience and knowledge along the way. The keys are minimizing debt and learning to live within your means (the most valuable financial education you can obtain!).
There are many solutions to this problem and we all need to find our own. The take home point is that there is much more to the story than the popular narrative that college is for everyone.
"Good Jobs" and "Being Rich"
Conventional wisdom is a good job = a high paying job. For most people rich = makes a lot of money.
My dad gave me a different perspective. He always had a saying that has stuck with me: "It doesn't matter how much money you make, it matters how much you spend".
His saying is equally right/wrong to the conventional wisdom as each is only a half-truth. However, this insight gave me a different perspective than most people have.
It is the relationship of spending as a percentage of what you earn that determines how quickly you can build wealth. I intuitively understood this for most of my adult life. However, it never totally clicked until reading this amazing blog post by Mr. Money Mustache who explained the importance of savings rate with perfect simplicity.
Making more money makes it easier to accumulate money. However, spending less is what allows you to build wealth much faster. Learning to live on less not only means you can save more but at the same time you learn to develop a lifestyle that can be sustained by passive income sources much more easily.
We have outlined the 4 key steps in our life to build wealth quickly while living a rewarding and adventurous lifestyle. We simply looked at the areas that would have the biggest impact in our lives and started there. We feel that building wealth should not take great effort or be looked at as sacrifice. If it is, then like a "crash diet" most people will fail. It won't be sustainable. You must learn to build saving into your lifestyle and develop systems that make wealth accumulation happen automatically, day after day, month after month and year after year.
Only when you master this concept of learning to live well while living within your means can you accumulate true wealth that leads to financial independence. This is what allows you to build assets that will support you indefinitely, rather than staying on the work–>earn–>spend–>repeat treadmill that the vast majority of people live their entire lives.
More Money Isn't Everything
We stepped back from our situation and looked at other high earners who we knew. Few were becoming wealthy. As most people made more money they just as quickly spent it on "stuff". Few of these things made their lives better. Soon instead of having ownership of their lives, their possessions owned them.
We also figured out that when you focus only on earning more income, you end up simply paying higher percentages back out with higher taxes. Being debt free and living a relatively low-cost lifestyle allowed us to focus on lifestyle over constantly needing to make as much money as possible.
While we are planning to be financially independent and able to retire by the time we are 40 years old, we focus on living well during our working years rather than putting life on hold for some "magical" solution to our problems that will go away when we don't have to work.
There are many examples of this. I negotiated away increased pay for more vacation time. My wife has been able to get benefits such as negotiating the ability to work from home allowing her to save time and money previously spent commuting. She also decided to never go back to full-time work after having our child.
These are only a few examples to show that more income is not necessarily better. The key is that when you work hard and make yourself valuable to employers and then leverage this with not needing to make the most money, everything becomes negotiable. You are limited only by your own creativity and willingness to walk away if you don't get what you desire.
Accumulating money is a process. Could we have done it faster? Absolutely! However, life is full of trade-offs and we have tried to keep the right balance to keep us motivated to reach the destination while being able to enjoy the journey.
Get a "good job" and increase your income is part of our story, but they are not THE story.
Investing Wisely
Most people have no idea what investing wisely actually means. We certainly didn't!
The financial industry stays relevant by making the simple complex. They create endless funds and strategies. Will large stocks beat small stocks? Will China be the next dominant economic power? Will energy stocks be better than tech stocks? Which fund or money manager will be the best?
My answer to all of these questions is that I have no idea. If anyone else tells you they do, your first question should be, "Then why do you need my money?"
Luckily, there are many things you can know and control. Simply focus on those things and you will do fine. The biggest things that you can control are the following:
1. The amount that you invest.
Refer back to the Mr. Money Mustache post to see a chart that links your savings rate to the number of years until you can achieve financial independence. If you can save 40%, 50% or even more, than this is a viable path to early retirement. If not, investing in paper assets simply doesn't make much sense for someone looking to achieve financial independence at a young age. You would be better served to first invest in your skills to increase earning power, start a business, use leveraged real estate or some other strategy or combination to get you where you want to go.
2. Costs.
The average all-in investment expense for those investing with an investment advisor is in the range of 1-2% annually. This sounds small to most. Let's look at fees in a different way.
Consider that the stock market averages about an 8% return annually adjusted for inflation. This means that you assume all risk, and advisers take 10-25% of any gains (and are paid even when you lose).
Another way of looking at expenses is that when living off of investments, the general rule of thumb is that you can withdraw only 4% of your portfolio each year. Looking at these expenses in this way, paying "only"1-2% annually can consume the first 25-50% of your spending each year if not well controlled. Ouch!
3. Taxes.
Taxes are really just another expense. Taxation can be very favorable for an early retirees living off of investments and small amounts of earned income. However, poor investing strategies can have substantial costs when accumulating money and then come back to bite you again in retirement.
4. Your emotions.
Simply said, you can't allow your emotions to drive your decisions. If you make costly emotional errors, it can cost you dearly.
Investing wisely always comes back to educating yourself as an investor. Note that you will rarely if ever hear anything about #1,2 or 3 from the financial industry. They make their money by selling you products and/or having your money under their management. Explaining these simple concepts reveals the direct conflicts of interests they must operate under to make a living.
I recommend everyone check out our friend JLCollins' "Stock Series" before investing your money. We have found him the master of making the complex simple. For anyone who develops an interest to dive deeper, we have 
Retiring Happy
What does retirement look like to you? How are you defining retirement? Why do you want to retire? Where did the concept even originate? These are very important questions to ask.
We took time to learn about the origin of retirement. It began only relatively recently as a way to forcefully remove older workers from the economy to make room for younger more productive workers. People didn't retire. They were retired.
Being retired sounds like a great idea for my old hiking socks with a big hole that gives me blisters. However, I think retiring in this sense sounds pretty lousy for a young, healthy and capable person if it means thinking that you should never do purposeful work again.
We started down this path to early retirement with anxiety and fear. We asked overly simplistic questions. "How much money do I need to retire?" We wondered, "Is a 4% withdrawal rate really safe for an early retiree?"
Now that we have redefined retirement these questions aren't all that important. We know we don't need a plan that is perfect. As we map out the future we want to live, we know it will be almost impossible to not earn some more money along the way.
For us retiring is not about never working again. It is about the idea of never having to work again. There is a huge distinction there.
Retiring means that we can choose the path in life that is most rewarding and fulfilling without ever being constrained by the need to earn more money. It means having the ability to live a life driven by purpose, challenge, learning, love and adventure.
How Does Your Story End?
I realize that my title is a bit misleading. I can't give you the rest of the story. The fact is that all of our stories will be unique as we all come from different backgrounds and have our own values, interests and talents. However, I hope I was able to challenge you to think about the whole process differently and realize that you don't have to follow anyone's narrative for your life. You are limited only by your own desire and creativity!
Thank you for your time. Share any thoughts and questions you may have and I'll stop back regularly to respond.
Get My Free Real Estate Investing Toolkit!
Enter your email address and click "Get Toolkit"