What are the best FIRE (financial independence, retire early) podcasts? In this post, I'll share the ones I think are worth your time listening to. But first, in case you're new to this topic let me explain a little more about the FIRE movement itself.
What is the FIRE Movement?
The FIRE movement has been around for a while. Vicki Robin and Joe Dominguez put the idea on the national scene in 1992 with their book Your Money or Your Life, a book that helped to start my own financial independence journey. And then more recently in the last few years, blogs like Mr. Money Mustache helped accelerate the movement's popularity.
I even wrote a book called Retire Early With Real Estate to offer my own perspectives on the idea.
There are many different approaches to the idea of FIRE. Some people retire – in the traditional sense of the word – by quitting their job permanently. Many others continue working but switch to a job that is more meaningful or enjoyable.
But the common theme of the FIRE movement is gaining personal autonomy and freedom earlier in your life.
You do that by saving money, living more deliberately, and taking back THE most valuable asset in life – your time.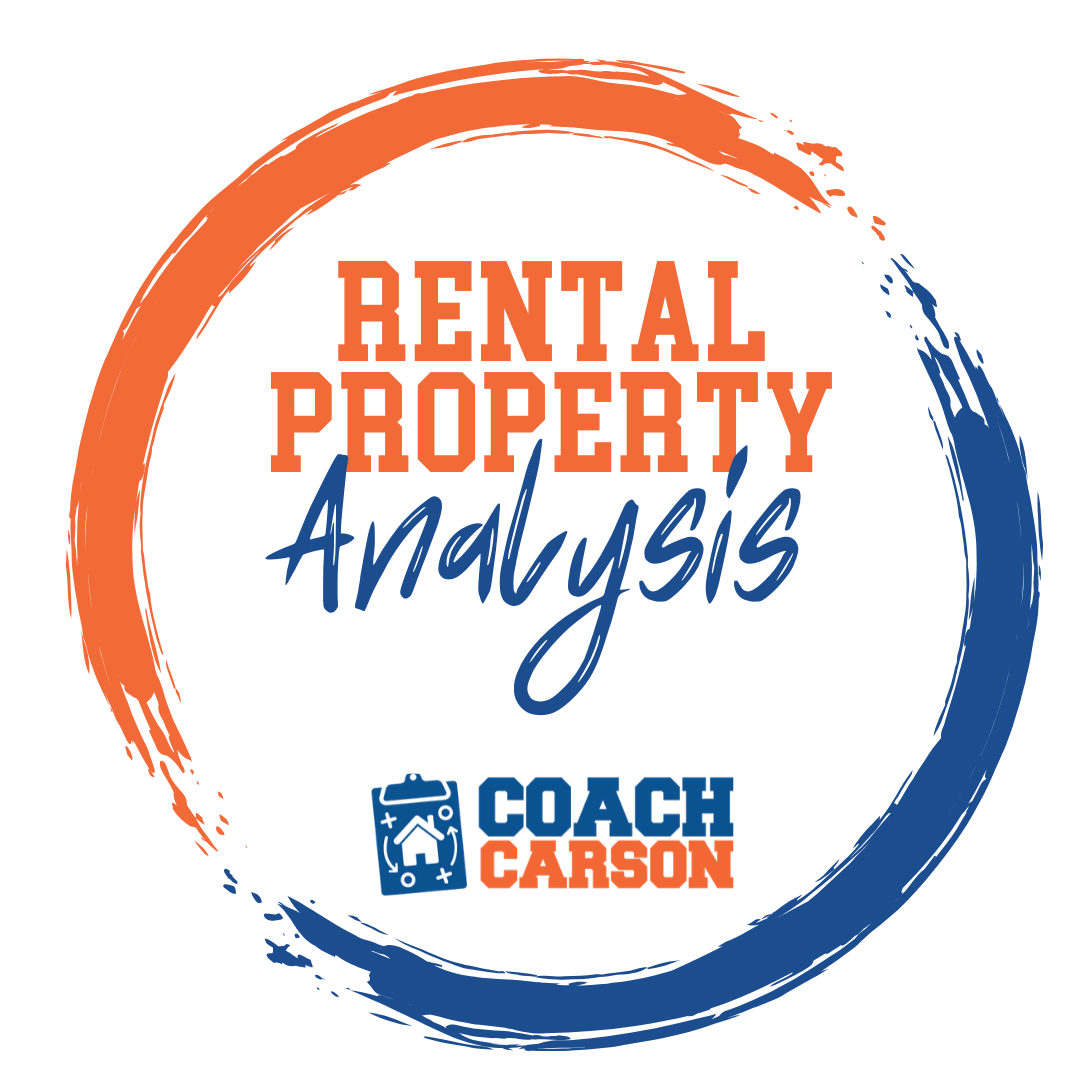 A course by Coach Carson that teaches you how to run the numbers so that you can confidently analyze and buy profitable rental properties. It also includes Coach's rental analysis spreadsheet.
Get the Course
What can you do with more time? What matters most to you!
Now let's look at the best podcasts to help you with your own FIRE journey.
*Quick note about how I chose this list. I tried to include podcasts with a focus more on FIRE itself, so there are many other worthwhile financial podcasts I did not include. I also tried to only include shows with active episodes in the last 6 months. Enjoy!
---
1. Afford Anything with Paula Pant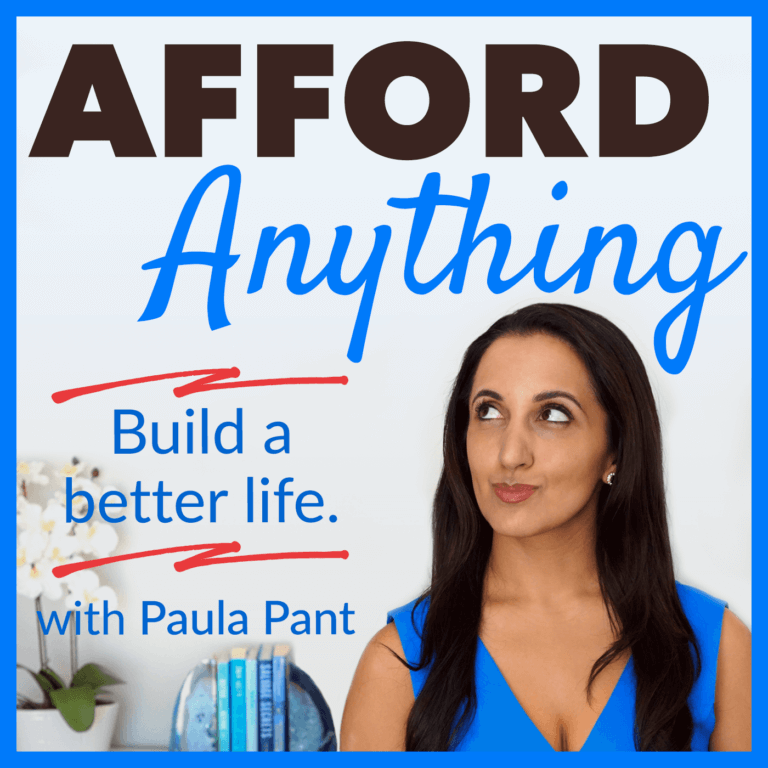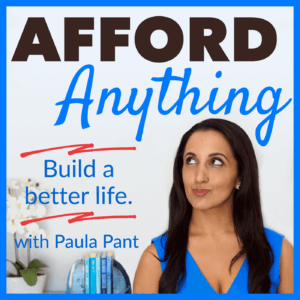 Podcast Description:
You can afford anything, but not everything. We make daily decisions about how to spend money, time, energy, focus, and attention – and ultimately, our life. Every decision is a trade-off against another choice.
But how deeply do we contemplate these choices? Are we settling for the default mode? Or are we ruthlessly optimizing around a deliberate life?
Host Paula Pant interviews a diverse array of entrepreneurs, early retirees, millionaires, investors, artists, adventurers, scientists, psychologists, productivity experts, world travelers, and regular people, exploring the tough work of living a truly excellent life.
Comments From Coach:
Paula is a smart and savvy person who has a talent for explaining the toughest financial and life topics with grace and humor. You can't go wrong with her as your virtual guide.
I really appreciate the format of Paula's podcast because she offers both interviews with famous people – like when Suzy Orman tried to smack down the FIRE movement – and more listener-focused episodes where she answers listener questions. You'll also hear a variety of topics, including real estate (which we both like), stock investing, personal finance, and personal development.
Links:
---
2. Choose FI with Jonathan Mendonsa & Brad Barrett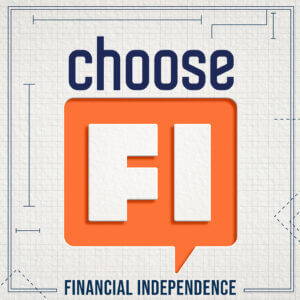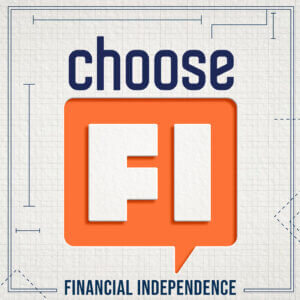 Podcast Description:
How would your life change if you reached Financial Independence and got to the point where working is optional? What actions can you take today to make that not just possible but probable? Jonathan & Brad explore the tactics that the FI community uses to reclaim decades of their lives. They discuss reducing expenses, crushing debt, tax optimization, building passive income streams through online businesses and real estate, and how to travel the world for free. Every episode is packed with actionable tips and no topic is too big or small as long as it speeds up the process of reaching financial independence.
Comments From Coach:
Brad and Jonathan are amazing hosts, and this show is sort of like a virtual hub of the FIRE movement. If you want to immerse yourself in the tactics, stories, and lifestyle of the journey to financial independence, this is the show for you. I also highly recommend the book Choose FI: Your Blueprint to Financial Independence, and if you want a couple of good episodes to start with you can listen to my interview with them about House Hacking or Investing During a Recession.
Links:
---
3. Financial Independence with the Mad Fientist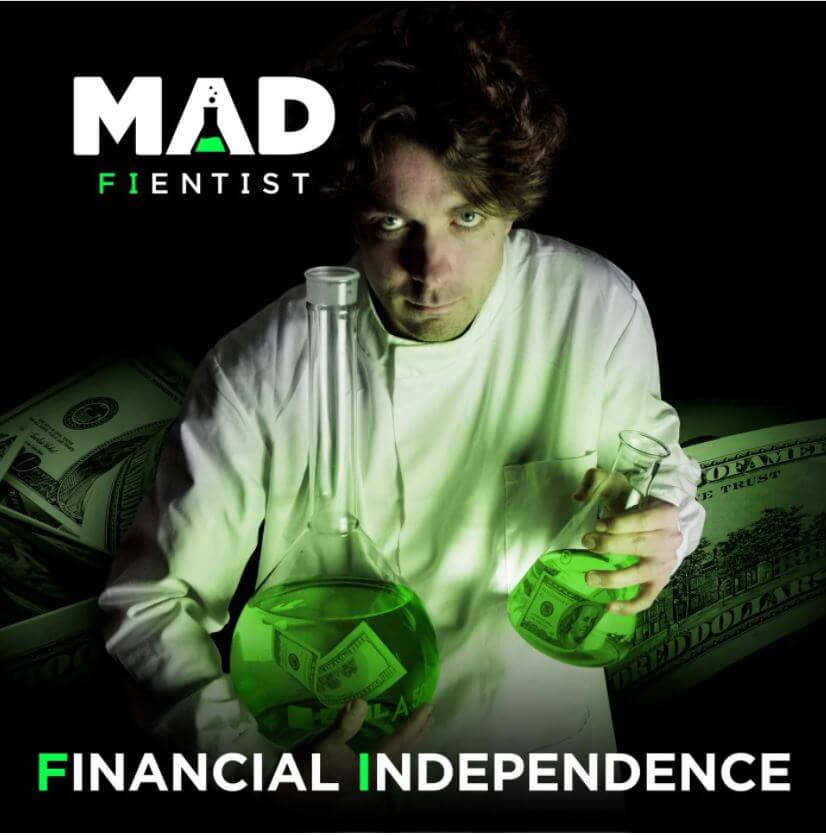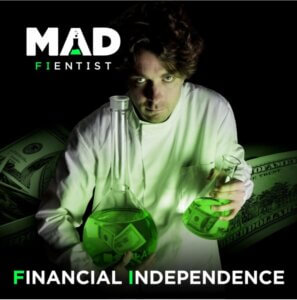 Podcast Description:
Join the Mad Fientist as he interviews personal finance icons like Mr. Money Mustache and Vicki Robin to discover the strategies they used to achieve financial independence and retire early! Learn about investing, tax avoidance, entrepreneurship, travel hacking, real estate, and all things related to financial independence and early retirement!
Comments From Coach:
While the Mad Fientist doesn't post a new episode that often, when he does it's worth it! This was pretty much the original podcast about financial independence, and you'll find TONS of great interviews ranging from specific FI strategies (like my interview about real estate) to conversations about habits and ultralearning.
Links:
---
4. BiggerPockets Money hosted with Mindy Jensen and Scott Trench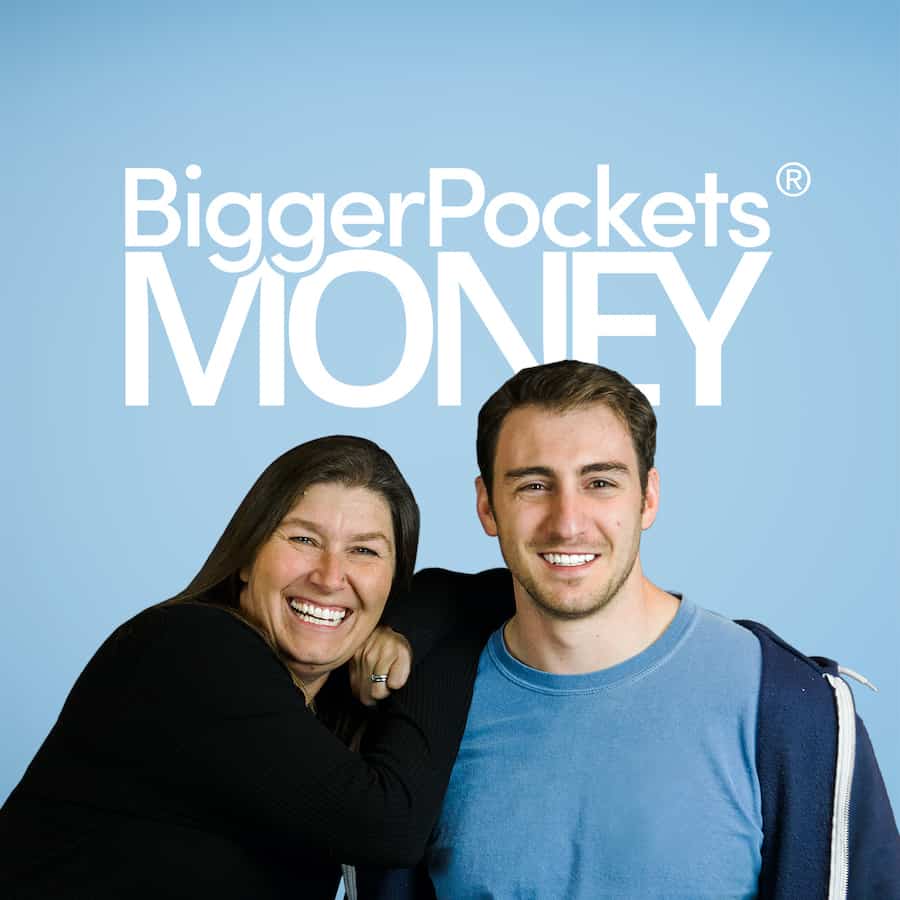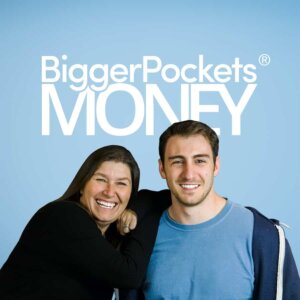 Podcast Description:
For those who have money… or want more of it! Join Mindy Jensen and Scott Trench (from BiggerPockets.com) weekly for the BiggerPockets Money Podcast. Each week, financial experts Mindy and Scott interview unique and powerful thought leaders about how to earn more, keep more, spend smarter, and grow wealth.
Comments From Coach:
Scott wrote the excellent FIRE-oriented book Set For Life and he is also the CEO of BiggerPockets. Mindy is the community manager at BiggerPockets and along with her husband Carl, achieved financial independence in her early 40s. Together, Scott and Mindy provide excellent money advice and perspective with each of their episodes.
Links:
---
5. Journey to Launch with Jamila Souffrant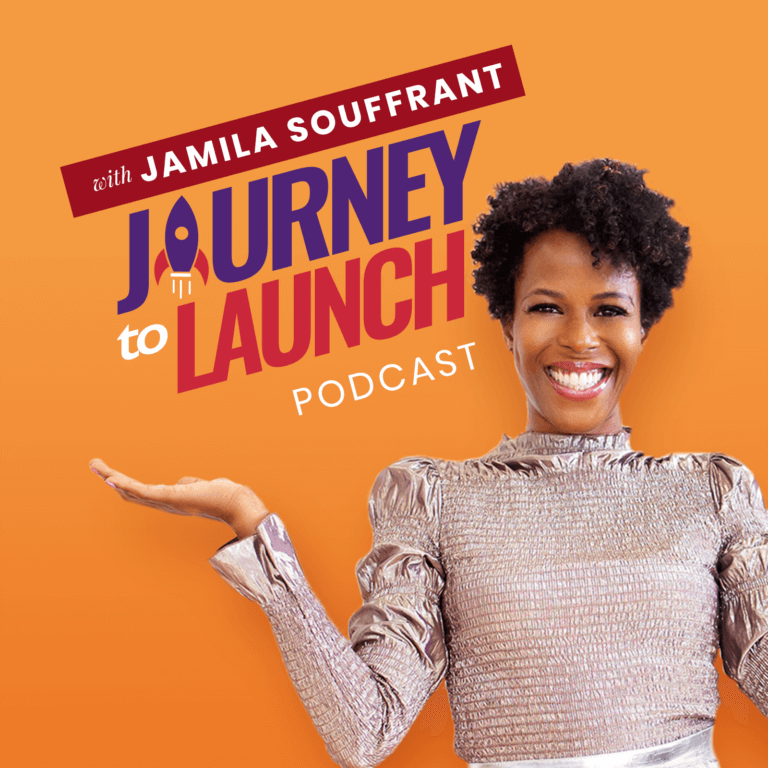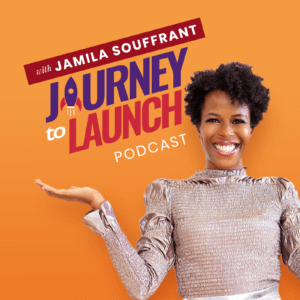 Podcast Description:
Jamila Souffrant is a Certified Financial Education Instructor (CFEI), blogger, podcast host and money coach. She is the founder of www.journeytolaunch.com. As a money expert who "walks her talk" she helps brave Journeyers; gain clarity around their finances and create an actionable plan to reach their goals. Her mission is to teach, inspire and help others reach Financial Freedom.
The Journey To Launch podcast explores all aspects of reaching Financial Freedom; from increasing income, becoming tax efficient, paying off debt, investing, saving & learning how to retire early and wealthy.
Comments From Coach:
We all have unique journies toward financial independence, and I love that Jamila authentically shares the twists and turns of her own journey. She and her husband began their journey both working jobs, saving lots of money, paying off debt, and working toward an accelerated FI plan. But they later pivoted with Jamila quitting her full-time job to spend more time with her family and to become an entrepreneur. Both Jamila's story and the many guests she has on the podcast are inspiring and educational, and you'll learn both core financial principles but also the real stories of how people apply them in their lives.
Links:
---
6. The Money Nerds with Whitney Hansen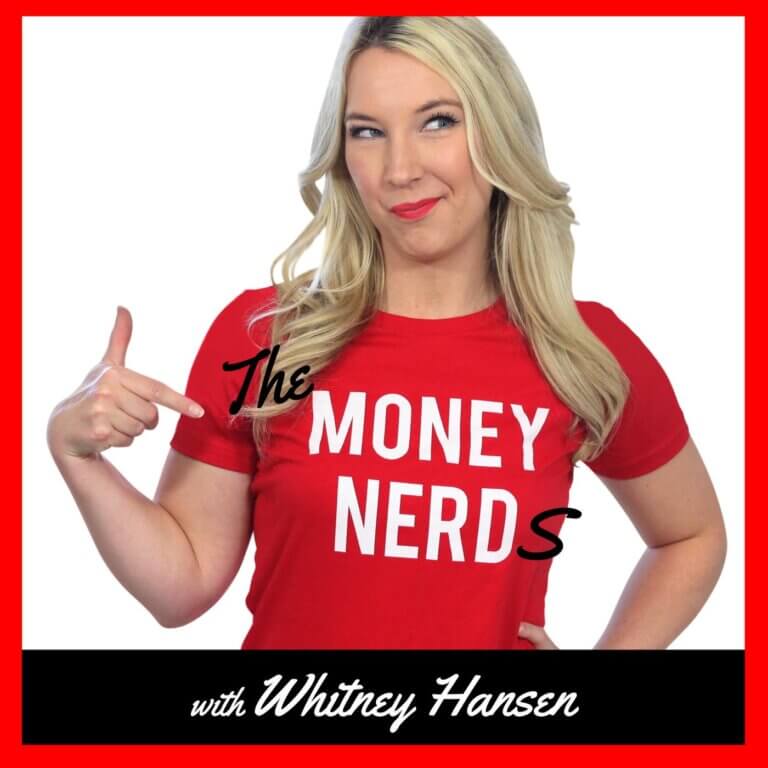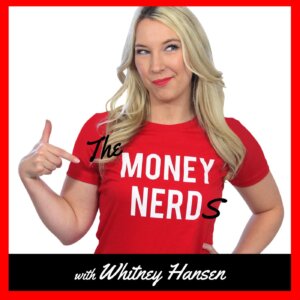 Podcast Description:
Trying to pay off debt, looking for money saving tips, and on your way to financial independence? You're in the right place.
Welcome to the Money Nerds community! This podcast highlights weekly stories from people who share their secrets to financial success. Whitney Hansen interviews everyday people with weird, unique, and amazing money stories.
If you are looking for a modern voice and financial tips that actually work, this podcast is for you.
Comments From Coach:
Raise your hand if you're a money nerd! (**raising my own hand HIGH in the air**) Whether you're a proud money nerd or slowly coming out, I think you'll love this show. The host Whitney Hansen is fun, knowledgeable, and engaging. You'll never be bored or talked down to about money, and you'll learn a lot from both Whitney and guests.
Links:
---
7. His & Her Money with Talaat and Tai McNeely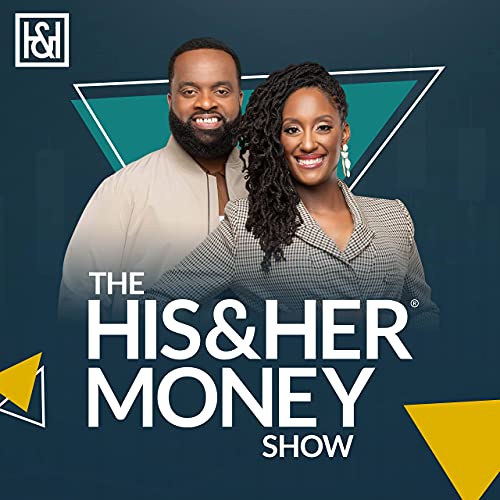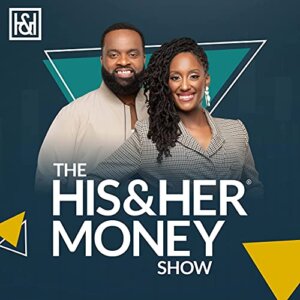 Podcast Description:
In this podcast, we equip you to find the balance between managing your money, your marriage and everything in between. We are on the journey to financial independence, and this podcast serves as your ticket to take this ride too. Our goal is to help each one of you to build wealth, and become completely debt free! We discuss numerous personal finance topics such as debt elimination, money-saving strategies, budgeting techniques, credit repair, investments, and much more. It's not just about money though, we also tackle topics that are built to build powerful family structures such as, organization skills, time management, faith, and so much more!
Comments From Coach:
I love the authenticity of Taalat and Tai McNeely, the hosts of this show.  They're known as "America's money couple" because together on their YouTube channel and podcast they teach about balancing money and relationships. The relationship side of financial independence isn't something talked about enough. But things weren't always rosy for Talaat and Tai. In fact, during permarital counseling Tai learned that Talaat had a lot more debt than he previously talked about. This difficult moment, and their honest conversations about money that followed, led to their own conviction to share their journey and money lessons publicly. Definitely check out their podcast.
Links:
---
8. Earn & Invest with Doc G


Podcast Description:
What are the conversations that help you Earn and Invest in your future so you can make the best decisions today? Dive into wide-ranging panel discussions on Monday and individual interviews on Thursday that will help you question and refine your financial moves. While we won't always find answers, we will show you the questions you should ask to find a richer path to financial independence.
Comments From Coach:
With this show, you get deep, thoughtful conversations about all sorts of topics related to financial independence. The show host, Dog G, has a calm, engaging, and intelligent manner that brings out the best from his guests. I also love Doc G's story telling, including from his experience as a physician and director of a hospice program.
Links:
---
9. Everyday Courage with Jillian Johnsrud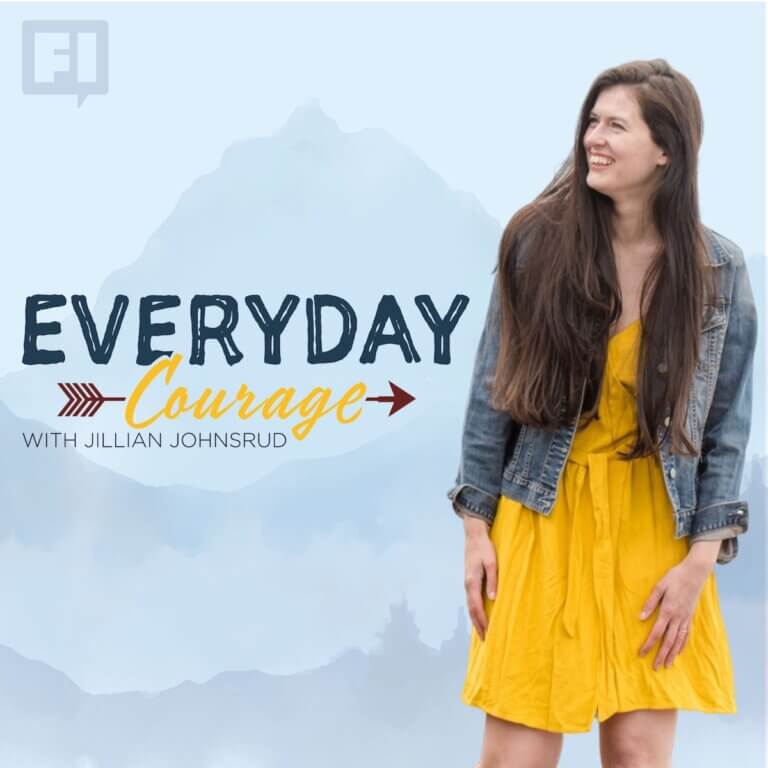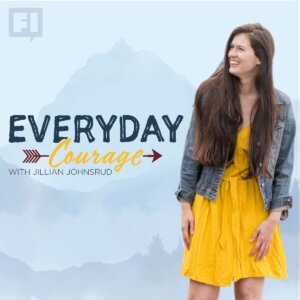 Podcast Description:
Want a life that's true to yourself and your values and dreams? The Everyday Courage podcast will help you get unstuck, find direction and overcome challenges. Using insights and humor from her professional and personal experience, Jillian Johnsrud will help you become a little more courageous every day in the choices you make to develop your career, your relationships, and your mindset.
Comments From Coach:
Financial independence is certainly about money, but every money decision starts with a personal decision that often requires overcoming fears and challenges. This is where the host Jillian Johnsrud shines. Like a personal guide with amazing insights and humility, Jillian provides personal stories, lessons, and interviews each week that leave you feeling more courageous and ready to continue your journey. Jillian also has an amazing story herself, achieving financial independence in her 30s with a family of 5 children!
Links:
---
10. Financial Freedom with Grant Sabatier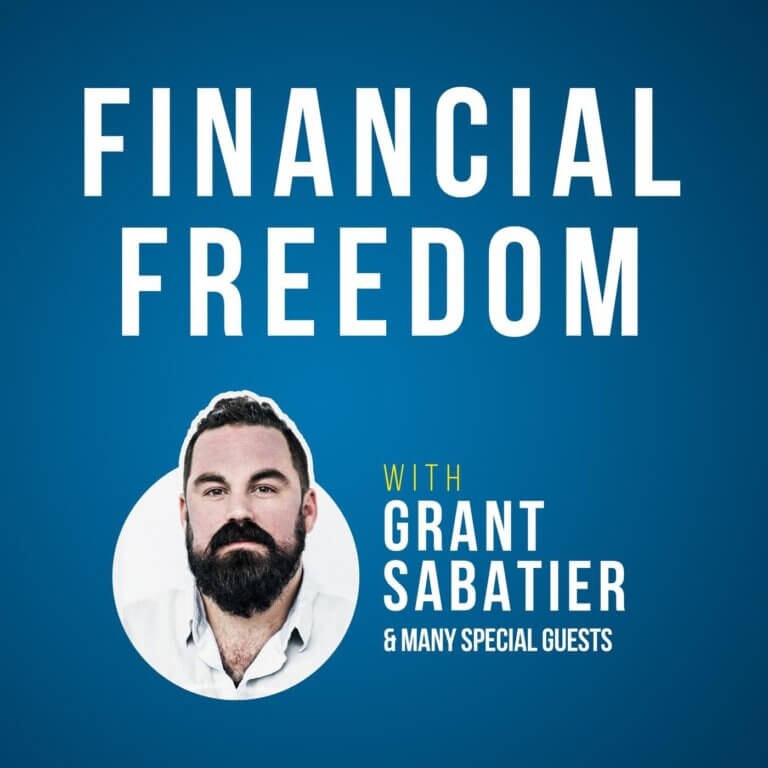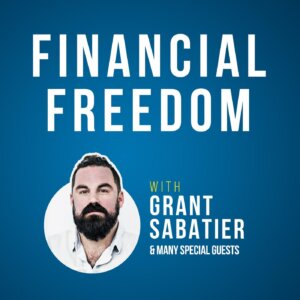 Podcast Description:
Money only matters if it helps you live a life you love. On the Financial Freedom podcast we interview remarkable people and share strategies for mastering money and living a meaningful life. Topics include personal finance, investing, side hustling, real estate, entrepreneurship, early retirement, and more. Financial Freedom is hosted by Grant Sabatier, author of Financial Freedom and creator of Millennial Money. Grant reached financial independence and "retired" at the age of 30.
Comments From Coach:
Before his 30th birthday, Grant Sabatier ammased a networth of $1.25 million using a combination of entrepreneurship and intense saving (over 80% of this earnings). This allowed him to achieve financial independence early in life. But the grind to get to financial freedom early also left a personal toll, and Grant learned about prioritizing the things that matter more than money. He shares the insights from this journey on this podcast, while also interviewing other remarkable people. Grant doesn't publish a lot of new episodes lately, but you'll appreciate the ones he does. Also check out his best selling book Financial Freedom – A Proven Path to All the Money You Will Ever Need.
Links:
---
11. The FI Show with Cody Berman and Justin Taylor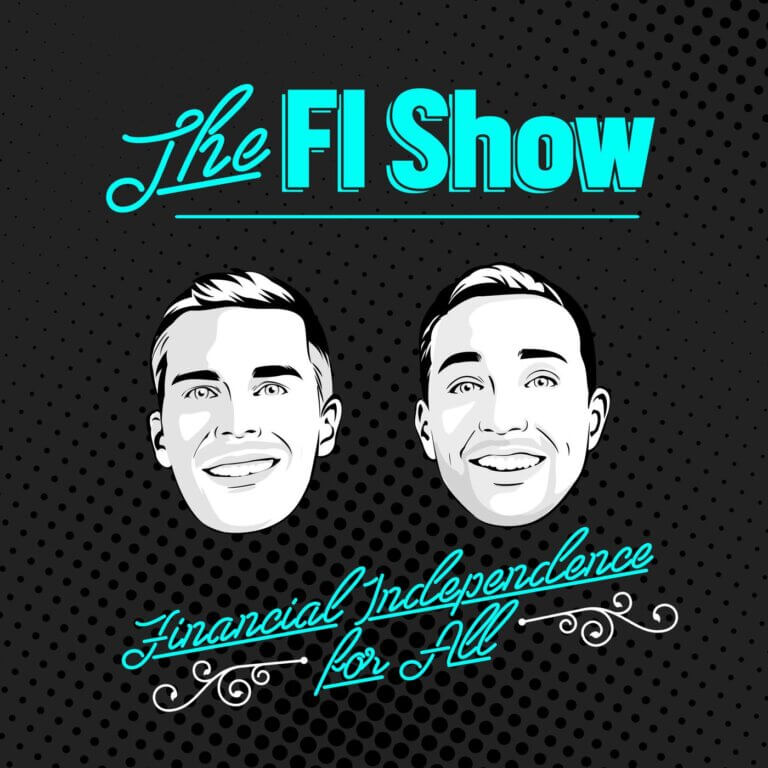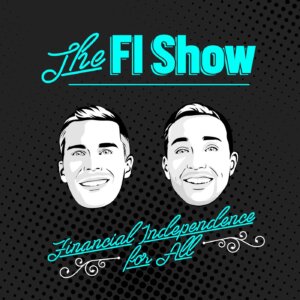 Podcast Description:
Cody and Justin believe in the concept of "Financial Independence For All". The FI Show focuses on financial independence, personal development, and life optimization. Our topics include, but are not limited to building wealth, saving money, investing, side hustles, real estate, productivity travel rewards and so much more! Once you've graduated from the Dave Ramsey School and achieve debt freedom, you'll be looking for something else. Well, here it is! We cover ideas and thoughts from the greatest in this space such as Tim Ferriss, Mr. Money Mustache, Joe Rogan, Tony Robbins and more, but with our own personal twist. Welcome to a community of like-minded people who are taking back their time and their lives in the pursuit of financial independence. Are you ready to improve your life?
Comments From Coach:
This is a fantastic financial independence-focused podcast that not only digs into money topics but also covers entrepreneurship, personal development, and more. What I love most about the hosts Cody and Justin is that they live the FI principles they share on the show. For example, Justin's personal blog – Saving Sherpa – outlines his monthy income and expenses EVERY month. You won't believe how low he keeps his expenses each month. Check it out. Cody is an entrepreneur with several different businesses, and he shares many of the details on the show (like his recent rental property experiences).
Links:
---
12. Marriage, Kids, & Money with Andy Hill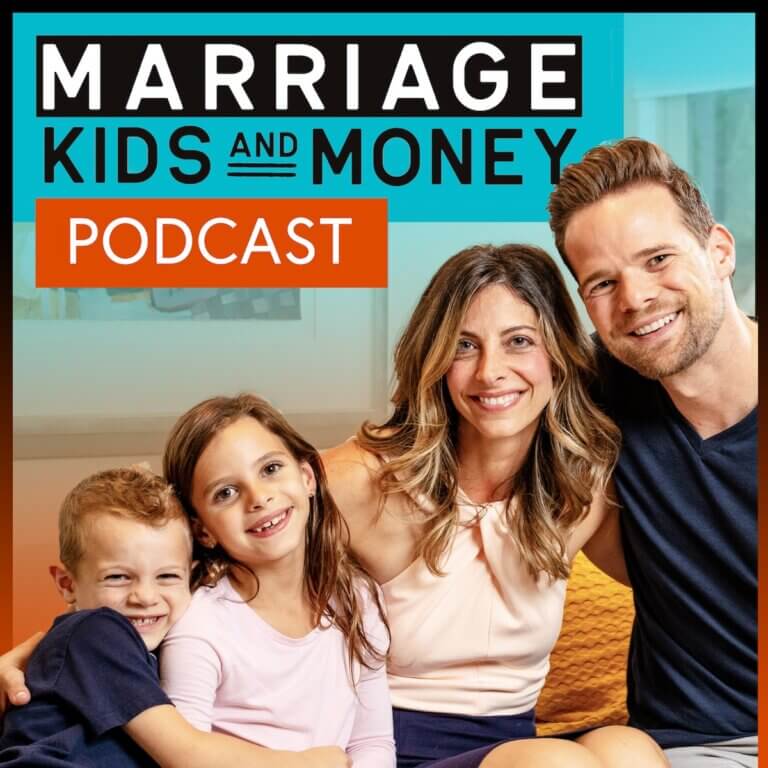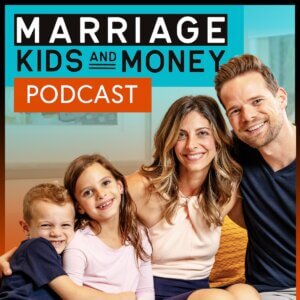 Podcast Description:
Are you looking to improve your family's financial wellness and create a life of true wealth and happiness? The Marriage, Kids and Money Podcast is dedicated to helping you do just that. Each week, Andy Hill interviews millionaire parents, couples who have reached financial independence, and financial industry experts like Chris Hogan, Paula Pant, JL Collins and Rachel Cruze (the daughter of Dave Ramsey).
These interviews are meant to provide you with easy-to-understand information and actionable takeaways you can use to give your family the life they deserve. With over 200 episodes and counting, Marriage, Kids and Money has been nominated as "Best Podcast of the Year" and been awarded "Best Family Finance Blog" by Plutus. Show topics include everything from how to pay off your mortgage early to how to help your kids become future millionaires (who are generous).
Join the family wealth-building conversation by listening to this 5-star rated family empowering podcast today!
Comments From Coach:
The host of the show, Andy Hill, is a SUPER nice guy and so easy to listen to with his perfect voice for radio/podcasting. I also love that he balances his financial topics with discussions of marriage and kids. Since I'm also someone very interested in all of these topics, the show definitely resonates with me. After all, what's the point of being successful with money and not having quality relationships with the people you love most?! Check out this show if this angle of financial independence also resonates with you.
Links:
---
BONUS: Real Estate & Financial Independence With Chad Carson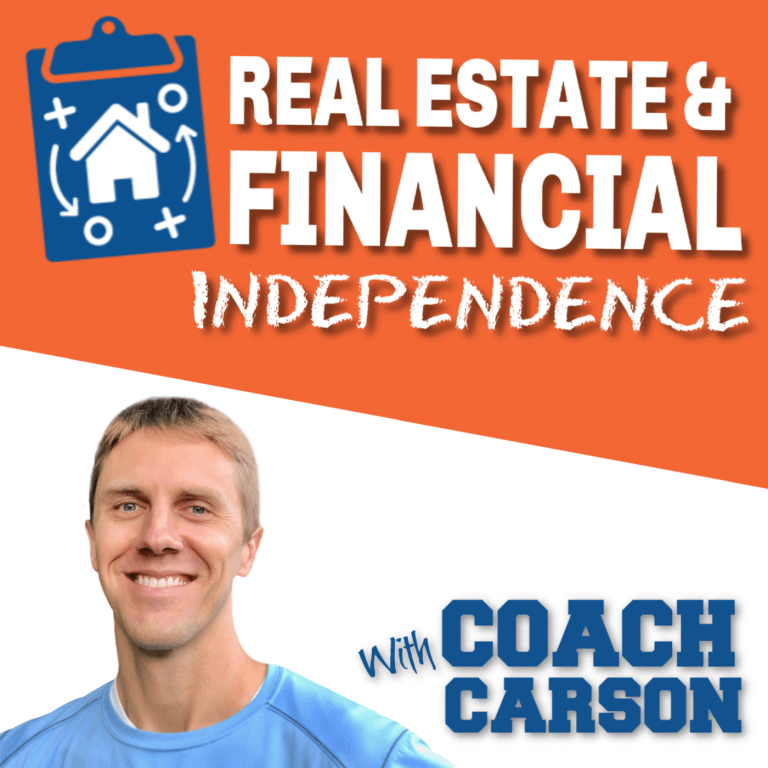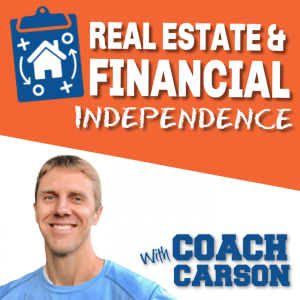 Podcast Description:
Chad "Coach" Carson shares practical advice about using real estate to retire early (aka achieve financial independence) and do more of what matters. You'll hear in-depth episodes with tips from Chad plus interviews with other real estate investors at various levels of their financial independence journey.
Comments From Coach:
I'm definitely proud of my own FIRE podcast and the impact it seems to be making on the lives of my listeners. And although it seems to be sticking consistently in the top 200 investing podcasts on Apple Podcast, I couldn't bring myself to put myself in the top 12 with all the other worthy candidates on the list. So, you're getting this as a BONUS podcast on the list. I release new episodes each week, and I hope you'll join me.
Links:
---
What are your favorite FIRE podcasts?
I hope you've enjoyed this list of the top 12 FIRE (financial independence/retire early) podcasts. There were MANY worthy podcasts that I left off the list, so please let me know in the comments if there are other shows you enjoy.
Get My Free Real Estate Investing Toolkit!
Enter your email address and click "Get Toolkit"