Are we in a housing bubble in 2021? In this episode, Coach Carson shares his opinion on how to best approach the current hot real estate market so that you protect yourself while still moving forward and making progress towards your financial goals.
Read the Transcript Here
Is there a 2021 housing bubble? It's understandable to be a little frustrated, a little concerned, there's people bidding up properties, there's lots of competition. Prices seem to be rising and rising. You know what's going on? And how can you as an investor respond appropriately, respond wisely in a way that doesn't lose money, that actually makes some money and continues moving forward with your goals? That's what we're going to talk about in this episode. And we're getting started right now.
Welcome to the Real Estate and Financial Independence podcast. My name is Chad Carson. You can always call me coach. And this is a show all about investing in real estate, achieving financial independence and doing more of what matters if you're new here.
First of all, thank you for listening. And I have new episodes that come out every Monday morning, so I hope you'll choose to hit that subscribe button on your favorite podcast player so you don't miss anything.
Before we dive into today's topic, I want to remind you of a couple of things.
First, I'd love to hear your feedback and suggestions for the podcast. You can do that by just sending me an email at [email protected] Second, you can really help support the show and help us spread the word by leaving a review.
And as a way of saying thank you to those of you who already left a review, I give away a copy of my book, Retire Early with real estate each week to one person who we draw randomly, who has left a review in the past.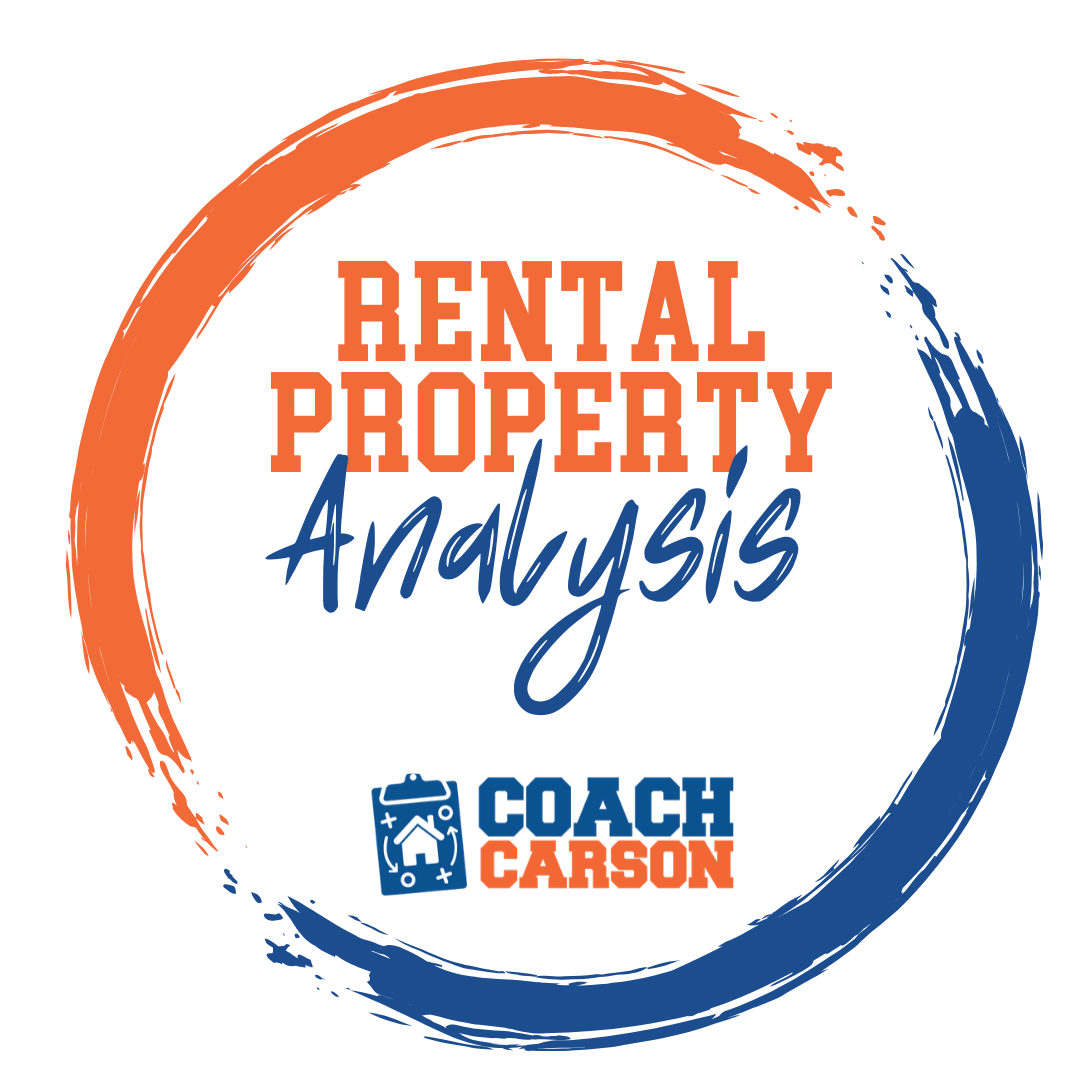 A course by Coach Carson that teaches you how to run the numbers so that you can confidently analyze and buy profitable rental properties. It also includes Coach's rental analysis spreadsheet.
Get the Course
So please keep listening all the way to the end of the episode for this week's winner.
All right. So let's get back to the topic of the thousand twenty one housing market. Is there a bubble? And how do you respond wisely? How do you invest wisely given what's going on today?
Now, the way I'm going to do this is just me talking to you off the cuff. It's going to be a solo episode.
I'm going to share my thoughts on how we should be looking at the near future and have some pretty strong opinions on that. And then I'm going to go from there to show some of the strategies, some of the ways that I think you can approach this in a way that could both help you defensively to save yourself some trouble, to avoid some big mistakes and also how to play offense at a point in a time that's competitive. And there's lots of other people trying to buy investment properties as well.
So the first thing I want to say is that the reason this topic came up for me, I've got a lot of emails from people, a lot of chatter on social media, that this has been a topic that's important. I follow some other people I respect on YouTube. I have a YouTube channel and I'm trying to grow that. And I've seen people like Graham Stephen, who's got a really big real estate and finance YouTube channel.
Ken McElroy, who is the rich dad advisor for real estate to Robert Kiyosaki and they've given some pretty strong opinions on here is how things are working in the economy. Here are some influences. Foreclosures, forbearances, interest rates, kind of putting a formula together, basically said here's how it could go in the future.
Now, this is entertaining.
Those videos have, you know, hundreds of thousands, millions of views in some cases. So obviously people are interested in that. And it's entertaining to talk about predictions.
But here's the thing. Probably it's just, the only value it has is entertainment.
And I want to share a couple of quotes with you from people who are a lot smarter than me about investing. So I'm not just saying this coming from me.
I want to talk about predicting not only the stock market, which is a lot of what a lot of investors talk about, but the market in general and the future in general. So I want to share a few quotes that I think you might find helpful.
The first quote is by John Templeton, who was a famous investor who invested successfully for multiple decades, is now deceased.
But he said this… The influence on stock prices are so numerous and so complex, and you could substitute the housing market as well for stock prices in general markets.
So the influence on stock market prices are so numerous and so complex that no person has ever been able to predict the trend of stock prices with consistent success, end quote. So this is a person who multiple decades successfully exceeded returns of the market as a successful investor in those that he was known for, basically saying no person has ever been able to predict the trend of prices with consistent success. That's the keyword consistent. Here's another one from somebody you might have heard of.
Warren Buffett says, quote, I never attempt to make money on the stock market. In other words, on prices of the stock market. I buy on the assumption that they could close the market the next day and not reopen it for ten years, end quote. So Warren Buffett would buy a company, buy a stock.
And if the market closed tomorrow or for ten years, this would be like you buying a rental property.
And for the next ten years the market was closed.
Would you be OK with that?
Now, clearly, if you're flipping houses, there's a little bit different angle. You're going to really think about reselling your property.
But that's an interesting perspective. He's a long term investor saying it's not the ups and downs of the market that matters, the long term financial ability of my property or my business to produce earnings, to produce income.
So that's quote number two.
Quote number three is by Ray Dalio. Another long term successful has the biggest hedge fund has he's been the leader of the biggest hedge fund for many, many years and a lot of money from a lot of wealthy people.
And he says this. He who lives by the crystal ball is destined to eat ground glass.
So the crystal ball trying to predict the future.
He says, I had eaten enough glass to realize that what was most important was that knowing the future, it was knowing how to react appropriately to the.
Information available at each point in time. That's Ray Dalio. Now, you get my point here that I'm a little skeptical on people who make predictions. I'm at least skeptical on trying to make predictions that you can then act on and make money on now. So what approach do you take? Do you actually ignore information?
Do you ignore the fact that the market's competitive, that this has been a long, you know, rising price cycle for real estate?
No, you pay attention to these things. That information is information that can help you make decisions.
But here's the distinction that the way I think about it, then instead of trying to make predictions, you make preparations. Predictions versus preparations, preparations meaning you prepare for all sorts of eventualities and you might even, you know, lean into one possible outcome.
So if you think this is a year when prices could drop at some point, well, you might want to make extra preparations for that.
But being a prepared person, instead of trying to make predictions means you're not going all in on some kind of thing happening. You're not sitting on the sidelines saying, you know what, once the once the market crashes, I'm going to then get back in the market. That's one I hear a lot. You know, you could also have the other side of another thing happen is that you could be like Australia, who's had like a multiple decade run of rising prices.
And if you've been sitting on the sidelines waiting for it to crash in Australia, you would have never participated in a lot of gains.
So this this approach takes a little bit more humility of saying, you know what, this is such a complex equation.
This is not a one plus one equals two type of thing. The economy, the housing market is what's called a complex adaptive system.
You know, you have all sorts of factors that are influencing prices.
You have interest rates. You have the Federal Reserve, you have other countries and their their economic policies. You have how people choose to spend the money, the psychology of people. You have housing supply. There are a lot of things that go into that.
And people spend a lot of time trying to put those together.
So you pay attention to those and you prepare for, Did the market
go up? Could the market be flat? Could the market go down?
You prepare for all of those. And I compare this more to if you ever thought about it.
I always love I'm not a Aikito or martial artist myself, but I always respected Aikito Masters, who are these martial artists who really had smooth movements. And they if you watched them have a combat or a sparring match with another opponent, they were, prepared for anything.
They were very balanced on their feet. And of attack came from the back. They were ready. The attack came from the front. They were ready.
And if there's a really big attack or there's coming towards them, rather than trying to attack it head on, they would use that person's energy and they would, you know, tumble the person in the other direction.
So I think a successful real estate investor in a market like this is more like an Aikito master who is not trying to predict what my opponent's going to do.
You're watching very carefully what your opponent's doing and you're reacting to the information at hand.
You're reacting to what the market's giving you. So you're prepared for the worst case scenarios to make sure you're taken care of. We're going to talk about that a little bit more here in a second on some ways, you can prepare and protect yourself so you don't do something dumb that's going to lose you a lot of money in a market like this.
But then you also are strategizing and being proactive about how to use the reality of what we have today to your advantage, because there's some opportunities today that might not be here two or three years from now.
So we're going to spend the rest of the time being real estate, Aikito and masters in training, right? But we're going to think about how can we prepare our real estate investing business to make money today, to move forward today and and to actually be successful and not to sit on the sidelines and wait for this thing to pass over.
So continuing with our martial arts metaphor, I want to talk to you in two different sections here.
I want to talk to you about playing defense or being defensive against any risk, any vulnerabilities that might get you into trouble. And then I want to talk about how to play offense. How can you attack the situation, so to speak, take advantage of some of the current opportunities that are going on out there. What kind of strategies can you use?
Let's talk about defense first.
So part of the concern I think people have as prices rise, you know what? If we really are in a bubble, what if we're going to experience a crash at the end of this year?
You know what happens during a crash? And I've been investing for 18 years.
So there are people out there who have more experience than me. But I had the good fortune or bad fortune, whatever you want to say, of starting in 2003 and investing. And so I grew as a new investor right into the 2008, 2009 and 2010 recession. I mean, I made a lot of mistakes coming into that. There's some things wrong. There's some things right as well. And so I think I have a little bit of a perspective of how you can be in the trenches and experience one of these crashes and still get to the other side.
What does that take? So the first thing I want to speak to is actually those of us who already have properties.
So a big challenge, if the market changes, is not necessarily the market overall itself, is that do you have properties that are not ideal investments in the first place?
So I in 2007, we bought a lot of good properties. We flipped some properties that made money, we bought some rental properties. But the ones that gave us the most trouble were properties that we, were not ideal. We bought them in either bad locations where as hard to find good tenants at the moment, maybe the next door neighbor was not keeping up their property or the neighborhood. It was just kind of going downhill.
Maybe this property was an extra maintenance hassle, you know, All wood siding on the outside, or it's just a really old property. And we hadn't properly accounted for all the continuing maintenance we're gonna have to do to take care of this property, or maybe it's on the side of a hill and there is water going under the crawlspace, and that's just a big pain and the basement's leaking, you know, there are reasons why either property itself or the neighborhood itself are not ideal properties.
And that type of problem is actually going to hurt you more in a downturn than just the economy itself, because a down a down economy or a housing market all of a sudden becomes switches from a seller's market to a buyer's market.
It exposes the weak deals.
It exposes the houses that may be in a hot market. People are buying and bidding them up because buying everything. But if you are holding on to one of those not so good properties, the thing to do right now to be defensive about that is to sell that property while you still can.
And my business partner and I have actually been doing what we're calling culling a herd. You know, think like you're a sheep farmer or cattle farmer and you you know, you just take your least ideal goats or sheep or whatever you want to call it.
And you eat those for Christmas dinner to say it kindly, I guess. But you just you try to make sure you have a good, healthy herd of houses, of properties.
We've been doing that for years, ever since we learn some of those mistakes in 2007, 2008, 2009. And so we feel much better about the properties we do have.
But there's still one or two like even as we speak right now, we've identified and we've made a list of all our properties and said, you know what, these two right here have given us the most hassle, the hardest to rent.
There's some maintenance issues long term. We just want to deal with it. Maybe there's a lot of trees around the property. Trees cost a lot of money. Maybe there's some moisture issues that we just take money to continue to solve.
And so we've been selling some of those. So that is one idea during this kind of market where you can sell it, still make sure to be defensive, to sell some of your bad properties. That's if you already have some.
The other thing you need to be thinking about is one of the main ways I've seen investors get hurt in a down market is their financing.
So if you want to do what Warren Buffett recommended, being able to close the resale market tomorrow and be able to hold your properties for 10 years, I'm not saying you necessarily want to do that. Maybe you want to sell them three or four years from now. But in a worst case scenario, could you button down the hatches and hold your properties through the storm?
You can hold it for 10 years. You're going to have to hold through a lot of ups and downs.
But why most people can't do that is their financing. So think about the type of financing you have. Is that a short term, like a six month or a one year loan?
Is there a balloon coming up? A balloon, meaning where you have to pay the full principal amount in three years or five years? That's very common in commercial notes.
And if you think back about 2008, 09, when the credit markets just cratered, when there's no credit or money available for a while, what happened to even the best of companies out there?
Bank of America, Goldman Sachs, all of these people had to run to Warren Buffett to borrow some money, or they had to get bailouts from the federal government. The reason was it was because they had people calling their money due.
Do they had some short term obligations and they couldn't meet them because there was no financing market out there.
So what's the alternative?
If you have a lot of long term mortgages where you fixed the interest rates and you don't have a traditional kind of 30 year financing, that's actually a very safe type of leverage. There's still some risk.
You know what if the rent go down and you have negative cash flow, but even that think about negative cash flow, if you're negative $200 dollars a month on ten properties, that's negative $2000 dollars per month, which would be that'd be pretty rough. Right. But what if you had 10 properties or 5 of them had a balloon where you had to come up with $100,000 on each one. That's $500,000 at one time.
And I've had I seen that happen to people in the middle of a recession.
And that is what drove them to bankruptcy or having to dump their properties for low prices. That's what gets you into trouble. The negative cash flow, that could also be a problem.
But maybe you could bring on a partner, maybe you could sell one or two of the properties and use that to fund the rest of them. The point is that those are problems, but they're not quite as big of a problem.
So fixed if you have debt, fixing it for a longer period of time is the safer way to go. So what you can think about it right now, interest rates are really low. So if you have some properties that you think are good long term, keeper properties, then have a plan to refinance some of the bad debt. And maybe if you had 10 properties, you would have what have most of your debt be solid, low interest, long term loans or maybe even pay off some of them and have other ones.
Maybe you keep a couple of loans that are a little have a little bit more risk to them, but maybe you could handle one or two, but not having eight or nine or 10.
So your property's thinking about your properties, getting rid of vulnerable not as ideal properties, getting rid of vulnerable, not as ideal debt.
If you can take care of those two things from a defensive standpoint, being Aikido master to make sure you can withstand the storms that could come, those are two really big deals. Those are things you can control. Those have nothing to do with the market and what's out there.
That's you looking at what you're taking, what you've got in today's market. Low interest rates, available credit, people wanting to buy properties you could feed into what the market's giving you to help protect yourself and make yourself more defensive. And the good thing is you'd be more prepared for whatever happened later on.
But let's keep talking a little bit more about defense. So whether you're a brand new investor or whether you're an existing investor, one of the best things you can do to be that balanced Aikito investor who's ready for anything is having cash reserves.
This is a really important topic. This is another thing that Warren Buffett does really well. Warren Buffett's in the insurance business and some of his investments have all sorts of unpredictable type things that could happen. You could have multiple hurricanes. You could have earthquakes here and there. And so he has to maintain a really large reserve. And his company, Berkshire Hathaway, just because cash means resilience, cash means you can be flexible and adapt to different things. Cash means that you can if you make a mistake here because you didn't see this kind of thing coming, you can sort of bail yourself out of that mistake.
That's what my business partner and I did in 2007, 08, 09. We saved a lot of cash in 2003, 04, 05, 06 from our flipping houses.
And we just lived frugally and we needed it. We had we had six figures in reserves and we had to dig into that during the bad years because we had some negative cash flow properties, we had properties that we underestimated repairs and we had to fix those up. And so in order to withstand the storm and see the other side and get to the other side, we had to dig into those cash reserves. I knew some other investors who didn't have that.
And because they had balloons on their notes coming due because they bought some bad properties like we did, they didn't have enough cash reserves and that created a big problem for them.
So I'm just going to summarize here. How can you play defense? What can you do in 2021, to make sure you're protecting yourself just with your existing portfolio or any steps you move forward, sell problem properties, refinance risky financing and make sure you have cash reserves?
I would say minimum three to six months of your business expenses.
So what I mean is your mortgage payment, taxes and insurance, maybe maintenance, kind of like a financial adviser would tell you on your personal finances, in your business or your investment real estate investment portfolio. It also makes sense to have that much at least three months, maybe six months. And I have known investors who have even more, who want to be even more conservative, maybe had nine months, 12 months. That'd be a big, big chunk of cash.
But the point is, pick some number having a lot of cash. It's better than having no cash. And, you know, this is something that might slow you down a little bit. It might be the thing that, you know, you're not able to buy the next property because you need to save up some more cash on the existing properties that you already have.
Or maybe you have enough money for a down payment on a property, on this next property you're buying, but you don't have enough cash reserves to set aside to make sure you're safe by buying that property to get you through anything that would happen. You know what?
That's just forces you to wait a little bit. Sometimes being patient, sometimes saving a little bit more money is frustrating at the moment. But it's the right thing to do.
It's the smart thing to do over the long run. So you see how that works.
We haven't necessarily predicted exactly what the market's going to do in 3 months or 6 months or 12 months. But we've prepared ourself. We you know, if the market goes down in price, if you have good financing, if you have solid cash flow in your properties, you have good quality properties that attract good tenants. If you have cash reserves to withstand some of the unpredictable, things are going to happen.
If they have if you have a market down downturn, then you're going to be at least more prepared than you would have been otherwise.
If we have a lot of inflation and prices are going up and there's that kind of, you know, extreme eventuality, then you have long term financing on properties and the rents are going to probably increase.
The prices are going to increase.
You're going to be able to find the best tenants in that situation.
So you see, those are two kind of downsides that you are more prepared for. And you're doing that by being defensive up front.
But being defensive isn't everything right? You can't just sit there and protect being vulnerable. You've also got to play some offense. You've got to go out and do something. And this is a strategy or a mindset that actually borrowed from a lot of stock investors, some of the stock investors.
The strategies that I think make the most sense in the stock market is something called dollar cost averaging. So dollar cost averaging means that pretend that or just think about like you and you get a salary at your job and every single month you set aside a certain amount to put in your 401k. And every month you put that, let's say, a thousand bucks in your 401k and that money gets invested in the stock market no matter what. That month, you don't even think about it.
Whatever the price is, you buy it next month, you put another thousand bucks aside. Whatever the price is, you buy it.
This strategy is actually one of the best long term strategies, because if the market's really high, you probably buy a smaller amount of stock because the prices are high right now. A $1000 dollars buys the less.
If the market is down, you're going to buy a lot more because the prices are lower, but you're always buying, you're always in the market that actually produces incredible results in the stock market where you can adapt that to real estate investing.
So my attitude is, and this is a little bit less for me at the moment because I'm not buying as many properties.
We have enough properties and we're kind of culling the herd, sell off a few, buy a few more. We do a few loans here and there.
So I'm not aggressively growing it, maybe as some people who are listening are. And that's fine. But no matter what my approach is, I'm always a real estate buyer. Given two things. Here are the two qualifications.
I'm always a buyer on terms that make sense. And I'm going to tell you what I mean by that. I'm always a buyer as long as the terms make sense, as long as I can protect myself, my downside and as long as I can make money on that property, I'm always a buyer.
And then number two, I'm always a buyer as long as it's in a market that has strong fundamentals.
So wouldn't all of us probably agree with that? If you can buy it at the right terms, you can make money on it and you're in a strong market, then you're a buyer. I think the challenge some people are saying right now is I don't think I can make money. I can't find terms where I can make money. So I'll talk about a couple of strategies to think about that and to and also talk about and give you some more resources that I've talked about in the past for identifying markets with strong fundamentals.
So let's first talk about what it means to buy a property on terms that makes sense. I'm going to give you a link in the show description to an article and a YouTube video I made called Back of the Envelope Analysis of How to Run the numbers were essentially go through some of the important formulas that I use when I'm looking at the numbers on a property and analyzing a property.
So these formulas are something you can just write on the back of a napkin, back of an envelope to give you a clear picture up front whether this deal has merit or not.
So that's one place to start.
But I do want to explain right here in this episode what it means to have terms that makes sense for me on deals that I'm looking at.
And I could break it down into two criteria, two key criteria that I'm always measuring with all those formulas that you'll find in that video that I referenced earlier.
The two terms are price and income, price and income.
And if you think about it, you probably heard that the old adage in real estate, you want to buy low, sell high.
So in other words, you want a lot of people make the most money on properties, both with the short run, like flips, buying low and selling high on a flip property, but also over the long run with buy and hold a big chunk of the money that you're going to make, the wealth that you're going to build is from the growth and price of your property. So buy low, sell high. I mean, that's a term that I want to identify upfront.
Can I make money on the price of this property?
And there are a few different ways you can do that. The first is by finding properties or sellers of properties who are in a more motivating situation.
Sometimes it's distressed, but not always like you don't.
When I first started buying investment properties, I definitely looked at situations like a pre-foreclosure, and I bought a lot of pre-foreclosures where people had kind of financial stress.
They lost a job, something happened. And there's stressful for the seller. They're trying to get out of that situation. It can be stressful for you because it's, you know, a lot of moving parts. And but that could be an opportunity. But there's also just people who are more motivated. I've bought a lot of properties from people who are landlords and just kind of burned out from being a landlord.
They weren't ready to give the property away, and they weren't going to sell it supercheap, but they had a problem. They wanted to be solved. And that is the key with what I'm describing here.
Out of all the people on the market, you know, if you think about a little mini market, 100 people, there might be one or two or three percent of those that have some kind of problem that would lead them to maybe sell it on better terms or at a better price because it solve their problem to do that. And so you're looking for properties that you can buy today at a price discount.
That is one way to make money on the price. And you might say, well, it's a competitive market.
The supply is really low. So that's less likely to be true today.
And yes, it is more competitive. So when I started buying properties in 2003, 04, 05, it was had a similar feel to this. Lots of competition. Every seller I talked to had a stack of 20 letters that they'd received from other investors.
So part of what you have to do to find those types of sellers is do a little bit more proactive marketing. You've got to reach out to them. You've got to send letters, you've got to drive for dollars. You've got to do these campaigns.
Other than just looking on that, MLS, you have to have the turn that your real estate business into a little bit of a marketing business. And if that kind of turns you off and you doesn't want to do that, then maybe this business isn't for you. This is a sales and marketing business. It really is.
You've got to market your service of buying properties quickly with cash or with some kind of quick financing. That's what you do. And in the exchange of that is that you might be able to get at a discount. Maybe you can get it a 10 percent. 20 percent maybe. If property had the property also had a lot of distress in addition to the seller, then you might be able to get in a much bigger discount.
And so that is the approach to finding properties that you can make money on price today and you can still do that, although it's more competitive, you can still do that in today's market.
Another way to think about price is not just buying it at a discount today, but looking at the market, the property, the zoning of that property and finding a way to do what's called expandability to look at that, look at the picture you see with this house and say, you know what?
If we change this and this and this, it'll be even more valuable.
A common form of expandability is remodeling. So sometimes you can change the cosmetics of the property, maybe their lawn and their landscaping is just horrible and the paint color horrible. And it's the worst street on the block. Just cosmetically, those are kind of the easiest and most, you know, easiest to turn around, kind of expandability.
But sometimes it's going into the house and looking at the layout. Maybe they it was built in the 1970s and it really closed off and making it a more open floor plan, changing out the cabinets, adding on a back deck. You know, these are the kind of HDTV shows. You see they get some of the things right on the HDTV flipping shows where they show what what you can do to change a house around.
So that's what remodeling expandability is a very common situation.
But if you want to become even more of an expert in adding value to properties, you can look at properties that are undervalued and their rents maybe buy a multiunit property where the rents are lower than what the market rate should be. This actually happens a lot today. You'll find that the rents have kind of run up and some landlords and I have a tendency to do this sometimes and have to work on it. You know, you might leave the rent at what it was.
Oh, well, somebody's still in there. I'm going to leave it there. But eventually that gets out of that, gets way out of whack where maybe the market rents $1500 bucks and the person's renting for a thousand bucks or $900 bucks. This happens a lot. And so if you can buy a property from that seller and and then either, you know, that tenant moves out, you can now raise the rent or maybe have to fix it up a little bit to get that higher rent.
You've now increased the value of that property, especially if it's a commercial or multifamily property. The value is directly associated with the rent. And if you can increase the rent by 33 percent, you can increase the value by 33 percent. But housing as well, sometimes houses, you can make the deal work as a single family house because of being able to increase the rent. So expandability, think about adding value. Can you find properties that that's the possibility.
And sometimes those are kind of hidden gems or a little bit below the surface.
You need to learn your market a lot better. You need to understand the zoning. You need to understand what properties are selling for, and why they're selling for what they're selling.
And if you're not an expert in the market yet, having a team member like a realtor, a property manager who can be your consultant to help you think about these things is a really important part of being able to see hidden value, add opportunities and in your little subsection of your market, another way to buy on good terms of price, even in a competitive market, is by finding undervalued locations.
So there's sometimes you instead of finding a house that's undervalued on that street, you might find a whole neighborhood or a whole subset of streets that has a lot of the qualities of some of the more valuable neighborhoods. But nobody's recognized that yet. Or maybe it has been recognized but not recognized enough.
You can sometimes just by studying your local market, look at the resale prices, look at the rents in a certain location, and you might notice that, hey, the resale prices in this area are three hundred thousand. This area is still like one eighty. And it's got, it's right on the bus line or is right near the park. And it's still walkable to these locations or still in the same school district to has some of the qualities of this other one.
But maybe it's a little bit older and the neighborhood hasn't kind of turned back around enough yet. If you can buy and hold and those locations particularly, you can really benefit from the equalizing that as that other neighborhood gets priced out and people are like, I can't afford the $300,000 house, they'll then go spill over into this neighborhood that you have, and that $180 price might turn into $200, $225, $250.
And and so that is buying undervalued neighborhoods is a great long term whole strategy and allows you not have to be precisely right. You know, might take three years, it might take five years, it might take fifteen years for that to come about. But if you are buy and hold investor, patient and do some of the things I talked about earlier, making sure you're defensive, that you can withstand some of the ups and downs of the market, you can then benefit from these big waves of price movements without having to be precisely right on when they're going to happen.
So those are a few different ways to still buy today and make money on price, on the term of price, buying low or buying value today by looking for motivated sellers, typically by doing a little bit of off market marketing, not just looking at the same old MLS listings, getting off the market, being more proactive, investing in time and energy and money into finding those sellers.
That's part one. Part two is looking for opportunities to expand, expandability, hidden gems. Where people don't see the value, but you see how to change something to make it even more valuable, and that's usually what the remodeling or zoning or cutting off a piece of the lot.
There's lots of different ways to do that. And the third thing, I just went over was undervalued locations.
So that's how you look at price.
But there's a related term that I'm always looking for called income. Price and income have a definite relationship. Sometimes they go hand in hand, particularly with commercial properties and multifamily properties. The higher the income, the price goes right along with that. But it's also something that I look at specifically by itself.
Now, before I talk about some of the specific tools and formulas that you can use to make sure you're getting a deal that has enough income, I want to step back and talk about a little bit about the philosophy of investors overall.
And what you're going to find is that people kind of fall into two different extremes or tend towards one or two different extremes when they come to analyzing real estate deals. And I've had debates and kind of arguments sometimes with people online and bigger pockets about this. On the one hand, you might have people who say, you know, incomes not really that important. What you need to be looking at, where the wealth is built in real estate is by changing the price, by changing, by buying low, selling high.
You know, that's where huge amounts of wealth are are found.
And those of you who are paying attention so much to cash flow and to income, you know, you're just you're looking at nickels and pennies when you could really be looking at dollars and that the true wealth is built by doing BRRRR deals and, you know, pulling out your equity and growing value and doing value, add multiunit properties and that kind of thing, and then reselling them three to five years later. You know that. So there's some truth to that, right?
There's a lot of wealth built and there's a big money on the table to do that. On the other extreme, you might have people who focus 100 percent on cash flow and it's just about how much cash flow they can get, how much net income above all their expenses. And that's the only thing they look at, monthly cash flow, the price not that important. So they tend to buy lower priced properties. They tend to, you know, ignore some of the growth of the property and maybe they do step over some of the dollars looking for some of the monthly cash flow.
And so I tend to find myself like kind of in between those two camps, although I think I lean a little bit more towards the cash flow camp.
And here here's why, that if you look at that, going back to our original conversation today about markets and how they change that, if you are able to stay in the game, if you're able to take Warren Buffett's advice and if they close the market tomorrow and you could be here 10 years from now without being able to sell your property for 10 years, if you can make it there, you are going to make money on price as long as you're buying in a good location, which I'm going to talk about here in a minute and a little bit more detail.
So if you what does it take to get from here to 10 years from now if you had to shut the market down, if you just needed a hold through the storm of whatever happened in the future that you can't it's hard to predict. You need to have cash flow. Cash flow is the engine that pays your mortgage payment.
In many cases, those of you who have mortgages is what gives you a margin of safety in case you made some mistakes, in case you didn't predict things correctly on your repairs or expenses.
Cash flow is how you pay the bills. Therefore, cash flow should be your first consideration. And I sort of see the when cash flow becomes less of an important issue and it's all about price, you're getting much more speculative speculation.
There's nothing wrong with being a speculator. People make money in speculation. But as Benjamin Graham, Warren Buffett's mentor, often said, it's a different game. Speculation is not investing. The best thing is being able to look at a series of cash flows into the future and saying I can at least predict those with reasonable certainty so that I can know what to pay today. And so you are buying a series of cash flows and you're buying the timing of those cash flows.
And the easiest cash flow to predict is that rent you get on the property.
So that's the most important. It's not the only thing. Now, you can also make a lot of money on the price of the property. And I tend to also want to do that and buy properties and locations that are going to make money and that I'm buying low today and that are in the path of progress.
But income is really important. So let's talk about how you actually measure income.
Well, the simplest way is to look at a property and assume you are not going to get any debt on it.
For the moment, I know a lot of us get mortgages on a property, but listen to this. Just look at what's called the rental yield of a property or the rental rate of return.
So you're basically looking at if I rented this property out, I paid all my operating expenses, taxes, insurance management, maintenance, whatever's left over before I pay a mortgage payment as a ratio of what I have invested in the property.
This is similar to a cap rate. It's not exactly the same as a cap rate. I've got another podcast that I'll put in the show notes about cap rates and it's a little bit different technical definition. What I'm talking about here, though, is the price you pay, plus any investment you make and repairs closing cost. So your total ratio of the rental to your total investment. It's called a yield. It's like money in the. A certain amount of money in and you get a certain amount of money back and this is a percentage kind of like an interest rate percentage or a yield on a CD account or something.
And whatever that ratio is, is one way to measure the income performance of a property that you have now.
Overall, in today's market yields, rental yields have gone down because prices have gone up.
So you're it's very difficult to get higher income yields because the entire economy, the interest rates are really low. Income rates are really low. So that is a natural tendency overall today. But you what I like to look at is start off and say, all right, this property has a six percent rental yield, for example. Now, what does it mean then? The next thing I want to look at was my cost of financing. If I'm going to go out and borrow money, let's say I can get money at six percent interest and I'm going to pay.
Just to keep things simple here, I pay my private lender 6% interest and I just pay interest only I don't pay any principal for the moment. And my property has a six percent rental yield. So it produces six, I pay six, essentially what I'm doing is I'm breaking, breaking even on the debt that I'm borrowing.
I'm not going backwards. I'm not going forwards. And what that that demarcation, that kind of break even point is something called positive or negative leverage.
So if I were to borrow money at 5%, instead my property produced 6%, then I would have a positive leverage, meaning I'm making about one percent margin on the money that I'm borrowing.
My property is producing six percent. The money is costing me five percent. Therefore, that's a positive leverage. I have a margin of safety and that's actually a good thing.
And that's actually one of the most important numbers today that's not really talked about much, but whether you have positive leverage or not. So interest rates have been going down and down and down, but prices have been going up and up and up.
And so in some cases, even though the rates have gone down, if the prices kind of push beyond the rate at which you still have positive leverage or at least break even leverage, what that means is you are losing some cash flow by borrowing money. You're having to feed the investment, so to speak. You're going to make a lower cash on cash return because of that.
So what I like to look at is, number one, getting is low interest rates as you can, also getting as long of payment periods as you can. So a 30 year amortization is actually can have a much lower cost of funds. You've got to pay out less money because you're paying it over a longer period of time. And when you're looking at cash flow being important and being able to withstand the ups and downs of a market, having a longer time period to pay it back, a lower payment, either 30 year amortization, I even pay interest only on some of my loans.
That's a little bit more aggressive. And it's not something I would recommend. You know, right off the bat. It's kind of a good discipline to amortize your loans and pay down the principal every month. I tend to do debt snowballs by paying my private lenders interest only, and then I'll take all the savings and pay down one loan over here instead of paying a little bit on all of them.
So just a little bit different strategy.
But the point here and the calculation you can do that. I'm going to do actually some YouTube videos on in the future so you can see me visually doing this as well.
But what I recommend you to do is analyze the rental yield or the rental return on your property as if you did not have a debt on it. Find out what that ratio is and if it's six percent, if it's five percent. Now, compare that to your total cost of funds from borrowing the money, not just your interest rate, but what's the total payment on an annual basis divided by what your total investment is.
If your total cost of funds is seven percent and your, in your cap rate or your rental yield is six percent, you have a negative leverage and you want to be aware of that. And I think that's a more risky position to be in if you want to be able to hold and withstand kind of the ups and downs. There's not any room for error there. On the other hand, if you're buying properties at, you know, a six percent rental yield and then you are borrowing like a three percent interest rate on a 30 year amortization, you're actually going to be pretty positive.
I think the total loan cost there is about five percent when you include principal payments and everything.
So you're going to have a little bit more margin there. So you just want to keep in check there. Am I borrowing money buying this property at a price such that the income sufficiently pays me with a little bit of margin to borrow this money and I'm taking this risk of borrowing money. Am I doing it in a safe way? And what happens if you can't? What happens at the market that you're buying and you're just not able to find deals at a reasonable level, like even buying properties at a 80% of full value, like you got a discount on the full price.
Still doesn't get you to that point where you're having positive leverage, then I would consider other markets, or I consider other niches within that market. Or some people say niches. I say niches. You might need to look at different types of strategies and rental properties. Maybe you're not doing single families because those are too expensive. Maybe you go to multifamily or maybe you go to doing some Airbnb properties, or maybe you're doing a house. So you're going to have to look outside the box and think outside the box.
But the discipline and this goes back to our Aikito master, a real estate investor. The discipline is buying properties that have good prices and you can find good price deals on them, but also where the income makes sense, because that's a big part of you. Being able to withstand changes in the market is having good income discipline. OK, so let's summarize what we've talked about today. I start off saying that predictions are really in a form of entertainment that was backed up by Warren Buffett, Ray Dalio and Templeton on that one, that our focus should not be on making specific predictions.
We should definitely gather information and we should definitely pay attention to what's happening out there. But more like an Aikito master, we are trying to play defense. We're trying to play offense. We're trying to pay attention to the details of what's happening right now and do our best to be able to react to any different direction that the market goes. I personally, I think we should be prepared a little bit more than in the past.
Or something changing for having a little bit more cash right now in case we have a down market, in case there's opportunities on that other side. But I'll be honest, I'm also because I don't trust my own ability to predict.
I'm just, as, you know, almost as likely thinking that what does this thing keeps online for five or six years like this and the market keeps going up and we keep having price changes that go in the other direction, like that's just as possible.
And and so you want to be prepared either way. You want to be that balanced real estate investor. And most importantly, you want to have a strategy that works in any market. You want to be adaptable, you want to be flexible.
And I hope what I presented today is part is is a way to do that, that you want to play defense by getting rid of some of your vulnerabilities, sell some properties off, refinance risky debt so that you're really solid on your debt on that side of things.
And I didn't add this earlier, but if you are later in your career where you've already made enough money, you know, maybe paying off some of your debt would be a good idea.
That's we're in kind of that mode right now that growing bigger and getting more isn't necessarily the right thing to do.
You know, take some chips off the table, pay off some debt, keep some debt on some properties. In case you think there's some inflation, pay off some other properties to increase your cash flow, reduce your risk, particularly if there are some of those riskier kind of commercial debt.
I would pay it off, you know, to start working towards having a free and clear, simpler portfolio.
At least that's something I prefer. And then we're not only playing defense, though, we're playing some offense and that you want to find deals where the terms makes sense and you want to find deals with strong market fundamentals.
I actually need to go into that a little bit. I want to send you to a podcast, podcast number 41, where I spent a lot of time on analyzing a market. What mean what does it mean to have a good regional market? And a lot of it has to do with demographics, with the economics of that market. What types of industries are coming in there? What types of employment are there? So you want to check out the regional level of your market.
And a lot of regions around our country are actually doing pretty well, but some are better than others. And so you want to check that out.
And then on a on a micro level, you want to invest in micro locations like neighborhoods, zip codes within your regional market that have higher likelihood of being successful.
And so in that podcast and in the companion article, I go in a lot of detail about the types of things you want to look for. Sometimes in urban areas, it's parks and greenways and being close to commercial centers, bus lines, subway lines, things like that. If you're in a more suburban market, it's about safety is about school districts.
But it's also more and more there's some surban locations there, kind of a mix of urban and suburban where greenways and parks and being close to those and walkable to those types of things and having kind of quality of life amenities are really important. So don't discount those location factors today when everybody's bidding on properties.
If you're going to target some properties, look for the ones in the best locations and then also look for terms and financing and maybe even a future topic.
I'm going to talk about using more creative financing, using options and leases in different ways that you can buy properties with lower risk, using leverage, but using lower risk in order to get kind of cover yourself in worst case scenarios.
So there's more to talk about. I'm going to talk a little bit more in the future and some other episodes and some YouTube episodes about how more strategies to thrive and in 2021.
But I'm going to close with you with a quote with a it's actually a prayer, the serenity prayer that I if I understand. Right. They always say at the beginning of Alcoholics Anonymous meetings, but I think is relevant to us as real estate investors.
And here's how it goes, says God, grant me the serenity to accept the things I cannot change, the courage to change the things I can and the wisdom to know the difference, whether you're religious or not, is more more about there are things in life you can control.
There's things in life you can't control. This is very relevant to the market right now.
The wisdom comes in to knowing the difference.
And everything I've talked about today, I hope, are things that you can't control.
You can do something about that empowers you, gives you something to do today instead of just listening to pundits say this is what is going to happen next. This was going to happen next. That's not approach to a wise investor. A wise investor pays attention to things they can control and has the courage to go do those things.
So I encourage you and wish you best of luck and taking action. It's always a pleasure to have you here listening to the podcast. You'll listen to some future episodes. As I said earlier, every Monday, I had new episodes that come out. So if you're new to the show or just haven't subscribed yet, be sure to hit that subscription button. So you'll be notified of every episode as it comes out. And also love to hear from you.
If you have any feedback on this episode or others or ideas for future episodes, send me an email at [email protected] I'd also like to ask you a favor.
If you like the show, if you like what we're doing here, if you leave a review on your favorite podcast player, people read those that helps us spread the word. So I would appreciate it if you would take the time, just a few minutes to leave a review. Very, very appreciative of that. Also, I'd ask you to subscribe to my email newsletter.
That's the main way I stay in touch in between episodes and you also get something called my real estate investing toolkit, you can get all this at CoachCarson.com/reitoolkit.
New subscribers get that toolkit sent to them right away.
And it includes a closing checklist, a deal worksheet and lots of other goodies that will help you with your real estate investing and your journey to financial independence. You can get it all for free.
CoachCarson.com/reitoolkit. This is also the time of the show when I get to give a copy of my book to one of you chosen randomly. A book is called Retire Early with Real Estate.
And this is someone who left a review on the podcast.
This week's winner goes by RileyHoltze12. That's the username on Apple podcast that was left on December 7th, 2020. And the review says this investing beginning's soon to be college graduate and began. My real estate investing coach does a great job of breaking down things for beginners like myself has made me confident to begin my investing with a live I live in and rent strategy. So that's awesome. And he says, Thanks, Coach. Thank you to you, Riley.
I appreciate you leaving the review and listening to the podcast with your best of luck with your next deal. If you'll send us an email at [email protected], we will get you a copy of my book, Retire Early with Real Estate.
I also want to take this time to thank some people behind the scenes who make each one of these episodes possible, including my podcast editor extraordinaire, Michael, when my amazing virtual assistant Megan Thompson and my wife Kari, who helps but behind the scenes with things like bookkeeping, also organizing and just listening and discussing ideas with me very patiently. So thank you, Carrie. And to my kids, when they're not in school for being very quiet in the background when I record these episodes.
And of course, most of all, thank you to all of you, the listeners of the show. The show exists because of you, because of your feedback and because of your progress on your journey to financial independence. I appreciate you. Thanks for spending some time with me today. Till next time. I'm Chad Carson. I'm your host. And you can also call me coach. And this is the Real Estate and Financial Independence podcast, which is all about helping you invest in real estate, achieve financial independence and do more of what matters.
See you next time.
Links From the Episode:
Help Spread the Word!
Help me reach new listeners on Apple Podcasts by leaving us a rating and review! It takes just 30 seconds. Thanks! I really appreciate it!
Sharable
Get My Free Real Estate Investing Toolkit!
Enter your email address and click "Get Toolkit"