"After 32 years of investing, I still buy houses instead of apartments or shopping centers. Why? [Single Family] Houses make me more money with less work than any other investment.
  John Schaub, Building Wealth One House at a Time
John Schaub (JohnSchaub.com) is one of my favorite real estate teachers.
When asked, I recommend his book Building Wealth One House a Time to all real estate investors.
Some of the best strategies and investing philosophies I have implemented came directly from John. And some of the biggest mistakes I've made were forewarned by John as well!
One of John's main teachings is summarized in the quote above – stick to single family houses.  I would add to this category small multi-units like duplexes, triplexes, and quadraplexes in good neighborhoods.
John teaches that you can't beat single family houses as investments for a number of reasons. I've summarized them here:
1. Hybrid Investments (Best of Both Worlds):
Houses are unusual in the investment world, because they provide rental income but their retail value doesn't depend directly upon that rental income.
A 10 unit apartment building, for example, will go up or down in value depending upon how much net rent is produced.  A well cared-for vacant house can go up in value just like a rented one because your buyer likes the home and the neighborhood, not the income.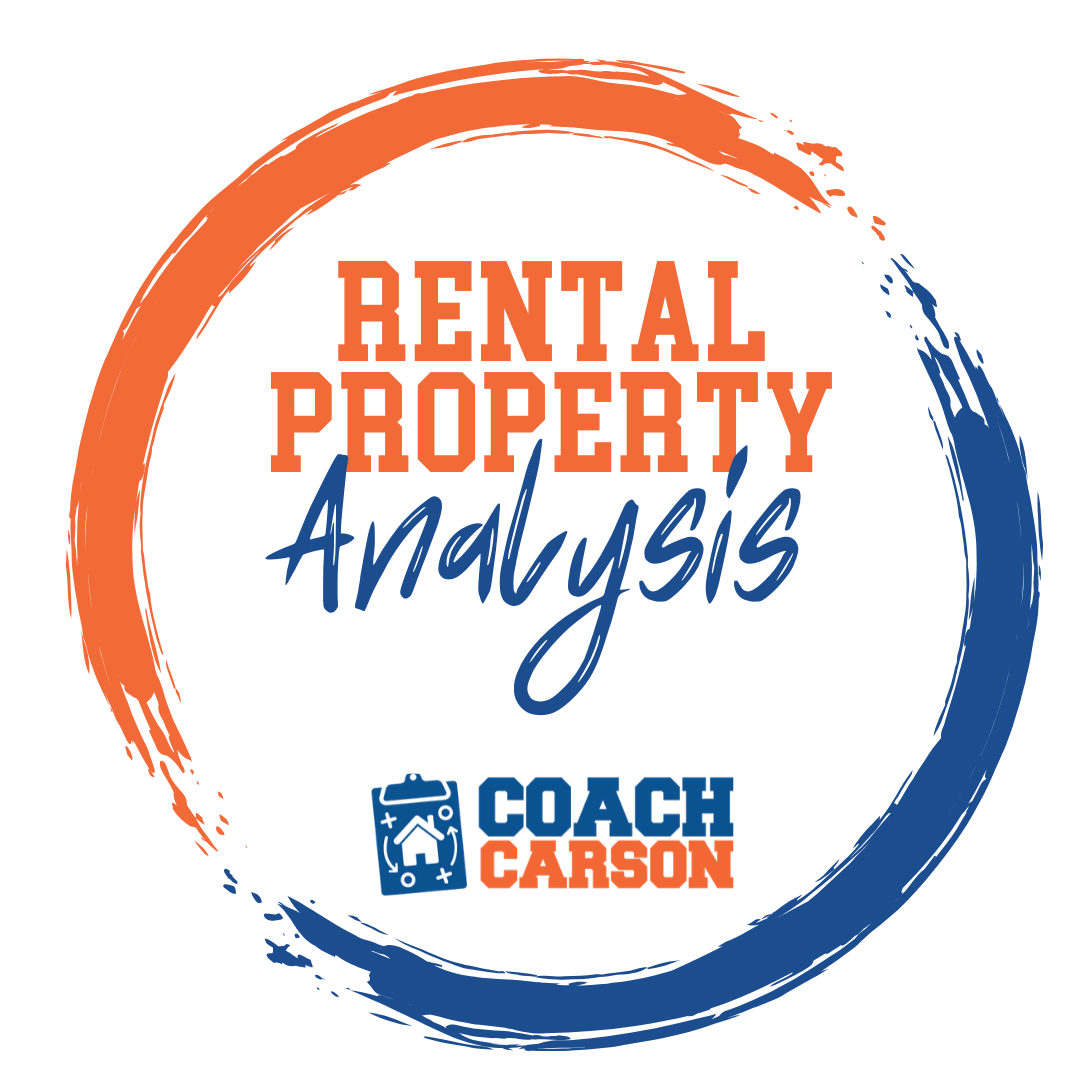 A course by Coach Carson that teaches you how to run the numbers so that you can confidently analyze and buy profitable rental properties. It also includes Coach's rental analysis spreadsheet.
Get the Course
2. Safety:
Even during bad real estate markets, ask any banker what they'd rather loan money against – a single family house in a nice residential neighborhood, a large commercial property, or a stock portfolio?
A single family house is usually the banker's answer. That should tell you something.
Houses are relatively stable and tend to hold their value.  There are many more buyers for houses than other types of real estate.  Vacancies are much shorter because the demand for residences is always high compared with commercial properties.
3. Non-professional Sellers:
When you buy houses, you often deal directly with a seller who is not a full-time, professional investor.  Professional investors normally want to make a profit when they sell, and they're often better negotiators than you are.
A normal homeowner may be selling for non-financial reasons, and solving that problem is worth money to them.
4. Unlimited Supply of Deals:
Every day new sellers decide to sell their houses.  People move, start families, get divorced, retire, and pass away.
There are many more single family houses in an average town than any other type of real estate investment.  This makes for an abundant source of new deals.
5. Lower Management Tenants:
Compared with apartments, lower end houses, and mobile homes – tenants for decent houses in decent neighborhoods are much more self-sufficient and tend to pay on time more often.  If you value a wealth of free time and addition to a wealth of money, this factor is crucial.
6. Divide Your Money Into Multiple Baskets
One of the key principles of investing is to diversify. This basically means don't put all of your eggs in one basket in case you're wrong or you screw up (which happens to even the best).
Owning single family houses allows you to spread out investment capital among different deals in different neighborhoods.  For example, with the same amount of money it takes to buy one 10-unit building in a single location, you might diversify by owning houses in several different locations.
7. Get Retail and All Cash When You Sell:
This is perhaps the most compelling strength of single family houses.
The federal government has a long term vested interest in subsidizing the housing market.  It's very political that people are able to buy houses.  Therefore many loan products are available that allow buyers to purchase a house and pay you all cash.
When you sell a mobile home park, commercial building, or lower priced double wide or house, it's much more difficult to get cash at a retail price when you sell.
Final Thoughts:
The beautiful thing about a free market is that everyone can do business in their own way and it still works.
This philosophy of investing in real estate is just one of many.
There are other investors who love large mobile home parks. Some who buy large multiunit buildings. Still others swear by commercial shopping centers.
Each property type and specific location comes with its own set of pluses and minuses.  The meta-lesson here is to consider your own choice of investments thoughtfully.
If the benefits of single family house investing suits you, be sure to check out John Schaub as one of your sources of education.  And of course, keep reading more of my blog and E-Newsletter as I'll share more examples and strategies from this philosophy.
enthusiastically your coach,
Chad Carson
Get My Free Real Estate Investing Toolkit!
Enter your email address and click "Get Toolkit"