Episode #183 – It's natural to have fears when you begin investing in real estate. Char Tovar was no different when she began looking for long-distance rental properties. In this interview, she shares her personal concerns and how she created a plan to overcome them. She also shares the details of the two rental properties she purchased in Tennessee while thousands of miles away in Washington State.
You can listen to or watch the audio interview below. Below you'll also find a special bonus written interview with Char where you can learn other details not covered in the podcast.
Enjoy!
Listen to the Podcast Here:
Watch on YouTube Here:
Links from the Conversation:
Personal Capital – what Char and Chad both use to track net worth and accounts
Researching a new market:
Stessa – Cloud-based rental property analysis and tracking
Sharable: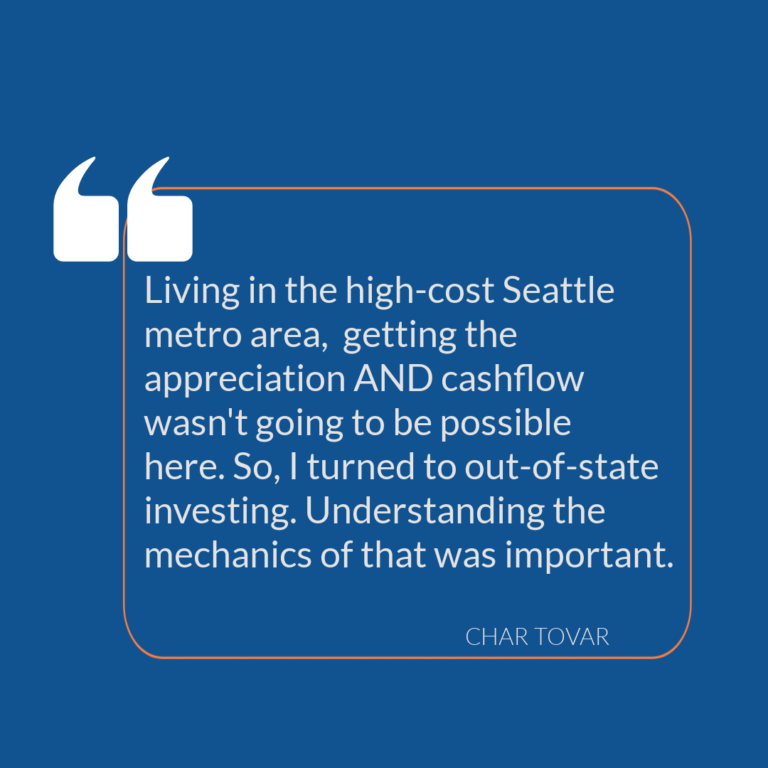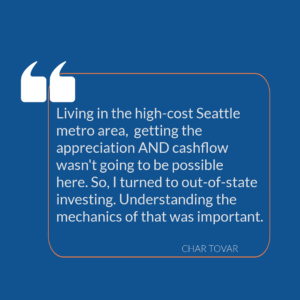 Written Interview:
Name
Char Tovar
Age
50's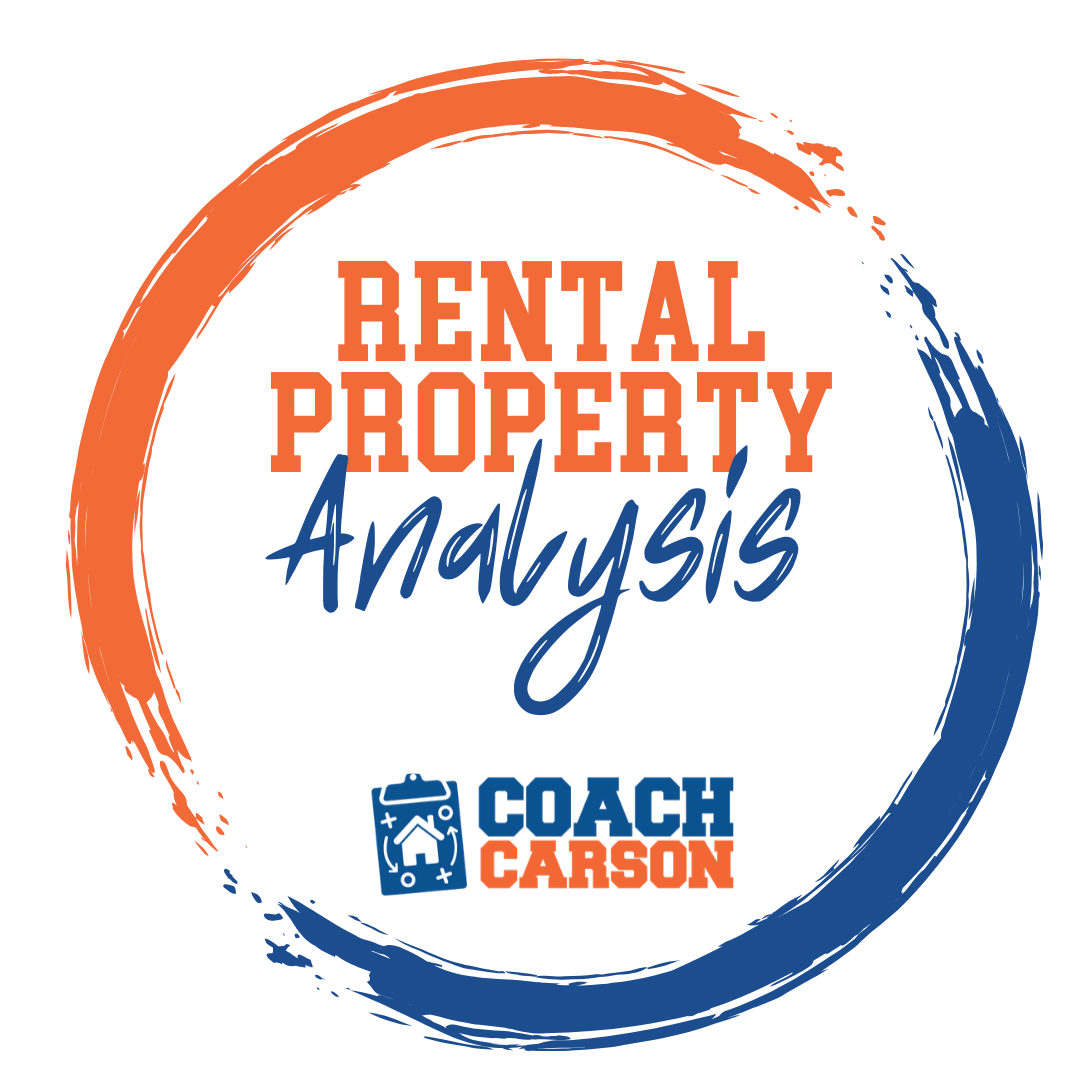 A course by Coach Carson that teaches you how to run the numbers so that you can confidently analyze and buy profitable rental properties. It also includes Coach's rental analysis spreadsheet.
Get the Course
Your home location
Gig Harbor, Washington – in the Seattle metro area
Career/Source of regular income
(Full time) Strategic Consultant – Commercial real estate portfolio planning & organizational performance management for large corporate clients (Fortune 500)
What hobbies do you enjoy? What do you do for fun?
Real estate investing of course! : ) Having moved to the Gig Harbor area a few years ago, we started hiking and exploring the area for fun. It is a truly beautiful area. I also enjoy travel, sports, reading, movies and spending time with my family – I have two adult children – one works for a "big tech" firm in CA and one just graduated from law school. We have a lot of fun together.
A fun/interesting/little known fact about you?
Everyone in my family rides motorcycles and we have gone on family rides together!
Financial Independence/Retirement Plans
Do you have plans for financial independence/retirement? Or have you already reached financial independence?
I'm not there yet, but I definitely have a plan for reaching financial independence (I am a planner : ).  The plan starts with creating enough passive income through buy & hold investing to be able to "semi-retire" from my job. Because we moved to such an expensive real estate market, I have had to start by investing out of state to make the buy & hold strategy work to get passive income and appreciation.
What does financial independence mean to you? Why do you want to achieve retirement/financial independence? What kind of activities and projects will you spend more time on?
Investing would be the new "full time" job to eventually achieve early retirement (hopefully), build up an asset base and ultimately achieve wealth/financial independence. The ultimate goal would be for my family and I to have much more time together, to travel more and to give back/work with my church, charities and the community. A big way that is contributing to my achieving this is to join investor communities and events to surround myself with the support structure that aligns with my goals!
If you had to start over and wanted to become financially independent, what's the most important thing you would focus on?
Personal finance and trying investing early on. My focus would be on learning these areas as a young person. It would be a lot easier to learn through trial and error – which is how I learn best – as a young person. I would include all types of investing in this – real estate, stocks, funds, etc.. I see my son doing this now and am sure that he will likely be pretty well off at an early age. He's expressed interest in real estate investing too so we are sharing a lot of investing knowledge lately.
Real Estate Investing
Can you describe your approach to real estate investing? For example, is your strategy fix-flips, rentals, house hacks, wholesaling, notes, or more than one? And what niche(s) and type of properties do you buy?
Like many people, I started out with house hacking my primary residence. My strategy for the last year has been Buy & Hold single family residences in out of state markets – primarily Clarksville & Nashville, TN and Kansas City. I currently have two single family rentals in Clarksville and sold my SFR in KC earlier this year to capture the equity and appreciation to buy the ones in Clarksville. Due to my relative success in investing so far, my husband has become fairly interested in real estate investing as well. We are looking to try a BRRR in these markets and are currently looking for the right property to do this either in a single family or small multifamily. He has also taken an interest in possibly getting into being a private equity lender so we are investigating that option as well.
I am also looking for ways to leverage the appreciation market I live in as well. I recently got my real estate license so I can try to make some additional money to put toward the OOS property purchases. When I get more familiar with the area, I could possibly fix and flip through value add to accelerate income as well.
How did you get started? How did you get the money? Did you have any help?
My first big push down this road was reading the book Rich Dad, Poor Dad by Robert Kyosaki. I have heard lots of people say this was a beginning point for them, but for me it was a bit different since I already worked in the real estate field. For me, it was the realization that I could take my corporate real estate knowledge and use it to make money in residential real estate for myself. Interestingly, they turned out to be alike in some ways but very different in others.
My real start was "house hacking" my primary residence which we had lived in in Kansas City for nearly 20 years. We had become empty nesters at about the same time my husband got his job in Washington so we were going to move anyway. I could work remotely so I could move anywhere. It really became a great opportunity for us to start. I hired some contractors to do some cosmetic refresh and interviewed local property managers who validated the rental market demand and rental rates, so we hired them and we moved out.
What were the biggest obstacles you faced when starting? How did you overcome them?
Interestingly, it was fear of being an out of state owner/investor without direct control of my major asset. You would think with my background I would have had far less fear but it is completely different when 1)  you are conditioned to manage risk and cost, at scale, in real estate – you always have a back up plan to insure business continuity if things go sideways, and; 2) it is potentially going to impact your family, future and personal finances. This is where commercial and residential are very different.
I approached it as a risk mitigation exercise and joined the local RE Investing group in Kansas City which is large and very active. I was able to network with people who were rental property owners and landlords who helped me understand the risks and what they did to manage it. It helped me understand and create my own plan for my one rental property as well as think about how I might scale up which I found to be an issue. The residential real estate industry is very fragmented and it is up to the investor to build their own delivery process and network of partners.
What % of your net worth (roughly) is in real estate?
About 38% – another great improvement in our personal financial management is using Personal Capital to be able to answer questions like this.
What other types of assets do you invest in? Why? How do they fit with/complement real estate investments?
The lion's share of our investments come from our corporate jobs and are in 40lKs and IRAs. We found a CPA last year who specializes in tax management for real estate investing and is helping us build our retirement plan from a tax management standpoint.
Real Estate Deal
What's a memorable real estate deal you've made? Why was it memorable?
It would be the first single family rental purchase I made in Clarksville, TN. It was memorable on many levels but primarily it was the first one I did after taking Coach Carson's class and building my "Team" to deliver the deal. It actually went according to "plan" due to a great realtor who found an off market property that only needed a little cosmetic work.
How did you find the deal? Why did the owner sell?
I had been out bid on at least 10 prior offers due to this crazy market and this was a good deal. It wasn't a "great" deal but the numbers worked and the market is a hot rental market because it is near a military base. The owner was a military owner who was getting deployed and didn't want to deal with fixing it up to sell.
What were the basic numbers like purchase price, remodel costs, rent, resale price (if applicable)?
Purchase price: $230K
Remodel cost: $5600
Rent: $1,895
Cash flow: $378/month
How did you finance the deal and raise down payment funds?
I had sold my rental property in Kansas City and had made enough in equity and appreciation to pay the down payment.
What has been the overall effect of this deal on your life? Lessons learned?
It was proof positive that this would work! Investing out of state is far easier than I initially thought – that's not to say it is easy, it still requires work and strict adherence to your own rules of engagement: your property criteria, standards and strategies. These are the things that will insure your success and mitigate much of the risk. It really takes the fear factor out of it.
I'd say the lesson learned is that the team you engage is the rest of the success formula. The ability to communicate regularly and effectively as well as being able to Trust that they will execute and deliver their services (from realtor to contractor to property management) as agreed. I believe this trust makes ALL the Difference and you need to have the agreement up front.
Personal Growth/Development
Do you have any tools that help you manage your life, like a physical planner or digital software?
Google Workspace (for small business) has been a great tool for me. It is very cost-effective (less than $20/month) and I created an LLC and can do everything I need in it. It even provides a unique business email address through gmail, stores documents, and has tons of extensions for things like expense tracking & management & project management. Highly recommend.
What does a typical morning routine look like for you?
Because of my regular job my hours can fluctuate so I can't say I have a specific morning routine. I do make sure to have a good breakfast and stay hydrated throughout the day with a nifty water bottle that lights up to remind me to drink on a regular basis. It really does work! I get my workouts in by walking at midday or after work when I can.
What's your #1 habit to stay personally productive and fully engaged in life?
Spending time outdoors as often as possible. Whether just for a short walk with my dog or a day of hiking with family at a beautiful venue. Getting out into fresh air and seeing the world is important.
Who have been your most important heroes, mentors, and/or teachers?
My husband, my kids and a couple of key mentors/teachers in chronological order: Chad Carson (the RESS, no REDS, course was the first one I took that inspired action), Agents Invest: Jennifer Beadles and Sarah Weaver, my accountability partner who helped me build my team and take the steps!
What are your favorite books, blogs, or authors? Can be categories in business, investing, or life/philosophy (other than a sacred book)?
I am a big reader and aside from Rich Dad, Poor Dad, which I mentioned earlier. I will try to keep it to three other books very impactful and inspiring:
Building Wealth One House at a Time by John Schaub – A great book for thinking through the best and most methodical (conservative) approach to RE investing. This book helped me a lot – thank you for introducing it and John Schaub to me.
Retire Early with Real Estate by Chad Carson – This focuses on building and achieving the "end state" plan with a lot of information on the approach and various approaches to achieving the goals I have for myself at my age. Good stuff for the planner in me.
One Rental at a Time by Michael Zuber – You might see a pattern here. I really like the idea of starting slow and learning all you can, then taking the next step. This is a quick read and has some quotable quotes.
What legacy do you want to leave personally and in your career?
I'm just in this to retire early from my W-2 job and become a semi-retired investor. I'd like to spend more time with family, working with my church & charities and to travel a little bit. If I can provide more generational wealth to my kids, that would be ideal.
Final Advice For Other Investors?
Any big mistakes you've made that others should avoid?
Waiting too long to take the step. There is no better way than to just start but make the assumption it won't be perfect. You are after progress – not perfection. My first property I treated like a test, this worked great for me. I found it wasn't making as much I could make elsewhere but had I not done it, I would never have learned this. The next one was much better.
What advice do you have for a young person just considering their future career and life as an adult?
Always be learning – read, get a mentor, take courses and take every advantage of speaking to and asking questions of any investors you come across. Whether they are in an online webinar taking questions or you find them in your local market, you should always reach for the next level of learning.
Any final tips for others looking to invest in real estate and achieve financial independence?
Take action! Progress not perfection – moving forward at least a little bit, every day.
Get My Free Real Estate Investing Toolkit!
Enter your email address and click "Get Toolkit"