In my Investor Profile Series, I use a question & answer format to share the stories of actual real estate investors at different stages of their investing careers.
Today's investor profile is about Kat Horn from the blog cashflowkat.com.  I found her blog fairly recently, and I loved her sense of humor and inspiring real estate investing story. I also loved the way she balances family and investing so that she can be there for her kids. I think you'll be as inspired as I was. 
Now, here's Kat to share her story …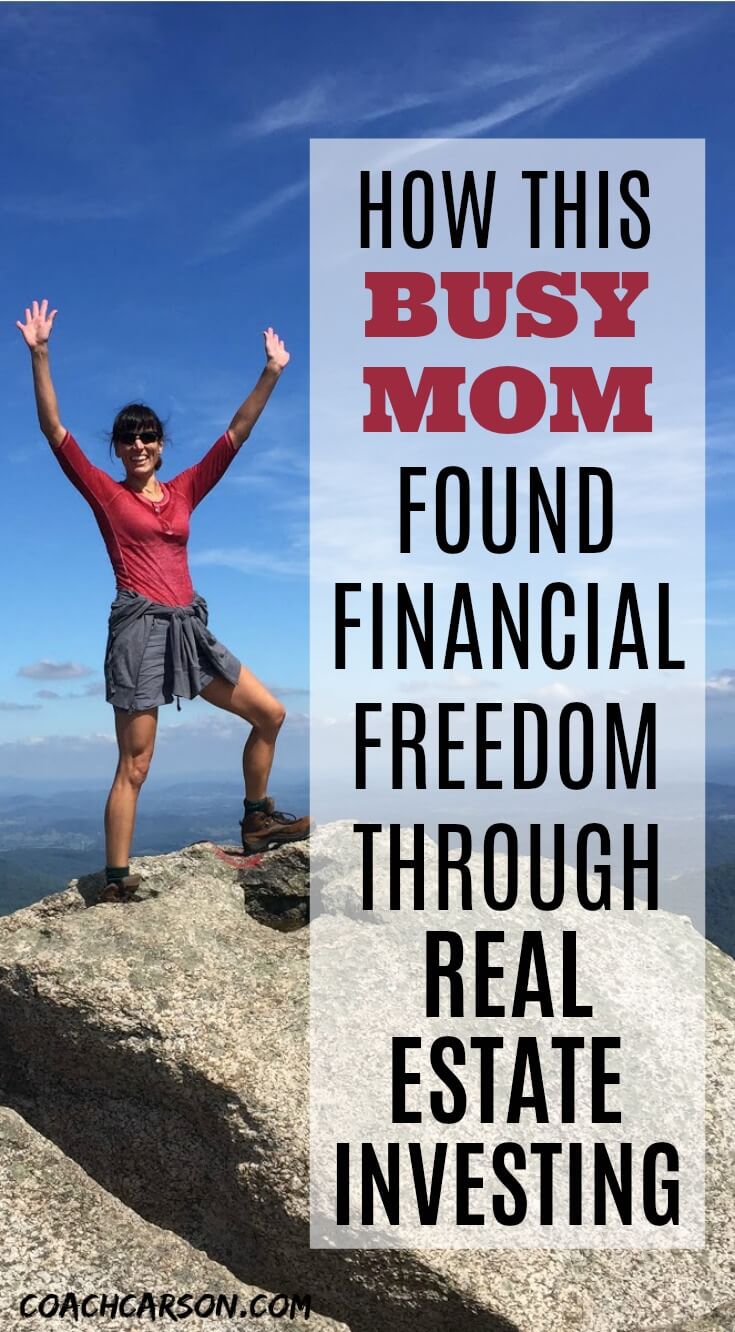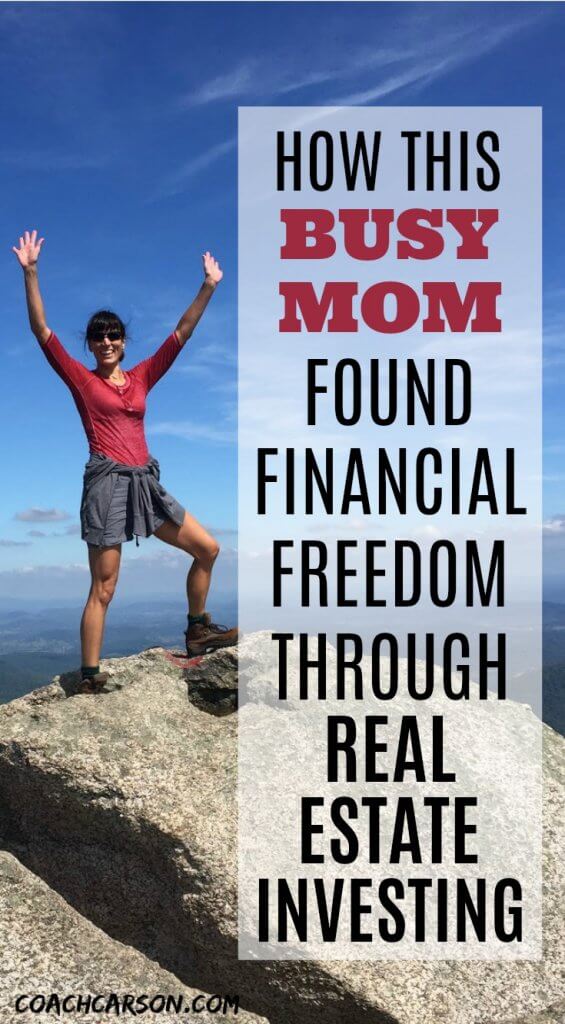 Personal
Name: Kat Horn
Age: 47
Your home location: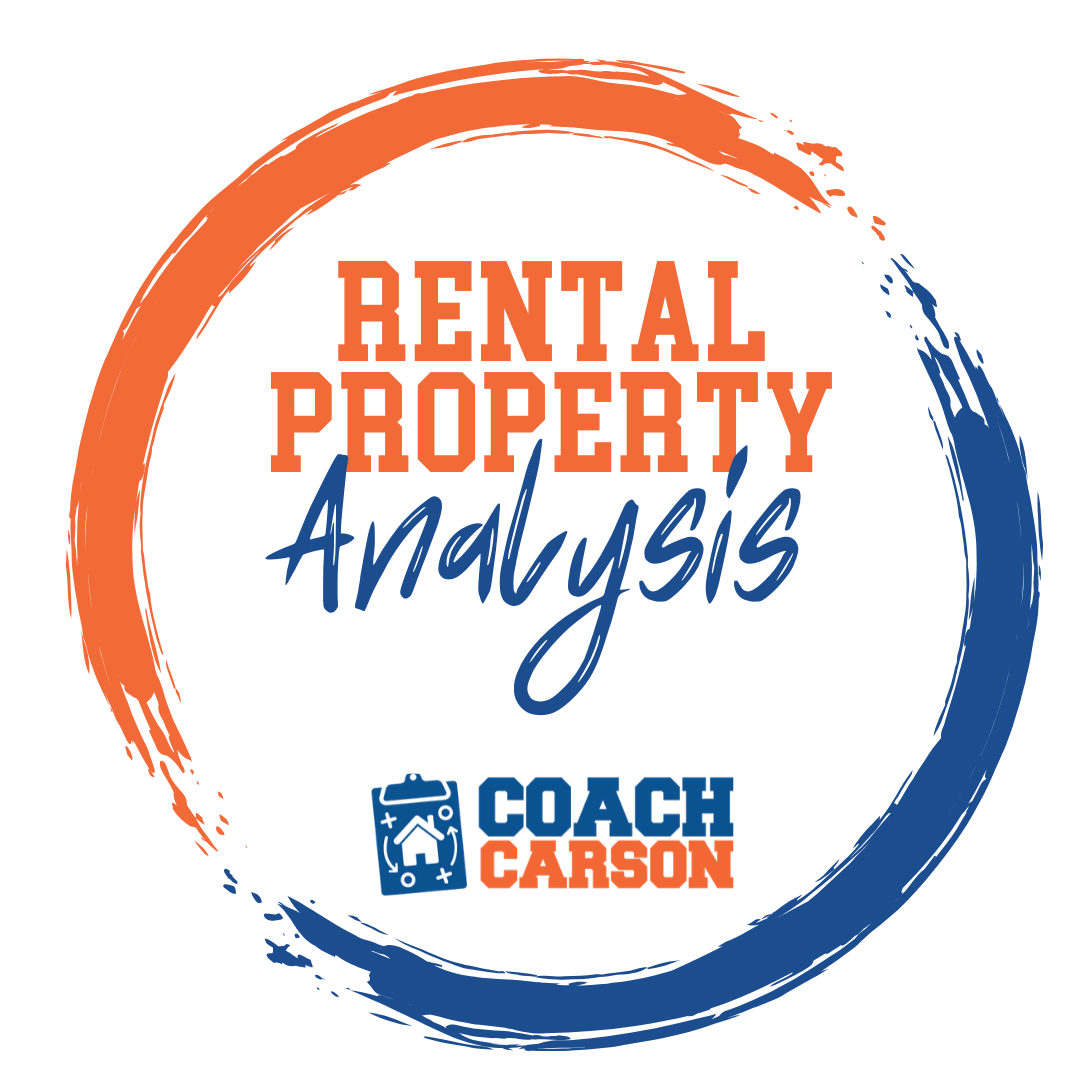 A course by Coach Carson that teaches you how to run the numbers so that you can confidently analyze and buy profitable rental properties. It also includes Coach's rental analysis spreadsheet.
Get the Course
Fredericksburg, VA (the southern-fried suburbs of the Washington DC metro area)
Career/Source of regular income:
Real estate investment income
What hobbies do you enjoy? What do you do for fun?
I love to hike and run, to watch musical theater and SEC Football, to boat at Lake Anna and bike from Crescent Beach to the Matanzas Inlet for a 99¢ Polar Pop.
[Chad: Musical theater + SEC football! What a combination! As a former college football player myself, I'd say there is a sort of drama to football that can be appealing to watch:)]
A fun/interesting/little-known fact about you?
In my twenties, I was on the fast track to a lucrative career as an attorney, but I opted-out. I went to live with my boyfriend (now husband) on the Micronesian island of Pohnpei and to backpack around the world for a year, living in hostels and campgrounds.
[Chad: Yeah! I love that kind of move. Bold and outside the box. My post-college moves weren't quiet as bold as yours right away, but I also opted out of more traditional paths. And real estate investing picked up the financial gap – as it did for Kat.]
Financial Independence/Retirement Plans
What does financial independence (FI) mean to you?
Independence means the freedom to leave the Washington DC area! I'm slightly kidding (it's not that bad), but in fact my husband's employer has moved us several times throughout the course of his career and essentially dictated our location. Once he retires, we have the ability to move anywhere, which is almost daunting. I argue for keeping a home base in the US and taking extended international sabbaticals, booking AirBnbs for months at a time but then returning home. My husband is even more of a vagabond than me and would probably give up a permanent residence altogether!
I definitely want to keep our footprint small and modest in the US, and spend more of our retirement income renting cool places in great locations around the world. And I'm slowly learning to spend a little more money here and there to fund an enjoyable lifestyle. I've "been there, done that" with super-frugal ways, and I'm looking forward to kicking it up a notch in retirement!
[Chad: We are so on the same page here, Kat. I think we're also opting for the small footprint in the US and travel to cool places., both within the US and internationally. lifestyle simplicity + real estate income is a powerful combination!]
Do you have plans for financial independence/retirement? Or have you already reached financial independence?
My husband and I are financially independent now, as we could fund our lifestyle solely with our investment income. But my husband has yet to retire. He has a few more years to work until he earns his full pension, and he has no intention of leaving that on the table! So our lives have not really changed, and probably won't, until my husband fully retires
If you had to start over and wanted to become financially independent, what's the most important thing you would focus on?
Ummmm…buying more real estate! Seriously, I would have been investing in rental properties, earlier and more often. I almost bought an 8-unit garden apartment in Playa Del Rey, CA with a partner back in 2003. The area has since exploded, and, if I had done the deal, I would have made millions … ahhhh, the what ifs!! But happily I did enough investing over the years to give myself an excellent source of income and some great lifestyle options in retirement.
[Chad: It's funny how I meet so many people who said they'd do more real estate, earlier. I haven't met many who say the opposite. So, those of you on the sidelines – it's time to get started!]
Real Estate Investing
Do you invest in real estate? If so, why do you like it?
I love real estate as an investment. It has given me the ability to generate income and grow wealth while staying home with my kids. The term "side hustle" is all the rage now, and I see real estate investing as the ultimate side hustle business. Of course plenty of real estate investors recognize the benefits of owning rental properties and make it their full-time endeavor. I've always kept investing on the side, so I could focus primarily on the awesome (and exhausting!) job of parenting.
[Chad: "Real estate as a side-hustle" is one of Kat's unique angle's with real estate investing (which I love). And I also appreciate and look up to her prioritization of parenting. For me, it's always been the toughest but most rewarding job!]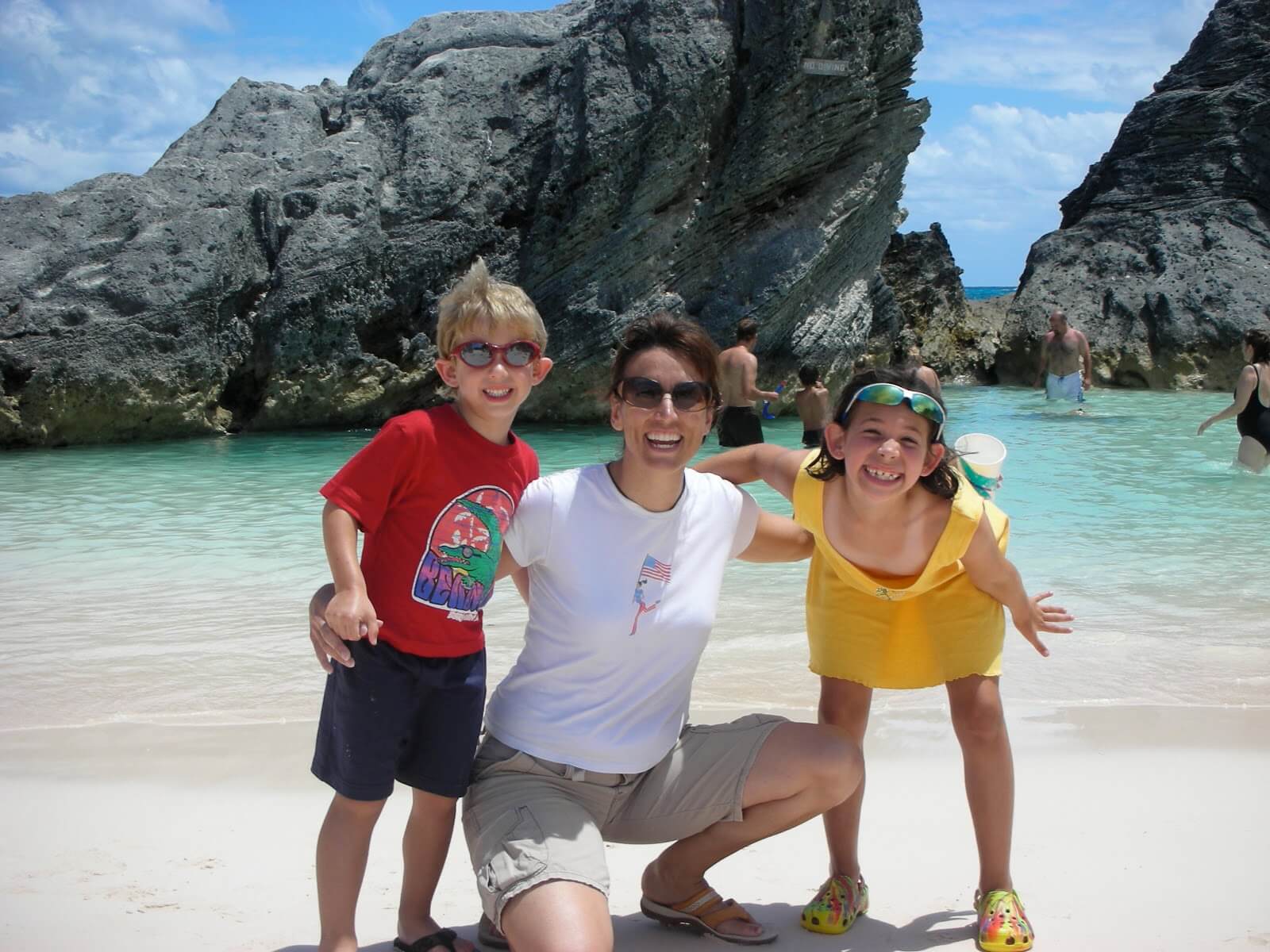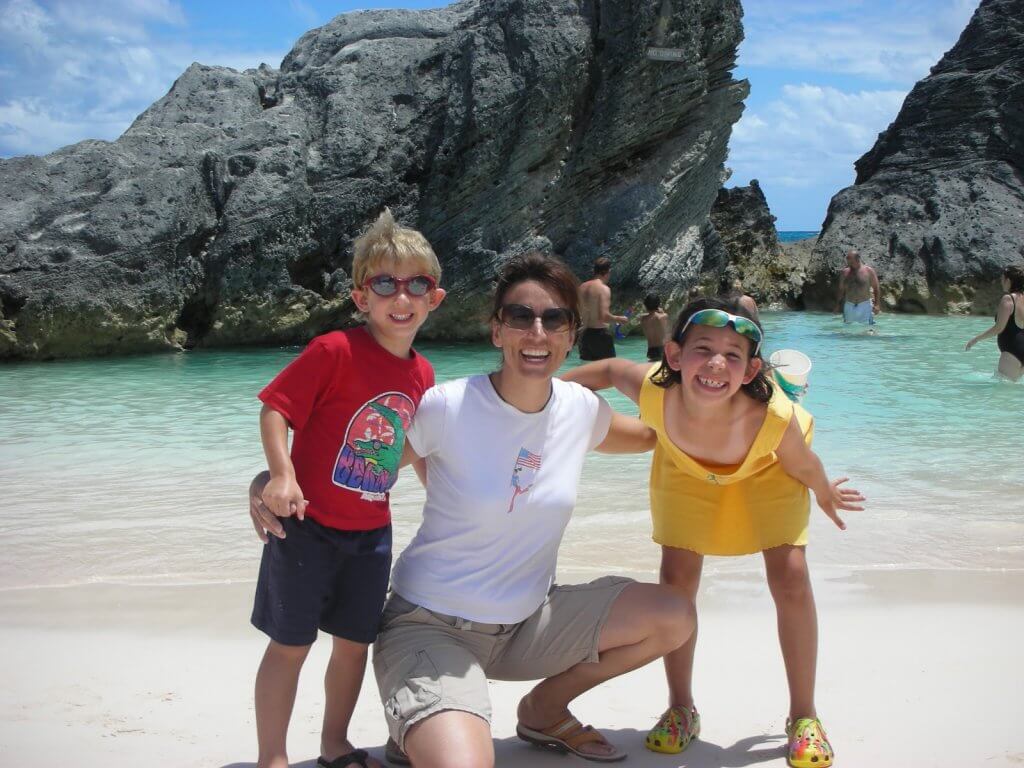 Can you describe your approach to real estate investing using vacation rentals and urban condos?
I am a buy-and-hold residential investor. I own and self-manage 11 "doors," consisting solely of single family homes and two duplexes.
I am also the self-proclaimed queen of the live-in BRRRR! (For those who aren't familiar, BRRRR stands for Buy, Rehab, Rent, Refinance, Repeat). I joke that I've never met a house that I wanted to sell, because we've moved frequently and almost always kept our houses by converting them to rental properties. And, yes, we did it the hard way! We often bought properties in need of repair or renovation and lived in the properties through the rehab process, doing a fair amount of the work ourselves. Occasionally we would even recruit some child labor…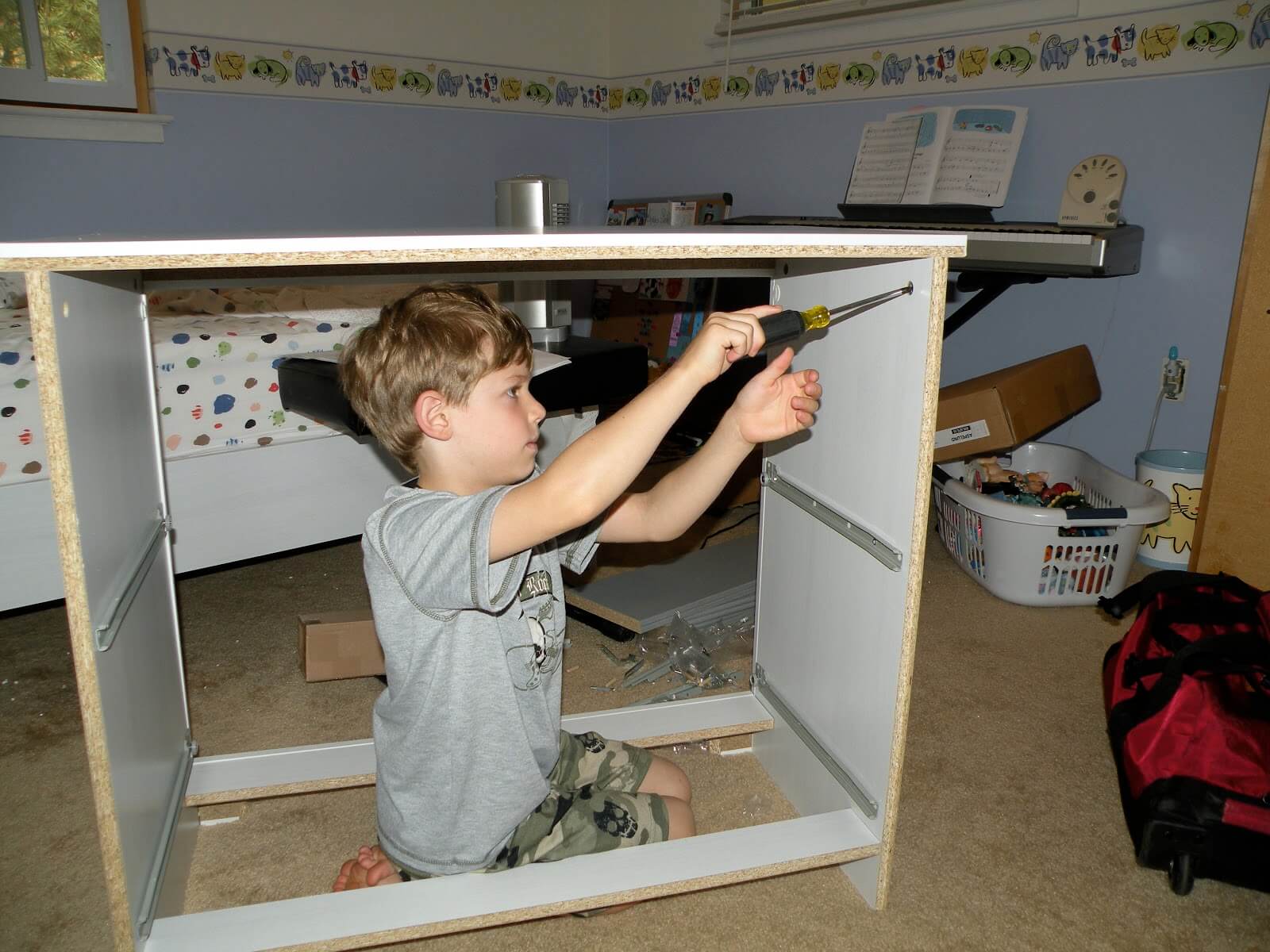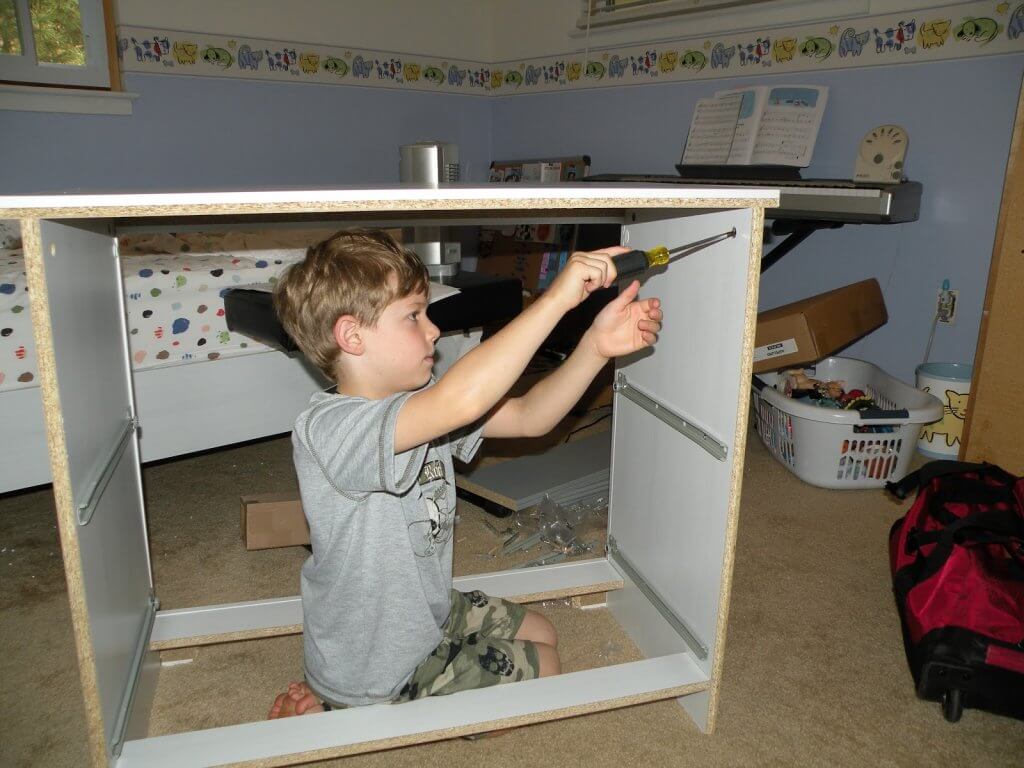 How did you get started? How did you get the money? Did you have any help?
As a lawyer, working with investors, developers and lenders, I knew the money to be made in real estate was staggering. But the question for me was: How do I get started investing in real estate when I'm a mom, with young kids, on a tight budget? The answer turned out to be right under my feet – using our existing home and it's equity!
Because we had purchased an outdated beach bungalow that we rehabbed and resided in for several years, we had built up significant home equity. I realized that we could take out a home equity line of credit, and use that money to make a down payment on another property, while converting our current home to a rental. We would then own two homes and be earning extra rental income to boot. I was hooked!
What were the biggest obstacles you faced when starting? How did you overcome them?
Being hooked on the live-in BRRRR investing model meant we were moving homes often. And, in my case, that meant moving my children, disrupting their lives to live in new neighborhoods, attend new schools and make new friends. Worrying about the adjustment of my kids was always my primary concern. But, now that my children are older teens, I look at them and believe that they are more flexible, resilient people today because they had to adapt to new environments when they were young. At least I don't see any permanent damage done … not yet, anyway! And our pets didn't seem too fazed by the moves either…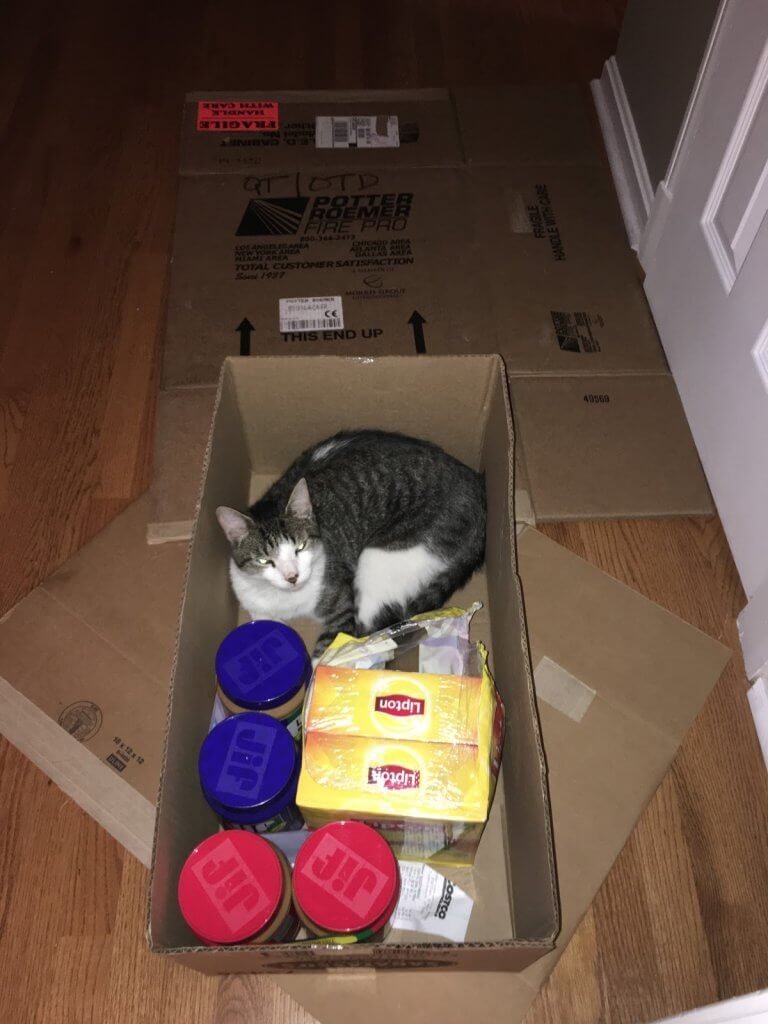 What % of your net worth (roughly) is in real estate?
Roughly 90%! Seriously?? It's true, and I would do it the same way all over again!
[Chad: I'm heavy in real estate, too. I'm not afraid of being "out of balance" in exchange for quickly getting freedom. Over time, however, I do plan to diversify more, particularly in my retirement accounts with low-cost index funds.] 
What other types of assets do you invest in? Why? How do they fit with/complement real estate investments?
I have obviously focused like a laser beam on real estate investing, but my husband and I have complemented the real estate assets with tax-advantaged accounts. My husband has always fully-funded his 401k, and we have dabbled over the years in contributing to individual Roth IRAs and 529s. We ultimately invested relatively little in the 529s, opting instead to primarily fund our children's college expenses with our real estate investments. If you're interested in going that route for funding college costs, check out Coach Carson's article on the subject – it works!
[Chad: Thanks for mentioning my article How to Save For College With Real Estate Investing. Kat joked with me when we first emailed that she was going to write an article on exactly that and then she saw mine. Lol. We've both found it's an awesome approach to funding college savings.]
Real Estate Deal
What's the best or most memorable real estate deal you've made? Why?
I want to highlight my most recent deal, which is also currently my primary residence, because I think readers can easily relate to it and realize that there are great deals are out there, even for regular people without ties to wholesalers or bank managers. Here is a picture of the home (which is situated on over 6 acres of Civil War battlefield land) the first time that I toured it: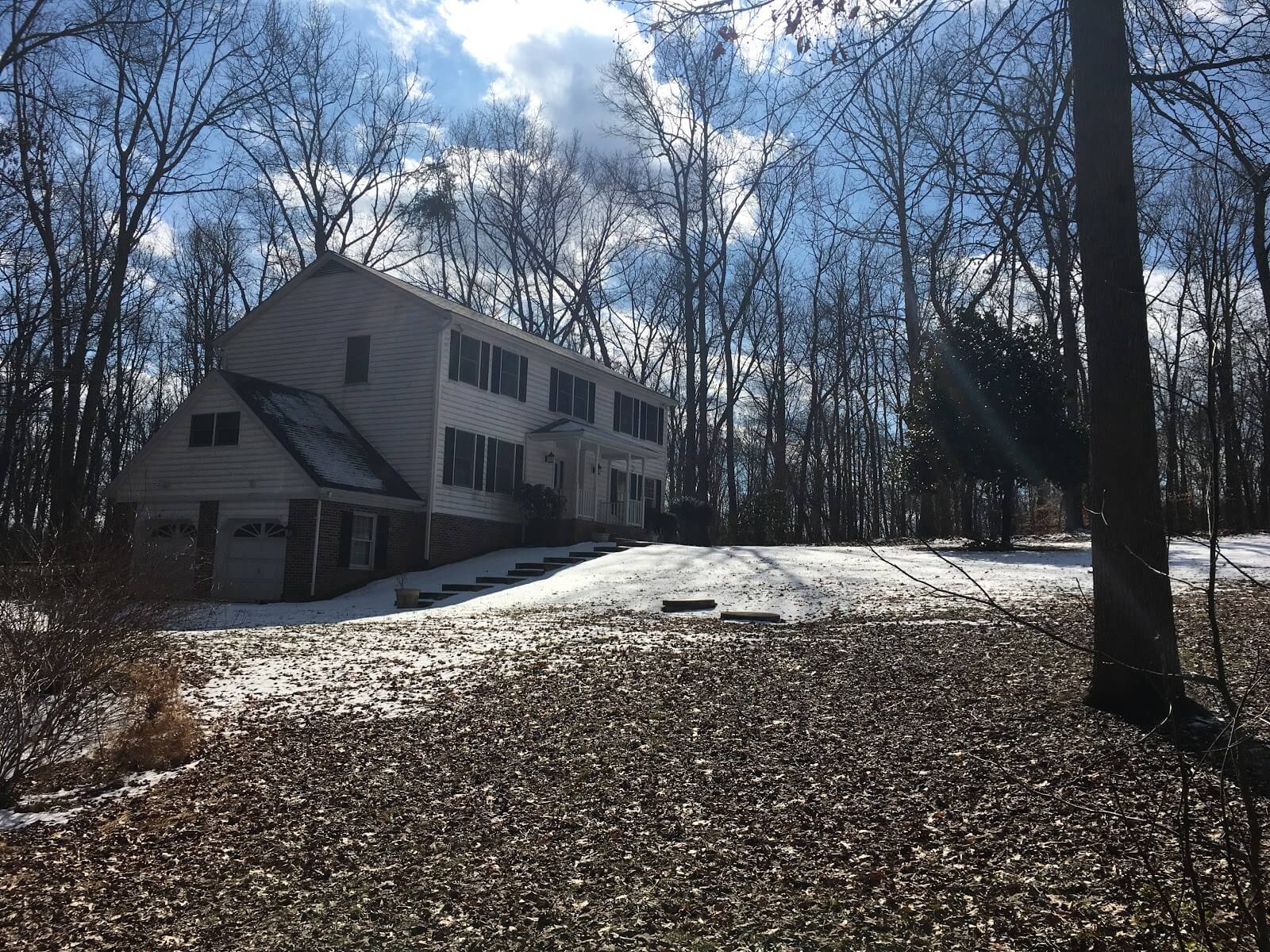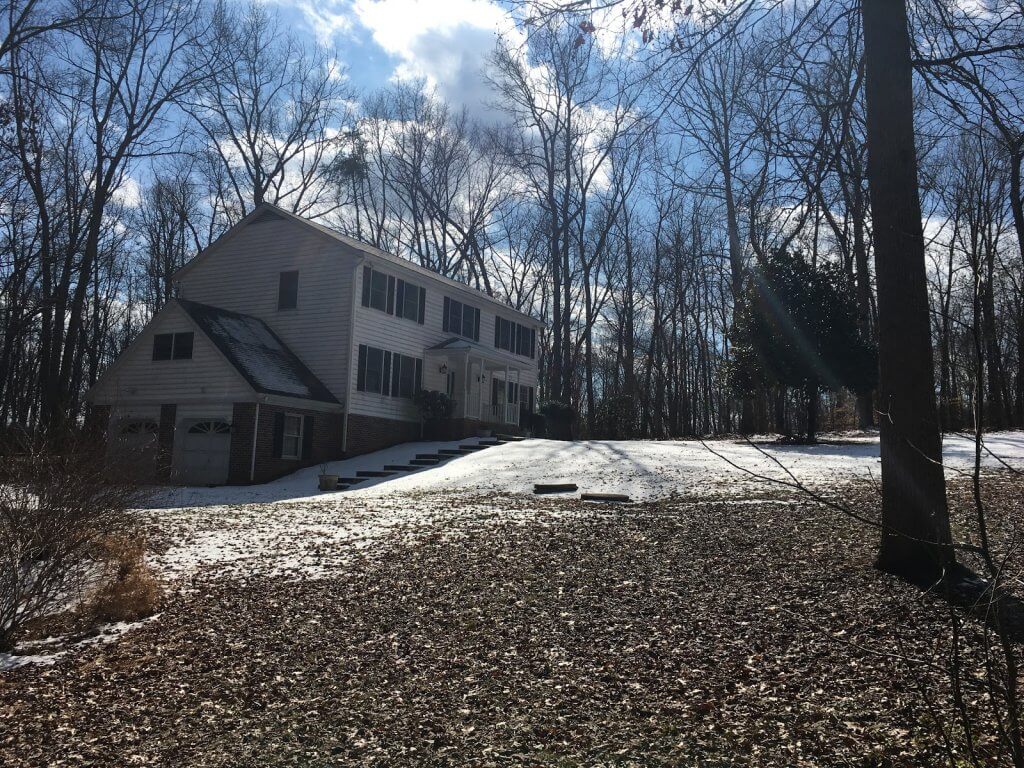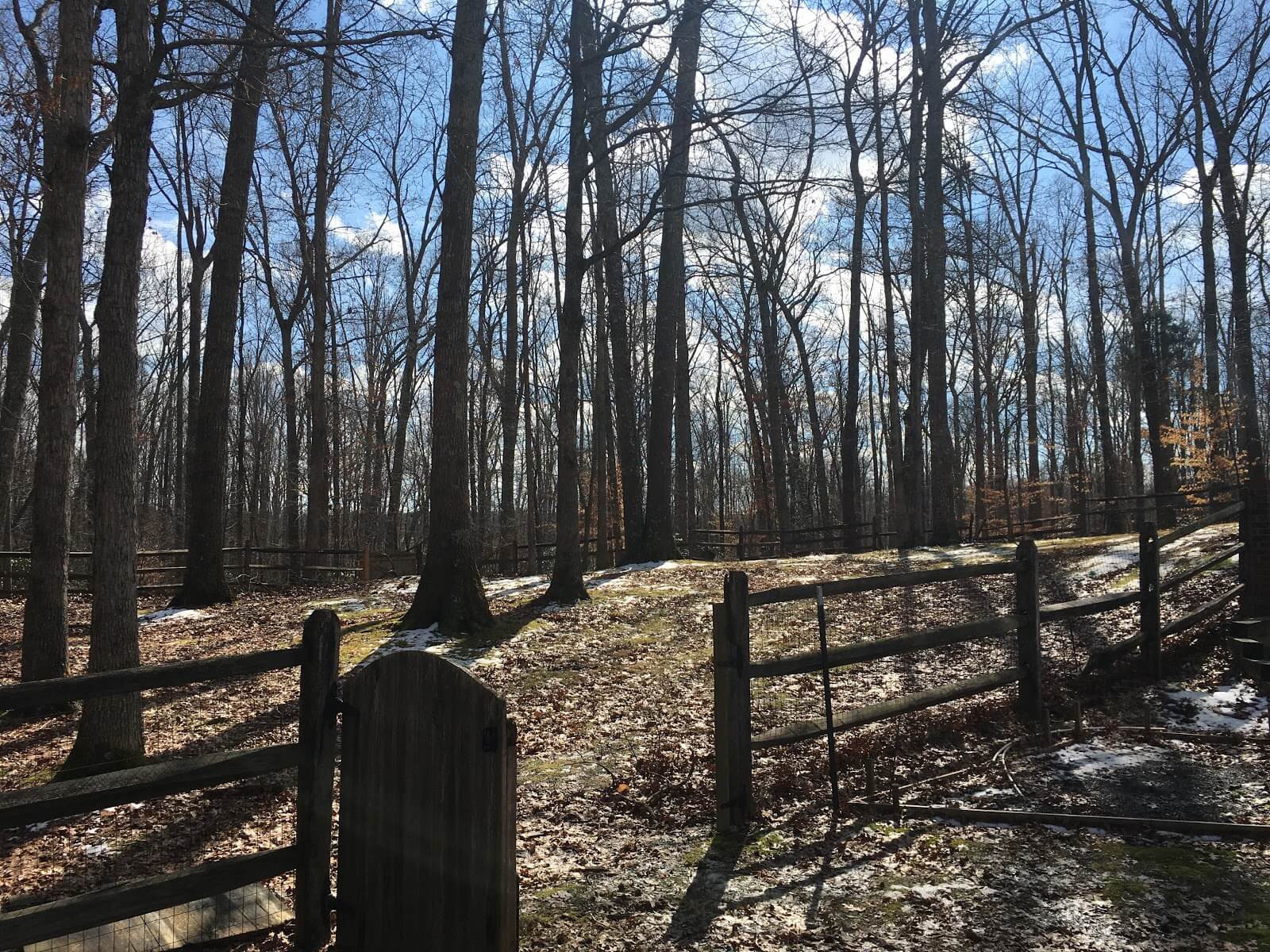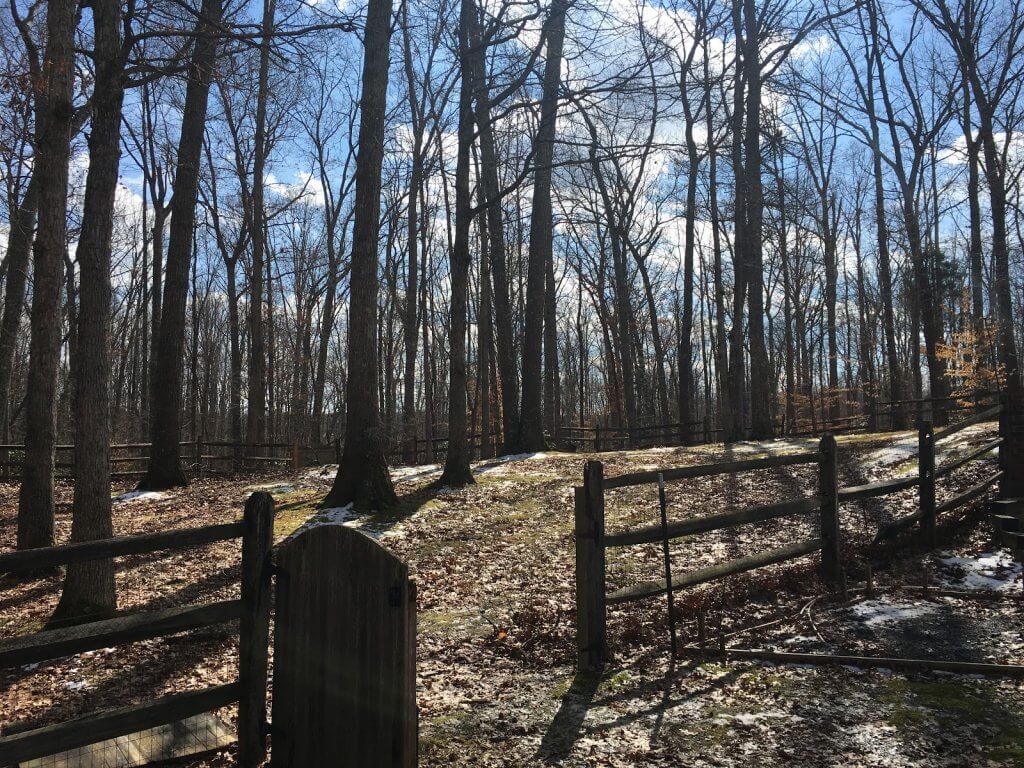 How did you find the deal? Why did the owner sell?
I found the deal on Hubzu.com, an online real estate auction site.  Hubzu has all types of properties for auction, but is primarily focused on distressed properties. Anyone can register as a buyer on the site and you don't even need an agent to represent you. Purchasing my current home was the first time I had ever used Hubzu, but I now recommend it to investors, because I loved the on-line purchase process and I got an amazing deal!
What were the basic numbers like purchase price, remodel costs, rent, resale price (if applicable)
I purchased the Hubzu home for $261,549, put $22,000 into the rehab, and had the home appraised 15 months later for $439,000. It was appraised by the mortgage lender's agent, at my request, in order to have the PMI removed. I am still living in the home, but I believe I could sell it today for roughly the appraisal price (current sale Zestimate = $432,150 and rent Zestimate = $2,178/month).
How did you finance the property and raise down payment funds?
Not all Hubzu properties allow financing (it varies by the policies of the seller), but fortunately my deal did. I was able to put down only 5% and get a 15-year fixed rate loan at 2.875%. Yeeehaa! This inexpensive financing is one of the beautiful aspects of purchasing a home as a primary residence. I did initially have to pay PMI (around $60/mo) but was able to have it removed when the appraisal came in.
[Chad: For those who don't know, PMI is private mortgage insurance. When you put less than 20% down, the lender requires it. This insurance company will pay your LENDER if you ever default and the lender loses money. So, it's insurance that gives your lender confidence to let you get in with less skin in the game. But you can typically get it removed once your property appreciates and you do have over 20% equity in the property (as Kat did).] 
What has been the overall effect of this deal on your life? Lessons learned?
One lesson of the Hubzu house is that you can make remodeling easier over time. For example, I created the same kitchen in the Hubzu house, that I had just created in the previous house!
Before and after in Hubzu house: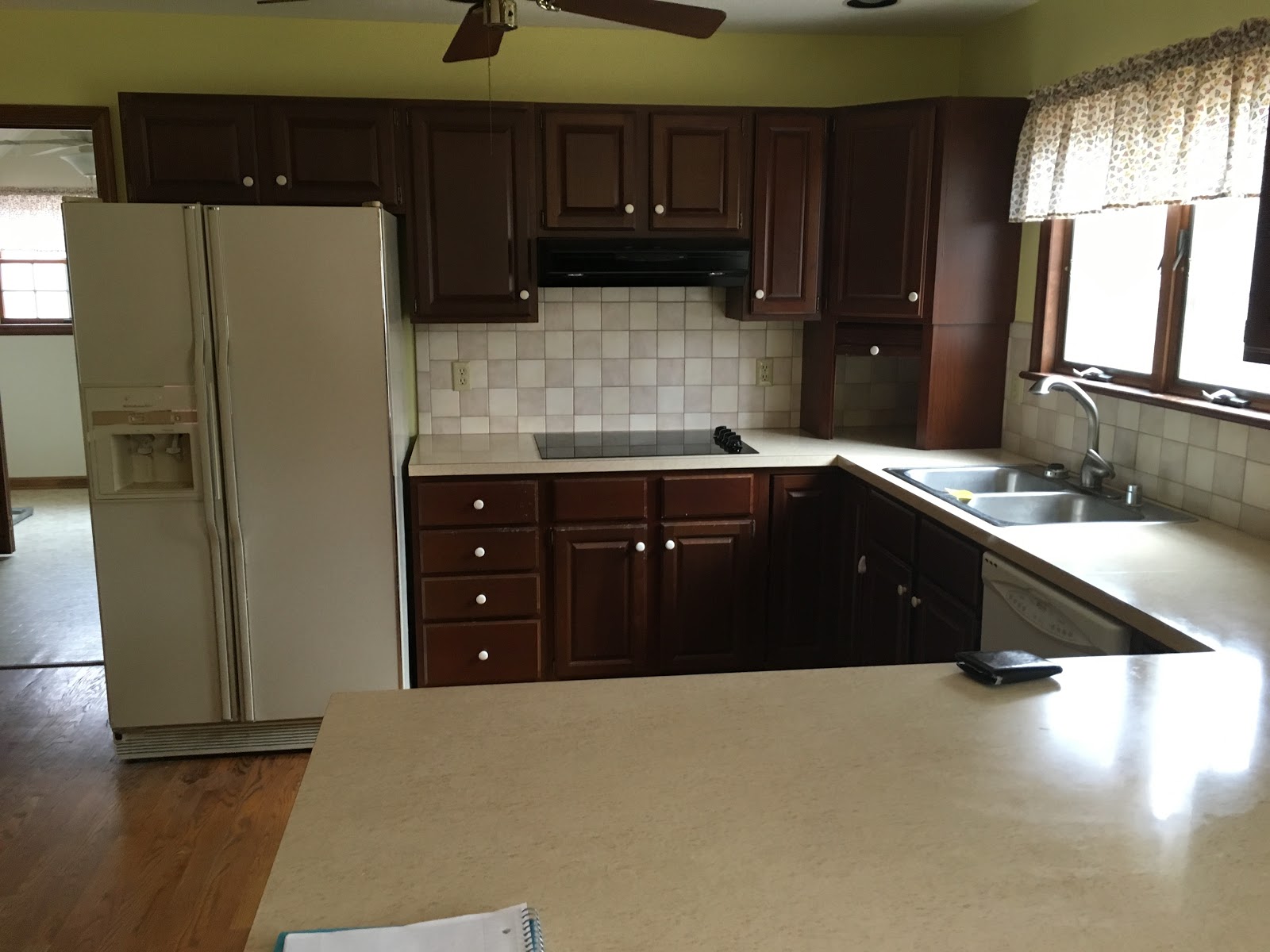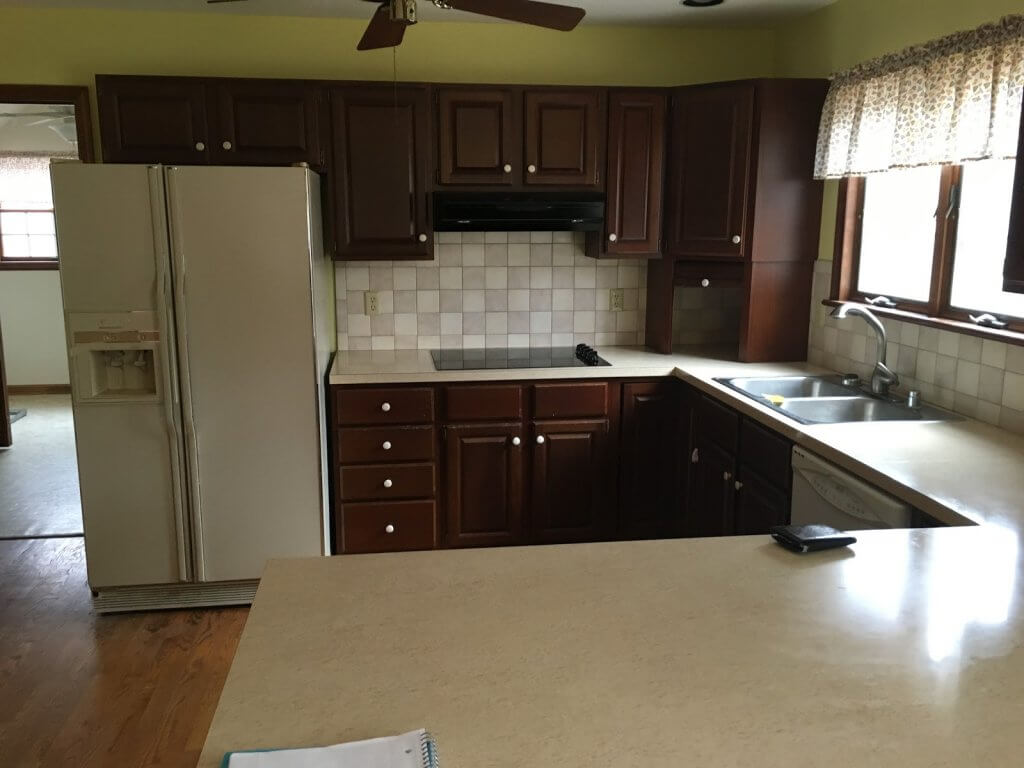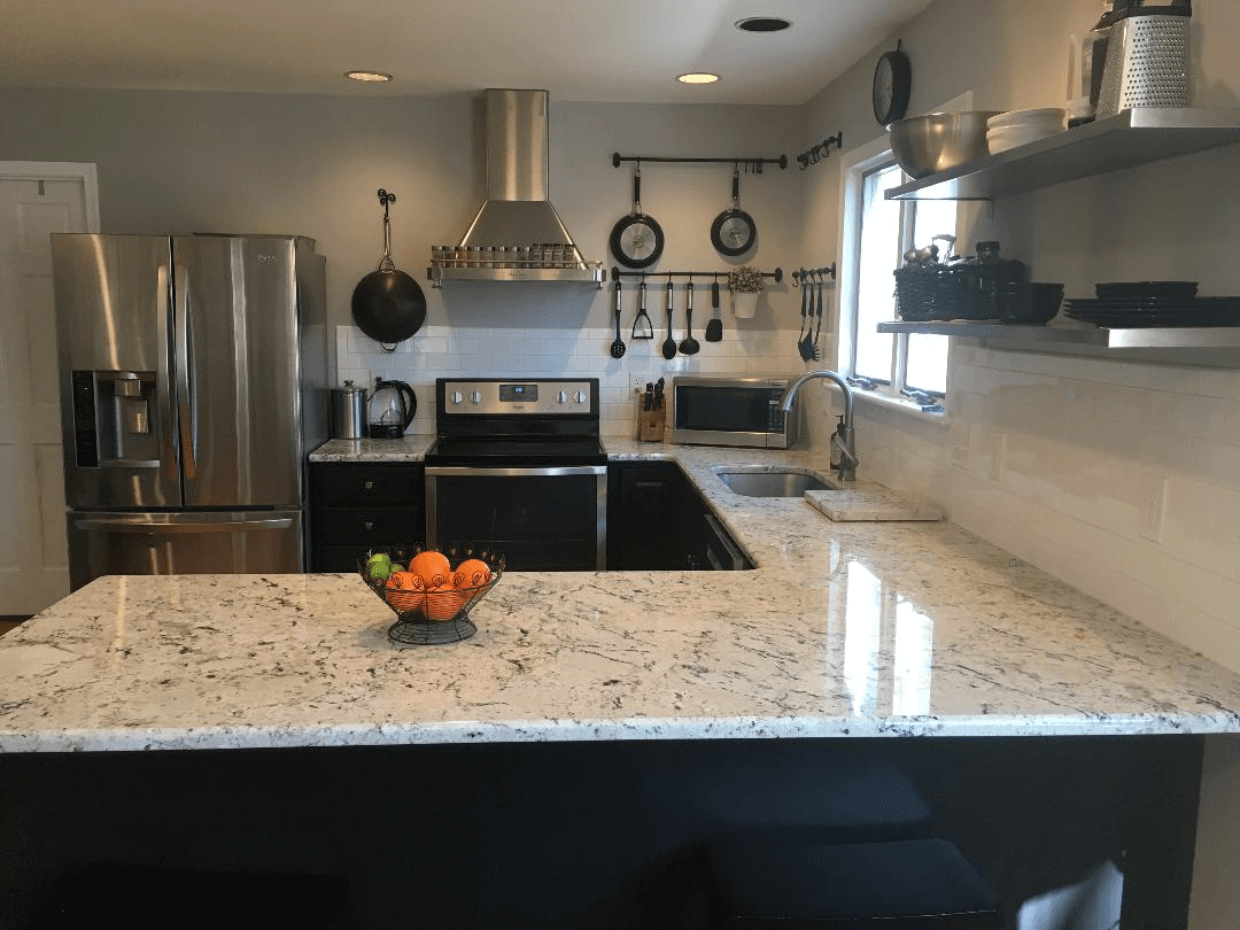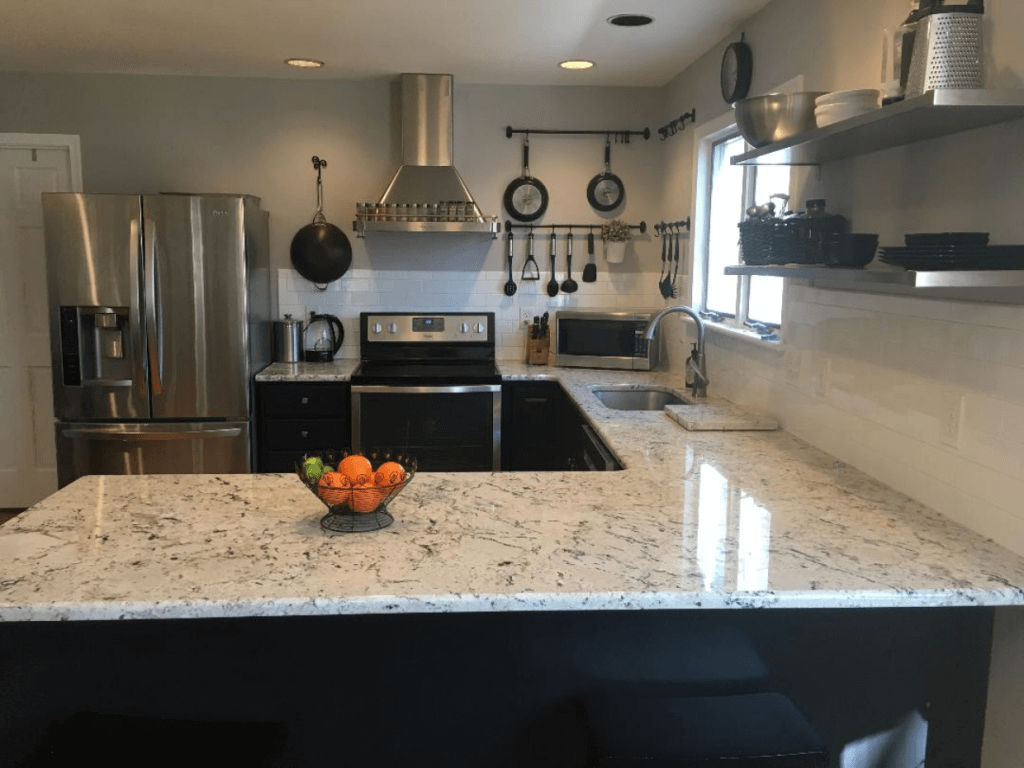 Before and after in previous house: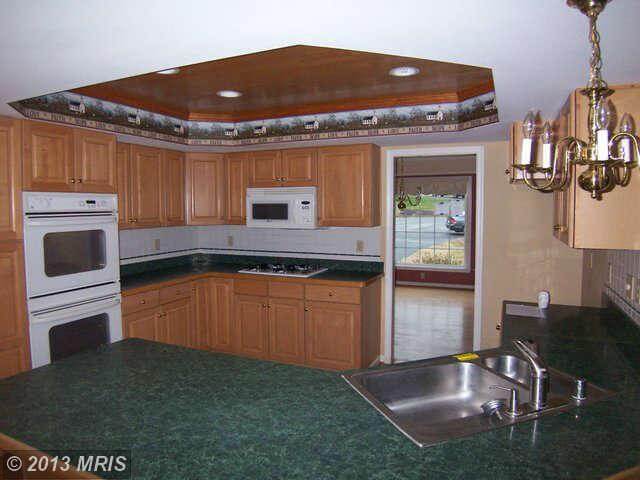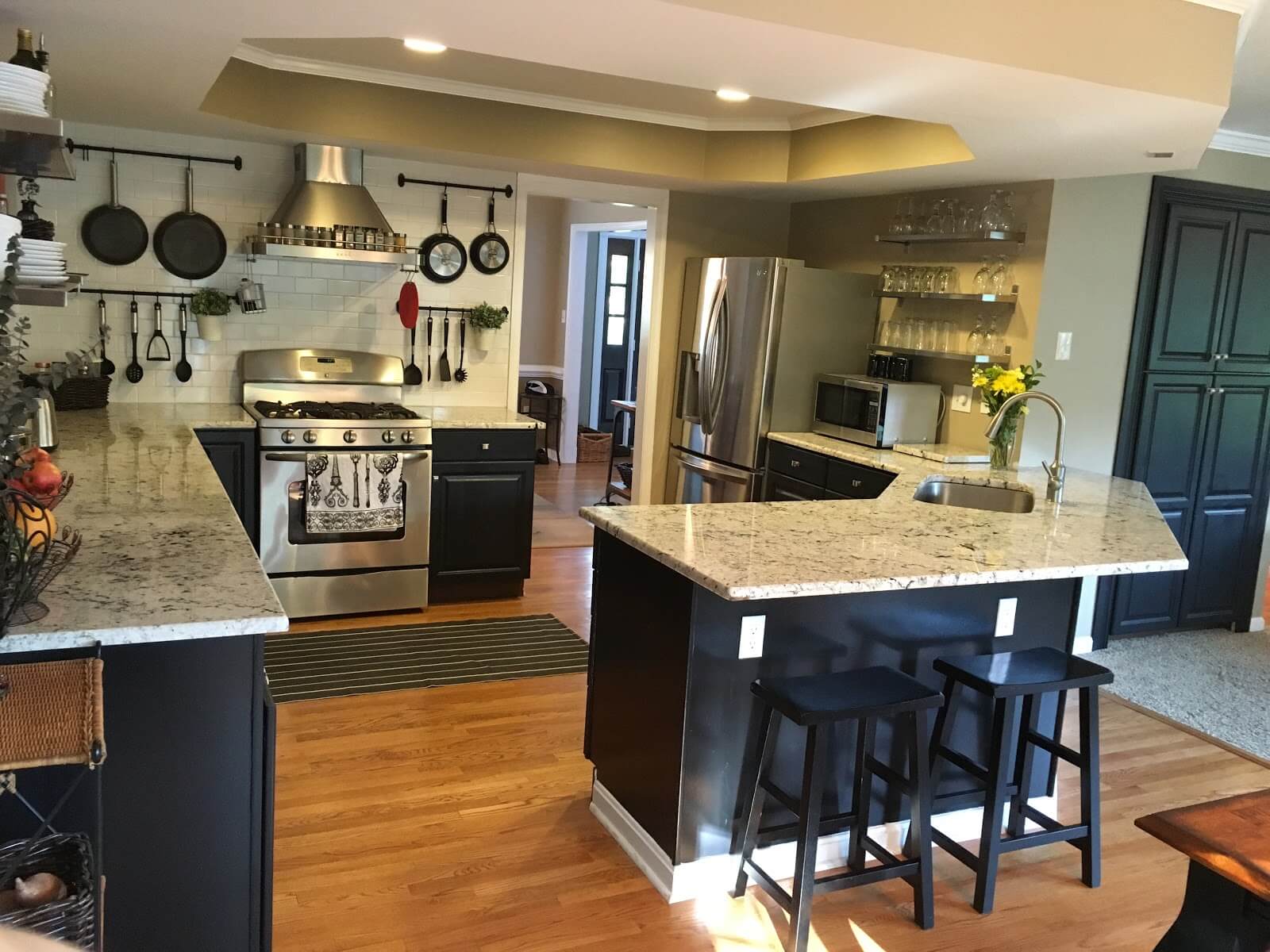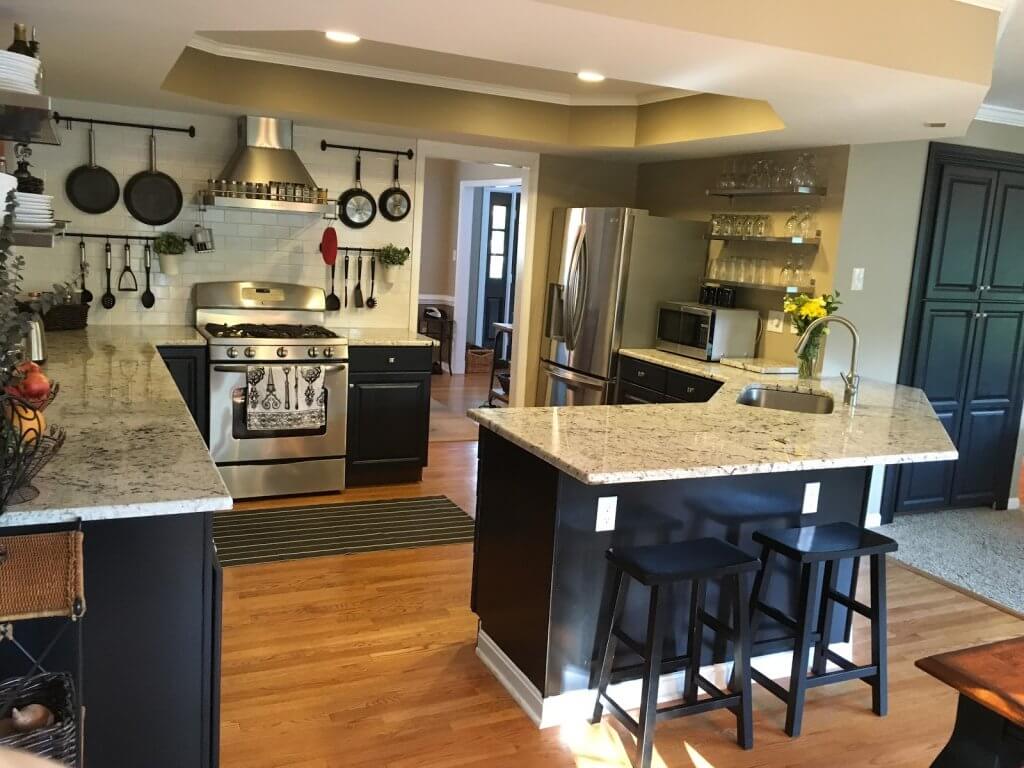 By using the same paint colors, subway tile, granite counters, IKEA open shelving and vent hoods, I saved time and effort in choosing the remodeling materials and style! A trick for flippers and rehabbers is to keep using the same paints, tiles, fixtures etc…as you find the products that you like.
On the other hand, in the Hubzu house, I did more of the remodeling labor personally than I have done in the past. I learned it is hard! Sanding is hard! Painting is hard! Caulking in a straight line is actually hard! So, before the Hubzu house, I talked more with my husband about flipping houses in retirement. But now I have decided that I don't want to work quite that hard anymore!
[Chad: Great tips Kat! And I love the way those kitchens turned out. By the way, you could always flip the way I do and never do any work:) I make punch-lists, follow-up, and write checks. The people who do the work are much better than I could ever be!]
Personal Growth/Development
Do you have any tools that help you manage your life, like a physical planner or digital software?
I am so basic. I don't use property management software. Instead, I use Excel spreadsheets for all of my bookkeeping, and I use my iPhone calendar to schedule meetings. I use Zillow Rental Manager to advertise my rental property listings and TransUnion SmartMove to run my tenant credit checks. It's all really easy now actually!
[Chad: Nothing wrong with basic systems! I do use management software for rentals and Quickbooks for accounting. But we grew into it. It seems to me the longer you can keep it simple the better so that you can focus on the important things in the business – like adding value to your customers, making money, etc]
What does a typical morning routine look like for you?
I get my kids off to school and then head to the gym. I have to keep exercise in my morning routine, or I will get side-tracked and let it slide.
[Chad: I also prefer exercising in the morning. It's such a natural energy boost and it makes my mind so much clearer the rest of the day.]
What's your #1 habit to stay personally productive and fully engaged in life?
Definitely regular exercise. I love to hike, bike or run outdoors when the weather permits. But I'm semi-addicted to a couple of group exercise classes called Body Pump and Body Combat. I must get all my aggression out in the gym, so I can be a kinder, gentler mom and landlord!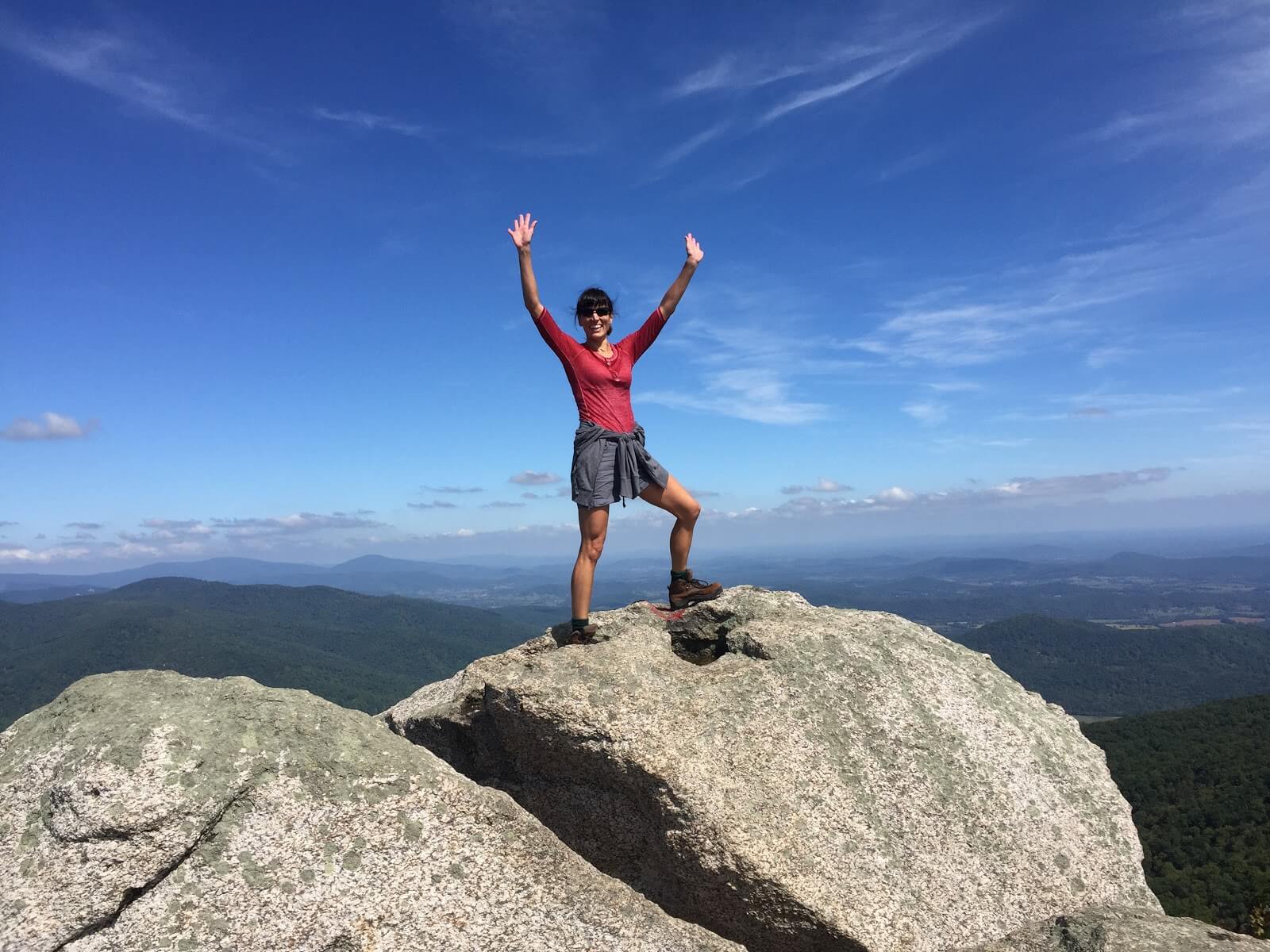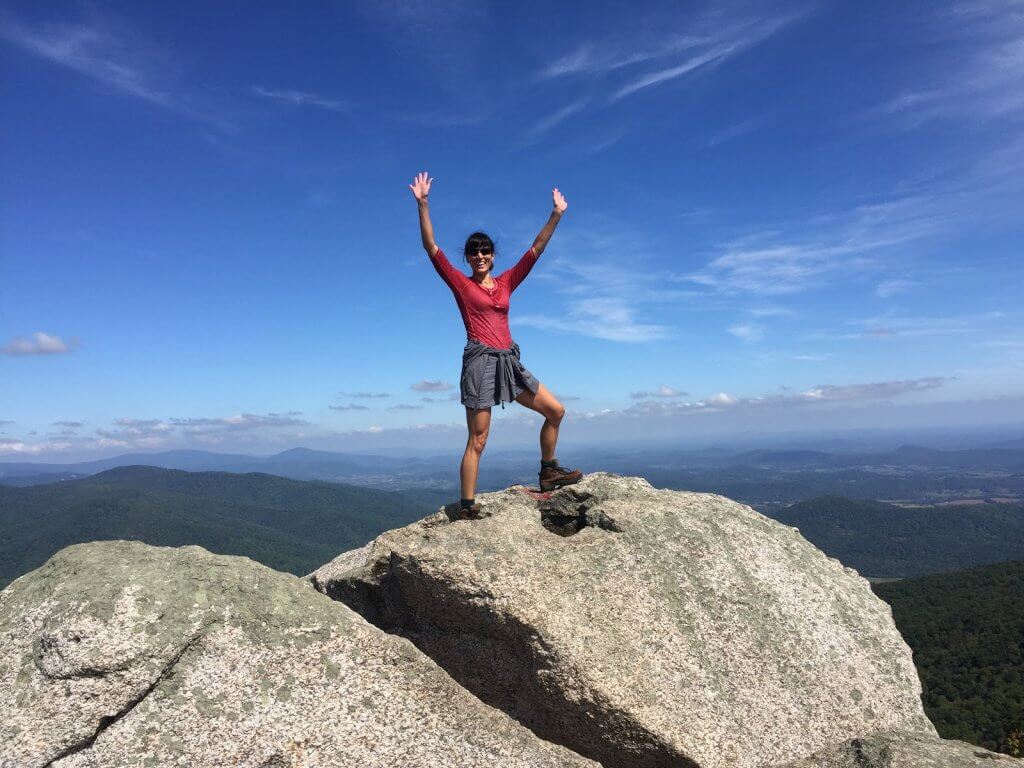 Who have been your most important heroes, mentors, and/or teachers?
My grandmother was awesome and a total inspiration. She worked as manager at Sears, raised two boys and was the original side hustle landlady. She and my Grandad owned two residential rental properties and she did the tenant negotiations and bookkeeping herself. She lived until she was almost 100 and was kicking-butt and taking names right up until the end!
[Chad: Your grandmother is now my hero!]
What are your favorite books, blogs, or authors? Can be categories in business, investing, or life/philosophy (other than a sacred book)?
When I was a finance major in college we were required to read A Random Walk Down Wall Street by Burton Gordon Malkiel. The book, which is still very popular, cautions investors against trying to time the stock market. Instead, it recommends that they should simply buy and hold a diversified group of equities. What could be better than being told that you can set-it-and-forget-it as a stock market investor and that you are doing the right thing?! Nothing! I want easy!
I've done plenty of  hard work in real estate investing, but someday I plan to make that easy too. In fact, I can already hear a 1031-triple-net-lease strategy calling my name! Walgreen's…are you listening?
[Chad: So many people have mentioned that book to me. Guess it's time to add it to the list! Thanks Kat. And I wholeheartedly agree with your comment about starting off working your tail off and then transitioning to an easier style of real estate investing. My path and plans exactly.] 
What legacy do you want to leave personally and in your career?
Personally, I want to see that I have raised two children to become productive and happy adults who bring something to the table in whatever they choose to do. Professionally, it feels good to know that I have improved plenty of homes and provided good environments for all different types of tenants over the years. In fact, a tenant from Florida once told me that my rental house had "good karma," because the last three couples who resided there each moved out in order to purchase their own family home. And I loved that! I want all my rental houses to have good karma.
Final Advice For Other Investors
Any big mistakes you've made that others should avoid?
I know I take on too many of the property management duties myself. I sweat the small stuff personally. But I am trying to improve in this category!
What advice do you have for a young person just considering their future career and life as an adult?
Young people shouldn't feel so much pressure to have their lives figured out right away. There are plenty of ways to earn money and you don't have to fit into some else's definition of having a successful career.
Any final tips for others looking to invest in real estate and achieve financial independence?
---
Thank you Kat for a funny, inspiring, and wisdom-packed look at your life and real estate investing. For those of you who'd like to follow Kat's awesome blog, she writes at https://cashflowkat.com.
Please leave comments or questions for Kat in the comments section below. She'd love to hear from you!
Get My Free Real Estate Investing Toolkit!
Enter your email address and click "Get Toolkit"