About This Episode
Episode #212 – What are Coach Carson's thoughts on turnkey rental property companies? That's the question Coach tackles in this episode of Ask Coach.
Episode Transcript
(00:00)
What are my thoughts on Turnkey rental property companies? For those of you who want to invest out of town long distance into a rental property, welcome to the Ask Coach edition of the podcast. If we haven't met yet, I'm your host, Chad Carson. You can also call me Coach. And my mission here is to help you get out of the financial grind so you can do more of what matters.
(00:26)
And the Ask Coach podcast series is where I do my best to answer your burning questions about real estate investing and personal finance. Today's question comes from another YouTube viewer. That's where I got a lot of my questions for these early Ask Coach episodes. And his name was Chad Kinsley. The question says, great video.
(00:41)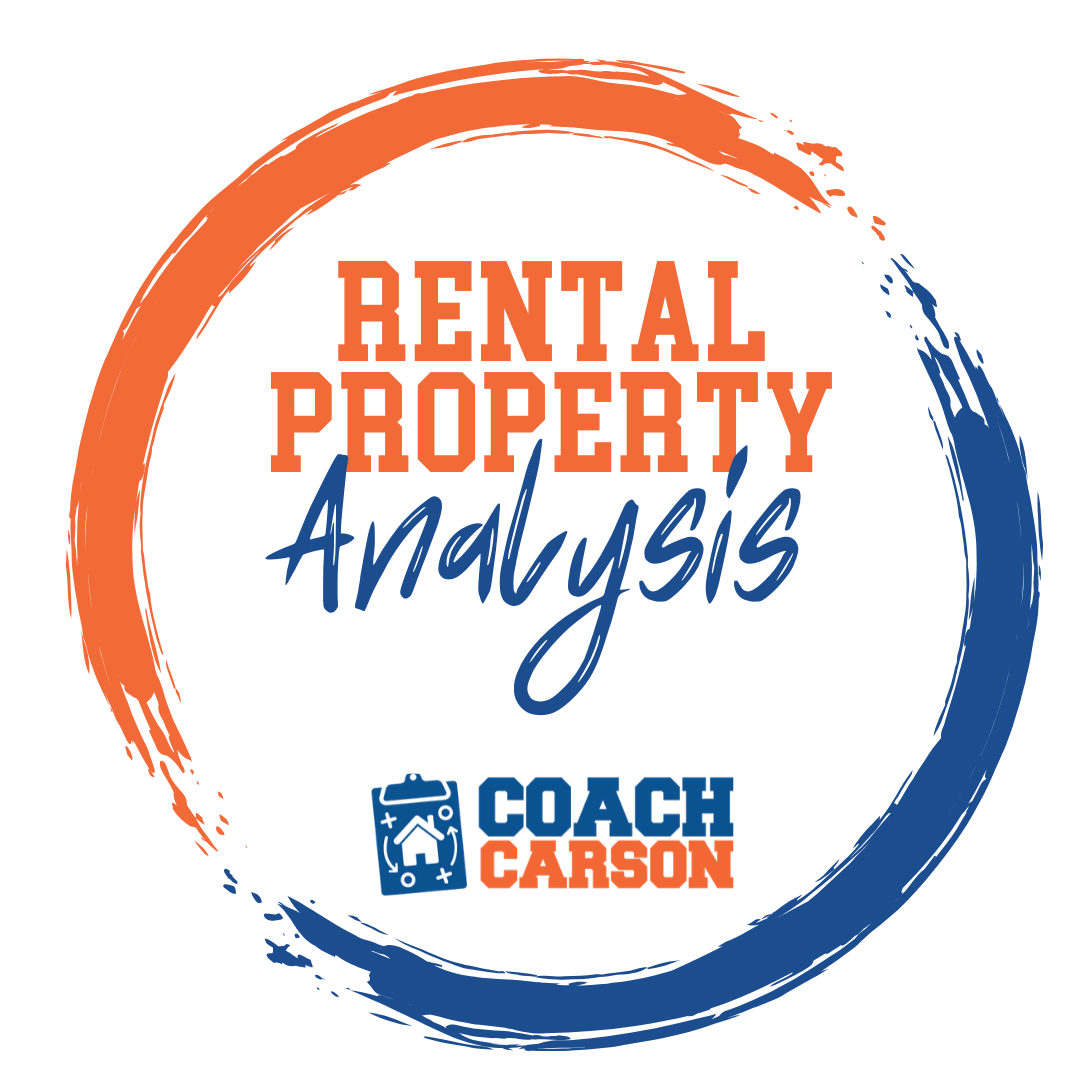 A course by Coach Carson that teaches you how to run the numbers so that you can confidently analyze and buy profitable rental properties. It also includes Coach's rental analysis spreadsheet.
Get the Course
What are your thoughts on turnkey property companies? And he actually gave some examples of a couple of companies that I'm not going to mention here because there's a lot of them out there for out of state investing and managing. So this particular question came from Chad, but it could have come from about a dozen other questions I received from people in the past wanting to know my opinion on turnkey real estate investing. And I think the reason is turnkey is a pretty big movement in the real estate investing space. And let me define what it means.
(01:06)
Where you buy a property that's already been fixed up. It's already been rented. It already has a management company in place collecting the rent. And so your job as an investor is just to pick the property. You buy it, so you're owning it directly.
(01:19)
But then you don't have to do the finding of the property. You don't have to do the fixing up. You don't have to do finding the tenant. You just buy a property, it's ready for you, and you just start collecting rent. Which sounds great, right?
(01:30)
And it can be. What I want to talk about in this episode is the good and the challenges. And I have never personally invested in turnkey investing. My approach has always been locally. I've been able to find good deals.
(01:42)
I built my own management company to start off. Now I outsource it to third party managers. So I've invested locally. But I do know that there is a value for many of you, of course, who are living in high cost of living areas, who want to buy cash flow rental properties. You want to buy long distance and you're busy, you have a job.
(02:00)
How are you going to do this? How are you going to squeeze the small amount of time you have to buy a property? Well, turnkey is one solution to that. So I want to say upfront that there's a couple of challenges to turnkey. The first one I see, and this is for me personally, is that you're typically buying retail price.
(02:20)
Somebody else has already done the work of buying a good deal, fixing it up, getting it rented, they've added a lot of the value to it. So you're paying more of a retail price. Now that doesn't have to be a deal killer in and of itself. Right. You might just make a little less profit than an investor would who could buy it themselves and do all that work themselves.
(02:37)
And for the first couple of deals, especially, that's not a deal killer. So I think that's one issue. If you're someone who wants to get a great deal on a property, then it might turnkey is probably not for you. But I think the second one is the bigger challenge is that because it's so easy, because it's marketed as something that I just turnkey come on, just jump in it's, just press a button. You never have to look at it.
(02:58)
You can buy the property, and that's the benefit of it. But I would say the challenge of it is lulling you into some complacency to not do your homework that you need to do as a real estate investor. So its benefit, its main benefit of being so passive is also his main risk is that you allow someone else to do the due diligence that you have to do when you buy a property. Because let's get this point really clear. When you buy this property, it's on you.
(03:26)
You are the one who puts your money up. You are the one who promises the bank to pay the money back. You're the one who has to deal with any maintenance issues, any problems with the property. So that's what I want to say. I want to say that the biggest challenge is not doing your homework.
(03:40)
And so that's not a knock on turnkey itself, but that is a knock on one potential issue you have is that you're buying a property from someone whose job is to make a profit selling that property. It's a little bit of a conflict of interest there. Your goal as an investor is to make the most money you can to benefit you and benefit your family. And that's understandable that's your interest. The person who's selling you that property, the turnkey company, they have a profit motive as well, and they want to make the most money they can.
(04:07)
And if they're ethical, I think there is a way to have a win win there. But there have been a lot of unethical turnkey companies. And so that's the first challenge you're going to face is if they want to screw you over, if they want to hide some of the repairs that they didn't do, if they want to buy it and make the numbers look really good on a piece of paper on the computer, but it's really not that good once you buy it two or three years from now, that can happen. They can pull one over on you. And so that's the thing I need to tell you to do here is you've got to be your own agent.
(04:40)
What I mean by that? You've got to be your own person who does the homework. You've got to be your own quarterback, your own team leader that you can't depend just on the turnkey company to tell you this is a good deal. So this goes back to a lot of the fundamentals. And that's why I'm a coach.
(04:54)
I like to go back to the fundamentals when I do real estate deals twice per year on the whole process of helping you for eight weeks by a rental property. This could work for turnkey. So a lot of people in the class do buy turnkey. Most of them buy properties on their own and kind of put their own team together. But the fundamentals are the same whether you buy turnkey or not.
(05:12)
Number one, you need to find a target market that has good long term prospects. So you want a region of the country that has a general inflow of population, that jobs are getting better. So the overall economics and the kind of the balance of demand and supplies is looking good for your market. That's kind of a big picture on the small scale that you want to find a location within that market has potential to be a good up and coming area. Over the long run, it doesn't have to be on fire.
(05:40)
It doesn't have to be the hottest place in town. But I have a rating system that a lot of real estate investors use. An ABCD would probably be I would classify as one that doesn't have a lot of good prospects in the medium term. In the long run, it's usually your lowest rent properties. If you are going to buy the property, the lowest rent, you want to find one on the up.
(05:59)
It's going from D to C or going from C to B. And so there's some homework to be done on your target market. If you get onto a turnkey platform, you need to do your own homework first to say, okay, I like this general city. Let's say I'm investing in Memphis, Tennessee, or I'm investing in Cleveland, Ohio or something. I look at that market and say, Do I like that market in general?
(06:22)
Then I'm going to go find a turnkey company in that market. And then within that market, you're going to do your own homework, perhaps with your own real estate agent to identify neighborhoods that have a lot of potential. So that's step number one, fundamental target market. Step number two, you need to do your own deal analysis. You need to run your own numbers.
(06:39)
So I spend a ton of time on this YouTube channel, on my podcast talking about how to analyze deals. But you need to identify some metrics that make sense for you. It might be something like you want to make a certain amount of cash flow. It might be that you have a certain amount of growth or like a total return you want to make with cash flow and growth on the property and the pay down of your loan. I call that the term I use and the metric I use as an internal rate of return.
(07:03)
I have a course called Rental Property analysis where I use my spreadsheet and show exactly how I run all the numbers on my properties, including an internal rate of return. That's probably the key metric that I would use. And so you need to have your own criteria, and you also need to do your own assumptions. So if they give you a spreadsheet that says, here's how much cash flow you're going to make on this property, it meets the 1% rule. You need to do that yourself.
(07:25)
Figure out what the taxes are yourself. Figure out what the insurance is yourself. Put your own maintenance estimate in there. Put your own vacancy estimate. I've found many, many times that real estate agents and people marketing houses don't put all of the expenses in there that are real.
(07:40)
So educate yourself, run the numbers yourself, and figure out what's a good deal for you. And just know that the more deals you look at, the more you're going to have to say no. You might say no to 20 deals in order to find one that you say yes to. That's okay. It needs to be in the right location.
(07:56)
It needs to have the right numbers, and then the financing is on you as well. Financing is the biggest risk I have found. The people who go out of business in real estate are big problems. Get bad financing. So if you can find a good location, get pretty good numbers and get a 30 year fixed financing at a low interest rate, you're in pretty good shape.
(08:13)
You might get hurt a little bit here and there, but you're not going to get killed on a deal. And so deal analysis and financing are key. The number four is building your own team. I think it could be nice that you have a built in property manager that somebody's finding deals for you. But interview that person as if they're brand new to you.
(08:31)
Is that property manager really going to be have your best interest or they just the turnkey company found them and they're given the best deal or something. Interview them. Do you trust them? Ask about their operations. Ask about their team.
(08:44)
Ask about references. Can I talk to other people who you're managing for and talk to multiple people just like you would screen a tenant just like you would do anything that's important. Do your homework on the team themselves. And then finally, when you buy the property, have your own Inspector. Have your own people to look at the property.
(09:01)
A contractor, they might say, this thing is turnkey, but then they call you have your Inspector call under there and say, well, they forgot about this and this, and this. There's some moisture issues under the house or there's a bunch of lead based paint issues that they didn't deal with or they didn't pull permits on this property to remodel it. And you're going to have an issue if you sell this property. So there's a lot of things like that that you just want to do your homework on because again, you're going to own this house forever or until you sell it and not the turnkey company, they might manage it for you, but just on you. So all of those are not necessarily to try to scare you.
(09:34)
That's just saying whether you buy turnkey is a way to buy properties. It's just like I do direct mail to buy properties. I do driving for dollars is one of my favorite ways to buy properties. I see turnkey is just another major source of deals for you to buy properties, but it doesn't get you out of the responsibility of doing all the normal things you do when you buy a property. All those fundamentals.
(09:57)
This is the back of your question, Chad, about what do I think about turnkey property companies? I have no problem using a turnkey company. If I were in a situation where I needed to buy a long distance and I was super busy and I wanted to directly own real estate, I might consider that. So if you do your homework, if you take responsibility, it's going to be a lot of work on the front end. That's the promise I can make you.
(10:20)
There is no passive, there is no free lunch in the beginning of real estate. It can be very passive once you get over that first step. So if you vet a turnkey company, you feel good about them, you feel good about that market, you trust them. You have a good property manager in place. You have a good team member to help you inspect the properties.
(10:38)
If you do all that work up front and then you start buying some properties, it's going to be very easy from then on, and you're going to be happy that you did all that work on the front end. So this has been a Ask Coach episode really about the fundamentals of buying properties. It applies the turnkey as well. For those of you who are interested in that, I don't have any specific recommendations yet down the road, if you'll let me know by emailing me or in the comments on YouTube if turnkey is something you're interested in and maybe I can start doing a little bit more research on some companies out there who do more of that. I hope you enjoyed this edition of the Ask Coach podcast.
(11:11)
If you'd like to have your question featured in a future episode, just send an email to [email protected] We get more questions and we have the ability to publish. But to increase your chances, number one, keep your question as clear and short as possible. And then number two, keep it relevant to the topics of the show that's about real estate investing, personal finance, early retirement and personal development. If you like the show, I'd like to invite you to subscribe to my free email newsletter at coachcarson.
(11:38)
Com/REIToolKit. In addition to weekly updates, articles and behind the scenes tips from me, my email newsletter subscribers get my real estate investing toolkit which includes a property closing checklist that I actually use when I buy properties, a real estate deal worksheet, a tenant screening criteria checklist and other spreadsheets and goodies that will help you on your journey to financial independence using real estate. You can get it all for free and coachcarson.com/REIToolKit. I also want to take this time to thank the people behind the scenes who make this podcast possible each and every week. This includes my podcast editor extraordinaire Michael when my amazing virtual assistant Megan Thompson, my wife Kari who helps me behind the scenes and is my partner here at Coach Carson and of course thank you to all of you, the listeners of the show who make everything possible.
(12:23)
This show exists for you. It exists because of you and I really appreciate you being here for another episode. Everything I've shared with you in this episode has been for general education purposes. I have not considered your specific situation or risk before buying your own investments. Be sure to consult a financial real estate and or a legal professional until next time, I'm Chad Carson.
(12:42)
You can also call me Coach and this is a show all about helping you get out of the financial grind so you can do more of what matters. See you next time.
Help Spread the Word!
Help me reach new listeners on Apple Podcasts by leaving us a rating and review! It takes just 30 seconds. Thanks! I really appreciate it!
Links & Resources
Get My Free Real Estate Investing Toolkit!
Enter your email address and click "Get Toolkit"