About This Episode
Episode #230 – Coach Carson likes the strategy of paying off debt on rental properties. Learn why it's smart and how to choose which debts to pay off (i.e. debt snowball or debt avalanche).
Episode Transcript
[00:00]
Paying off debt on your rental properties. Some investors would say that's sack religious. You should never pay off debt on your rental properties. But as you've probably learned on this channel for certain people at certain points in their investment career, I think it's a really smart move. So if you do decide you want to pay off some debt at on your rental properties, how do you decide which properties and which mortgages you should pay off first?
[00:21]
That's the question I'm going to tackle in this episode of Asked Coach, and we're getting started right now.
[00:34]
Welcome to the Ask Coach edition of the podcast. We haven't met yet. My name is Chad Carson. You can also call me Coach. And my mission here is to help you get out of the financial grind so you can do more of what matters in the Asked Coach podcast series is where I do my best to answer your burning questions about real estate investing and personal finance.
[00:51]
Today's question comes from Melody in on YouTube. And this is actually the second question I featured from Melody. So thank you, Melody, for interacting and bringing these questions to my attention. Your question was, if you have ten rental properties with different principal balances, should you start paying off the highest or the lowest balance property. So I'm going to get to that specific question.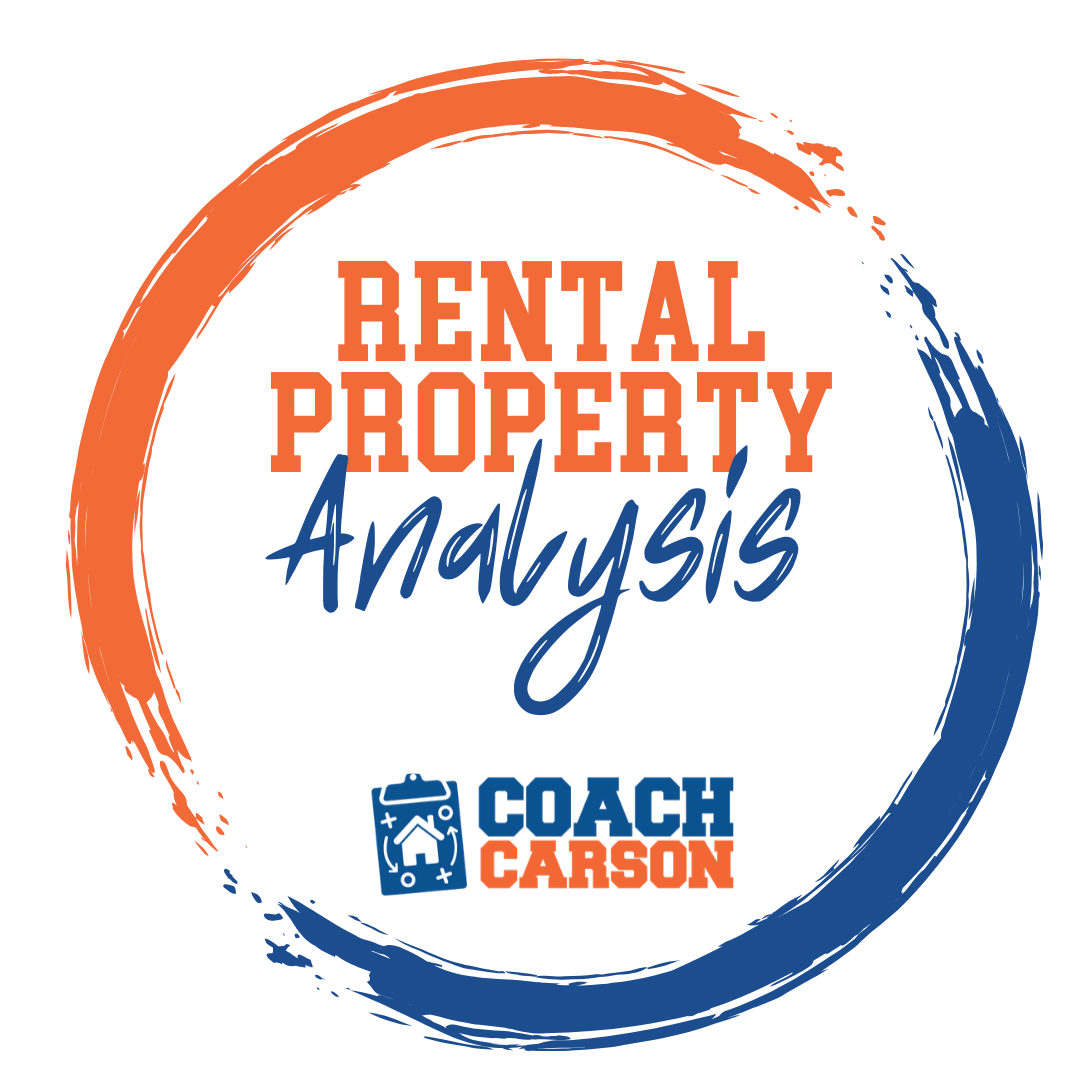 A course by Coach Carson that teaches you how to run the numbers so that you can confidently analyze and buy profitable rental properties. It also includes Coach's rental analysis spreadsheet.
Get the Course
[01:11]
But also we're going to take a step back and answer the question or talk about whether you should pay off debt in the first place. So I might not be able to convince all of you to pay off your real estate investing debt. But there are investors who choose to do this, myself included, on some of my properties for a couple of reasons. One for me was reduction of risk. So reducing the risk of having debt on your real estate investing portfolio.
[01:33]
The second was increasing cash flow. So you get to a point in your investing career, and this could be towards the end of your wealth building where you have a large chunk of wealth. Or it could just be along the way, what I call plateaus, where you've built some wealth, maybe for four or five years, and you just want to take a break or like you're playing poker and you want to take some chips off the table, you've made some good profits and you don't want to just keep growing, growing and leveraging more. You want to kind of take some chips off the table to make sure you don't go backwards from there. So in either case, paying off some debt is a way to take those chips off the table and you reduce the risk that if we did have a big downturn, I don't know, right now, inflation is on everybody's mind.
[02:10]
But if you also had a big downturn where prices went down or rents went down, which is very unlikely, right? But even a very unlikely thing that could have a big negative effect is something you should consider. And so paying off some debt can reduce that risk. If you don't have a big mortgage payment to pay, you now have the flexibility to reduce rent and does not have to have the pressure of making that mortgage payment. But then the other thing that's not talked about enough is the increase of cash flow.
[02:36]
So at some point, if you want to live off your cash flow, paying off some of your debt could be a way to increase your cash flow without having to add more properties and more hassle and more risk of owning those extra properties. So I'm going to assume for the moment that you do want to pay off some debt or maybe even all of the debt on your real estate investing portfolio. So the next question is, how do you do it? That was Melody's question. She said, I had ten properties or ten debts on my properties.
[03:00]
Some of them have different principal balances. So which one should I attack first? So this brings us to a couple of different approaches to personal finance, and we're going to apply that to the real estate investing world that you might have heard about. There's an approach called a debt snowball and another called a debt avalanche, and they're slightly different in the approach on how you prioritize which debts to pay off first. A debt snowball is where you rank all of your debts.
[03:22]
The highest priority ones that you want to pay off first are the smallest balances. On the other hand, the debt avalanche, it ranks them all. And the ones with the highest priority to pay off are the ones with the highest interest rate. Even if it's a really large mortgage, you want to have the highest interest rate at the top. The argument for the debt snowball is that if you pay off, for example, $1,000 credit card, and then you have a $5,000 credit card and a $20,000 card debt, that by paying off the smallest one first has a couple of benefits.
[03:48]
Psychologically, you're making some progress. It feels good in the next six months to be able to pay a debt off and have that behind you. That really is psychologically satisfying. And motivation is a huge thing. I've played sports for years.
[04:01]
I was a College athlete, scholarship athlete at Clemson University. And I've also been a real estate investor now for 20 years. And it's so critical, the motivation and the attitude and your psychological approach to investing, it's discounted so often by people who think spreadsheets and math are the only thing I'm not saying it's not important. I'm a math nerd, too, but I've seen a lot of people fall off of their real estate investing journeys because of motivation, because of lack of stick to it now a lot more than I have seen them make the wrong math decision, just calling it like it is. And so I tend to agree you should emphasize the psychological first.
[04:37]
But there's also a practical benefit, and that's the freeing up of that cash flow. This is a cash flow game when you're paying off debt. It's a slow grind sometimes. So if you can free up that cash flow early in the process, that now accelerates that snowball. It's a big deal when you do a debt avalanche.
[04:53]
Let's say that the highest interest loan is one of your biggest ones. You have a $50,000 loan or $150,000 loan. It could take years and years and years to pay off that. And it's tough to stay motivated on that, even though that might be the right math decision, because you're eventually going to make more money if you stick to this entire process by doing a debt avalanche. But you might not stick to it.
[05:12]
And that is the bigger worry, I think, in my mind. So my approach has been kind of a hybrid of the two. So I don't discount the high interest rate approach, the debt avalanche approach. And I actually prioritize a few different things, one by the size of the loan. So I did try to emphasize paying off smaller ones first if I could.
[05:29]
But I also looked even more high priority at loans that were risky and that loans that had high interest rates. So by risky, there's a couple of different ways to think about that. One is if that has a looming balloon note on it. So a balloon note just means instead of a typical mortgage, we have a 30 year mortgage and you pay the monthly payment every month for 30 years, and eventually it goes to zero. That's called an amortizing loan.
[05:51]
A balloon note means you make the payment for a certain period of time, like five years. And after five years, whatever you owe at that point, you have one big payment. Now, I've seen more investors go out of business for missing their balloon payments and not being able to do that. And then that cascading into other problems. Dave Ramsay actually went bankrupt in the 1980s because of balloon knows that where his lenders were able to call his loans due all at one time, he had millions of dollars in loans called due.
[06:17]
And that was a big deal. So I've always prioritized, let's pay off the riskiest loans first. The ones that have balloon notes, maybe the ones that have adjustable rates or just one I owe money to a lender who I don't really trust. I think they're going to try to take my property back. There are some hard money lenders out there.
[06:31]
There's just some people who are pretty focused on being ruthless with their business. I don't really like doing business with them, but there are some institutions, there are some individuals who I want to pay off as quickly as possible. So I rank those as the top priority. I ranked the ones that are smaller with the top priority. And then I also rank ones by a cash flow to principal ratio.
[06:54]
So not only interest rate, I have a 6% interest rate loan. But what if it is a ten year amortization or it's the end of the amortization where my payment is really high compared to what I have owed on that property by paying off that loan, if I would free up a lot of cash flow then I would pay that off sooner than one that has less cash flow. So it's kind of a combination of those. That's why it's a combination of the debt snowball, the debt avalanche and I just make a simple spreadsheet, I rank them out and then I have columns based on those. And it's not an exact science, but typically what I have is I'll have a $10,000 2nd mortgage that I had to a private lender that's at 10% interest and as a high payment and there's a balloon in three years.
[07:36]
Let's pay that one off first. It's really obvious and then I might have another one. That's a $30,000 loan that is 3% interest and I've got a long term on that one. I might want to pay that one off less. I move that kind of down the line.
[07:47]
Or I might have a $150,000 mortgage to a mortgage company at 3%. That's going to be a little bit further down the line because it's not that risky. That will have a balloon note on it. It's a low interest rate and it's also a high balance so I tend to not pay that one off. So that is my general approach, but I want to add a little nuance to that.
[08:06]
On some other ways you might want to approach paying off some debt. That's not just the basics that I just talked about. So the first nuance is something we did is combining debt payoff with refinancing of debt as well. So the general strategy we had was paying off smaller debts with cash because we might be able to save up ten or 20 or $30,000 in cash pretty easily. But then 150 or $200,000 debt took a longer time to pay off.
[08:30]
So instead of paying off the larger one, we would refinance that. So we had a whole strategy for years of paying off debt and refinancing debt. So if it met my criteria of being a risky debt with a balloon or something that had a higher interest or higher payment, then focus all of your energy on getting a refinance paid off. Find another lender with a lower interest rate with better terms. And so in combination, if you're paying off some debt and refinancing a lot of debt, you're increasing your cash flow because you might take that higher interest debt to a lower interest debt and save cash flow there.
[09:01]
And you're also reducing your risk by doing that. So that is an additional strategy combining those two debt payoff and refinances. Another little wrinkle is to be strategic about how you refinance properties. So what you might find is if you've been in the vesting business for, let's say ten years, you have a property that you bought for $150,000 upfront and you had $125,000 debt or $120,000 debt, and you put a down payment. So $150,000 property ten years later, maybe that property is worth $200,000 or $250,000 and you've paid your loan down.
[09:34]
Let's say you paid it down. You have two houses that were equal value and you bought them at different times. One, you paid down to $100,000.01, you've already paid down to $60,000, and yet they've appreciated a lot since that time. So what should you do at that point? Let's say both of your payments are $625 per month on those two debts.
[09:52]
Do you have about a $1,300 debt payment? Well, if you refinance, you might think you just want to keep paying off both of those loans aggressively at the same time. But a better approach would be to go ahead and refinance one property. The maximum amount you can so like 80%, for example, of a $200,000 property might be $160,000. So that's the same amount of debt you have on those two properties, 60,000 plus $100,000.
[10:15]
But you would rather have all that debt on one property, $160,000, than you would having both of those debts outstanding on two different properties. So you can refinance 160 grand on the one, use the excess proceeds to pay off the debt on the second property. So now you have a free and clear property on one and you have a $160,000 debt on the other. And that situation will probably increase your cash flow. So instead of having the one $300 payment, maybe you have like a $900 payment or $1,000 payment on that one mortgage.
[10:46]
So you have more cash flow and you also have a lower risk profile. Having the free and clear property gives you a lot of flexibility. And having a new loan at $160,000 means that the lender has less equity. So in an apocalyptic kind of scenario, which I'm not saying this is going to happen, and the lender would think twice about a higher loan to value loan and trying to take that one back, then they would a property that's a $60,000 debt on a $200,000 property. In that case, they're going to just take the property back.
[11:15]
They're like, hey, we're going to get our money paid. I don't care about negotiating with you, the borrower, but instead, if you had $160,000 debt, it gets you actually, Ironically, in a little bit better negotiating position if there were some weird situation, the Dave Ramsey type situation where they called your loans due or something. So that's just thinking smart about how you refinance that's not even paying off debt. That's just being strategic about your debt refinances. And then one final wrinkle I want to offer to you in 2022, where we are right now, we're kind of in a unique situation where for years and years we've had low interest mortgages, 3%.
[11:49]
Some people even got them to 2% range. And so you might find yourself with an existing portfolio with low interest debt. And so I understand that there could be some apprehension about paying off that kind of debt, especially if you have more growth. You're not ready to hang it up yet. You still want to build more cash flow and build more wealth.
[12:06]
Another wrinkle on paying off debt is instead of using your cash and your cash flow to pay off debt, save up your cash to pay cash for your new properties. Because if you were to go out today in 2022 and I'm recording this in April 2022, mortgage rates are in the 6% range, almost pushing up to 7%. So instead of paying off one of your old mortgages, use your cash and accumulate your cash to pay cash for a new property. So it's almost like you're paying off the debt on the new one instead of paying it off on the old one. And so if you still have some more growth to go, that might be a better approach and still a low risk way.
[12:41]
With increased cash flow, you're still accomplishing the same thing, but you're being smart about how you approach it. So Melody, that might have been more answers than you were expecting for your question, but I hope you found that helpful, and I hope all of you listening found that helpful. I want to offer a couple of additional resources that are related to what I've talked about today. One of these is that the book I wrote called Retire Early With Real Estate really went into depth of the entire journey of retiring early with real estate. And I spent a lot of time and a few chapters on this stage of your career when you wanted to take some debt off the table or you want to live off your cash flow.
[13:14]
It's a very different skill set. It's a very different approach than what most people talk about when they grow their real estate investing portfolio. So check out the book. I wrote it in 2018 and it published that year, but it's still very relevant to everything you're working on right now. And I'll have a link to buy the book on bigger pockets with a lot of bonuses as well.
[13:31]
And you can get that. The second resource I want to offer is a video I did here on YouTube that if you're interested in the nuances of debt snowballs and how to pay off your real estate investing debt, I went into depth on some case studies and examples on this video how to pay off your debts early all about the rental debt snowball. So check that out. I have a link both in the podcast description and in the video description below. I hope you enjoyed this edition of the Asked Coach podcast.
[13:55]
If you like to have your question featured in a future episode? There's a couple of different ways you can do that. One, just send an email to [email protected] or you can also leave a comment on YouTube videos. If you watch the podcast on YouTube, just let me know that this is a question you want to be featured on a future episode. Just keep in mind we have more questions.
[14:13]
Unfortunately, then we have the ability to publish. So if you want to increase your chances, be sure to keep the question short and to the point and also keep it on topic with real estate investing, personal finance and personal development. If you like the show, I'd like to invite you to subscribe to my free email [email protected], Rei. Tukit. In addition to weekly updates, articles and behind the scenes tips from me, my email newsletter subscribers get my real estate investing toolkit which includes a property closing checklist that I actually use when I buy properties, a real estate deal worksheet, a tenant screening criteria checklist and other spreadsheets and goodies that will help you on your journey to financial independence using real estate.
[14:52]
You can get it all for free at coachcarson.com/Reitoolkit. I also want to take this time to thank the people behind the scenes who make this podcast possible each and every week. This includes my podcast editor extraordinaire Michael Nguyen, my amazing virtual assistant Megan Thompson, my wife Kari who helps me behind the scenes and is my partner here at coach Carson and of course thank you to all of you, the listeners of the show who make everything possible. This show exists for you. It exists because of you and I really appreciate you being here for another episode.
[15:20]
Everything I've shared with you in this episode has been for general education purposes. I have not considered your specific situation or risk. Before buying your own investments, be sure to consult a financial real estate and or a legal professional until next time, I'm Chad Carson. You can also call me coach and this is a show all about helping you get out of the financial grind so you can do more of what matters. See you next time.
Help Spread the Word!
Help me reach new listeners on Apple Podcasts by leaving us a rating and review! It takes just 30 seconds. Thanks! I really appreciate it!
Links & Resources
Get My Free Real Estate Investing Toolkit!
Enter your email address and click "Get Toolkit"