About This Episode
Episode #244 – You can make money renting or owner financing your investment property. But which is better and which should you do with your property? That's the question Coach tackles in this edition of the Ask Coach Podcast.
Episode Transcript
[00:00]
Should you rent or owner finance your investment property? That's the question we're going to tackle in today's episode of Asked Coach, and we're getting started right now.
[00:15]
Welcome to the Asked Coach edition of the podcast. I'm your host, Chad Carson. You can also call me Coach. And my mission here is to help you get out of the financial grind so you can do more of what matters with the Ask Coach podcast. I do my best to answer your burning questions about real estate investing and personal finance.
[00:31]
Today's question comes from Carla Parvin. She's one of our YouTube viewers and she left a comment on a YouTube video that said, I purchased for $55,000 in cash a two bedroom, single wide mobile home on three quarters of an acre in south of Winston Salem, North Carolina. Should I rent this or should I go with a different approach? Something like a rent to own or should I sell it with owner financing? So, first of all, thank you, Carla, for the question.
[00:54]
This is a topic I know a lot about because I've rented hundreds of properties. I've also owner financed dozens of properties. I've done that more in the past than I have the last few years. But I definitely want to help you decide between those two specific choices. But just for the entire audience, I want to take a step back and just mention and a really important principle that all of us as real estate investors need to keep in mind.
[01:15]
That principle is that any time you buy a property, you need to know how you're going to exit that property and maybe even have multiple options on how to exit. Exit means getting out of the deal. This is a lot like if you were paranoid and entering a big movie theater or a big room or something. My paranoid side of myself would say, I always want to find where the exits are in case I need a bolt because there's a fire or some other emergency. I want to know where I can get out and I feel trapped.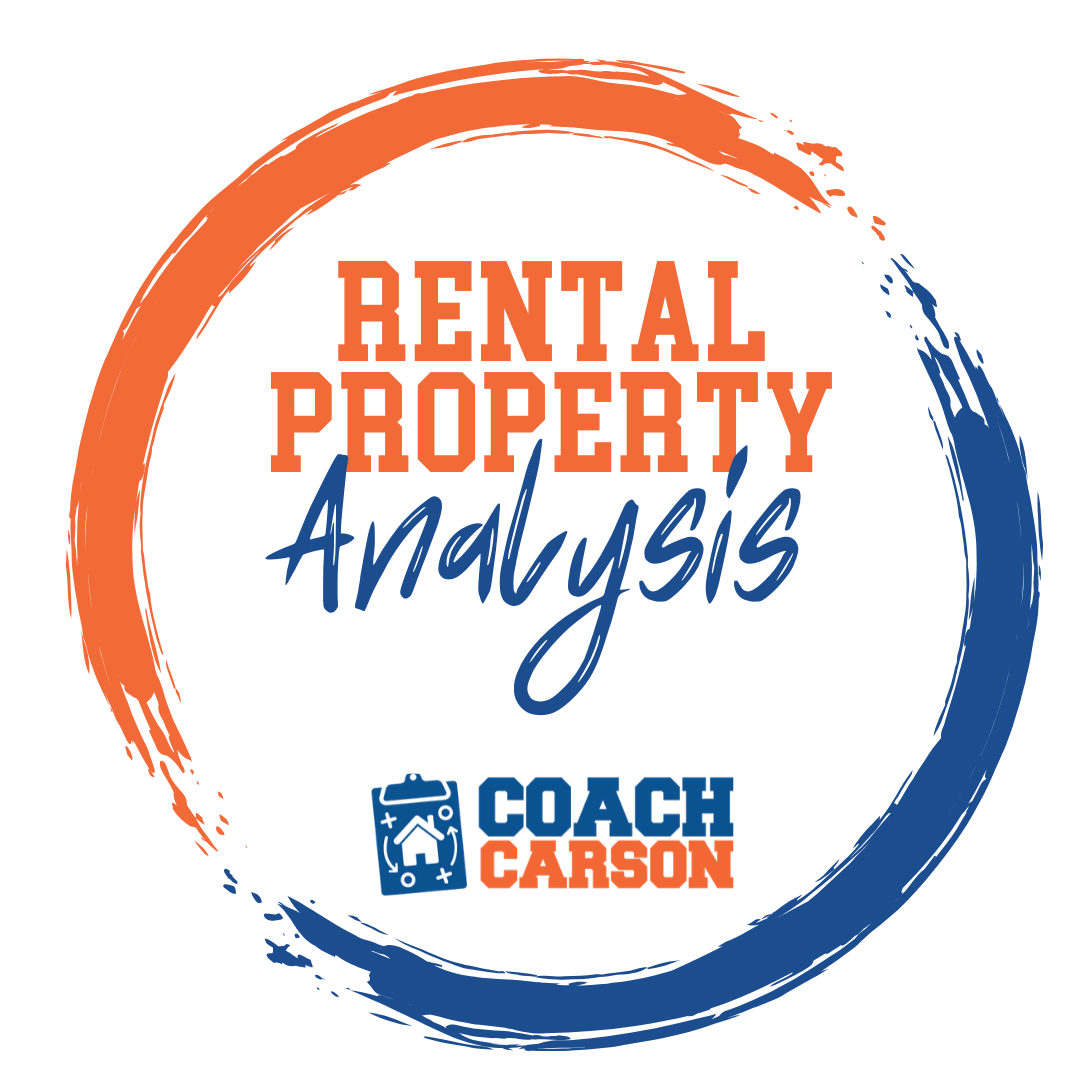 A course by Coach Carson that teaches you how to run the numbers so that you can confidently analyze and buy profitable rental properties. It also includes Coach's rental analysis spreadsheet.
Get the Course
[01:43]
If you can't get out, if you don't know where the exit is. The same thing happens in real estate investing. Let me go through just real briefly some of the main exit strategies you might have as a real estate investor. The first one is really obvious. Most of you know this.
[01:56]
You could rent your property out, and there's multiple ways you can rent it. You can do short term rentals, you could do long term rentals. There's even intermediate type rentals. It's a whole other topic for another conversation. But that is one very obvious exit strategy.
[02:09]
But you could also sell the property. And so even if you're going to rent the property, you should be thinking about what would happen if I sold it. And typically you think about selling it for cash. So you could sell it to a wholesale buyer, like an investor and say what would be the price if I had to wholesale it and sell it to an investor? I used to think about this a lot when I bought properties.
[02:28]
Just as a downside, I'm not thinking I'm going to sell the property at a cheap price, but what would that price be, knowing I could quickly get cash for it? The other, of course, is a retail price. If I listed the property and got top dollar, what would I have to do to it and what could I sell it for? So those are both some really obvious exit strategies. But what we talked about here in this episode is that you could also do something called owner financing.
[02:51]
And there's some different variations of what owner financing means. We mentioned in the beginning, rent to own. Rent to own is a term, kind of a broad term for something called a lease with an option to buy. So we used to do a lot of this. We would find tenants who wanted to buy a property, but maybe they didn't have enough down payment saved up yet.
[03:08]
Maybe they needed to fix a few things on their credit. Maybe they need to pay down some debt so they had a better debt to income ratio. There are all sorts of reasons people can't buy a house right away, but they might want to buy the house that you have. And so we would lease properties to people and give them an option to buy it. Maybe a year or two down the road there's a great way for us to sell it without having to pay real estate commissions, without having vacancies.
[03:28]
So again, another topic. Let me know in the comments if you want me to cover that topic in a future episode. But the topic for today was owner financing, which is similar to rent to own or a lease option, but it's actually where you're selling the property and you're becoming the bank for your renter or your buyer in this case. So they make a down payment to you and then they make monthly payments plus interest to you over a period of time. And there's all sorts of different variations and terms you can do there.
[03:55]
But just think about it like a 20 year mortgage. Like with a bank, it's very similar to that. You're just not getting all the purchase price up front, you're getting the down payment, then you're letting them pay you over time. So going back to the principle of always having an exit strategy, I like to have multiple exit strategies in an ideal situation as a real estate investor. So could I rent the property?
[04:15]
Could I sell it for retail? Could I also maybe own or finance it? And in this case, the question was someone who is debating between those two. So I like to kind of go over the benefits of each one. These are sometimes some elementary concepts.
[04:27]
Remember there's pluses and minuses of everything you can do as a real estate investor. So to rent the property, some of the main benefits are you can get income from the rent, so you can make some cash flow from that. You can pay down the mortgage that you have. So every time you collect rent and just make the minimum payment on your mortgage, that reduces the principal that you owe. You have some tax benefits, so you have depreciation and that might offset some of the income that you're making and you pay a lot less in taxes on that as a result.
[04:52]
And then you have the growth of the property so the property can go up. You could force it to grow by doing some repairs to it or some improvements or it might just be in a good area and it goes up over time. So that is the benefit of renting a property. Now let's look at owner financing. What's the benefit of that?
[05:07]
Remember, you are selling the property. So some of the downside of doing that is you no longer get the benefit of the pre-taxation. If somebody buys that property and it goes up in value 10,000 every single year, you have a locked in price. The amount of money they're paying you is locked in. So that is one of the downsides.
[05:23]
Another downside, there's not a really big tax benefit or any tax benefit to owner financing. It you get interest, you get principal and you're going to pay taxes on both of those without any kind of tax benefits or shelter. So those are the downsides. What are the benefits? The benefits with owner financing is that you often get a much larger cash flow than you would if you just rented the property.
[05:43]
One of the main reasons that is the case is your net income. So the amount of the money you actually put in your pocket is more because the owner of the property. Now the buyer for you is paying most of the expenses. They're paying the taxes, they're paying the insurance, they're also paying the maintenance on the property. And as you know, if you own properties some of those things can be very large expenses.
[06:04]
So I might sell a property to somebody at a similar number, maybe a little bit less than what the rent would be. That's the top number they pay. But because the buyer is paying those expenses, I'm actually making a lot more money at the end of the day. So that is the primary benefit is that income. The other benefit though is that there's a lot less hassle and turnover.
[06:23]
Once you get a stable owner financing buyer that checks going to get there on the first of every month. And of course there are exceptions. You might have to foreclose on somebody if they stop making payments to you and that's kind of a downside as well. But when things go well, you're just getting a check. You're not having to deal with maintenance.
[06:38]
You're not having to deal with turnover and vacancy. And that's a really big deal. So now that all the benefits and the downsides of each of those exit strategies are on the table. Let's go back to Carla's decision. And some of you might have a similar decision where you're trying to decide with a particular property, should I rent it or should I own or finance it?
[06:55]
And there are two different ways that I would make this decision, and I have made the decision in the past. The first of these is your personal circumstances as an investor. So what I mean by this is, do you need the cash more right now, or do you have plenty of cash flow already from other properties or from your job? And you're looking for growth, you want to build wealth. It's a really important fork in the road.
[07:17]
And let me tell you a story just briefly about my own business and my business partner. Back in 2007, eight and nine, we were in the middle of the Great Recession. We were definitely at a point where we were living off of our rental income and our real estate investment income, and we needed cash flow. Yes, we wanted to build wealth long run, but we needed to support ourselves. So we actually chose to own or finance a lot of our properties, particularly in the down part of the market where there was not as many flips going on for us.
[07:44]
And we had it to kind of transition our business model. We own or finance maybe ten or eleven properties over a one or two year period. The benefit we got, the down payment, we got that monthly cash flow. And it was a lot larger cash flow than we would have had if we had just rented those properties out. So that was a personal situation.
[08:00]
Now, Carla and everybody else is into this. You'll need to ask yourself what's more important to you? Would you rather have the cash flow right now, or are you in a situation that a lot of people I talk to? Are you're making $100,000 a year, $90,000 a year, or maybe multiple $100,000 per year? But you have a small net worth.
[08:17]
You've not met your financial independence number yet, and you want to grow that wealth to a much larger number. If that's the case, then buying a rental property and just holding on to it and benefiting from that appreciation and that wealth building and not necessarily getting a bunch of cash flow right now because it would be taxed at a higher rate, it might be more beneficial to you at this point. So rental or owner financing, depending on your personal financial situation, the second way you might decide is the property itself. So every property kind of has a best job or best and highest use. And there are certain cases where a property and in this case with Carla is a single wide mobile home.
[08:55]
Now, the question I would ask myself there is the land that this single wide mobile home is sitting on, does it have a lot of potential for going up in value? Is it in the path of progress? Is it in a location that's highly desirable, that has a very low supply? There's just not many properties like this, but there's a ton of people who want it. There's a huge influx of demand of people and there's population growing in my town.
[09:16]
If that's the case, it's going to be more of an appreciation growth play and I probably want to keep that property as a rental. So that is the kind of fork in the road for that. But if you find yourself in a particular part of town. A particular price range in your market. And then this is a $55,000 single wide and I don't know what part of Winston Salem it's in.
[09:34]
But it might be the case that this doesn't have a ton of growth potential and that you actually might be better off selling the property with owner financing or maybe just selling the property period. If you have a profit in that property. So you can see again, it depends on the property. I call these like a chess board. Basically some of my back row properties are the ones that have a ton of growth potential and I wouldn't want to sell those for anything because they have so much growth potential, they're going to build a lot of wealth for me.
[09:59]
I have other properties that are kind of expendable. They're like pawns on a chess board that you want to use. You want to sell and either sell them for cash or sell them with the owner financing. But then again, you need to look at your personal circumstances. You need to look at the property itself, kind of overlap those two and your personal circumstances will sort of tell you which one of those exit strategies will be better in your case.
[10:19]
I do want to make one more final and important comment about owner financing properties, particularly when you're selling them to owner occupants, people who are going to live there, you need to be aware there is a lot to learn. You're probably going to need to bring some people on your team to help you because there are some legal hurdles. There's some regulations out there that affect owner financing. You're essentially put in the same category in many cases with banks and with financing institutions. And so there are some regulations you need to follow and some t's you need to cross.
[10:45]
Some dot is. You need to dot. There are some exceptions to those rules. I'm not going to get into that in this video. But just know that that is a bigger topic if you are interested in owner financing, particularly if you try to do more than one or two per year, then you're going to need to really do some research and kind of get some help, some legal help on how to do that and make sure you're in compliance with local and national laws.
[11:04]
I hope you enjoyed this edition of the Asked Coach Podcast. If you'd like to have your question featured in a future episode, just send an email to [email protected] or leave a comment. If you're watching this on YouTube and let me know. This is a question you want considered for a future episode. We get more questions and we have the ability to answer.
[11:20]
So if you want to increase your chances, be sure to keep them, number one, brief and to the point. And then number two, keep it as relevant as you can on the topics of real estate investing and personal finance. If you like the show, I'd like to invite you to subscribe to my free email newsletter coachcarson.com/REIToolkit. In addition to weekly updates, articles, and behind the scenes tips from me, my email newsletter subscribers get my real estate investing toolkit, which includes a property closing checklist that I actually use when I buy properties, a real estate deal worksheet, a tenant screening criteria checklist, and other spreadsheets and goodies that will help you on your journey to financial independence using real estate. You can get it all for free at coachcarson.com/REIToolkit
[12:01]
I also want to take this time to thank the people behind the scenes who make this podcast possible each and every week. This includes my podcast editor extraordinaire, Michael Nguyen, my amazing virtual assistant, Megan Thompson, my wife Kari, who helps me behind the scenes and is my partner here at Coach Carson. And of course, thank you to all of you, the listeners of the show who make everything possible. This show exists for you. It exists because of you and I really appreciate you being here for another episode.
[12:25]
Everything I've shared with you in this episode has been for general education purposes. I have not considered your specific situation or risk. Before buying your own investments, be sure to consult a financial, real estate and or a lease legal professional. Until next time. I'm Chad Carson.
[12:39]
You can also call me Coach. And this is a show all about helping you get out of the financial grind so you can do more of what matters. See you next time.
Links & Resources
My video on How to Buy Real Estate With Owner Financing (aka Seller Financing): https://youtu.be/XHe0ckdsCLE
Help me reach new listeners on Apple Podcasts by leaving us a rating and review! It takes just 30 seconds. Thanks! I really appreciate it!
Get My Free Real Estate Investing Toolkit!
Enter your email address and click "Get Toolkit"