About This Episode
Episode #259 -Learn 5 ways you can still make real estate investing work even when the 1% rule doesn't work in your market.
Episode Transcript
[00:00]
You've been out looking at properties and nothing meets the 1% Rule in your location, not even close. Should you throw up your hands and give up and say, I can't be a real estate investor where I live? Or is it possible that there's some changes you can make to how you're doing things to still put deals together? And in this video, I'm going to share five specific changes that I suggest you consider and you start making if you want to put more deals together.
[00:33]
If you haven't met yet, my name is Chad Carson. You can also call me Coach. And this channel is all about helping you get out of the financial grind so you can do more of what matters. And these asked Coach episodes are where I do my best to answer your burning questions about personal finance and real estate investing. For today's question, I could have picked from dozens and dozens of emails and comments that I've received, but they all said something like the 1% Rule is impossible or is very unrealistic, or There are just no properties in my area that meet the 1% Rule.
[00:59]
So thank you for all of your comments. Please keep making them on YouTube, or you can send me an email at [email protected] if you want them to be featured in a future episode. I'm going to get to the five solutions or changes you can make. But first, I want to do a quick recap of what the 1% Rule is and why it even matters. The 1% Rule says that the rent of your investment property should equal about 1% of your total purchase price.
[01:23]
So for example, you buy a property for $250,000. The rent on that property to meet the 1% Rule should be about $2,500 per month. I personally recommend also adding any repairs that you do to the property to the total purchase price. So let's say you do $25,000 in repairs. In addition to that $250,000 purchase price, your total cost is about $275,000.
[01:45]
And to meet the 1% Rule, you'd want the rent to be $2,750. But why does the 1% Rule even matter? It matters because it's a very rough indicator of cash flow. So it's used as a goal or a rule of thumb such that if your property meets the 1% Rule, it gives you a better chance of having a positive cash flow. But rule of thumb is the key word here.
[02:11]
The 1% Rule is actually very limited because it only deals with the total rent or the gross rent that you actually collect, and it doesn't take into account all of the expenses that you could have on that rental property. So it doesn't take into account your management, your maintenance, your taxes, your insurance, and it doesn't take into account your mortgage payment that you have on the property. The 1% Rule also doesn't tell you anything about the growth potential of that property. It's possible to buy a property that doesn't meet the 1% Rule that could be worth a lot more in ten years and can make you a lot of money as an investment. So I'm going to talk about that particular situation in a little bit later in the video.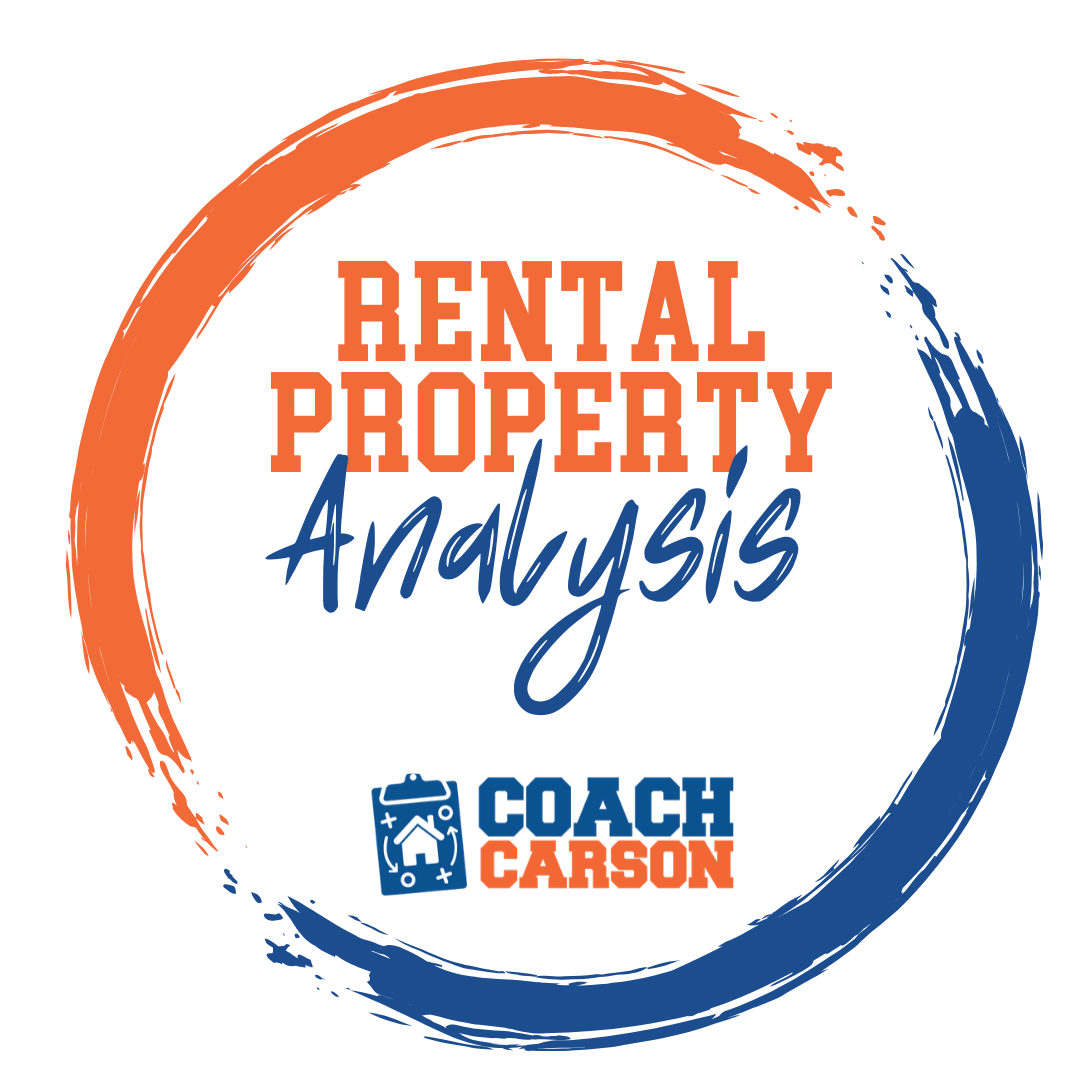 A course by Coach Carson that teaches you how to run the numbers so that you can confidently analyze and buy profitable rental properties. It also includes Coach's rental analysis spreadsheet.
Get the Course
[02:47]
So for all of these reasons, most investors use the 1% Rule if they use it as a starting point, they don't use it as the final analysis. They go to other formulas and other ways of analyzing a property before they actually buy the property. So with all that said, let's look at an example of why the 1% Rule doesn't always work. Let's say you have an investment house with a total purchase price of $500,000. To meet the 1% Rule, the monthly rent on that property would need to be $5,000 per month.
[03:16]
But in most places, the real rent is actually much less than that. Let's just say it's $2,500 per month, or about less than what you need it to be. So how is it possible to still make that work as an investment property? And that brings us to the first of the five changes you need to make. This example assumes you buy the property at a retail or full price.
[03:40]
But what if we changed the price that you paid for it and bought it at a big discount? In our example, if you bought the property for $250,000, it would meet the 1% Rule. Now, I'm not saying that's realistic. That's about a 50% discount from the full price. And in my experience as a real estate investor, I have bought properties at that big of a discount, but it doesn't happen every day.
[04:03]
The main point here is that you can get closer to the 1% Rule if you look for properties where a seller is willing to sell it for less than the full price. What are some examples of why that could happen? Maybe a bank is foreclosed on a property and they're just wanting to get rid of it. Maybe a landlord had a tenant who trashed their property and they're just sick of being a landlord and they're willing to let it go at a lower price. Or maybe you had a few people who inherited a property.
[04:27]
They live across the country. Property needs a lot of work and they just don't want to deal with it. And they don't want to necessarily do all the things they need to do to get a full price. There are actually all sorts of situations like that, but they don't just land on your lap. You have to actually go out and look for them.
[04:43]
My favorite strategy to do that that's worked for years is something called driving for dollars. It's a strategy where you go out in the neighborhoods, or maybe you hire other people to go out in the neighborhoods and look for properties that are vacant or distressed. They need a lot of work, and then you reach out and try to buy those properties directly. So while you're out looking for properties to buy at a discount, also consider change number two changing the price range that you buy properties in. In every city or town, you have some neighborhoods that are more expensive than others, and in most cases, you can drive 25 minutes outside of town and find prices that are even cheaper.
[05:17]
This matters because the lower price ranges typically have an easier chance at positive cash flow and meeting the 1% Rule. Let me show you with an example from my hometown. In my market of Clemson, South Carolina, we have $500,000 houses, we have $300,000 houses. We also even have $175,000 houses in the town next door. In central South Carolina, which is about 3 miles away, a $500,000 house would rent for $2,500 per month.
[05:46]
A $300,000 house would rent for about $2,000 per month, which is closer to the 1% Rule, but still not quite there. And a $175,000 house in our area would rent for about 1400 per month. Still not quite to the 1% Rule, but a lot closer. But look what happens if you combine this change of price range with also buying a property at a discount. For a $500,000 property to meet the 1% Rule, you'd still need to buy it at $250,000, which is a 50% discount and pretty difficult to do.
[06:17]
For the $300,000 house, you need to buy it at $200,000 to meet the 1% Rule, which is about 67% of the full value. Still a challenge, but getting a little bit easier. And finally, for the $175,000 house to meet the 1% Rule, you need to buy it at $140,000, which is about 80% of the full value. Now, again, you're not going to find these every single day on the MLS. But if you really go out and look for properties, buying a property at 80% of the full value is definitely achievable.
[06:46]
So, as you can see, the lower price range at $175,000 is really the sweet spot for cash flow in my area. And if I'm an investor who's looking for that, that is the place I would hunt in my location. And my recommendation for you is to also find that price range in your location. That's a sweet spot where you can find the ideal amount of cash flow that makes sense for your investment criteria. So we're looking to buy properties at a discount, and we're also looking for that sweet spot price range in our town where the cash flow is the best.
[07:16]
So change number three is to look for a different property type altogether. As a real estate investor, you have a lot of different options on the types of properties you can buy. You can buy single family properties. You can buy mobile homes. You can buy small apartment buildings.
[07:30]
You can buy larger apartment buildings. You could even get into the commercial property world, which has a large variety of properties, including industrial, retail, commercial and self storage. So if the 1% Rule isn't working well for one property type in your location, my advice is to look for other property types that might work even better. For example, mobile homes and multifamily properties typically produce more cash flow than single family houses. And a lot of different niches within the commercial world produce even more cash flow.
[07:59]
And yes, each of those property types has its own unique challenges and risks that you're going to have to study. But it's worth checking them out to see if there's any hidden opportunities in your location.
[08:17]
So far, I've talked about changing the price that you pay in the actual properties that you look for. But change number four is all about changing the strategy that you use to make money as a real estate investor. More specifically, the change in strategy is focusing more on growth and not just on cash flow. So the idea is that you can potentially accept less cash flow, maybe something that doesn't meet the 1% Rule if you decide that the growth potential looks really good. So let me explain with a quick example.
[08:46]
Let's say you buy a property for full price at $300,000, but you choose a really good location that you feel has a good potential for growth. Let's say this house rents for $2,000 per month. Remember, you also have some expenses. So let's say you're operating expenses. The normal expenses like taxes, insurance, maintenance, management, that type of thing, is about $750 per month.
[09:08]
This is everything except for your mortgage payment. What's leftover when you subtract that $750 from the $2,000 in rent is $1,250. And that's called your net operating income. It's one of the most important numbers in real estate investing. But in this case, with this strategy, we're just trying to figure out how much money would we have to put down and what would our loan look like if we borrowed money on this property such that we had a zero cash flow, that we just broke even?
[09:36]
And in this case, I'm going to assume you can get a 6% interest 30 year loan. And to make that break even, you would have to put $91,500 down, which means you have a $208,500 mortgage on this property. So the main question here is why would you do that? Why would you put about 30% of the property's value up as a down payment in order to have zero cash flow? Well, the answer with this strategy might be that what if this property were to appreciate at 5% per year, which is about $15,000 per year?
[10:10]
In that case, if you do the math, what starts off as a $300,000 property over a ten year period turns into a $490,000 property. So you have an increase in price of about $190,000. But that's not the only source of profit you have on this deal. You started with that $208,500 loan, and there's a little bit of each payment that you make every month that goes towards principal. And in this case, over a ten year period, you could decrease that loan by about $34,000 to a balance of 174,500 at the end of that ten years.
[10:44]
So let's pause for a moment and look at where you are ten years from now. You have the $190,000 increase in the value of the property. You have $34,000 decrease in the debt that you owe on the property. And then you also remember, invested $91,500 upfront. So all of that together is about $315,500 in equity that you own and that rental property at the end of ten years, remember, you invested 91,500 up front to get that property.
[11:14]
In this video, I'm not going to run all the fancy math with a financial calculator to show you how to do this, but I'm just gonna tell you that that return on your investment is about 13% or a little bit over 13% over those ten years. And that's assuming you didn't have any cash flow increases. So if the rent were to go up over time and you made some positive cash flow, it would be even better than that 13%. This is the exact strategy that a lot of investors have used in highpriced markets like California and other bigger cities over the last ten to 20 years. If they bought a property, then even if it didn't cash flow very well in the beginning and is held onto it, they built a lot of wealth as the prices of those properties went up over time.
[11:53]
So if you think this strategy might apply well to you and to your particular location, there are a couple key things you want to think about and look for. The first is that you want to find locations that have a tendency to increase the demand for your renters and buyers particularly. This means you want to look for population increase. You want to look for places that have jobs that are increasing. There's a really good job market, and with those jobs, you want to see that they're getting higher and higher salaries to be able to pay for your rent and be able to pay for the properties that you're reselling.
[12:21]
The other side of that is you also want to see at least a steady or limited supply of new housing. So what you don't want is just a glut of new construction houses right next door to yours that could compete with yours and drive the price of yours down over time. This is one of the reasons I love buying investment properties in infill neighborhoods, usually older neighborhoods at least 2030 years old. They have mature landscaping, larger trees, but they also have less competition because all the lots have been built out. And if you own one of those properties, it's not likely you're going to have a new construction house or have a big neighborhood built right next to your house.
[12:53]
The other interesting thing you can do to apply this strategy is that you might adapt the 1% rule for your own criteria. So maybe instead of 1%, you use zero 7% or even zero 5%, depending on what makes sense when you run the numbers. If you're investing in a location where the 1% rule just doesn't work, the fifth and final change that I recommend is with your financing. When someone says that a property doesn't cash flow, what they really mean is it doesn't cash flow with a normal down payment, which is usually about 20% for investors and with normal interest rates. But almost any property will cash flow if you put enough money as a down payment.
[13:30]
If you remember in one of the previous examples, we had a $300,000 property and you had to put $91,500 down in order to make a breakeven cash flow that was a 30% down payment. The same concept could work if you have a $500,000 property that rents for $2,000 per month. If you put enough money down, maybe 40 or 50% down, then the property will cash flow. Now, the downside of investing more and more money upfront is that your return on investment goes down. And on the practical side, not everyone can come up with that much money to put down, especially on higher priced properties.
[14:04]
So another approach to change your financing is negotiating better terms with your interest rate and maybe also with your monthly payment. With traditional banks and lenders, negotiating those things is not even an option. It's just off the table. You take the terms that they have or you can leave it. But with other financing strategies, in particular seller financing, which is something I've used a lot in the past as a real estate investor, you can negotiate everything, including the interest rate and the monthly payment.
[14:31]
Let me share an example of how this could work with seller financing. Let's take the same $500,000 house that I've mentioned before that rents for $2,500 per month. Let's also assume that this rental property has about $900 in operating expenses. So the property management, the taxes, the insurance, the maintenance, everything except for your mortgage payment is about $900 per month. So when you subtract that $900 from your $2,500 in rent, you have left over about $1,600 in net operating income.
[15:02]
That's the amount of money this property produces before you make your mortgage payment. Now, in a normal lending situation, you'd have to put about 20% down, which on this price property would be $100,000. Let's just use the current interest rates as I'm recording this. In September of 2022, a 30 year interest rate is about six and a half percent. So your total monthly payment on that $400,000 mortgage would be about $2,500 per month.
[15:28]
That gives you a negative cash flow of $900 per month. So that doesn't work very well, does it? So let's say you found that same property $500,000 is the price that you want to pay, but you found a seller who is willing to work with you on the financing, and they let you put $50,000 down, and then they finance the balance of that or $450,000. And they gave you very attractive terms. You're paying the full price.
[15:52]
And maybe you found a situation where they were willing to keep getting cash flow on the property. Well, what if you negotiated a 3% interest rate and you just paid interest only? So the minimum amount you needed to pay to pay interest, in this case, that would be a $1,125 monthly payment. So what does the cash flow look like in that scenario? You have $1,600 in net operating income every single month.
[16:16]
That's how much the property produces after paying expenses. And you have your $1,125 per month monthly payment to your seller financing person. And what's left over is $475 per month or $5,700 per year and positive cash flow. So even paying full price for this property on a property that does not meet the 1% rule, because you negotiated better financing terms, you're getting over a 10% cash on cash return at 5700 per year on your $50,000 down payment. That's a very strong cash on cash return.
[16:51]
And we're not even talking about if you were using the growth strategy. Maybe you bought this $500,000 property in a really good location. What if that property goes up by a certain amount every year? What if it goes up $25,000 per year in appreciation? Then your deal could get even better and even better.
[17:06]
So those are five changes or strategies that I recommend if you can't find properties that meet the 1% rule in your area. But are you surprised that I left one big one off the list? I left off what's usually the most common advice you'd get, which is to invest in a long distance market. I simply wanted to give you some new ideas in this video. But of course, investing long distance can also make a lot of sense.
[17:29]
And the good news is you can apply all of the lessons I shared in this video to whatever market you happen to be investing in. If you like the show, I'd like to invite you to subscribe to my free email newsletter at coachcarson.com/REIToolKit. In addition to weekly updates, articles, and behind the scenes tips from me, my email newsletter subscribers get my real estate investing toolkit, which includes a property closing checklist that I actually use when I buy properties. A real estate deal worksheet, a tenant screening criteria checklist, and other spreadsheets and goodies that will help you on your journey to financial independence using real estate. You can get it all for free at coachcarson.com/REIToolKit
[18:06]
I also want to take this time to thank the people behind the scenes who make this podcast possible each and every week. This includes my podcast editor extraordinaire, Michael Nguyen, my amazing virtual assistant, Megan Thompson my wife Kari, who helps me behind the scenes and is my partner here at Coach Carson. And of course, thank you to all of you, the listeners of the show who make everything possible. This show exists for you. It exists because of you.
[18:28]
And I really appreciate you being here for another episode. Everything I've shared with you in this episode has been for general education purposes. I have not considered your specific situation or risk. Before buying your own investments, be sure to consult a financial, real estate and or a legal professional. Until next time, I'm Chad Carson.
[18:44]
You can also call me Coach. And this is a show all about helping you get out of the financial grind so you can do more of what matters. See you next time.
► How to Analyze a Rental Property
► FREE Driving for Dollars Training:
► How to Buy Real Estate With Seller Financing
https://youtu.be/XHe0ckdsCLE
► How a Guy Invests Long Distance From California:
https://youtu.be/aouRO7QnMFw
Help me reach new listeners on Apple Podcasts by leaving us a rating and review! It takes just 30 seconds. Thanks! I really appreciate it!
Get My Free Real Estate Investing Toolkit!
Enter your email address and click "Get Toolkit"